This super easy Halloween graveyard cake features an effortless egg-free chocolate sponge topped with chocolate frosting and plenty of sweets to resemble a spooky graveyard. In collaboration with the Oakwood Theme Park.
Easy Halloween Cake Baking
I absolutely love Halloween. To be honest, it's my favourite holiday of the year. The whole dressing up thing, the excuse to eat all. of. the. sweeties., the ghoulish fun. I really do love it.
Each year I try to share a Halloween bake, or two, and so this is my contribution to the wonderful world of Halloween baking for 2020 – an easy Halloween graveyard cake.
For this cake, I've used some of the UK's all-time favourite Halloween sweets to create a cake with three spooky graves complete with gravestones and a rickety crooked graveyard fence.
It's an easy enough recipe to make and assemble too, so it's perfect to get the kids tucked in with the baking and decorating, given no one's allowed to go trick or treating (or visiting theme parks) this year.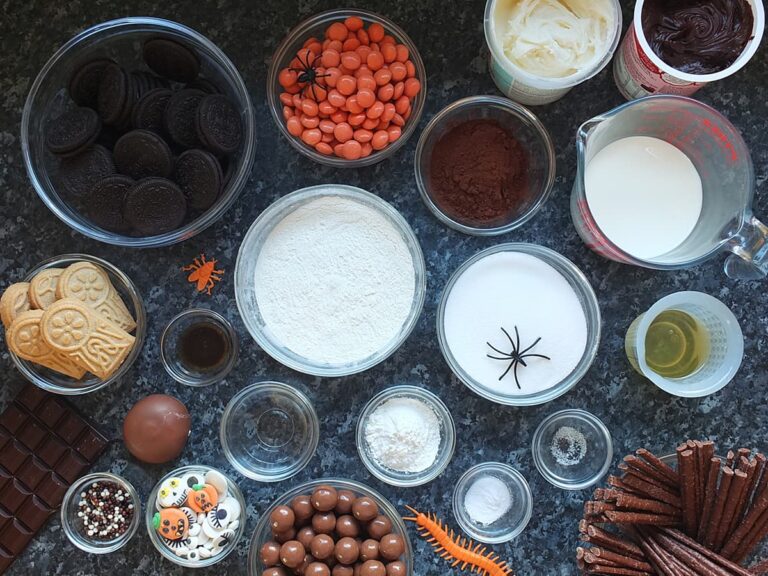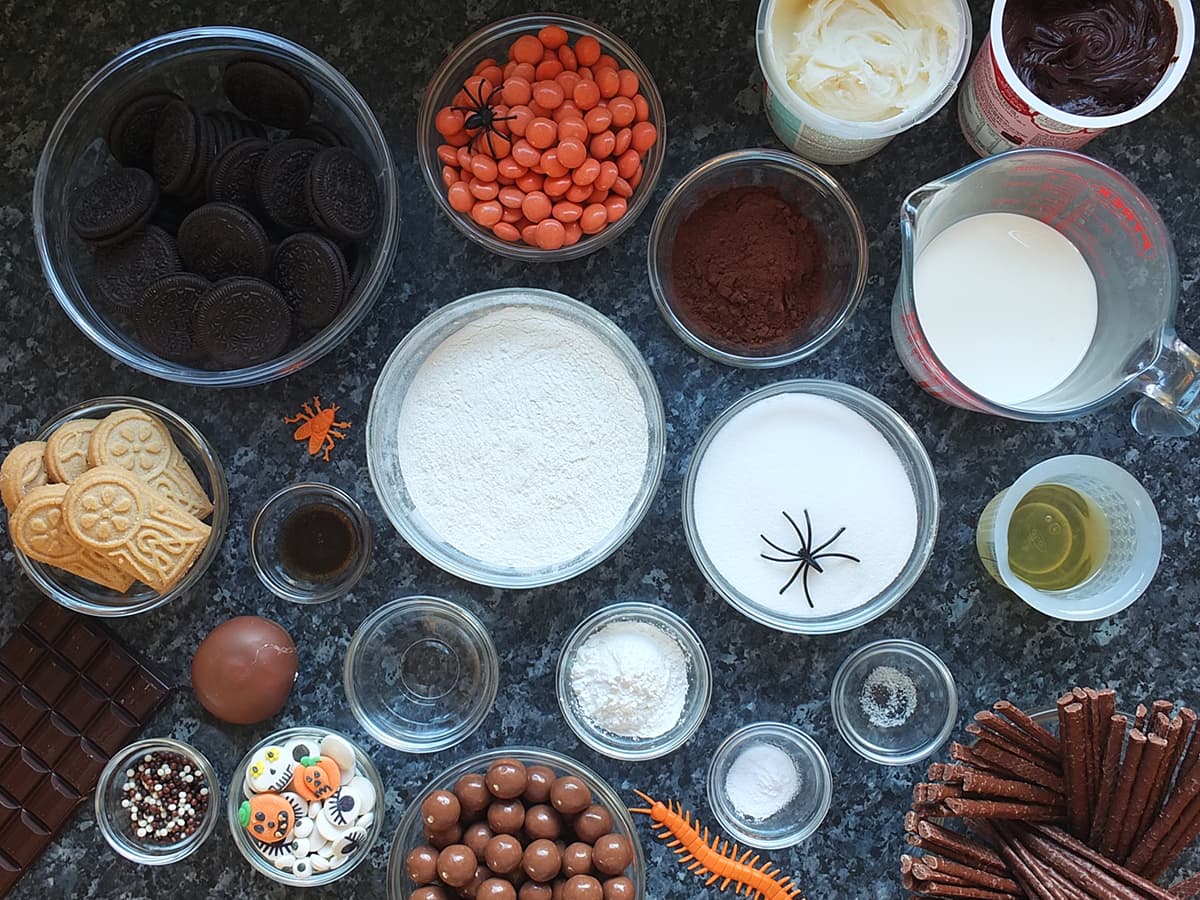 Ingredients you'll need to make this egg-free chocolate cake recipe
For the egg-free chocolate sponge cake
200 grams self-raising flour
20 grams cornflour
225 grams caster sugar
30 grams cocoa powder
1/2 tsp bicarbonate of soda
pinch of salt
225 ml full-fat milk (or non-dairy substitute)
75 ml vegetable oil
1 tbsp white vinegar
1 tsp vanilla bean paste
Halloween graveyard decorating ideas
ready-made chocolate frosting, for the ground
Quality Street matchmakers, for the crooked graveyard fence
Oreo cookies, for the grave dirt
orange smarties, to outline the graves
shortbread biscuits, for the gravestones
dark chocolate, for the gravestones
vanilla frosting, for the gravestone words
Maltesers, to hold up the gravestones
sugar skulls, bones, eyes and pumpkins, to decorate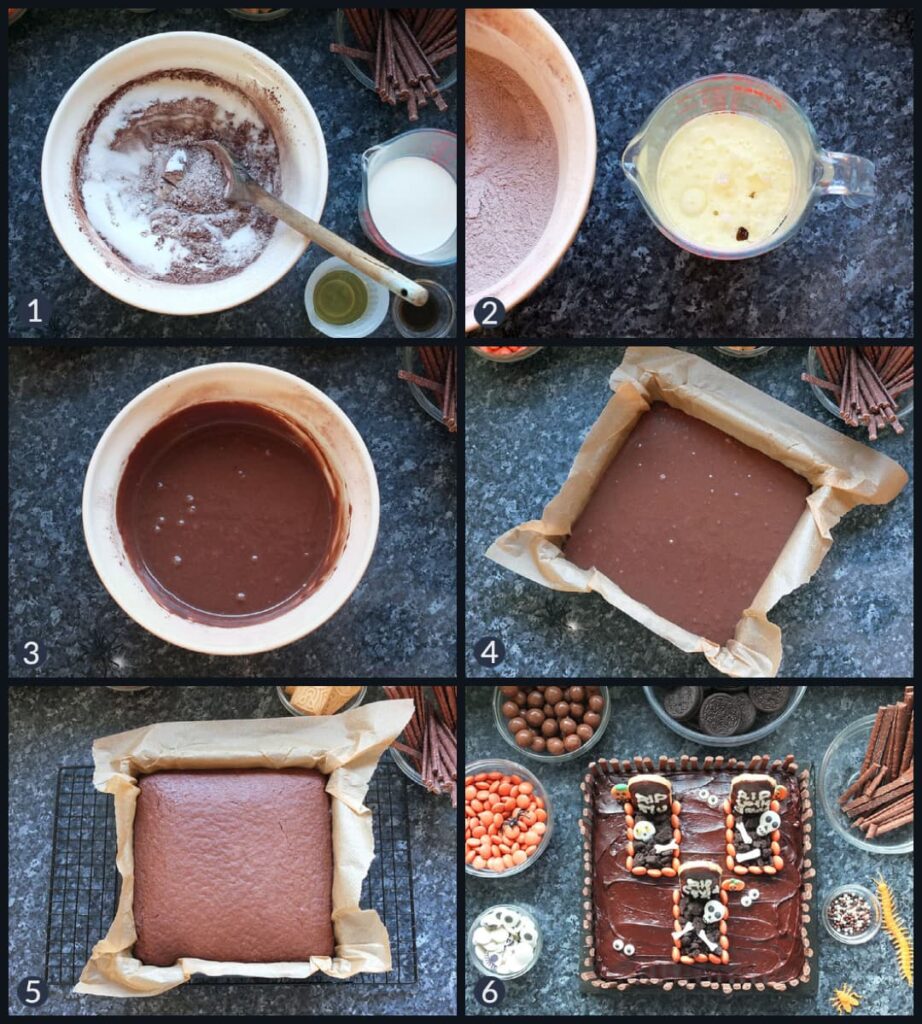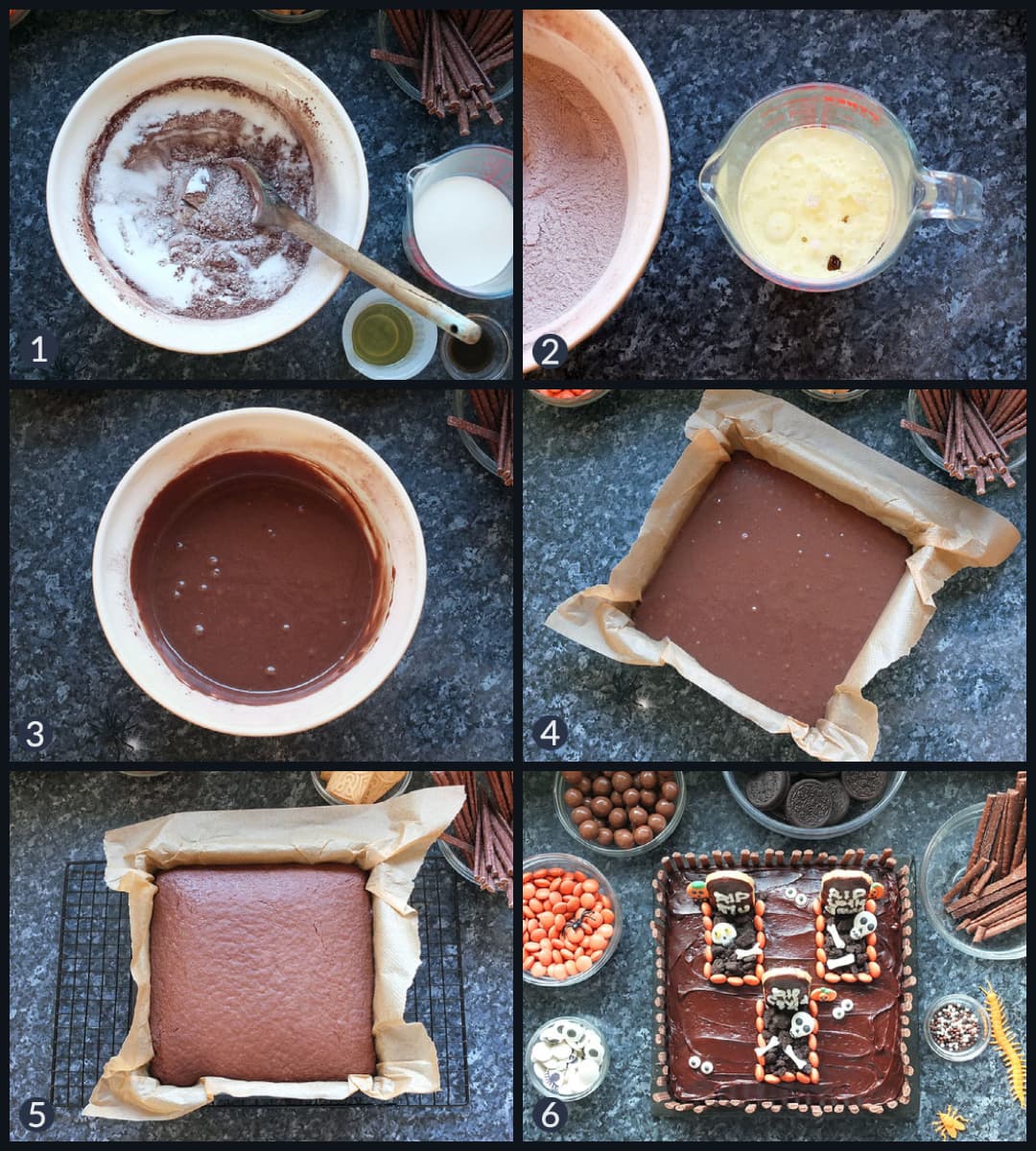 Simple six-step instructions
Mix the dry ingredients together in a mixing bowl.
Combine the wet ingredients in a measuring a jug.
Stir the wet ingredients into the dry, and mix well.
Pour into a 9-inch square baking tin lined with baking paper.
Bake in a preheated 180 C/ 170 C fan/ 350 F/ Gas 4 oven for 30 minutes.
Cool and decorate as desired.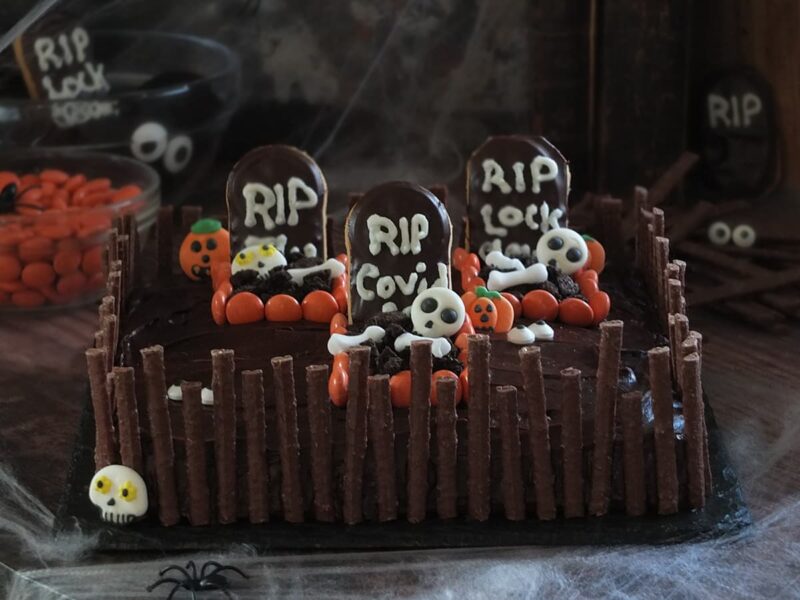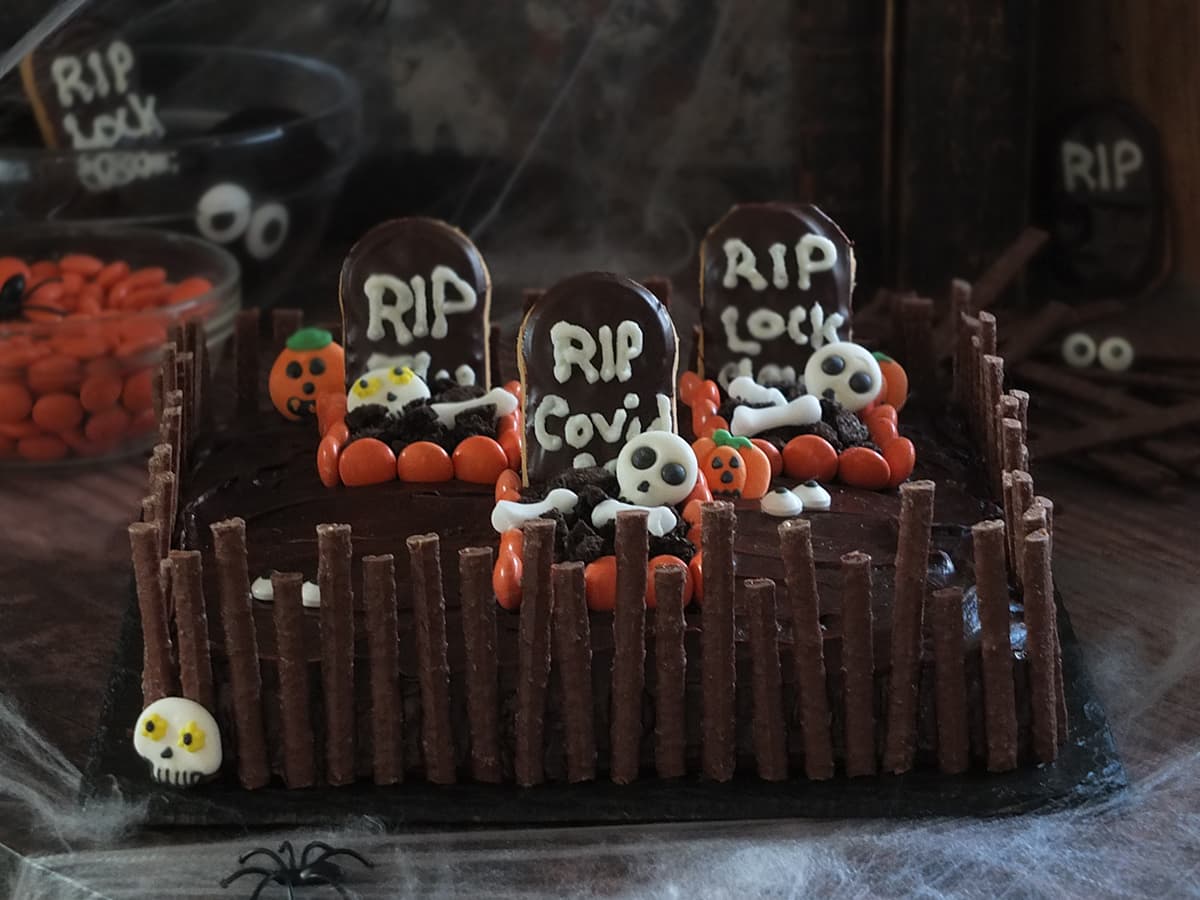 Egg-free baking
Over the last 9 years of blogging, I've had numerous requests from my readers to share some egg-free baking recipes. This Halloween graveyard cake recipe is, officially, the first deliberate egg-free bake shared on the blog.
When it comes to egg substitutes, there's a wide variety of options. My tried and tested egg replacer used to be flax gel, see recipe below, but it's a bit of a faff to make, requiring a degree of organisation I usually don't possess.
I have, however, recently learned about using a vinegar/baking soda combination as an egg replacer. This is going to take my egg-free baking to the next level, I believe. Watch this space!
How do I make a cake egg-free?
The easiest way to make a cake egg-free is to replace one egg with 1 tablespoonful of an acid such as vinegar or lemon juice with 1 teaspoonful of bicarbonate of soda.
The acid/soda combination creates air bubbles in the cake, giving it lift and a light, airy texture.
How do you make a flax gel egg replacer?
Simmer 2 cups/475 ml of water with two tablespoonfuls of whole flax seeds for 10-20 minutes.
Strain the mixture and discard the seeds.
Use 1/2 cup/ 118 ml of the flax gel to replace one egg in recipes calling for no more than two eggs.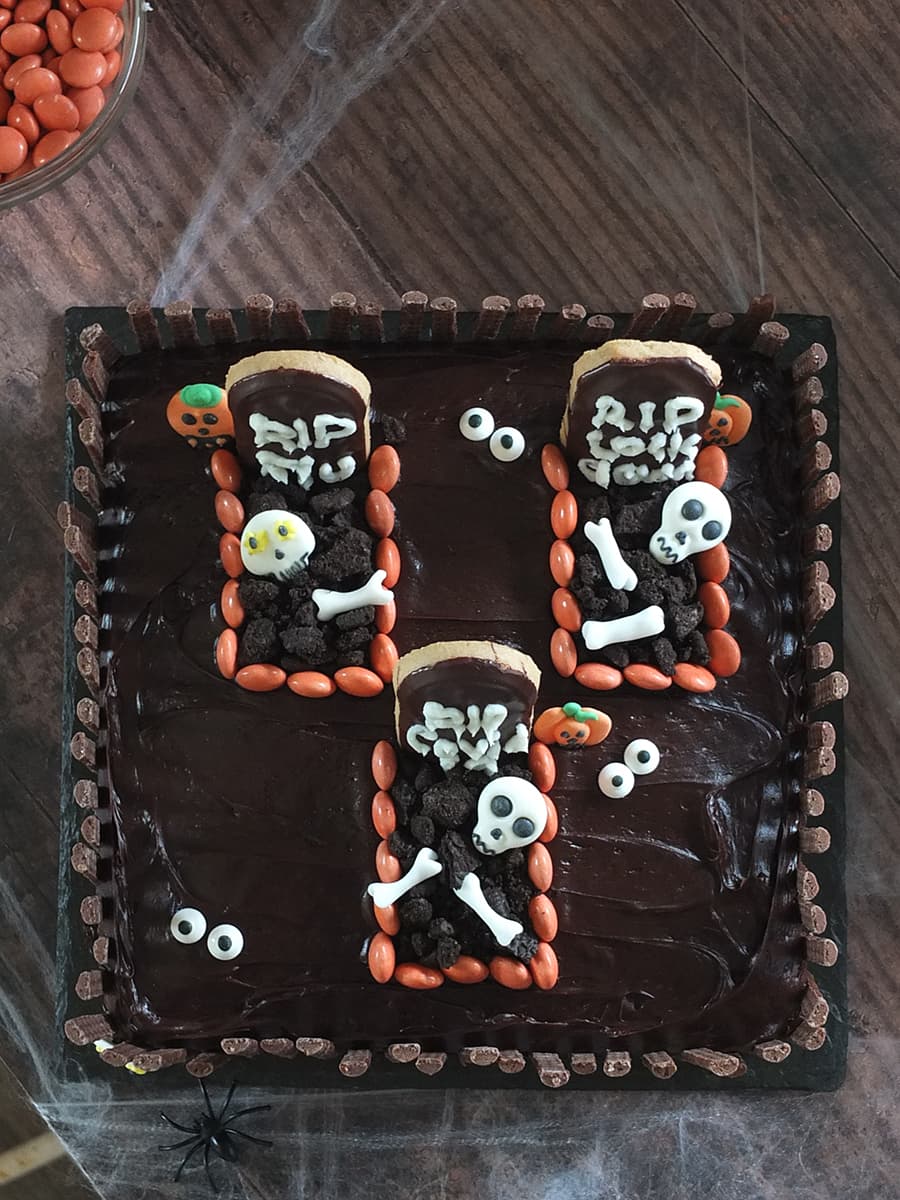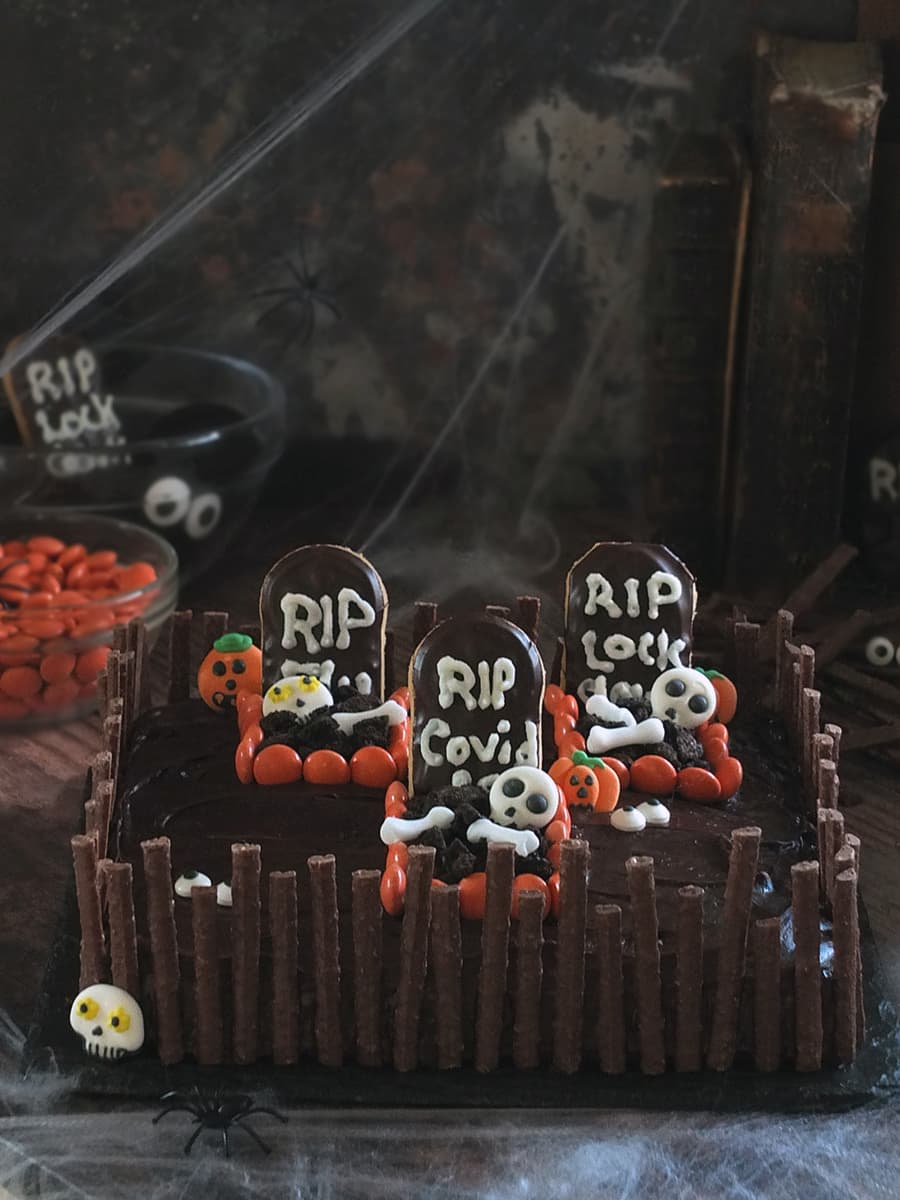 With thanks: a huge shout out to egg-free Callum and his sister Caitlyn for the inspiration for this cake.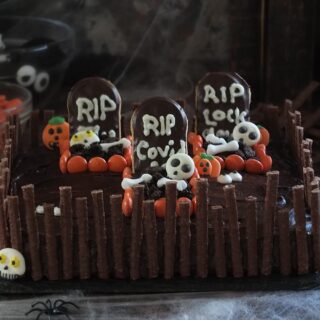 Easy Egg-free Halloween Graveyard Cake Recipe
A simple, not-too-sweet egg-free chocolate sponge cake just the right size to be loaded with all the frosting and sweets needed to create a spooky Halloween graveyard. Eat at your peril!
Print
Pin
Rate
Ingredients
for the egg-free chocolate cake
for the Halloween graveyard decorations
Affiliate Links
This recipe card may contain affiliate ingredient and equipment links. As an Amazon Associate I earn from qualifying purchases.
Instructions
In a measuring jug, combine the milk, vinegar, vegetable oil and vanilla.

Pour the wet ingredients into the dry.

Bake in a preheated oven for 30 minutes and then cool completely on a wire rack.
Nutrition
Sodium:
44
mg
|
Calcium:
20
mg
|
Vitamin A:
23
IU
|
Sugar:
15
g
|
Fiber:
1
g
|
Potassium:
60
mg
|
Cholesterol:
1
mg
|
Calories:
159
kcal
|
Saturated Fat:
4
g
|
Fat:
6
g
|
Protein:
2
g
|
Carbohydrates:
26
g
|
Iron:
1
mg
Environmental Information
Pin this Halloween graveyard cake recipe for later
Other Halloween recipes you might like
Three layers of peanut butter and chocolate flavoured cake swirled together sandwiched with peanut butter frosting and topped with a milk chocolate ganache and a giant Halloween spider.

Tender pieces of succulent lamb with chunky vegetables and rich gravy swimming in a bread "cauldron". A perfect Halloween lamb stew recipe for your witches and wizards! 

Perfect for a kids' Halloween feast, this spooky stir-fry whips up in no time! Think peanut satay sauce coated wiggly worm noodles with spooky "bones" poking out. 

This is a sponsored recipe post in collaboration with the Oakwood Theme Park, although all thoughts and opinions expressed are our own. Thank you for supporting the brands who make it possible for me to do what I love: mess up my kitchen and share Halloween graveyard cake recipes.