Quench your thirst during your outdoor adventures this Sober October with Budweiser Zero. This post has been written in collaboration with Budweiser Zero, although all thoughts and opinions expressed are our own.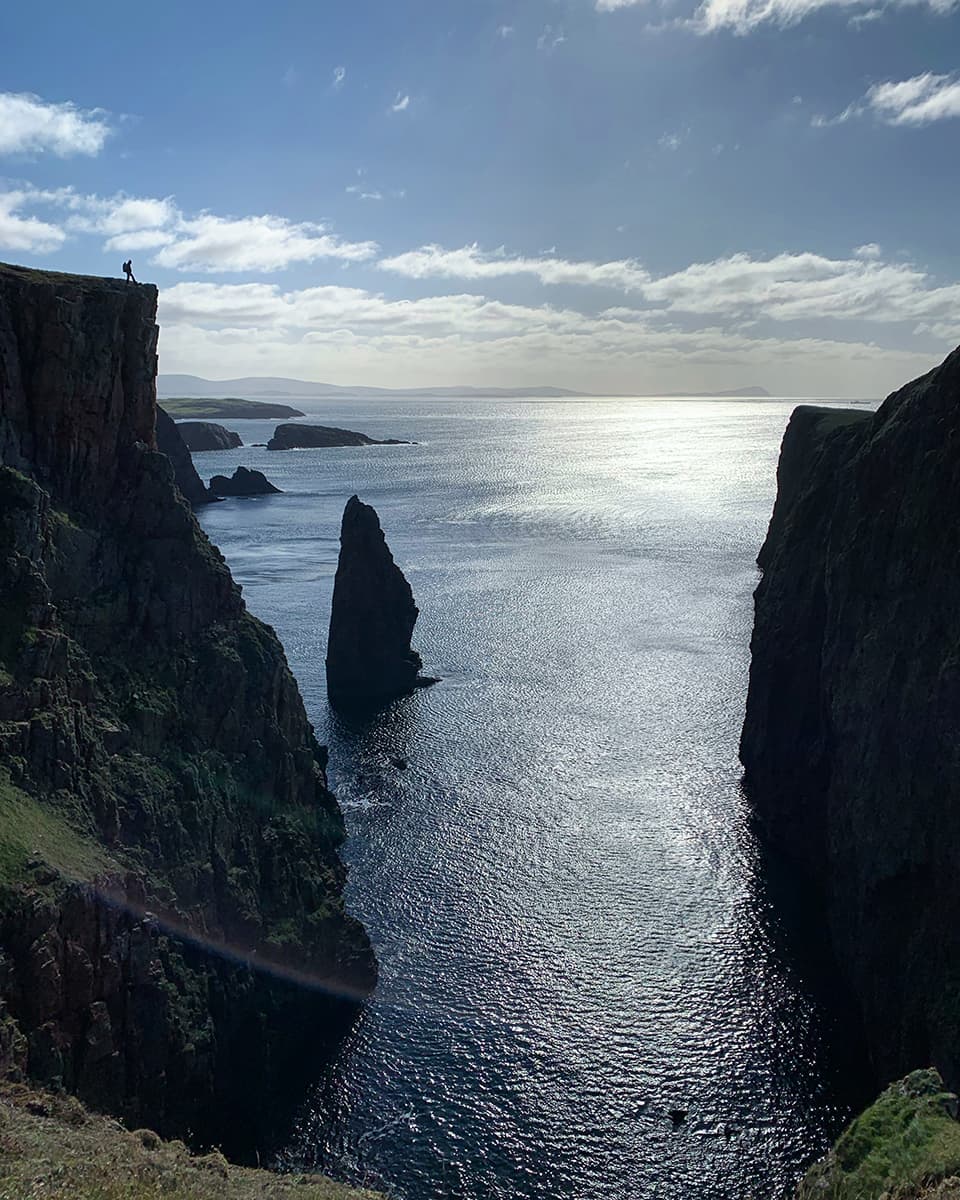 As the daylight begins to dwindle and the winter storms appear with more frequency, I believe it's important, while living on the wild edge of the earth, to take advantage of the fine weather when we've got it.
We had a day of utterly glorious weather recently, so we* packed an unplanned picnic, put on our layers and headed out in the van for an Autumn hike to one of my favourite scenic spots here in Shetland: the Silwick & Westerwick coastline.
*Yes, dear reader, we! I can now officially say I've found myself a rather lovely boyfriend. He's handsome and kind, intelligent and witty and he's into the same things I am – outdoor adventures, biking, and…. best of all, dear reader, he can cook!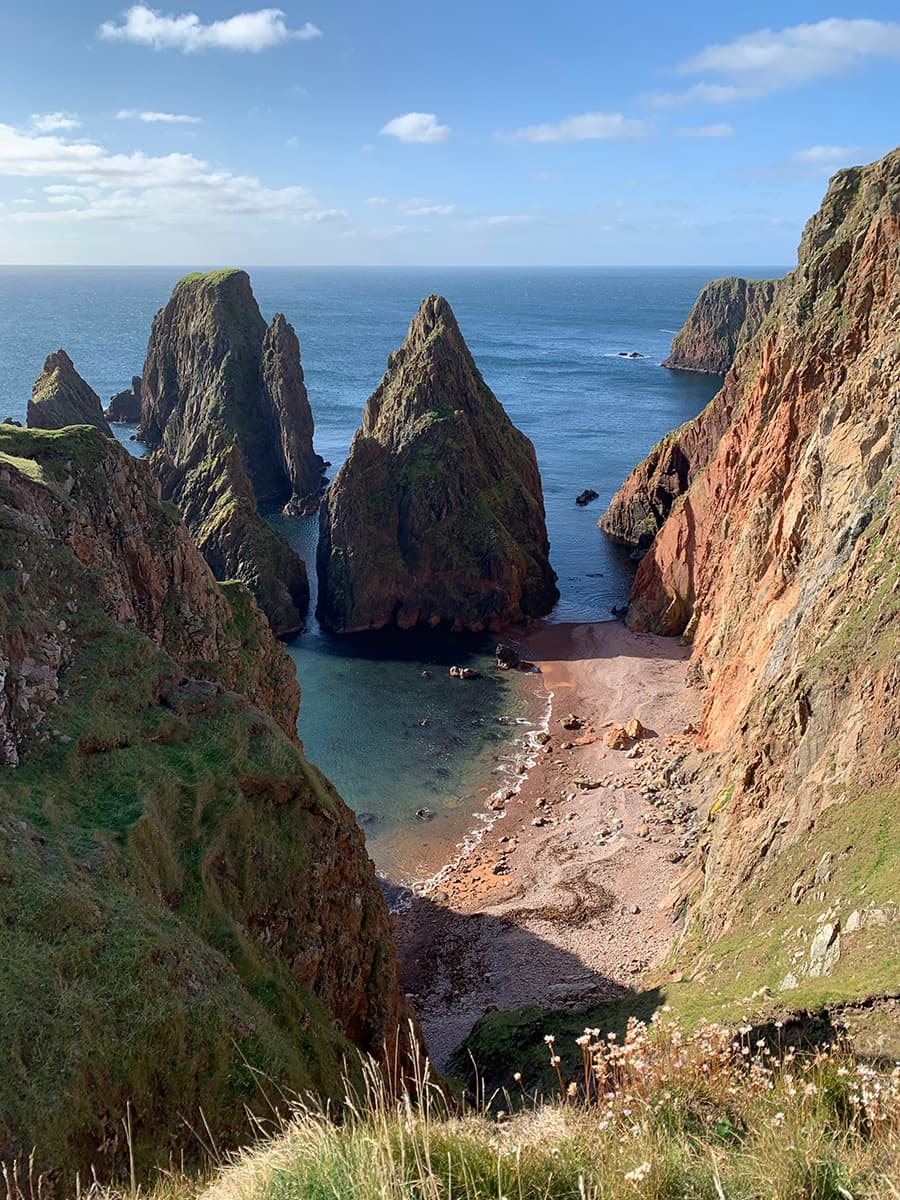 Silwick & Westerwick Coastline
The coastline around Silwick and Westerwick is one of my go-to places to escape from the hustle and bustle of work and home life; to sit on the very edge of the world and recharge in the incredible landscape around me.
Silwick and Westerwick are two small villages on the west side of Shetland, at the very end(s) of the road once you go past Skeld – keep going straight for Silwick, or make a turn for Westerwick.
It's a short walk from the car park in front of the crofters shed at the end of the Silwick road (note, there are no dogs permitted in this area because it's working farmland with grazing animals and please take care not to obstruct shed access) to get to the coastline, and from there, you can follow the edge of the clifftops for a good few miles. Alternatively, park at the turning point in Westerwick and follow the Access Shetland signs by the fence stiles.
This was the first time my boyfriend had ever been here, so it was rather nice to have the opportunity to show him this hidden gem on his home island.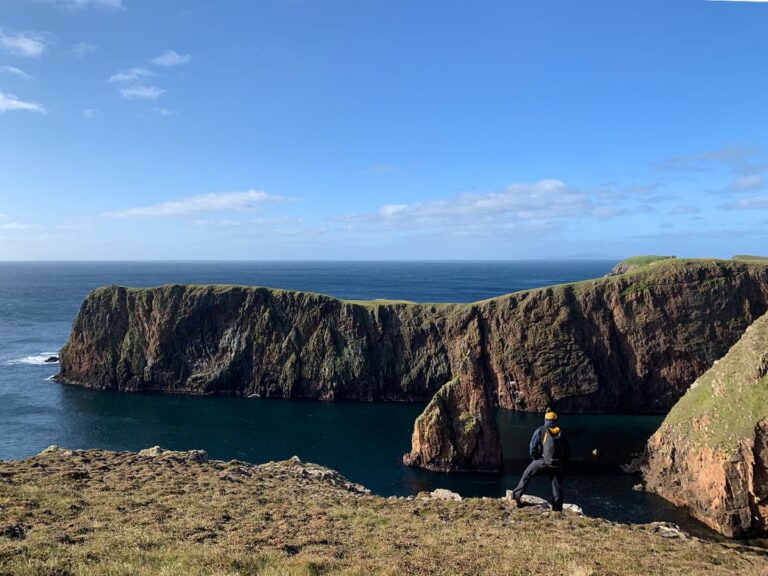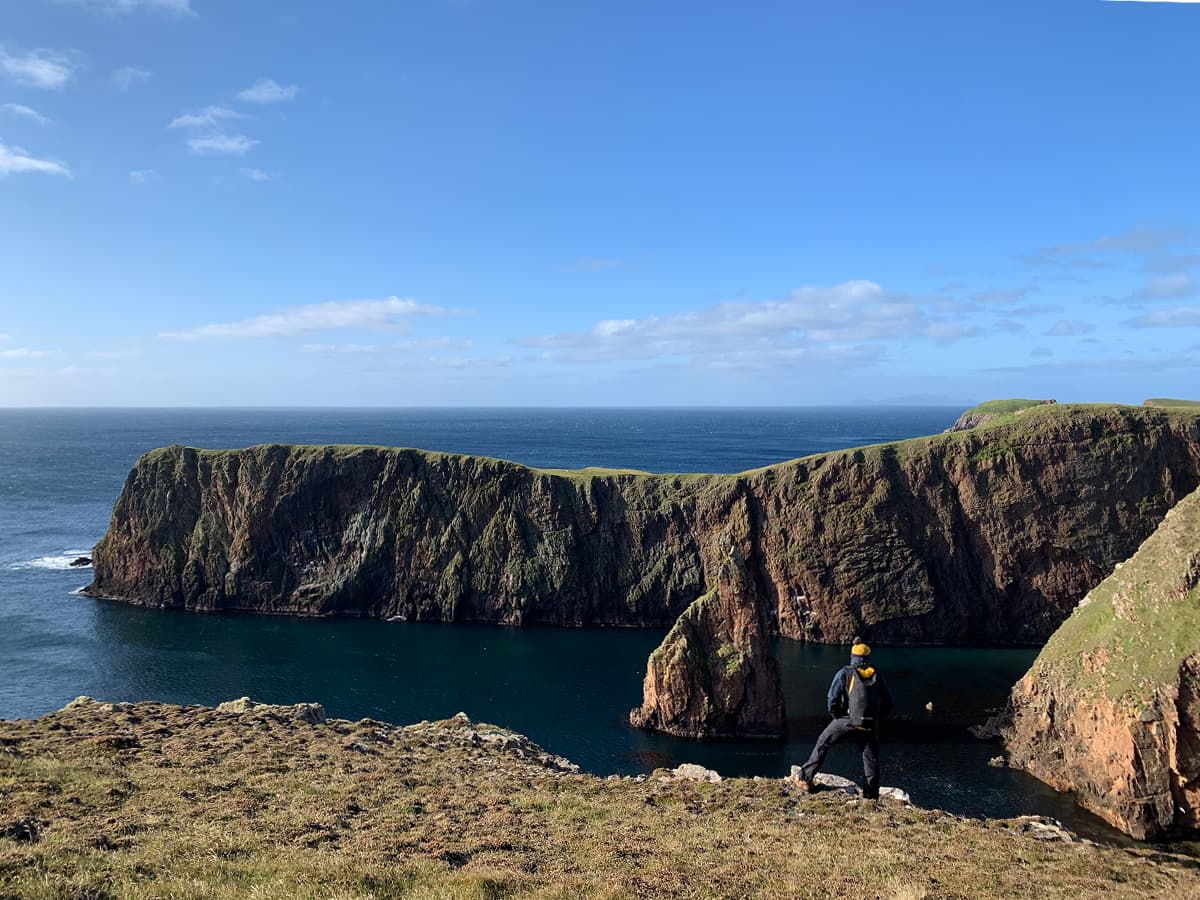 This walk follows the southern coastline of the west mainland of Shetland. Looking due south you'll see Fitful Head at Sumburgh while looking west will give you a glimpse of the island of Foula (barely visible on the horizon in the photo above).
The whole area is punctuated by dramatic sea cliffs, sea stacks, sea arches and the most stunning scenery. It really is (was?!) one of Shetland's best-kept secrets.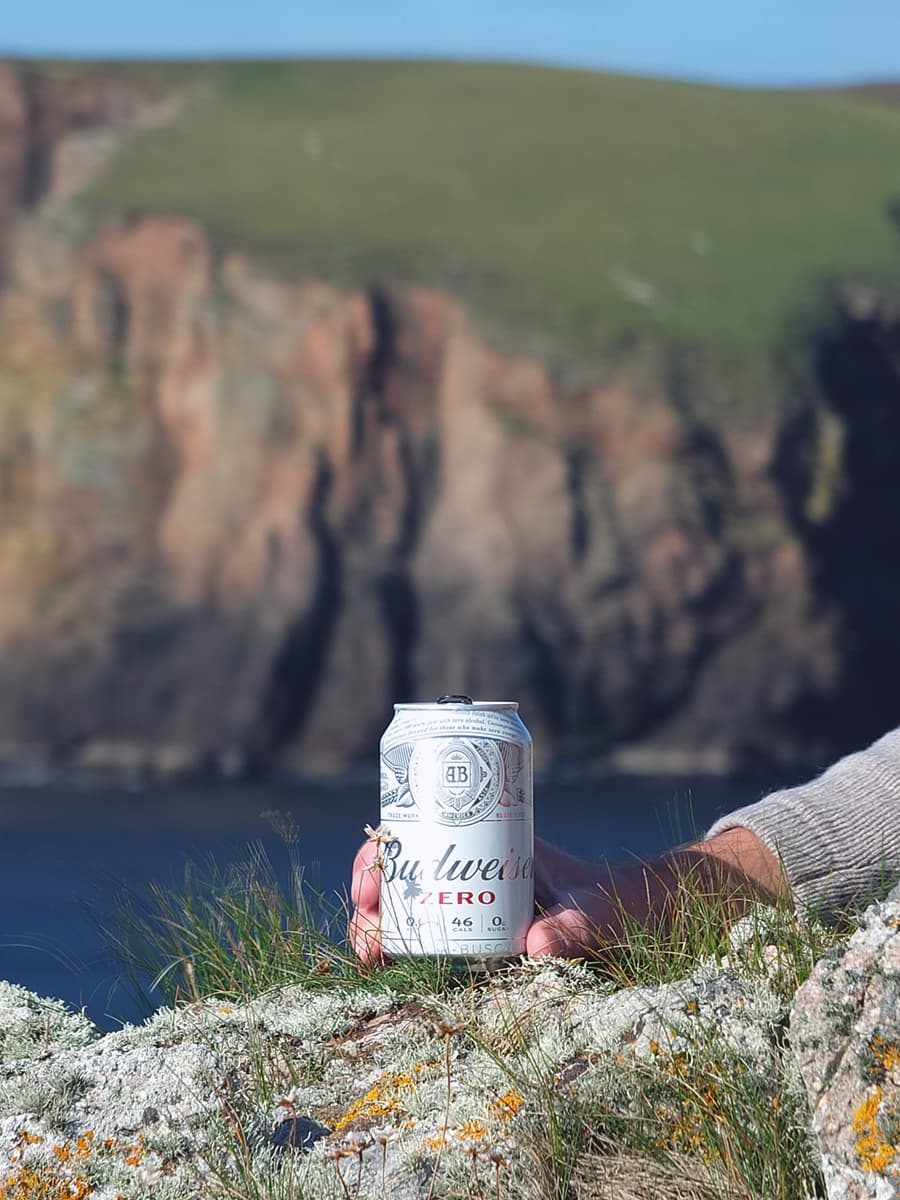 Budweiser Zero
Hiking in the glorious sunshine is thirsty work though, and so I'd packed a couple of alcohol-free Budweiser Zero beers for us to try out. Cold beer, glorious sun, picnic – it was one of those awesome days, y'know?
Launched this year, Budweiser Zero is a new zero alcohol, zero sugar brew with the same great taste you expect in an ice-cold Bud.
Did you know that Budweiser has been on the go since 1876, the same year Wild Bill met Calamity Jane and Alexander Graham Bell made his first successful telephone call?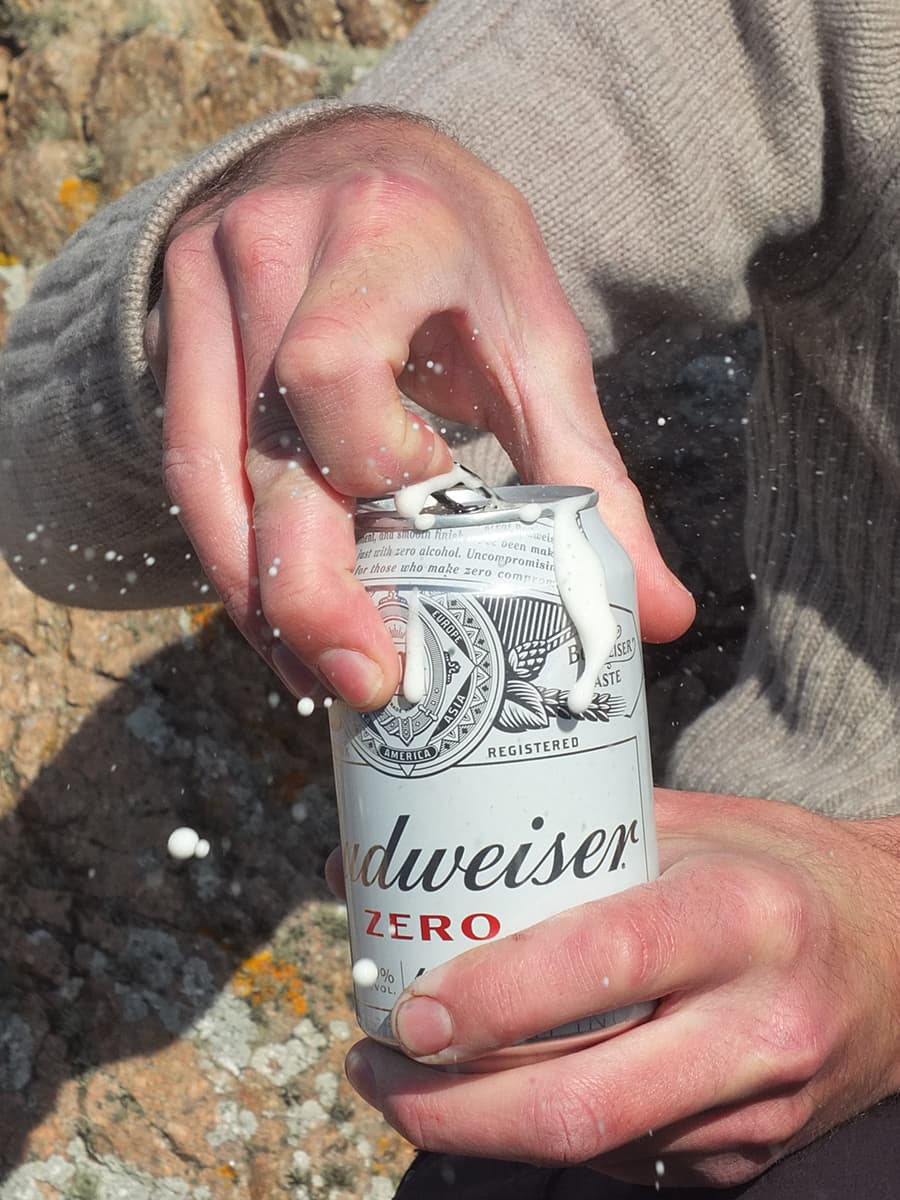 The brewers at Budweiser never use artificial colours, flavours or dyes in their beer either. Good stuff.
This beer has been created for people who want the great taste of a Budweiser without the after-effects of alcohol. It also appeals to those of us who are just trying to reduce our alcohol consumption throughout the week.
And do you know what? It really does taste like Budweiser. True story.
Budweiser Zero is available here in the UK in 4-pack 330ml cans and it is strictly for adults 18 years of age or older.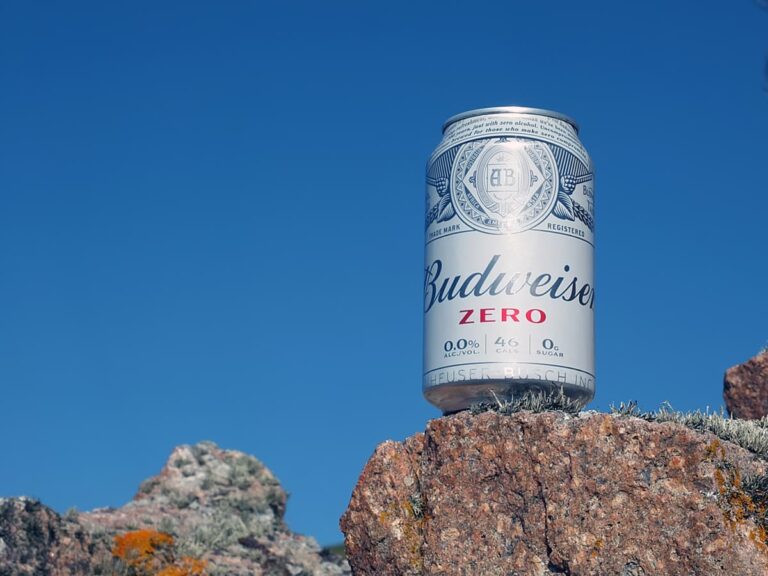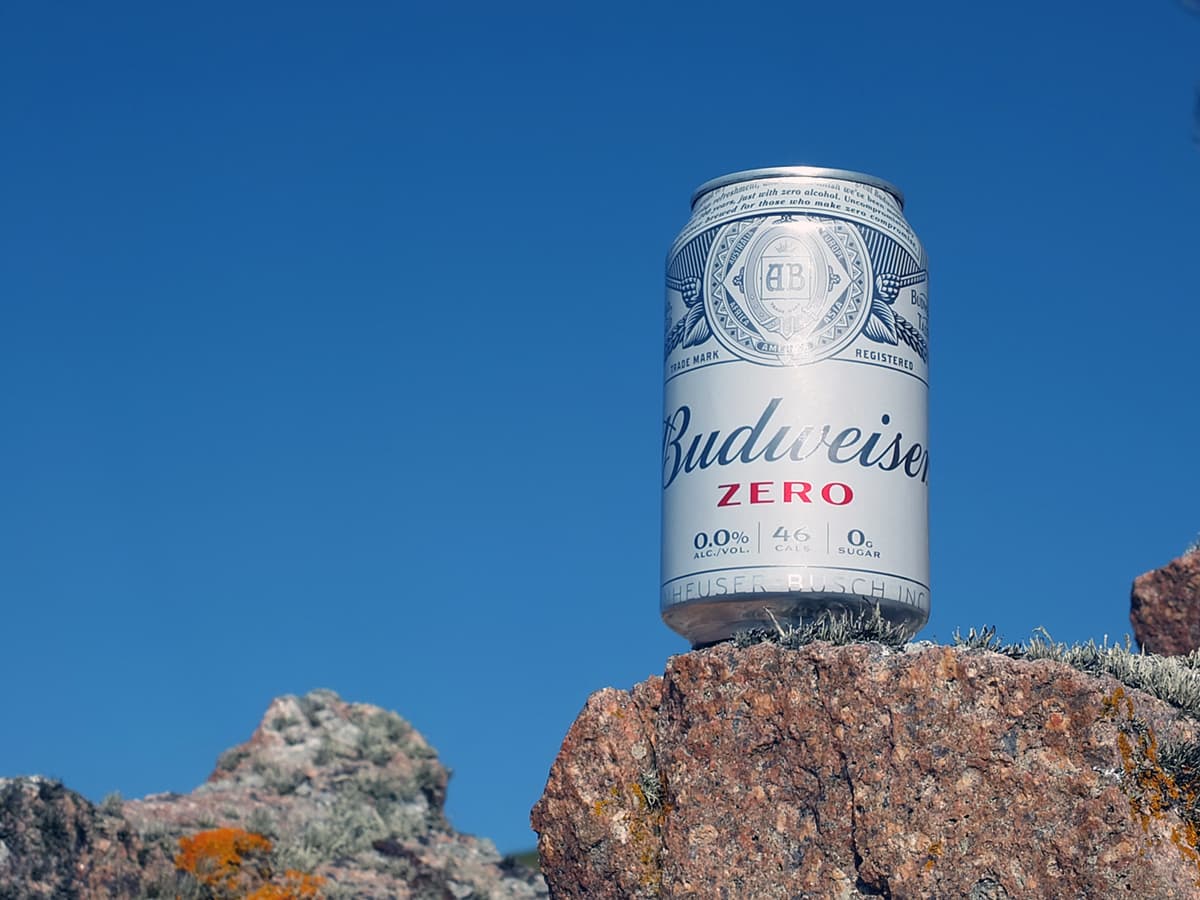 Try for 50% off – Shopmium Cashback Campaign
Have you heard of Shopmium? It's a free app that enables you to access exclusive offers on everyday brands found in the supermarket – like trying Budweiser Zero for 50% off! As a user, you simply buy the featured product from your nearest store, take a picture of your receipt and get 100% cashback paid directly into your PayPal or bank account!
This offer is available until the end of October 2020.
Offers in the app change weekly as Shopmium works with over 500 of the biggest supermarket product manufacturers who are featuring different products and providing Shopmium users with an exclusive offer to buy that product. More than 5 million people in the UK and France are already experiencing Shopmium. When will you try it?
A few moments after we finished taking photographs of our beer, we watched a minke whale swim by in the sea below us. True story! It swam towards those cliffs you can see in the photos above, chasing food, surfacing for air every few minutes and so we followed it, carrying on our walk around the point in the beautiful sunshine.
This is a sponsored post in collaboration with Budweiser, although all thoughts and opinions expressed are our own. Thank you for supporting the brands who make it possible for me to do what I love: share outdoor adventure stories from the clifftops.