This inside out smoked salmon uramaki sushi recipe with black lumpfish caviar makes for an impressive starter. Finished with a touch of indulgence with Elsinore Caviar, it is sure to inspire your guests. This post has been sponsored by Elsinore. All thoughts and opinions are my own.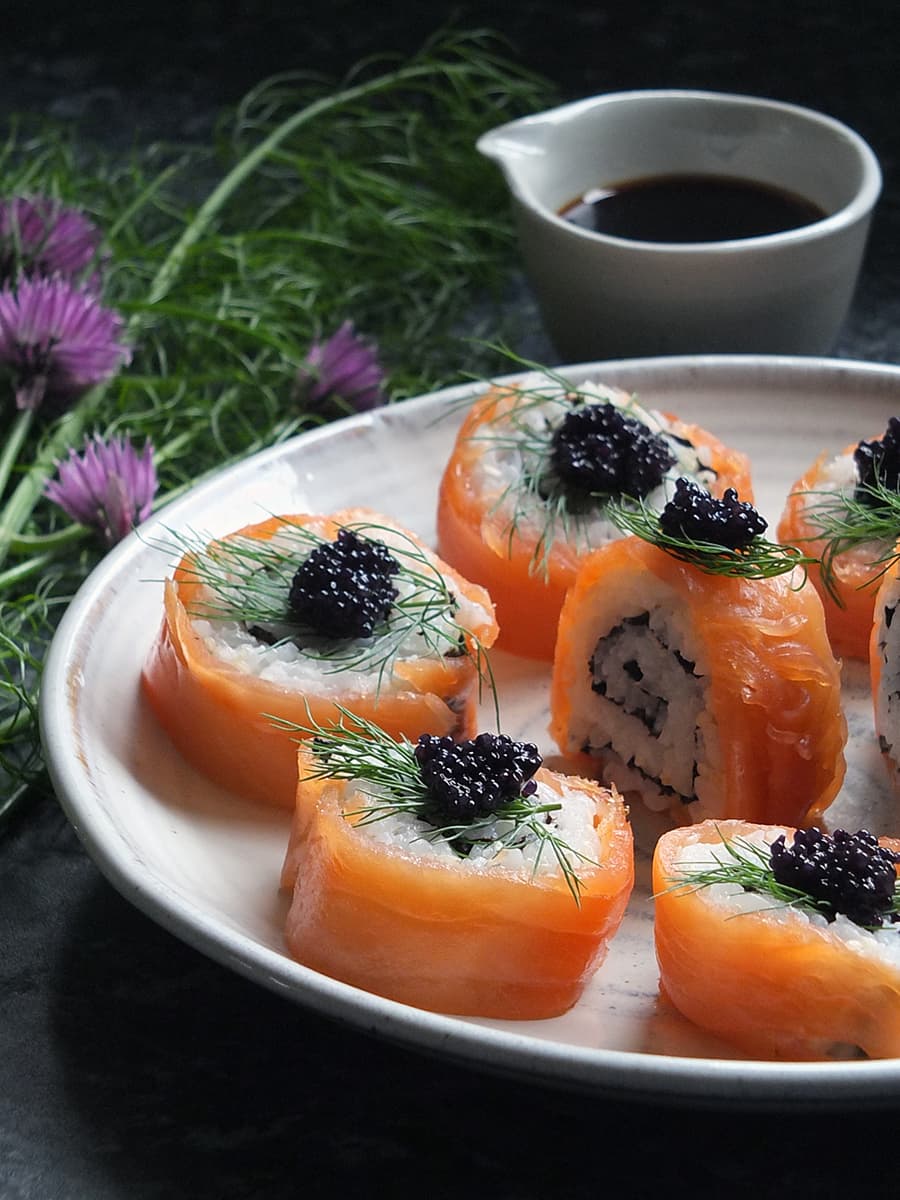 A touch of indulgence with Elsinore Caviar
During the lockdown, our home kitchens have become our restaurants. Many of us have learned new cooking skills, broadening our culinary horizons with ingredients easily obtainable off the internet.
Have you tried making your own sushi yet? Why not give it a bash – go on, try something new, and add a touch of indulgence by adding a garnish of black lumpfish caviar to take your homemade sushi to the next level.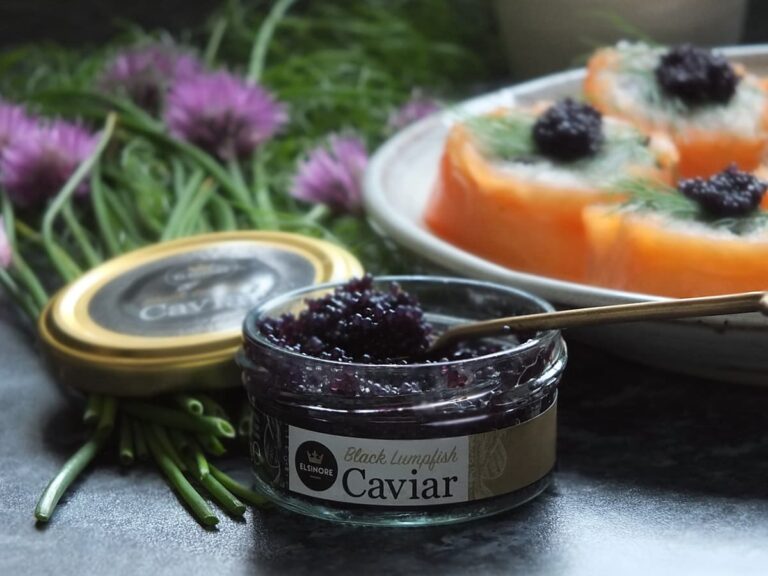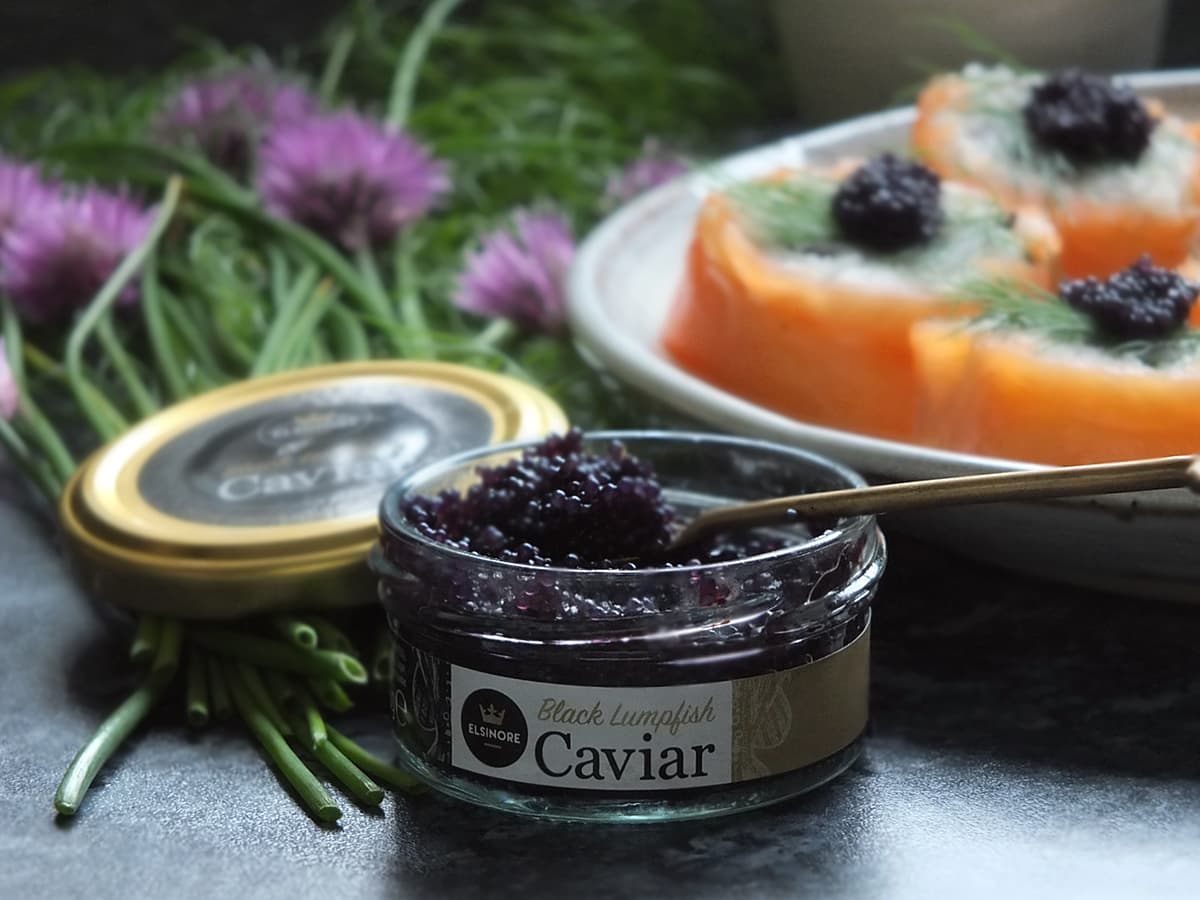 Elsinore black lumpfish caviar
Elsinore Foods Ltd. is a Scandinavian company importing premium seafood specialities, soups and meals inspired by their Nordic heritage.
They are proud to subscribe to sustainable fishing policies, you can be assured that when you buy their caviar they are doing their bit to ensure nature's balance is carefully maintained.
You can find Elsinore black lumpfish caviar in the chilled fish aisle in your local Waitrose and online from Ocado.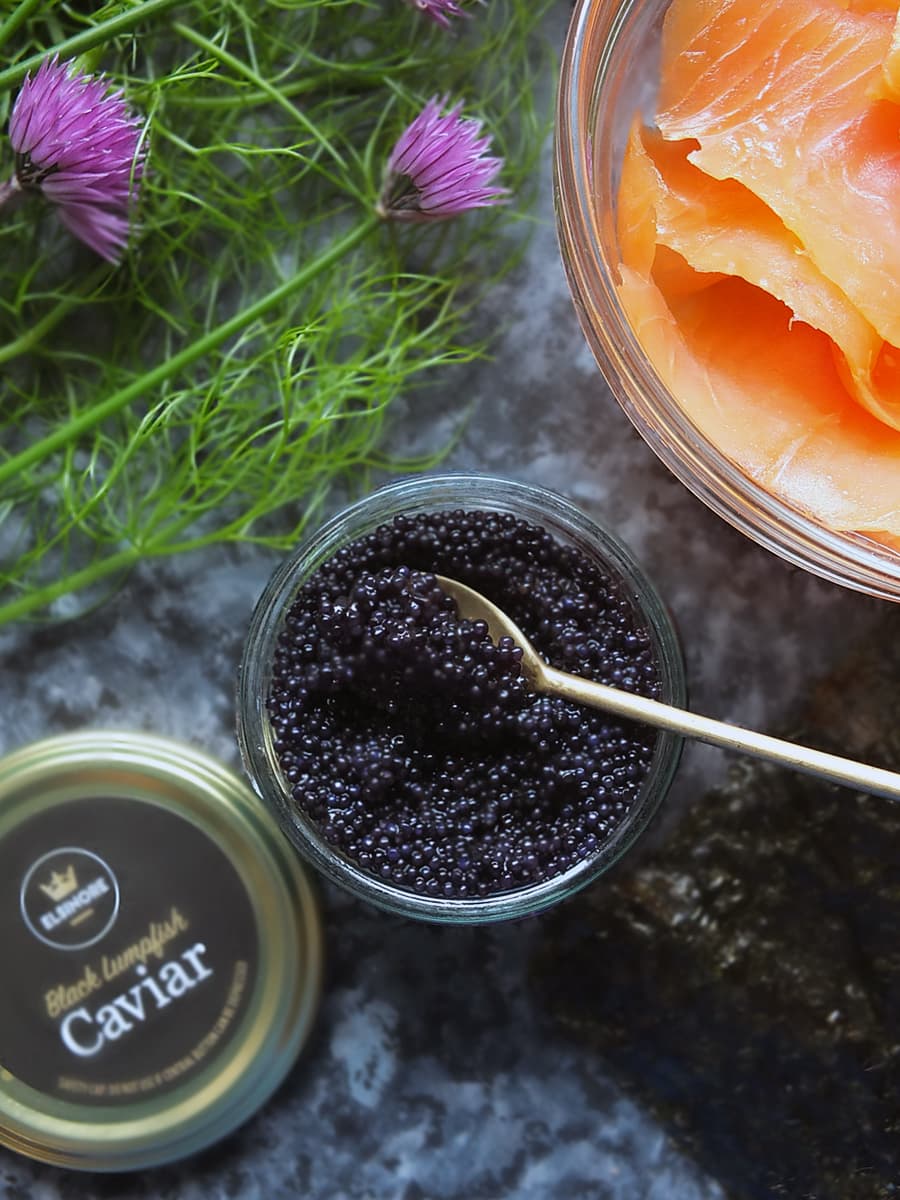 What is black lumpfish caviar?
Caviar has a reputation for being expensive and often times unaffordable. Black lumpfish caviar, however, is affordable caviar perfect for those wanting to add a touch of elegance to their home cooking.
Elsinore black lumpfish caviar is sustainably sourced from the lumpfish, a native species to the North Atlantic.
What does lumpfish caviar taste like?
Salty – the tiny, salty eggs have a delicious crunch to them, making it perfect to top your canapes, sushi or tartlets.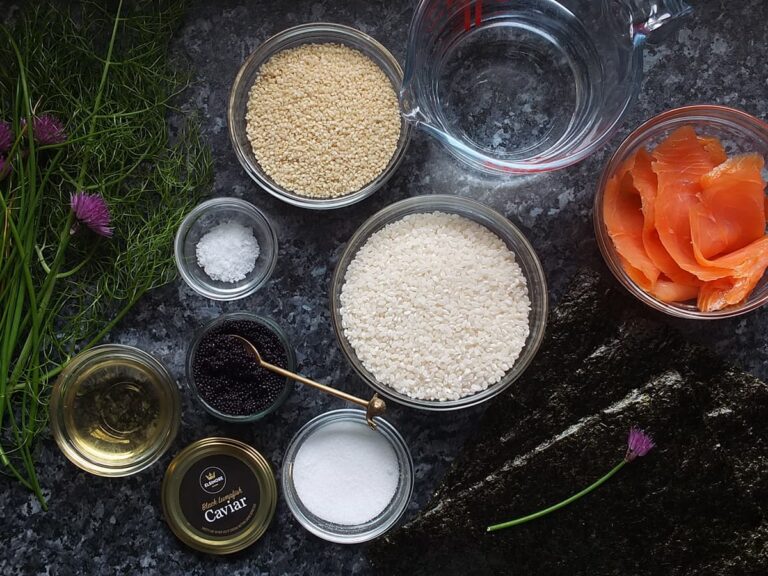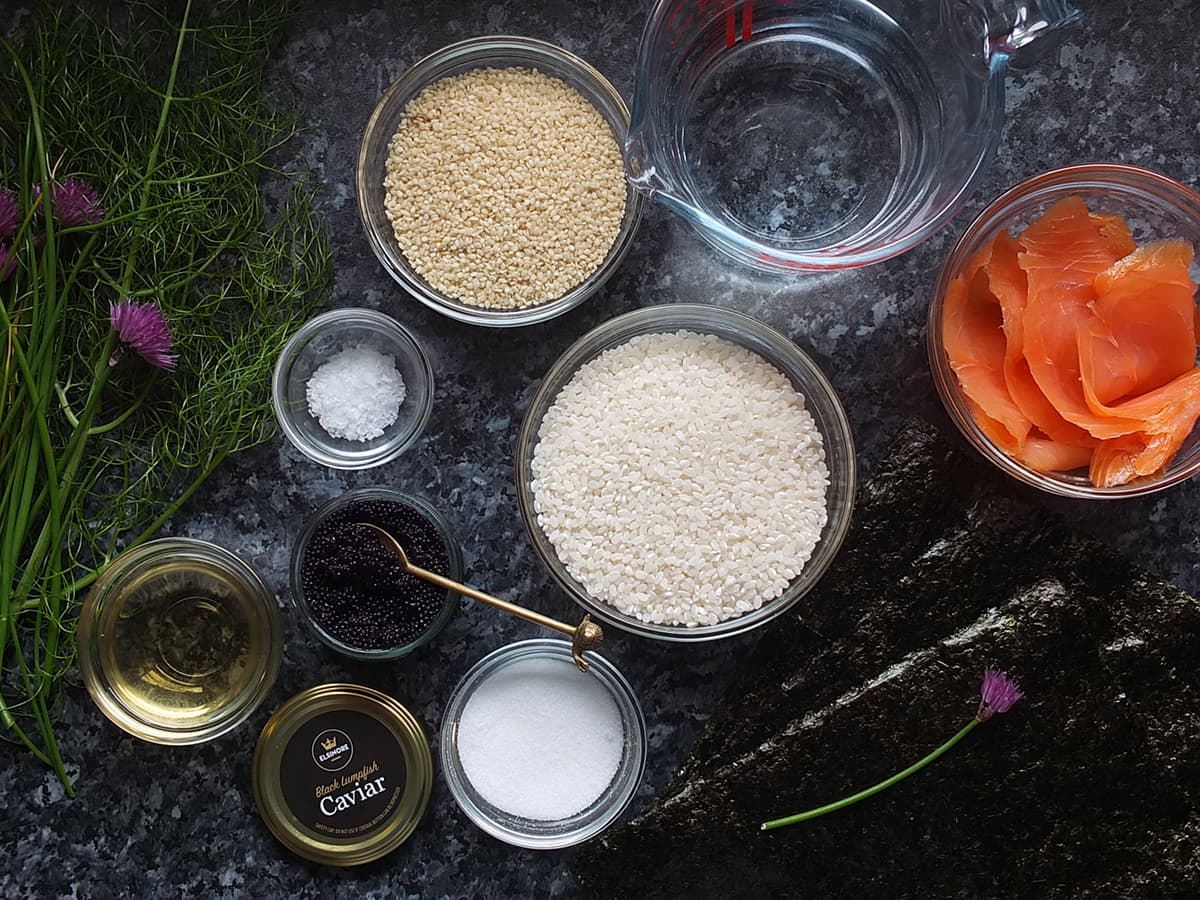 Ingredients you'll need for this smoked salmon uramaki
250 grams sushi rice
330 ml cold water
3 tbsp Japanese rice vinegar
2 tbsp caster sugar
1 tsp salt
3 nori seaweed sheets
240 grams smoked salmon slices
sesame seeds
fresh chives or dill
50 grams Elsinore Black Lumpfish Caviar
Equipment needed for this simple recipe
small saucepan
wooden or ceramic bowl
wooden spoon
bamboo sushi rolling mat
clingfilm
sharp knife
teaspoon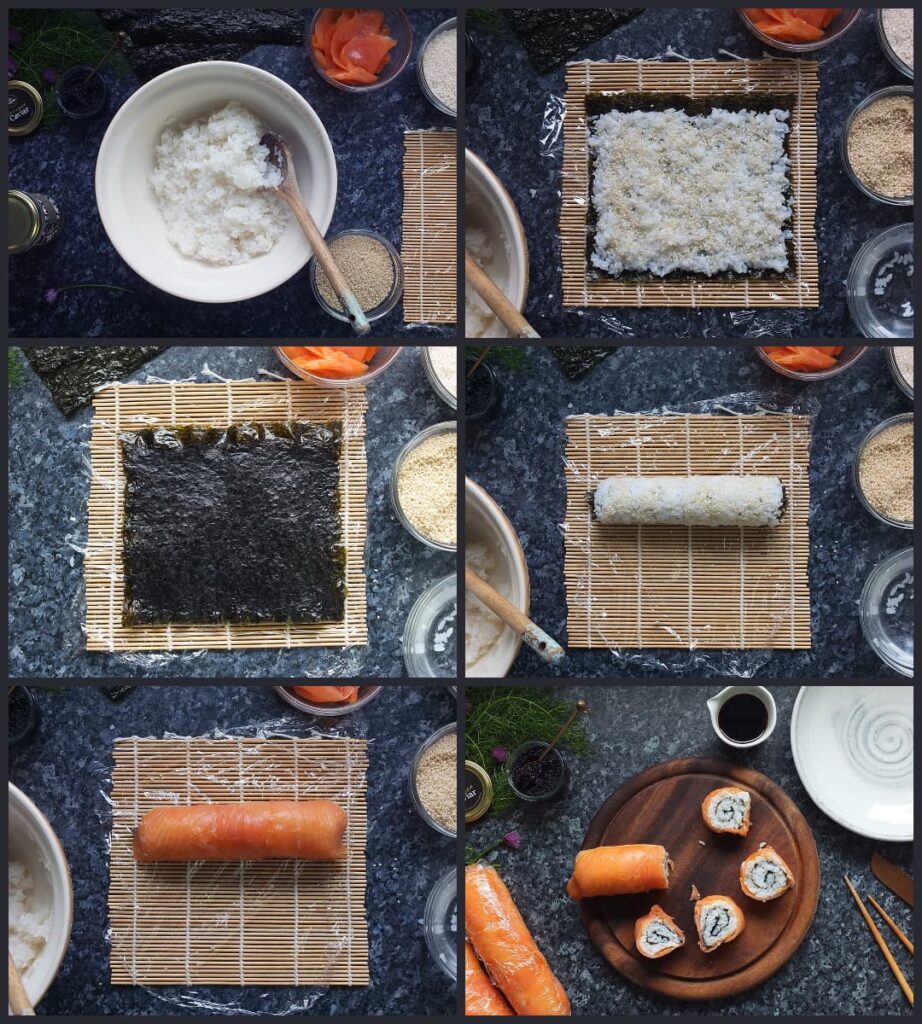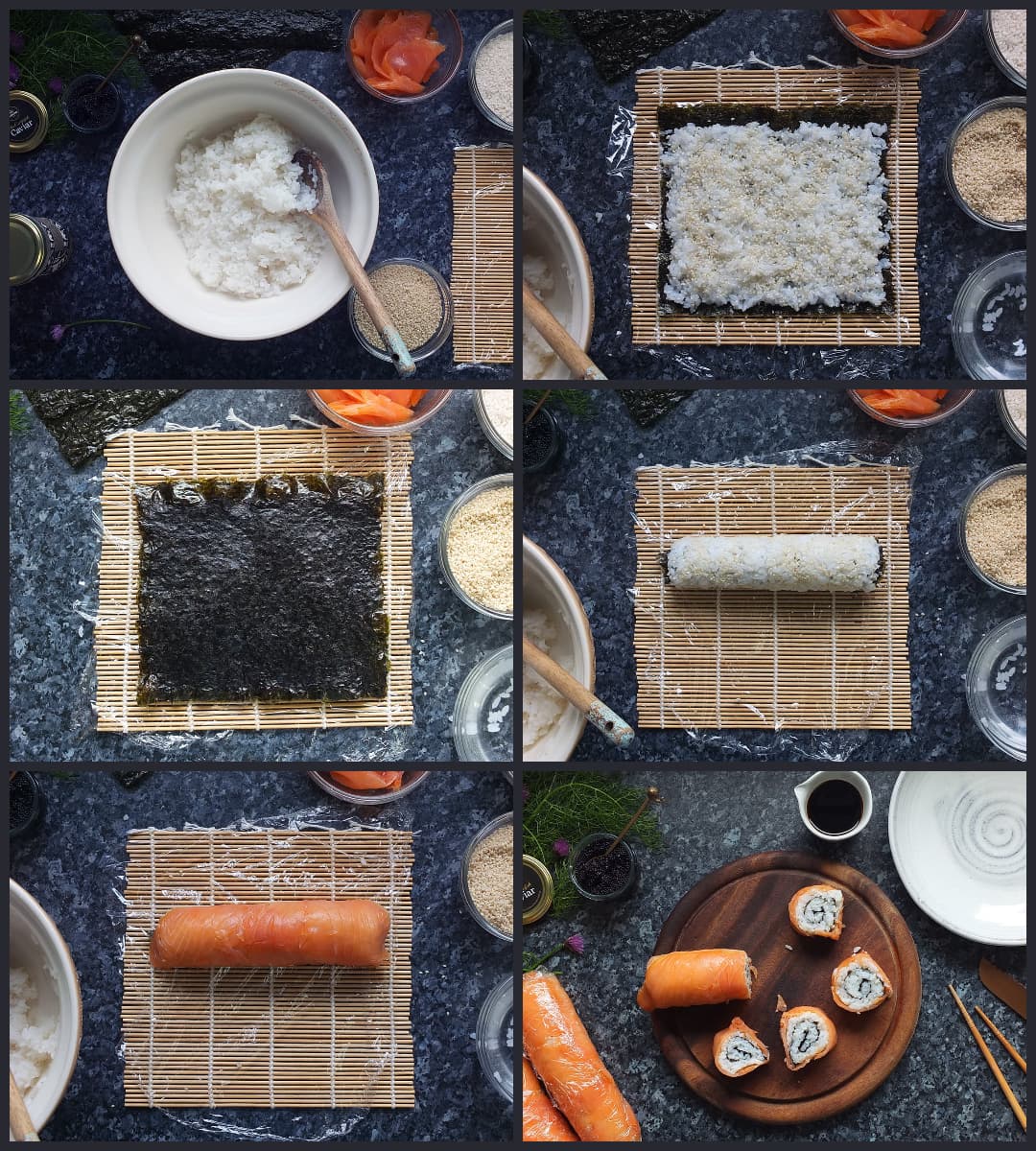 Step-by-step instructions
Cook rice according to packet instructions. Stir in seasoning and leave to cool to room temperature.
Place a sheet of nori seaweed on a piece of clingfilm over a bamboo mat. Arrange 1/3 of the rice over the top, using wet fingers to spread evenly. leave a 1 cm gap at the top. Sprinkle the rice with sesame seeds.
Turn the nori seaweed and rice over.
Using the bamboo mat, roll the seaweed and rice into a sushi roll.
Cover in smoked salmon, wrap and chill until needed.
Using a sharp knife, cut each sushi roll into 8 pieces. Garnish with dill and black lumpfish caviar.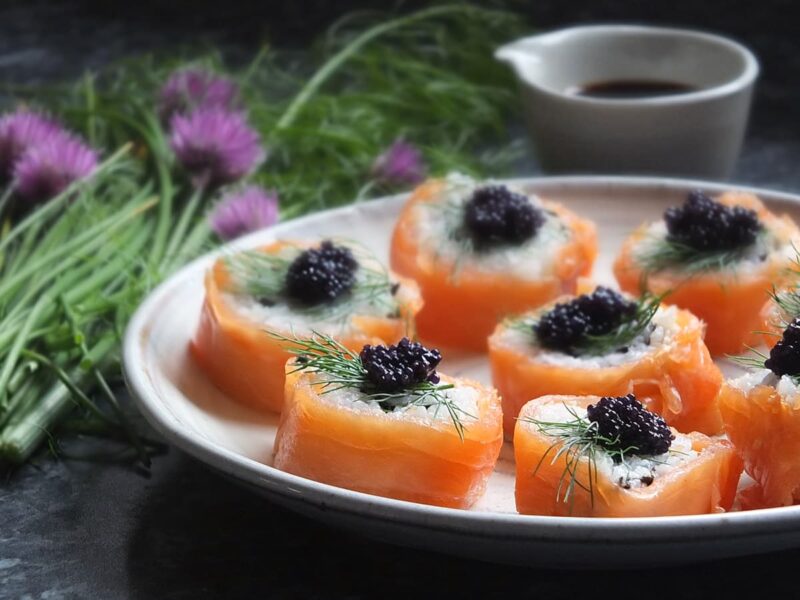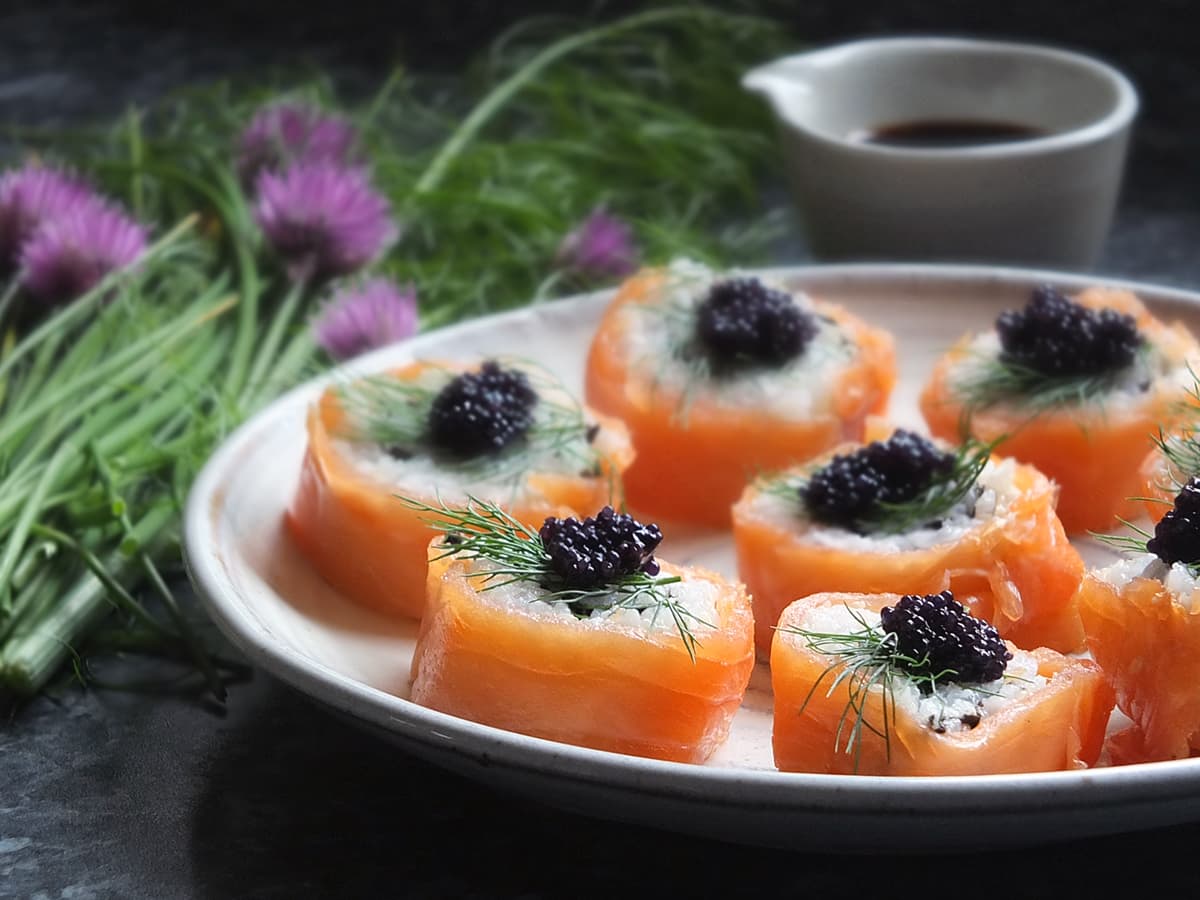 What is uramaki?
Uramaki literally translates as 'inside out', and it is one of the five sushi types in Japanese cuisine.
In this sushi, the 'filling' is on the outside, while the nori seaweed is beautifully swirled in the centre of the rice.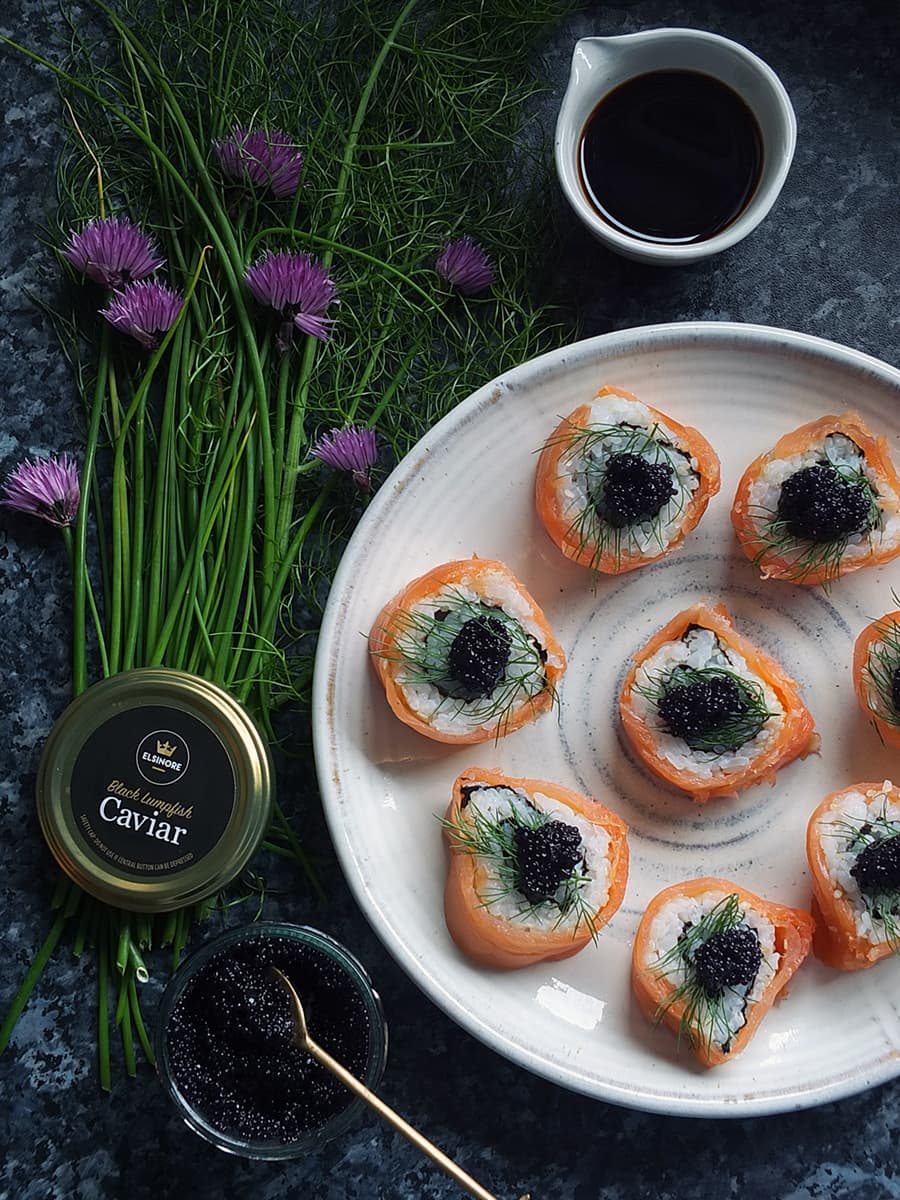 Try for Free – Shopmium cashback campaign
Have you heard of Shopmium? It's a free app that enables you to access exclusive offers on everyday brands found in the supermarket – like trying Elsinore black lumpfish caviar for free! As a user, you simply buy the featured product from your nearest store, take a picture of your receipt and get 100% cashback paid directly into your PayPal or bank account!
Offers in the app change weekly as Shopmium works with over 500 of the biggest supermarket product manufacturers who are featuring different products and providing Shopmium users with an exclusive offer to buy that product. More than 5 million people in the UK and France are already experiencing Shopmium. When will you try it?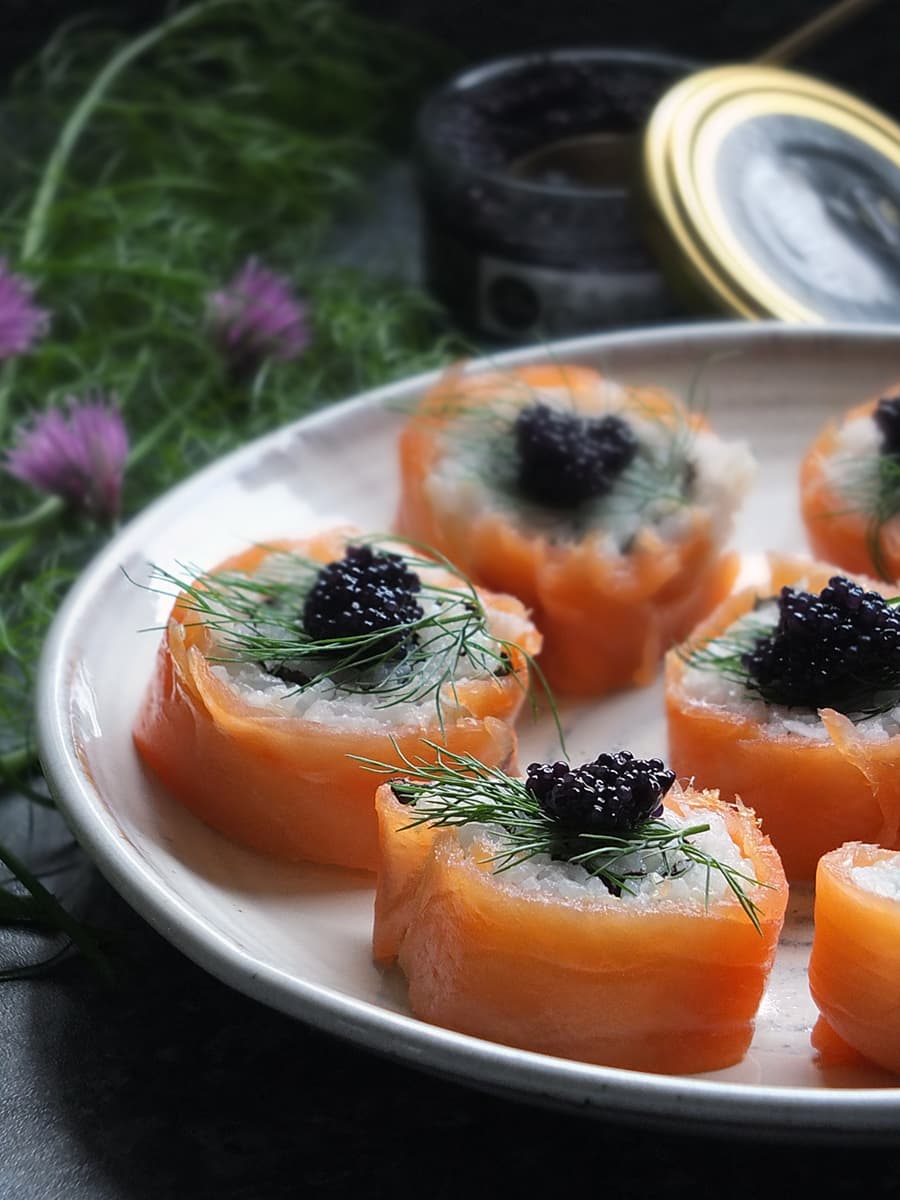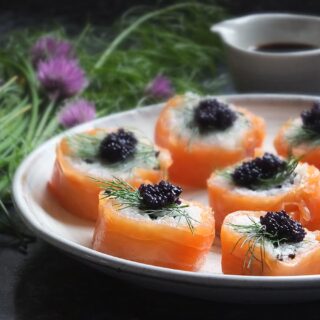 Smoked Salmon Uramaki with Black Lumpfish Caviar
A simple, yet elegant, inside-out sushi made with seasoned rice, nori seaweed, smoked salmon and garnished with black lumpfish caviar.
Print
Pin
Rate
Ingredients
250

grams

sushi rice

330

ml

cold water

3

tbsp

Japanese rice vinegar

2

tbsp

caster sugar

1

tsp

Shetland sea salt

3

sushi nori seaweed sheets

240

grams

smoked salmon

toasted sesame seeds

50

grams

black lumpfish caviar

fresh dill

or chives
Affiliate Links
This recipe card may contain affiliate ingredient and equipment links. As an Amazon Associate I earn from qualifying purchases.
Instructions
Place sushi rice into a bowl and rinse until the water runs clear.

Cover the rice with cold water and leave to soak for 15-30 minutes.

Drain the rice and add to a small saucepan along with the water.

Bring the rice to the boil, reduce the heat and simmer gently with the lid off for 10 minutes.

Turn the heat off, pop the lid on the saucepan and leave the rice to steam in the pan for a futher 10 minutes.

Meanwhile, place the vinegar, caster sugar and salt into a small jar and shake until dissolved.

When the rice has finished cooking, transfer it to a bowl and gently fold in the vinegar seasoning.

Cover the bowl with a damp tea towel and leave the rice to cool to room temperature, about half an hour.

Place a small square of clingfilm onto your bamboo mat. Arrange a sheet of nori seaweed in the centre.

Spoon 1/3 of the cooled rice onto the nori seaweed and, using wet fingertips, spread the rice to the edges of the seaweed. Leave a 1 cm gap at the top.

Sprinkle the rice with sesame seeds.

Turn the seaweed and rice over, so that the sesame seeds are face down on the clingfilm.

Using your bamboo mat, roll up the seaweed and rice to form a sushi roll.

Cover the outside of the sushi roll with slices of smoked salmon.

Wrap in clingfilm, and repeat with the remaining seaweed and rice.

Chill the sushi rolls until needed. This can be made a day in advance.

Using a sharp knife, cut each sushi roll into 8 pieces.

Garnish with a sprig of dill and a small spoonful of black lumpfish caviar.
Nutrition
Calories:
58
kcal
|
Carbohydrates:
10
g
|
Protein:
3
g
|
Fat:
1
g
|
Saturated Fat:
1
g
|
Cholesterol:
10
mg
|
Sodium:
179
mg
|
Potassium:
30
mg
|
Fiber:
1
g
|
Sugar:
1
g
|
Vitamin A:
15
IU
|
Vitamin C:
1
mg
|
Calcium:
3
mg
|
Iron:
1
mg
Environmental Information
Pin this recipe for later
This is a sponsored recipe post in collaboration with Elsinore, although all thoughts and opinions expressed are our own. Thank you for supporting the brands who make it possible for me to do what I love: mess up my kitchen, go on adventures and share recipe stories.