Packed with the flavour of lycopene rich tomatoes and slow roasted garlic.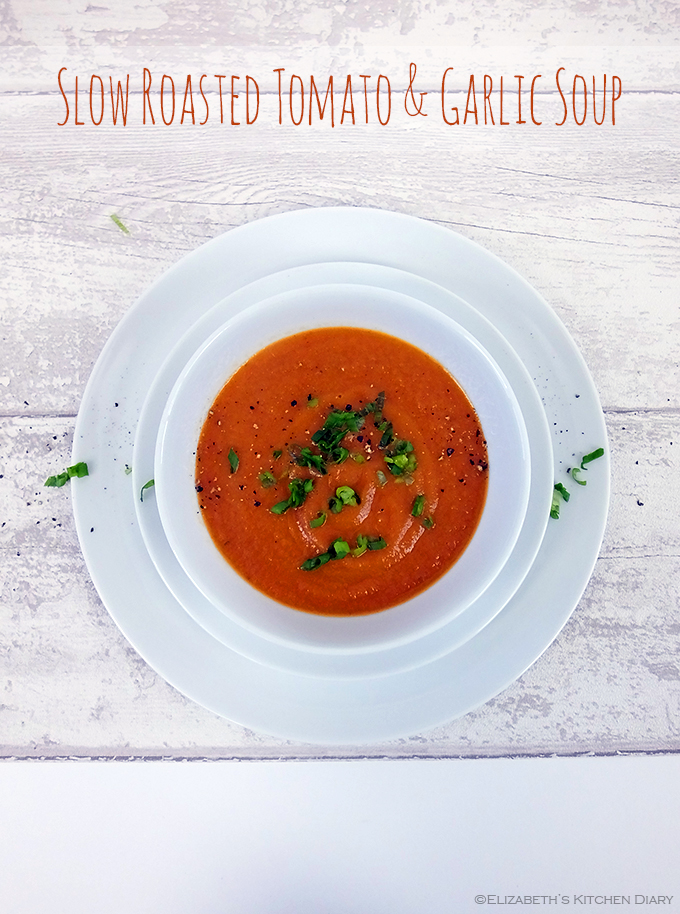 Nothing beats the humble tomato.
Packed full of lycopene, its antioxidant properties and health benefits are well documented. Plus, a bowl of steaming hot tomato soup is the perfect comfort food, wouldn't you agree? Especially when accompanied by a gorgeous, oozing, freshly made grilled cheese sandwich… Mmm… cheese….
There are no grilled cheese sandwiches in my diet at the moment (I'm on a mission to shed a few pounds) but this bowl of slow roasted tomato and garlic soup went down really, really well for my #Jumpstart15 lunch yesterday.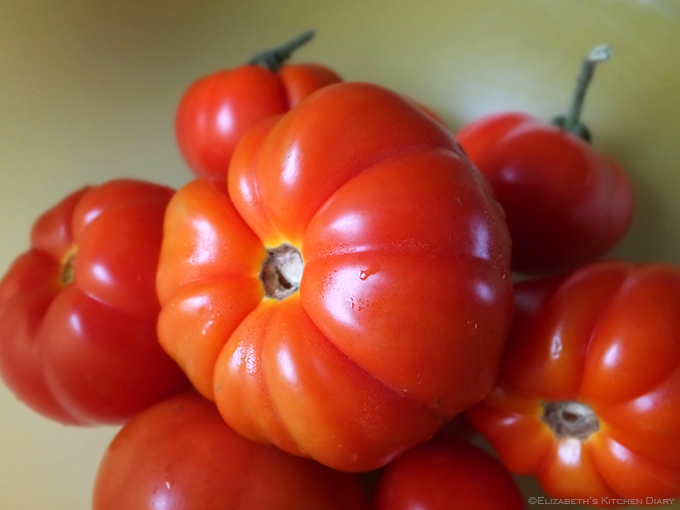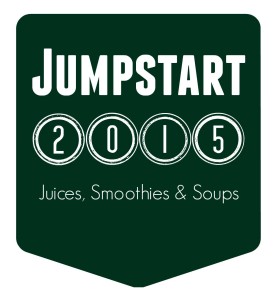 Jumpstart 2015 is a challenge a group of us UK food bloggers have embarked on for the month of January, and maybe longer, where we are increasing the amount of vegetables in our diet by including lower calorie vegetable loaded juices, smoothies and soups. You can read all about it in my introductory post here, and find out who else is getting involved.
I first made an adaptation of this recipe back in September when my organic veg box was filled with gorgeous ripe, ruby red tomatoes.
My first experiments were to make a slow roasted tomato sauce for use in pasta dishes, which worked really well (just use less water in the soup recipe below and you've got tomato sauce!).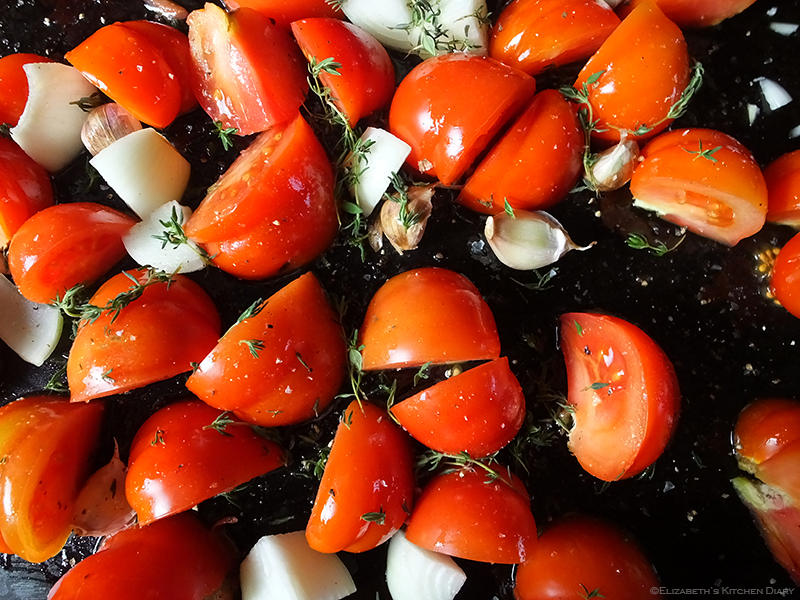 Slow roasting tomatoes and garlic releases their gorgeous natural sweetness. The addition of some fresh thyme, sea salt and freshly ground black pepper makes for a soup better than you will ever get in a tin, and despite the fact it takes an hour to slow cook, there is very little work involved.
So, yesterday this was my lunch, sipped from a thermos on the top of a hill while the sun made a very brief appearance here in Shetland. I'd just finished up taking a few food photographs when, for the first time in what feels like forever, the sun shone through my window. It was low on the horizon, yes, but the temperature was a balmy 9 C, the kids were at school and I'd finished up what I needed to do work-wise that day.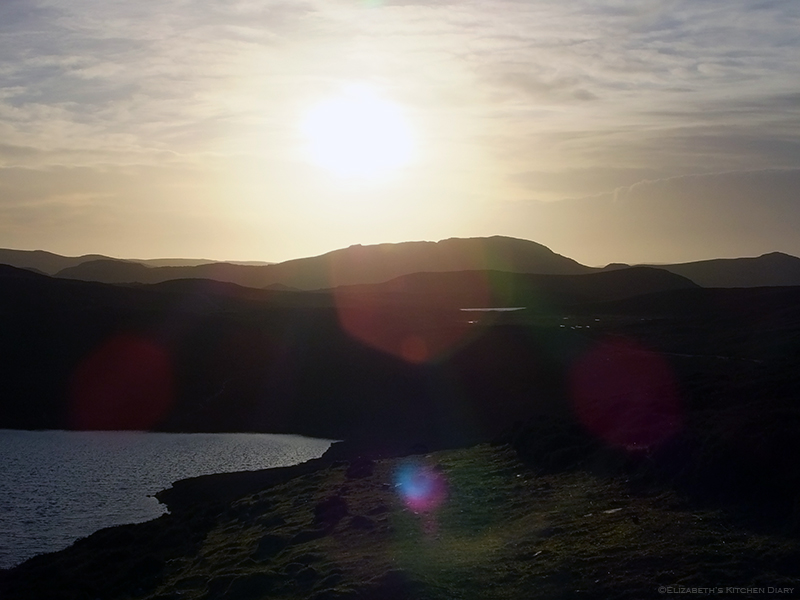 So I poured my tomato soup into my trusty thermos, packed away a few slices of low fat ham and a piece of 50 % less fat cheddar and headed for the nearest hill. It was half past one in the afternoon when I took this photo of the sun sitting low over the horizon.
On top of the hill the wind was brisk, but the view is spectacular.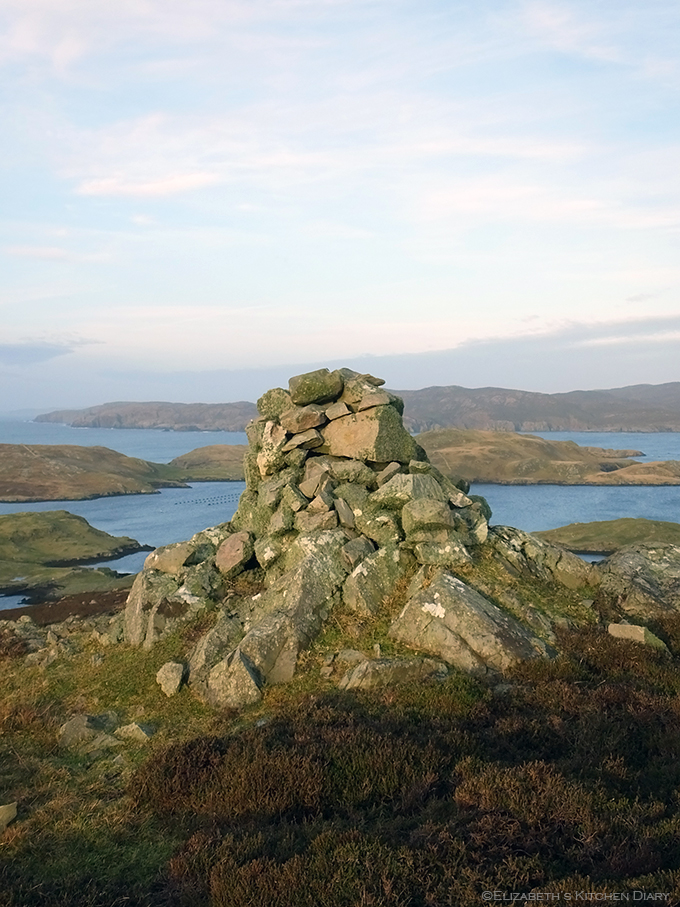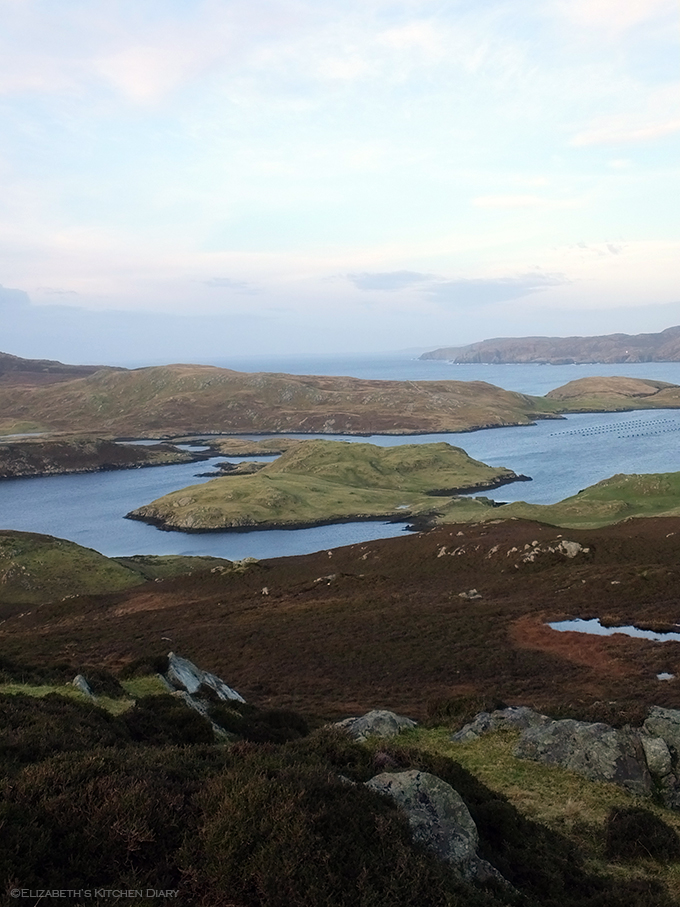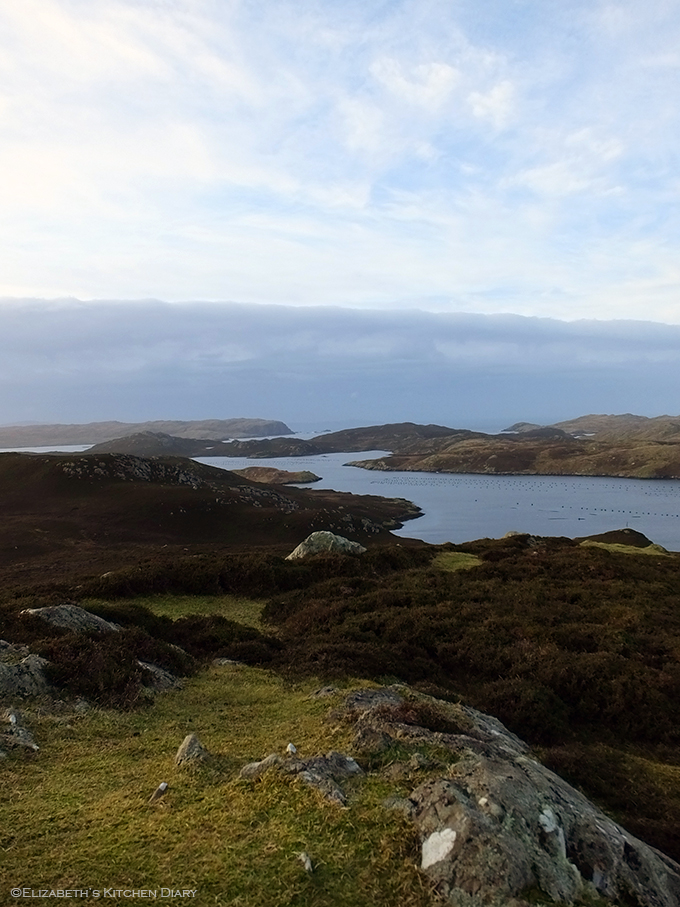 Sheltering from the wind behind the cairn I sipped my soup and ate my lunch, pondering life in the quiet solitude. I really needed that time to myself, considering I hadn't left the house since the 27th of December except for the school run in the dark that morning. The wind helped clear away the cobwebs in my head.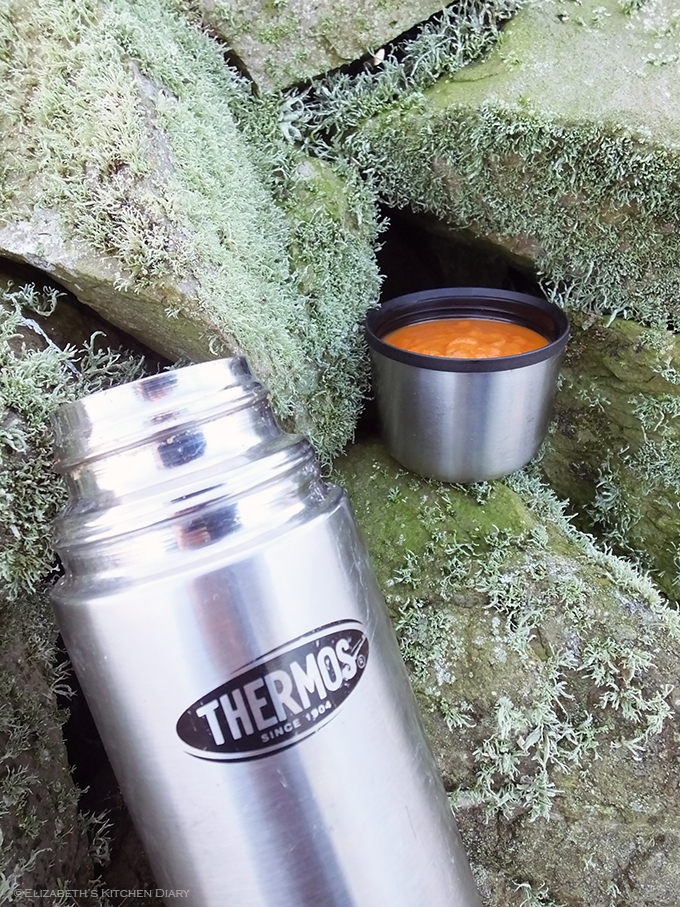 I used a finely sliced spring onion as a garnish instead of parsley (I'd checked the garden and my parsley plant is well and truly gone for the season – although I did grab a big fresh handful on Christmas Day for our dinner!) or fresh basil (I didn't have any and the local shop is pretty much empty of fresh produce) and the onion really worked well. It gave a nice texture to the soup, with little bursts of onion flavour. Plenty of freshly ground black pepper made up for the fact I didn't actually use any vegetable bouillon in this batch of soup (I'm trying to minimize my water-retaining salt intake).
All in all – pretty fantastic. You should give it a go. Hill walk optional, but highly recommended. 😉
Servings

Prep Time

Cook Time

1

serving

10

minutes

60

minutes
Servings

Prep Time

1

serving

10

minutes
Preheat oven to 180 C.

Chop the tomatoes and onion into large, even piece (quarters is fine). Place into a large bowl.

Separate the garlic cloves but leave them unpeeled and place into the bowl.

Drizzle over one tablespoon of vegetable oil and toss the vegetables to coat well.

Spread the vegetables out onto a large baking tray, sprinkle with plenty of fresh thyme and season with salt and pepper to taste.

Roast for one hour, checking occasionally and turning the vegetables so they do not blacken.

Remove the baking tray from the oven and leave the vegetables to cool.

When cooled, the garlic will slip out of its skin. Place the roasted garlic (without the skin) and the rest of the vegetables into a blender along with the hot water and vegetable stock (if using). Blend until it reaches the desired consistency, adding more hot water if you need.

Leave the soup as is if you don't mind tomato seeds and skin in it, alternatively, strain for a smoother soup.
Linking up with Extra Veg, co hosted by Helen at Fuss Free Flavours and Michelle over at Utterly Scrummy; The Vegetable Palette (Feel Good Veg) by Shaheen over at Allotment 2 Kitchen; Tasty Tuesdays by Honest Mum;  Recipe of the Week by Emily at A Mummy Too; Cooking with Herbs (using store cupboard essentials) with Karen at Lavendar & Lovage, Cook, Blog, Share by Lucy at Supergolden Bakes and Family Foodies by Vanesther at Bangers & Mash and Louisa at Eat Your Veg.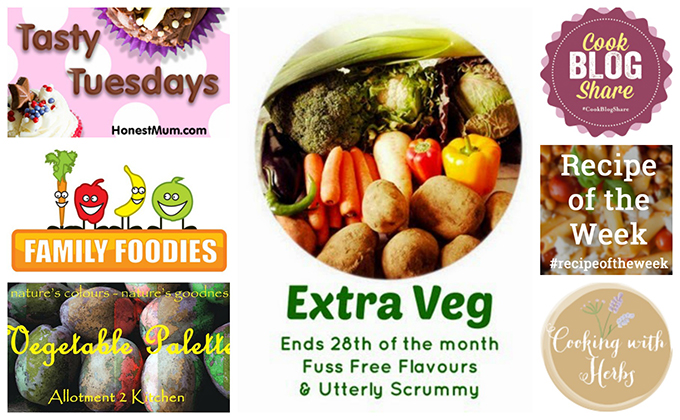 If you want to be kept up to date on my recipes, occasional craft tutorials, adventure stories and giveaways then please subscribe to my weekly newsletter; it gets sent out every Monday morning if there is new content. Your email address won't be passed on to anyone, you will never be spammed and you are free to unsubscribe at any time, no questions asked. Make sure you confirm your subscription or you won't receive the newsletter – if it hasn't arrived check your junk mail folder.
[wysija_form id="1″]
Disclosure: this post contains an affiliate link. This is not a paid post and all opinions expressed are my own.