In collaboration with Bertolli – A Taste of the Mediterranean.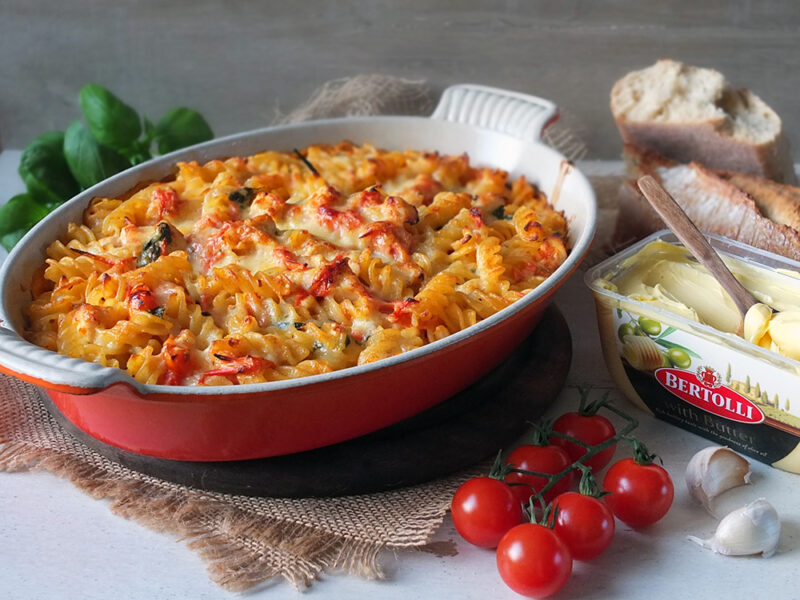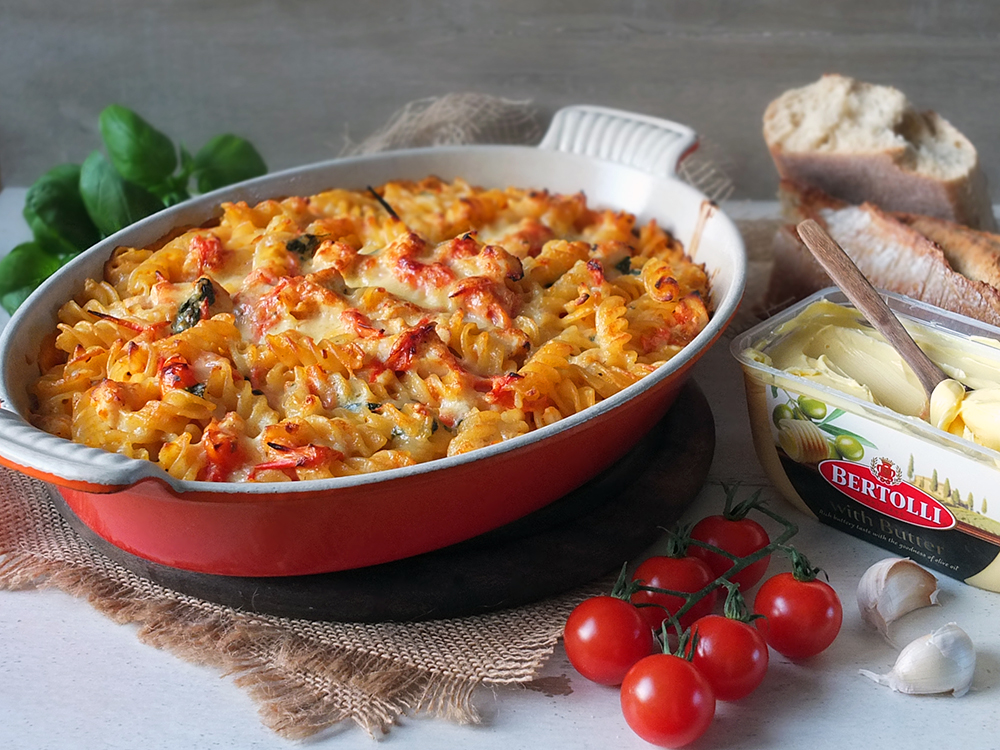 Pasta has got to be one of those ultimate comfort foods, wouldn't you agree? It's a remarkably versatile ingredient, inexpensive and quick to cook too, so you're never more than a few minutes from a steaming hot bowl of indulgent carbohydrates.
I find it fascinating how the various types of pasta – spaghetti, fusilli, linguine, ravioli – are all prepared with the same basic ingredients but their different shapes mean they taste vastly different from each other and therefore suit different sauces. For instance, spaghetti suits something really simple like Italian chef Gennaro Contaldo's simple tomato sauce recipe.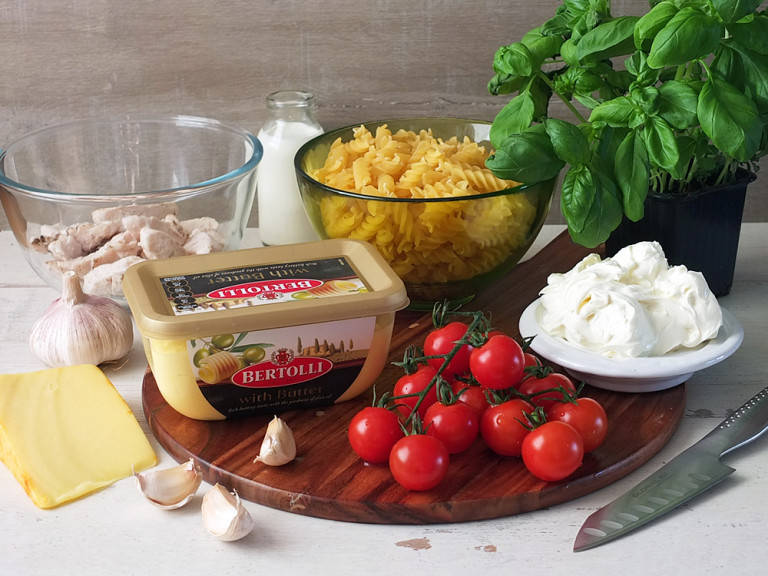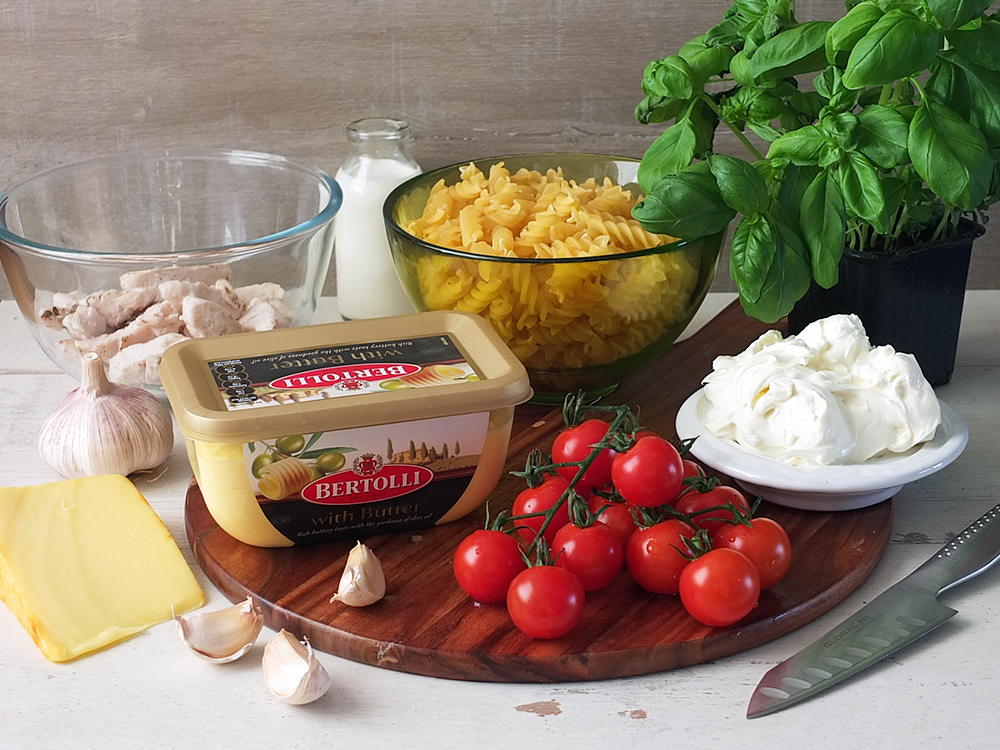 I'm a big fan of fusilli, though, the little spirals of pasta hold creamy sauces absolutely perfectly. I cook this type of pasta so often my youngest calls it 'normal' pasta. It's the pasta against which all other pastas are compared.
In true Italian style I like to start my pasta dishes with fresh ingredients – fresh vegetables and herbs, good quality olive oil and, if I am to be honest, I cook with butter!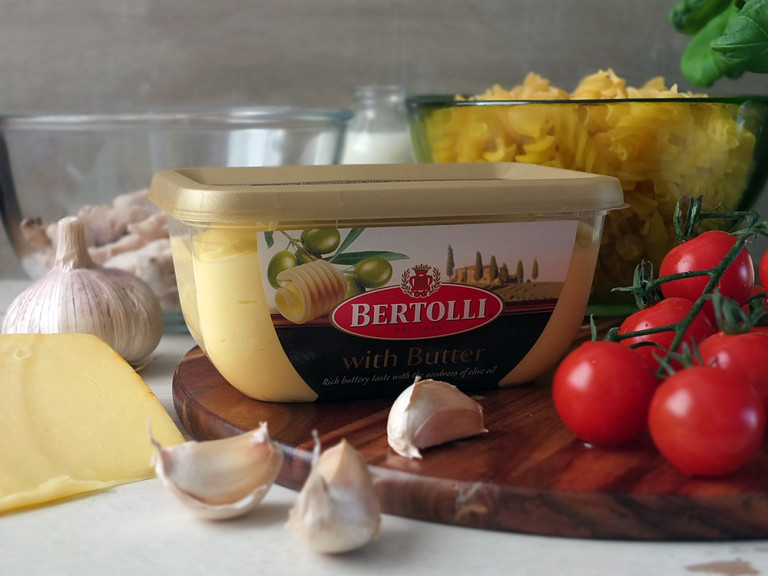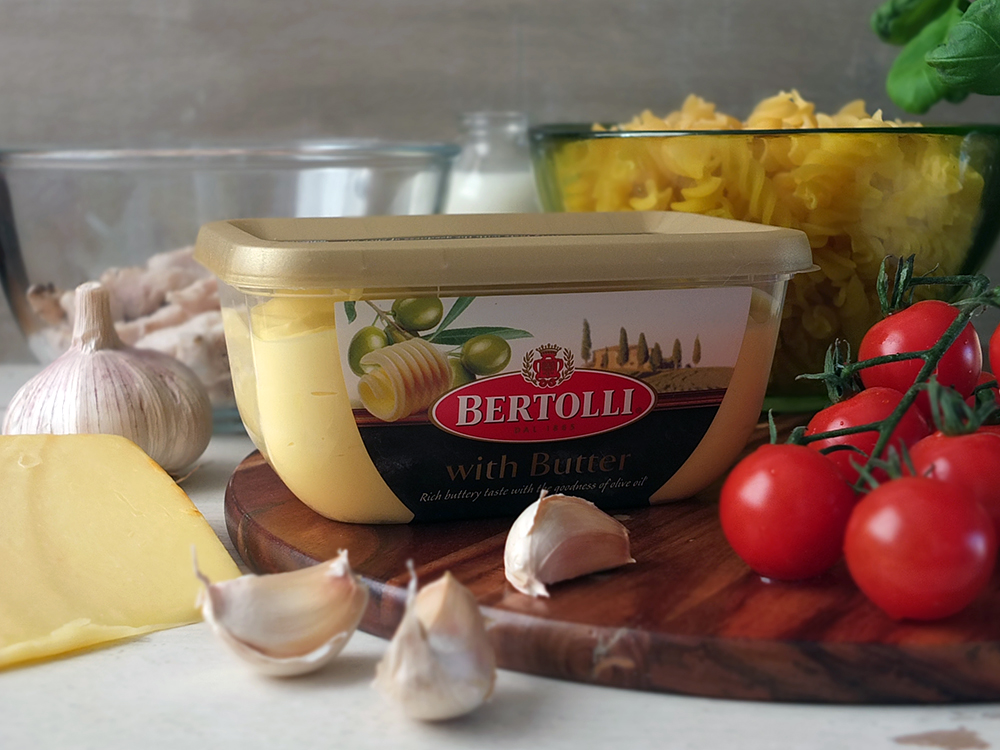 Italian brand Bertolli have been producing olive oil since the late 1800s and their olive oil spreads have become a staple part of the UK diet, bringing a little bit of the Mediterranean sunshine to our plates.
Bertolli have recently launched a new product in their range – Bertolli with Butter. This butter and olive oil blend gives you all the flavour of butter, but with 45% less saturated fat than cooking with butter alone.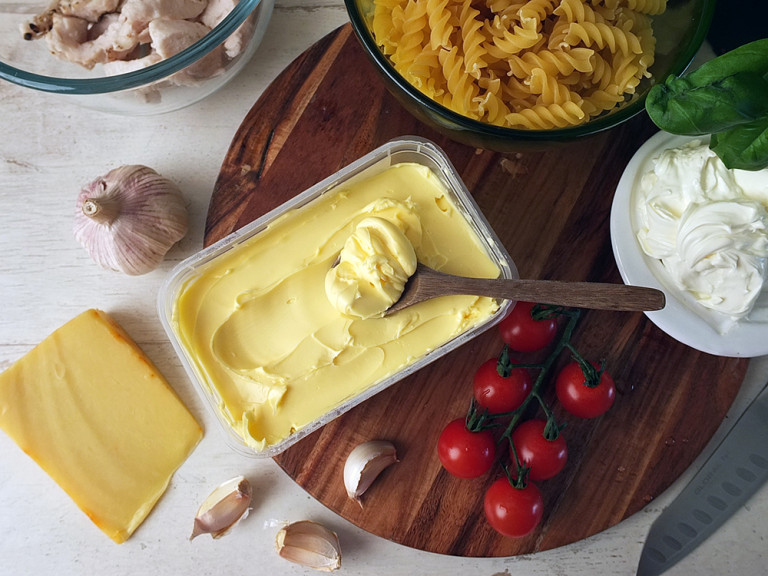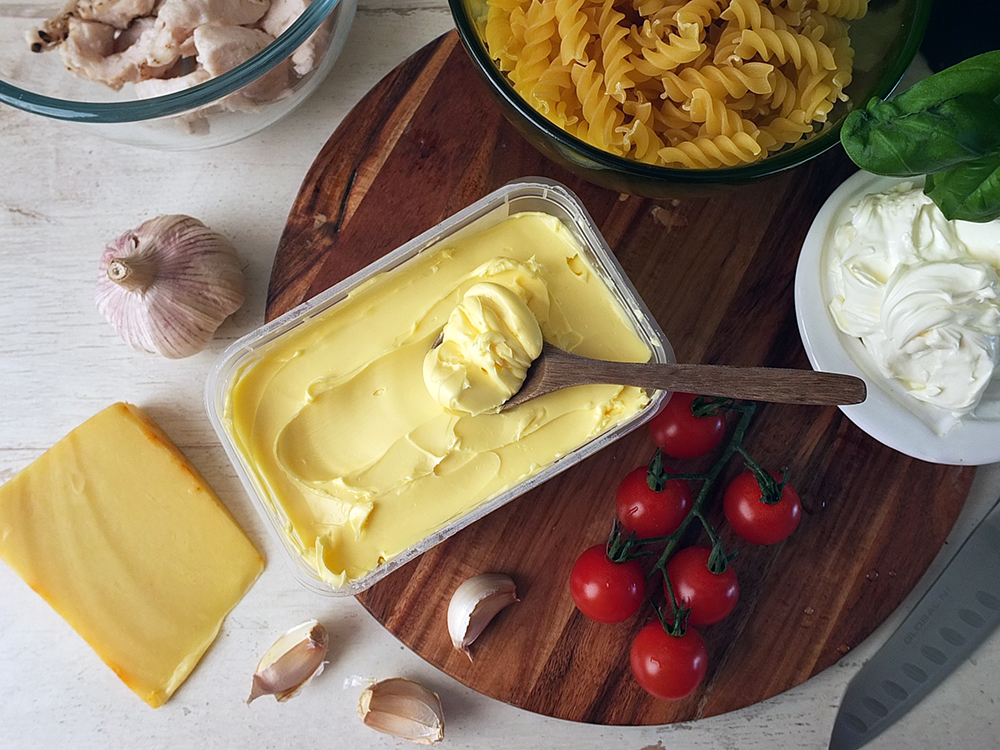 It is well known that Italians tend to be leaner than our UK and American friends. An active lifestyle and healthy diet are key components to this.
Olive oil is the preferred fat, as well as lean meat (such as chicken and fish) and plenty of vegetables and pasta. They also like to keep fit with a moderate amount of exercise such a stroll in the park before lunch. Italians aren't known for spending ages in the gym, in fact, they're apparently as exercise shy as the Brits are, but over a quarter of their journeys are made by foot. They walk, a lot. How could you not want to with all that fine weather?!
Unfortunately, the Mediterranean sunshine seems to be avoiding my island home in the North Sea, so although I spend a lot of time walking, I also spend at least a half an hour of my day doing a cardio or strength training exercise.
The other day I attended a fantastic Tank Built Conditioning Camp for Women in a local village hall. I had my first play with kettle bells (pictured above), and I was flipping a 120 kg truck tyre over. It was a rather satisfying experience and I was delighted to have the opportunity to meet other like-minded women.
Tip: carbohydrates make a great post-workout meal as they replenish depleted glycogen and glucose.
With strength training also comes the need for extra protein to help repair and build muscle. For lunch, after my morning bootcamp session, I adapted Gennaro's simple cherry tomato sauce recipe to include chicken breast and a bit of low fat cream cheese.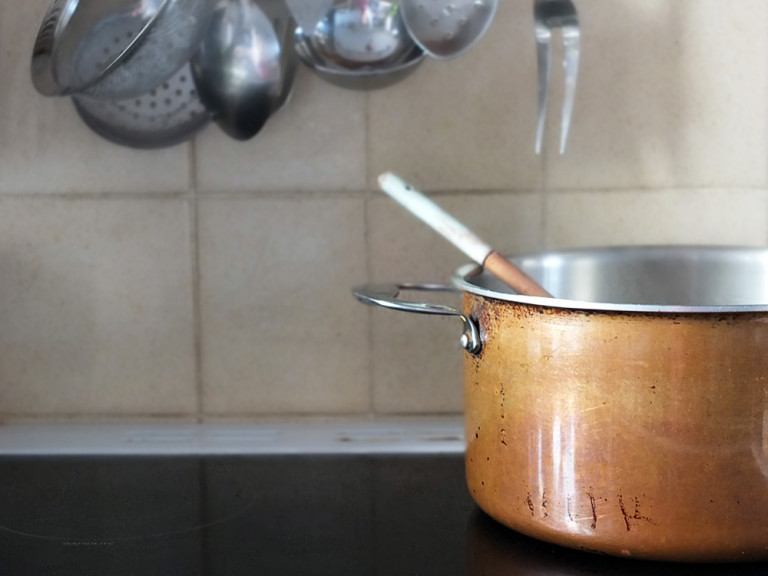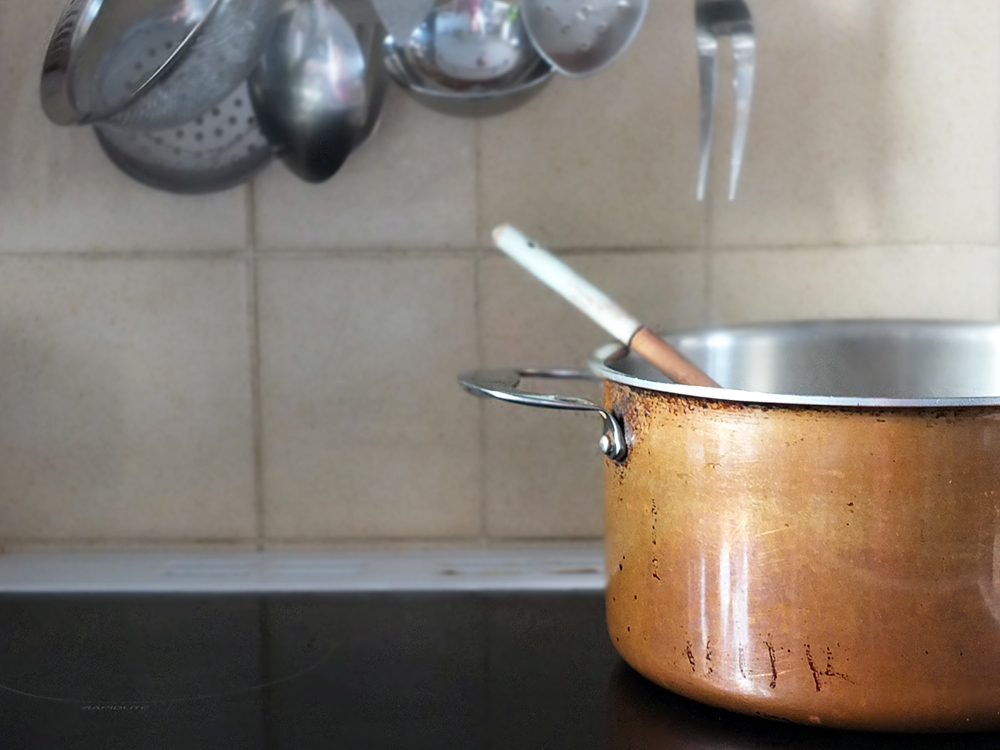 I found that the Bertolli with Butter was a pleasure to cook with. It saves having to buy both olive oil and butter to cook with, and it melted and sizzled fairly nicely in the pan.
After following the instructions for Gennaro's recipe I stirred in some low fat cream cheese and some cubed grilled chicken breasts. This was stirred through some cooked fusilli, sprinkled with my favourite sharp cheddar and baked for 25 minutes until golden and bubbly.
Served with some fresh bread this made a rather satisfying meal.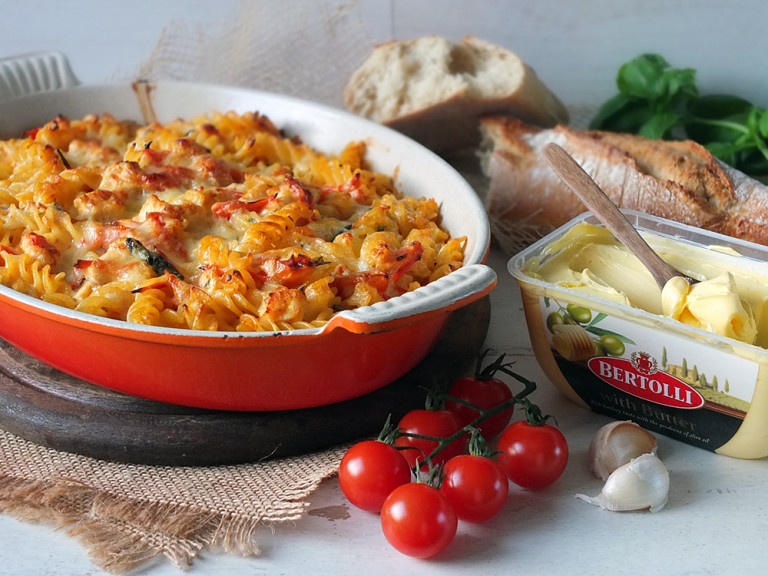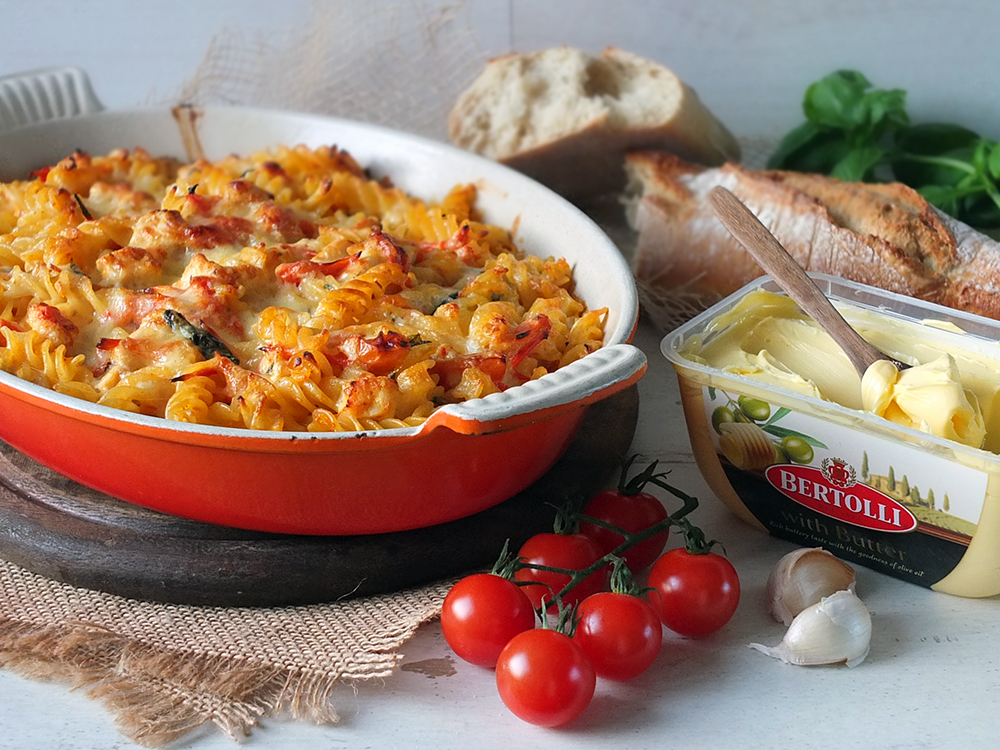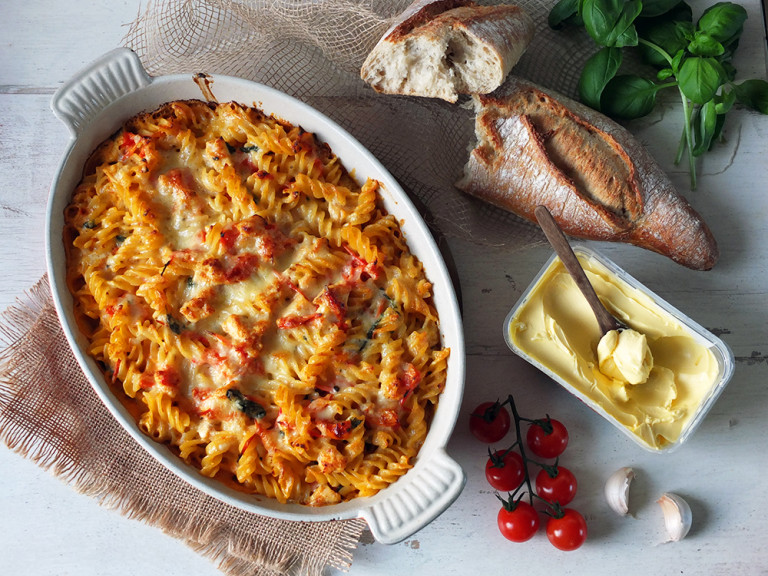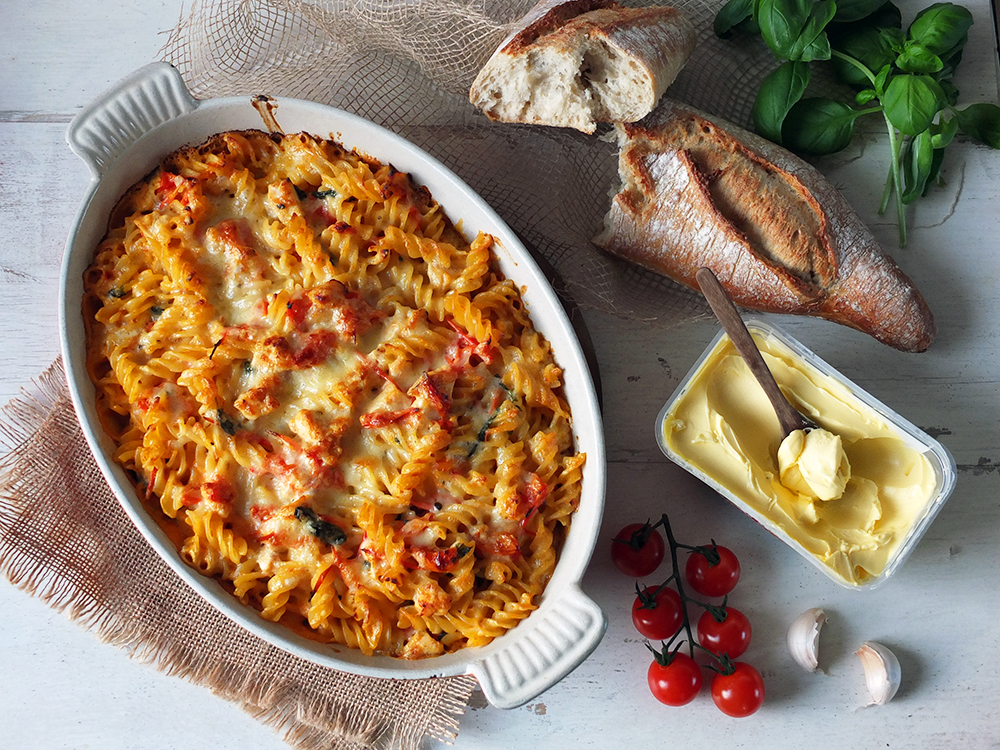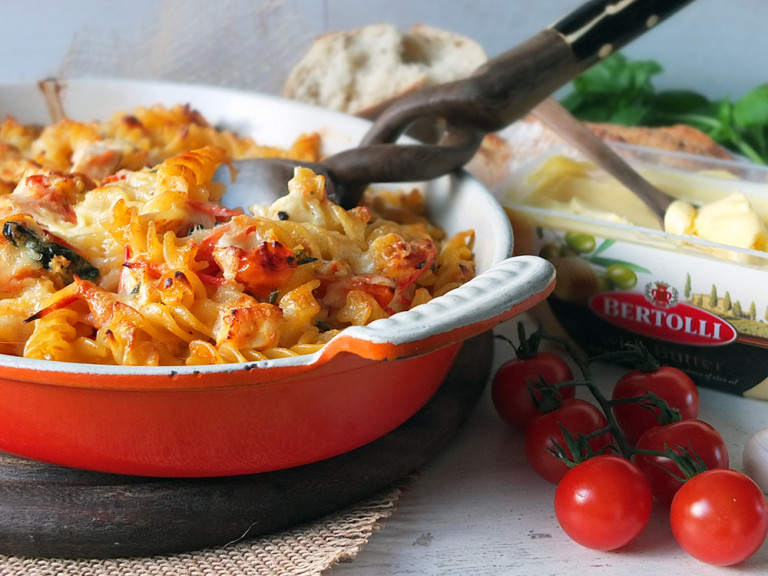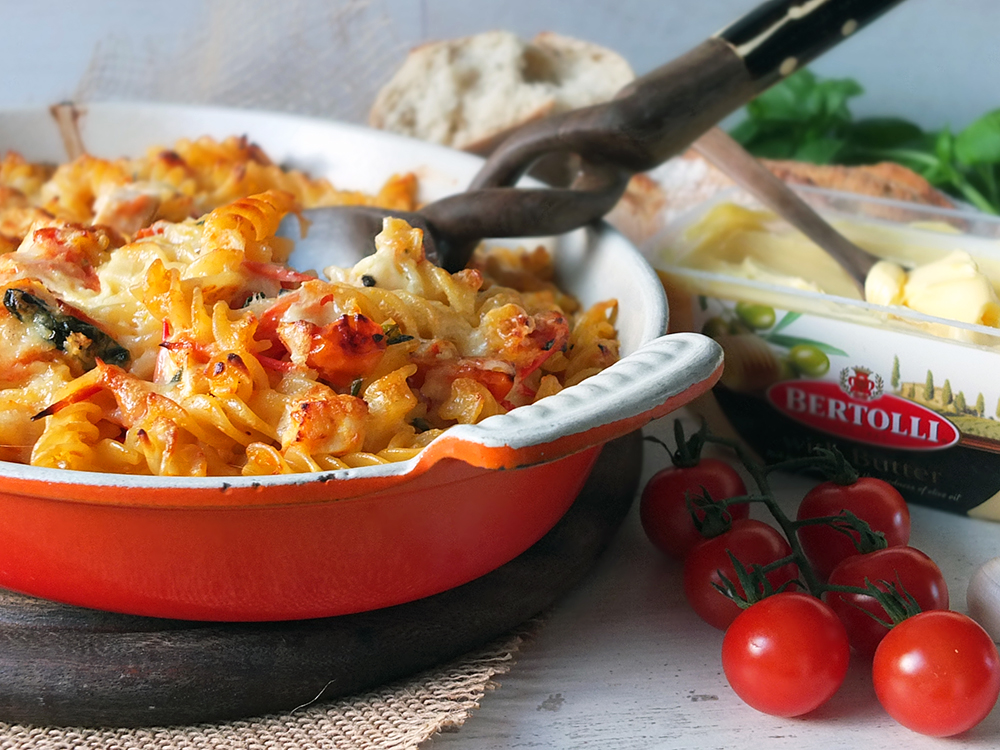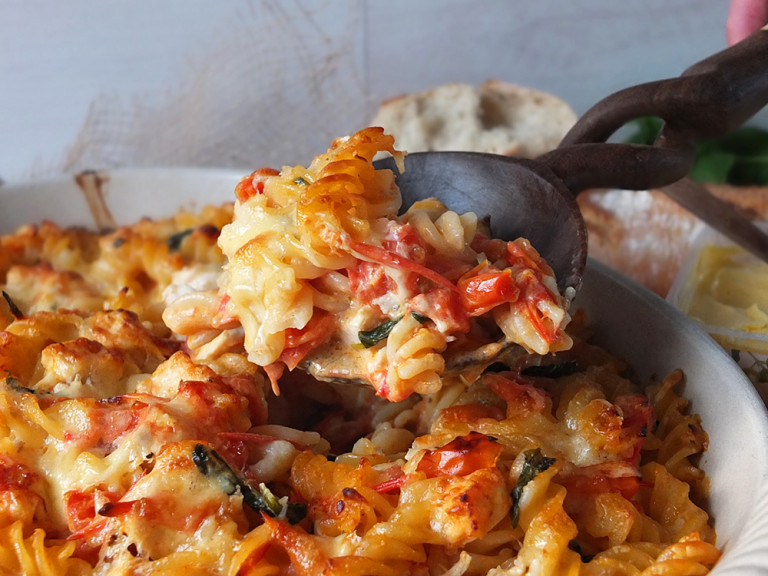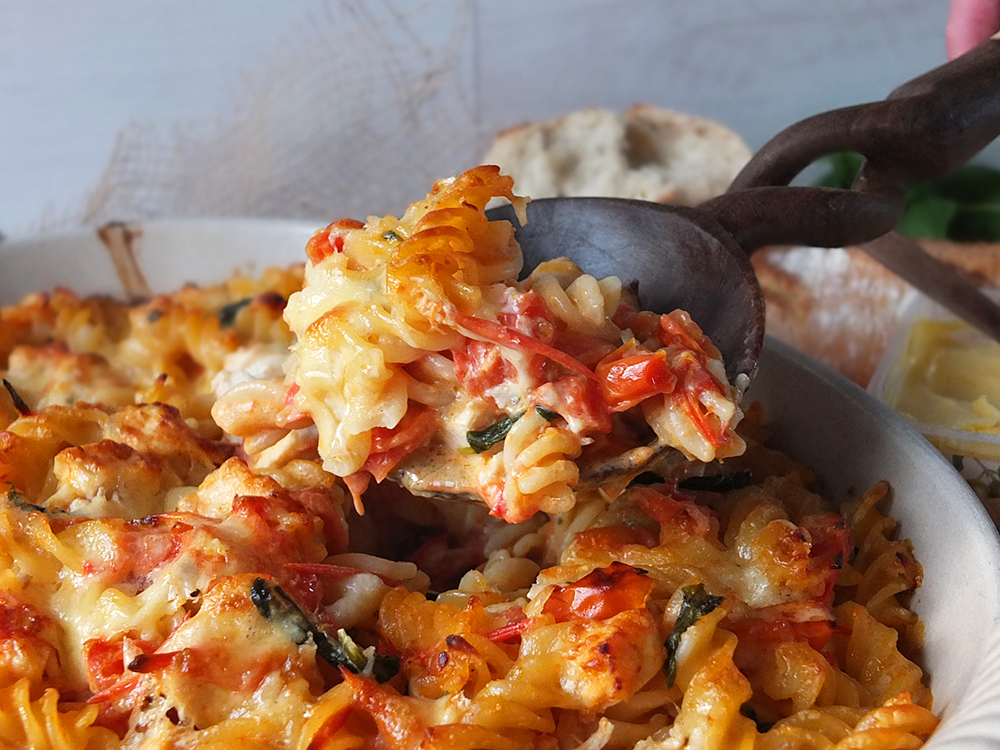 To prepare this recipe you will need to visit the Bertolli website for the simple cherry tomato sauce recipe. You can also find Bertolli on Twitter and Facebook.
What's your favourite way to prepare pasta? Do you prefer it with butter like my youngest son or olive oil, like my daughter does?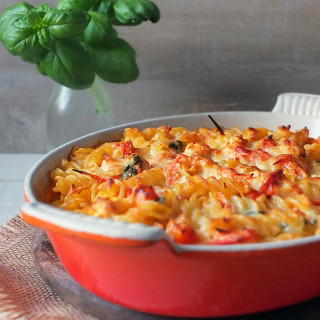 Creamy Chicken & Cherry Tomato Pasta Bake
My twist on the Gennaro -Bertolli spaghetti with cherry tomato sauce recipe - adding cream cheese and chicken to create a post-workout creamy chicken pasta bake.
Print
Rate
Affiliate Links
This recipe card may contain affiliate ingredient and equipment links. As an Amazon Associate I earn from qualifying purchases.
Instructions
Preheat oven to 180 C/ 170 C fan.

Prepare the pasta according to the packet instructions.

Prepare the Gennaro - Bertolli simple cherry tomato sauce as directed. You can find the recipe on the Bertolli website - link in text above.

Towards the end of the cooking time stir in the cream cheese and cubed chicken. Allow to simmer for a few minutes to reduce into a nice, thick sauce. Add a splash of milk if you want a more liquid sauce.

Drain the past and stir in the sauce. Spoon into a large casserole dish and sprinkle with grated cheddar.

Bake for 20 - 25 minutes until the cheese is golden and bubbly.
Environmental Information
Click here for the nutritional information for this recipe.
If you want to be kept up to date on my recipes, occasional craft tutorials, adventure stories and giveaways then please subscribe to my weekly newsletter; it gets sent out every Monday morning if there is new content. Your email address won't be passed on to anyone, you will never be spammed and you are free to unsubscribe at any time, no questions asked. Make sure you confirm your subscription or you won't receive the newsletter – if it hasn't arrived check your junk mail folder.
[wysija_form id="1″]
Disclaimer: this recipe post was commissioned by Bertolli. This is a paid post.