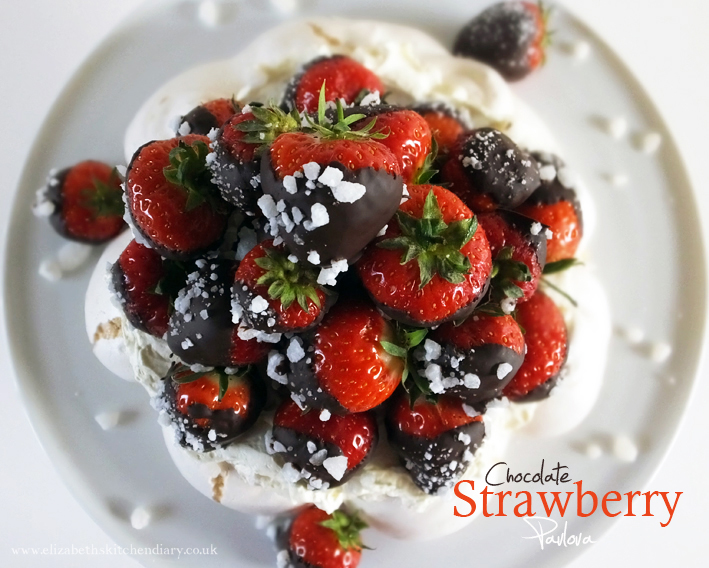 This dessert was born out of late-night, I'm needing something sugary but I don't want to feel guilty about the calories, snacking. I've become quite taken lately with munching on a bowl of ripe, juicy British strawberries dipped in a modest bowl of caster sugar while watching Netflix (who else is watching the latest series of Orange is the New Black?!). This is often followed by a mug of steaming milky hot chocolate. The whole chocolate, strawberry, sugar thing really works well, I think.
A few weeks ago I made a delicious celebration rhubarb saffron yogurt cake and to decorate it I made some rhubarb saffron sugar candy which I really rather like. Unfortunately I made too much of it and there's been half a kilner jar of it sitting in my cupboard ever since, opened only occasionally, to take out a piece to suck on to satisfy said sugar cravings (I should maybe sort those out!).
One evening, in a moment of inspiration during a sugar craving, I wondered if I could dip the strawberries into the rhubarb saffron sugar candy. You can, but the chunks of sugar are quite large and you end up scooping them with the strawberry rather than dipping. It's rather messy and strawberry juice gets everywhere. Something would be needed to stick the sugar to the strawberry.
Chocolate!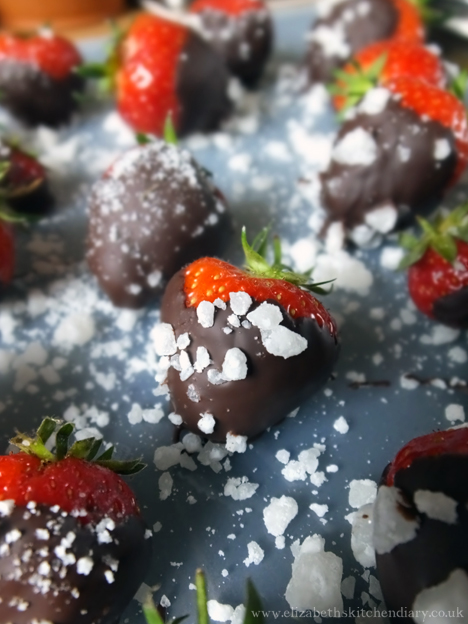 The first time I made these they didn't last the evening. The succulent, juicy strawberry, the rich dark chocolate and the crunchy texture of the rhubarb saffron sugar combine together wonderfully to make every bite of this an absolutely heavenly treat. It even contributes to your seven fruits and vegetables a day, right?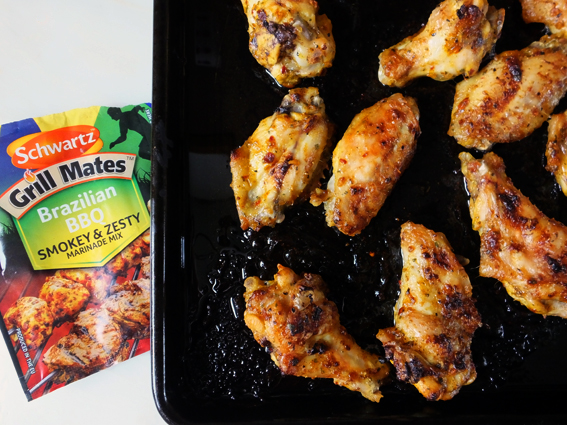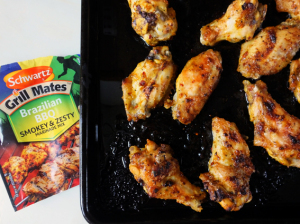 Yesterday was a glorious sunny day in Shetland, so I defrosted some chicken wings for a BBQ. I was going to try out the new Grill Mates: Brazilian BBQ marinade mix I'd been sent by Schwartz to taste (it was rather nice indeed, quick to make and quite tasty!). I ended up baking the chicken wings as the clouds came in and the wind picked up so the BBQ got cancelled.
While in the freezer I found one of many small tupperware containers containing egg whites. I'm an egg white hoarder. I'll use the yolks for baking, pop the whites in the freezer and then never get around to using them. There's a mountain of whites at the bottom of my deep freeze!
It was nigh time I used up some of those whites, so I made my very first pavlova. You'll  notice the lack of close-up shots as it wasn't a perfect pavlova; it cracked, a lot. I need to experiment with cooking times/temperatures in my ancient electric oven to get it right, but it still tasted fantastic.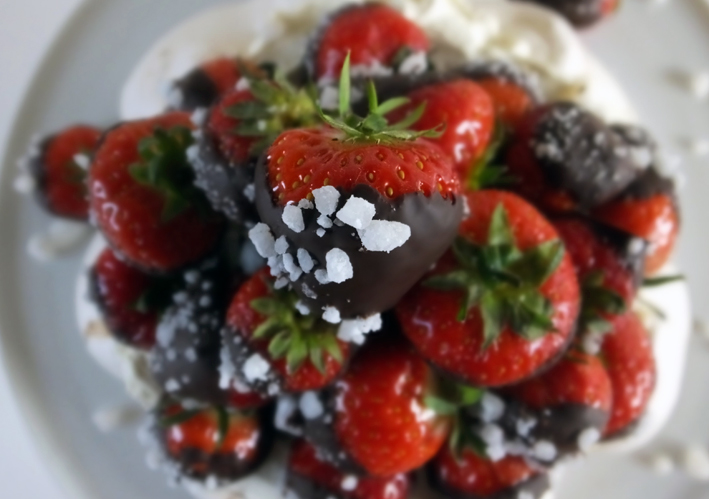 Fluffy meringue with a crunchy outer, marshmallow inner topped with sweetened whipped cream and piled high with dark chocolate dipped British strawberries sprinkled with rhubarb saffron sugar. Yes, the family were most impressed and there wasn't a crumb left by the time we were finished with it!
Click here for the rhubarb saffron sugar recipe.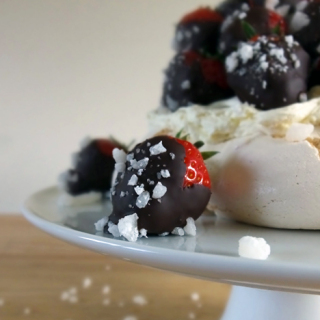 Chocolate Strawberry Pavlova
Gorgeous fluffy meringue topped with sweetened whipped cream and piled high with chocolate coated strawberries sprinkled in rhubarb saffron sugar.
Print
Rate
Ingredients
Affiliate Links
This recipe card may contain affiliate ingredient and equipment links. As an Amazon Associate I earn from qualifying purchases.
Instructions
Preheat oven to 140 C and place a silicone mat or baking paper onto a baking sheet.

Whisk the egg whites in a large bowl until they start to hold their shape. Do not over-whisk.

Add the caster sugar, one tablespoon at a time, until it is all fully incorporated and the meringue is stiff.

Spoon one third of the meringue onto a baking sheet and spread out to form a 15 cm circle. Drop spoonfuls of the meringue around the outside of the circle to form a meringue 'bowl'.

Bake for 60 minutes. Don't open the door to check it! After 60 minutes, switch off the heat, open the oven door and allow the meringue to cool slowly.

Meanwhile, break chocolate into a heat proof bowl and suspend over a pan of barely simmering water. Stir gently until the chocolate has melted.

Dip each strawberry in the chocolate and place on a silicone mat (or other non-stick surface). Sprinkle each chocolate coated strawberry with rhubarb saffron sugar. Pop in the fridge for the chocolate to harden.

Whip the cream until it is light and fluffy adding the icing sugar towards the end.

To assemble, gently transfer the meringue to a serving plate. Top with the whipped cream and pile high with strawberries. Serve immediately.
Environmental Information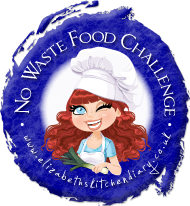 This week we found ourselves with four punnets of strawberries in our fridge. I picked up two on offer in town and my husband picked up two at the village shop on the way home from work, reduced to £1 as they were on their best before date. I used those strawberries for this dish, as well as egg whites which has been sitting in the freezer for ages, and leftover rhubarb saffron sugar, so I am sharing this recipe with the No Waste Food Challenge, hosted this month by Michelle over at Utterly Scrummy.
I'm also linking up with Ren Behan's Simple and in Season linky, Tasty Tuesdays by Honest Mum, Lucy from Supergoldenbakes and her Cook, Blog, Share linky, Javelin Warrior's Made with Luv Monday's linky and Alphabakes, co-hosted by Ros at The More Than Occasional Baker and Caroline at Caroline Makes. This month is the letter D and dark chocolate is a key ingredient in this recipe!