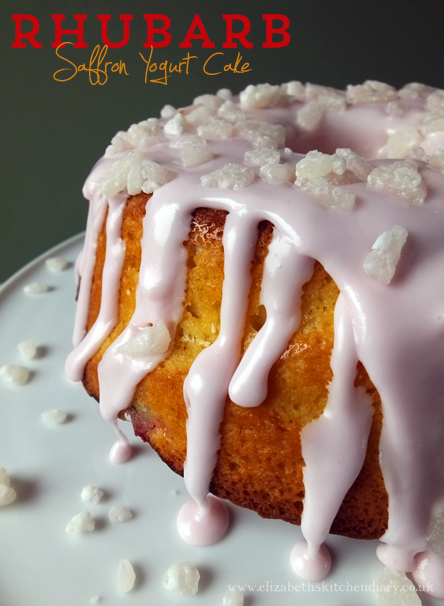 I've always been a big fan of rhubarb. We had a giant rhubarb patch in our garden growing up and my great-grandmother used to grow a miniature variety which I used to eat raw. I loved it so very much. I've been fortunate that nearly every house I've lived in as an adult has come with a rhubarb patch but I admit I don't cook with it as often as I ought to considering it is free food from the garden.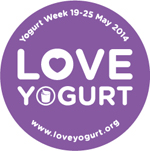 This week is National Yogurt Week here in the UK. Never heard of it before? Well this is the first one! The Yogurt Council (did you know there was such a thing? I didn't until this week!) reckon that 2.7 billion pots of yogurt were sold in the UK last year!
I've been making my own yogurt for years with my trusty electric yogurt maker. We live in far too rural an area to rely on the village shop to provide us with the 2-3 litres we go through a week and there is nowhere constantly warm enough in our house to make it the traditional way. My yogurt maker does the job though and you can find my recipe here. One of my favourite ways of eating yogurt with with a great big spoonful of rhubarb compote and some fruit and nut granola either for breakfast or as a late night snack.
I also love a traditional French yogurt cake. I've been making the same recipe for years and I quite often drop frozen raspberries over the top and sift some icing sugar over the finished cake for a quick, tasty snack (and a great way to use up sour yogurt which may be past its best for eating out of a bowl).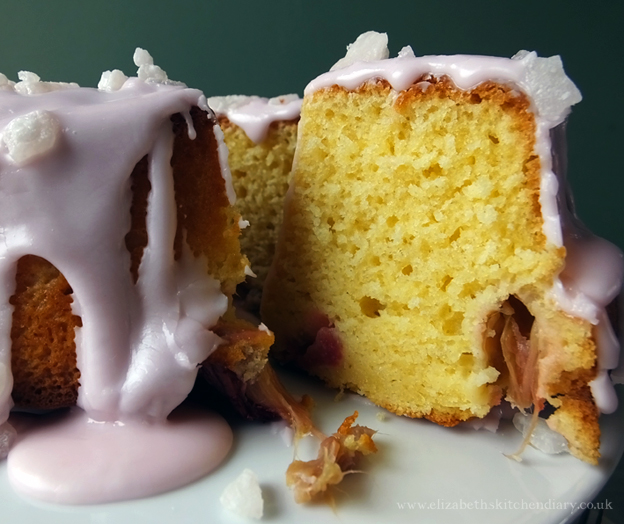 Yesterday, to celebrate becoming a BritMums Brilliance in Blogging 2014 Food Finalist and since it was National Yogurt Week I fancied making a yogurt cake. I often buy raspberries on offer at the shop and freeze them, so I checked the deep freeze to see what I could find. I didn't find any raspberries but I did find five bags of rhubarb from last year's harvest. This rhubarb was meant to be used during the winter but I never got around to it, so I thought I'd use that.
I wanted to combine the rhubarb with a savoury herb or spice. Checking the freezer I had marjoram, coriander, bronze fennel, parsley, sage and thyme. None of those would do. I checked the spice shelf: what about saffron?
As I pondered I stewed the rhubarb (without water as there was enough ice crystals on it already and without sugar as I wanted to maintain the tart flavour of the rhubarb) and a gorgeous ruby red liquid emerged. This recipe was then born.
Polenta was used to replace some of the flour in my usual recipe for some added texture and flavour and saffron was used to colour the yogurt. The ruby red rhubarb liquid was used to make the pink icing (no food colouring added!) and I made some rhubarb saffron sugar to decorate the top.
An absolutely perfect Bibs2014 celebration cake, if I do say so myself! 🙂 The golden cake has a gorgeous moist crumb and the soft unsweetened rhubarb pairs well with the sweet rhubarb icing and the crunch of the rhubarb saffron sugar pearls. All in all, I'm quite pleased with my creation!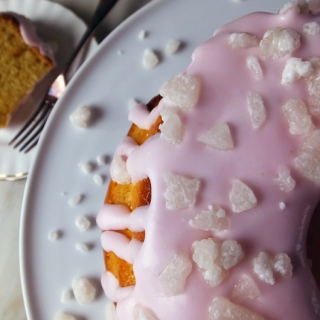 Rhubarb & Saffron Yogurt Cake
A delicately flavoured yogurt cake ideal with a cup of afternoon tea.
Print
Rate
Ingredients
For the Rhubarb Icing
250

grams

icing sugar

sieved

3

tbsp

reserved rhubarb liquid
For the Rhubarb Saffron Sugar
Affiliate Links
This recipe card may contain affiliate ingredient and equipment links. As an Amazon Associate I earn from qualifying purchases.
Instructions
For the Cake
Preheat oven to 180 C and grease a 9 inch round cake tin or a bundt pan.

Grind saffron threads in a small mortar and pestle and combine with yogurt in a large bowl. Set aside for a few minutes for the lovely yellow colour to develop through the yogurt.

Prepare rhubarb. If using frozen rhubarb (as I did) simply place the rhubarb in a small saucepan and heat. If using fresh rhubarb you may need to add a tablespoon or two of water. Stew over a medium heat, stirring occasionally, until the rhubarb is softened but still retains its shape.

Whisk the caster sugar, eggs and sunflower oil into the saffron-infused yogurt.

Sift in the plain flour, polenta and baking powder. Combine well.

Spoon the mixture into the prepared tin, smoothing over the top.

Using a slotted spoon drop pieces of rhubarb over the top of the cake batter. Reserve the gorgeous ruby red rhubarb liquid.

Bake for 30-35 minutes if using the 9 inch round tin or 45-55 minutes for the bundt pan. A skewer inserted into the centre of the cake will come out clean when it is ready.

Leave to cool in the tin for ten minutes before transferring to a wire rack to cool completely.
For the Rhubarb Icing
Sieve icing sugar into a small bowl and stir in the reserved rhubarb water. Combine well, adding more sugar if you want a thicker icing.
For the Rhubarb Saffron Sugar
Combine all four ingredients in a small saucepan. Bring to the boil and let boil for 6-7 minutes, stirring constantly.

Pour onto a silicone mat or other non-stick surface and spread into a thin layer.

Allow to cool completely before breaking into small pieces. A food processor makes short work of this.
To Assemble
Place cake on your cake stand, drizzle with the rhubarb icing and sprinkle with plenty of rhubarb saffron sugar.

Enjoy with a cup of tea for mid-afternoon snack!
Environmental Information
You may also be interested in my other rhubarb recipes:
Mini Rhubarb Cheesecake Pots (cheesecake in under half an hour?!)
Rhubarb Ripple Ice Cream with Hazelnut Oat Clusters (a little bit of effort but oh so worth it!)