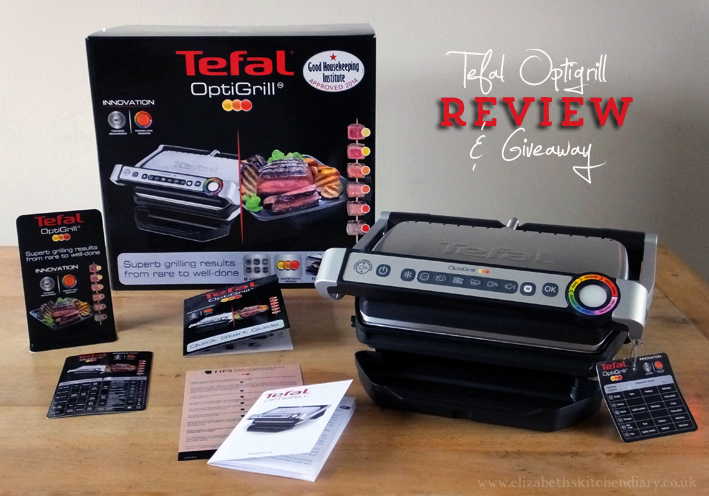 In early April Tefal followed me on Twitter. I might have went Eee! just a little bit. My blog is still in its infancy with regards to product reviews and to get noticed by a big brand like this was really exciting. What could they want?

They asked if I ever grilled anything. I've never owned a grill – I mean, I do have one built into my oven that I frequently use, but I have never owned one of those posh ones like a George Foreman. I said I grilled mackerel fillets (it was the first thing that sprang to mind!).
They sent me a DM: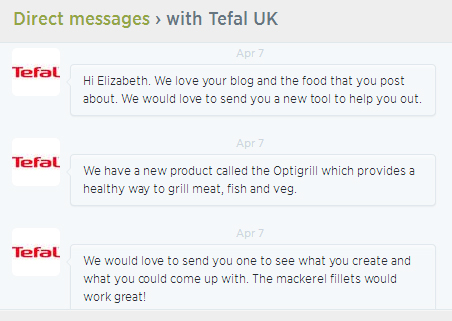 I'm pretty sure I went squeeee! at this point!
A few days later a giant box arrived in the post containing my brand new Tefal Optigrill. I emptied the box, photographed the contents (as you do!) and started experimenting.
I love my Tefal Optigrill!
I've been using this grill at least two or three times a week since the day it arrived. It's not the most attractive of kitchen gadgets, but my it works wonders with a bit of meat, and vegetables, and it makes a crackin' grilled cheese sandwich!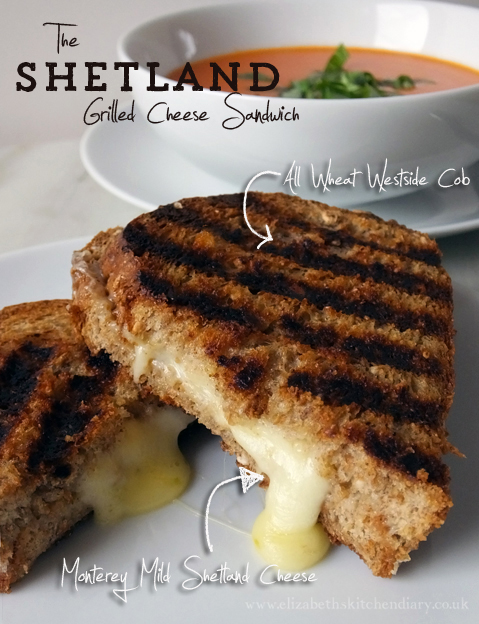 One of the first things I made with my new Tefal Optigrill grill was the grilled cheese sandwich pictured above. It's made with local Shetland all wheat bread and Monterey Mild Shetland cheese from Britain's most northerly cheese producer here on the west side of Shetland. This is the best grilled cheese sandwich I have ever tried, and you can find the recipe over on my post at A Taste of Shetland.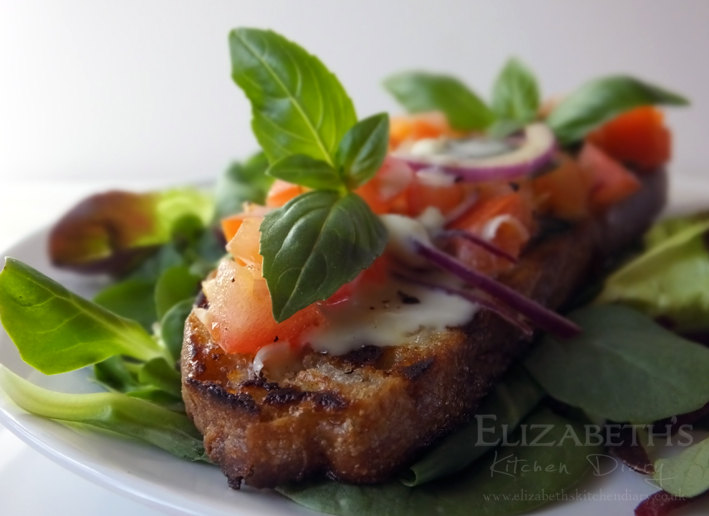 It also makes a wicked toasted sourdough bread for a quick Bruschetta with St. Ninian's Soft Cheese and Smoked Sea Salt lunch.
I've grilled vegetables in it, cut thinly and brushed with olive oil. Chicken fillets, brushed with oil, grill to perfection in this machine, and make for a quick dinner with a salad or perhaps sun-dried tomato pasta, as pictured below with the grilled vegetables.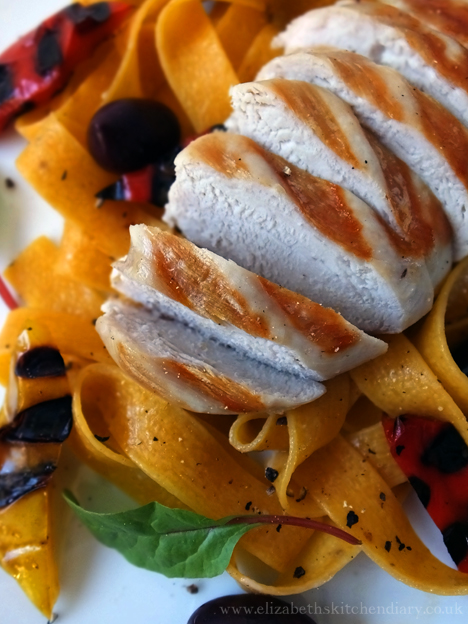 One of my favourite foods to grill in the Tefal Optigrill are the peppered pork grills from our local butchers. I've never been very good with judging how long to cook pork. I fear undercooking it and so I end up feeding the family tough chewy pork. The Optigrill takes all the guesswork out of this, making perfect grilled pork every time. This grilled pork goes really well with my grown up cheesy alphabet pasta recipe. Dinner in less than half an hour!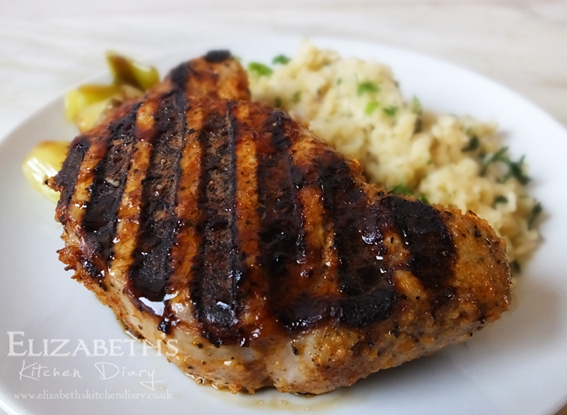 I also grill sausages, straight from the freezer, on those days where I've been absent minded I've forgotten to take something out to defrost. The Optigrill has this fantastic frozen food setting – sausages, burgers, chicken nuggets – the cooking sensor adjusts the timing and can cook from frozen. How convenient is that?!
To use the grill you plug it in, switch it on and select from seven different settings: burger, poultry, bacon, sausage, red meat, fish or manual (for toasties, paninis, etc). Press the frozen button if your food is frozen. The grill has a light to show you what it's doing – at the start it pulses purple/pink while the grill is heating and when it reaches the correct temperature it bleeps at you and stops pulsing. Pop your food in and wait while it cooks. The cooking level indicator changes colour through blue, green yellow, orange and red, bleeping at each stage to let you know what it's doing. If you want your steak rare, remove it from the grill at the yellow stage. If you want your bacon crispy remove it at the red stage.
The beeps mean you can get on with the rest of your meal preparation without constantly having to check if your meat is ready (or burning!). For a quick summer dinner my five minute bbq sauce works really well with sausages, chicken or burgers, and served with salad it's no effort at all!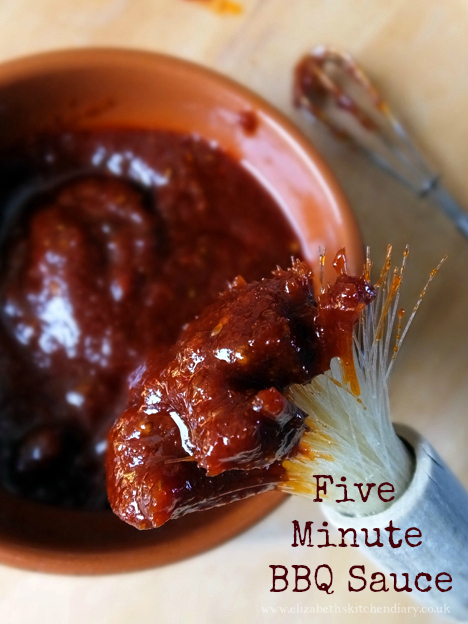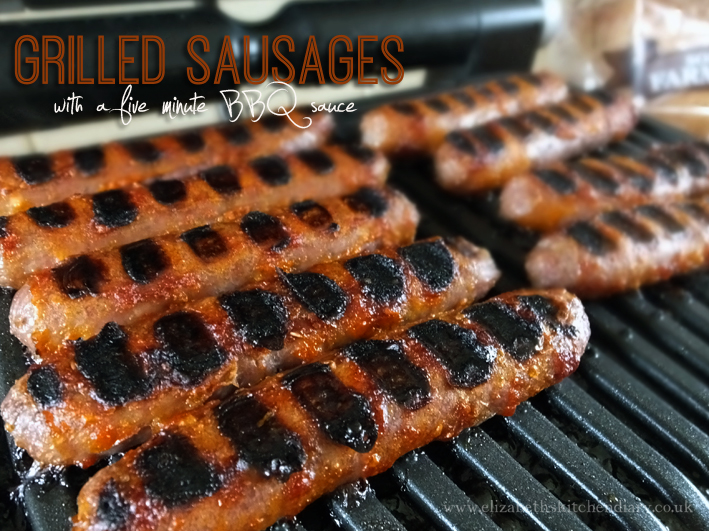 The only downside, for me, is that the style of the machine doesn't really fit with the style of my kitchen. It's quite grey and industrial. Also, I don't care for the flavour of beef steaks cooked in it. Yes, they are tender and cook to the right level, but it's missing the burnt butter flavour I've grown accustomed to when my husband sears the steak (and sets the fire alarm off).
We did attempt to cook a great big piece of meat as displayed on the front of the Optigrill box. The instructions say that meat up to 4 cm thick can be grilled, so we cut a giant 4 cm slab of roast beef. This doesn't work, don't waste your meat! The machine kept switching off as the surface area was too large. Stick with regular cuts of steak. Lesson learned!
The Tefal Optigrill is really easy to clean – when the non-stick grill plates have cooled you pop them, and the drip tray, into the dishwasher. No mess! No burnt bits stuck onto a pan to scrape off, no fuss! The drip tray will need to be emptied prior to washing. It's really quite astonishing how much fat can drip out of the machine, especially from bacon and burgers. It really is a much healthier option to frying.
With an RRP of £150 the Tefal Optigrill can be purchased through several high street retailers and Amazon.
Tefal have very kindly offered one of my readers the opportunity to win their very own Tefal OptiGrill in a giveaway! To enter fill in the Rafflecopter entry form below. Tefal say the OptiGrill will be delivered in time for the World Cup final!
How to Enter
For your chance to win one of TWO Tefal OptiGrills RRP £150 enter using the Rafflecopter form below. Come back and tweet about the giveaway every day for more chances to win!
Terms & Conditions
This giveaway is open to UK entries only. Entrants must be age 18 or over. The winners will need to respond within 24 hours of being contacted; failure to do this may result in another winner being selected.
The prize is offered and provided by Tefal. The prize is one of two Tefal OptiGrills. There is no cash alternative and the prize is not transferable.
If you need some help using Rafflecopter, here's a quick clip to show you how. Rafflecopter will pick the winner at random from all the entries received. I will be verifying entries and any automated entries or those who have claimed they have made the mandatory blog post comment and really haven't will be disqualified. It's mandatory!
Closing date is midnight on Friday 4 July 2014 and the winners will be announced that day.
See my Giveaways page for some fantastic other giveaways!
Elizabeth's Kitchen Diary was sent a Tefal OptiGrill for review. All opinions expressed are our own. This is not a paid post.