I recently spent a rather beautiful summer's day in Aberdeen, on the east coast of Scotland, exploring the city on foot. These are the adventures I got up to. With thanks to Visit Aberdeenshire and Mackie's of Scotland for sponsoring this trip, although all thoughts and opinions expressed are my own.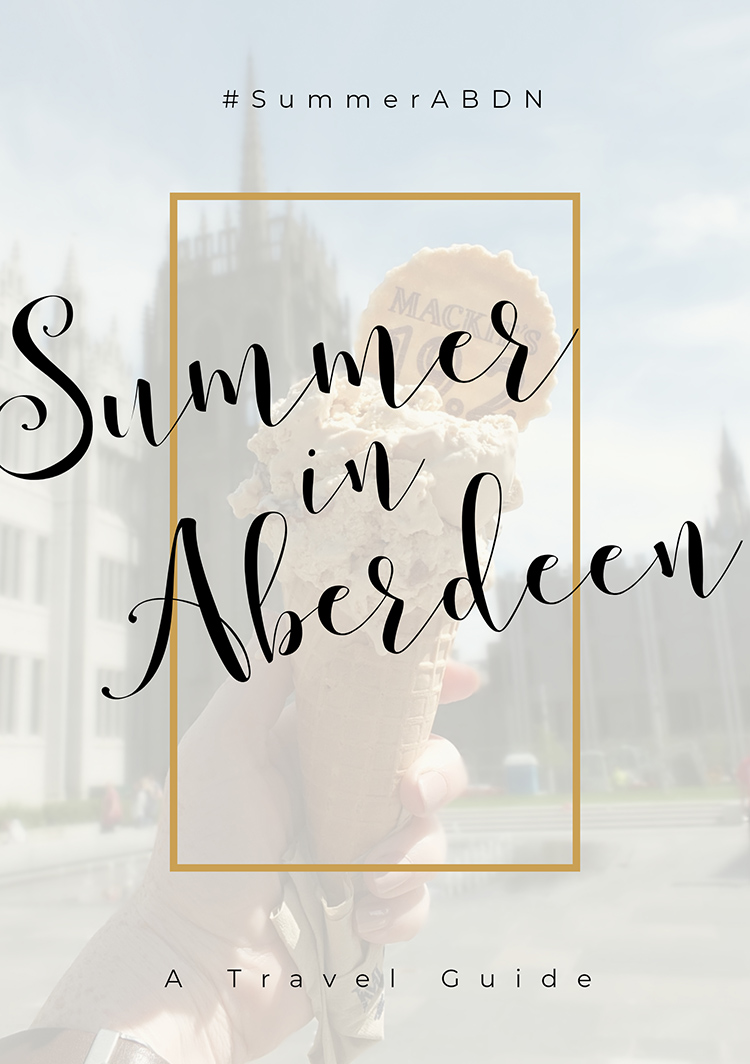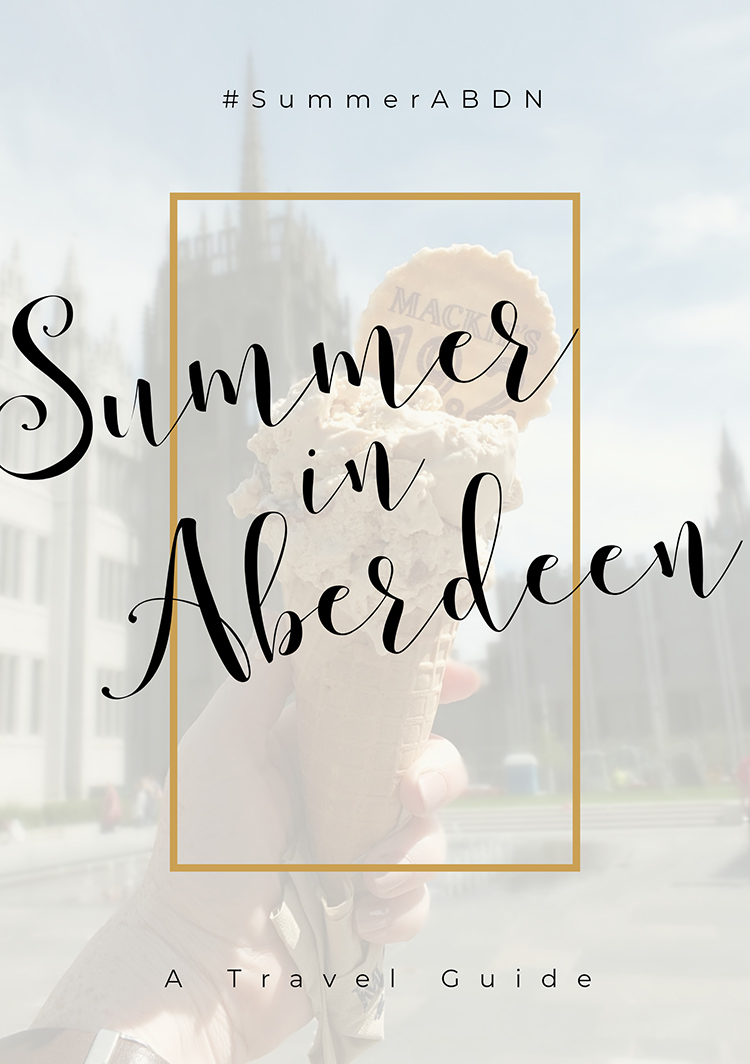 How to Spend a Sunny Summer's Day in Aberdeen, Scotland
I've called the Shetland Islands home for twenty years now, and the city of Aberdeen, where our lifeline ferry service deposits its passengers, bleary-eyed and wobbly-legged after a night's sea travel, has up until the last few years (for me) just been a place I passed through en route to more exotic destinations.
It always seemed to rain in Aberdeen when I was there too. However, did you know that Aberdeen gets a higher than average amount of sun compared to other Scottish cities? Around 1435.7 hours of sunlight shine down on Aberdeen every year, transforming its granite buildings into a shimmering silver city by the sea. For now, we'll just ignore the fact it also sees a bit more rain, because it was a scorcher on that glorious day that I spent exploring the city on foot.
Just look at that blue sky!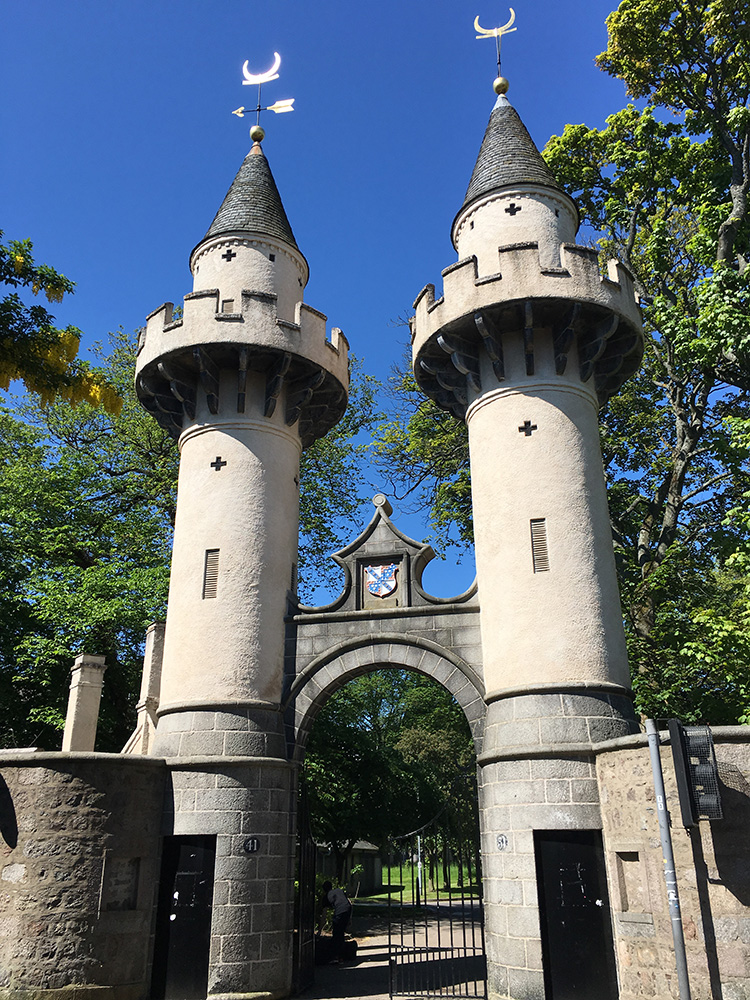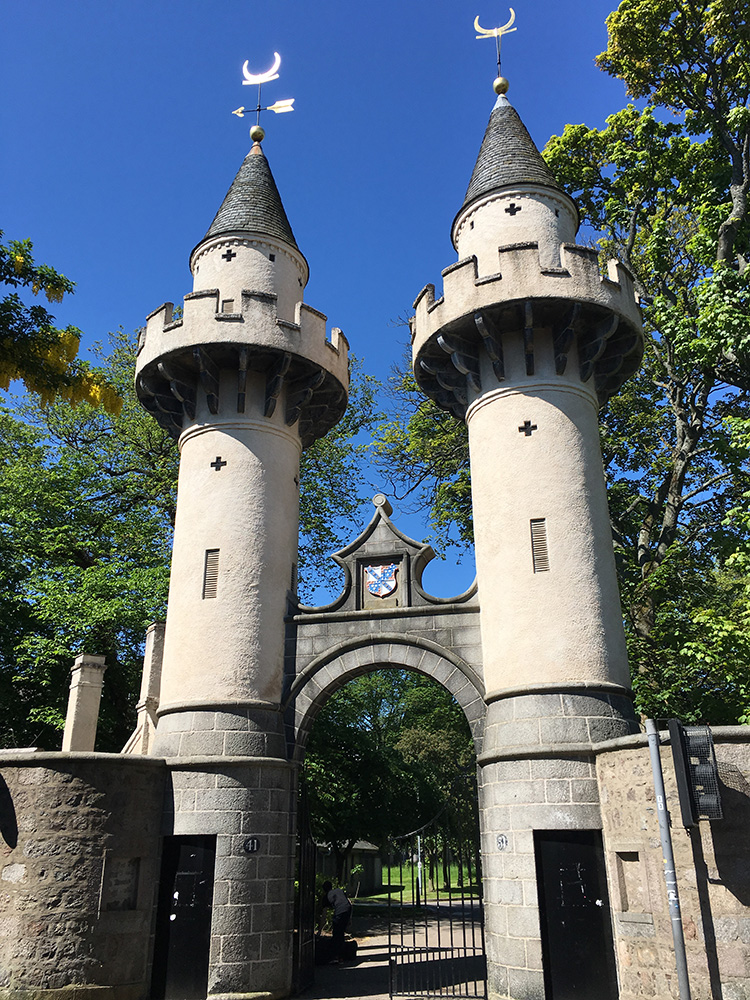 Old Aberdeen
I began my day well rested after a night at the rather luxurious Sandman Signature Hotel in the heart of the city. Heading North, following a trail of geocaches, I made my way to Old Aberdeen – about a half an hour's brisk walk from the hotel.
Old Aberdeen has been a key political, ecclesiastical and cultural location since the Late Middle Ages. A wander through its 14th century cobbled streets and old university campus is a must-do on a beautiful sunny day; a living history step back in time.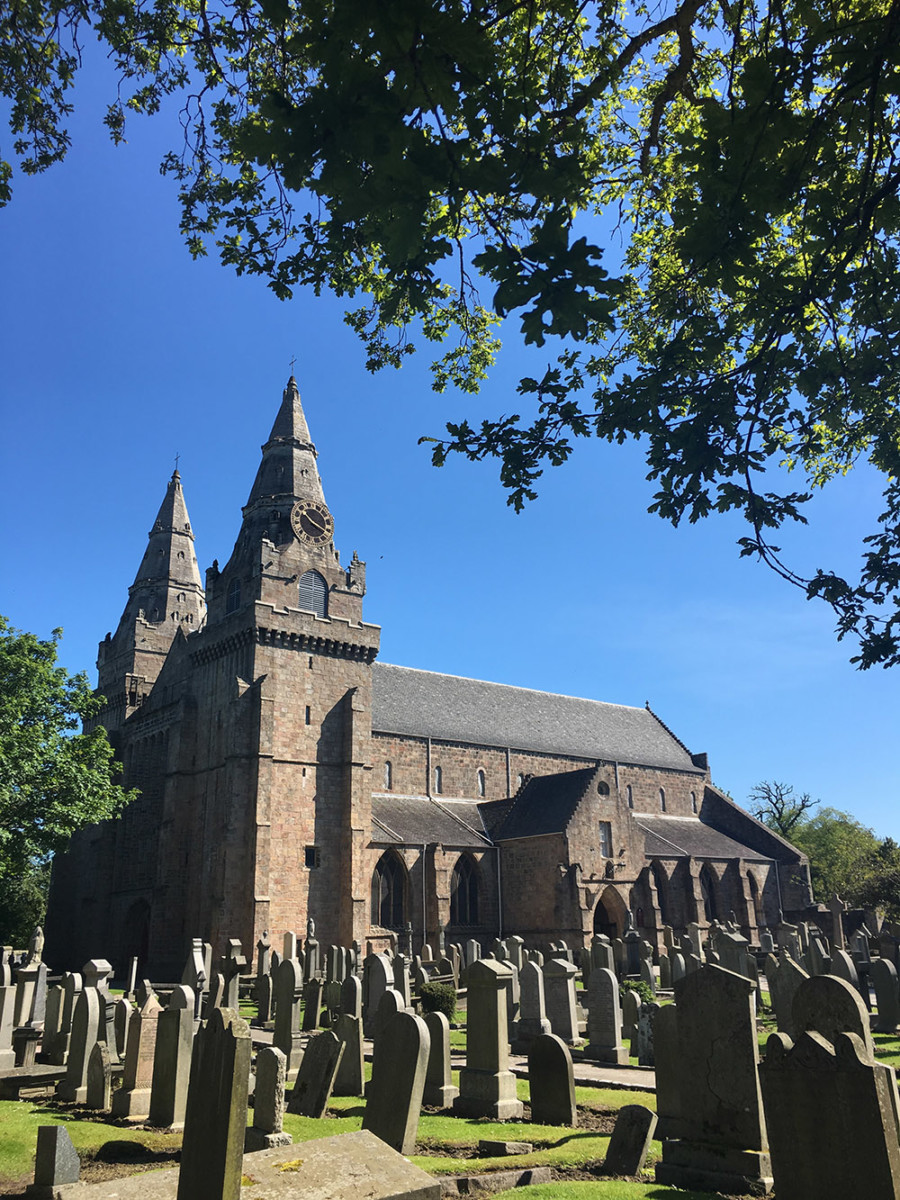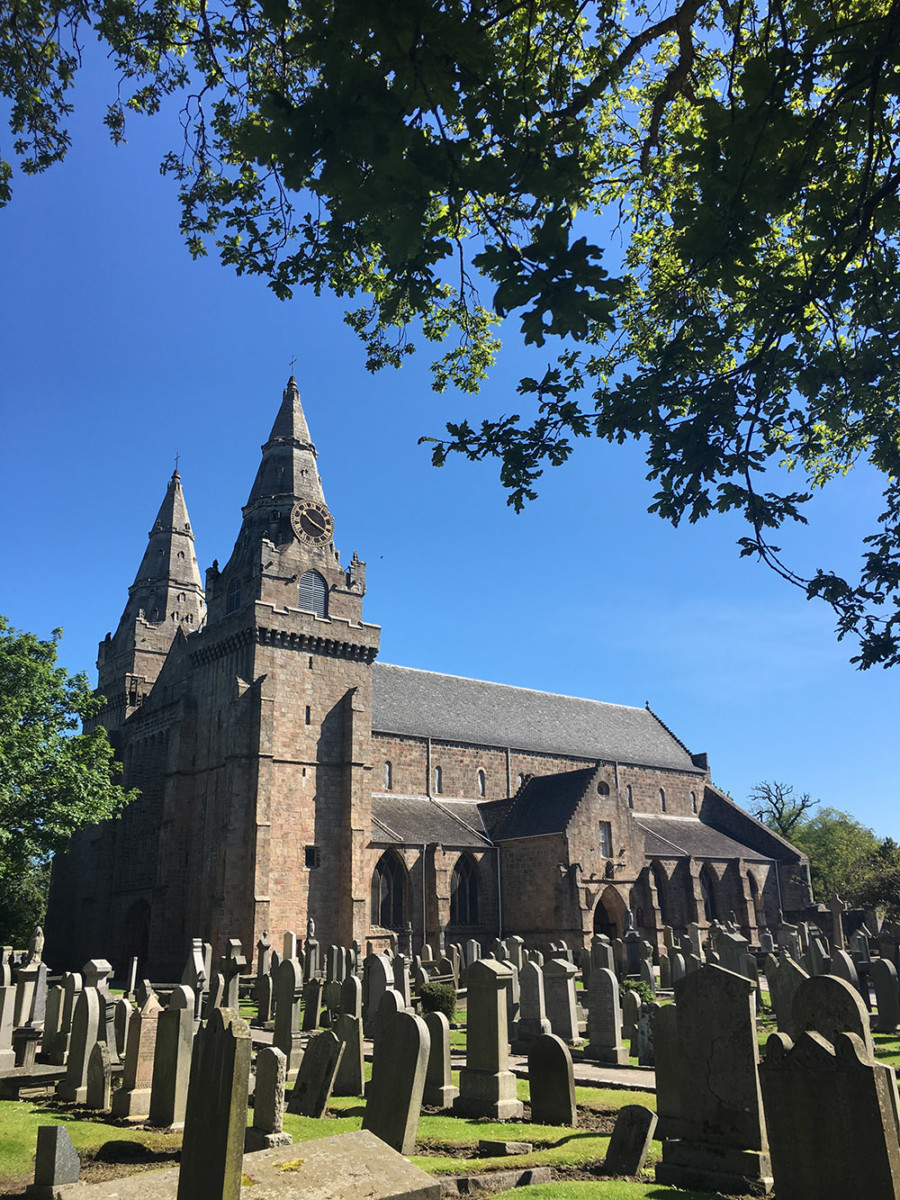 St. Machar's Cathedral
My first stop, after a nosy in about St. Peter's Gate, the site of a mediaeval hospital, and The Snow Kirk, a hidden graveyard in the grounds of Aberdeen University that many Aberdonians don't know exists, was St. Machar's Cathedral.
St. Machar's Cathedral is a fifteenth-century cathedral with massive twin spires, stunning stained glass windows and an awe-inspiring heraldic ceiling. Situated on the edge of Seaton Park, it is the oldest building in active use in Aberdeen. If you like browsing through old graveyards as I do, this one won't disappoint.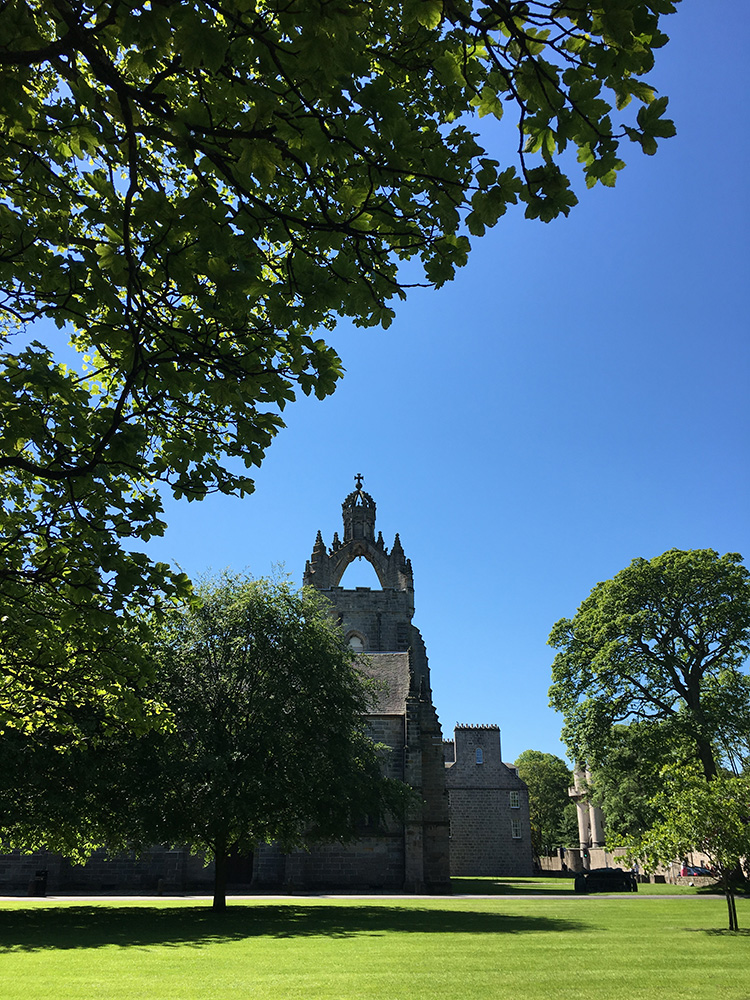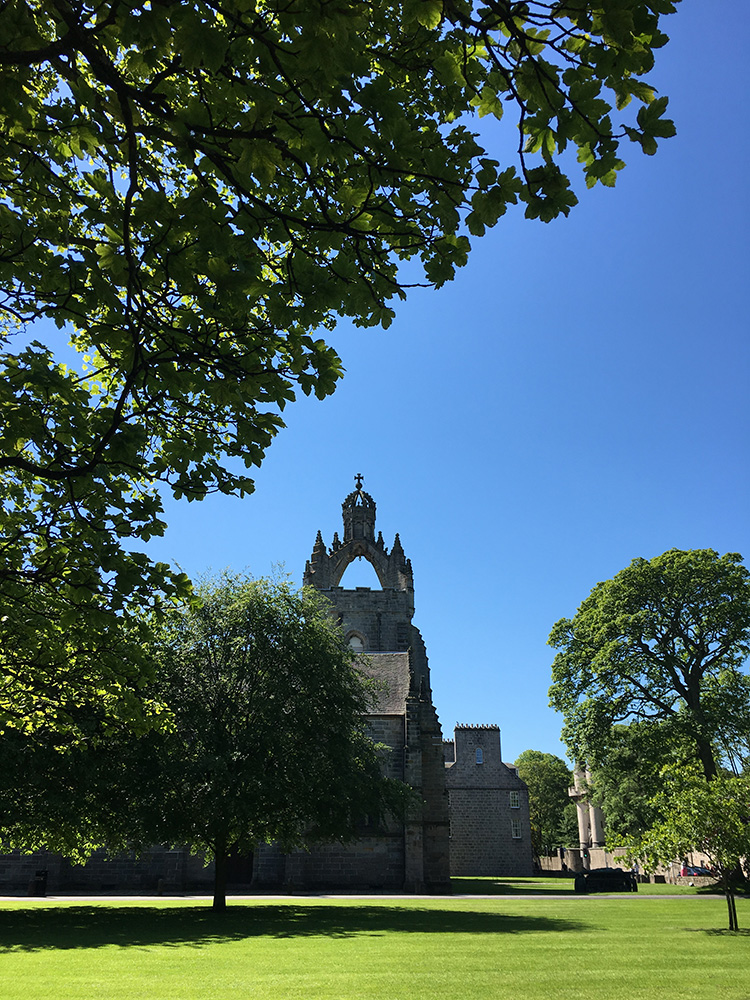 College Bounds
College Bounds is a street in Old Aberdeen; where travellers, traders, monks and scholars settled in the 14th century. There, Bishop Elphinstone founded King's College, the forerunner to The University of Aberdeen.
Walk around the quad and admire the distinctive Crown Tower of the chapel. The Chapel sanctuary, sitting beneath the tower, is open to visitors Monday to Friday, 10 am – 3:30 pm.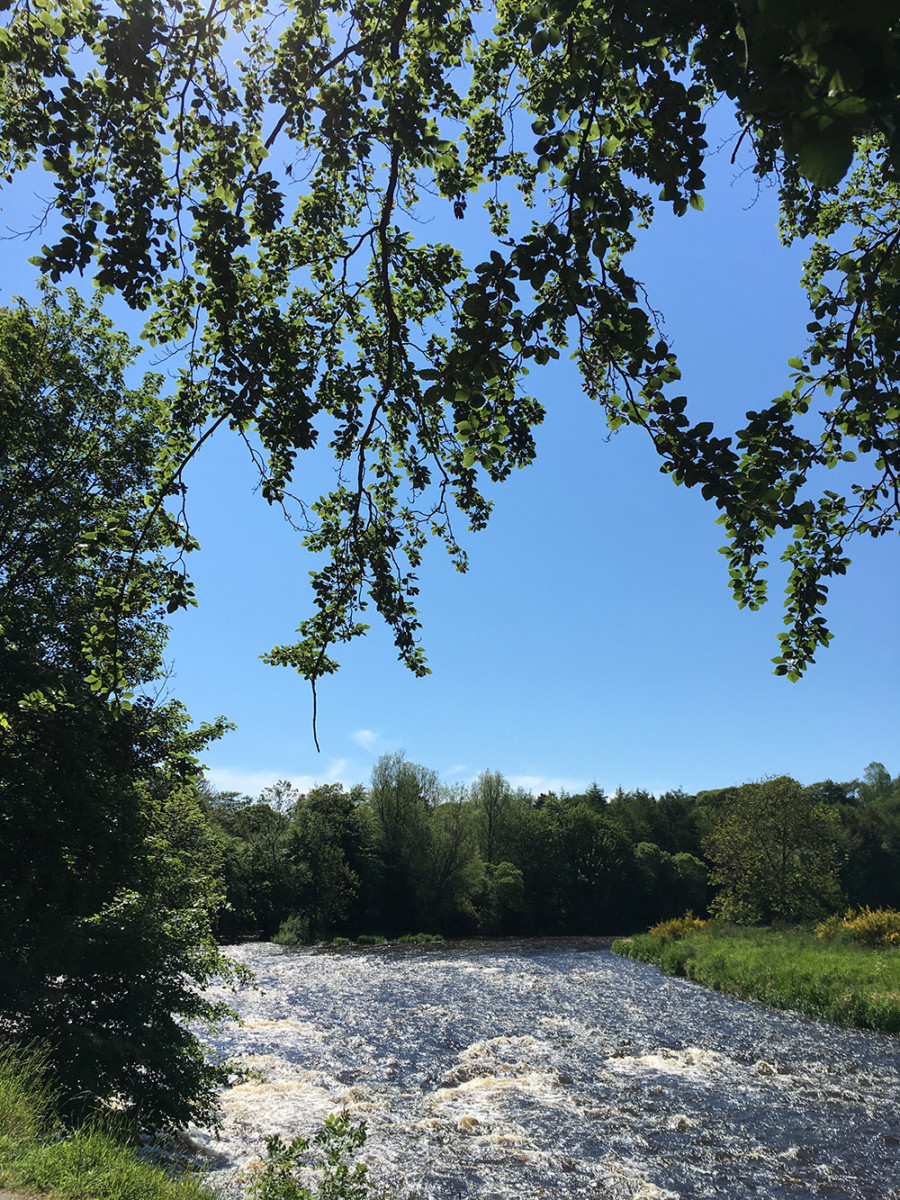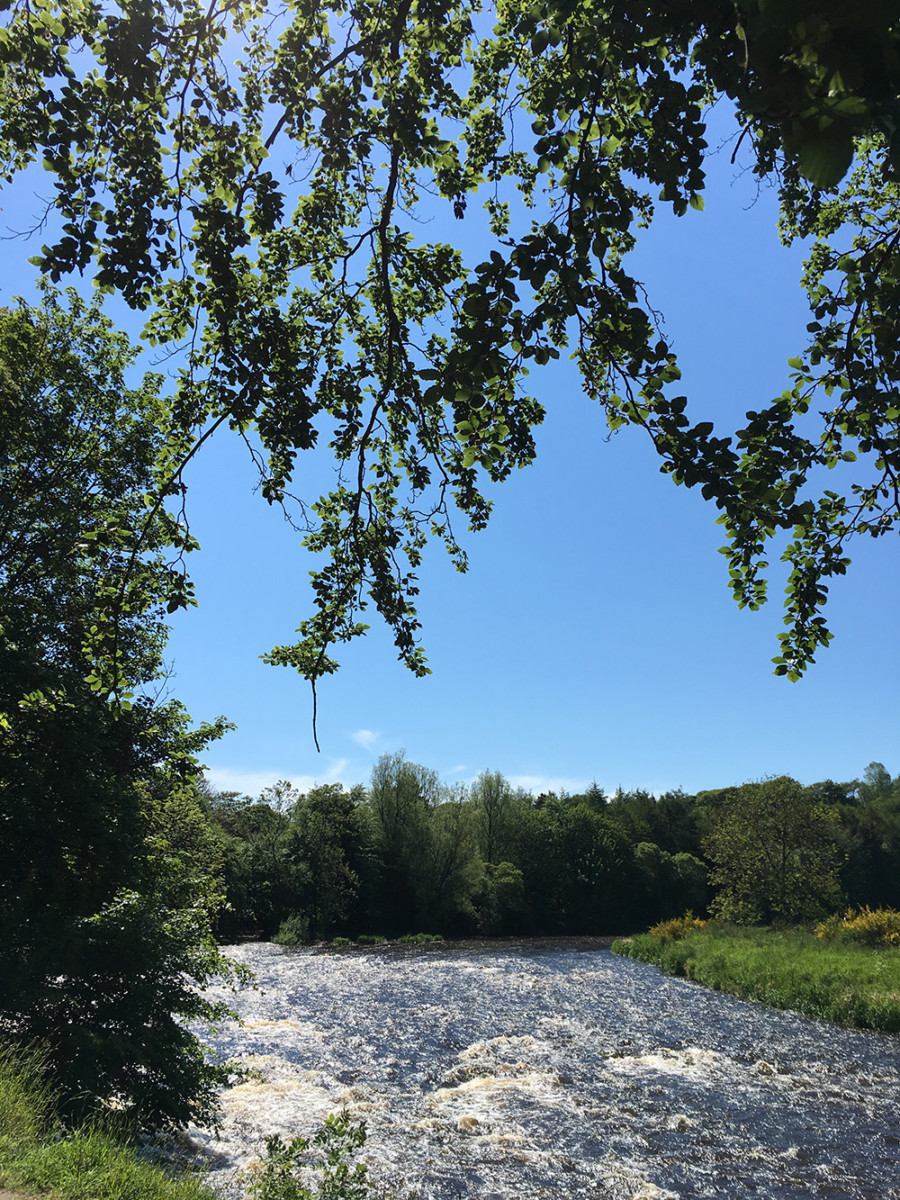 Seaton Park
Just north of St. Machar's Cathedral lies Seaton Park, one of Aberdeen's largest public parks. Stroll through the 'Cathedral Walk' garden of Spring and Summer flower beds, visit the Wallace Tower and walled gardens, sit by the public fountain or follow the signposted riverside path following the River Don and take in the sights and sounds of nature.
Despite being in the middle of a large city, Seaton Park is an oasis of calm, with plenty of birdsong and tree canopy to help you reconnect with nature.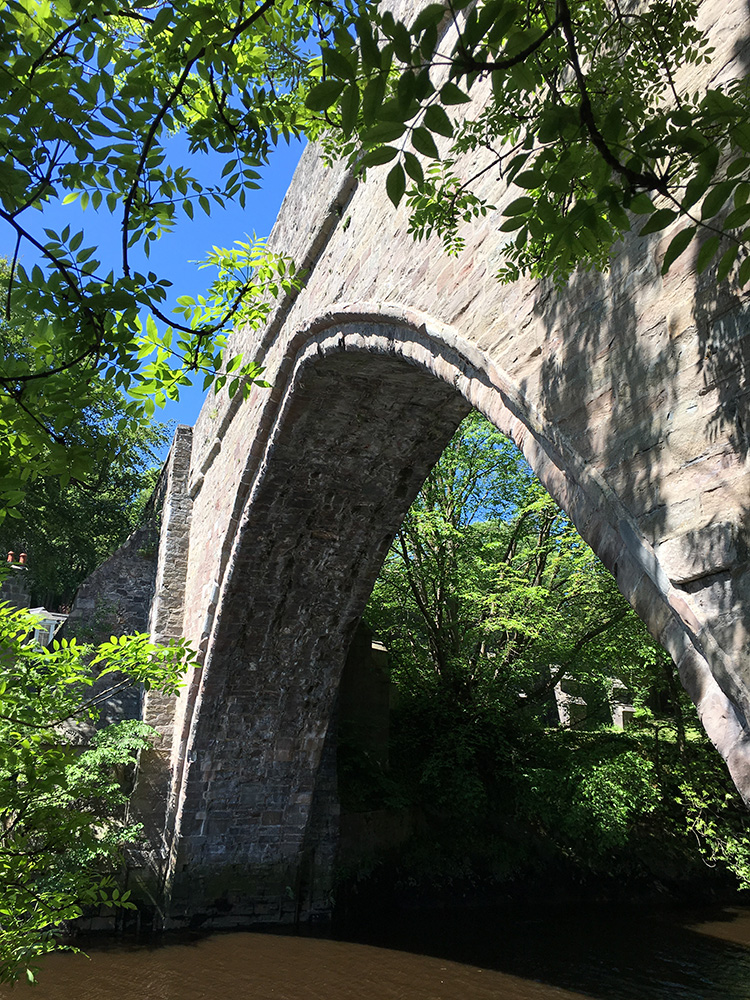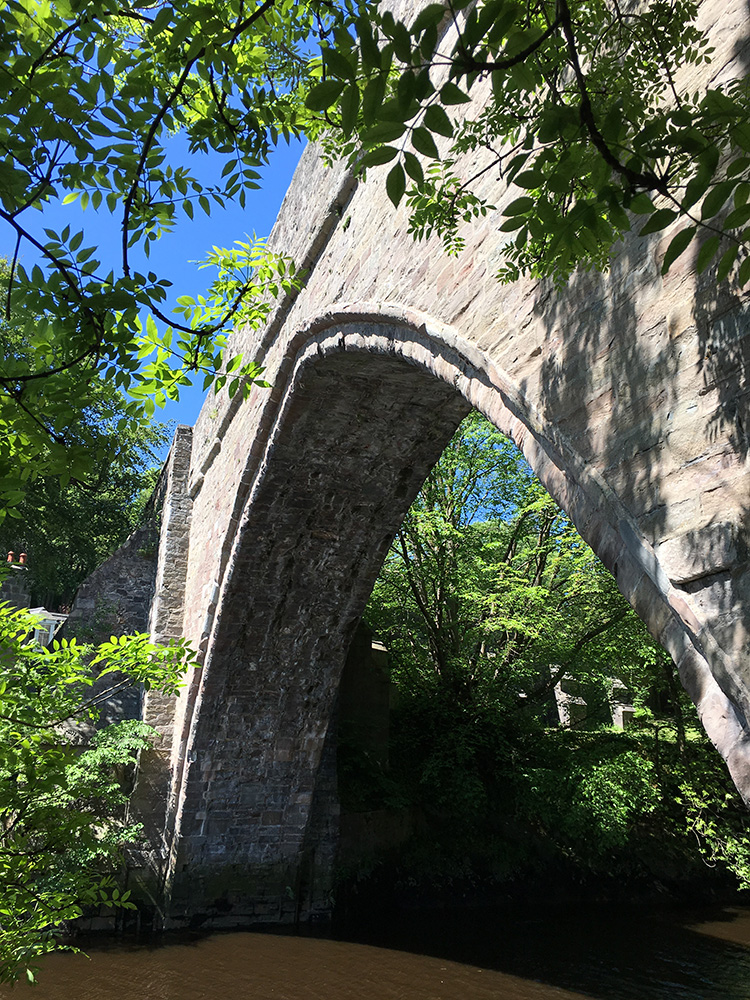 Brig o' Balgownie
Continue on down the river path through Seaton Park, and you'll eventually come to a thirteenth-century bridge called the Brig o' Balgownie. Construction of this bridge, now a Scheduled Ancient Monument, began in in the late 13th century and was completed at the start of the 14th century under the instructions of Robert the Bruce. Many stories have been told about this bridge, including prose by Lord Byron himself.
The gothic arch is quite impressive to behold, and from there, there's another riverside path running from the bridge along the river through the Donmouth Nature Reserve to the Bridge of Don, coming out on King Street. Keep an eye out for seals basking on the shoreline!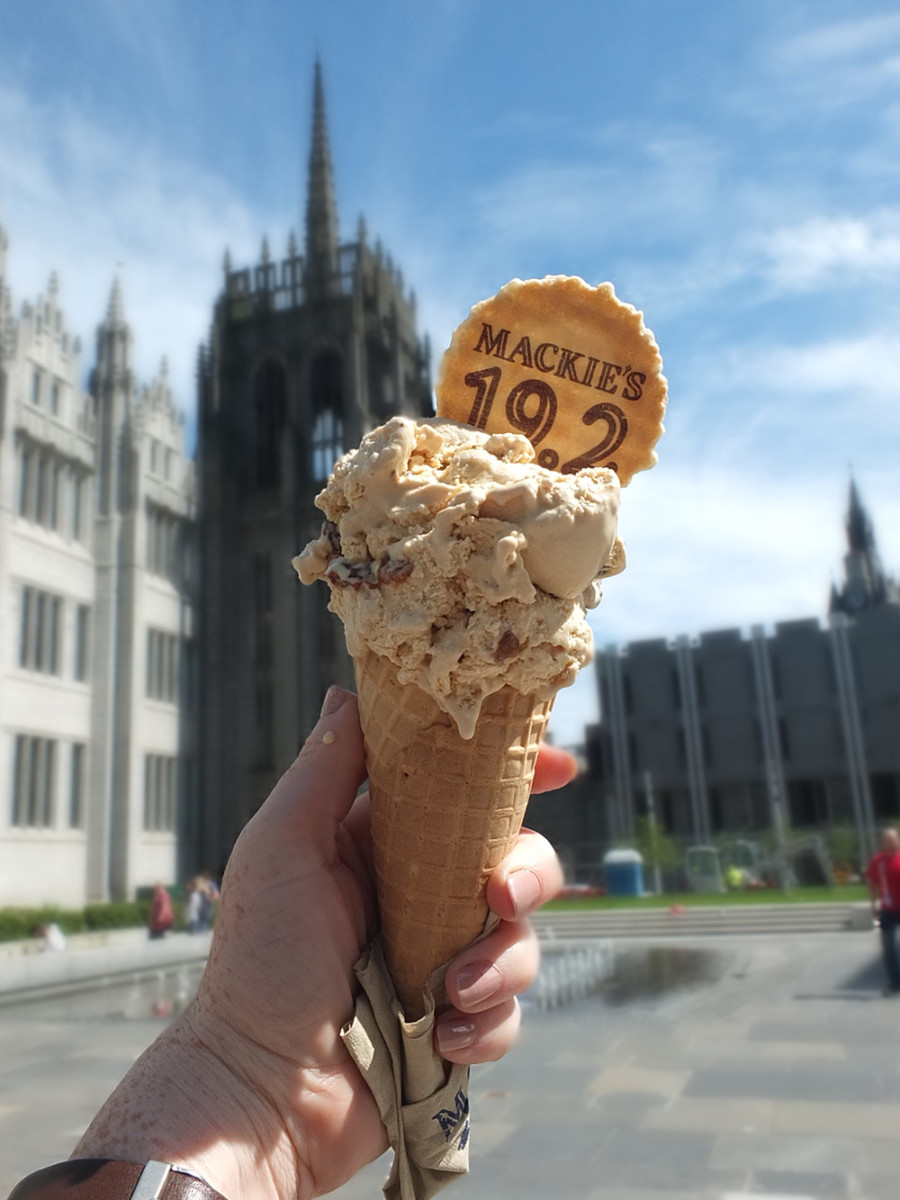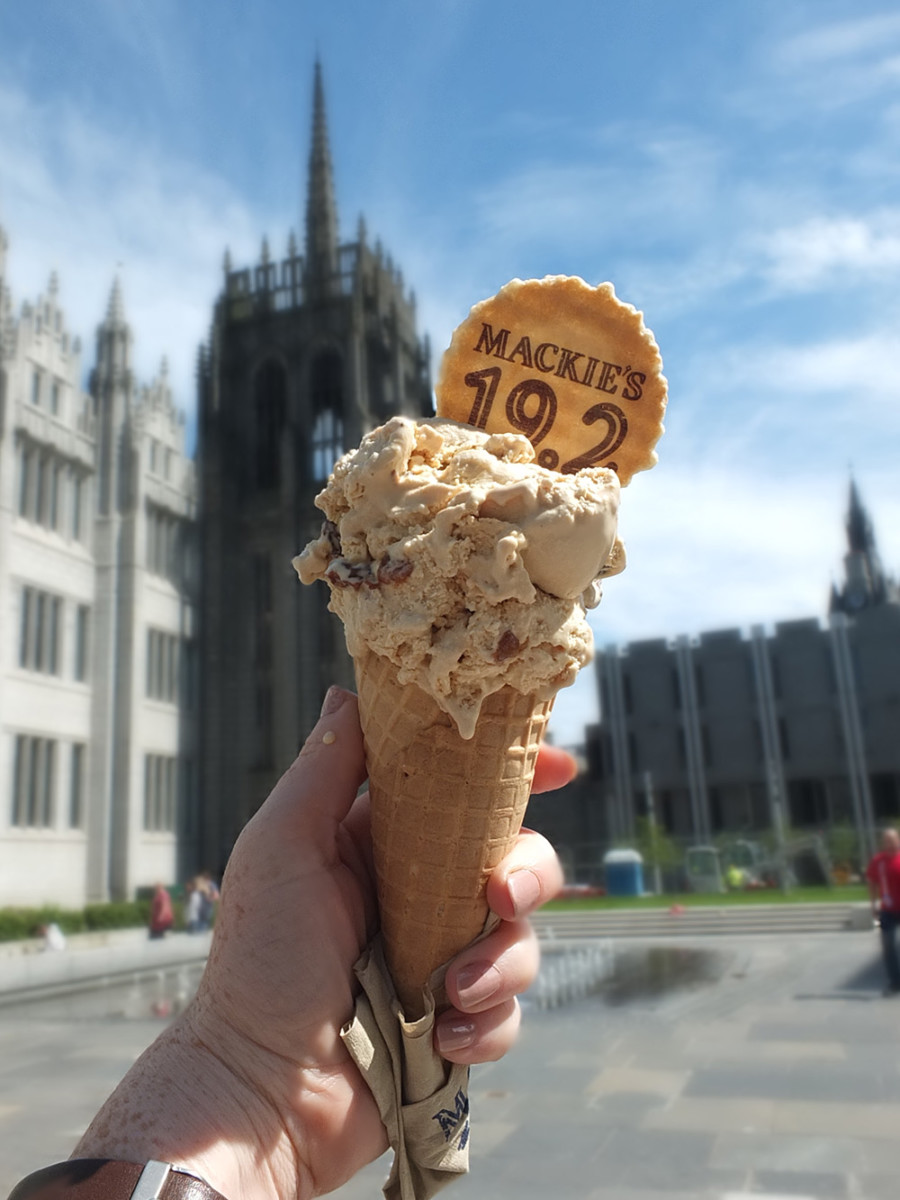 Mackie's 19.2
Follow the King Street back into the city centre, and a hot sunny summer's day in Aberdeen most definitely requires cooling off with a generous scoop or two of Mackie's ice cream.
Situated under the 'Poised' leopard at Marischal Square, Mackie's 19.2 ice cream parlour offers over twenty vibrant ice cream flavours. Their most popular is the original and honeycomb, but on this day I opted for a double scoop of old school rum & raisin. Delicious!
Mackie's 19.2 was named so because it is located exactly 19.2 miles from the family farm where they started making ice cream over 30 years ago. I paid a visit to this farm the day before this gloriously sunny day, seeing how they make their honeycomb, meeting the cows and learning about their plans to reduce their carbon emissions. Their ultimate aim is to one day go completely off-grid and use 100% renewable energy.
They also serve a range of delicious light lunch options – their matcha waffles come with my seal of approval! A wee caffeine kick to help fuel the rest of your day's adventuring!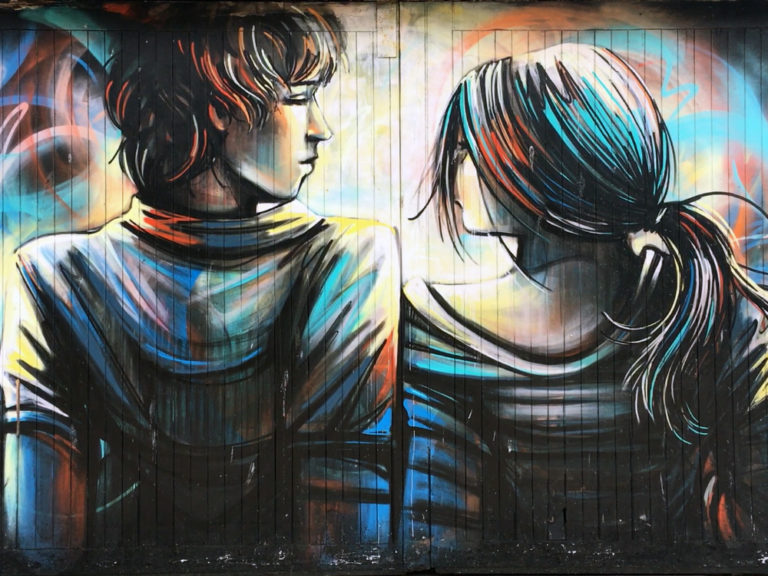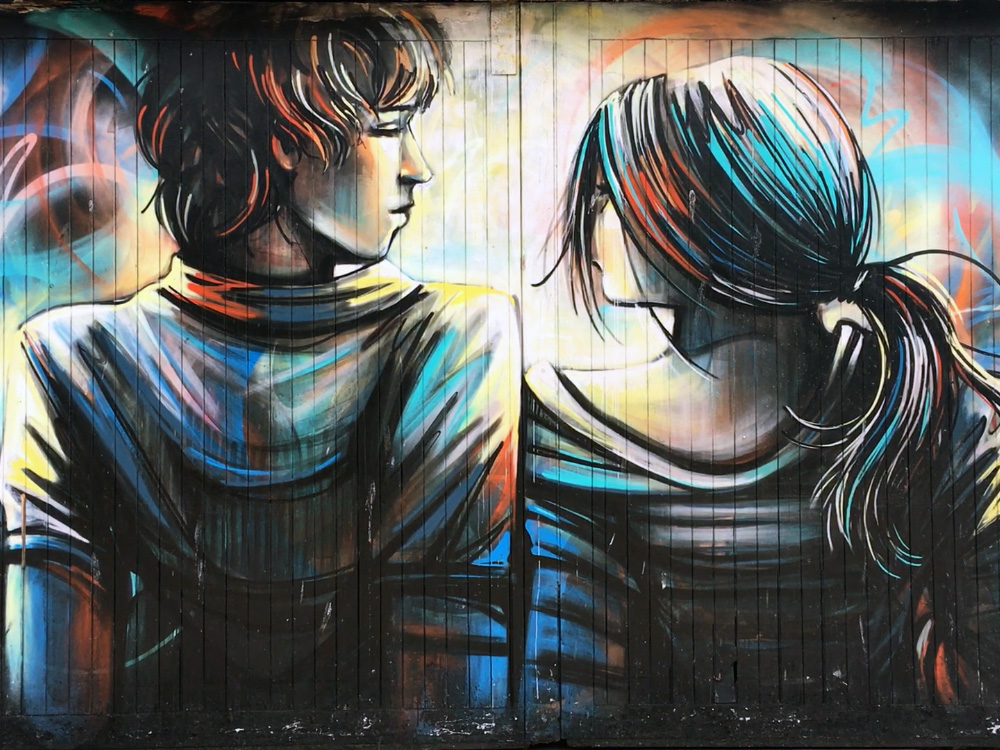 Nuart and Painted Doors
Those with an eye for art will notice the street art dotted around the city. This street art was introduced to the city in April 2017, and the Nuart Aberdeen international public art festival is continuing to add vibrant, often thought-provoking, compositions to the granite city canvas.
The artwork is created by some of the most acclaimed and progressive street and urban art practitioners in the world. You can explore these works of art via this map.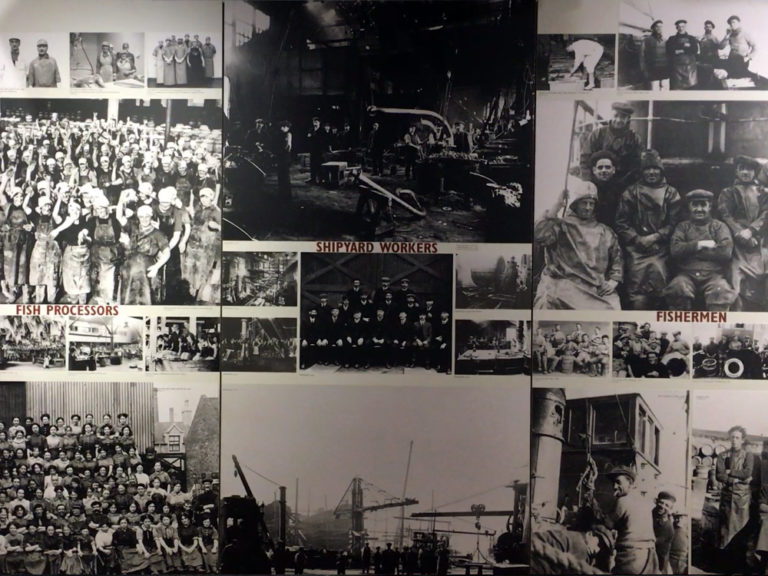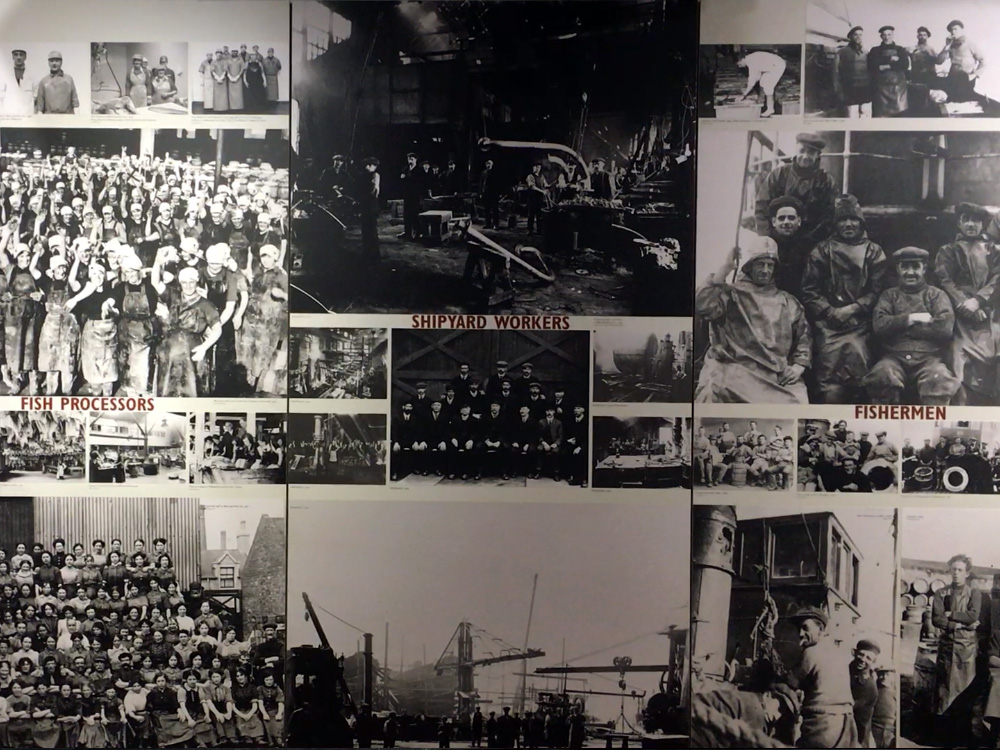 Aberdeen Maritime Museum
The Aberdeen Maritime Museum is a must-visit if you're visiting, and it's a perfect shelter if the weather turns. This award-winning museum tells the fascinating story of the city's long relationship with the sea, and you can often find art or history exhibitions on display.
Located on the historic Shiprow, this museum is the only place in the UK you can see displays on the North Sea and gas industry. Don't forget to check out the Nuart Aberdeen artwork (pictured second, above) just outside the front doors when you're heading there. The Aberdeen Maritime Museum is free to visit, but there is a donation box should you wish to help support them.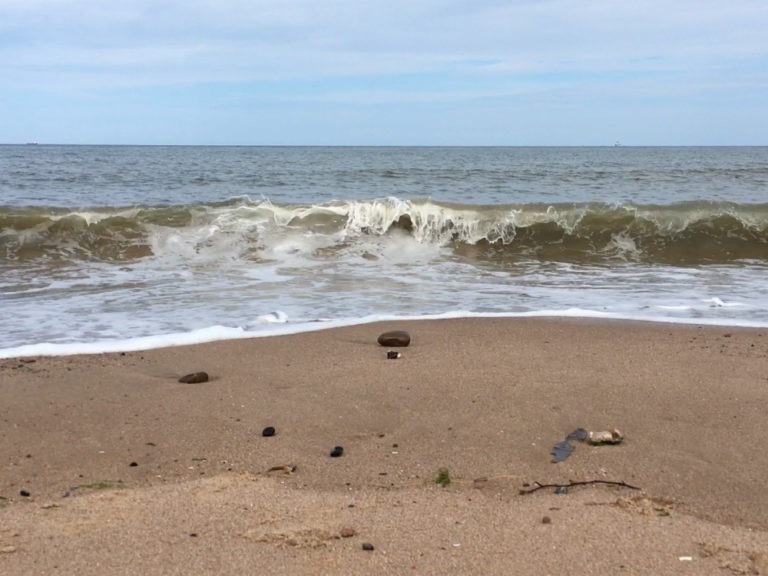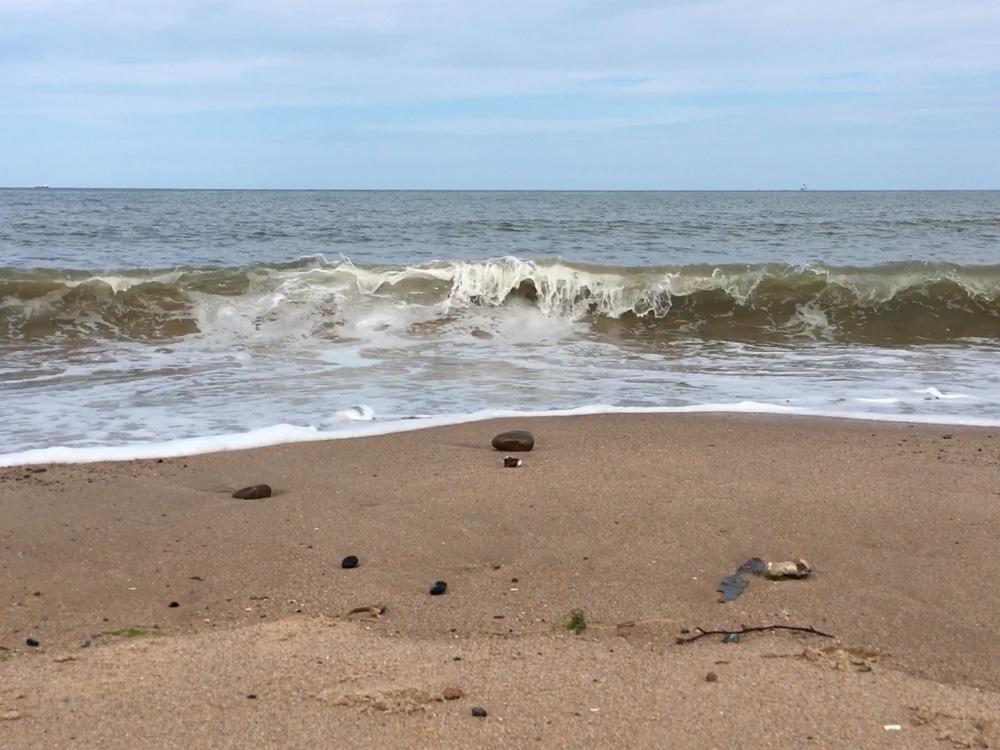 Aberdeen Beach
A half an hour's stroll from the city centre you'll find Aberdeen Beach, a 2 mile stretch of golden sand popular with locals and holidaymakers alike. You can regularly see surfers catching the waves at the beach in all weathers! At the south-side of the Esplanade is a leisure centre with John Codona's Pleasure Fairs, Queens Links Leisure Park, a cinema, shops and several restaurants on the seaside. Perfect for the kids.
Watch out for harbour porpoises playing in the harbour mouth as ships enter and leave this key shipping port. If you're looking for a bite to eat, The Silver Darling Restaurant is located nearby.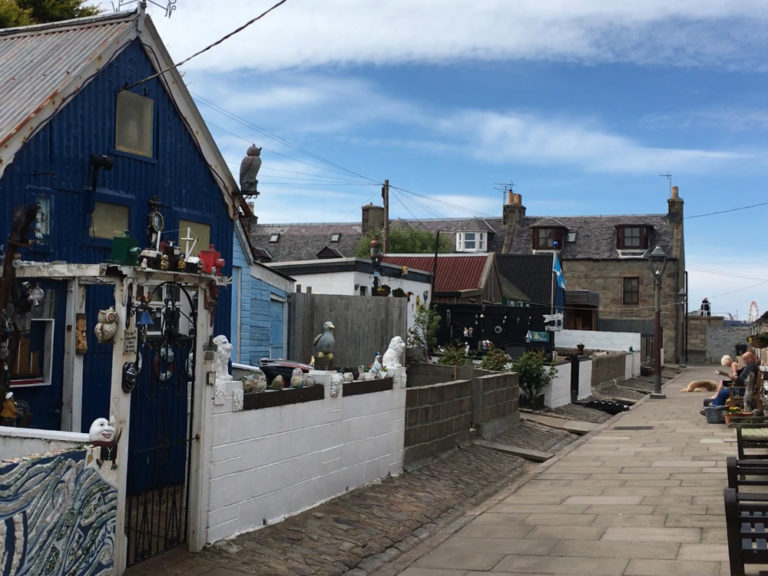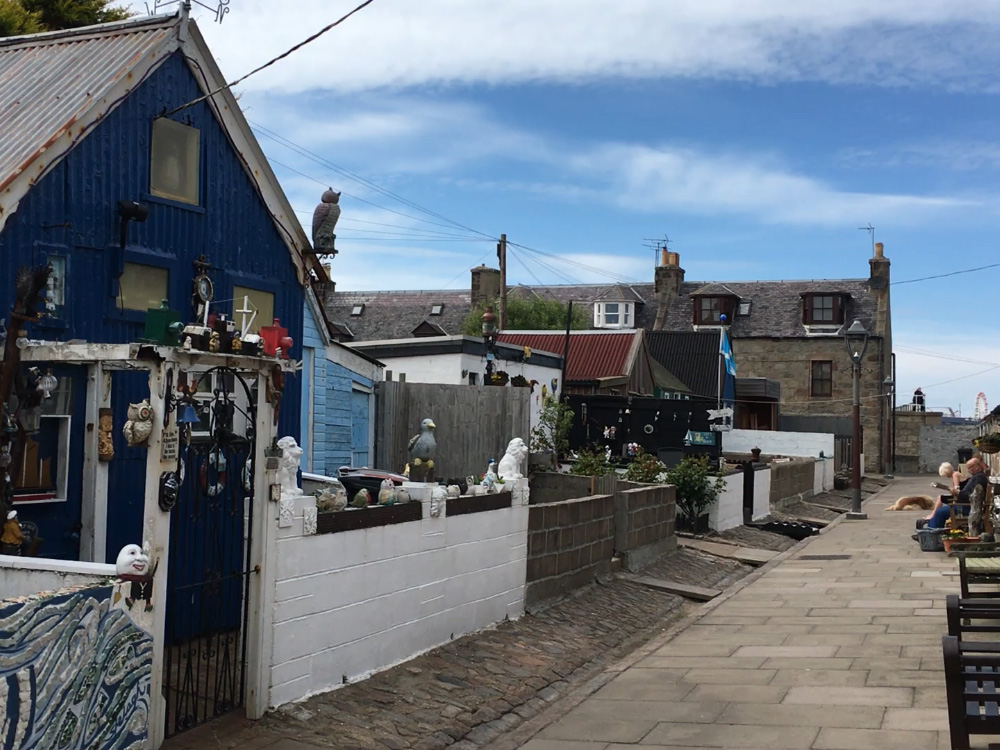 Footdee
At the south end of Aberdeen Beach you'll find the quirky fishing quarter of Footdee. "Fittie", as it's known by the locals, consists of squares of tiny cottages, flower-filled gardens and brightly painted outhouses. It's a fabulous place to wander through, but be aware that people do live in these houses and to respect their privacy when you're taking that amazing Instagram photo.
This former 19th-century fishing community was designed by architect John Smith, the same designer responsible for Balmoral Castle. You'll notice, as you browse the eccentric decorations with their seaside themes, that all the houses face inwards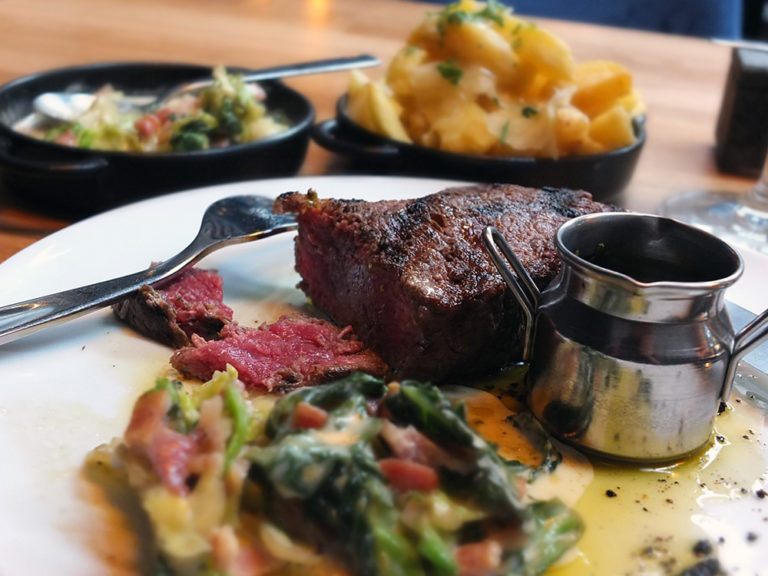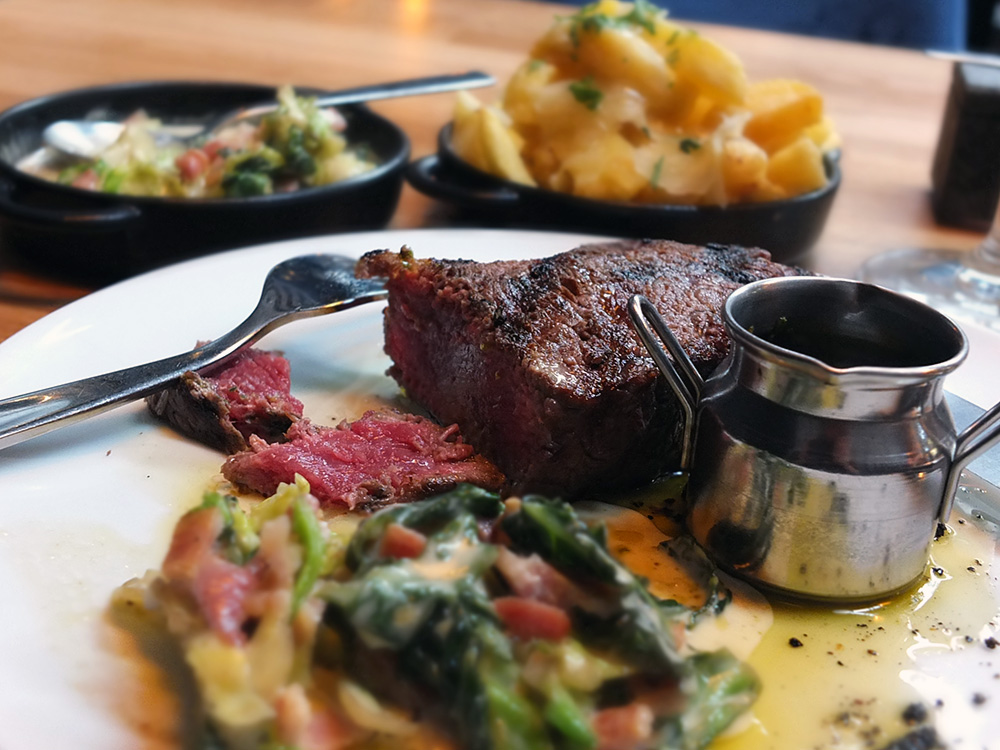 Vovem
For your evening meal, why not try out Aberdeen's premier steak house – Vovem, on Union Street. They pride themselves on using quality beef from Aberdeenshire and the wider UK, grilled to perfection by their very own Asadors (grill masters).
I enjoyed a rather delicious sirloin steak from Grace Nobles' Aberdeenshire Highland Beef, served with the most incredible Manchego truffle steak fries and a side of creamy cabbage with bacon. Perfection!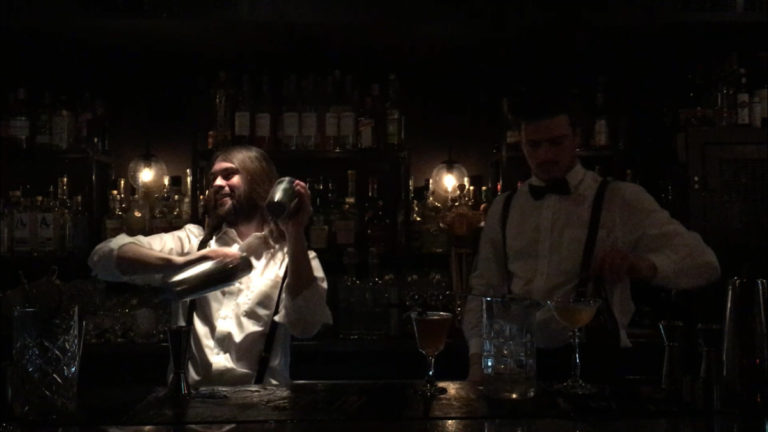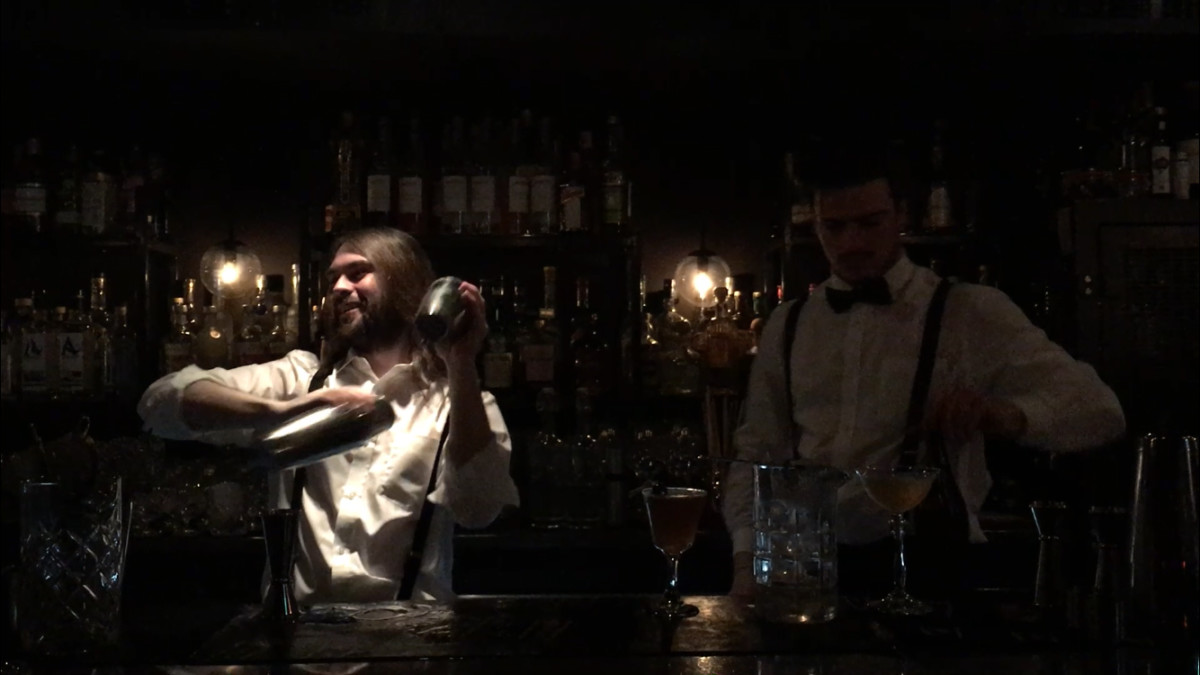 21 Crimes
Beneath the floorboards of Vovem lies Aberdeen's first speakeasy. This 1920s themed basement cocktail bar only allows entry to those with the unique passcode. To find this passcode, follow them on social media – the code changes regularly. When I visited, the code was "I have a confession to make: I have been masquerading as a gentleman!".
It's a fabulous little venue, named after 21 of the crimes that would have you deported to Australia in the 18th and 19th centuries. Each crime is framed on the walls, with the stories of the people who were sentenced, and some of them are downright bizarre. There are good cocktails too.
Other places to visit in Scotland
Our other recommendations for places to visit in Aberdeenshire, Scotland.

This seven-story castle with its pink-tinted facade, finely sculpted multiple turrets, ornate corbels and carved stonework is said to have been an inspiration for Walt Disney's Cinderella Castle

Meet Grace Noble, a solo female entrepreneur in the beautiful Scottish countryside of Deeside, in rural Aberdeenshire.

From subterranean late-night taverns to fine restaurant dining.

This is a sponsored post in collaboration with Visit Aberdeenshire and Mackie's of Scotland, although all thoughts and opinions expressed are our own. Thank you for supporting the brands that make it possible for me to do what I love: mess up my kitchen, go on adventures and share stories.