A recipe, review & giveaway in collaboration with Carnivore Club.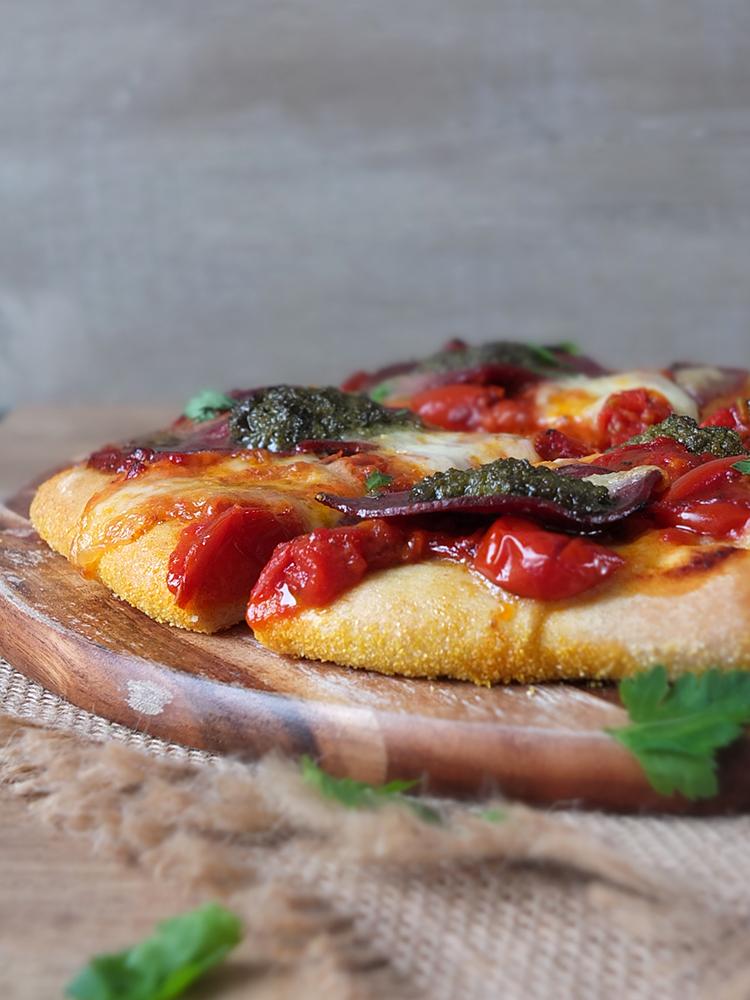 I'm not going to lie.
I like meat, and I like meat a lot.
So when Carnivore Club asked me if I'd like to review their latest subscription box I jumped at the chance. I confess, I did review one of their boxes previously and I included a short review in a round up post, but I don't think I did it justice, so this post is going to be all about them this time.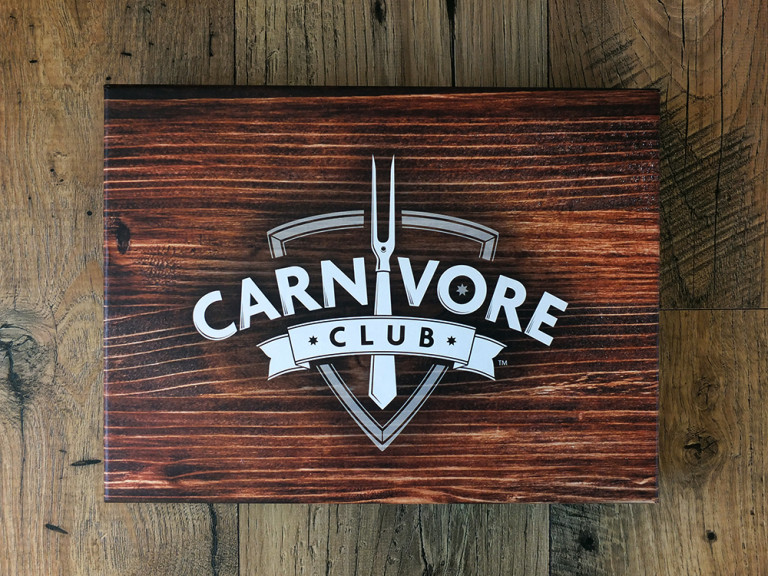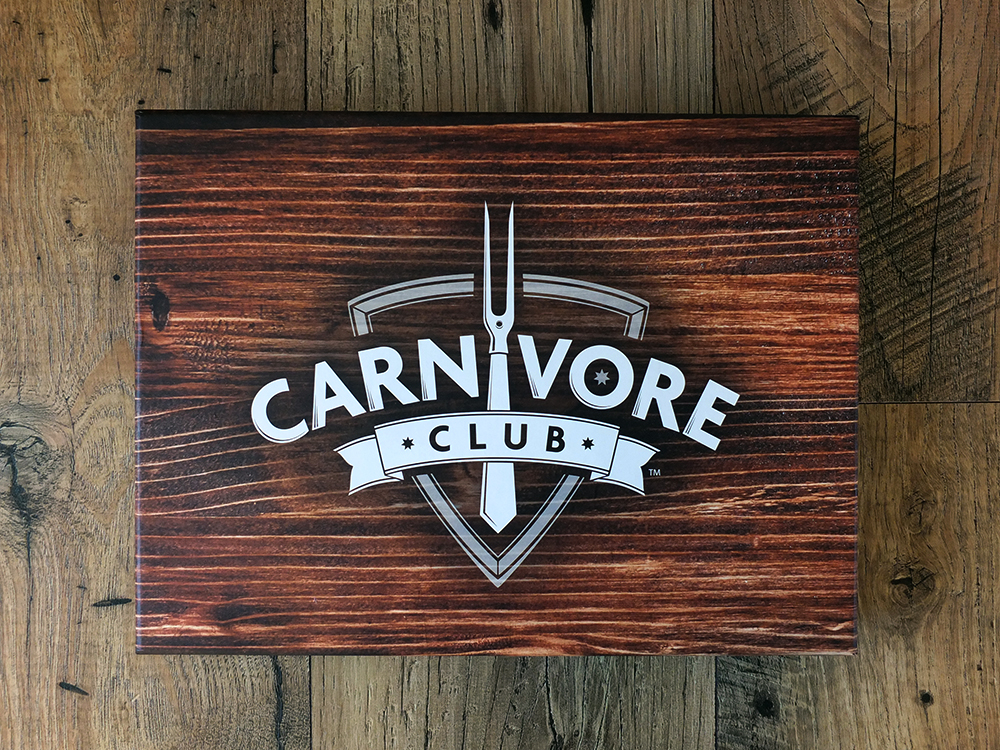 Carnivore Club (isn't that the most fantastic name for a subscription box, ever?!) is a monthly subscription box that began in Canada and the USA and is now available in the UK. They search the length and breadth of the country for the finest in charcuterie (a word I can still only spell and not pronounce correctly at all!).
Each month members receive a box with 4-6 different handcrafted charcuteries from a different supplier in the UK.
This month's supplier is the Great Glen Charcuterie based in the rugged highlands of Scotland. Husband and wife team Anja and Jan Jacob, originally from the Netherlands, set up this business ten years ago. All of their products are handcrafted and air dried, and are made using only wild Scottish venison – and it's all incredibly delicious. Quality artisan produce.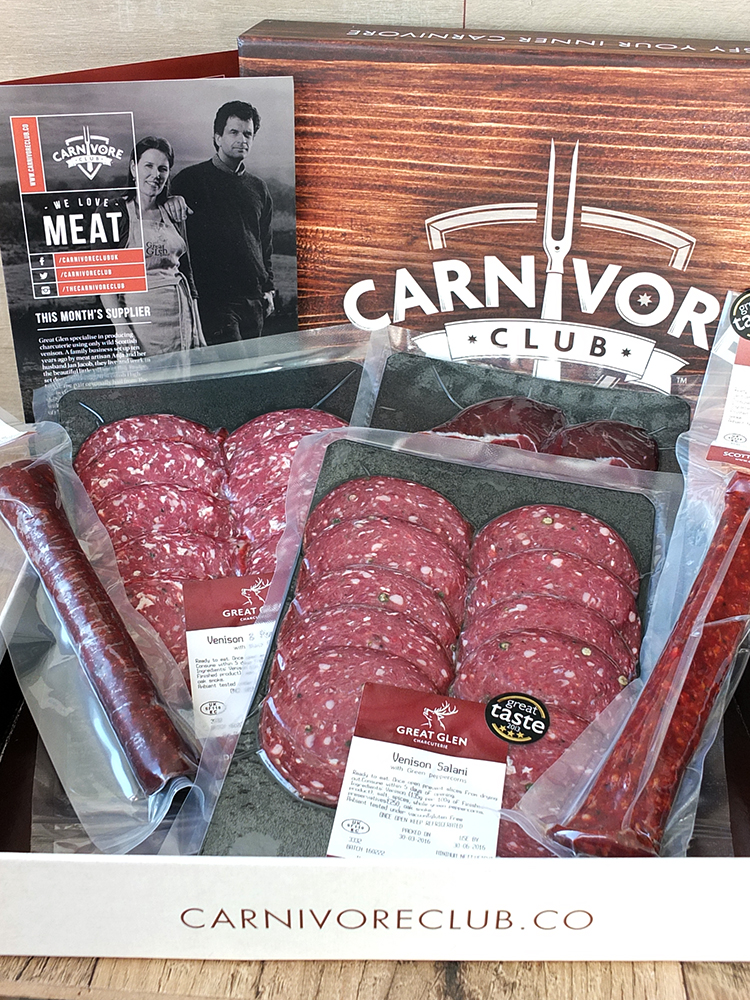 This month's subscription box contained smoked and dry cured sliced venison bresaola made from the prime cuts of wild Scottish venison and matured for up to eight months; venison and pork chorizo; chilli venison chorizo, a mildly spiced venison pork salami made with cracked black peppercorns and a green peppercorn salami, which I used to top this wild venison pizza with wild garlic pesto.
I tried to keep the flavours of the pizza simple so that the taste of the wild venison salami would shine through, and I think it worked really well. There's enough dough to make two nine inch circular pizzas with a thick crust, or roll it out to fit the size of your baking tray if you prefer a thinner crust.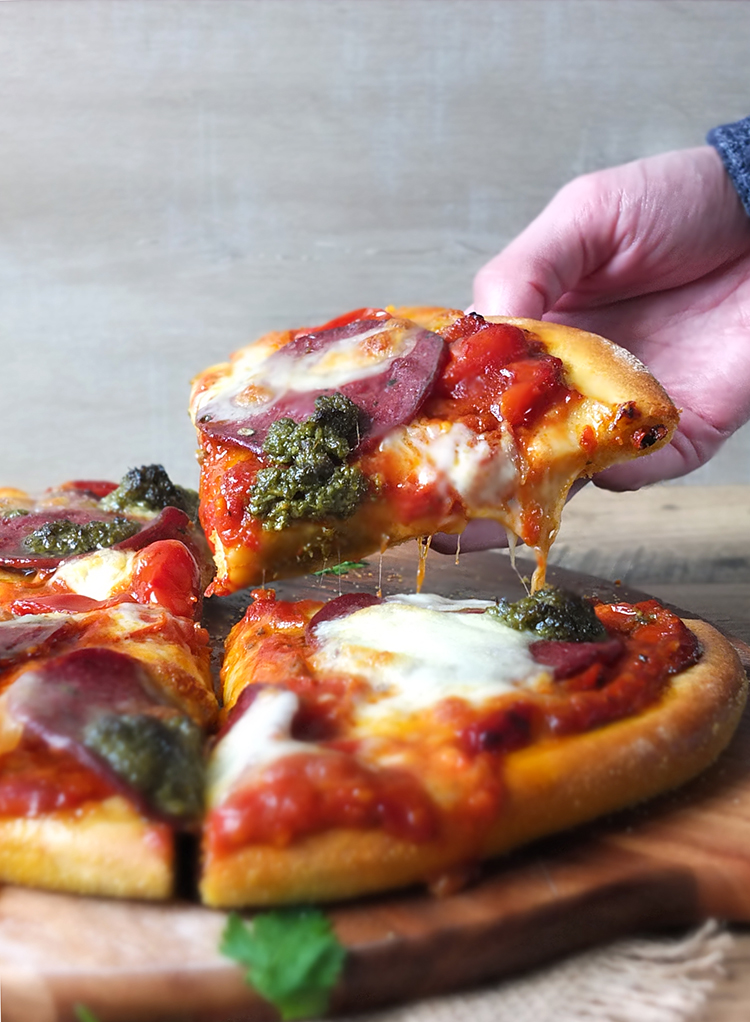 I happened to have a jar of wild garlic pesto in my pantry, and some Scottish seaweed lurking in the cupboard, so I thought these ingredients would complement each other very well.
I wasn't wrong! My husband and I shared this pizza for our lunch and thoroughly enjoyed every bite of it. Wild garlic is just coming into season now with recipes popping up on food blogs across the country. I did have a look at a local patch I know of where it grows, but it's still too small in Shetland just yet to be harvesting and making my own pesto, but the jarred pesto worked fine.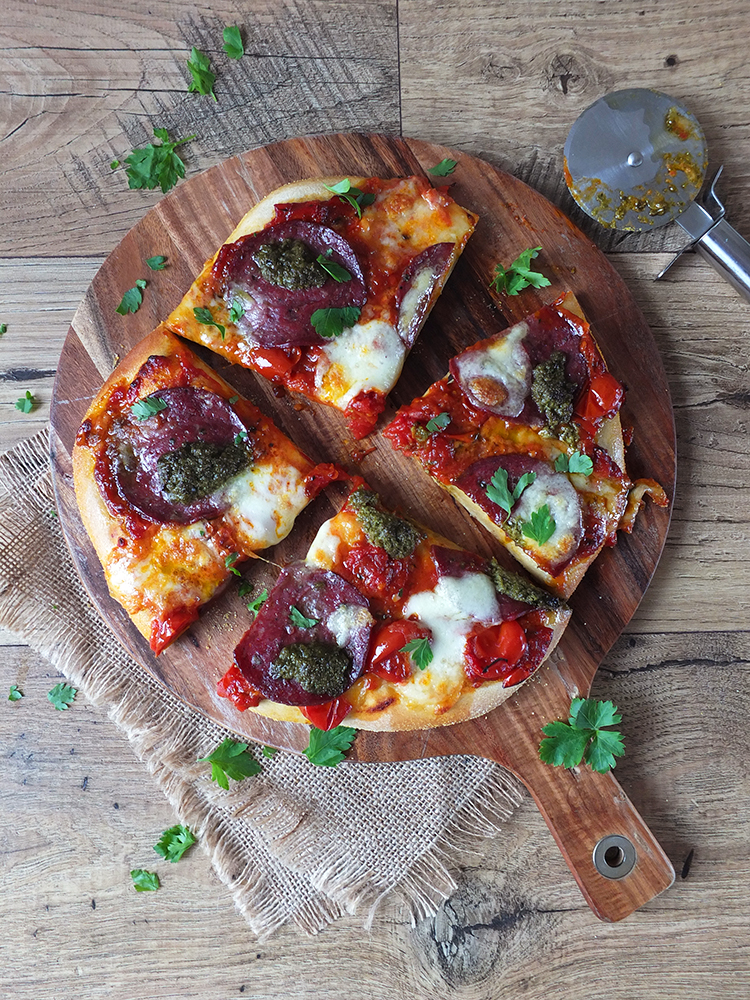 All in all I'm still really, really impressed with the Carnivore Club. I like the fact they source high quality local producers, and each box comes with a leaflet describing more about the producer and what they do.
Carnivore Club subscription boxes are available monthly, bi-monthly or quarterly from £29, or you can try a one off subscription box for £32 with free shipping.
Artisan. Handmade. Exclusive. Carnivore Club is the ultimate meat club for discerning individuals. Follow Carnivore Club on Twitter, Instagram and Facebook for more meat-loving inspiration.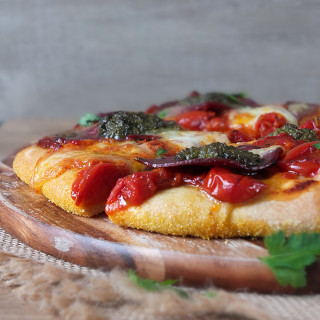 Wild Scottish Venison Pizza with Wild Garlic Pesto
A rustic pizza made with wild venison salami from the highlands of Scotland and wild garlic pesto.
Print
Rate
Affiliate Links
This recipe card may contain affiliate ingredient and equipment links. As an Amazon Associate I earn from qualifying purchases.
Instructions
Prepare your pizza dough either by placing the yeast, flour, semolina, salt, sugar and water in your bread machine in the manufacturer's recommended order and selecting the dough or pizza dough cycle. Alternatively, combine all the ingredients except for the water, make a well in the centre, add the water and stir with a wooden spoon until well combined. Turn out onto a floured surface and knead for 10 minutes. Transfer to a lightly oiled bowl, cover in cling film and leave to rise until doubled in size, about one hour.

Meanwhile, prepare the pizza sauce.

Add half the olive oil to a small saucepan along with the garlic and seaweed, if using. Cook over a medium-high heat for one minute.

Add the tin of chopped tomatoes and cook for a further 15-20 minutes until it is thick and reduced.

Taste test and if it's too acidic add caster sugar to taste - start with one teaspoon. Season to taste with salt and pepper, stir in the remaining olive oil and set aside.

Preheat your oven to 240C/220C (fan)/475F. Sprinkle two large baking trays with coarse polenta.

Divide the pizza dough into two and roll out onto the baking trays. Leave to prove for a further ten minutes.

Divide the pizza sauce between the two pizzas and arrange your toppings.

Bake for 12-14 minutes, until the cheese is golden and bubbly.
Environmental Information
Click here to view the nutritional information for this recipe.
GIVEAWAY
Carnivore Club have kindly offered to provide the May 2016 Carnivore Club subscription box as a giveaway for one of my UK readers. What's in this box will be a surprise, but visit their website to see what previous boxes they've had to get an indication of the kind of charcuterie they source. To enter, simply fill out the Rafflecopter entry form below!
HOW TO ENTER
For your chance to win the May 2016 Carnivore Club subscription box worth £32 enter using the Rafflecopter form below. Come back and tweet about the giveaway every day for more chances to win!
TERMS & CONDITIONS
This giveaway is open to UK entries only. Entrants must be age 18 or over. The winners will need to respond within 30 days of being contacted; failure to do this may result in another winner being selected.
The prize is offered and provided by Carnivore Club. The prize is to win the May 2016 Carnivore Club subscription box worth £32 There is no cash alternative and the prize is not transferable.
There is no entry fee and no purchase is necessary to enter this giveaway. The promoter (Elizabeth's Kitchen Diary) reserves the right to cancel or amend the giveaway and these terms and conditions without notice.
Entry into our giveaways will be deemed as acceptance of these terms and conditions.
If you need some help using Rafflecopter, here's a quick clip to show you how. Rafflecopter will pick the winners at random from all the entries received. I will be verifying entries and any automated entries or those who have claimed they have made the mandatory blog post comment and really haven't will be disqualified. It's mandatory! Please make sure your comment is eight words or longer or Google views it as spam. >>>>> All entries with comments fewer than the mandatory 8 words will be disqualified. <<<<<
Closing date is midnight (that's 00:00 hours, 12 am on Sunday night/Monday morning) on Monday 25 April 2016 (GMT) and the winner will be announced shortly afterwards.

PS. Did you hear me on the radio yesterday? My 15 minutes of fame talking food and social media on the BBC! This is the last time I'll mention it – I promise! You can listen to the episode of BBC Radio 4's Digital Human: Taste online for the next year, if you did miss it yesterday. 😉
Elizabeth's Kitchen Diary received a complimentary Carnivore Club subscription box for review purposes. All thoughts and opinions expressed are our own. This is not a paid post.