A recipe and giveaway in collaboration with Propercorn.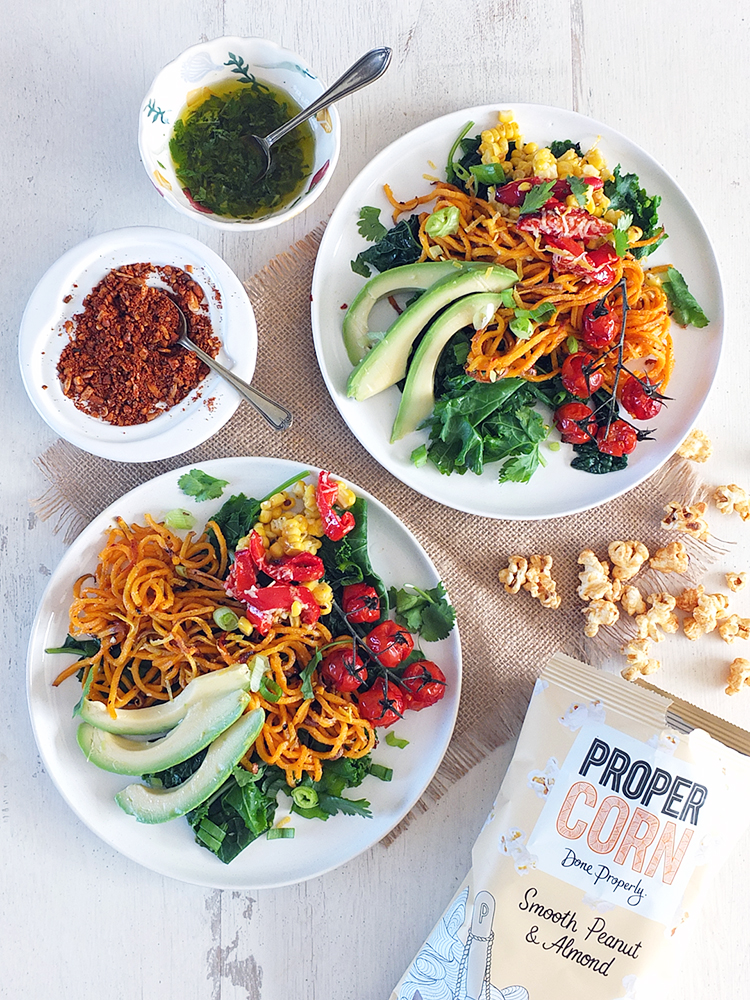 This recipe is, hands down, one of the best lunch recipes I have ever, ever, prepared at home.
This gorgeous Happy Lunch concoction is the result of a recipe collaboration between renowned nutritionist Judith Wurtman PhD, food delivery company Karma Cans and popcorn maker extraordinaire Propercorn.
According to Wurtman's extensive research into the mood-enhancing effects of serotonin, eating carbohydrates such as sweet potato and popcorn can help alleviate emotional stress and control cravings. Combining these carbohydrates with small amounts of protein from nuts and seeds can optimise serotonin production in the brain, she says.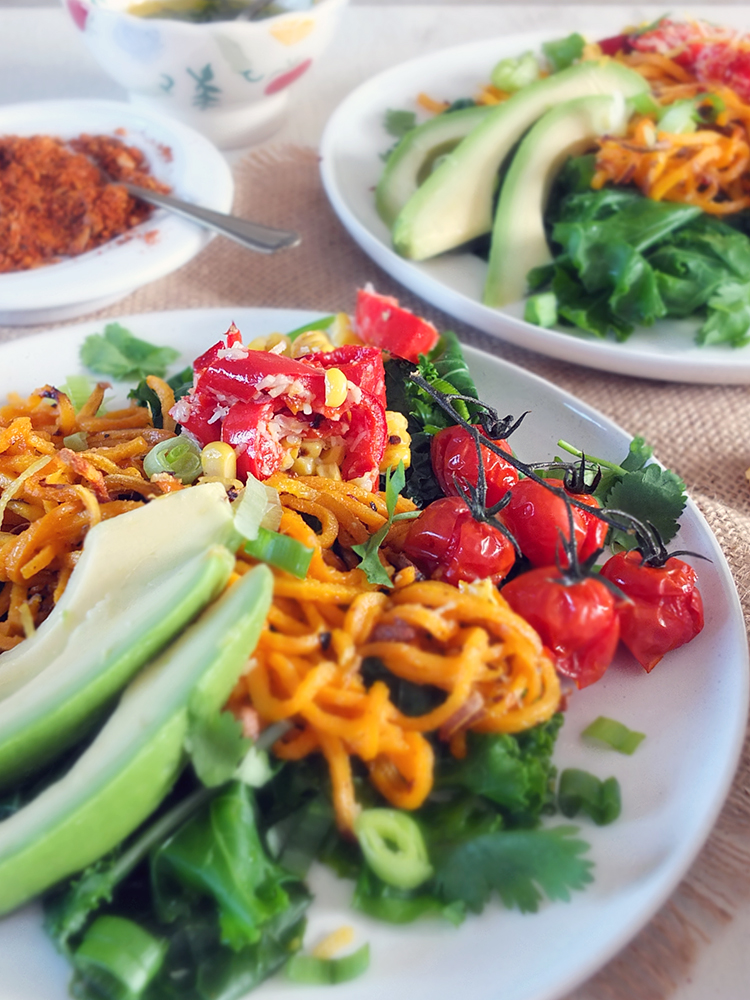 "When you digest nutrient-dense carbohydrates, like popcorn and sweet potato, the glucose stimulates a chemical reaction in the blood stream which enables tryptophan (the amino acid which creates serotonin) to get into the brain," says Cassandra Stavrou, co-founder of Propercorn. "Serotonin is the brain's natural "feel good" chemical"
Propercorn is the brainchild of Cassandra and her best friend and business partner Ryan. Cassandra remembers making popcorn with her father as a child, experimenting with different flavours. With these memories in mind Propercorn was developed – each bag of popcorn seasoned with the standard lightly sea salted or sweet and salty to more unusual concoctions: fiery Worcestershire sauce with sun-dried tomato, soured cream and black pepper, sweet coconut and vanilla and their latest addition, smooth peanut and almond.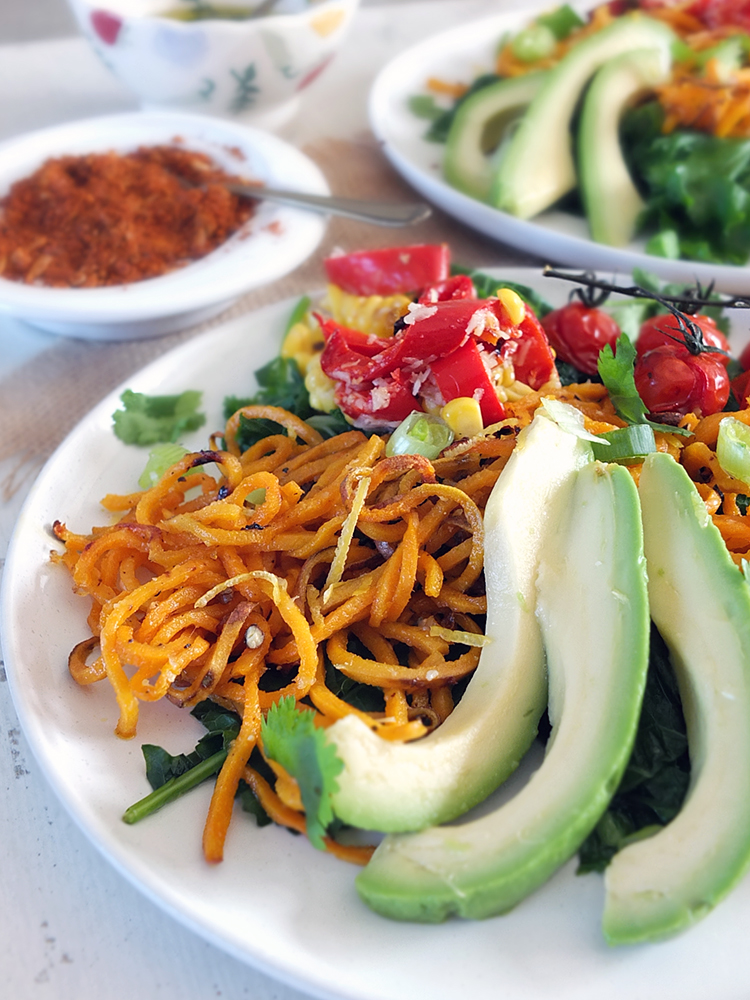 I'm an evening snacker. It's one of my many, many weaknesses. Popcorn is one of my go-to choices when it comes to evening snacking as it's low calorie and there's a whole lot of elbow action going on (we want that bowl-mouth elbow bend repetition, don't we when we binge watch Amazon Prime – my current series is Under the Dome).
Being a popcorn lover I was delighted to have been sent a case of Propercorn's latest flavour to try out – the smooth peanut and almond. I was intrigued!
My first thoughts: there's hardly any popcorn in this bag! Each bag contains 25 grams of popcorn, but there's barely one cup of popcorn volume in there. Was this going to satisfy my evening snacking cravings?
My fears were completely unfounded. Although there's only one cup of popcorn, each deliciously seasoned morsel is completely satisfying. Instead of mindlessly shoving handful after handful of popcorn into my mouth and then wondering where the entire bowl of popcorn disappeared to, each popped kernel is eaten and savoured. By the time you've finished the bag, you've felt like you've had a very satisfying guilt-free treat. There are only 120 calories per bag too. Win!
Along with the case of popcorn, I was sent some tubs of homemade roasted buckwheat dukkah – an Egyptian condiment usually made with herbs, nuts and spices and the ingredients to make my own Happy Lunch – this serotonin-boosting recipe.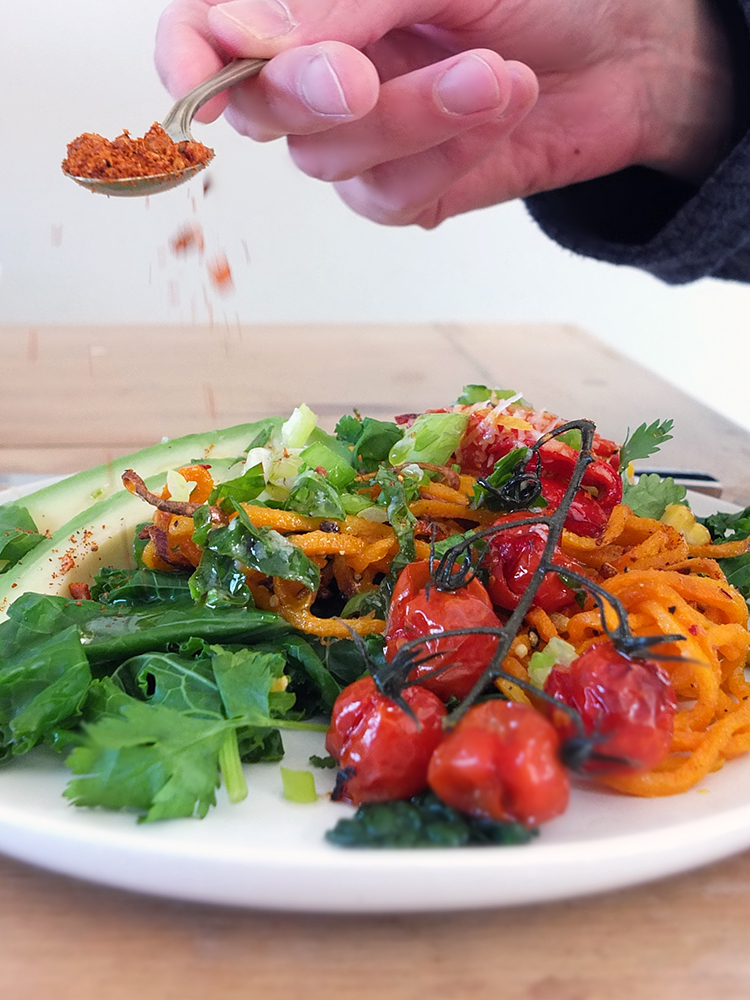 The nature of my husband's work means that he has a week off every sixth week, and so he was home when I made this mouthwatering recipe for two. The sun shone brightly for the duration of our lunch, despite it being a cold, drizzly, overcast windy Shetland Spring day.
I'm not going to lie, this recipe involves a lot of faff and preparation, something I try and like to avoid when it comes to cooking (I'm really quite lazy), but it's totally worth it. I am a recent convert to the wonderful world of spiralizing after being gifted a spiralizer, and spiralized sweet potatoes are going to regularly appear on my kitchen table now. So much yum!
This was the first time I'd ever tried dukkah too, and I'm definitely going to start making my own. Such a delicious condiment!
While preparing this recipe I did manage to spiralize my finger (there was much bleeding!) and set the fire alarm off, but other than that this was definitely one Happy Lunch. I really enjoyed preparing and eating it. It was one of the best lunches I've ever eaten.
And the popcorn? It's awesome.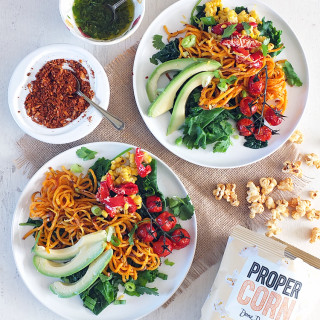 Roasted Corn, Sweet Potato Noodle and Avocado Salad with Toasted Buckwheat Dukkah
Developed by renowned nutritionist Judith Wurtman this colourful twist on a Cobb salad is packed full of ingredients to help increase mood-enhancing serotonin.
Print
Rate
Ingredients
for the dressing
1

tbsp

lemon juice

2

tbsp

olive oil

I used Pomora (see link in side bar)

1

tsp

water

1

small

garlic clove

grated

2

fresh basil leaves

2

fresh coriander leaves

2

fresh parsley
for the salad
1

red bell peppers

sliced thickly

8

cherry tomatoes

1

corn on the cob

300

grams

sweet potato

spiralized

1/2

avocado

1/2

spring onions

finely sliced

6

handfuls

curly kale

1

lemon

zest and juice

30

grams

Parmesan cheese

2

pinches

chilli flakes

1/2

tsp

garlic

grated

10

coriander stems

finely chopped

2

tbsp

olive oil

plus extra

2

tbsp

red wine vinegar
Affiliate Links
This recipe card may contain affiliate ingredient and equipment links. As an Amazon Associate I earn from qualifying purchases.
Instructions
To prepare the dressing, combine all the ingredients in a small bowl, mix and set aside.

Preheat your oven to 170 C (fan).

Toss the spiralized sweet potato in olive oil (I used 3 tbsp), the sea salt and some freshly ground black pepper.

Prick the cherry tomatoes and place them, along with the red peppers and the spiralized sweet potato on a lined baking tray. Bake for 15 minutes until the potato begins to change colour.

Remove the baking tray from the oven and transfer the sweet potato to a bowl. Toss the tomatoes and peppers in 1 tbsp olive oil and the red wine vinegar and return to the oven. Bake for a further 30 minutes until the vegetables are tender.

Boil the corn in a medium sized pot of water for 7-10 minutes. Remove from the pot and drain well.

Boil the kale in the same cooking water the corn was cooked in for one minute, or until it wilts but still retains its vibrant green.

Brush the corn with 1 teaspoon of olive oil and dust with a little sea salt.

Place the corn onto a heated griddle, rotating for about a minute, until lightly brown on all sides.

Remove the corn from the heat and slice the kernels off into a large salad bowl.

While the corn is still warm, add a dash of olive oil and half the lemon zest. Season with sea salt and freshly ground black pepper. Stir in the roasted tomato, sliced roasted red peppers and any juices left over from roasting. Add half the Parmesan.

Turn the oven up to 200 C (fan).

Dress the sweet potato with the remaining Parmesan cheese, olive oil, chilli flakes and season with freshly ground black pepper. Arrange on the lined baking tray in a single layer and return to the oven for five minutes to crisp up slightly.

Remove the sweet potato from the oven and add the remaining lemon zest while it is still hot.

Slice the avocado lengthwise into three slices. Marinate in salt and lemon juice.

Plate the kale and spoon on the sweet potato, sweetcorn mixture and avocado. Top with the dukkah, spring onion, coriander and dressing.
for the toasted buckwheat dukkah
To make the dukkah heat a flat, heavy bottomed pan over a low heat. Add the black rice, cover for 15 minutes, shaking every few minutes until the rice starts to pop. Remove the rice, turn the heat up slightly and add the buckwheat.

Stir the buckwheat continuously over the heat for around 10 minutes, until the kernels crackle, pop and go brown.

Place the seeds in an oven tray and bake for 7 minutes at 180C fan.

With a pestle and mortar, grind the cooked rice to a fine powder. Add buckwheat, seeds and all the other ingredients, and grind so they are broken up but not powdered.

This makes eight servings. Store for up to a month in an airtight jar.
Notes
Note - although the recipe specifies 10 minutes prep time, be prepared to spend the entire 45 minutes standing at the kitchen counter in between spiralizing, dicing, squeezing, marinading and assembling.
Environmental Information
Click here to view the nutritional information for this recipe.
OTHER RECIPES WITH DUKKAH YOU MIGHT LIKE
Warm Butternut Squash Salad with Dukkah Crunch by Fuss Free Flavours
Dukkah Devilled Eggs by Natural Kitchen Adventures
Taze Fasulye with Roasted Tofu by Tin and Thyme
If you've got any leftover corn, you might like Diana's corn fritters recipe.


GIVEAWAY
Propercorn have kindly offered a mixed case of their popcorn as a giveaway for one of my UK readers. To enter, simply fill out the Rafflecopter entry form below!
HOW TO ENTER
For your chance to win a case of mixed Propercorn Popcorn enter using the Rafflecopter form below. Come back and tweet about the giveaway every day for more chances to win!
TERMS & CONDITIONS
This giveaway is open to UK entries only. Entrants must be age 18 or over. The winners will need to respond within 30 days of being contacted; failure to do this may result in another winner being selected.
The prize is offered and provided by Propercorn. The prize is to win a case of mixed Propercorn Popcorn. There is no cash alternative and the prize is not transferable.
There is no entry fee and no purchase is necessary to enter this giveaway. The promoter (Elizabeth's Kitchen Diary) reserves the right to cancel or amend the giveaway and these terms and conditions without notice.
Entry into our giveaways will be deemed as acceptance of these terms and conditions.
If you need some help using Rafflecopter, here's a quick clip to show you how. Rafflecopter will pick the winners at random from all the entries received. I will be verifying entries and any automated entries or those who have claimed they have made the mandatory blog post comment and really haven't will be disqualified. It's mandatory! Please make sure your comment is eight words or longer or Google views it as spam. >>>>> All entries with comments fewer than the mandatory 8 words will be disqualified. <<<<<
Closing date is midnight (that's 00:00 hours, 12 am on Sunday night/Monday morning) on Monday 2 May 2016 (GMT) and the winner will be announced shortly afterwards.
[color-box]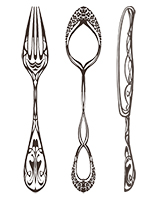 Have you made this recipe?
Take a photo and tag @tangoraindrop or use the hashtag #elizabethskitchendiary and share on Instagram and Twitter. It would make my day to see your creations!
[/color-box]
Elizabeth's Kitchen Diary received a case of Propercorn for review purposes, and the ingredients to prepare this recipe. All thoughts and opinions expressed are our own. This is not a paid post.