Curiosities, Stories and Expert Tips from the Culinary World.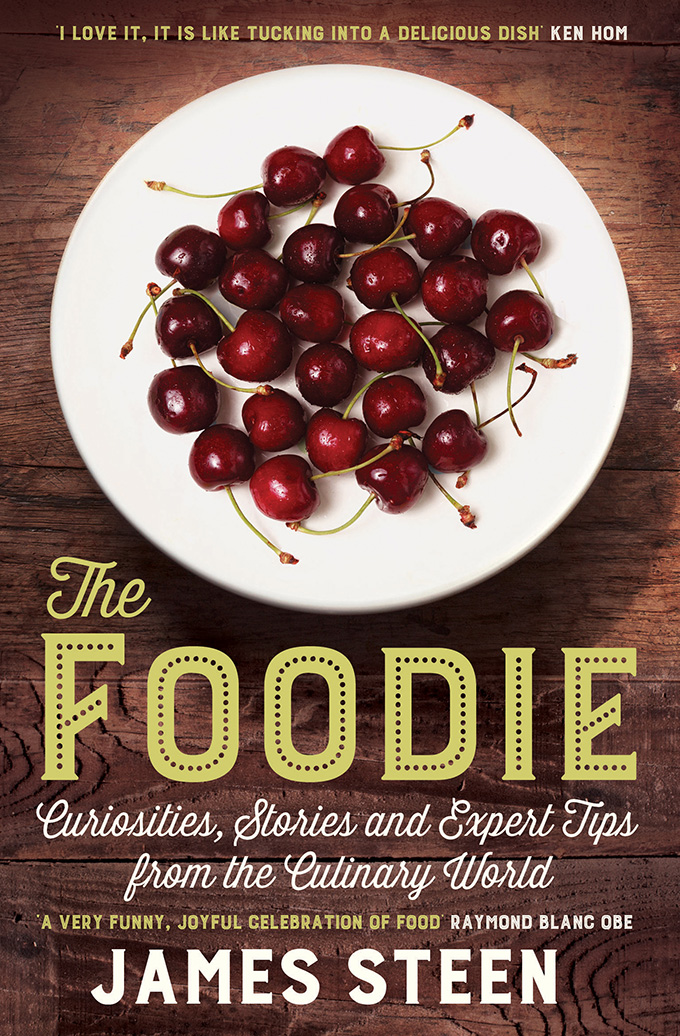 James Steen (for those who don't already know) is an award-winning UK journalist, food writer, author and ghostwriter, responsible for the ghosted autobiographies of Marco Pierre White (The Devil in the Kitchen), Raymond Blanc (A Taste of My Life) and Keith Floyd (Stirred But Not Shaken).
The Foodie is his latest work.
Published on the 2nd of July this year by Icon Books in the UK, this quirky, amusing book is jam packed with little tidbits of information you mightn't already know but wish you did.
For example:
Sometimes, when the inhabitants of Emilia Romagna in Italy break bones, they make pilgrimages to Parma's Parmesan dairies. It's an ancient custom whereby the sufferers plunge his or her cracked limbs into the basins of whey.
To cook a perfectly soft boiled ostrich egg, it needs to be placed into boiling water cooked for 45 minutes. A shark egg requires only 3.
Place marshmallows in a bag with bread to stop them both from going stale and hard.
The world's best hangover cure contains (according to Mr. Steen) 1 banana, 200 ml coconut water, 100 ml whole milk, 50 ml double cream and the juice of one lime all blitzed up in a blender.
No one knows who invented tea.
In this book you will discover the secret past of those stock cupboard essentials you've had tucked away for years, debunk ancient myths and methods for cooking both classic and curious dishes, and learn how to cook the perfect roast beef without even turning the oven on.
The publishers claim that "This delightful blend of anecdotes from your favourite chefs, snippets of gastronomic history and exclusive recipes provides the perfect kitchen guide for the 21st century foodie."
It reminds me of Schott's Food and Drink Miscellany, but much more wordy with attempts at being witty and amusing. It's not something you could sit and read cover to cover in one go (all 204 pages of it) but rather something you might want to keep in a magazine rack in your bathroom (other people do that, right?), or tucked into your handbag for when you find yourself sitting and waiting in doctor's waiting rooms and the like with nothing else to do. Something you jump in and out of, digesting small bits at a time.
Ok, if I'm to be honest, I've had this book sitting in my kitchen for over a month now and I'm only on page 15. I've skimmed through it and will tuck into it every now and again, yes, but I don't find it particularly engaging. With regard to content it jumps all over the place. It's filled with facts, yes, but it fluctuates between trying to be amusing and being a dry school textbook of information.
I want to like this book as it's filled with foodie facts, but Steen's writing style and attempts at humour just hasn't gripped me.
Book: The Foodie
Author: James Steen
ISBN: 978-1-84831-988-2
Publication Date: July 2015
Cover: paperback
RRP: £8.99 (UK) $15.95 (USA)
Elizabeth's Kitchen Diary was sent a review copy of The Foodie. All thoughts and opinions expressed are our own. This is not a paid post.