No more dull knives!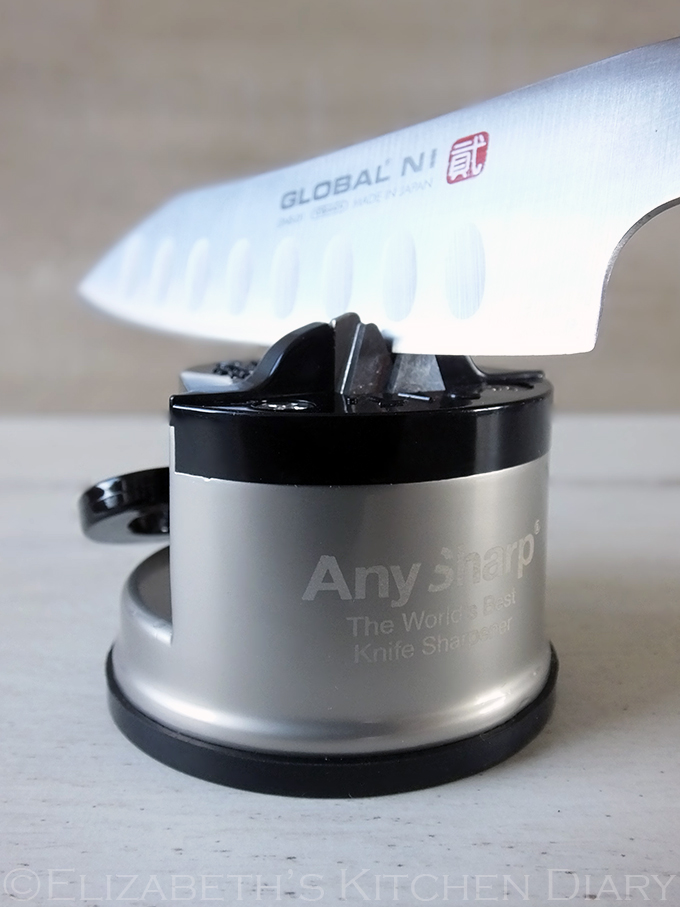 In our house we have pink jobs and blue jobs, which basically translates as: if I feel like doing it, it's a pink job (ie: me, the matriarch of the house, will get off her backside and do it) and if I don't feel like doing it it's a blue job (ie: I pass the buck over to The Husband).
Knife sharpening has always been a blue job in our household, until now.
Regular readers will be aware that I was recently sent the best knife ever – a Global Ni cook's knife available exclusively in the UK from the Steamer Trading Cookshop.
Not a week later (thank you universe!) the world's best knife sharpener landed in my postbox. Thank goodness too because although I've silently declared knife sharpening a blue job (I might have forgotten to tell The Husband) it does sadly get neglected, and my gorgeous Global Ni was going to end up sitting next to a row of dull kitchen knives on my magnetic knife strip, destined to only be sharpened when a friend of mine makes his six-monthly house visit for a cup of peppermint tea, spots my dull knives and sits there at my kitchen table, sipping tea and my sharpening knives.
No longer!
Knife sharpening has become a pink job!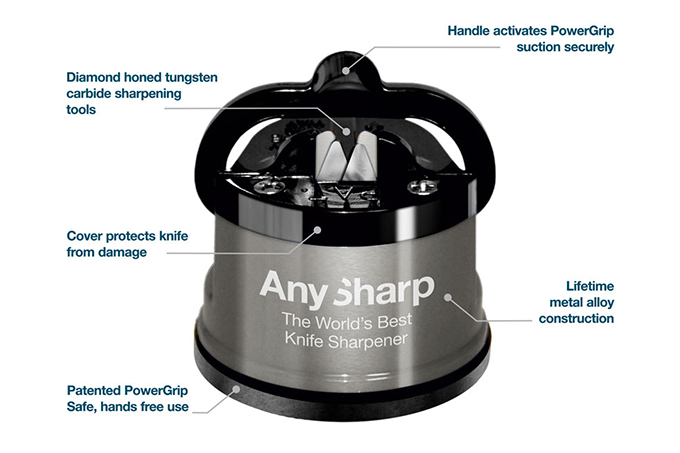 This little gadget from Any Sharp really is a crackin' little knife sharpener. Its Power Grip suction cup base firmly fixes to any flat surface, and three or four light pressure slides later you've got a super sharp knife again! There is no worry of slicing the end of your finger off, no worry that you're using the wrong angle, simply slide though the tungsten carbide sharpening edges set at the optimum knife sharpening angle and sching! – sharp knife!
This knife sharpener will work on nearly every knife too – from bread knives to hunting knives and all your cooking knives.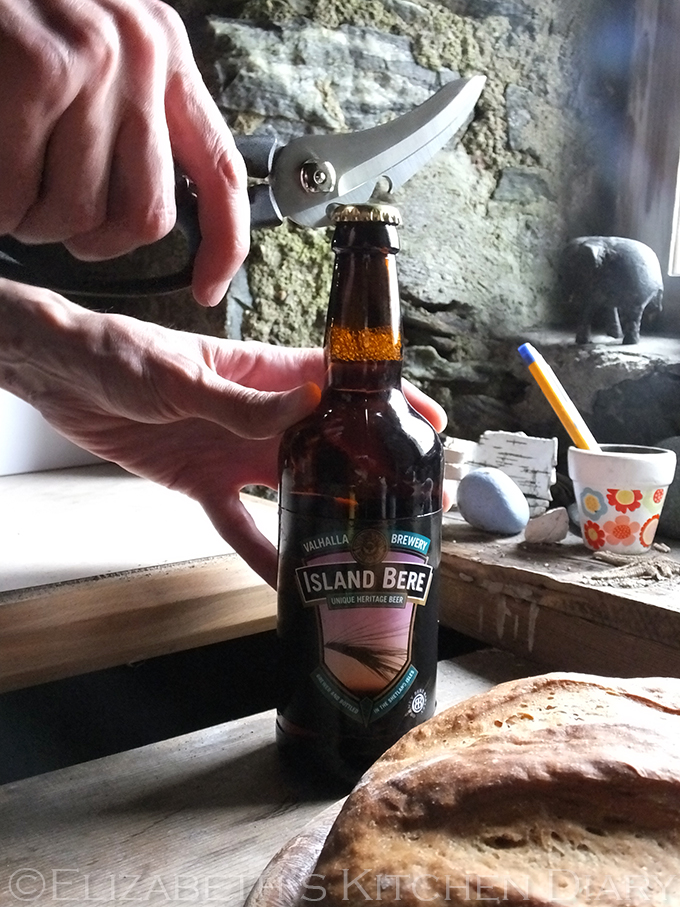 Any Sharp also make a really nifty multi 5 in 1 scissors – which I put to test during a glamping weekend recently. With curved tempered steel blades and a comfortable (and wide enough to be left or right handed!) grip, this knife is a pleasure to use. It's not just a pair of scissors though, it's a bottle opener, a wire stripper, garlic crusher and nut cracker too!
These scissors now have a prime place on my kitchen tool rack.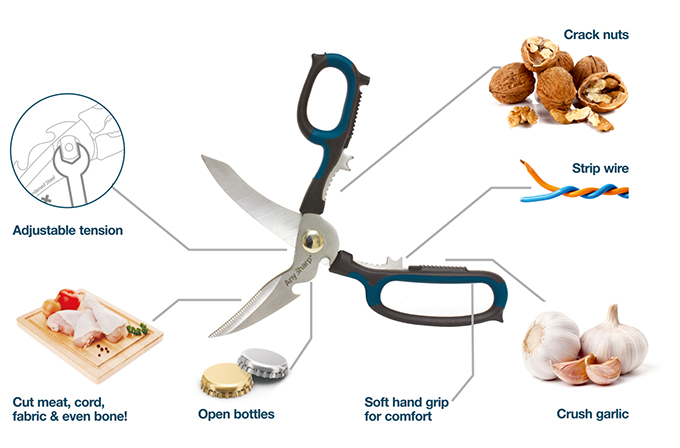 The Any Sharp Knife Sharpeners retails at RRP £17.49 while the 5 in 1 scissors retail for £14.99
You can find out more on the Any Sharp website and you fan follow Any Sharp on Twitter and Facebook.
GIVEAWAY
Any Sharp have offered my readers the opportunity to win an Any Sharp World's Best Knife Sharpener RRP £17.49 and a set of Any Sharp Multi 5 in 1 Scissors RRP £14.99 – a £32.48 value giveaway!
HOW TO ENTER
For your chance to win an Any Sharp World's Best Knife Sharpener RRP £17.49 and a set of Any Sharp Multi 5 in 1 Scissors RRP £14.99 enter using the Rafflecopter form below. Come back and tweet about the giveaway every day for more chances to win!
TERMS & CONDITIONS
This giveaway is open to UK entries only. Entrants must be age 18 or over. The winner will need to respond within 7 days of being contacted; failure to do this may result in another winner being selected.
The prize is offered and provided by Any Sharp. The prize is to win an Any Sharp World's Best Knife Sharpener RRP £17.49 and a set of Any Sharp Multi 5 in 1 Scissors RRP £14.99. There is no cash alternative and the prize is not transferable.
There is no entry fee and no purchase is necessary to enter this giveaway. The promoter (Elizabeth's Kitchen Diary) reserves the right to cancel or amend the giveaway and these terms and conditions without notice.
Entry into our giveaways will be deemed as acceptance of these terms and conditions.
If you need some help using Rafflecopter, here's a quick clip to show you how. Rafflecopter will pick the winner at random from all the entries received. I will be verifying entries and any automated entries or those who have claimed they have made the mandatory blog post comment and really haven't will be disqualified. It's mandatory!
Closing date is midnight on Monday 17 August 2015 (GMT) and the winner will be announced shortly afterwards.
UK competitions at ThePrizeFinder
If you want to be kept up to date on my recipes, occasional craft tutorials, adventure stories and giveaways then please subscribe to my weekly newsletter; it gets sent out every Monday morning if there is new content. Your email address won't be passed on to anyone, you will never be spammed and you are free to unsubscribe at any time, no questions asked. Make sure you confirm your subscription or you won't receive the newsletter – if it hasn't arrived check your junk mail folder.
[wysija_form id="1″]
Elizabeth's Kitchen Diary was sent review and giveaway samples of the Any Sharp World's Best Knife Sharpener and the Multi 5 in 1 Scissors. The Global Ni knife review sample was reviewed in an earlier post. All thoughts and opinions expressed are our own. This is not a paid post.