A delicious to-go soup recipe plus the Big Outdoor Bloggers Cleanup!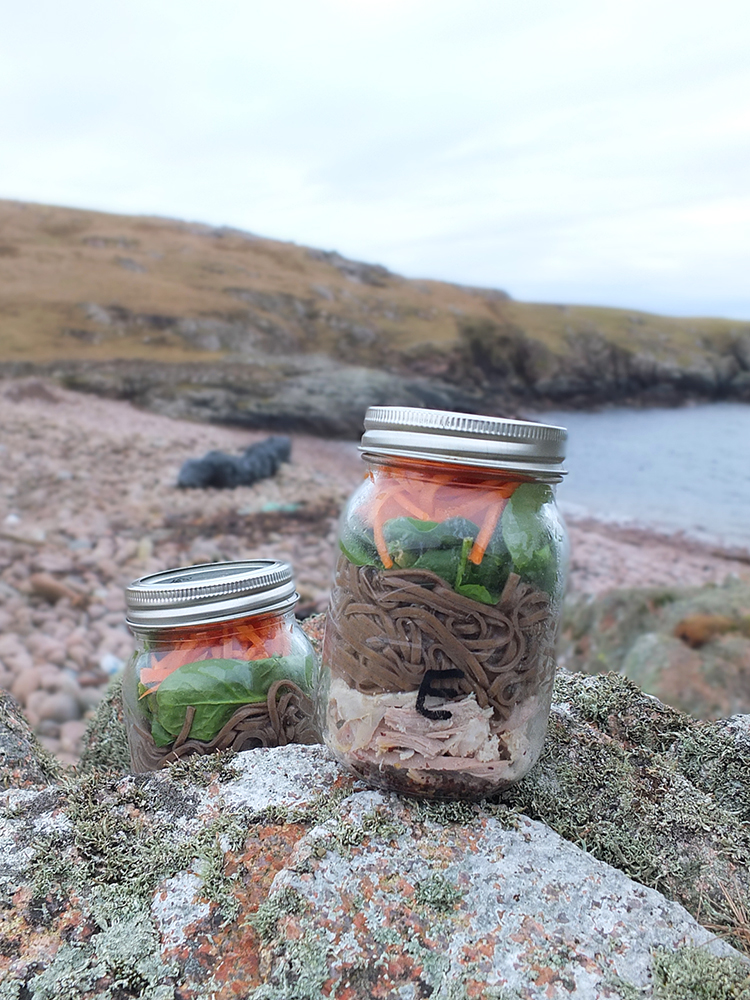 This week sees the Big Outdoor Bloggers Cleanup – a country wide litter pick helping to tackle the problem of single use plastic. It's also my husband's week off work (the nature of his work means he works six days a week for five weeks and then he gets all his Saturdays in one lovely week off on the sixth week), so I conscripted him to help me.
From the Outdoor Bloggers website: "Research published in the journal Anthropocene suggests that humans have made enough plastic since the second world war to coat the Earth entirely in cling film, and that no part of the planet is free of the scourge of plastic waste. Everywhere is polluted with the remains of water containers, supermarket bags, polystyrene lumps, compact discs, cigarette filter tips, nylons and other plastics. Some are in the form of microscopic grains, others in lumps. And the impact is highly damaging to wildlife, nature, the environment, and our resources."
The Meek Family, a well known outdoor adventure family and Ordnance Survey #GetOutdoors champions for 2017 and 2016, are trying rid the world of single use plastic through their Clear Plastic UK campaign.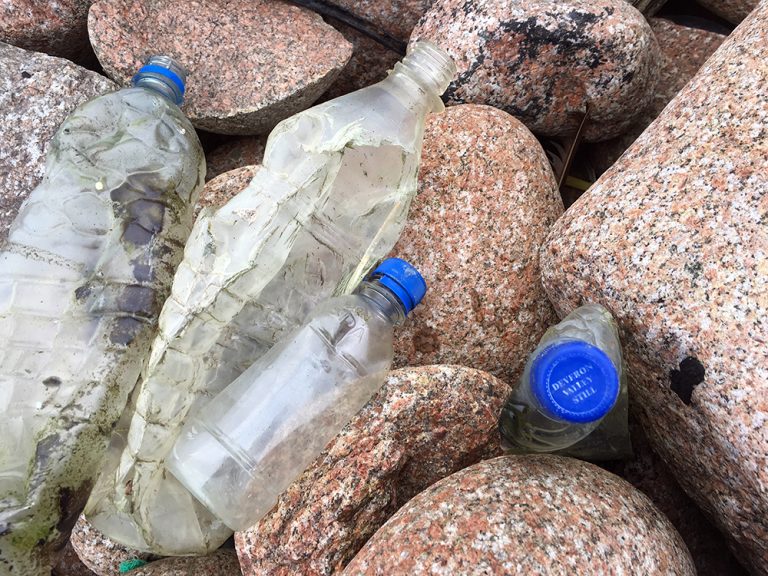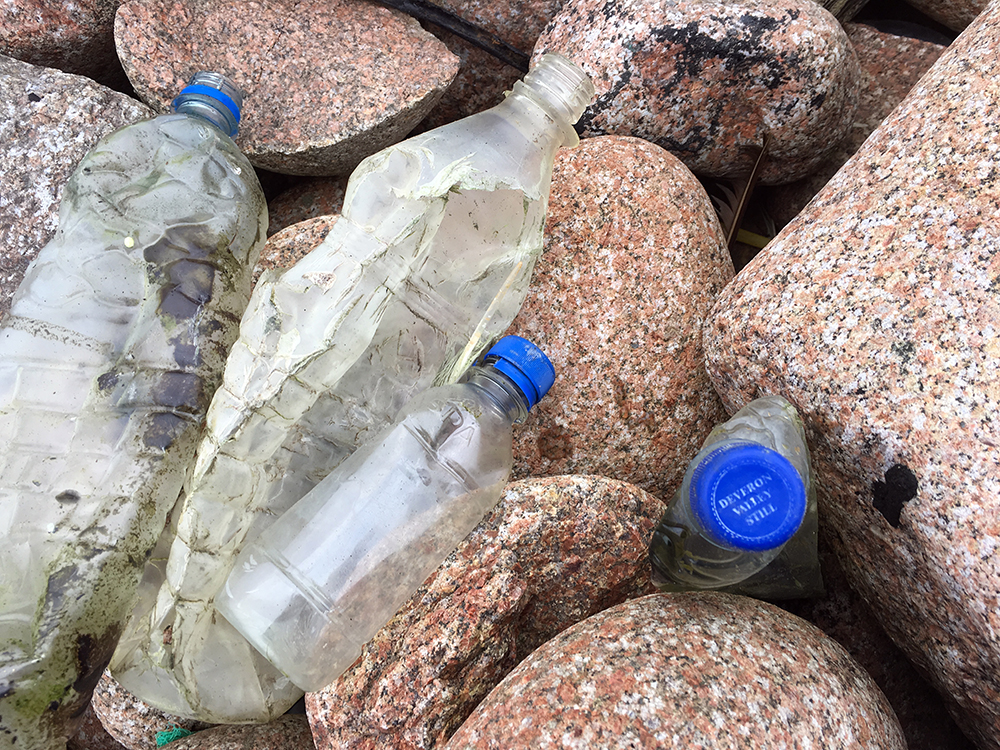 Approximately 100,000 sea mammals die every year from entanglement or ingestion of ocean plastic. Motivated by this shocking statistic the Meek family have committed to removing 100,000 plastic bottles from the environment, encouraging people to stop using single use plastic, and lobbying big brands to stop using plastic packaging.
My husband and I have joined forces with the other members of Outdoor Bloggers to help the Meek family with their challenge. The Big Outdoor Bloggers Cleanup is an event with a difference – instead of all of us outdoor bloggers travelling to the same location for a cleanup, we've been asked to spend one hour of our time clearing up the countryside where ever it is we live.
So, yesterday morning my husband and I headed to one of our favourite Shetland beaches with a packed lunch and a roll of extra strong bin bags to see how many plastic bottles we could clear in one hour, and to find out where those plastic bottles had come from. The results may surprise you!
Watch the video below, my very first ever vlog, to see how we got on!
The Big Outdoor Bloggers Cleanup: Shetland
We gathered eight bin bags of plastic, approximately 500 bottles of various sizes, and we barely made a dent in the amount of rubbish that's washed up on this particular beach. This beach faces south on the west mainland of Shetland, and it's basically like a big beachy scoop collecting all sorts of bruck that's floated up on the Gulf Stream.
Every Spring here in Shetland we have Da Voar Redd Up – the UK's most successful litter pick, with over 20% of the island population volunteering to help clear the beaches and roadsides. Since 1988 over 1700 tonnes of rubbish has been cleared up and disposed of, and this year sees the 30th anniversary of the community initiative.
After speaking with the Shetland Amenity Trust this morning I am going to organise a Voar Redd Up for this particular beach, and my husband, after we had to carry all those bags back up the HUGE hill to our car at the top, has agreed to return to the beach with me to clear up more. If you live in Shetland and fancy joining my team, just send me a message via my Contact Me form, or message me on Facebook or Twitter. I'm also looking to contact the land owner to see if he might help us move the Voar Redd Up bags up from the beach to the road with his tractor (pictured in the top right hand corner throughout our video!). Many hands make light work!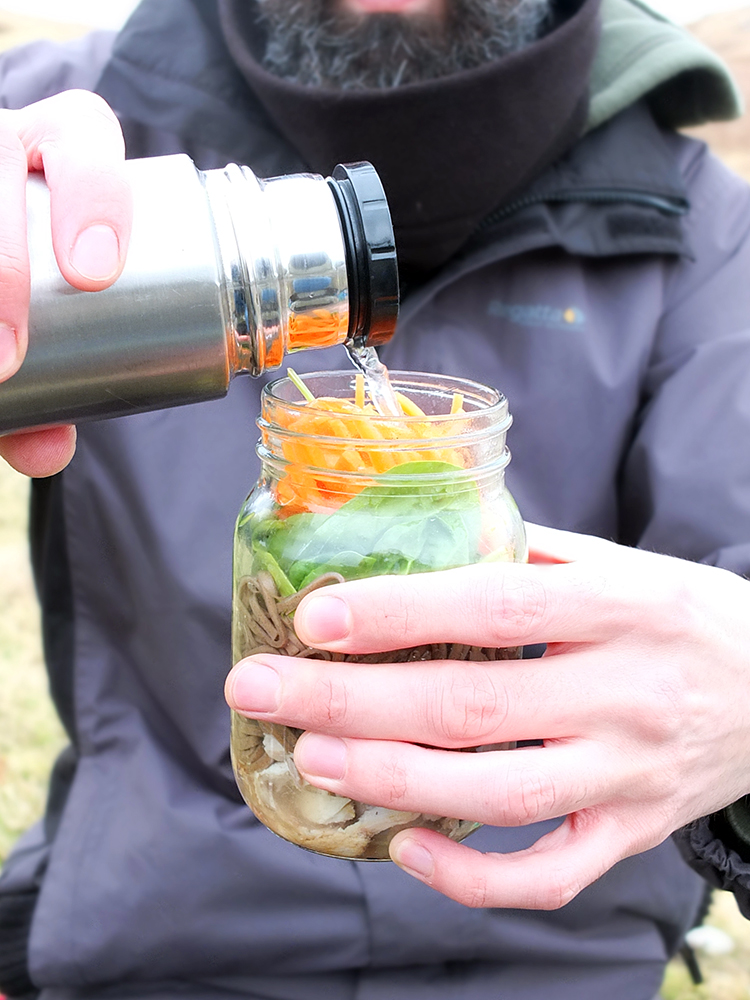 Beach clearing is hard work and certainly builds up a hefty appetite, so after we'd tied the bags up and washed our hands in the sea, we tucked into our lunch.
I was inspired by a ramen noodle soup recipe video I saw on Facebook recently to create these shredded turkey (made out of leftover organic Shetland-reared Christmas turkey) and soba noodle to-go soups. They were super tasty, but the only problem was that sitting outdoors in 6°C means that the soup cooled pretty quickly. I'm inspired to create little preserving jar warmers out of the leftovers of the wet suit I transformed into Lady Amelie's Steampunk Lunch Purse last year. Watch this space!
You might be wondering why the letter E is written on one of the jars – it's because I like substantially more furikake seasoning in my soup than my husband does and we didn't want to get them mixed up!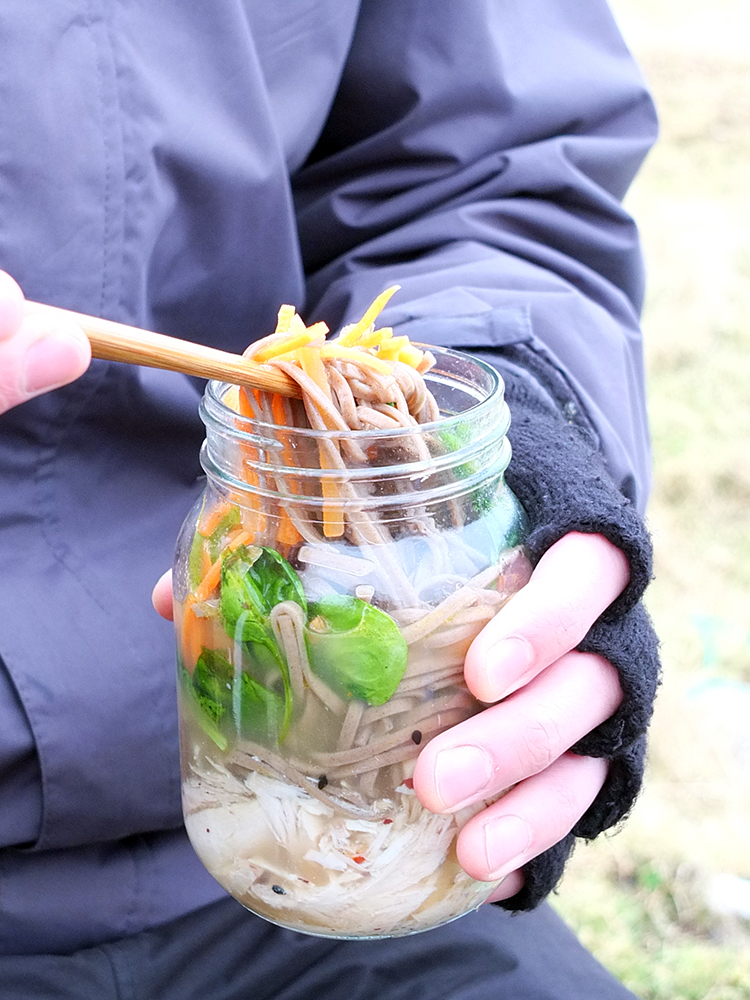 If you would like to help with the Big Outdoor Bloggers Clearup, at some point during the week between Friday 20 and Friday 27 January 2017, go out for a walk lasting an hour (or more) in the countryside close to your home/work/wherever you happen to be. Go on your own, with your family, take your work colleagues or friends along, it's up to you.
While you are out, collect up all the rubbish you see (take a bag!). Look out particularly for the biggest four problems – plastic bags, coffee cup lids, straws and plastic bottles – these single-use plastic items are what the Meek Family are most interested in here.
Photograph of your "haul" at the end of your walk, preferably with you in it, and post it on twitter and/or instagram stating the number of plastic items you have collected with the hashtag #OutdoorBloggers, the campaign hashtag #Refuse4Good and tagging @ClearPlastic_UK. The Outdoor Bloggers will then follow up with a blog post on their site with some of the photos and a grand total of the number of bits of rubbish collected.
Put the waste in a suitable bin to give it the best chance possible of being recycled and not ending up in landfill.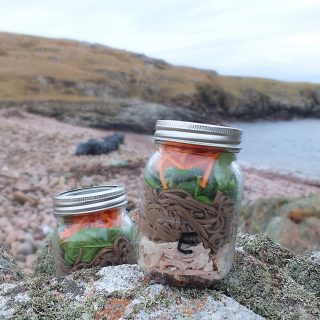 Shredded Turkey & Soba Noodle Soup - To Go!
A quick and easy make-ahead soup to go using leftover roast turkey or chicken. Simply add hot water when you're ready to eat!
Print
Rate
Affiliate Links
This recipe card may contain affiliate ingredient and equipment links. As an Amazon Associate I earn from qualifying purchases.
Instructions
Bring a pot of water to the boil and boil your soba noodles for 4 minutes. Drain and rinse under cold water and transfer to a bowl of cold water to wash thoroughly. Transfer to a clean bowl, drizzle in sesame oil and use your hands to toss the noodles to make sure they're coated in the oil. Set aside.

Divide the tamari soy sauce, beef stock granules and Furikake between two 400 ml preserving jars. Add half the shredded turkey or chicken to each of the jars and top with half of the soba noodles.

Add the spinach and finally the carrots and pop the lids on.

Bring a flask of boiling water with you to work (or play!) and when it comes time to eat, fill the jars with the hot water, pop the lids back on and leave to sit for three minutes while everything heats up.

Remove the lid and enjoy!
Environmental Information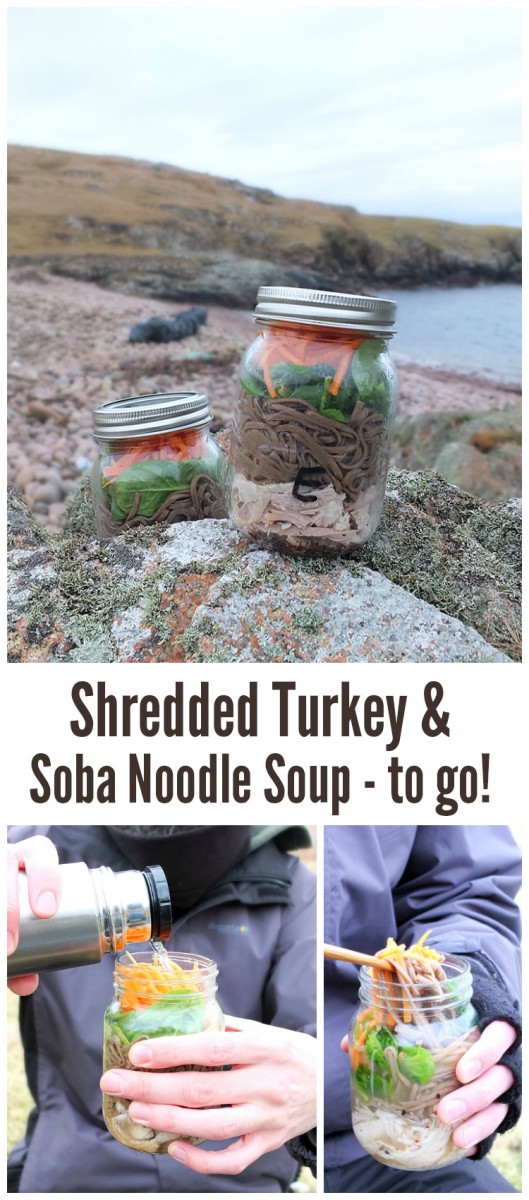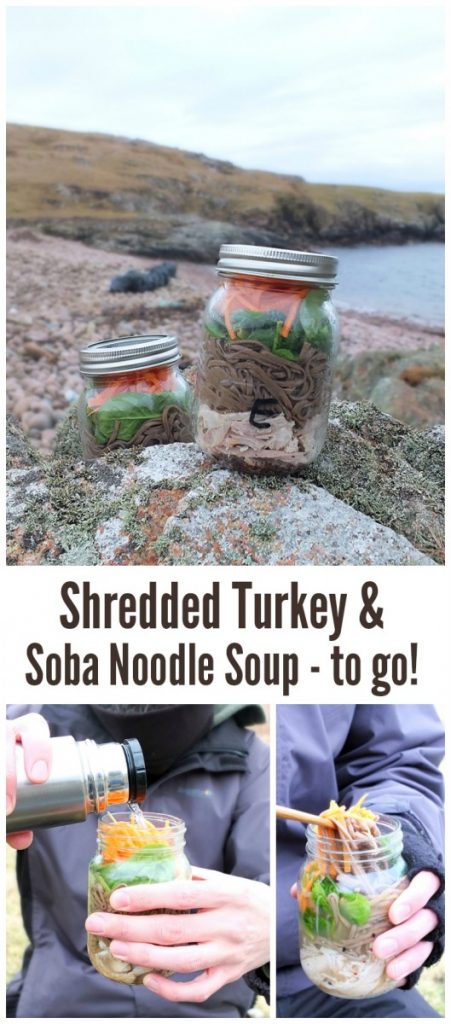 YOU MIGHT ALSO LIKE
Dunna Chuck Bruck – A stop motion animation video my husband and I helped the pupils of the Aith Junior High School create. They went on to win second prize in the national Marlisco European video competition.
A Turtle's Tale of a Plastic Bag –  A stop motion animation highlighting the dangers of marine litter to the wildlife living in our seas written and produced by the pupils of Ollaberry Primary School in Shetland. Again, my husband and I helped them create this video and they went on to win the Total Green Schools Award in 2015.
More Information on Da Voar Redd Up
Become an Outdoor Bloggers Member
SHARING WITH SOME BLOGGING LINKIES
No Waste Food Challenge
Cook Once Eat Twice
Simple and in Season
SHOP THIS POST
Kilner 400 ml Preserving Jars
Mara Seaweed Furikake*
Inspirational Folk Rock by Audioboy Productions (the music in the vlog)
Yutaka Soba Noodles
Yutaka Organic Tamari Soy Sauce
*With thanks to Mara Seaweed for the Furikake sample.