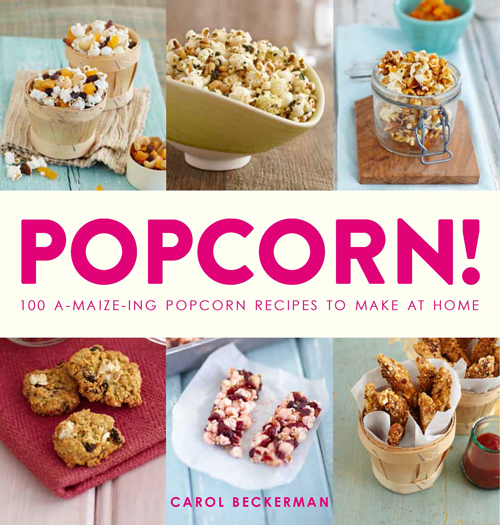 When it comes to popcorn I have to confess I've always been rather unadventurous. Salty with butter, sweetened with sugar or, pushing the boat out a bit – smothered in caramel and salted peanuts. That's it. Given that popcorn has been around for at least 4000 years that's a pretty poor attempt on my part.
So when I was presented with the opportunity to review a cook book dedicated solely to popcorn, I jumped at the chance.
I was not prepared for the wide variety of recipes in which popcorn can be used!
Popcorn! 100 A-Maize-ing Popcorn Recipe to Make at Home (2013) is written by food writer, blogger, recipe developer and author of six popular cookbooks Carol Beckerman. It's a 144 page paperback book full of inspirational popcorn recipes arranged into four categories:
1) Snacks & Appetisers
The first section consists mainly of savoury recipes including sun-dried tomato and basil, garlic and thyme with black pepper and even bacon caramel popcorn (bacon!). We tried the sweet County Fair Kettle popcorn, inspired by the Santa-Cali-Gon Days Festival in Independence, Missouri and the Sweet and Salty Seaweed Explosion (republished below) and loved them both. Those latter two recipes are fairly quick to throw together for when you get those late-night popcorn cravings, whereas many of the recipes in the book require forward planning.
2) Balls & Bars
Balls and Bars includes recipes such as pretzel and peanut popcorn bars, cocoa pop fudge squares and whisky chocolate popcorn balls. These would all make ideal party nibbles.
3) Main Dishes & Desserts
It was the main dishes and desserts section that impressed me the most – popcorn is used in meatloaf, ground up in a food processor, seasoned and used to coat chicken strips (this is on my list to try soon!)  and there's even a recipe for popcorn salad as an alternative to coleslaw at a barbecue or buffet. I'm sceptical, but I will try it!
4) Chocolate & Sweets
I haven't tried any of these recipes yet as many of them contain an astonishing quantity of golden syrup – some as much as 450 grams to serve two people! Others, such as the sparkly popcorn candy contain freeze dried raspberries, white chocolate and pink sugar crystals, would be ideal for a children's birthday party. This section also includes tutti-frutti popcorn, praline popcorn and a delicious sounding apple pie popcorn, amongst many others.
Retailing at £12-99 this book was published by Apple Press in 2013 and you can find it on Amazon.
I really, really liked this seaweed popcorn recipe and the publisher has given me permission to share it with you. You can find nori furikake in the Asian section of your supermarket or wholefoods shop.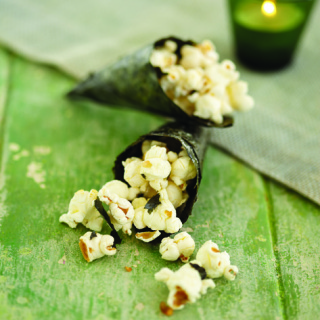 Sweet and Salty Seaweed Explosion
Seaweed, often used in Japanese cooking, has an amazingly versatile flavour that adds a new dimension to popcorn.
Print
Rate
Servings:
2
generous servings
Affiliate Links
This recipe card may contain affiliate ingredient and equipment links. As an Amazon Associate I earn from qualifying purchases.
Instructions
Pop the popcorn kernels with your usual method and place in a large bowl.

In a medium saucepan, melt the butter of heat the oil over a gentle heat until warmed, then pour over the popcorn.

Add 2 tablespoons nori furikake and toss gently to combine.

Add another tablespoon of nori furkiake and toss again until evenly distributed.

Add the honey in a thin zigzag drizzle to avouid making sticky clumps, and season carefully with a little salt.

Stir carefully and taste to get right. No one flavour should overpower another. You should be able to taste all the flavours - the salt, the sweet honey and the nori furikake - at once.
Notes
You could also use dried nori seaweed in a risotto, combined with pearl barley, finely chopped spinach and a blend of your favourite cheeses.
Recipe source: Popcorn! 100 A-Maize-ing Popcorn Recipes to Make at Home by Carol Beckerman (reproduced with permission)
Environmental Information
If you want to be kept up to date on my recipes, occasional craft tutorials, adventure stories and giveaways then please subscribe to my weekly newsletter; it gets sent out every Monday morning if there is new content. Your email address won't be passed on to anyone, you will never be spammed and you are free to unsubscribe at any time, no questions asked.
[wysija_form id="1″]
Elizabeth's Kitchen Diary was sent a complimentary copy of Popcorn for review. All opinions expressed are our own. This is not a paid post. Seaweed popcorn photograph by Adrian Lawrence.