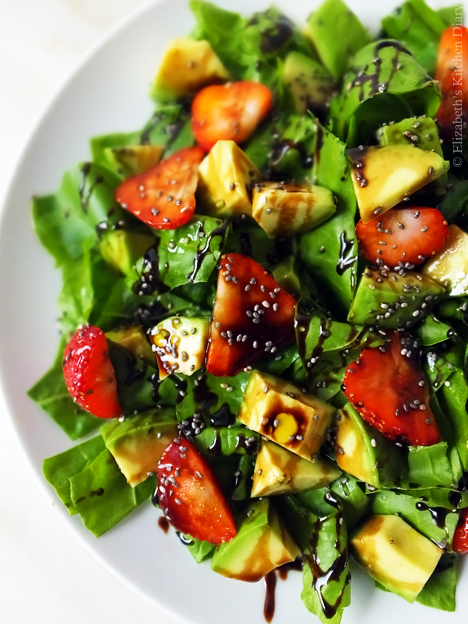 My lunch.
Today.
Yum.
This was so nice I was really excited to share it with you all as soon as possible. The combination of avocado and strawberry is really something extraordinary, and when you pair those flavours and textures with balsamic vinegar and black pepper – wow. Just… wow.
You could just throw all your salad ingredients on a plate, splash with a few hearty shakes of balsamic vinegar and oil and grind plenty of black pepper over it, but taking an extra half hour to made the balsamic reduction is well worth it. Reducing the vinegar (especially the lower affordable end brand that I buy) imparts gorgeous depth of flavour as a dressing.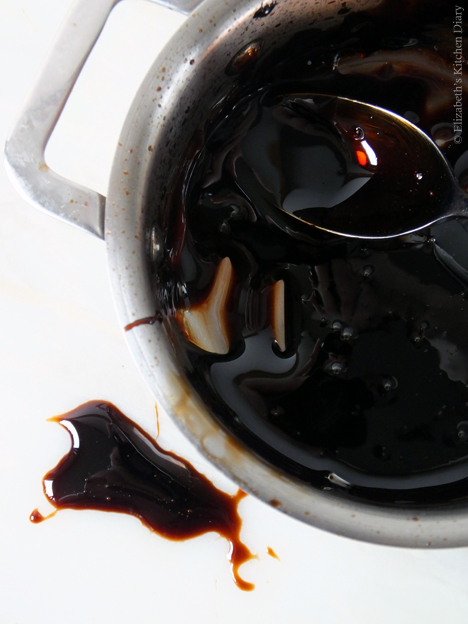 Drizzling the whole salad with Clearspring's brand new Organix Omeg-A-Day flax oil blend makes you feel very virtuous indeed (and somewhat forgives you for indulging in all those triple chocolate chip cookie dough bites you might have gorged on the other day). If I don't have lovely flax oil like this I'll just use extra-virgin olive, but it won't impart all of the health benefits the flax blend does.
I worked in the health food industry for a decade of my life; two years back in Canada and eight here in Shetland. One of the top supplements I used to recommend to customers was an organic flax oil blend in a 2:1:1 ratio of omega 3:6:9, just like Clearspring's blend. This ratio is the ideal ratio the human body needs for its essential fatty acids which can help maintain heart health, healthy brain function and glowing skin. I lost count of the number of people who came into the shop with psoriasis and dry skin conditions who were helped by including essential fatty acids in their diet: moisturising from the inside out. Note: I am not a healthcare professional and am only voicing my opinions on feedback from customers – consult your own doctor if you have a medical condition.
Health benefits aside – this is a fantastic salad and a great way to get essential fatty acids into your diet. Give it a try!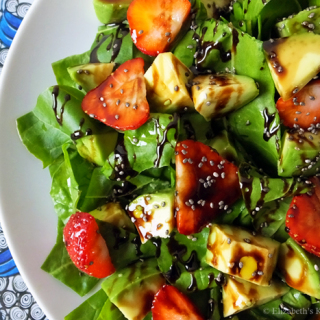 Avocado & Strawberry Salad with a Balsamic Reduction
A light, summery lunch packed full of good things.
Print
Rate
Affiliate Links
This recipe card may contain affiliate ingredient and equipment links. As an Amazon Associate I earn from qualifying purchases.
Instructions
To make the balsamic reduction pour the vinegar into a small saucepan and heat over a medium high heat. Allow to simmer until reduced by half or two thirds at the most (about 15 minutes). Set aside to cool.

Wash spinach and remove any tough stalks. Coarsely chop and place on two salad plates.

Cut avocado in half, peel and coarsely chop. Sprinkle half an avocado over the spinach on each plate.

Slice the strawberries and divide evenly between the plates.

Drizzle with the balsamic reduction and flax oil blend and grind plenty of black pepper over the top. Serve immediately.
Environmental Information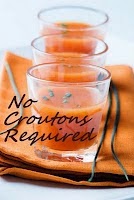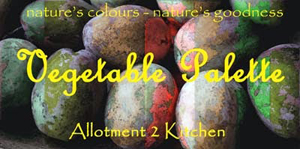 Linking up with Shaheen over at Allotment 2 Kitchen and her Vegetable Palette challenge. This month it's all about mellow yellow (and orange). Avocado flesh is a gorgeous mellow yellow with an inviting green exterior, so I think this qualifies. Also linking up with Jacqueline over at Tinned Tomatoes and her No Croutons Required challenge co-hosted by Lisa at Lisa's Kitchen.
OTHER AVOCADO RECIPES YOU MIGHT LIKE:
The Green Vegan Breakfast Smoothie by Elizabeth's Kitchen Diary
Chocolate Cupcakes with Avocado Frosting (vegan) by Elizabeth's Kitchen Diary
Pick n Mix Salad by Big Spud
Avocado Ice Cream by Kavey Eats
Avocado with Prawns & Balsamic Dressing by Fab Food 4 All
Smoked Salmon & Avocado Stacks by Cook Sister
If you want to be kept up to date on my recipes, occasional craft tutorials, adventure stories and giveaways then please subscribe to my weekly newsletter; it gets sent out every Monday morning if there is new content. Your email address won't be passed on to anyone, you will never be spammed and you are free to unsubscribe at any time, no questions asked.
[wysija_form id="1″]
Elizabeth's Kitchen Diary received a complimentary bottle of Clearspring Organic Omeg-A-Day 78% Flax Oil Blend. All opinions expressed are our own. This is not a paid post.