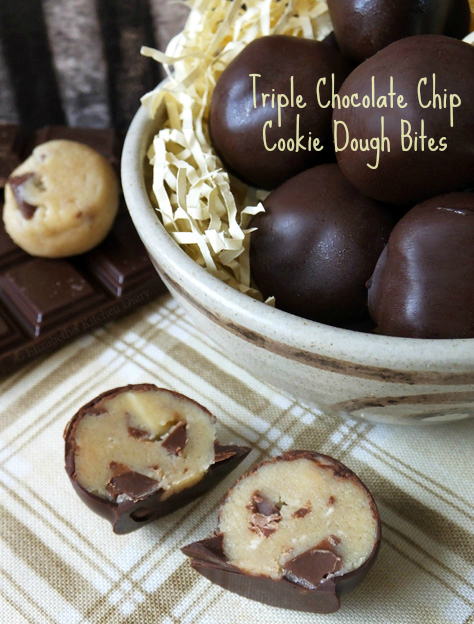 Some days require raw chocolate chip cookie dough.
A day during the summer holidays when a month's rain falls in one go is most certainly a raw chocolate chip cookie dough day, and not just any ordinary chocolate chip cookie dough – it's got to be a triple chocolate chip cookie dough day.
Chunks of white and milk chocolate are enveloped in a delicious raw (egg free!) cookie dough and encased in a decadent layer of deliciously dark chocolate in this no-bake treat.
Best of all, your children (if they are like mine) will be climbing the walls indoors with boredom during the rainy day and making these triple chocolate chip cookie dough bites will keep them entertained for at least a half an hour! Well, until they lick their fingers clean and the ensuing sugar rush kicks in and they're stuck indoors and can't burn it off… I didn't really think that one through did I.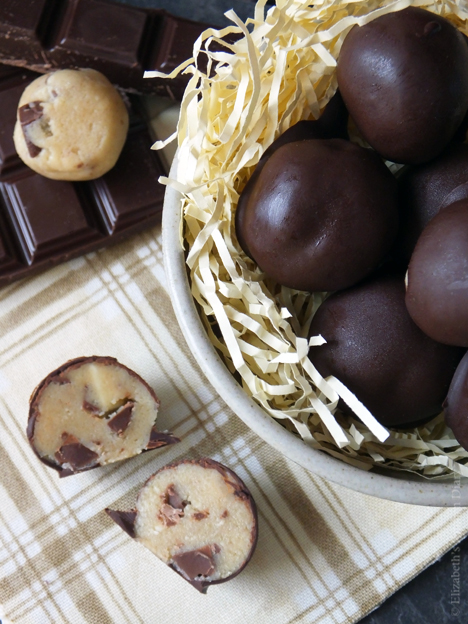 Be warned – these are incredibly more-ish. Come evening time you will find yourself returning again and again to the fridge to grab a handful of these delicious cookie dough bites (ok, again, maybe that's just me). Then you have that overwhelming guilt when, the following morning,  your youngest child points at you accusingly and asks, "Did you eat all the cookie dough?" and you have to say yes, why yes you did you naughty late-night cookie dough thief.
Don't say I didn't warn you.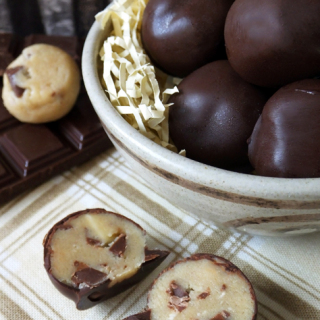 Triple Chocolate Chip Cookie Dough Bites
Delicious raw chocolate chip cookie dough encased in a decadent dark chocolate shell.
Print
Rate
Servings:
60
chocolate bites
Ingredients
60

grams

unsalted butter

room temperature

170

grams

light brown soft sugar

325

grams

plain flour

1

tsp

vanilla extract

397

grams

sweetened condensed milk

100

grams

Fair Trade white chocolate

finely chopped

100

grams

Fair Trade milk chocolate

finely chopped

250

grams

Fair Trade dark chocolate

at least 70% cocoa solids
Instructions
Place room temperature butter and brown sugar into a medium sized bowl and ask the children to mix it together well with their hands. (Alternatively cream with a hand blender or wooden spoon until light and fluffy)

Add the flour, vanilla and sweetened condensed milk and stir well with a wooden spoon. When the liquid is well incorporated get the children to mix it up even further with their hands, making sure all the dry bits on the bottom of the bowl get mixed in.

Add the chopped white and milk chocolates and mix with hands (or a wooden spoon) until thoroughly combined. Set aside in the fridge to chill for an hour. Lick fingers clean (yay!)

Roll the raw chocolate chip cookie dough into one inch balls (or any shapes the children want - logs, flat circles, doughnuts, etc. Let them use their imaginations!) and chill in the fridge for a further hour.

Place the dark chocolate, broken into pieces, into a heat proof bowl suspended over a pan of barely simmering water. Stir until melted.

Dip each cookie dough ball into the melted chocolate to coat. Allow the excess to drip off before placing on a piece of greaseproof paper, a silicone mat or in a petit fours case.

Chill in the fridge for an hour or until the chocolate hardens. Store the cookie dough balls in the fridge as they taste better cold (we think).

Linking up with Stuart over at Cakeyboi and Kat the Baking Explorer and their Treat Petite challenge (no bake this month), Laura at I'd Much Rather Bake Than… and her Biscuit Barrel Challenge (also no bake), Tasty Tuesdays by Honest Mum, Recipe of the Week by Emily at A Mummy Too and #CookBlogShare by Lucy at Supergolden Bakes.
OTHER RECIPE IDEAS TO KEEP KIDS BUSY ON RAINY DAYS:
Coconut Ice by Jacqueline
Chocolate Granola Cakes by Fab Food 4 All
Carrot & Peanut Butter Rice Krispie Squares (no marshmallow) by Veggie Desserts
Gluten Free Brownies by Cakeyboi
If you want to be kept up to date on my recipes, occasional craft tutorials, adventure stories and giveaways then please subscribe to my weekly newsletter; it gets sent out every Monday morning if there is new content. Your email address won't be passed on to anyone, you will never be spammed and you are free to unsubscribe at any time, no questions asked.
[wysija_form id="1″]