EAT DELICIOUS & SUCCULENT NORWEGIAN SALMON THIS SUMMER
Norwegian salmon is a mouth-watering fish with a fresh, smooth, rich flavour and a soft, red flesh and defined flakes; perfect for dining al fresco this summer. Turning a delicate pink colour when cooked, Norwegian salmon is deliciously sweet and its succulent flakes fall away easily when cooked making it an ideal key ingredient for any summer meal.
Whether it's a weekday barbecue with the family or a picnic with friends, Norwegian salmon is a hugely versatile fish and can be poached, grilled, pan-fried, baked or roasted for delicious hot dishes. A firm favourite for children and adults alike, you can also use up leftover salmon in a tasty salad lunchbox the next day.
EAT LIKE A SCANDI
Often referred to as a superfood, Norwegian salmon is an oily fish, rich in protein, omega-3 fatty acids, docosahexaenoic acid (DHA) and vitamins A and D, which makes it a hugely popular addition to a heart and brain-healthy diet and a great choice for those looking for a lighter lunch or dinner this summer.
Norway's cold, clear waters are home to an abundance of this favourite fish.  In year-round supply and enjoyed in over 100 countries worldwide, so there is really no reason not to pop a pack or two of Norwegian salmon in your shopping basket this summer.
FAST FACTS ABOUT NORWEGIAN SALMON
Norwegian salmon is abundant and available all year round
Norway is the world's biggest producer of Atlantic salmon – over 1.1 million tonnes in 2013 which equates to 60% of the world's production
In 2013  55,000 tonnes were exported to the UK, up from 46,900 tonnes in 2012
Seafood from Norway is served in around 31 million meals every day – of which 12 million are salmon
A typical salmon net-bag is wider than an Olympic swimming pool – the largest being 160m in circumference and 70 metres deep – and the maximum ratio of fish to water is 2.5% fish to 97.5% water, though the average is lower at 1.4% of fish to 98.6% water
There isn't an average size for salmon, different markets have various preferences, with Russians choosing a larger fish (4-6 kilos) and Italians liking the smallest fish (1-2 kilos)
ABOUT THE NORWEGIAN SEAFOOD COUNCIL (NSC)
In Norway the tradition of fishing goes back thousands of year – today, Norway is one of the world's three leading exporters of seafood products. Norwegian fish and seafood are of superior quality, excellent for health and appreciated by consumers around the world.
The NSC has its headquarters in Tromsø, Norway, 600 km (372 miles) north of the Arctic Circle. The NSC was created by the Norwegian Minister of Fishing in 1991 in order to promote Norwegian seafood products throughout the world. The NSC is a public company owned by the Ministry of Fisheries and Coastal Affairs.
ABOUT THE NORGE LOGO
Norge is Norwegian for 'Norway' and this logo is a guarantee that the product is of Norwegian origin. The logo can only be used on products caught, farmed and processed in Norway and on licensed products in foreign markets. Look out for stickered packs in Morrisons.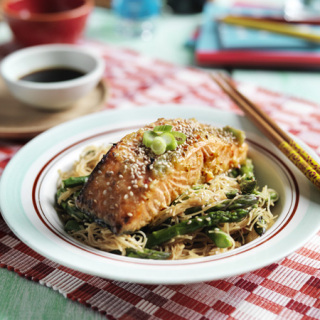 Marinated Norwegian salmon with asparagus, shiitake mushroom, sesame seed and rice noodle salad
Norwegian salmon is the perfect healthy meal option for summer dining. This Asian inspired dish is perfect for a zesty, tasty dinner with friends.
Print
Rate
Affiliate Links
This recipe card may contain affiliate ingredient and equipment links. As an Amazon Associate I earn from qualifying purchases.
Instructions
First make the marinade for the salmon. In a medium mixing bowl mix together the lime zest and juice, the tamari soy sauce, sweet chilli sauce, wasabi, garlic and ginger.

Add the salmon fillets and toss the fillets in the marinade so that each fillet is completely coated.

Cover with clingfilm or pop the salmon along with the marinade into a sealable plastic food bag and refrigerate for 30-45 minutes.

When you're ready to start assembling the dish preheat the oven to 180 C degrees and remove the salmon from the fridge.

Place the four fillets in an ovenproof dish and drizzle the marinade on top.

Roast in the oven for 15 minutes, or until the salmon looks opaque and cooked through. If the fillets are chunky they may need a few more minutes in the oven. If you like a slight char on the top of the salmon you can put the cooked fillets under a hot grill after 10 minutes roasting in the oven to slightly caramelize the top of the fish but this isn't essential.

Meanwhile prepare the vegetables. Snap off the woody ends of the asparagus and slice them into thumb-length pieces. If the asparagus is very thick you may want to parboil them for 1 minute before adding to the stir-fry. If not, just use them raw.

Chop the shiitake mushrooms into 5mm slices and cook/soak the rice noodles according to the packet instructions.

To assemble the dish stir-fry the mushrooms in a wok with couple of tablespoons of oil over a high heat, constantly stirring the mushrooms so they brown on the outside but don't burn.

After a couple of minutes of cooking the mushrooms add the tamari and sweet chilli sauces, then the asparagus and the rice noodles. Keep stirring to distribute the flavour of the sauces throughout the noodles and taste for seasoning.

Finish by adding the juice and zest of the lime along with the spring onions then serve on four plates or bowls with the salmon on top. Sprinkle sesame seeds over the four dishes and serve warm.

If you want to make this in advance and keep for a picnic or a lunch at work then simply let all the ingredients cool down, flake the salmon and rub in the excess marinade, then keep it all in the fridge until you're ready to serve the dish.
Notes
Recipe by Signe Johansen for the Norwegian Seafood Council.
Environmental Information
GIVEAWAY
The Norwegian Seafood Council is offering Elizabeth's Kitchen Diary readers the chance to win a £50 Morrisons voucher plus a hardback copy of Signe Johansen's cookbook Scandilicious, Secrets of Scandinavian Cooking  RRP £25 for a total prize value of £75
Signe Johansen is an Norwegian-American food writer and cook living in London.
How to Enter
For your chance to win a £50 Morrisons voucher and a copy of Scandilicious, Secrets of Scandianvian Cooking RRP £25 for a total prize value of £75 enter using the Rafflecopter form below. Come back and tweet about the giveaway every day for more chances to win!
Terms & Conditions
This giveaway is open to UK entries only. Entrants must be age 18 or over. The winner will need to respond within 48 hours of being contacted; failure to do this may result in another winner being selected.
The prize is offered and provided by The Norwegian Seafood Council. The prize is a £50 Morrisons voucher and a copy of Scandilicious, Secrets of Scandianvian Cooking RRP £75. There is no cash alternative and the prize is not transferable.
If you need some help using Rafflecopter, here's a quick clip to show you how. Rafflecopter will pick the winner at random from all the entries received. I will be verifying entries and any automated entries or those who have claimed they have made the mandatory blog post comment and really haven't will be disqualified. It's mandatory!
Closing date is midnight on Monday 1 September 2014 and the winner will be announced that day.
a Rafflecopter giveaway
Don't forget to visit  Elizabeth's Kitchen Diary giveaways page for more fantastic prizes!
Prizes currently include:
A Thornton's Indulgence Intimate Wicker Hamper RRP £45
A Gone Crabbing Apron & Double Oven Glove set RRP £28
Vanilla Salt, the debut novel by Catalan chef Ada Parellada RRP £7-99
A bento-style children's Yumbox RRP £25
If you want to be kept up to date on my recipes, occasional craft tutorials, adventure stories and giveaways then please subscribe to my weekly newsletter; it gets sent out every Monday morning if there is new content. Your email address won't be passed on to anyone, you will never be spammed and you are free to unsubscribe at any time, no questions asked.
[wysija_form id="1″]
Elizabeth's Kitchen Diary was sent a complimentary copy of Scandilicous in return for hosting this competition. All content is from the Norwegian Seafood Council. This is not a paid post.