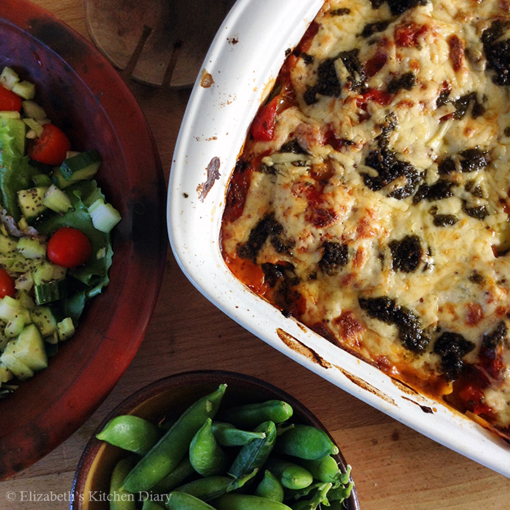 I wasn't going to blog this.
This was a I-haven't-defrosted-anything-for-dinner-the-fridge-is-full-of-vegetables-it's-half-past-three-in-the-afternoon-what-am-I-going-to-feed-my-family meal.
It involves canned foods; quite a few of them. <blush>
As a foodie (and a mother), using tins and ready made jarred products is something I feel embarrassed about admitting using. Surely you're supposed to go the extra haul and make absolutely everything from scratch from organic, seasonal produce right, lovingly simmered for hours on an immaculately clean cooker gently stirred while sporting perfect hair and nails? If not, you're a failure, right?
Bah – stuff that!
I live rurally on a remote island in the middle of the North Sea. Come the winter the ferries – our lifeline to the mainland – sometimes can't sail because of rough seas. That means no fresh produce, often for days at a time. I have learned to rely on store cupboard tins and jars throughout the winter months, and I have a few regular staples throughout the summer too.
Recently I read and thoroughly enjoyed the book Vanilla Salt by Catalan chef Ada Parellada. This paragraph struck a chord with me.
Tins are like those friendships you don't care about, but which can get you out of all sorts of messes without moaning about being shunted aside for something more beautiful, younger and fresher. Your tins wait in the pantry, patient and uncomplaining, until you need them. Then you're full of praise for these ugly, inscrutable, aluminium cans and, when you decide to open them, you find that they're hiding a singular personality, discreet uniqueness, exquisite taste and great humility. Although they're so honest, you hesitate before presenting them in society, because they're not considered natural enough, or fresh enough, or young enough, or beautiful enough to be hanging on your arm. I have the highest regard for them because they've never let me down.
So, dear readers, inspired by this paragraph I am sharing my recipe, with one Instagram photo hastily snapped with my iPad as it's the only photo I have before we scoffed the lot. Like I said, I wasn't planning on blogging it – but I changed my mind.
A tin of tomato soup often gets added to my tomato based sauces for pasta, something my husband was taught by his Norwegian mother and he taught me. The soup adds a lovely creaminess to the sauce and we've all become rather fond of it.
Wild garlic pesto is a new thing to me. I first heard about wild garlic through an Aberdeen food blog I follow: the lovely Claire over at Foodie Quine (who I had the pleasure of meeting a few weeks ago en route to BritMums Live in London!). As far as I am aware wild garlic doesn't grow here in Shetland but I've been anxious to try it ever since Claire wrote about it. Imagine my delight when a jar arrived in a box of Sacla' pesto and pasta sauces I was sent to sample. I am in love with wild garlic!
This lasagne was one of the best I've ever made, and I've experimented with quite a few. It makes enough to feed a family of four, twice, or one large family with a little leftover for lunch the next day. It freezes well too.
Sacla' have offered my readers the chance to win one of two of their gift baskets, RRP £50 – visit my Giveaways page to enter!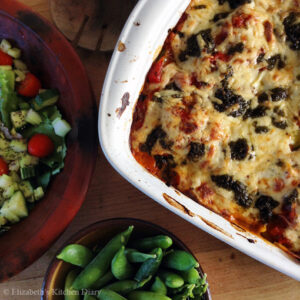 Veggie Lasagna with Wild Garlic Pesto
A veggie loaded lasagna smothered with mature cheddar cheese sauce and wild garlic pesto
Print
Rate
Ingredients
Affiliate Links
This recipe card may contain affiliate ingredient and equipment links. As an Amazon Associate I earn from qualifying purchases.
Instructions
To prepare the tomato sauce heat the butter in a large saucepan over a medium high heat.

Sauté the onion until it softens, about 5-7 minutes. Add the garlic, carrot and celery and sauté a further five minutes, stirring occasionally.

Add the chopped tomatoes, tomato purée and bay leaves and season well.

Reduce heat to medium low and simmer gently with the lid half on for half an hour (or longer if you have the time). Stir in the fresh chopped parsley at the end of cooking.

Meanwhile, prepare your vegetables. Quarter your peppers and cut part way so they are flat. Brush with olive oil and grill until softened (I used my Tefal Optigrill but you could do this on the hob or under a grill, or even roast them for half an hour in a hot oven). Slice the courgettes lengthwise and do the same. Set aside to cool.

Heat 2 tbsp olive oil in a large sauté pan over a high heat. Quickly cook the mushrooms and, when they are nearly ready, stir in the spinach leaves and cook until wilted. Set aside in a colander to drain.

To prepare the cheese sauce, heat the butter over a medium high heat in a small saucepan.

When the butter is hot stir in the flour and cook for one minute.

Remove from the heat and whisk in the milk. Return pan to the heat and cook, stirring constantly, until the mixture thickens.

Remove again from the heat, stir in the grated cheese and mustard. Set aside with the lid on until needed.

To assemble, place two soup ladles worth of tomato sauce onto the bottom of a 9 x 13 inch casserole dish.

Top with a layer of lasagna noodles and then the layer of drained mushroom/spinach. Season this layer well with salt and pepper.

Add another layer of noodles and a layer of tomato sauce followed by a layer of cheese sauce.

Add a layer of your grilled vegetables, more noodles, more tomato sauce and finish off with a layer of cheese sauce.

Spoon the wild garlic pesto in 1 tsp drops over the top of the cheese sauce, sprinkle with extra mature cheddar cheese and bake at 180 C/ 350 F for 30-40 minutes until golden and bubbly.

Leave to stand for ten minutes before serving with a lovely fresh side salad and crusty bread.
Notes
Regular basil pesto can be used instead of wild garlic, if it is not available.
Environmental Information

Linking up with Shaheen over at Allotment 2 Kitchen and her Eat Your Greens challenge, Lavender and Lovage's Cooking with Herbs (the parsley was grown in my own garden!), Caroline Makes… and Ros at The More Than Occasional Baker and their Alphabakes Challenge (the letter p for pesto!) and Jacqueline over at Tinned Tomatoes and her Pasta Please challenge, hosted this month by Nanya at SimplySensationalFood. Also linking up to Extra Veg by Helen at Fuss Free Flavours and Michelle at Utterly Scrummy, hosted this month by Sarah at Maison Cupcake.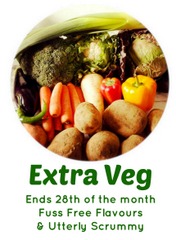 OTHER VEGGIE LASAGNES
Vegetarian lasagne with peppered cheese sauce and garlic and gruyere flatbread triangles by A Mummy Too
Veggie Lasagne for National Vegetarian Week by Tinned Tomatoes
Butternut Squash and Spinach Lasagne by Kellie's Food to Glow
OTHER WILD GARLIC RECIPES
Wild Garlic Pesto by Food Urchn
How to have wild garlic all year round by Kavey Eats
Wild Garlic Pesto Pinwheels by Foodie Quine
Wild Garlic Pesto with Walnut and Truffle Oil by Franglais Kitchen
If you want to be kept up to date on my recipes, occasional craft tutorials, adventure stories and giveaways then please subscribe to my weekly newsletter; it gets sent out every Monday morning if there is new content. Your email address won't be passed on to anyone, you will never be spammed and you are free to unsubscribe at any time, no questions asked.
[wysija_form id="1″]
Elizabeth's Kitchen Diary was sent a selection of Sacla' products for review. All opinions expressed are my own. This is not a paid post.