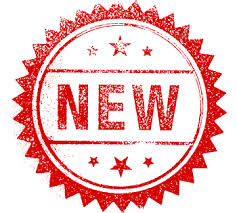 Welcome to the first round up of what's new in Elizabeth's Kitchen. As a food blogger I am lucky to be sent loads of new products to try out from different companies, and I'm always on the hunt for new and interesting gadgets and foods to buy.
This new round up will show case my favourite products sent for review or things I've picked up from the shops myself and think you should know about.
So, without further adieu, here is what's new in my kitchen!
NEW IN ELIZABETH'S KITCHEN
First, I am absolutely delighted to announce that I am now a Froothie Ambassador! For years I've been envious of my fellow food bloggers' high powered blenders with their ability to blend fresh kale and spinach into deliciously healthy green smoothies and now I can do this myself!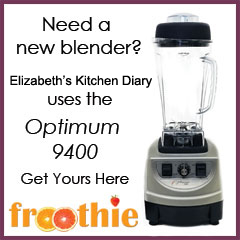 The Froothie Optimum 9400  is a three-horsepower blender powerful enough to crush stones (honestly, check out their video below!) I haven't actually started using it for food purposes yet – you'll find out why soon though – we've got a fab project on the go here in Elizabeth's Kitchen!
My mind is bursting with recipe ideas for my new blender and there will be a full review of it at a later date, once I've used it for awhile and can give you my honest opinion.
Watch the OPTIMUM VORTEX BLENDER Pulverise Paving Stones!
The Froothie Optimum 9400 was the leading rival for the Vitamix blender in 2013 and retails for £329
The OPTIMUM 9400 – Not Just a Blender! Try it FREE – 30 Days Money Back Guarantee
Froothie can be found on Twitter and Facebook.
---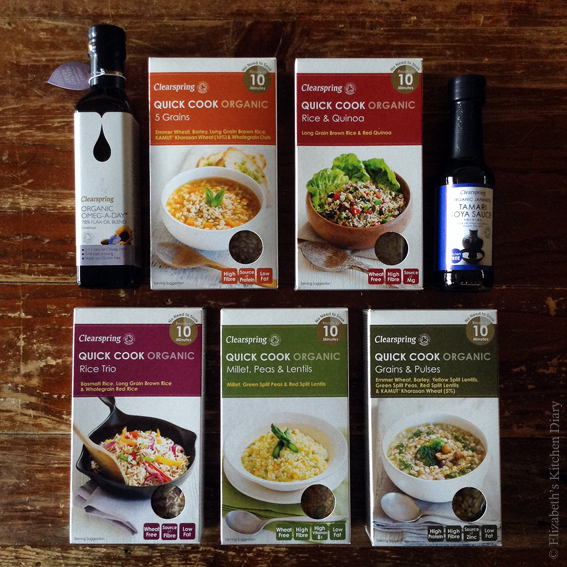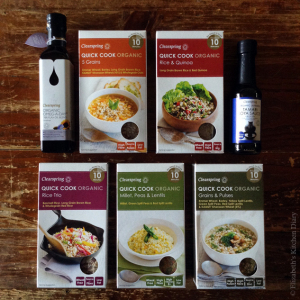 This fantastic little organic Quick Cook goodie box arrived from Clearspring this month. Each box is a 250 gram blend of grains and/or pulses which have already been partially cooked, so all you need to do is boil them for 10 minutes and they are ready to be used in your favourite recipe. As a busy Mum I think this is a fantastic idea – any ways to save me cooking time is gratefully received!
So far I've tried the rice trio in Fuss Free Flavour's Quick Cook Rice Trio with Coconut Onion & Simple Dahl (which was really rather nice and I loved the flecks of wholegrain red rice) and the Quick Cook Grains & Pulses I used in a fantastic shepherdess pie I'm really rather pleased with (recipe will be blogged soon!). Each  box retails at a very affordable £2-79.
In my kitchen the Omeg-A-Day flax oil blend gets drizzled on leafy salads including my avocado and strawberry salad with a balsamic reduction. RRP £7-49 for 250 ml. It's a great way to get essential fatty acids in your diet.
The organic Japanese tamari soy sauce, a delicious wheat-free soy sauce, has been used so far on noodles, stir-fries and in the aforementioned shepherdess pie. This soy sauce has a fantastic flavour to it and it's one of the very few wheat and gluten free soy sauces still made in Japan using a 500 year old recipe. RRP £3-19 for 150 ml.
Find Clearspring on Twitter and Facebook.
---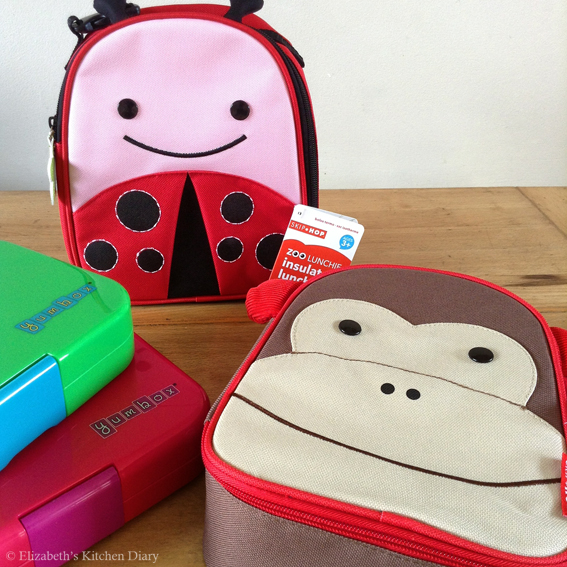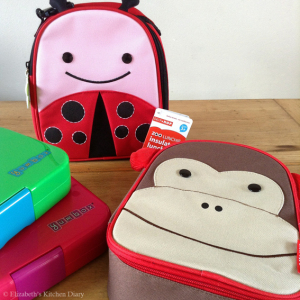 The kids went back to school last week, including our youngest who just started primary one (where has the time gone?!). I'd been sent a gorgeous pink bento-style Yumbox to review before the summer holidays started and I fell in love with it. You can read the full review (and enter the giveaway for one) here. I loved the Yumbox so much I had to buy one for my youngest, in green and of course the kids needed insulated thermal lunch bags to take them to school in.
I asked the UK  Yumbox distributor what lunch bags she uses and she replied with Zoo Lunchies by Skip Hop. They come in a large selection of animal themese and I picked up the ladybird and monkey ones. They're just the perfect size for the Yumbox with a little extra pocket to store ice packs to keep everything cool.
My kids love them (and so do I!)
I bought my Skip Hop bags from Amazon for around £14 each while the Yumbox retails at £25.
---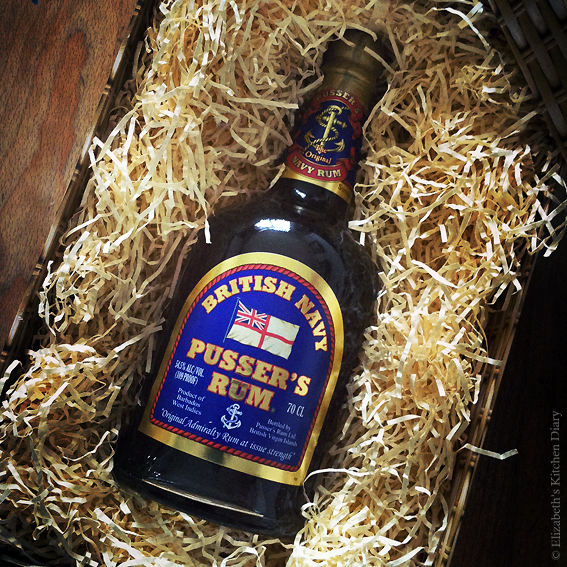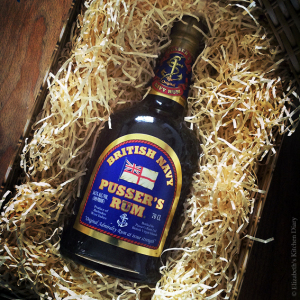 I haven't had a glass of rum in years. It used to be my tipple of choice when I was a pub-goer, a very long time ago, but I was reminded of why I liked rum so much when I was sent a bottle of Pusser's British Navy Rum by the British Virgin Islands tourist board. A bottle of this rum used to be issued to men in the British navy up until 1970.
They describe it as, "The aroma is a burst of classic Demerara with a wonderful mix of brown sugar and molasses. Notes of leather, tobacco, dried sultanas, nutmeg, clove, and cassia. The aroma finishes with soft oak, caramel, and rich English toffee." 
Retails around £35
---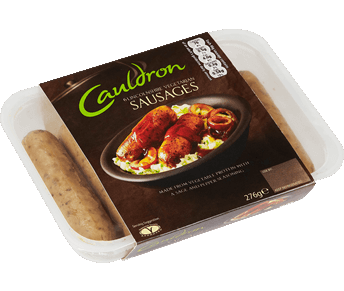 For non-meat eaters or those looking to lower their saturated fat consumption Cauldron make a range of veggie sausages based on authentic British recipes with delicious herb seasonings.
We were sent a voucher to try out one of their products and we had the Lincolnshire sausages with a big pile of creamy mash and some greens.
Although these sausages didn't cook particularly well in my Tefal Optigrill and had to be transferred to a heavily oiled pan to finish cooking, they were rather tasty. A lovely vegetarian alternative and I would buy them again (RRP £1-80 for six).
Find Cauldron on Twitter and Facebook.
---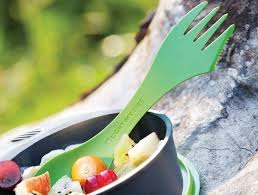 We bought a pack of four Light My Fire Sporks in Edinburgh en route to our summer camping destination in the Lake District.
What a fantastic little invention! These clever eating utensils feature a spoon, fork and knife all in one! Ideal for eating your hot porridge before a day's hiking in the hills, or scooping up Middle Eastern spiced camp fire chickpeas (vegan) or indulging in a chocolate orange camp fire birthday cake. They're durable enough to saw through sausages too (another camp fire recipe to be blogged soon!).
They are essential for every camping adventure, I think!
Find Light My Fire on Facebook.
---

These new Kellogg's All-Bran cereals were sent to us so I could participate in the All-Bran 5 Day Challenge. Alas, this was not to be. The box of cereal arrived the day before we went away on our summer holidays for two weeks. The next morning the children devoured the entire box of chocolate wheats in one go – I never got a look in. I don't buy them chocolate breakfast cereal (chocolate is not for breakfast!) so they were thrilled.
I'm not a breakfast cereal kinda gal. I like porridge, or a poached egg on toast, or fresh fruit over natural yogurt sprinkled with plenty of sunflower, pumpkin and chia seeds. Cereal with milk is definitely not my thing.
I did try some of the Red Berry Crunch on yogurt, which worked well, and the kids ate the Golden Crunch while we were camping, with milk, on those mornings they didn't want porridge.
Each of the three new cereals by All-bran contains wheat bran fibre, 10 grams of which, per day, is supposed to slow digestive transit time. With a diet high in fresh fruits and vegetables we don't tend to suffer from this problem, so I can't say there was any noticeable difference in our digestion. Although, if you do have digestive problems this cereal might be able to help. Why not sign up to their challenge?
Find Kellogg's on Twitter and Facebook.
---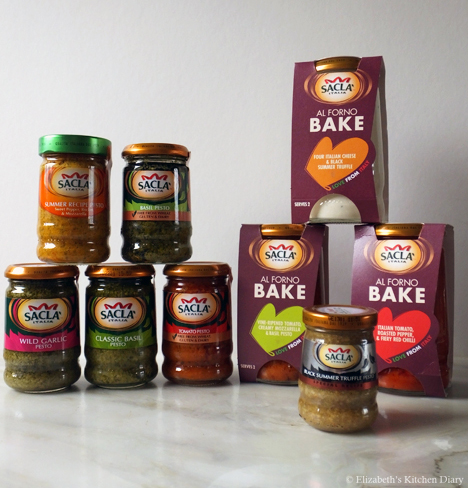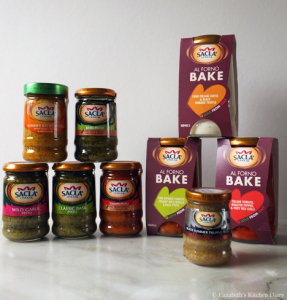 Lastly, Sacla' sent me a selection box of their delicious pesto sauces. You can read a full review and enter a giveaway over on my Giveaways page.
These jars are nearly all gone now as they make such a great stand-by meal when you are in a hurry. I particularly like the Al Forno bake in sauces and the wild garlic pesto (which I used to make a Grilled Veggie Lasagne) and the Summer Pesto which I used as a pizza topping on a heritage wholegrain pizza with grilled vegetables.
Delicious stuff!
You can find Sacla' on Facebook and Twitter.
---
If you want to be kept up to date on my recipes, occasional craft tutorials, adventure stories and giveaways then please subscribe to my weekly newsletter; it gets sent out every Monday morning if there is new content. Your email address won't be passed on to anyone, you will never be spammed and you are free to unsubscribe at any time, no questions asked. Make sure you confirm your subscription or you won't receive the newsletter – if it hasn't arrived check your junk mail folder.
[wysija_form id="1″]
Elizabeth's Kitchen Diary was sent most of the above products to test.  All opinions expressed are our own. This is not a paid post although this it does contain affiliate links (eg: if you buy a Froothie Optimum 9400  by clicking on one of the links to their website on this page I will get a commission).