A deliciously fragrant vegan camp fire dish.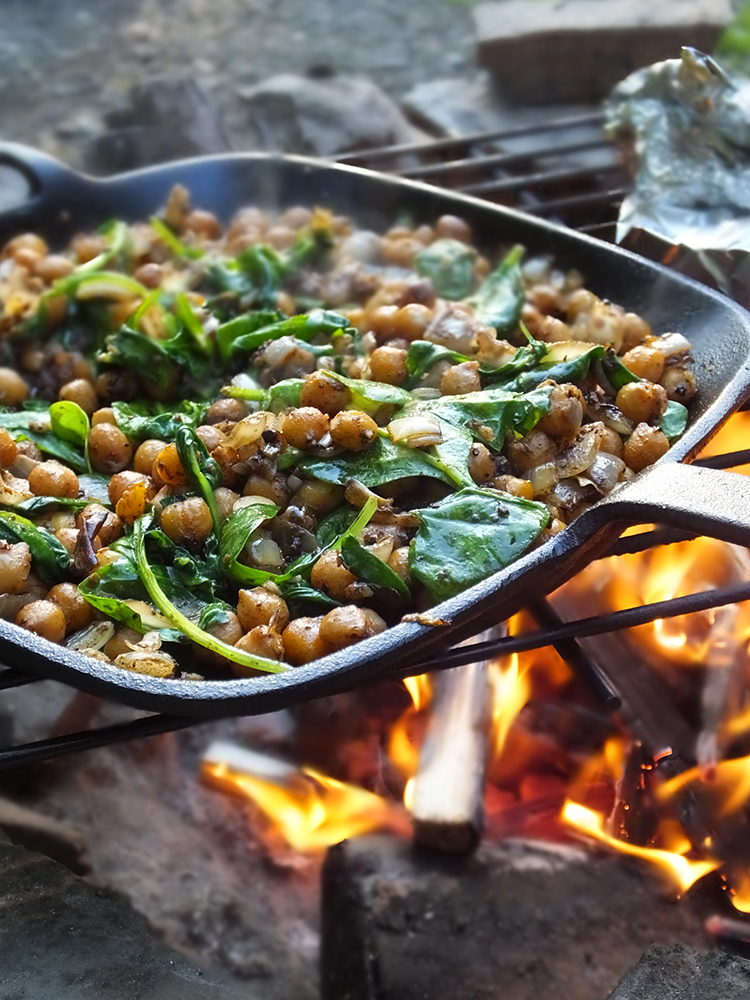 There is something wonderfully primal about cooking over an open fire.
The smell of the wood smoke, getting the fire lit and up to the right temperature, the simplicity in the ingredients: it's what camping is all about. Getting back to nature; keeping it simple.
There's also something primal and comforting about camping with other people, seeing their camp-fires at a safe distance flickering in the night, low murmuring voices in conversation punctuated by the occasional laugh. Although, should a sabre-toothed tiger have made its presence known I think it would have been every camper for themselves (especially those ones with their tinny iPod music – honestly, leave that stuff at home!)
Outdoor cooking these days usually involves a gas or coal barbecue and charring a piece of meat to beyond recognition. Ok, I do love a bit of burnt meat, but sometimes something different, something a little bit more adventurous, something vegetarian, is required.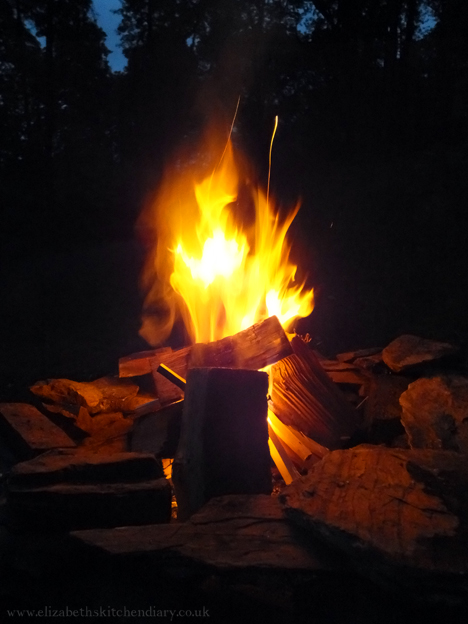 We went camping this summer: five fantastic nights in the Lake District in England and three in the Cairngorms in Scotland. It was bliss with plenty of outdoor cooking involved. I will get around to blogging those adventures, eventually, but in the meantime here's one of my recipes.
I made this dish for my husband's birthday dinner.
Oh great, you might be thinking, chickpeas for a birthday dinner – couldn't you have cooked him steak instead?
We'd had a wonderfully active day that day: my husband and the children had been adventuring in the tree tops at the Grizedale Go Ape facility (I watched and photographed from the safety of the ground!). Living on Shetland my children are not accustomed to trees as the harsh north wind (and the sheep) are not conducive to their survival. What a treat it was for them to be able to dance around the tops of the trees, their very first experience in a real forest.
Afterwards we indulged in a fantastic birthday lunch at the Queens Head pub in Hawkshead, so come the evening we wanted something a little lighter to dine on.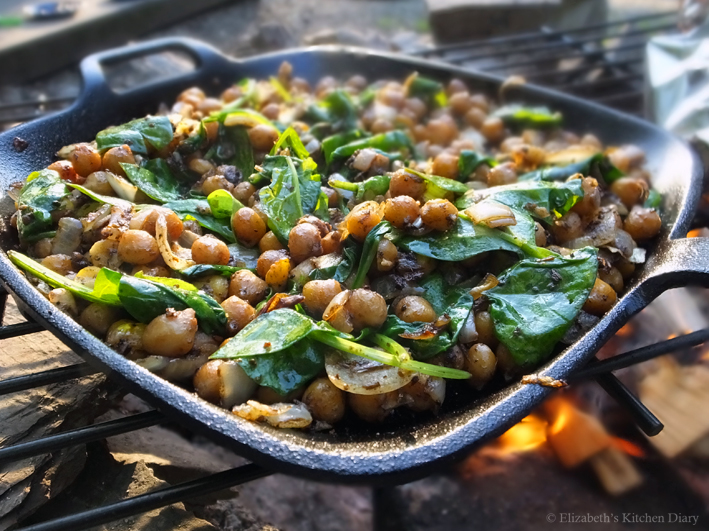 I'd planned this meal in advance. I didn't plan it to be my husband's birthday dinner, but I did plan on cooking it sometime while we were camping.
The spice mix, sub-ah b'har is a Middle Eastern 7-spice mix, a staple spice blend in any Middle Eastern pantry. I'd found the original recipe in Sharon Salloum's Almond Bar: 100 Delicious Syrian Recipes and slightly adapted it by using whole toasted seeds. I've included the recipe below, which makes about 120 grams of spice mix, but you only need 1 tablespoon to make this dish.
Pondering quick and portable camping recipe ideas I bagged up a few tablespoons of this spice mix and cello-taped them to the side of a 39 pence tin of chickpeas in water. I had the idea of cooking them with gently sautéed onion and some greens thrown in for good measure.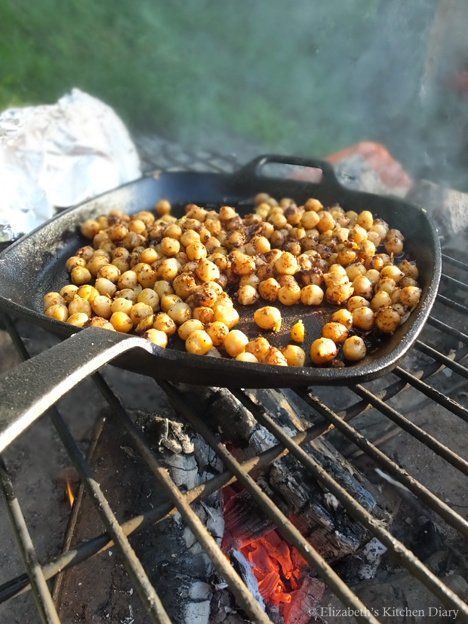 I had no idea these chickpeas would turn out as well as they did. They were beautiful! Meaty little spiced morsels with a hint of wood smoke and sautéed onion. Sitting under a canopy of trees with the evening summer sunlight filtering through, a glass of chilled white wine in hand – bliss. Absolute, perfect summer bliss. I think the flavour of the wood smoke is essential with this dish. I haven't tried cooking it on the hob yet to compare, I'd rather keep the fond camping memories I have of it instead.
For afters (a birthday requires a birthday cake, no?) I'd made a couple of chocolate orange camp-fire cakes using real ingredients (no boxed brownie mix here!). Served with the whipped cream and the last of the wine they too went down really, really well (and that's not the wine talking!). All in all my husband thought it was the best birthday he'd ever had.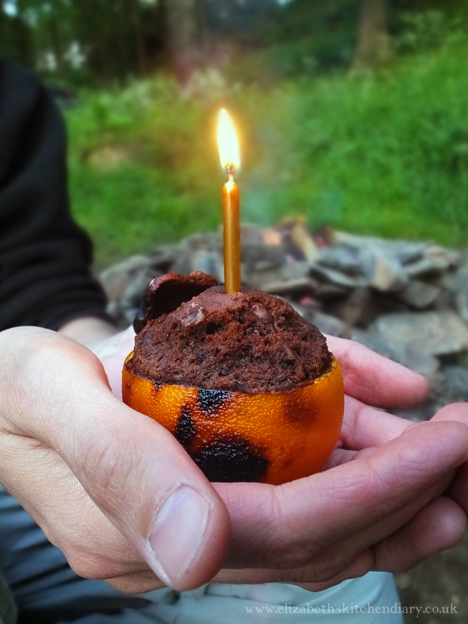 Chocolate Orange Camp Fire Birthday Cake Recipe.
Servings

Prep Time

Cook Time

2

people

10

minutes

20

minutes
Servings

Prep Time

2

people

10

minutes
Place the cumin and coriander seeds in a small, dry pan over a medium heat and toast until the cumin seeds start popping.

Transfer the toasted seeds to a large mortar and pestle along with the remaining ingredients and grind to a find powder.

Transfer to an air tight container and store in a dark cupboard for up to 12 months.

To prepare the spiced chickpeas get a good fire going and heat the sunflower oil in your cooking pan. I have a fondness for cast iron, but a camping cooking pot will work or even a Dutch oven suspended on a tripod will do.

Gently sauté the onions until they begin to soften. The time this takes will depend on how hot your fire is and where your pan is located.

Add the spice mix and sauté for a further minute or two.

Stir in the drained chickpeas and combine well. Make sure the chickpeas are heated thoroughly.

Add your greens and sauté until they have just wilted but they still retain some texture.

Season to taste and serve immediately.
Use the remaining spice mix to season lamb dishes or add a tablespoon to your lentil soup for some exotic flavour. The seven spice mix is slightly adapted from a recipe by Sharon Salloum in her book Almond Bar: 100 Delicious Syrian Recipes
OTHER CHICKPEA RECIPES
Hearty Chickpea and Sweet Potato Stew by Tinned Tomatoes (vegetarian)
Sweet Potato, Spinach & Chickpea Bake by Tinned Tomatoes (vegetarian)
Turkey and Chickpea Curry by Blue Kitchen Bakes
Spiced Butternut, Chickpea, Red Onion & Raisin Couscous by The Greedy Gourmet (vegetarian)
Warm Chickpea and Calamari Salad by Franglais Kitchen
Chickpea, Feta, Caper & Watercress Salad with Pesto Dressing by Fuss FreeFlavours (vegetarian)
Chicken & Paprika Crostini by Cook Sister
Moroccan Style Spiced Tomato & Chickpea Soup by How to Cook Good Food (vegetarian)
Lime & Coriander Hummus by Maison Cupcake (vegetarian)
Tunisian Chickpea & Vegetable Tagine by Kellie's Food to Glow (vegetarian)
Chickpea Curry by Mamta's Kitchen (vegetarian)
If you're looking for a hearty meaty campfire dish, why not try this Cowboy Stew recipe from The Hedgecombers.
If you want to be kept up to date on my recipes, occasional craft tutorials, adventure stories and giveaways then please subscribe to my weekly newsletter; it gets sent out every Monday morning if there is new content. Your email address won't be passed on to anyone, you will never be spammed and you are free to unsubscribe at any time, no questions asked. Make sure you confirm your subscription or you won't receive the newsletter – if it hasn't arrived check your junk mail folder.
[wysija_form id="1″]