A deliciously wholesome pizza made with 16th & 17th century heritage wheats, grilled vegetables and a roasted red pepper, mozzarella and rocket pesto.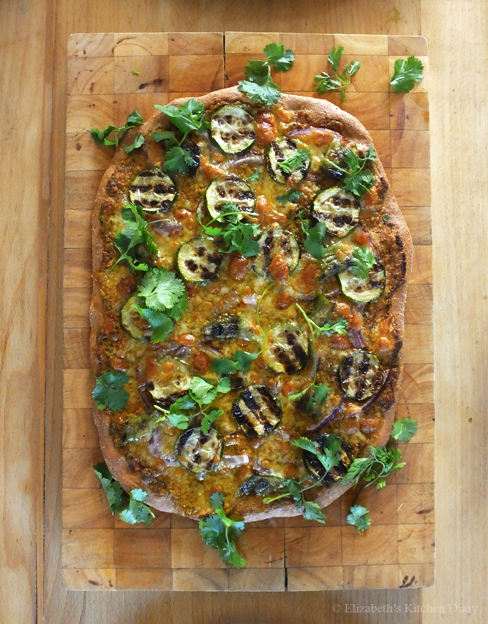 Pizza doesn't have to be plain, boring and ordinary. Jazz it up a bit with some grilled vegetables and pesto!
My first experience with pizza was from a box. Not a ready-made pizza in a box from the chilled foods section in the supermarket, but a boxed pizza kit. I can't remember the brand (this is going back 25 years) but it was a red rectangular shaped box and included a sachet of pizza dough mix, a tin of ready-made tomato pizza sauce, a sachet of dried Parmesan cheese and a sachet of mixed herbs.
I absolutely loved that boxed pizza.
It was one of my favourite meals growing up, but I do recall the pizza dough rage I used to get when I tried to spread the dough out on the baking tray and it would tear every… single…. time! I still have a slight aversion to spreading pizza dough out by hand and if I can convince my husband to do it for me I will.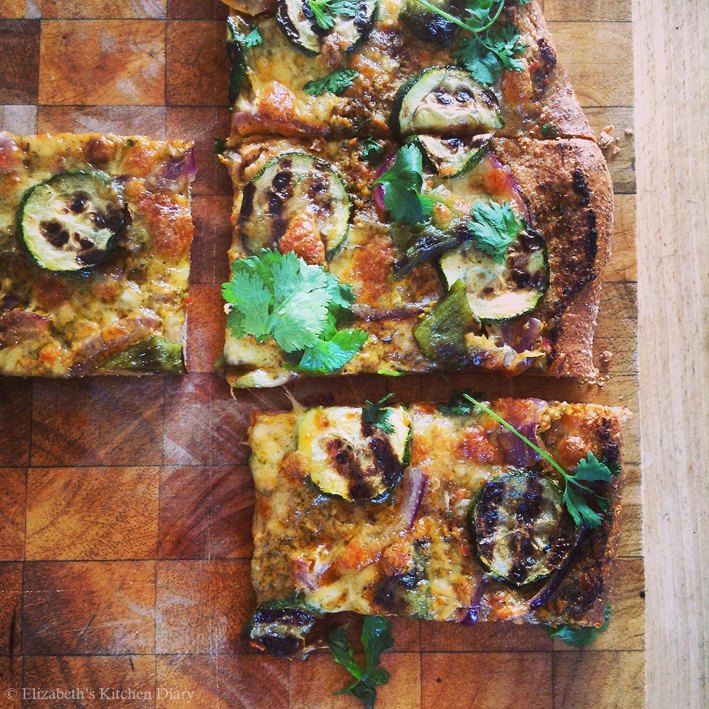 It wasn't until I was in my mid-teens out on an overnight at a friend's house when I found out you could put vegetables on a pizza. Vegetables, on a pizza – how extraordinary! There were giant chunks of broccoli (broccoli on a pizza?!), green peppers, red onions (I'd never seen these before), and olives. That pizza changed the way I look at pizza and I have been experimenting every since.
Our home made pizzas (yay for bread makers making the job of dough-making take a whopping 2 minutes of work!) tend to have a home made tomato based sauce (Jamie Oliver's basic tomato sauce recipe, cooked for at least an hour with the lid off so it reduces all lovely-like), with an Italian deli assortment of meats (pepperoni, chorizo, parma ham, etc.), plenty of vegetables (including broccoli if we have it!) and balls of mozzarella cheese torn over the top. This is our family favourite way, but sometimes I like to do something a little out of the ordinary.
This pizza was created because a) I was out of white bread flour, b) I had 250 grams of Doves Farm Heritage wheat flour sitting in my cupboard since April when I'd bought it to recreate a Mediaeval Horsebread recipe from Ken Follett's novel Pillars of the Earth (have you read it – it's fantastic!). It was needing used up. c) I had a jar of Sacla' Summer Pesto – made from roasted red peppers, mozzarella cheese and rocket – sitting in my cupboard and d) there was a glut of courgettes from my veg box. So I made pizza.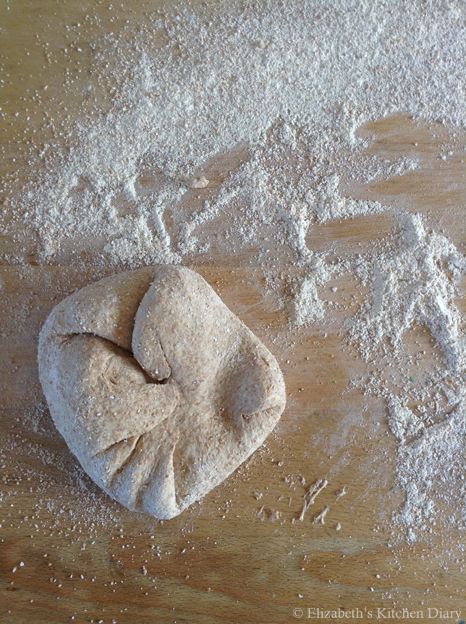 I confess my husband had a bit of a face on him ("a face like a slapped erse" they say here in Scotland) when I explained what I was making for dinner. Pizza is only pizza if it's made from white bread flour, tomato sauce and plenty of meat, in his eyes, so he was rather reluctant to try my experiment.
It took a few bites but my husband soon changed his tune and said he would very happily eat that again.
The heritage 16th and 17th century wheat varieties in the Doves Farm flour blend (look out for this in your local wholefoods shop) made a delicious wholesome pizza dough with an earthy flavour, and topped with the summer pesto and grilled vegetables it was really rather lovely indeed. So much so I am sharing the recipe with you all, should you wish to try it for yourselves.
If you would like to win a Sacla' Pesto Hamper pop over to my Giveaways page and enter!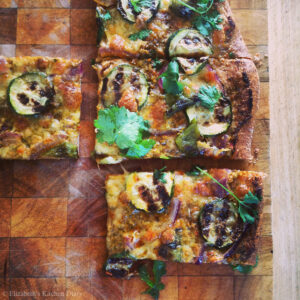 Heritage Wheat Wholegrain Pizza with Summer Pesto and Grilled Vegetables
A deliciously wholesome pizza made with 16th & 17th century heritage wheats, grilled vegetables and a roasted red pepper, mozzarella and rocket pesto.
Print
Rate
Affiliate Links
This recipe card may contain affiliate ingredient and equipment links. As an Amazon Associate I earn from qualifying purchases.
Instructions
Pizza dough method 1 (the lazy way): Pop everything in your bread machine in the manufacturers recommended order, select the dough or pizza cycle and go do something else for awhile

Pizza dough method 2 (the calorie burning way): Combine the dry ingredients in a medium sized bowl, add the wet ingredients, stir with a wooden spoon to combine. Turn out onto a floured surface and knead for 10 minutes, adding more flour if necessary to get a non-sticky dough. Place the dough in a lightly oiled bowl, cover with a tea towel and leave to rise in a warm place until doubled in size (about an hour and a half).

Meanwhile, cut your green pepper into quarters and slice your courgette into 1/4 inch slices. Brush with sunflower oil and grill until softened. Set aside to cool.

After the dough has risen, turn out onto a floured board, punch down and roll out until 1/4 inch thick. Transfer to a non-stick baking tray (I use a silicone baking mat) and press into shape.

Preheat oven to 230 C (450 F).

Spread the summer pesto over the pizza base, top with sliced red onion, your grilled courgette and green pepper (chop the pepper into smaller pieces first) and torn pieces of mozzarella cheese.

Bake in the middle of the oven for 15-20 minutes. Sprinkle with fresh coriander leaves and serve immediately.
Environmental Information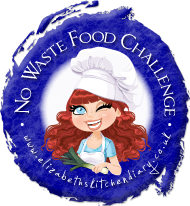 Since this recipe used up the end of a packet of flour and one of a glut of courgettes I am linking up with my No Waste Food Challenge, hosted this month by Laura over at I'd Much Rather Bake Than…
OTHER YUMMY PIZZA RECIPES
Banana, Caramel & Chocolate Dessert Pizza by Glug of Oil
Spinach, Olive & Tomato Flatbread Pizza by Hungry, Healthy, Happy
Na'an Bread Lentil Dal Pizza by Fuss Free Flavours
Slow Roast Tomato & Pesto Pizza by The Big Spud
Puff Pizza Pie with Pesto by Tinned Tomatoes
If you want to be kept up to date on my recipes, occasional craft tutorials, adventure stories and giveaways then please subscribe to my weekly newsletter; it gets sent out every Monday morning if there is new content. Your email address won't be passed on to anyone, you will never be spammed and you are free to unsubscribe at any time, no questions asked. Make sure you confirm your subscription or you won't receive the newsletter – if it hasn't arrived check your junk mail folder.
[wysija_form id="1″]
Elizabeth's Kitchen Diary was sent a selection of Sacla' pestos for review. All opinions expressed are our own. This is not a paid post.