Ever wonder what Indian takeaway chefs cook for themselves at home? In this lamb curry recipe post, Shirazul Islam from the Bengal Spice takeaway in Lerwick, Shetland shares his family recipe for a lamb and spinach karahi. In collaboration with Try Lamb.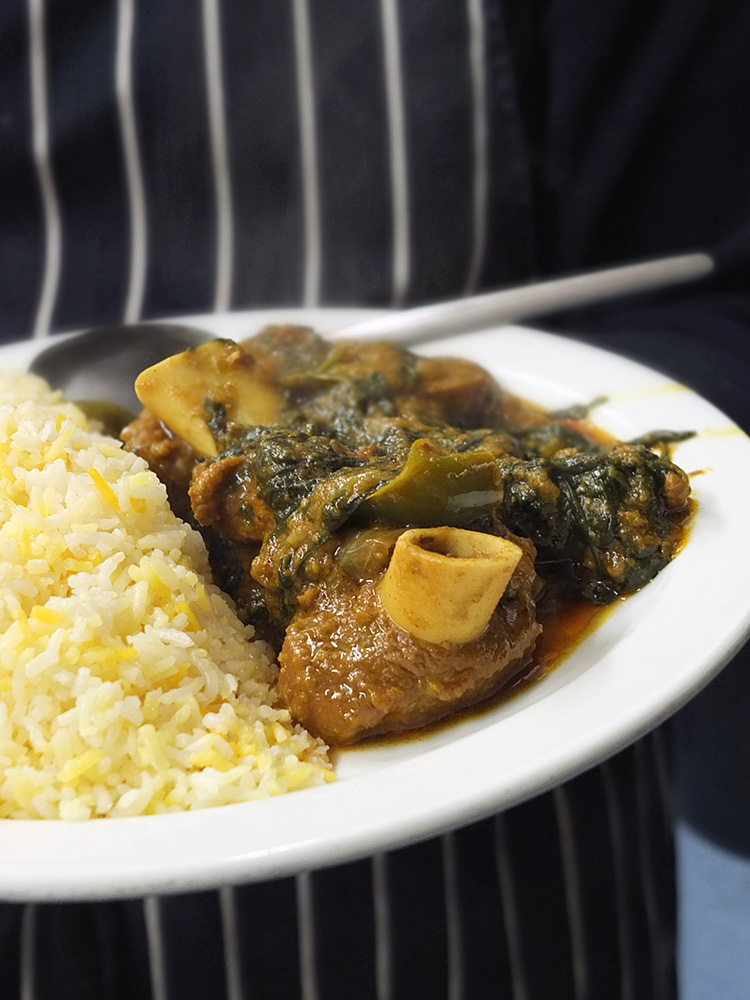 The Great (Lamb) Curry Revival
In the 1970s the Indian takeaway soared in popularity in Great Britain. Up until the start of the 70s, there were only around 1200 Indian takeaways throughout the UK.
After the Bangladesh War of Independence in 1971, Britain received thousands of immigrants fleeing the violence. By the end of the 70s, there were over 3000 Indian takeaways across the country. Menu items included chicken tikka masala, korma, madras, rogan josh, jalfrezi and vindaloo. Recipes were adapted to suit the western palate: the Balti is thought to have originated in Birmingham during the late 1970s and chefs are credited with creating the dish to suit western tastes.
Now, there are over 17,000 curry houses across the UK, but it is estimated that over a third of these could face closure over the next decade.
What is causing this decline? Second-generation migrants are increasingly unwilling to enter the family trade, while staffing crisis around working visas and salary caps are having a detrimental effect.
Also, tastes are changing in the UK – there is a common misconception that Indian food is high in fat and calories, with UK consumers opting for perceived healthier options.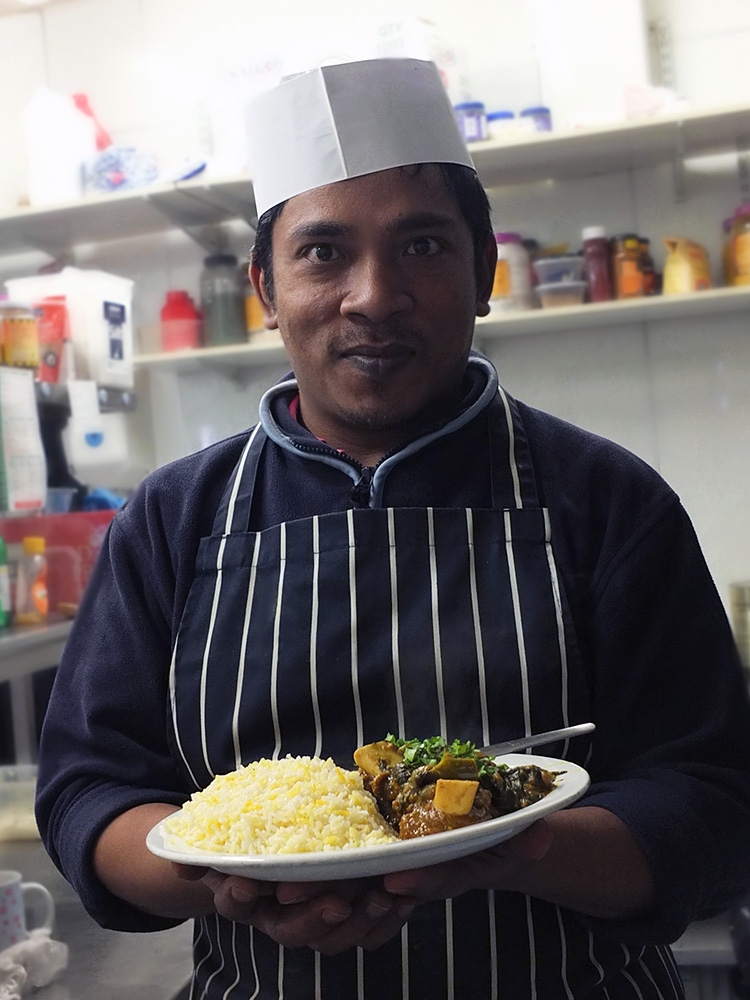 Let me introduce you to Shirazul Islam, chef at the Bengal Spice takeaway in Lerwick, Shetland.
Shirazul has been cooking curries in Indian takeaways for nearly 30 years, after learning how to cook by watching his mother when he was young.
I recently paid a visit to his takeaway on Harbour Street to learn how to make an authentic Indian curry, the kind that takeaway chefs cook for themselves and their families.
Shirazul taught me how to make this super easy, but incredibly flavoursome lamb and spinach karahi.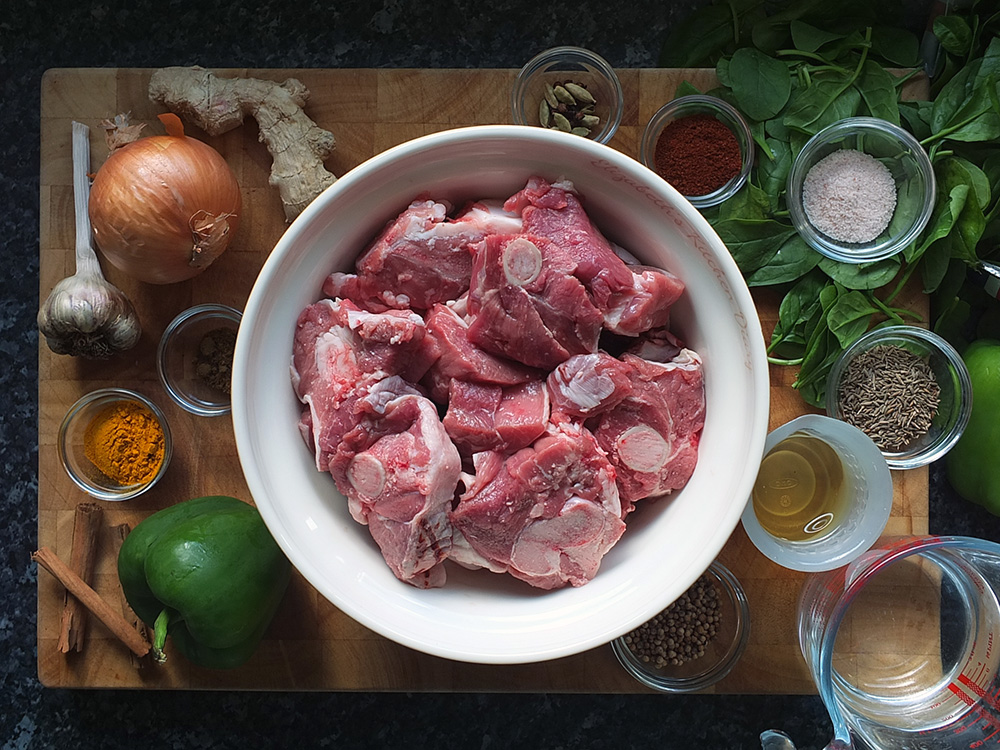 Ingredients for this lamb curry
100 ml sunflower oil
3 large brown onions (2 x finely sliced, 1 coarsely chopped)
1 bulb garlic, minced
2 inches fresh ginger root. minced
1.5 tbsp cumin seeds
1.5 tbsp salt
2 kg bone-in lamb shoulder, cubed
2 tbsp coriander seeds
1 tbsp ground turmeric
1 tbsp chilli powder
8-10 whole cloves
8-10 cardamom pods
2-3 cinnamon sticks
1/4 tbsp garam masala
200 ml water
2 green peppers
500 grams spinach leaves
fresh coriander leaves, to garnish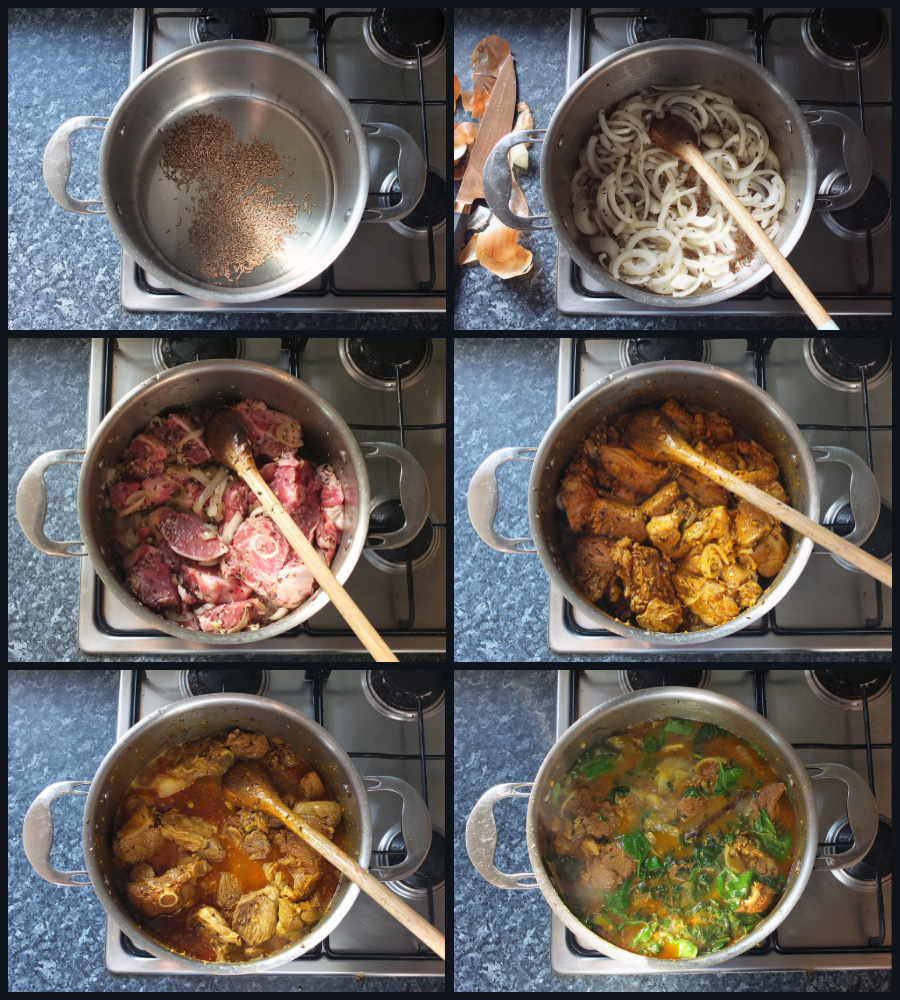 Instructions
Heat sunflower oil in a large, heavy-based pan or a karahi if you have one. Toast the cumin seeds in the hot oil for 10-20 seconds.
Add 2 thinly sliced onions, the garlic, ginger and salt. Saute until the onion begins to soften.
Add the bone-in lamb shoulder and brown all over.
Add the remaining spices, stir well to coat and pop the lid on the pan. Cook over medium heat for 10 minutes.
Add a little water, and cook for a further 10 minutes.
Add the remaining onion, coarsely chopped, the diced peppers and the spinach. Cook for a further 10-20 minutes.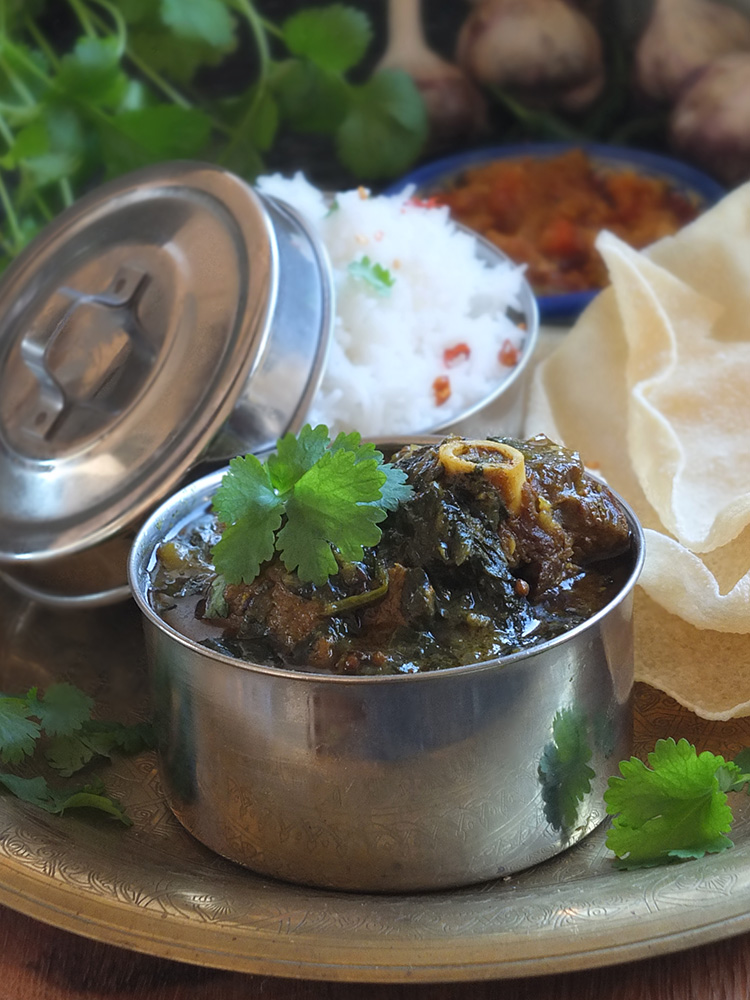 Ok, so my lamb curry isn't nearly as pretty as Shirazul's, but recreating his recipe at home was super easy and I'm quite pleased with the results! That's dinner sorted for the next few days!
Interview with Shirazul Islam – chef at Bengal Spice
What was the first lamb dish you ever learned to make?
I was 17 and my cousin had found me a job in a curry house in Lymington, near Bournemouth. It was there I learned how to make a lamb and potato curry.
I like our lamb nawabi. I like the flavour of the coconut; it's not like a korma though, it's lightly spiced with just a little coconut and lemongrass. Once you add the yoghurt to it all the flavours start coming out.
How does lamb compliment common spices used in curries?
Less spice is needed when cooking with lamb as it has such a unique flavour, but cumin, coriander, chilli and turmeric all compliment lamb very well.
Cook lamb as slowly as possible, and use bone-in lamb with the marrow for extra flavour. Fresh lamb straight from the butchers is the best.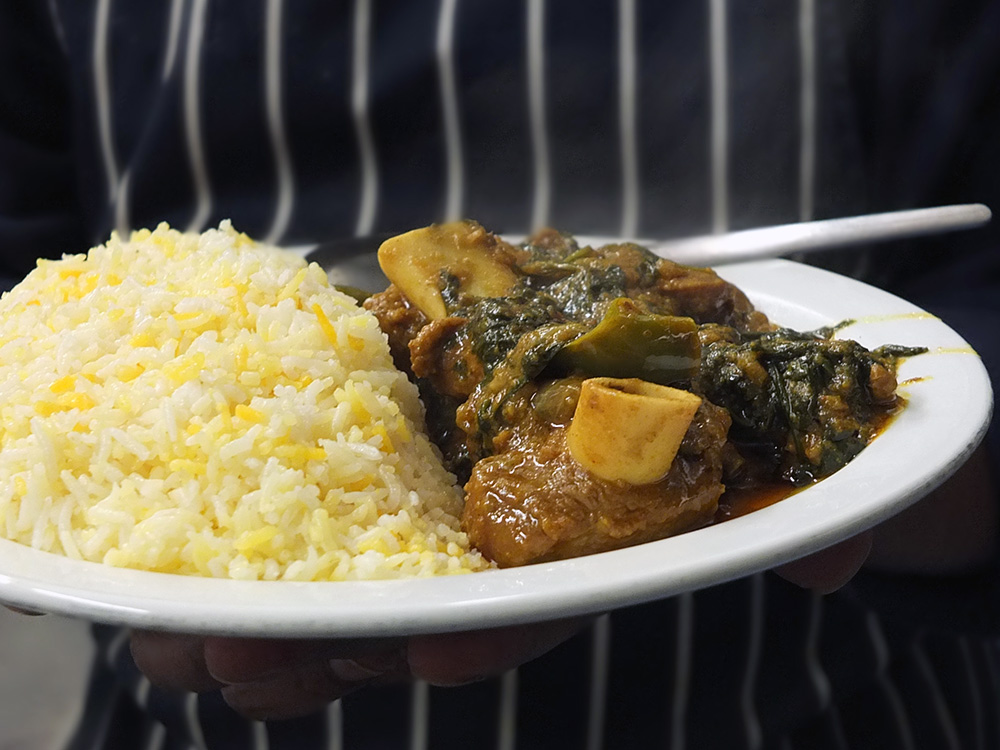 What are your top tips for Indian cooking at home?
I would recommend roasting and grinding your own spices for the best flavour. I make my own garam masala blend, and it makes a big difference.
How do you make your garam masala?
Preheat your oven to a very low heat and mix together:
1 part star anise
1 part bay leaf
1 part cloves
1 part cardamom
1 part cinnamon
1/2 part fennel seed
1/2 part cumin seed
1/2 part fenugreek seed
Roast for 40-45 minutes, allow to cool and then grind to a powder. Store in an airtight container.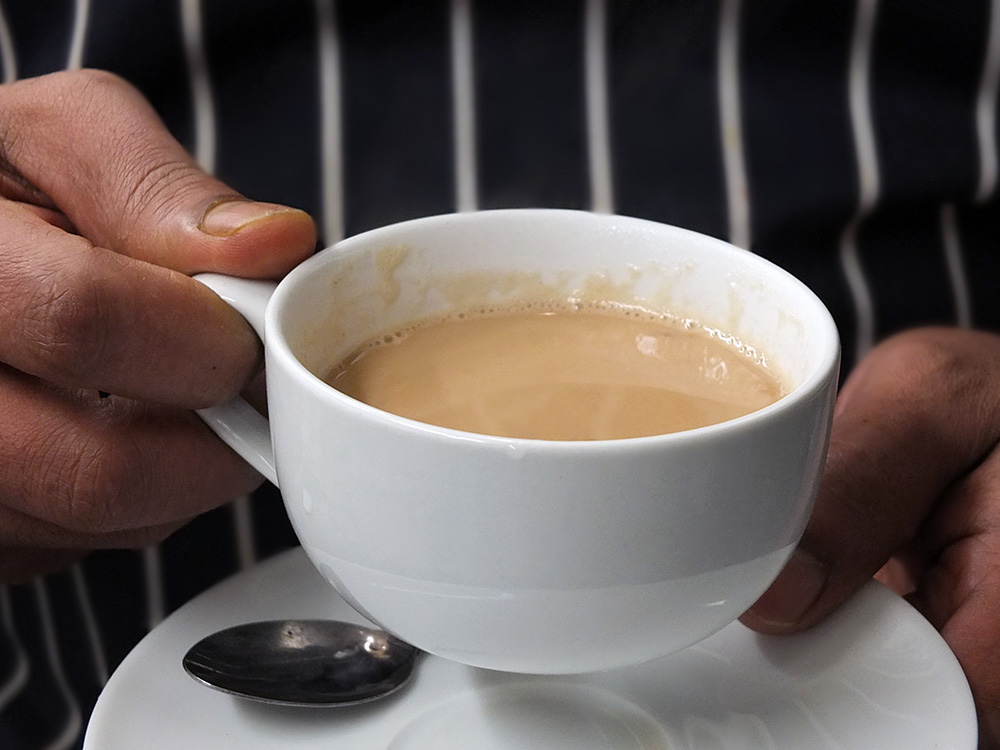 Some of these same spices went into the most delicious cup of tea I have ever tasted!
Shirazul treated me to my very first ever authentic cup of masala chai – milky hot tea brewed with cinnamon, cloves, bay leaves and cardamom. Ordinary black tea is first simmered in a pan of water with the spices before plenty of milk (and sugar) is added. It was incredible; almost like a sweet dessert.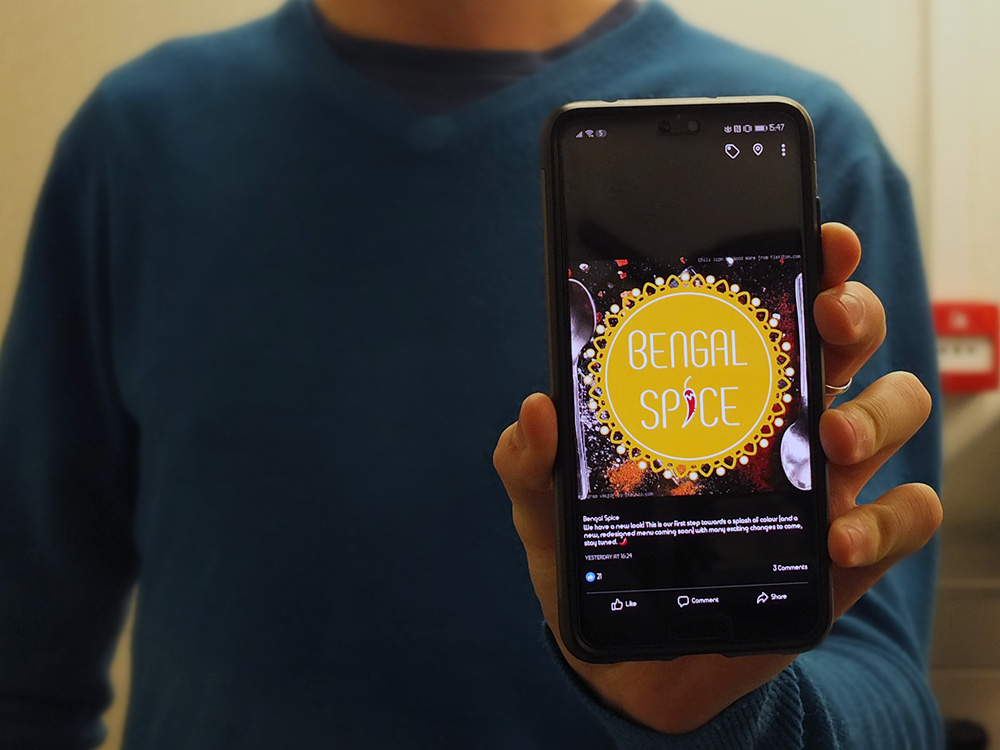 The Bengal Spice Indian Takeaway
Bengal Spice is an authentic Indian takeaway in Lerwick, Shetland. They use only the freshest natural spices that they grind themselves, and they also provide catering for parties, functions, festivals and events.
One of their most popular services is their mobile takeaway. Once a month they visit one of the island's village halls and set up a pop-up Indian Takeaway. This means that us rural folk can get our curry fix too!
Visit their Facebook page to find out more.
The Try Lamb, Love Lamb Campaign
Lamb is an incredibly delicious and versatile ingredient. It's easy to grow, too, thriving in European pastures.
Try Lamb was created to showcase the ease and versatility with which lamb could be incorporated into family meals. I and a team of other foodies and home cooks have been regularly sharing lamb recipes with our followers, in collaboration with Try Lamb, in hopes that we will help inspire you to give lamb a try. Trust me, you'll love it!
You can find out more about lamb by visiting the Try Lamb website and following them on Instagram and Facebook for regular updates.
Pin this lamb curry recipe for later!
This is a sponsored recipe post in collaboration with Try Lamb, although all thoughts and opinions expressed are our own. Thank you for supporting the brands who make it possible for me to do what I love: mess up my kitchen and share recipe stories.