Transform leftover stale bread into crispy, buttery croutons to top your favourite soup or salad. All you need is a few simple ingredients and half an hour of your time.
Cook Time: 10 – 15 minutes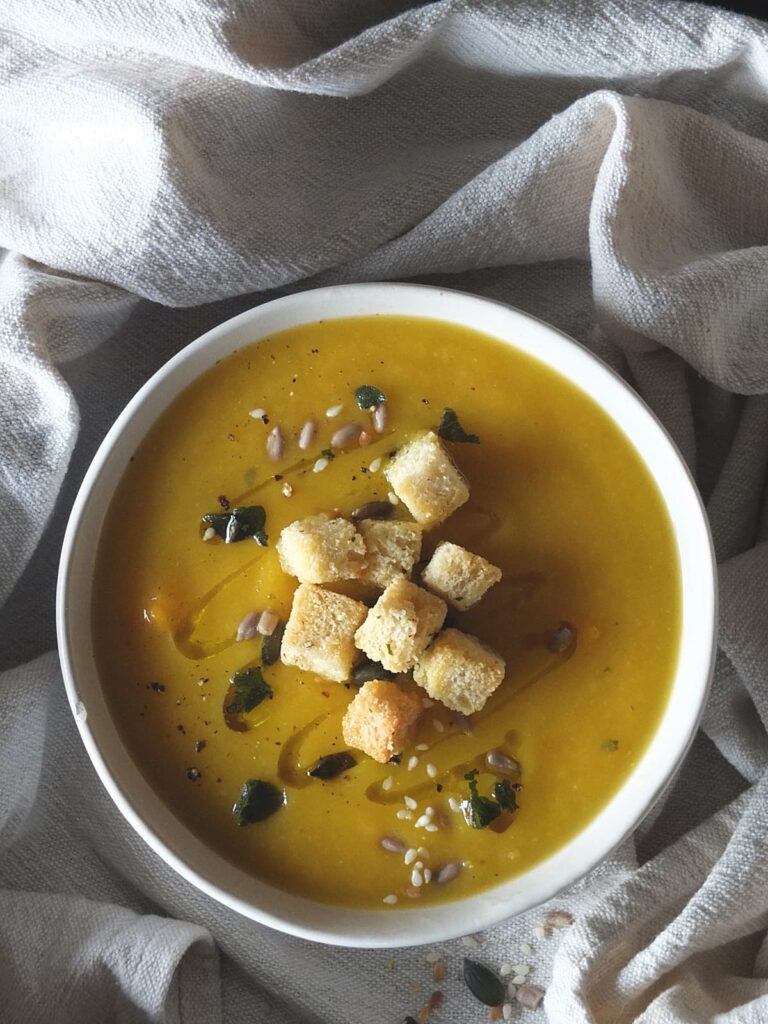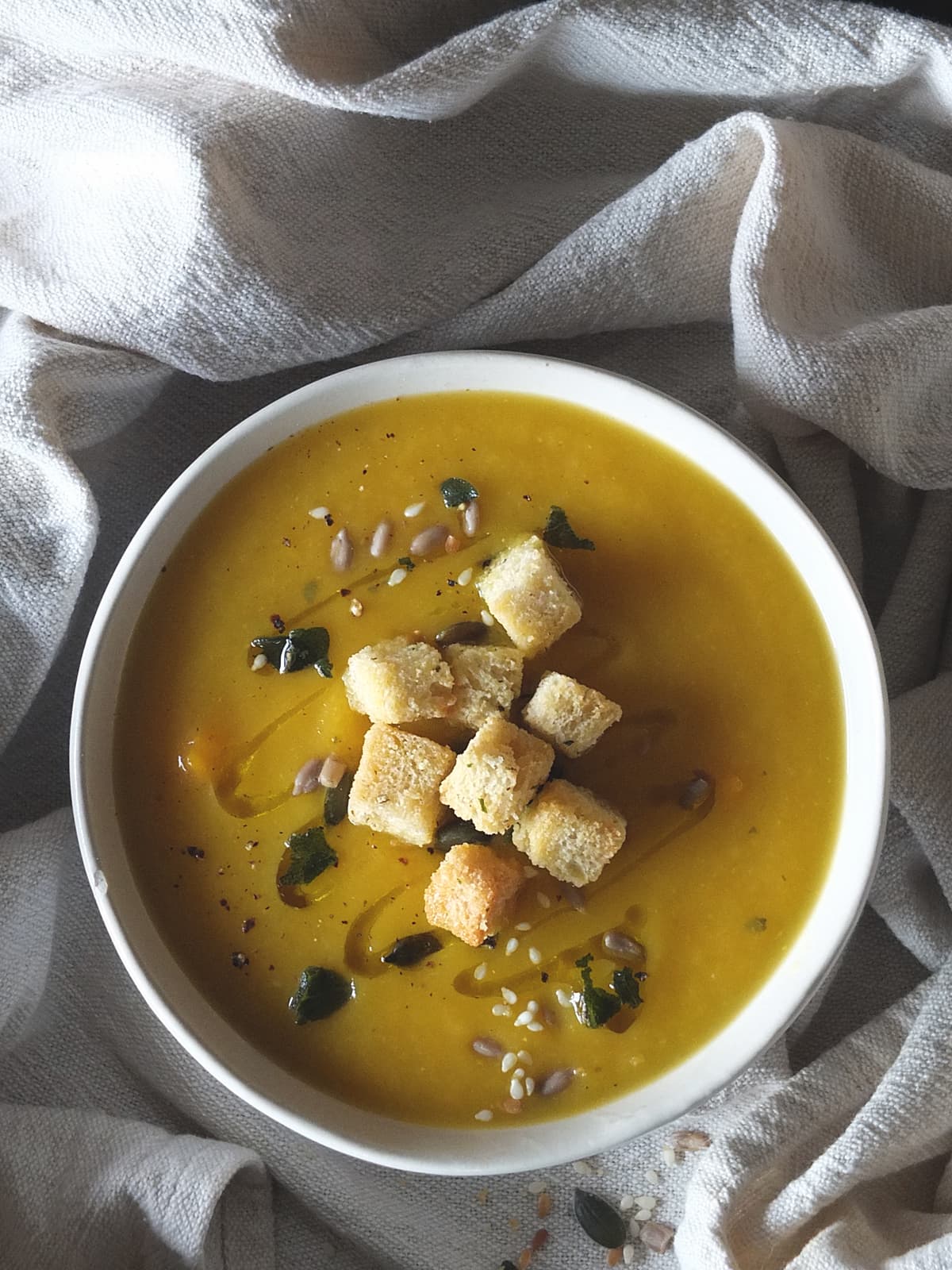 The easiest homemade crispy croutons recipe
I don't know about you, but I like a bit of texture when it comes to soup; I like my garnishes.
Take a bowl of creamy pumpkin soup, for example, it's delicious on its own, especially when sheltering from a biting westerly rain shower behind a low stone wall. Heated up in a Jetboil and sipped from an enamelled mug keeping one's fingers and bellies warmed.
It's also rather lovely with fried sage leaves, a drizzle of truffle-infused olive oil, a sprinkle of pumpkin and sunflower seeds and some crunchy, salty, buttery and incredibly moreish homemade croutons.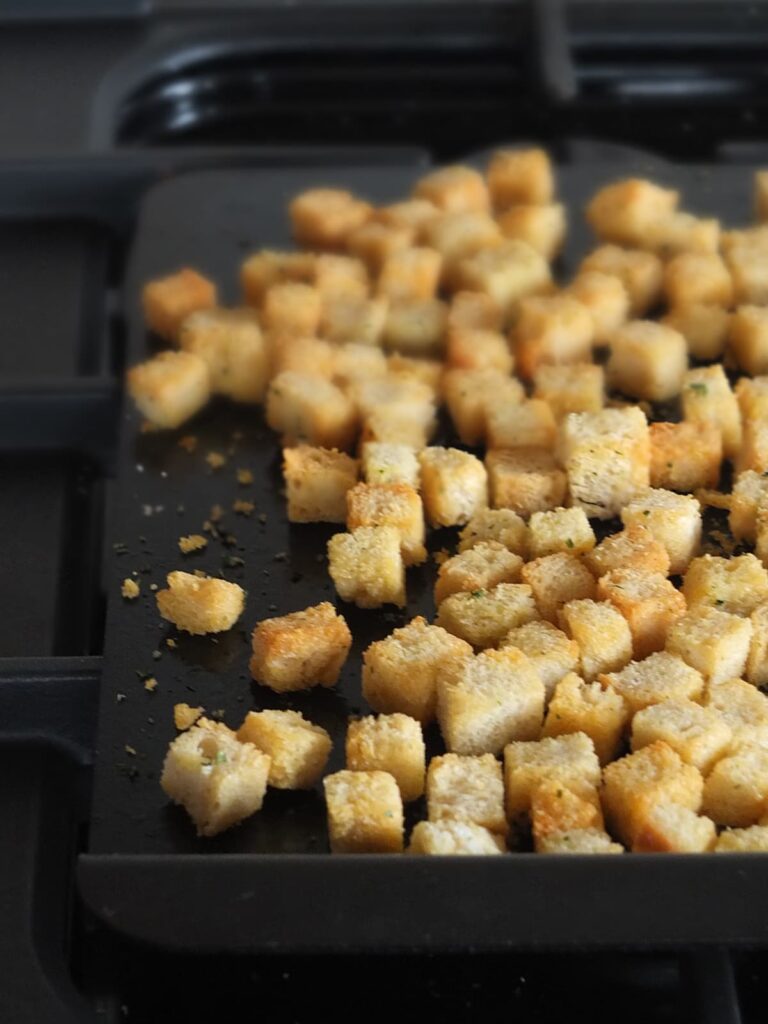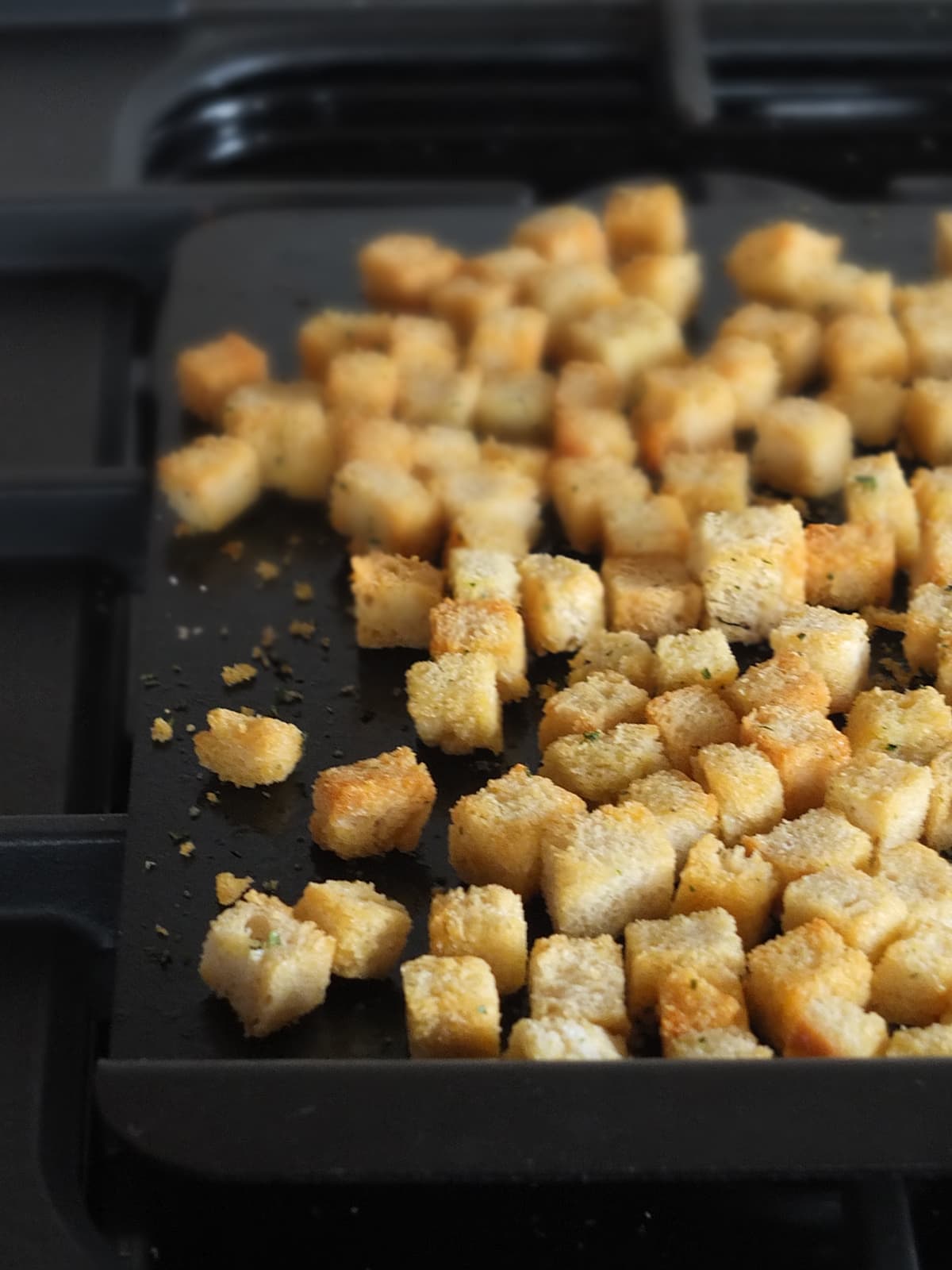 Homemade croutons are remarkably easy to make too, especially if you bake them in the oven.
You just need a few simple ingredients, starting with stale leftover bread and half an hour of your time and you can have the crispiest, most incredibly moreish croutons for your soup, salad, or just for snacking.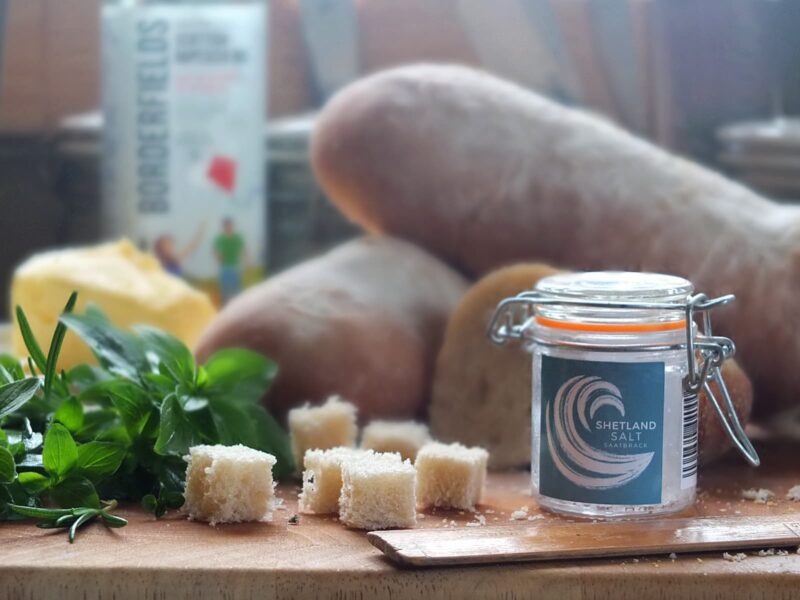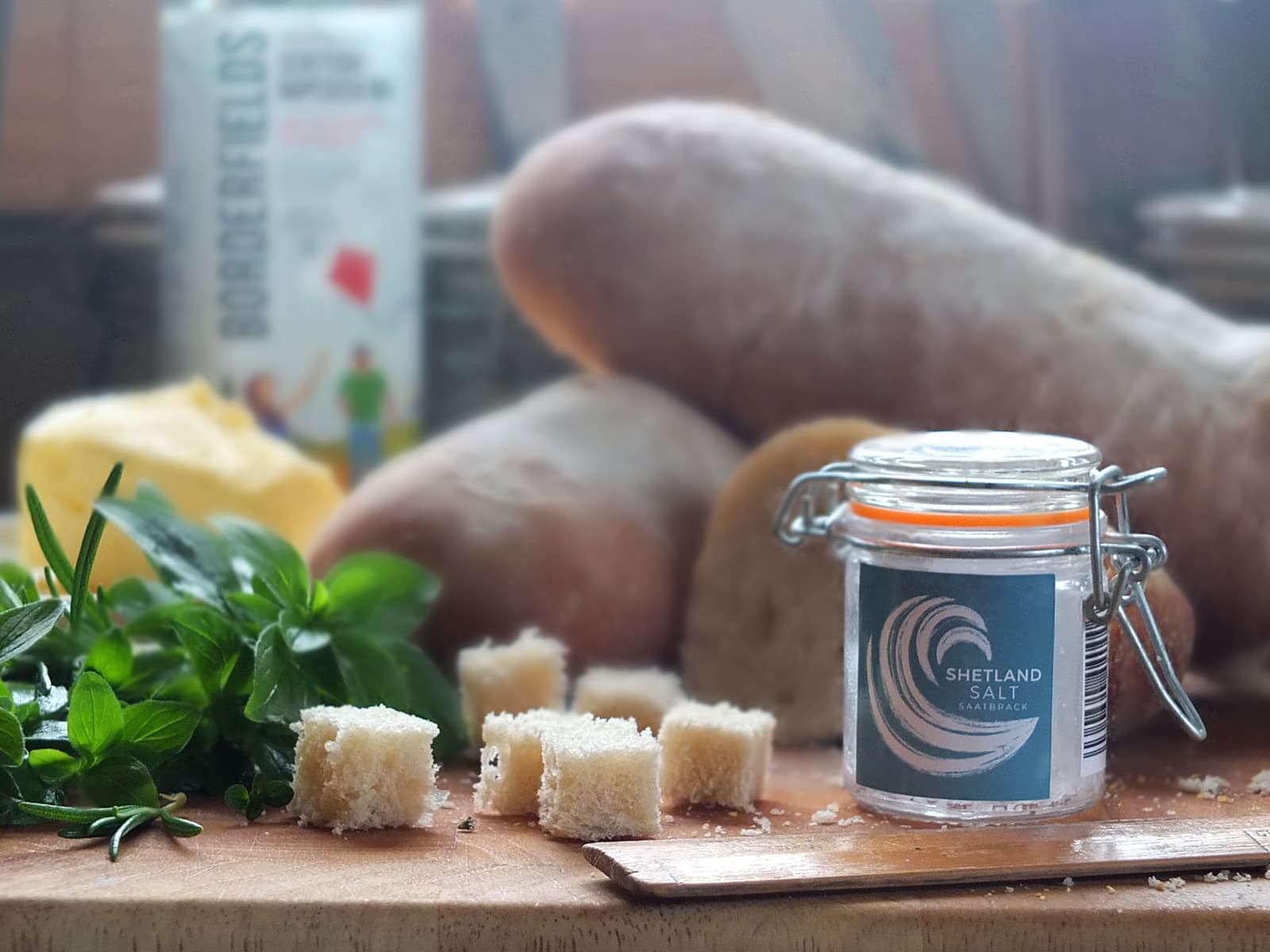 What you'll need…
Stale bread – it's best (although it isn't essential) to use bread that's a few days old when making croutons.
Scottish rapeseed oil – keeping the food miles as low as possible, Scottish rapeseed ticks all the boxes for a flavoursome, versatile frying and roasting oil.
Butter – this gives the croutons a nicer flavour, perfect for a creamy soup, but you can use 100% rapeseed oil if you prefer.
Sea salt – to taste. I use Shetland salt, a multiple award-winning sea salt hand harvested from Shetland's nutrient-rich waters.
Flavourings – optional. Try grated Parmesan cheese, garlic, and fresh or dried herbs.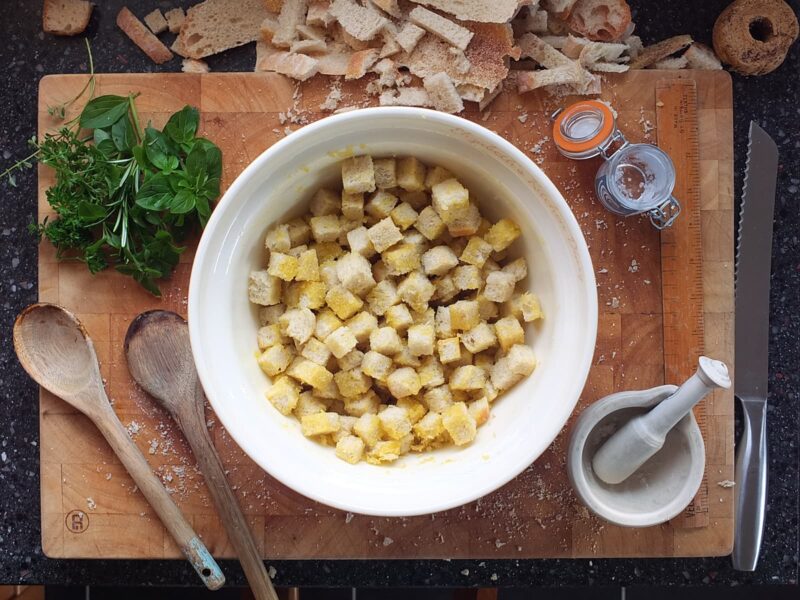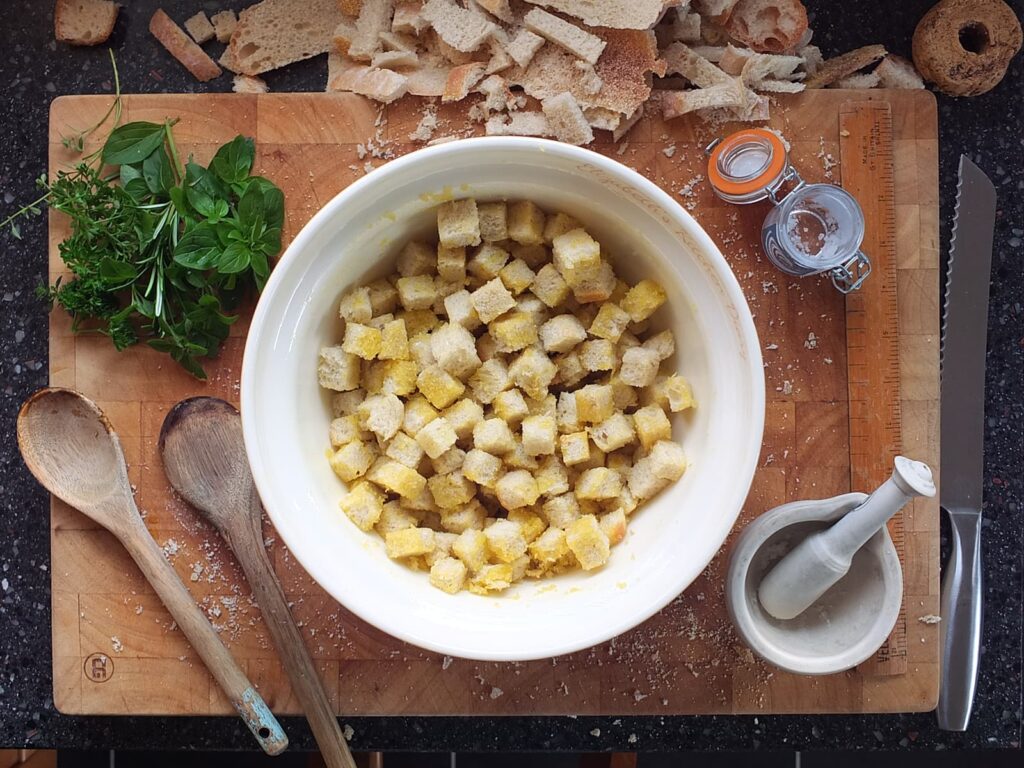 How to make homemade croutons
Melt the butter over low heat and add the Scottish rapeseed oil.
Cut bread into 1/2-inch cubes.
Pour the butter/oil over the top of the cubed bread and toss gently to coat.
Spread the bread cubes in a single layer on a baking tray.
Season well with salt.
Bake in the centre of a preheated oven for 10-15 minutes, turning after five minutes. Check again at 10 minutes.
Remove from the oven and leave to cool on the pan.
Click here for the full recipe instructions.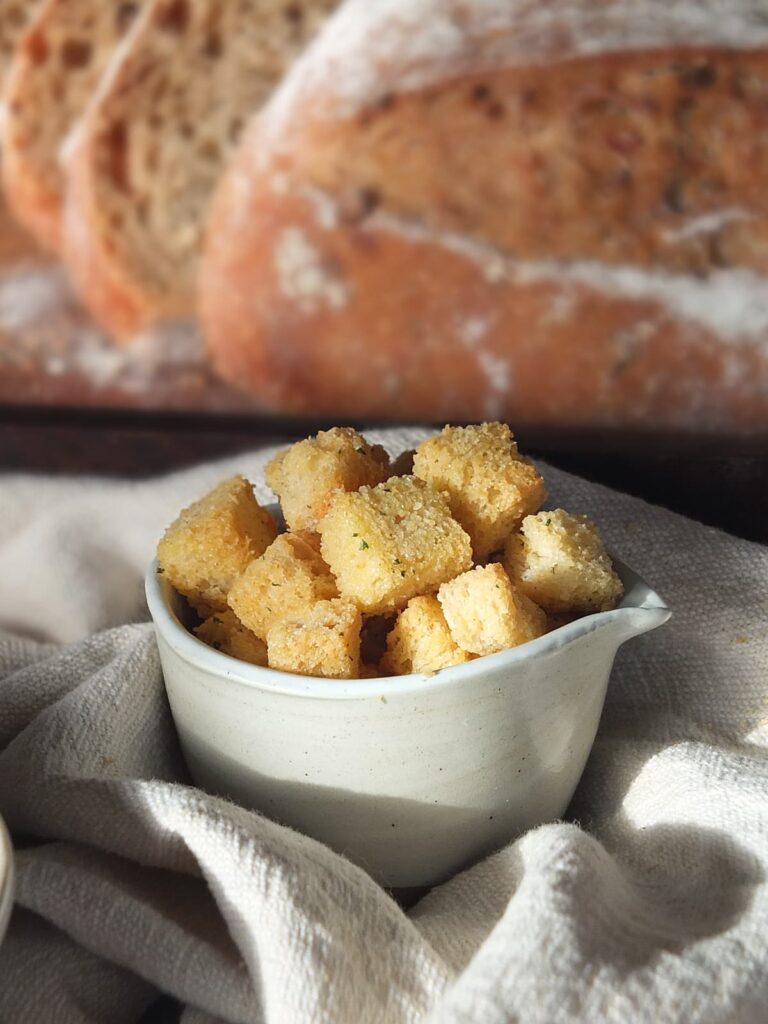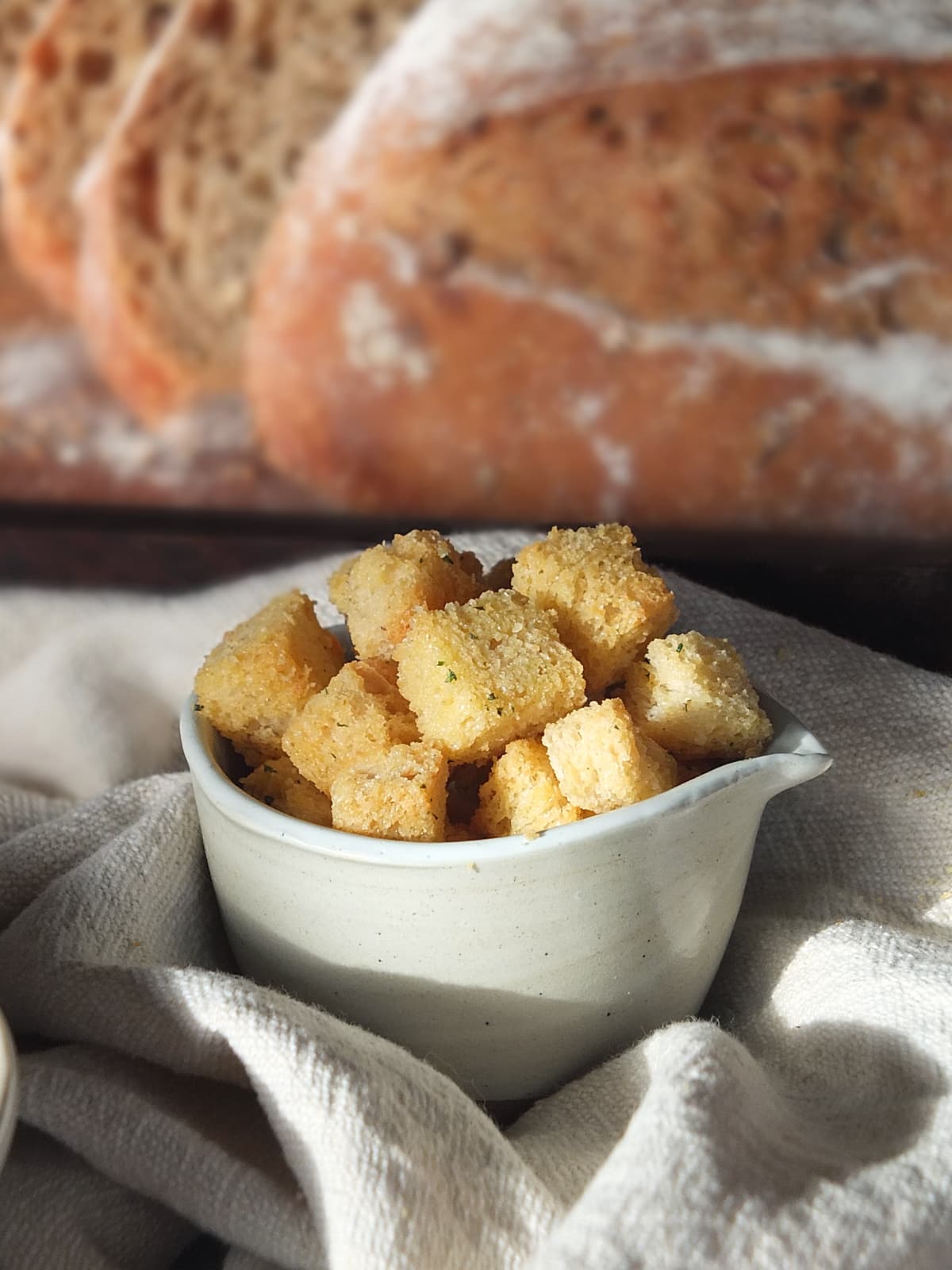 Tips for making croutons
Take care not to overcrowd the baking tray, give each crouton space to get deliciously crispy.
Turn the croutons halfway to make sure they crisp up evenly on all sides.
Homemade croutons will keep crispy in an airtight container for up to a week.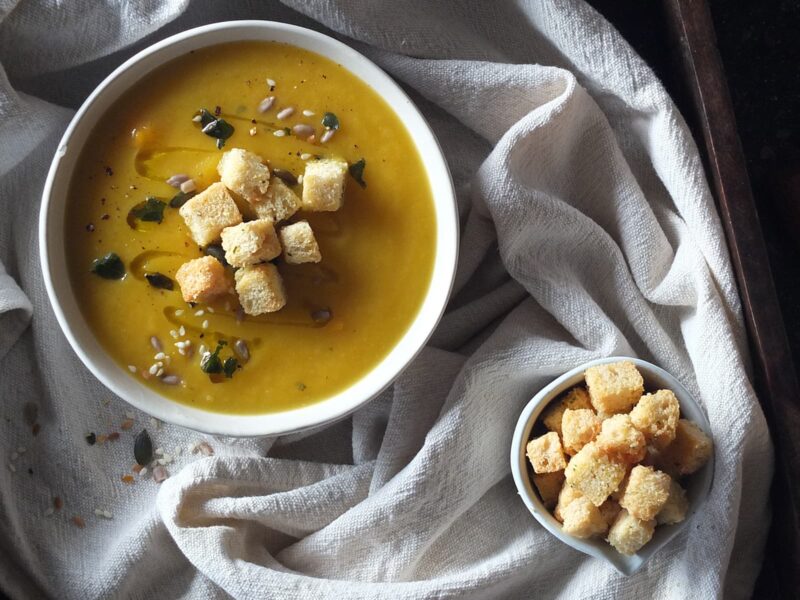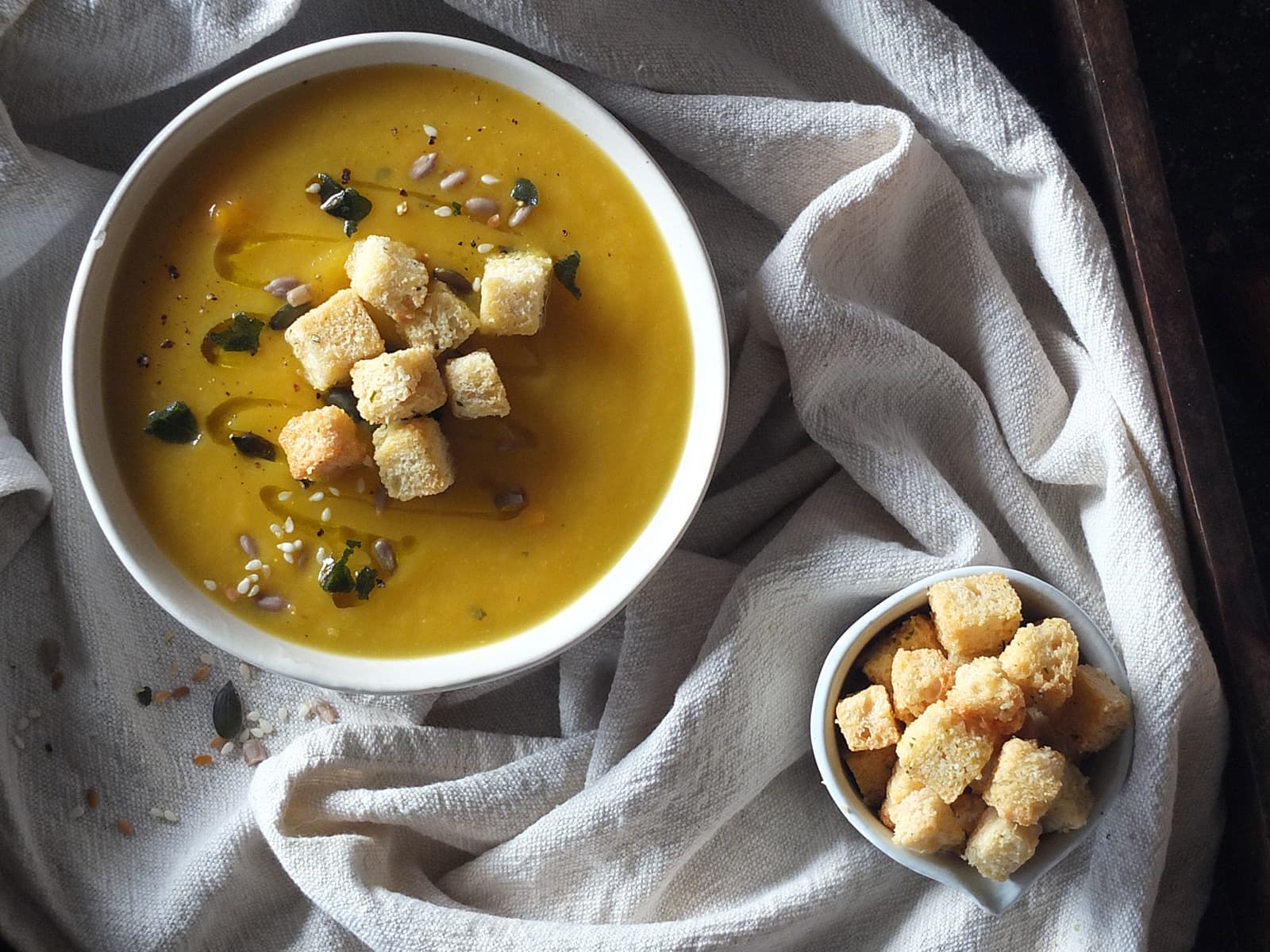 What kind of bread do you use for croutons?
Most bread is good for making croutons, but I use two day old homemade ciabatta. Do experiment with different flavours and textures, but you're looking for a nice sturdy bread without too many large holes for the best results.
Do I need to trim the crusts off to make croutons?
Did you know, the word crouton comes from the French croûton, which is a derivative of the phrase croûte, which means "crust."
Cutting the crusts off the bread is a personal choice. I like to trim the crusts to make all the croutons even in appearance, but if you want a most rustic look do leave the crusts on.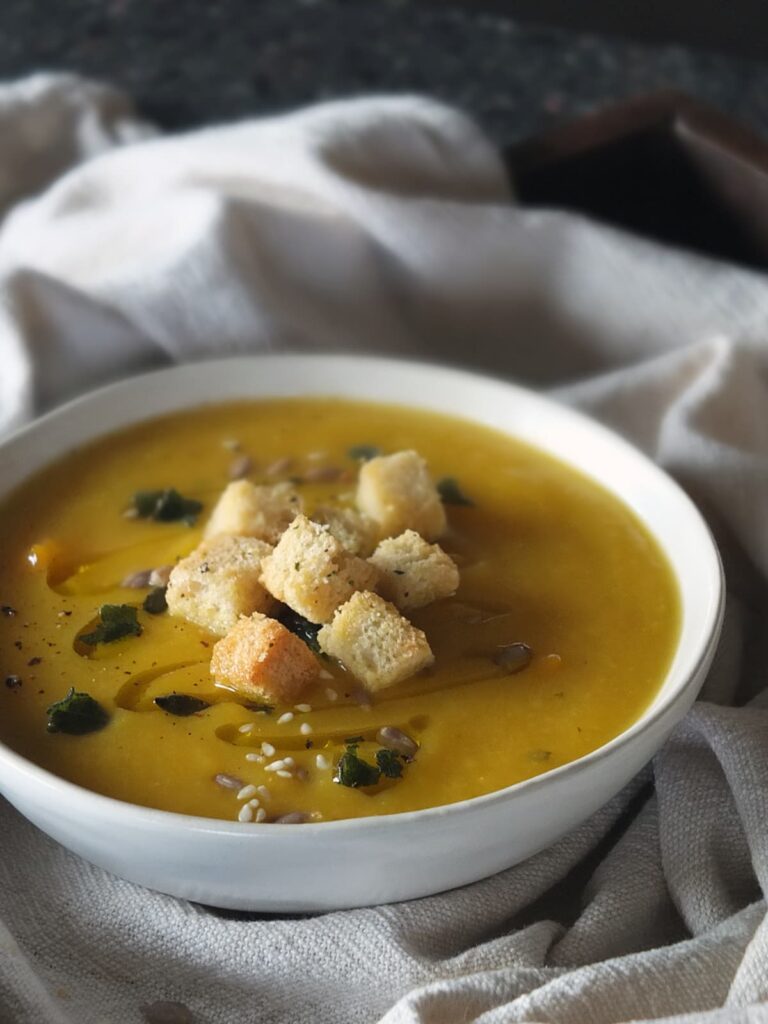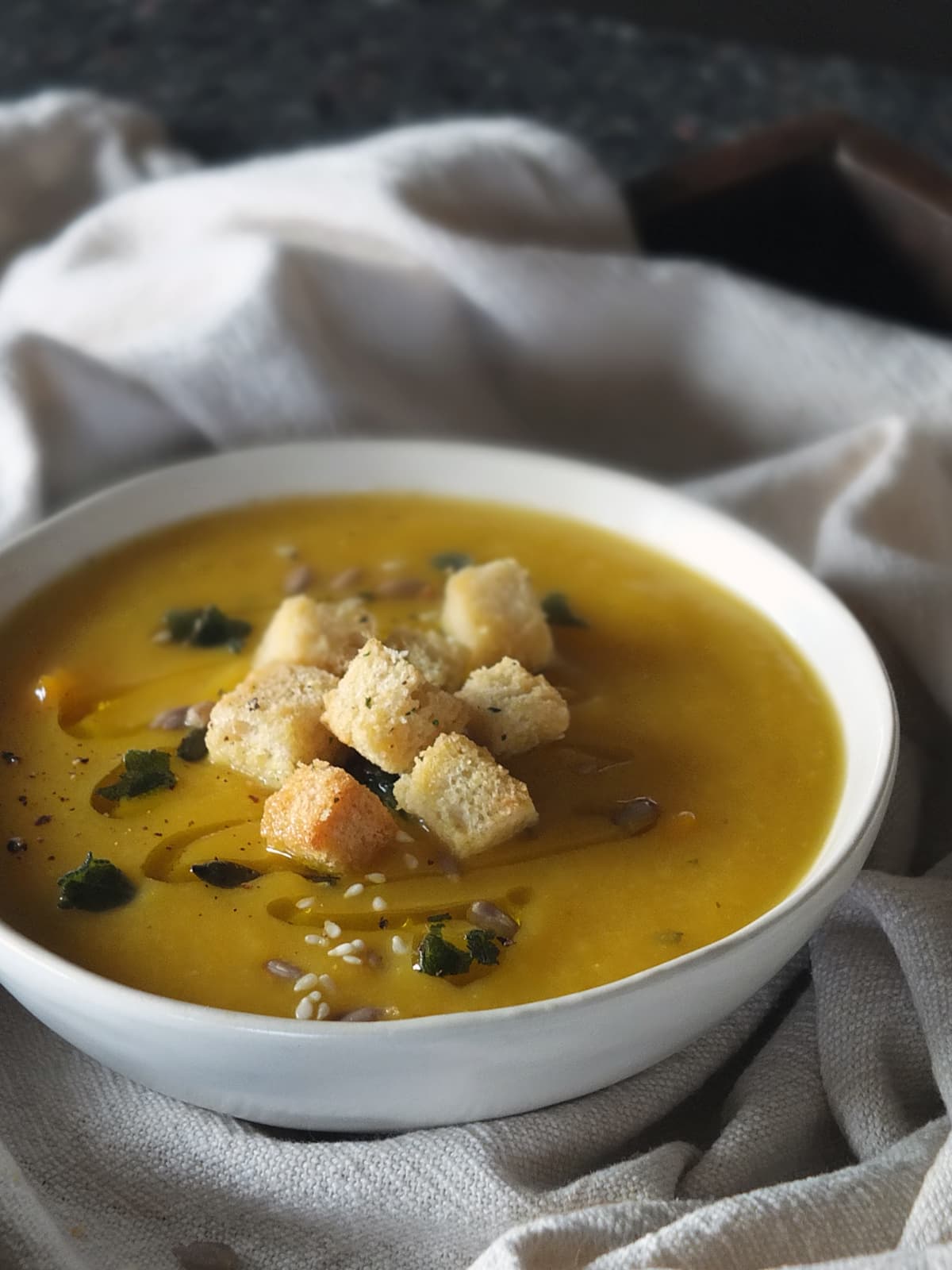 Can I add flavourings to the croutons?
Yes, season your croutons as you like. You can add dried or fresh herbs, grated Parmesan, garlic flakes, or anything you want! Add your flavourings five minutes towards the end of the cooking time, when you turn the croutons.
What else can I make with stale bread?
Stuffing is a perfect recipe to make with stale bread, as is bread and butter pudding, bruschetta or bread sauce.
Alternatively, use a food processor to turn your bread into fine, fresh breadcrumbs and use them in meatloaf, meatballs or burgers to make the meat go a bit further. Fresh breadcrumbs can be used to make a crispy topping for macaroni & cheese or even spaghetti with bacon and crispy breadcrumbs.
You can dry your breadcrumbs for 8-10 minutes in a 180°C fan oven and use them to coat fish fillets, fish cakes or chicken goujons before frying. Dried breadcrumbs will keep for up to a month in an airtight container.
Recipe Difficulty Levels
Easy

Requires basic cooking skills and ingredients you most likely already have in your kitchen.
Moderate

Requires more experience, preparation and/or cooking time. You may have to source special ingredients.
Challenging

Recipes requiring more advanced skills and experience and maybe some special equipment.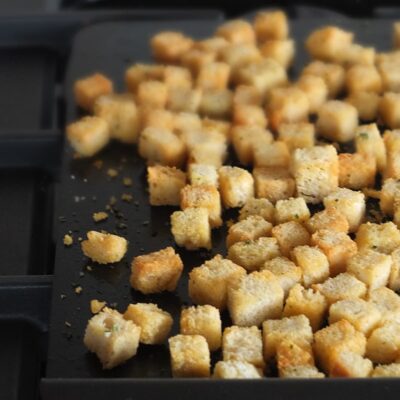 Homemade Crispy Croutons for Soups & Salads
Transform leftover stale bread into crispy, buttery croutons to top your favourite soup or salad. All you need is a few simple ingredients and half an hour of your time.
Print
Pin
Rate
Affiliate Links
This recipe card may contain affiliate ingredient and equipment links. As an Amazon Associate I earn from qualifying purchases.
Instructions
Preheat your oven to 375°F, 180°C fan.

Trim the crusts off your stale bread and cut into 1/4-1/2-inch size cubes.

Place the cubed bread into a small mixing bowl and drizzle with the melted butter/Scottish rapeseed oil.

Toss gently to evenly coat all the bread cubes, and season well with sea salt.

Spread the croutons out on your baking tray in a single layer, taking care to give enough space between each one.

Bake in the centre of your oven for 10-15 minutes, turning after five minutes.

If using flavourings, add these for the last five minutes of cooking.

Remove from the oven and allow to cool on the baking tray.

Store in an airtight container.
Nutrition
Calories:
128
kcal
|
Carbohydrates:
13
g
|
Protein:
3
g
|
Fat:
7
g
|
Saturated Fat:
2
g
|
Polyunsaturated Fat:
1
g
|
Monounsaturated Fat:
3
g
|
Trans Fat:
0.1
g
|
Cholesterol:
7
mg
|
Sodium:
153
mg
|
Potassium:
42
mg
|
Fiber:
1
g
|
Sugar:
2
g
|
Vitamin A:
121
IU
|
Vitamin C:
1
mg
|
Calcium:
36
mg
|
Iron:
1
mg
Pin this croutons recipe for later
Other recipes you might like