In collaboration with Tasty, Easy Lamb.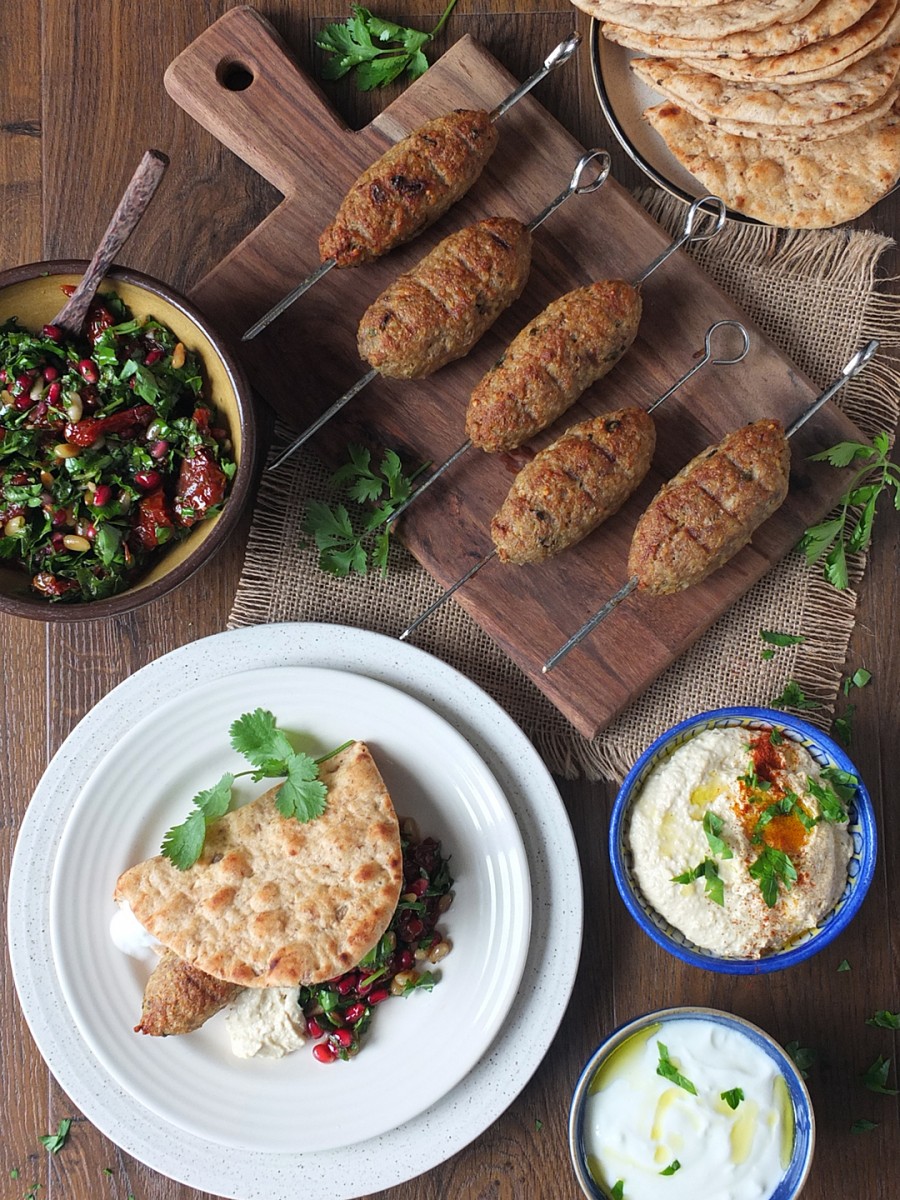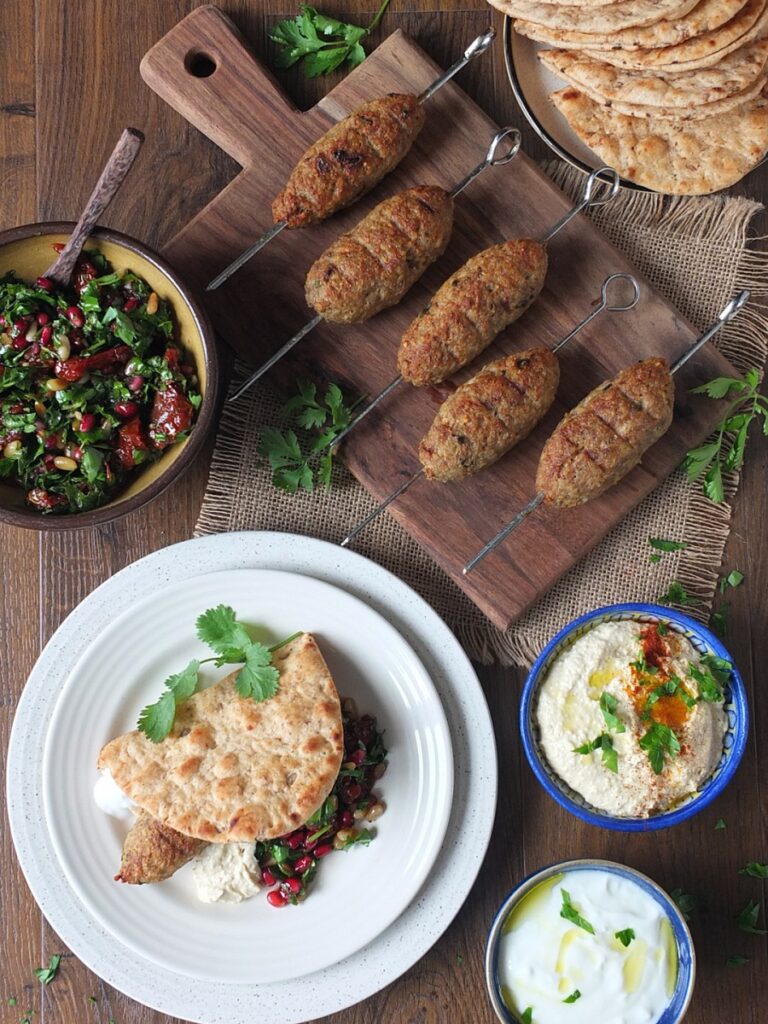 So how's your summer going? I can hardly believe that the kids have gone back to school this week – where did the summer holidays go? We tried one last camping barbecue last weekend, but alas, most of the time was spent hiding in the tent (more on our awesome new tent later!) from the rain and the wind, so our barbecue never did happen. Nonetheless, if we had had a barbecue, it was these gorgeous lamb kibbeh kebabs that we were going to have (which ended up being cooked under the grill at home!).
These kebabs are really quick to make and don't be put off by toasting your own spices. Toasted freshly ground cumin and coriander take the flavour of this lamb dish to a whole new level, and it really does only take an extra few minutes. Just take care that the spices don't burn in the pan; as soon as the cumin starts popping transfer your spices to a mortar and pestle to cool and grind and away you go!
I've recently also treated myself to some new skewers: some metal ones to make life a little bit easier. If using wooden skewers make sure to soak them twenty minutes in warm water, while the bulgur wheat for this recipe is soaking.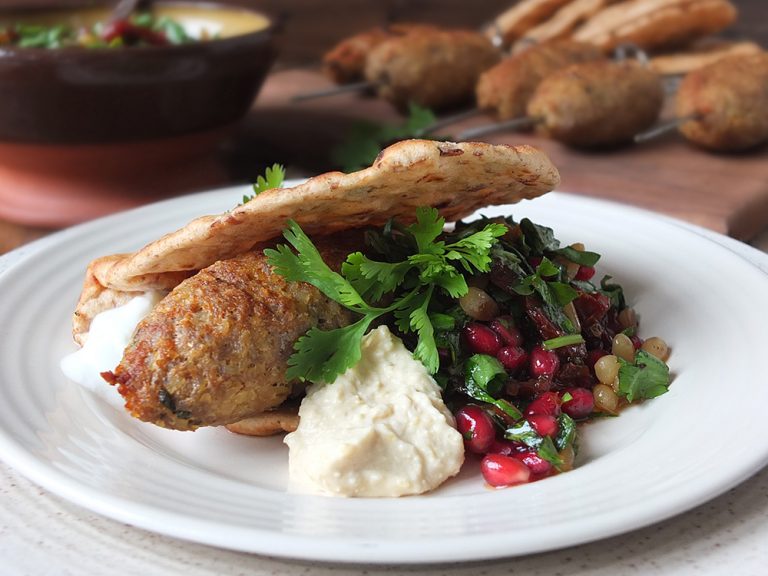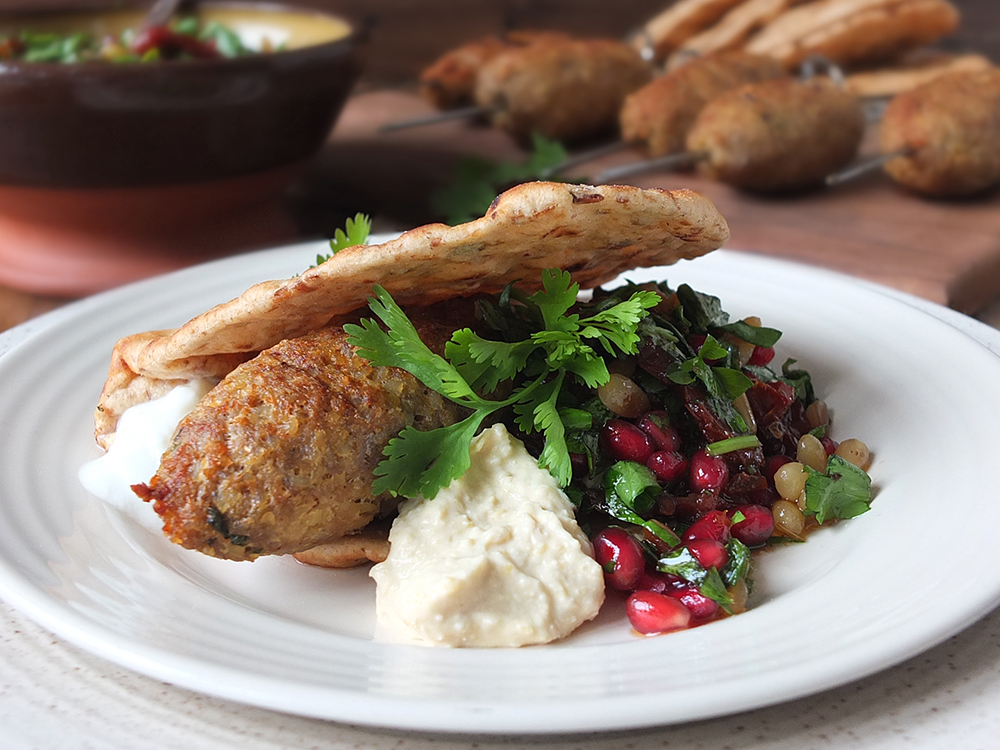 Another tip, to make life a little easier, is to serve your grilled lamb kibbeh kebabs with ready-made flatbreads, plain natural yoghurt and hummus. Pour over a little olive oil over the hummus and sprinkle a bit of smoked paprika to give it that homemade touch and no one will know the difference!
The side salad I've served with my kibbeh kebabs is a gorgeous sun-dried tomato, parsley and pomegranate salad with toasted pine nuts, but any leafy green salad would also work well.
For more lamb recipe inspiration visit the Tasty Easy Lamb website, and follow them on Facebook, Twitter or Instagram.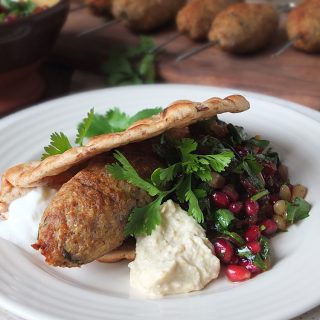 Grilled Lamb Kibbeh Kebabs
These remarkably easy yet flavoursome kebabs taste great grilled indoors or cooked out over the coals. Serve with flatbread, hummus, plain natural and a side salad.
Print
Rate
Affiliate Links
This recipe card may contain affiliate ingredient and equipment links. As an Amazon Associate I earn from qualifying purchases.
Instructions
If using wooden skewers put them on to soak in warm water for 20 minutes.

Cover the bulghar wheat in boiling water to cover and set aside to soak for 20 minutes. When it is soaked, drain well and spread it out onto a clean tea towel to remove the rest of the moisture. Place another tea towel over the top and press down to get out as much liquid as you can.

Toast the cumin and coriander seeds in a dry pan over a medium-high heat until the cumin starts to pop. Remove from the hot pan immediately and leave to cool. Grind in a mortar and pestle. Alternatively, use ready ground coriander and cumin instead.

Place the bulghar wheat in a large bowl with the lamb, spices, minced onion and garlic and the parsley.

Using slightly damp hands, divide the mixture into eight even sized pieces and place on the skewers.

Preheat your grill to high, brush the kebabs with the sunflower oil and grill for 8-10 minutes, turning occasionally. When ready, the juices will run clear and the internal temperature of the meat will be 71 C/ 160 F.

Serve the kebabs with flatbread, hummus, yogurt, lemon wedges and a side salad, as desired.
Environmental Information
OTHER LAMB RECIPES YOU MIGHT LIKE
Lamb Sheek Kebabs with Fruit & Walnuts
Lamb Pinchos with Herb Dip
Slow-Roasted Rack of Lamb with a Creamy Mustard Tarragon Sauce
Spicy Lamb Pizza with Feta, Rocket & a Yogurt Drizzle
BBQ Lamb Leg Steaks in a Herb Marinade
Leftover Roast Lamb & Mint Sausage Rolls
Quick & Easy BBQ Lamb Skewers
BBQ Lamb Leg Steaks with Harissa & Mint
15-Minute One-Pan Lamb & Quinoa Midweek Supper
Street Food: Brazilian-Style Lamb Kibe
Chilean-inspired Lamb Burgers with Pebre & Marraqueta Buns
Brazilian-inspired Lamb Feijoada with Mango Salsa
Slow Cooker Lamb Chilli with Pasilla Peppers
Argentine-inspired Lamb Chops with Chimichurri
Lamb Casserole with Ale
Mediterranean-inspired BBQ Koftas, Couscous Salad & Baharat Yogurt Dip
Slow-cooked Shetland Lamb Casserole with Creamy Herbed Polenta
Pastitsio – Greek Macaroni Pie
SHOP THIS POST
20cm Flat Metal BBQ Kebab Skewers
[color-box]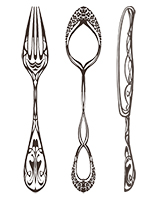 Have you made this recipe?
Take a photo and tag @tangoraindrop or use the hashtag #elizabethskitchendiary and share on Instagram and Twitter. It would make my day to see your creations!
[/color-box]
This is a commissioned recipe for Tasty, Easy Lamb. Thank you for supporting the brands who make it possible for me do what I love: mess up my kitchen and share recipe stories.