Afternoon Tea wouldn't be complete without a selection of sandwiches. Here are three easy to make varieties perfect with a cuppa. In collaboration with Portmeirion Group & Spode Blue Italian.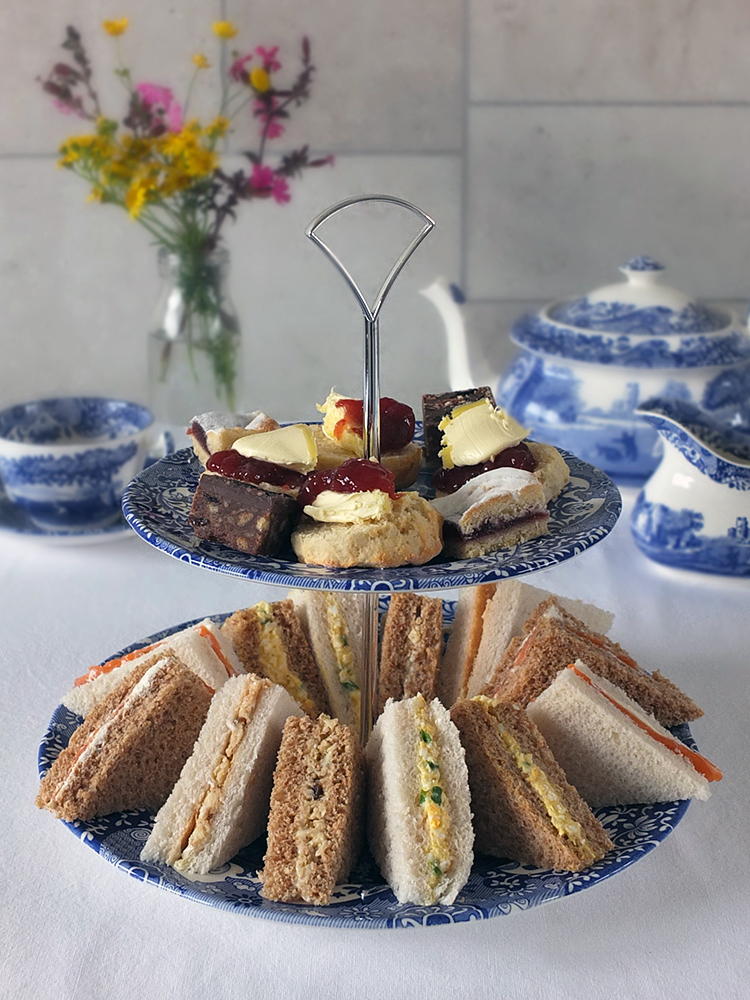 Afternoon Tea Week
Afternoon Tea Week is the annual celebration of one of the nation's favourite traditions.
Whether enjoyed in a 5-star hotel or as a home-baked treat, the British love the combination of savoury and sweet treats served at an afternoon tea, accompanied, of course, by some of the 165 million cups of tea drunk each day in the UK.
I'm delighted to share with you that this year, for the first time ever (I must be officially a grown-up now?), I have served my afternoon tea in a gorgeous matching handcrafted tea set.
I am now the proud new owner of a Spode Blue Italian teapot with matching teacups and saucers as well as side plates, a two-tier cake stand, a cream jug and wine glasses: everything needed, in my humble opinion, to show off the perfect Afternoon Tea.
Spode Blue Italian for Afternoon Tea
The beautiful blue and white Spode Blue Italian collection was launched in 1816 and has been in production ever since.
Now considered an iconic English design, this stunning collection features a finely detailed 18th century Imari Oriental border encompassing a scene inspired by the Italian countryside.
Watch the video below to see how the pottery is made in their factory in Stoke-on-Trent, England.
Did you know that 22 pairs of hands make each piece of Spode Blue Italian? Each item is truly a handcrafted work of art, don't you think?
For Afternoon Tea Week I thought I'd share three simple sandwich recipes; three of our family favourites: egg and cress, smoked Shetland salmon with cream cheese and a cheese and pickle sandwich. The perfect variety (I think) to go with the traditional scones with jam and cream and a selection of other sweet treats, displayed, perfectly, in my new Spode Blue Italian set.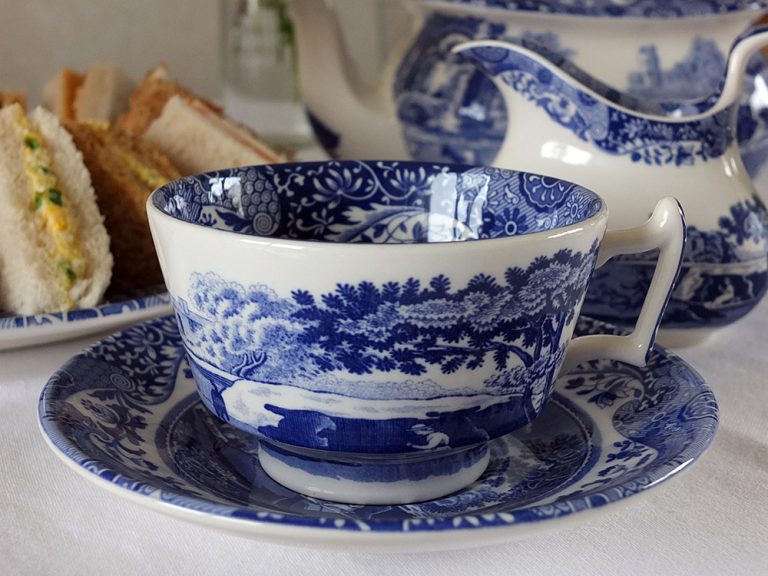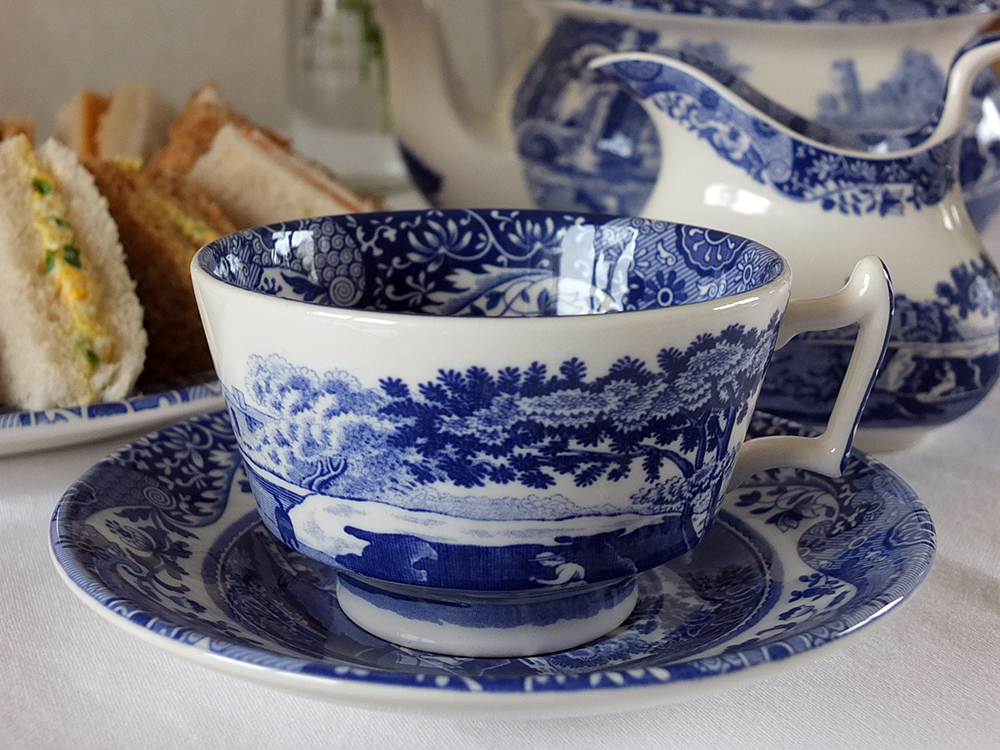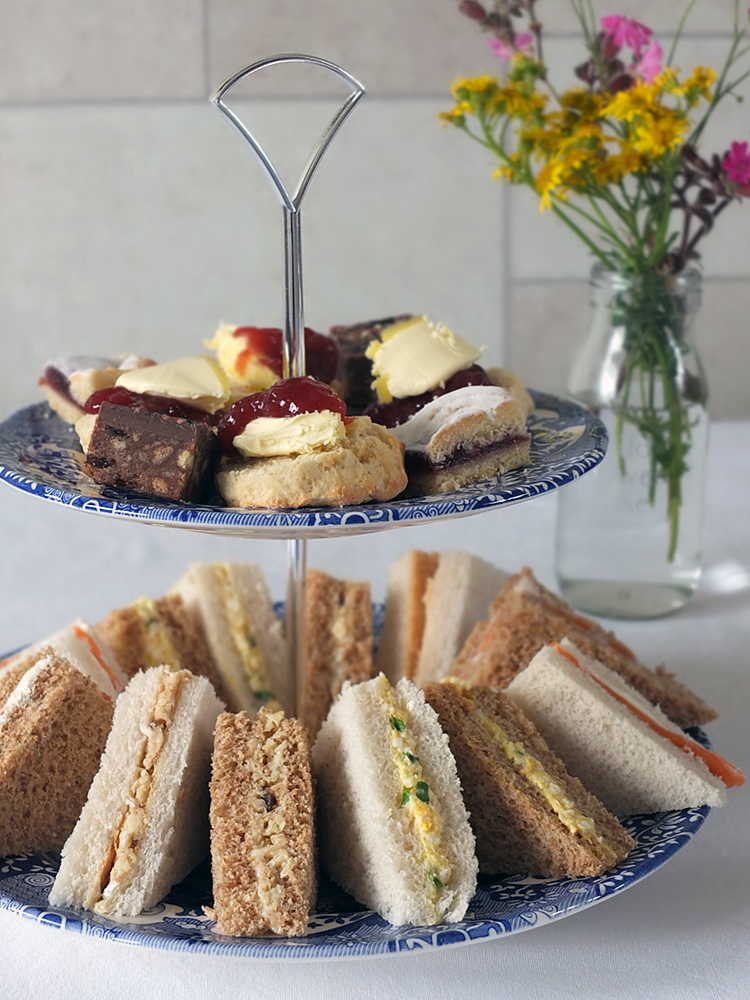 When it comes to scones, are you a 'cream on top of the jam' person or a 'jam always has to go on top of the cream' person? AfternoonTea.co.uk recently conducted a large survey to find out.
They found that 58% of people prefer to put the jam before the cream on their scones, with 42% preferring cream first.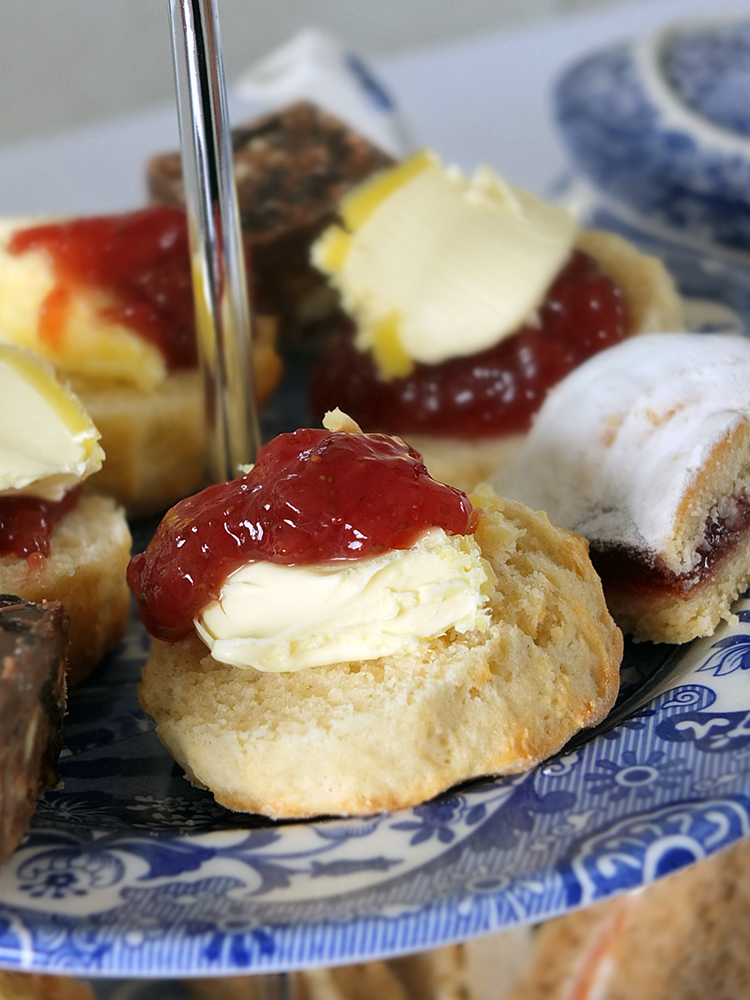 The rivalry between Cornwall and Devon over cream teas has been going on for decades. The Cornish way is to serve jam on the bottom, with the Devonians placing the cream on first. You'll see, to settle any potential disagreements at our Afternoon Tea Party, I did it both ways to please everyone.
Oh, and don't forget the Prosecco!
What do you like to have served with your Afternoon Tea? Are you a jam on top or cream on top person? Let me know in the comments!

A Trio of Sandwiches for Afternoon Tea
Afternoon Tea wouldn't be complete without a selection of sandwiches. Here are three easy to make varieties perfect with a cuppa.
Print
Rate
Ingredients
Affiliate Links
This recipe card may contain affiliate ingredient and equipment links. As an Amazon Associate I earn from qualifying purchases.
Instructions
To prepare the egg and cress sandwiches, mash the cooled boiled eggs with a fork until they reach an even consistency. Stir in the mayonnaise, pickle juice and celery seed. Season to taste. Gently fold in the cress.

Butter your bread slices and divide the egg mixture between the two sandwiches. Cut off the crusts and slice the sandwiches into two triangles or three fingers.

To prepare the smoked salmon sandwiches, spread 1/4 of the cream cheese on each of the four slices of bread. Sprinkle the cream cheese on one side of the sandwich with the snipped chives and lemon zest.

Arrange half the smoked Shetland salmon on each sandwich and assemble. Cut off the crusts and slice into triangles or fingers.

For the cheese and pickle sandwiches, finely grate the cheddar cheese and stir in the pickle to bind. Butter each slice of bread, divide the cheese mixture between them and assemble. Cut off the crusts and slice into triangles or fingers.
Environmental Information
OTHER AFTERNOON TEA RECIPES YOU MIGHT LIKE
Choux Buns with Coffee Custard Filling
Courgette Almond Polenta Cake (GF)
Blackberry and Apple Cake
Emmer Scones
Afternoon Tea Cake
Tunnock's Teacake Rocky Road
Mini Lemon Drizzle Pound Cakes
Cape Breton Fruit Scones
Spiced Apple Cake
A Selection of Cupcakes for Afternoon Tea
Lime Cupcakes with Lime Buttercream Frosting
Ooey Gooey Gluten Free Brownies
Strawberry Shortcakes with Balsamic & Black Pepper Syrup
You might also like this Cold Brew Iced Tea from Oh How Civilised.
SHOP THIS POST
Spode Blue Italian 2-tier Cake Stand
Spode Blue Italian Teapot
Spode Blue Italian Teacups & Saucers
Spode Blue Italian 6-inch Plates
Spode Blue Italian Wine Glasses
Spode Blue Italian Cream Jug
Elizabeth's Kitchen Diary was gifted all of the above Spode Blue Italian products. All thoughts and opinions expressed are our own. Thank you for supporting the brands who make it possible for me to do what I love: mess up my kitchen and share recipe stories.