Because sometimes you just have to.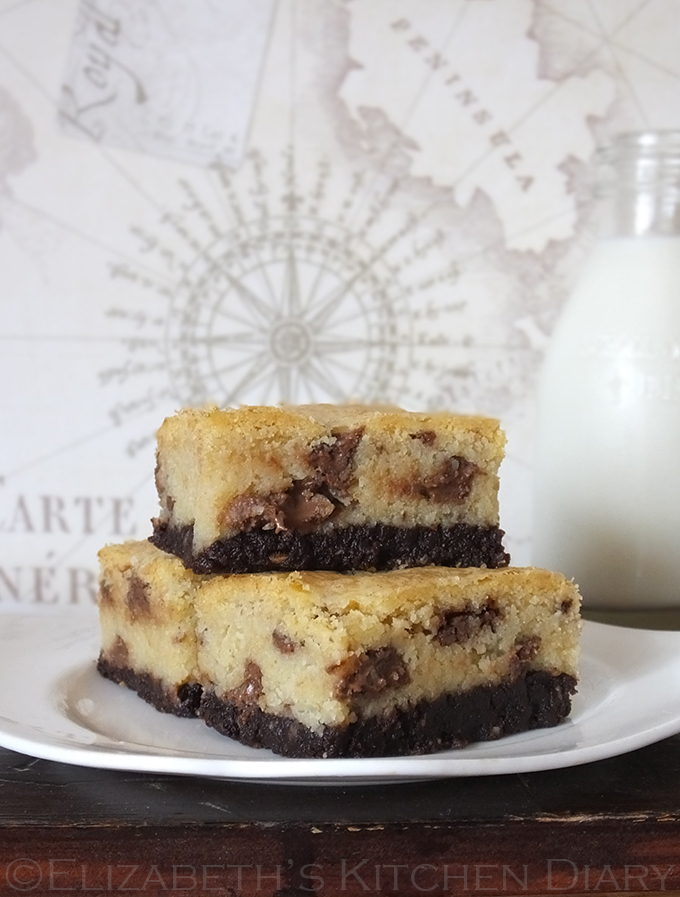 I detest food waste. I really do.
Back in February this year I made my husband a batch of experimental brownies as a welcome home treat after his adventures in India. The brownies were awful – truly awful. I'd put far too much cocoa powder in it, skewing the fat/flour/sugar ratio and they were dry and dense like hockey pucks. Absolutely inedible. I couldn't bin them though, so I popped them in the freezer to repurpose at a later date.
Incidentally, I tweaked the brownie recipe some more, omitting the cocoa powder and replacing the flour with ground almonds to make a most delicious ooey gooey gluten free brownie – the best brownie recipe I've ever made!
So yes, the recipe fail brownies have been taking up space in my freezer for nearly four months. It was time to do something with them. Inspiration struck one dreary dull rainy morning… why not use the brownies as a base for something?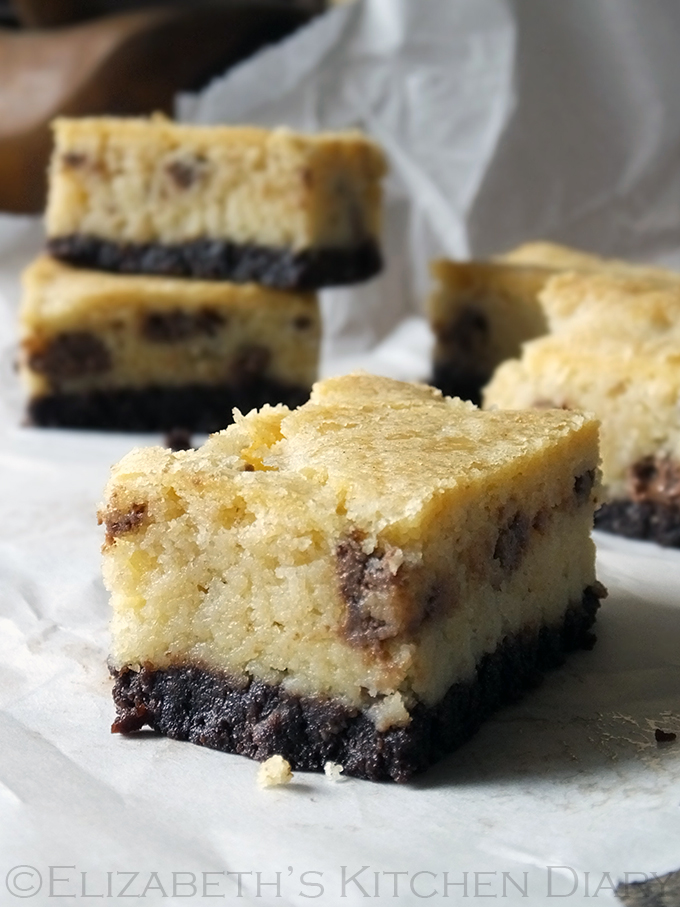 I blitzed them up in my super duper high powered Optimum 9400 blender, using the tamper tool to stir the mixture up, poured in some melted butter and pressed the ooey gooey buttery brownie crumbs into the bottom of a silicone baking pan.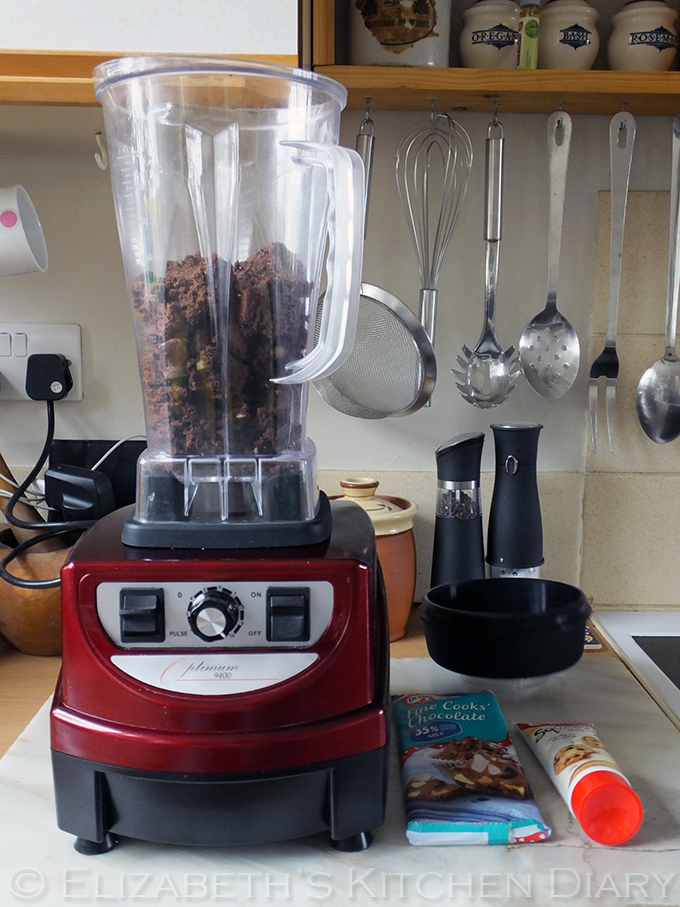 I love my silicone bakeware – no more stuff sticking to the bottom when turning it out. No more having to line with baking paper. It's just awesome stuff. I don't use expensive silicone bakeware either – most of the stuff I have was acquired from friends or obtained from charity shops and then there's the set I won during a Twitter competition for goodness knows what. It's just awesome stuff. If you can get some, do.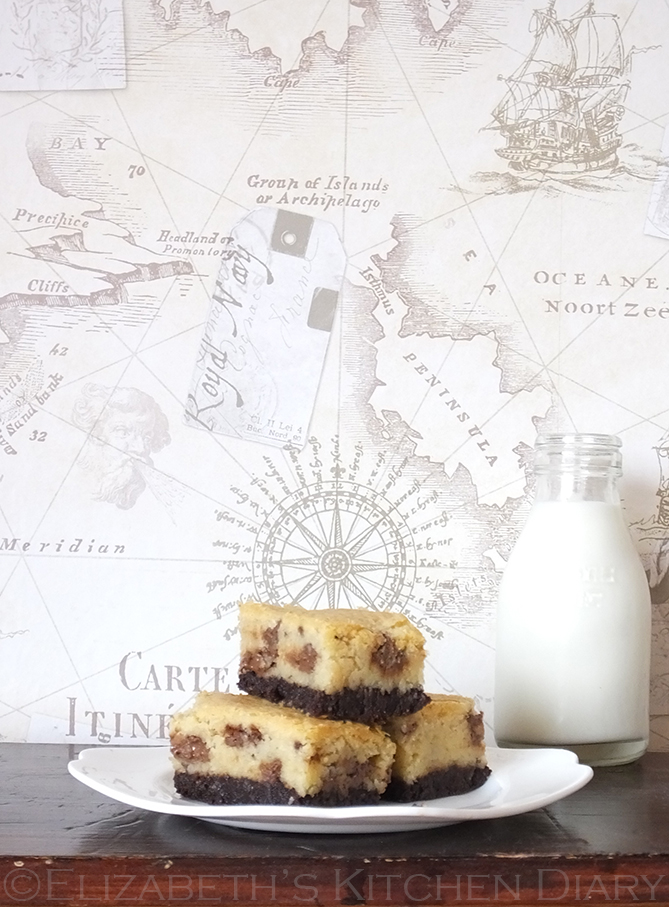 So… my experiment? A total success! As was my wallpaper selection for the living room redecoration (the background for the photo above), don't you think?
With this recipe we've got an ooey gooey brownie base. Initially I thought that the base would be hard and crispy, a bit like a cheesecake cookie crumb base, but no – this was totally ooey gooey brownie awesomeness – and then it's topped with a generously thick layer of chocolate chip cookie dough (made with condensed milk, nonetheless!).
A whole tray of these didn't last 24 hours in my house. Whoosh – gone. Dry, inedible brownies? No more!
So, if you have an experimental brownie fail, or some brownies which have gone stale due to neglect, here – you can salvage them! 🙂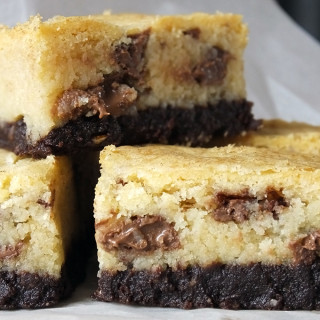 Chocolate Chip Cookie Brownie Bars
It's an ooey gooey brownie base topped with chocolate chip cookie dough!
Print
Rate
Ingredients
for the brownie base
325

grams

brownie crumbs

60

grams

butter

melted
for the chocolate chip cookie dough
Affiliate Links
This recipe card may contain affiliate ingredient and equipment links. As an Amazon Associate I earn from qualifying purchases.
Instructions
Preheat oven to 180 C/ 160 fan/ Gas Mark 4. Grease and line an 8 inch square baking tin, or use a silicone baking mould.

To prepare the base, pour the melted butter into the brownie crumbs and combine well. Press into the bottom of the baking tin.

To prepare the cookie dough, beat the butter, sugar, sweetened condensed milk and vanilla together until light and creamy.

Sift in the flour and stir with a wooden spoon until combined.

Fold in the chocolate chunks and spoon the mixture over the brownie base.

Using clean fingers, gently but evenly spread the cookie dough over the top of the brownie base.

Bake in the lower third of the oven for 30 - 40 minutes, or until the top is golden and springy.

Leave to cool completely before removing from the baking tin. Cut into rectangles or squares and store in an airtight container.
Environmental Information
You might also like my…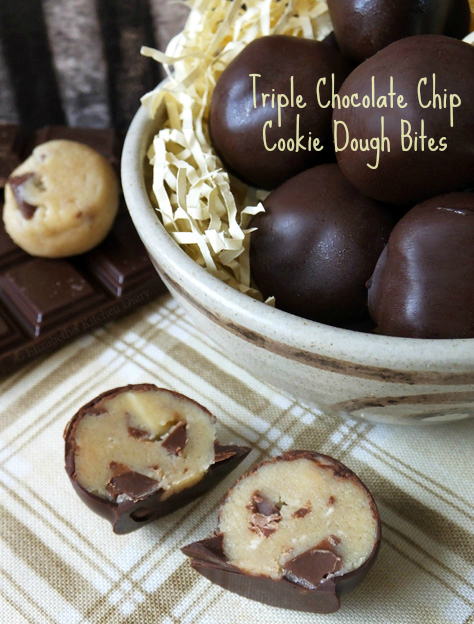 OTHER COOKIE DOUGH RECIPES YOU MIGHT LIKE
Cookie Dough Cake by Jen's Food
Chocolate Cookie Dough for Chocolate Cookies by Maison Cupcake
Cookie Dough Crumble by Kavey Eats
Cookie Dough Marshmallow Brownies by Sophie Loves Food
Chocolate Chip Cookie Dough Brownies by Tin & Thyme
Mint Chocolate Chip Cookie Dough Ice Cream by Elizabeth's Kitchen Diary
Linking up with my own No Waste Food Challenge linky, as this recipe uses up brownies which might otherwise have ended up in the bin. It also uses up some of the hamper of Dr. Oetker chocolate I was sent some time ago. I'm not keen on Dr. Oetker chocolate, so it's just been sitting in my cupboard taking up space.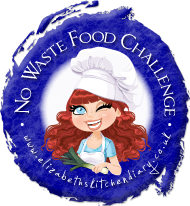 If you want to be kept up to date on my recipes, occasional craft tutorials, adventure stories and giveaways then please subscribe to my weekly newsletter; it gets sent out every Monday morning if there is new content. Your email address won't be passed on to anyone, you will never be spammed and you are free to unsubscribe at any time, no questions asked. Make sure you confirm your subscription or you won't receive the newsletter – if it hasn't arrived check your junk mail folder.
[wysija_form id="1″]
Elizabeth's Kitchen Diary uses the Froothie Optimum 9400 blender, and the Froothie Optimum 600 slow juicer to make her juices, soups and smoothies. These are affiliate links, meaning if you buy a blender or juicer through them we will earn a small commission. This is not a paid post and all thoughts and opinions are our own.