The Great Oven Ban Challenge (Day 2) in collaboration with Home Spares.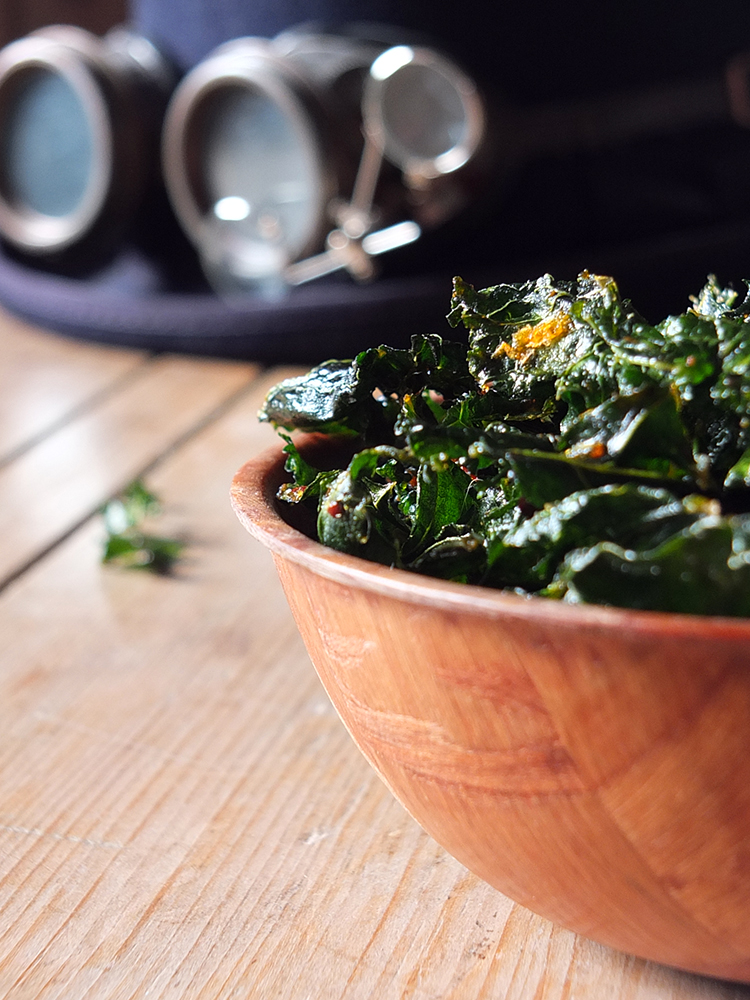 If you told me ten years ago that I'd sit there and devour an entire bowl of kale in one sitting, happily, I'd have laughed at you. Kale crisps are now one of my favourite treats and now, thanks to owning my own dehydrator, I can make them myself at home!
I tried, a few years ago, to make kale crisps in my own oven, and they were awful. This was in my pre-kale eating days, before my Turriefield veg box got me hooked on the tasty green stuff. I'd bought a bag of supermarket kale, attempted to dry it out in the oven and… I now realise, I'd cooked it instead of dehydrating it, which is why it tasted bitter and not even remotely palatable.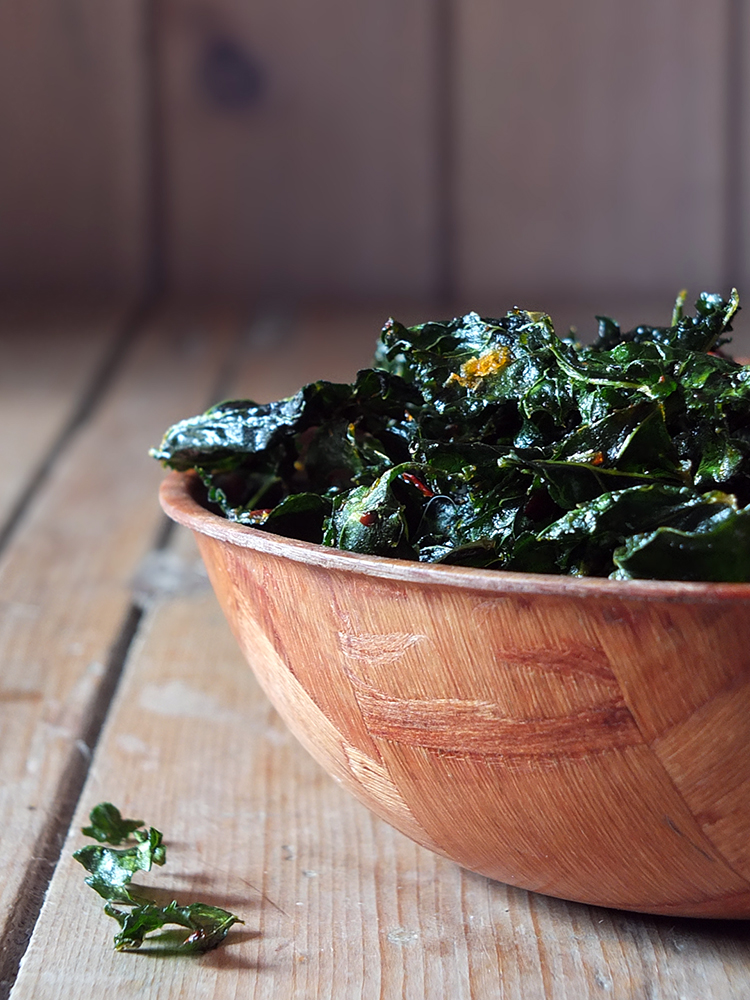 These little morsels of paprika and chilli spiked awesomeness, on the other hand – totally moreish. You'd never know you were eating a bowl of what is often considered a healthy superfood.
To make these I used the Severin Fruit Dehydrator a budget German-made fruit dehydrator with five drying racks. At first glance the dehydrator looked rather flimsy, and I wasn't particularly enamoured with the fact the German plug had a UK adaptor fitted to it. I first tried the dehydrator out with some over-ripe Piccolo cherry tomatoes from our village shop. Any ones that didn't burst when halved were placed, cut side up, on the drying racks and left to dehydrate for 10 hours.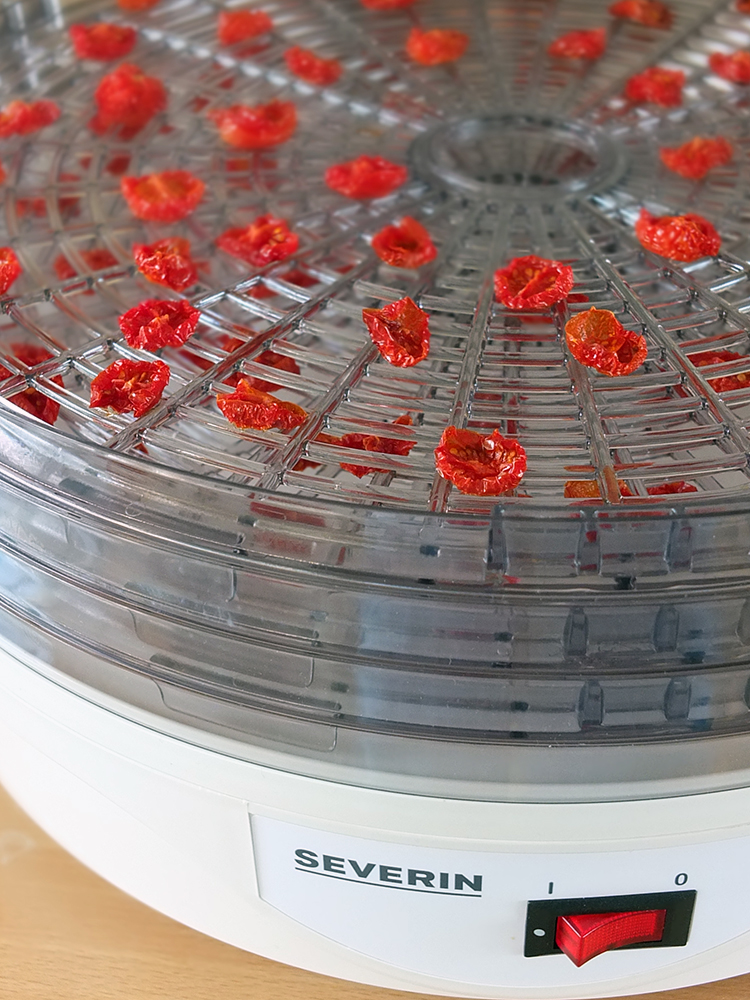 At first the whirring sound of the dehydrator was rather loud and distracting, but I eventually got used to it and could tune it out.
I realised, a little too late, that the initial ten hour drying time recommended in the pamphlet accompanying the dehydrator was for full sized tomatoes and so I ended up with rather dried little half tomatoes, a bit like crunchy tomato croutons, but still, they were little bursts of awesome concentrated piccolo cherry tomato flavour. In a bid to slightly rehydrate them I covered them in olive oil infused with basil and threw in a few peeled garlic cloves.
A wholly successful experiment which lasted about a week in the fridge. I dipped into them frequently to top my salads, drizzling the basil and garlic infused olive oil over my salad as a dressing.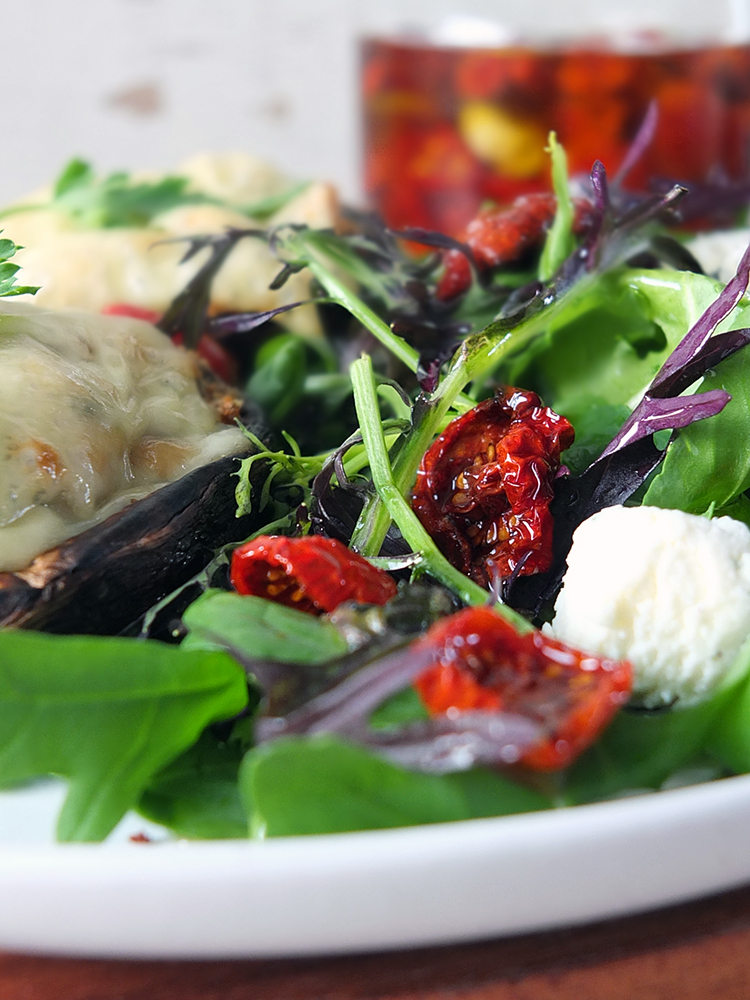 My next experiment, these chilli and paprika spiked kale crisps, has sold me on the idea of owning a dehydrator even though it's a bit large and cumbersome and I don't want it living on my counter top. It'll be a back of the cupboard appliance I'll bring out when inspired. I'm thinking perhaps seaweed next? My fellow food blogger Choclette over at Tin & Thyme recently dehydrated nettles and ground them into a fine powder to use in her smoothies. I need to try this too!
In the meantime, here's the recipe I tried for the kale crisps, provided by Home Spares. They don't have this particular product on their website, but you can get it from Amazon for just over £50.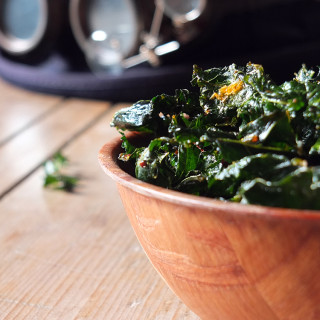 Chilli & Paprika Spiked Kale Crisps
Put a bowl of these out to nibble on and guests won't even realise they're eating healthy green veg instead of salt laden shop bought snacks!
Print
Rate
Affiliate Links
This recipe card may contain affiliate ingredient and equipment links. As an Amazon Associate I earn from qualifying purchases.
Instructions
Wash the kale and discard any tough stalks. Tear the kale into small bite sized pieces.

Place into a bowl and drizzle with a tablespoon or two of good quality olive oil. Use your hands to coat the kale leave well.

Sprinkle the kale with the spices and use your hands to toss to coat well.

Arrange the coated kale leaves on the racks of a dehydrator, pop the lid on and leave for 3-5 hours until the kale is dry and crispy.

Allow to cool and store in an airtight container until ready to serve.
Environmental Information
Click here to view the nutrition information for this recipe (made using 2 Tbsp olive oil)
OTHER DEHYDRATOR RECIPES YOU MIGHT LIKE
Cinnamon Dusted Apple Rings by Hedgecomber
Spiced Aubergine Crisps by Fuss Free Flavours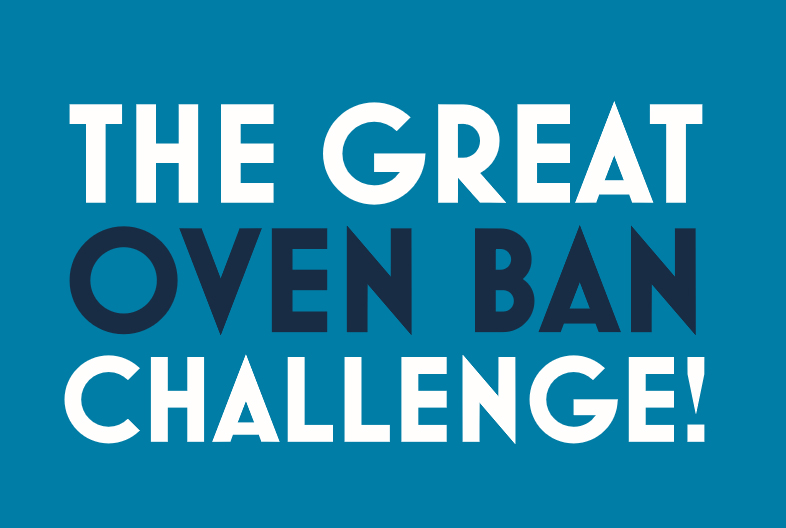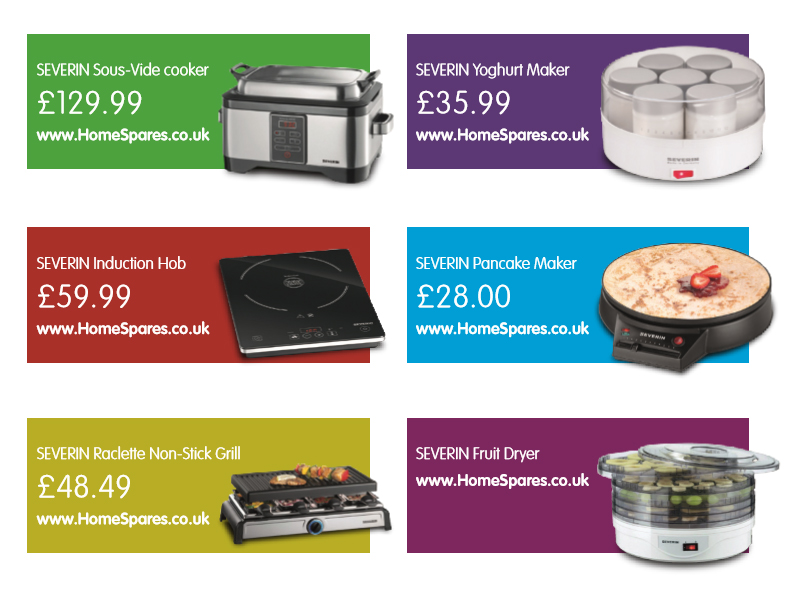 Elizabeth's Kitchen Diary was sent a selection of Severin kitchen appliances, pictured above, from Home Spares for the purposes of The Great Oven Ban Challenge to show how a few small appliances can transform your kitchen into something worthy of Masterchef. This is not a paid post and all thoughts and opinions expressed are our own.
[wysija_form id="1″]