Boulets à la Liégeoise are a traditional Belgium meatball recipe made with a mixture of pork and beef mince cooked in a delicious sauce. This recipe has been made in collaboration with Redmond Multicookers.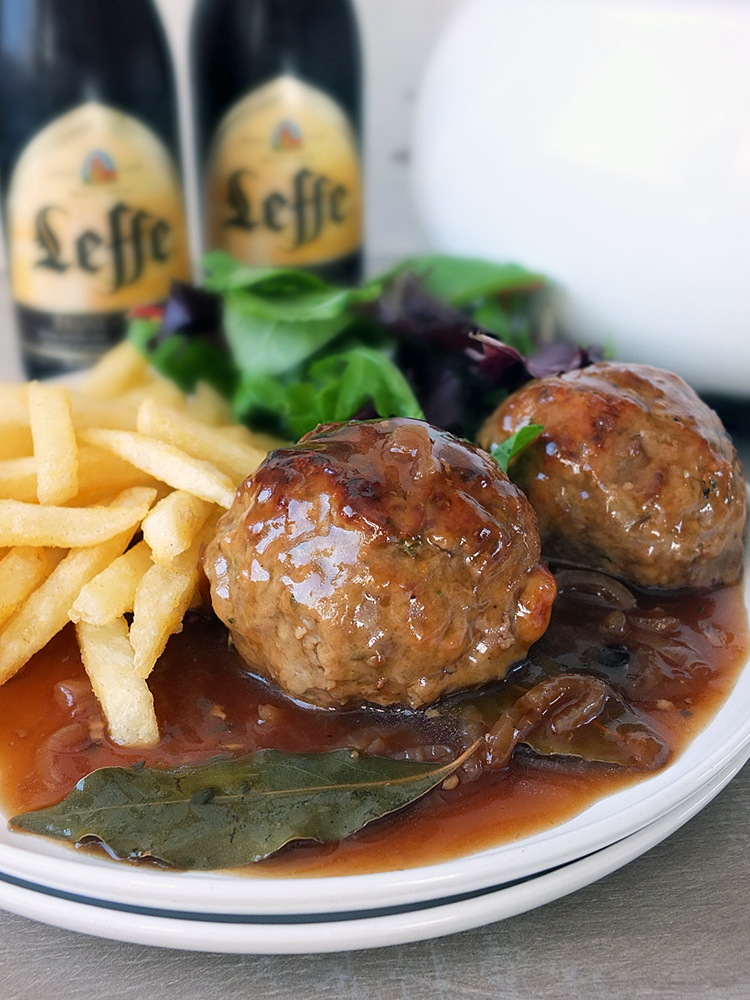 It feels like an absolute age since I have cooked anything properly! In fact, it's been nearly a month since I blogged a recipe and this is because I have been busy galavanting about on travel adventures!
After an epic two-week bike-packing trip through the highlands of Scotland (part one can be read here, the rest of the story will follow soon!) I returned home for two days to collect my family, and, before I had finished unpacking from the bike-packing trip we were off on another holiday, this time to Brussels for a weekend's Belgian Chocolate Experience courtesy of P&O Ferries.
Football fever was apparent when we arrived in Brussels with the streets in the city centre decked out in football bunting and shop window displays hinting at the excitement, despite the rainy weather.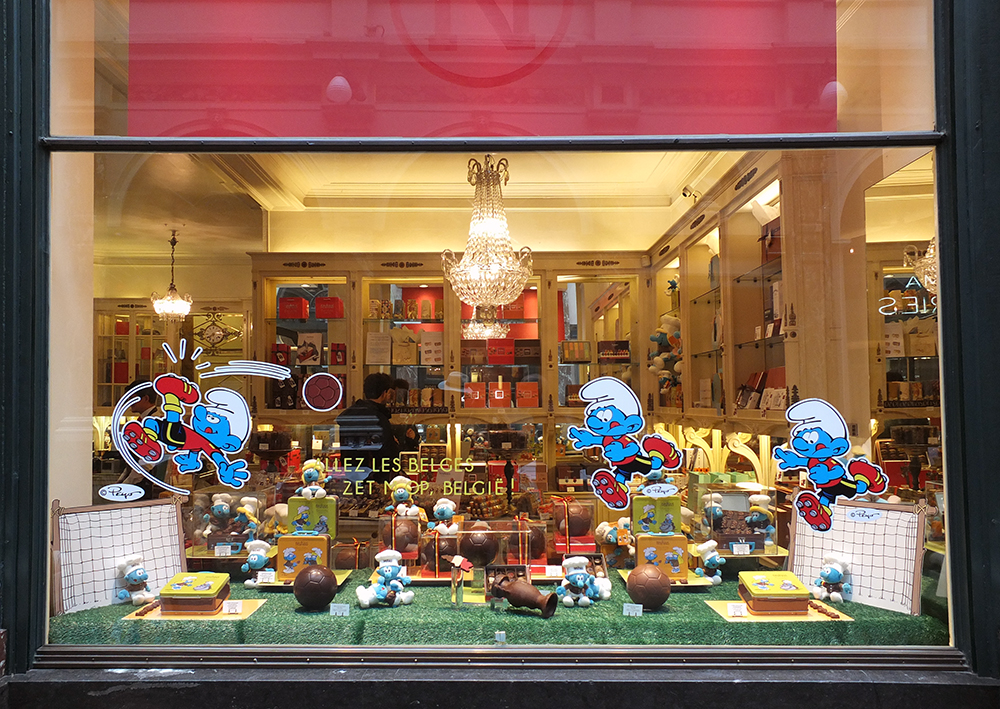 I confess that I am not one to follow the football, but if I hadn't been travelling with my children I would have opted into watching the Belgium – Wales match in one of the local pubs, just for the immersive experience.
The evening of the match we had dinner at Chutney's in the city centre, choosing this restaurant over the others because it had a handwritten sign outside boasting traditional Belgian cuisine.
I tried a trio of Belgian specialities – vol au vent, beef carbonade and, my personal favourite, the Liège meatball (bottom left photo with the spring onion sprinkled on it), aka Boulets à la Liégeoise, served with Belgian fries and a bottle of Le Fort craft ale to wash it down.
Again, I'm not really a beer drinker but this ale was really rather lovely, dark and rich with an excellent flavour.
The whole meal tasted amazing and I vowed when I returned home I would look up the recipe for the meatballs. Also, the fries were the best fries I have ever, ever eaten.
It turns out that Belgian frites are fried in beef dripping instead of the vegetable oil I have grown accustomed to in the UK. Genius! How can I ever go back to oven fries again?!
We arrived back from our weekend trip abroad yesterday and so with Belgium fever still upon us I picked up a few Belgian beers at Beervana in Lerwick and set about recreating the classic meatball recipe I'd tried in Brussels.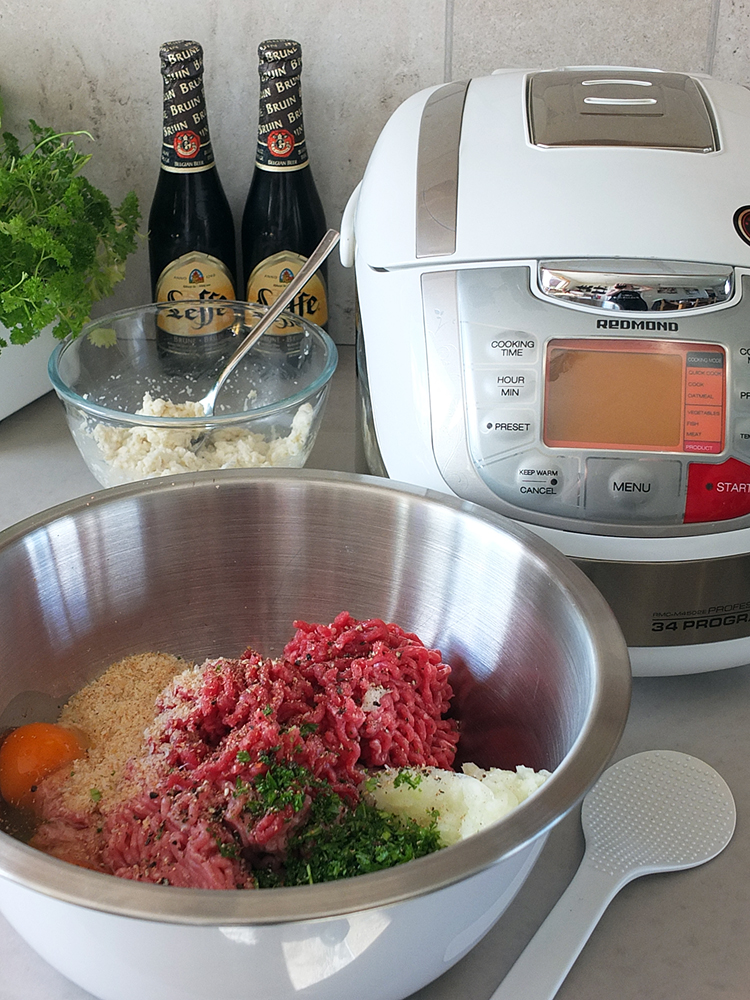 Redmond Multicookers are also going football mad this season. They're hosting a football cooking competition on their Facebook page where you can share photographs of the recipes from the participating countries in this year's Euro finals and be in for the chance at winning a Redmond multicooker.
Traditionally these meatballs are baked in the oven and the sauce is prepared separately. I made the sauce in my Redmond Multicooker, a handy cooking appliance with over 45 functions which can store away easily into a cupboard when not in use.
It's a really rather simple recipe – just blend the meatball ingredients, a combination of beef and pork mince, form into large meatballs and bake.
The gravy simply involves sauteeing some onions with fresh thyme before adding a good quality beef stock and some Belgian brown beer.
The special ingredient is sirop de Liège, a special apple-butter like spread made with evaporated apple and pear concentrate. I couldn't obtain this in Shetland, so I replaced it with pear and apple spread by Sunwheel, which worked a treat.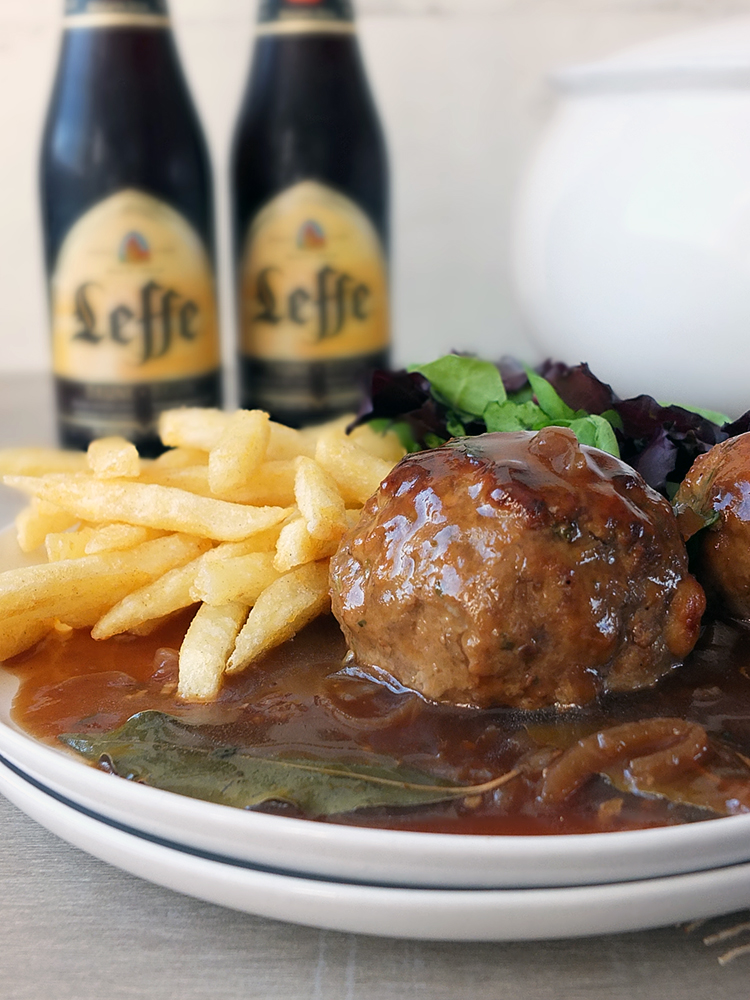 The gravy is thick and fruity, ideal for dipping fries into. Although this recipe is a classic Belgian dish, there are as many different ways to make it as there are families. Everyone has their own style. I adapted two recipes from here and here to prepare mine.
OTHER BELGIUM INSPIRED RECIPES YOU MIGHT LIKE
Double Chocolate Brownie-Style Belgian Waffles by Kavey Eats
BBQ Waffle S'mores by Foodie Quine
Flemmish Beef Stew & Speculoos Biscuits by It's Not Easy Being Greedy
Blinde Vinken Braised in Grimbergen Beer by Cook Sister
Disclaimer: This is a paid post for Redmond Multicookers.