The ultimate bowlful of comfort-food pasta and meatballs!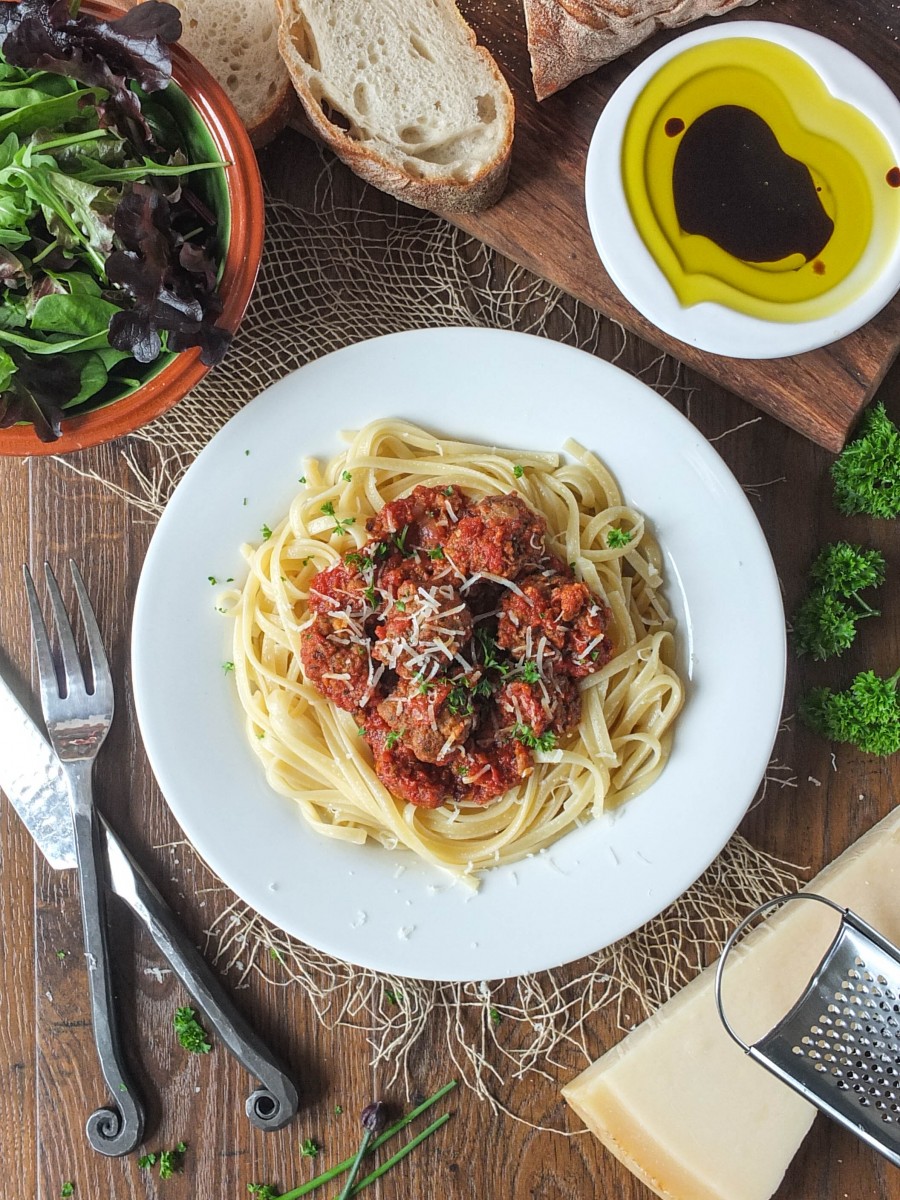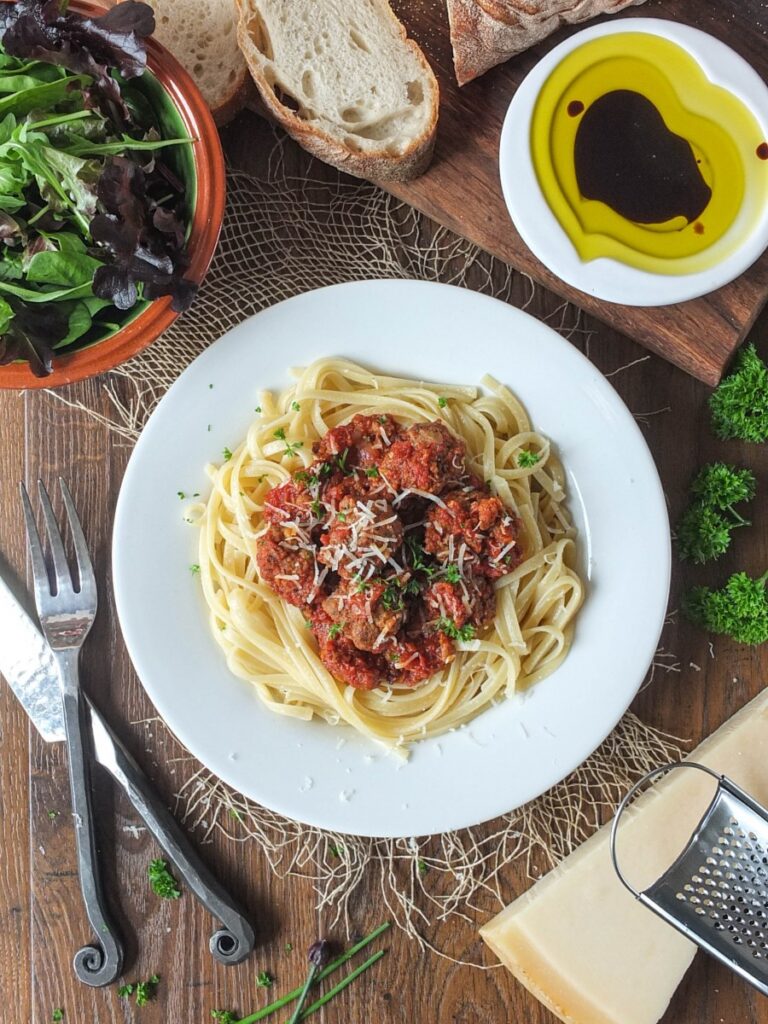 A bowlful of spaghetti and meatballs has to be one of the ultimate comfort foods, no? The only thing better, I think, is a plate of linguine and meatballs. I prefer the thick ribbons of linguine over spaghetti to hold the rich tomato sauce in this recipe, cooked al dente, of course, the way the Italians do.
Allegedly.
I've never actually eaten real Italian-style spaghetti and meatballs before as I've never really been to Italy to try it for myself. Yet! I did visit Sardinia once on a whirlwind press trip about 14 years ago, but no pasta and meatballs were served.
I plan to remedy this vast omission in my culinary sphere later on this month when I visit Italy, courtesy of Garda Trentino, the best bike resort in Italy. I will report back my findings after the trip!
I am so silly excited!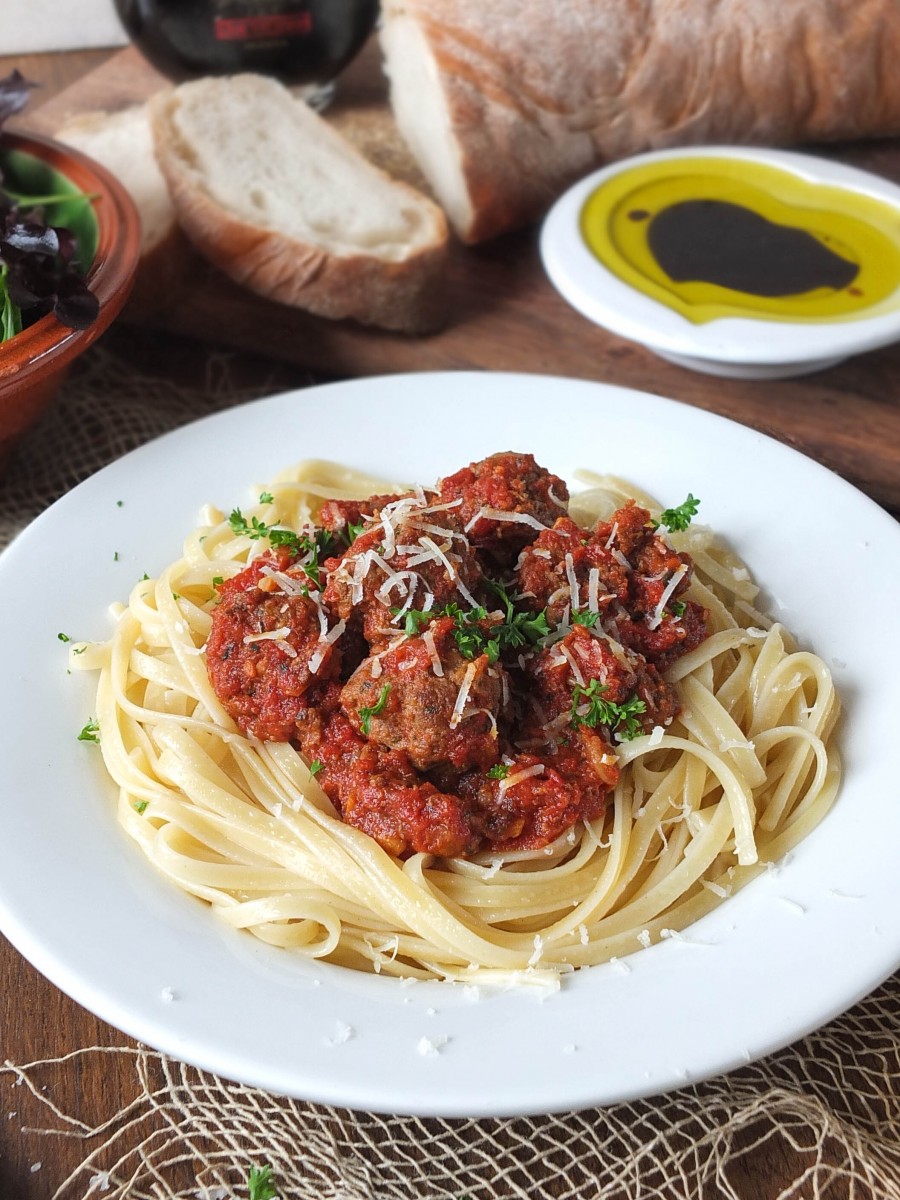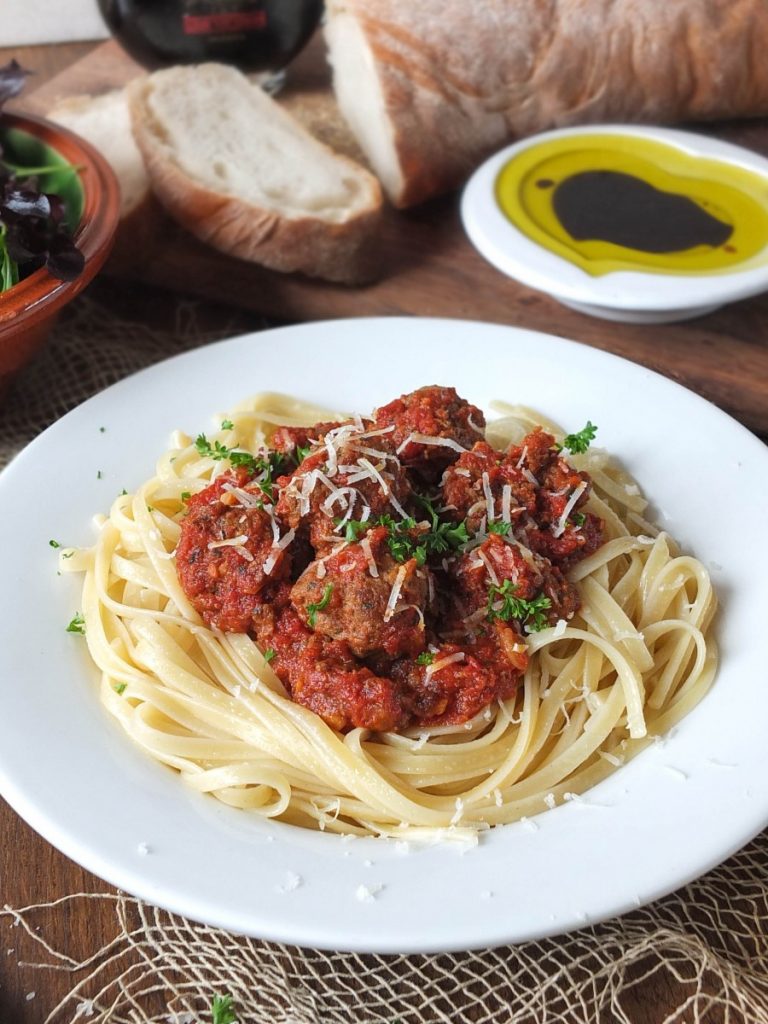 I've been invited by Garda Trentino to experience some of the outdoor adventures (mostly mountain biking) and food at Lake Garda, so I've upped my cycle training here at home so I'll feel fit enough for the experience. The only reason I'm blogging this recipe today is that it's too windy and rainy right now to go for a bike ride.
So yes, these Italian-style meatballs taste really rather fantastic, and they're quite therapeutic to make too, I feel, with all the chopping and rolling, frying and gentle simmering of the sauce.
I use tins of whole Italian plum tomatoes to make my sauce, leaving them to cook over a low heat until they're thick. The addition of a basil-infused olive oil (straight from Italy!) transforms the mixture into a gorgeous, aromatic, glossy sauce, perfect for the meatballs.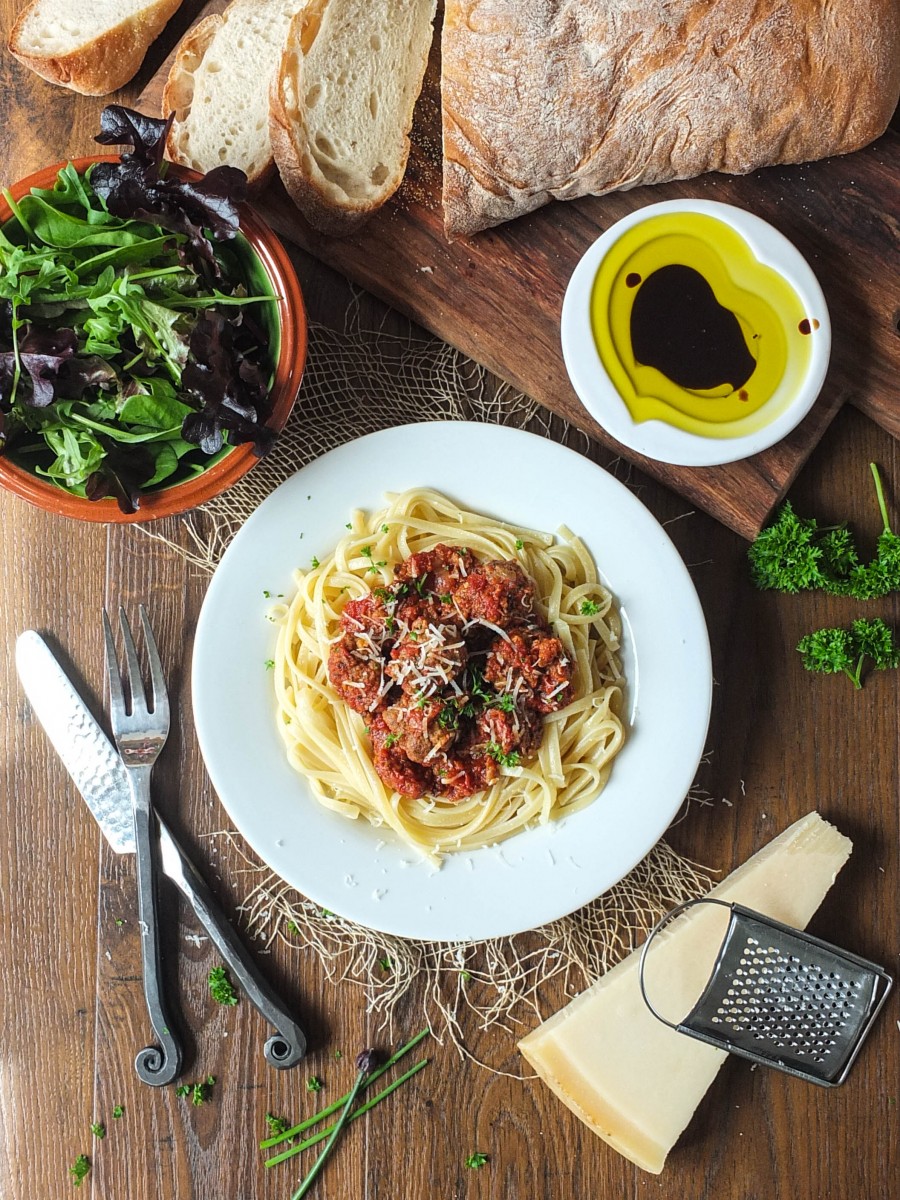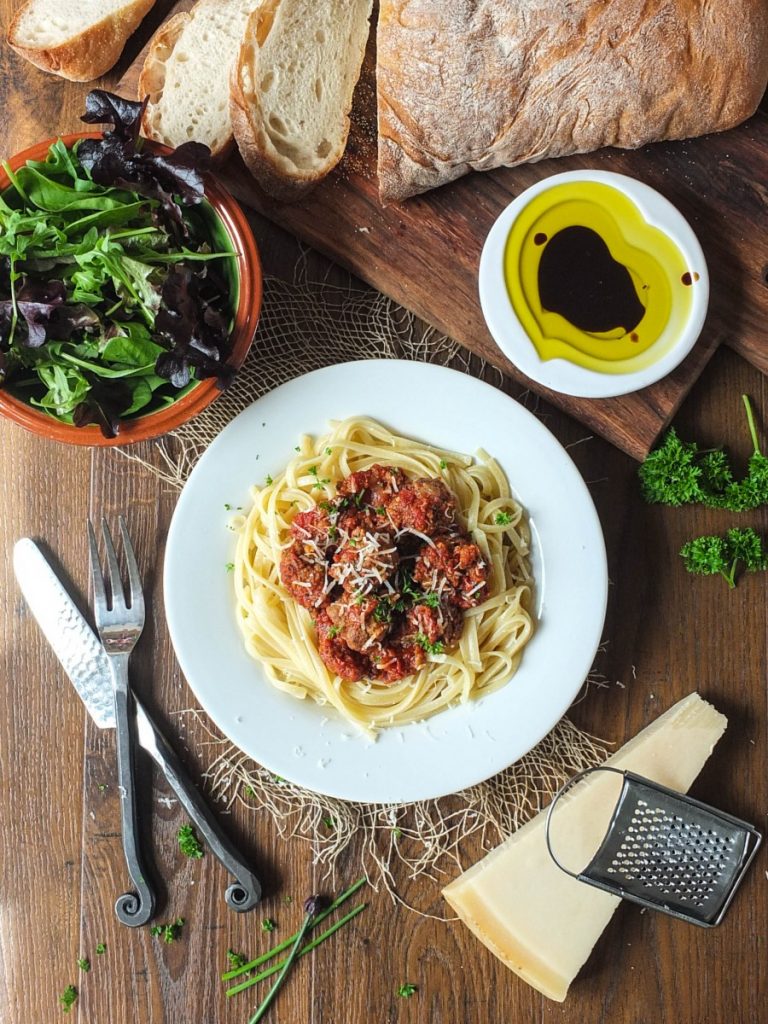 To serve, plenty of Grana Padano cheese and some freshly baked Italian ciabatta dipped in olive oil and balsamic vinegar.
The ultimate comfort food recipe that my whole family loves. Sometimes, when I make the sauce, I use a chilli-infused olive oil for an extra zingy kick, and occasionally I replace the plum tomatoes with a jar of passata for a quick and easy sauce.
Honestly, it's so good. Try it!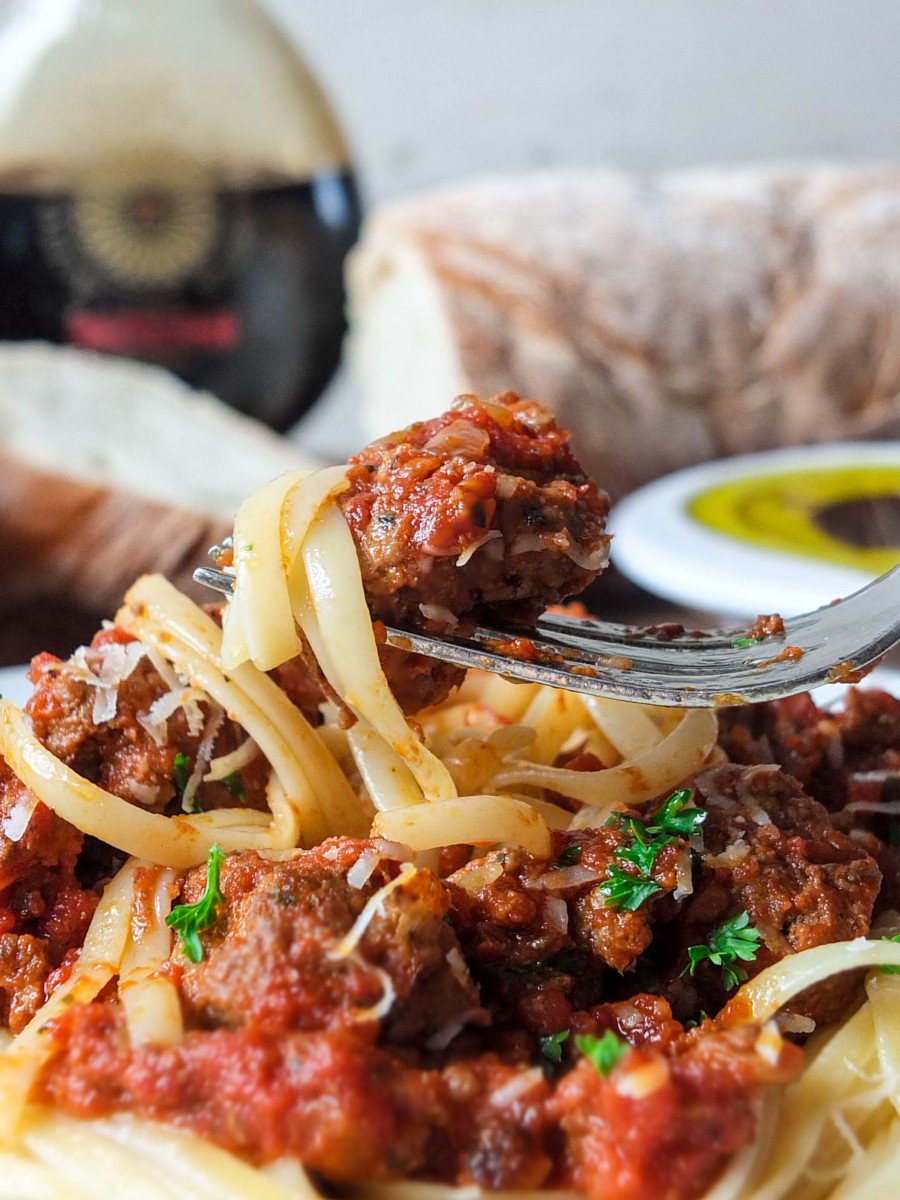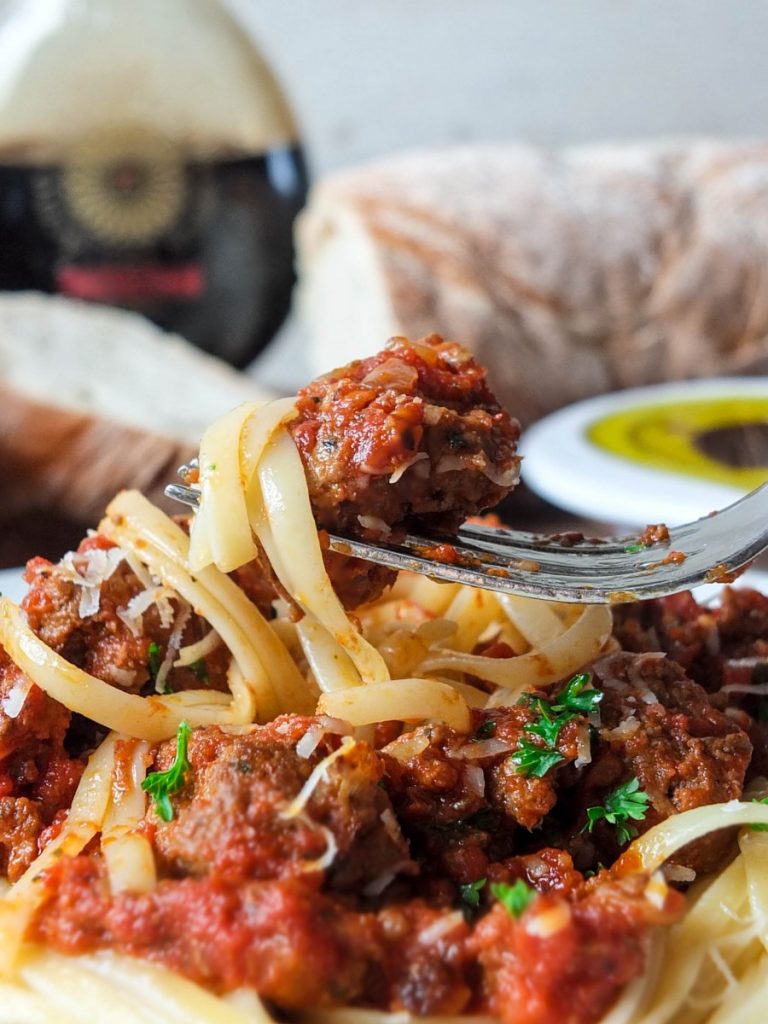 Click here to find out how to make meatballs that won't fall apart. Do you have a special way you make your pasta and meatballs? Any tips and tricks you want to share? What's your secret ingredient? Let me know in the comments!
Meanwhile, if you want to keep up to date on what I'm doing (I'm going on a few grand adventures this summer!) follow me on Instagram.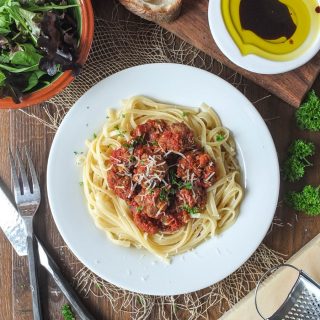 Italian-Style Meatballs in a Rich Tomato Sauce
A simple midweek dinner recipe sure to please the whole family!
Print
Rate
Ingredients
for the rich tomato sauce
to serve
Affiliate Links
This recipe card may contain affiliate ingredient and equipment links. As an Amazon Associate I earn from qualifying purchases.
Instructions
First, get the rich tomato sauce on. Heat the oil in a medium-sized saucepan and gently fry the garlic and oregano for a minute or so without browning the garlic.

Add the plum tomatoes and reduce the heat to medium-low. Leave the sauce to simmer while you prepare the meatballs.

To prepare the meatballs, heat olive oil in a saute pan over a medium-high heat and gently saute the onions and garlic together until they begin to soften. Stir in the smoked paprika and cook for a further minute. Remove from the heat and allow to cool.

In a large bowl, combine the remaining ingredients along with the cooled onion mixture.

Using your hands, work the meat so that it becomes well combined. Form into small one inch diameter meatballs - you'll make around 40 and set aside on a plate.

Add more olive oil to the same saute pan (don't worry about cleaning it first) and gently brown the meatballs over a medium-high heat on all sides, taking care when turning them to not break them up. You'll need to do this in two batches. Add the first batch to the tomato sauce while you cook the second batch.

When the tomato sauce is thick and reduced (take care not to break up the whole tomatoes while stirring) remove from the heat and stir in the basil-infused olive oil.

Serve the meatballs with linguine or spaghett and a generous sprinkle of Grana Padano cheese.
Environmental Information
OTHER MEATBALL RECIPES YOU MIGHT LIKE
Grandma Ann's Sweet n' Sour Meatballs
Mamta Gupta's Keema Meatball Curry
Classic Belgian Meatball Recipe
Spaghetti & Beanballs (Veggie)
Courgetti & Beetballs (Veggie)
Turkey & Chorizo Meatballs
Mexican-Spiced Cauliflower Quinoa Meatballs (Veggie)
Tuna Meatballs with Courgetti & Spaghetti
Turkey & Leek Meatballs with Tagliatelle
Spicy Njuda Meatballs
Artichoke & Spinach Polpette with Easy Marinara Sauce
Light Italian Spaghetti & Meatballs
SHOP THIS POST
Basil Infused Olive Oil from Pomora
Due Vittorie Balsamic Vinegar of Modena
Ceramic Dipping Dish
The above link shown in orange is an Amazon affiliate link. If you click through and make any subsequent purchase within the next 24 hours we will earn a small commission and you will be directly helping to support our family. x