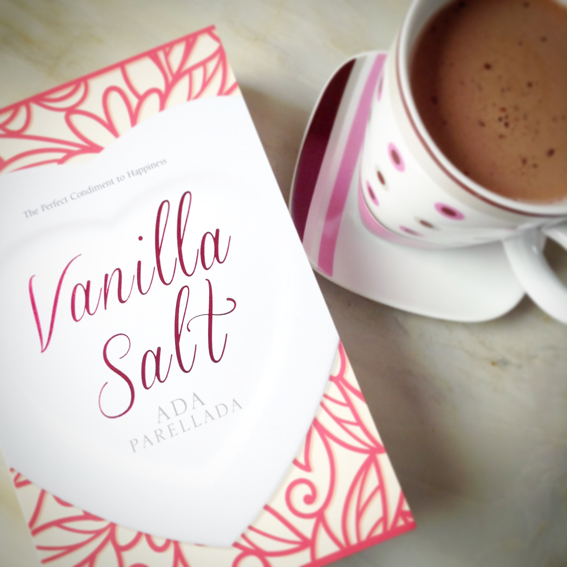 I'm an avid book reader. I've often got several on the go at once and there's usually a few hidden in my handbag too. You never know when you might get a minute or two to devour a few pages, so when Alma Books contacted me and asked if I'd like to review their new publication Vanilla Salt by Ada Parellada I promptly agreed.
If I am to be honest I didn't pay that much attention to the press release before I agreed and I thought it was a cookery book – Vanilla Salt, it sounds like a cookery book doesn't it! It's not; it's the fantastic first novel by top Catalan chef Ada Parellada.
Àlex is a brilliant Catalan chef, but he struggles to fill his restaurant because of his gruff, eccentric personality and his refusal to use ingredients that trace their culinary origins to America, such as potatoes and tomatoes. When he meets the young, enthusiastic and beautiful Canadian Annette, he finds his ideas and narrow-minded outlook challenged, and discovers that they are both concealing painful pasts. Vanilla Salt is a sensual and mouth-watering exploration of the kitchen and the human heart, as well as a tale of simmering passions and the need to confront personal truths.
When the parcel containing the book arrived I was busy pottering about the kitchen. I tore the package open, read the first paragraph, put the book down, made hot chocolate, instagrammed the photo above and took the rest of the afternoon off to read, curled up on the couch, captivated.
This is a very well written novel with intriguing and engaging characters you instantly feel you can relate with (the lead character is a spunky Canadian redhead with a fondness for food.. hrrm… sounds like someone you know?). It's the first novel I've ever read mentioning food bloggers and the virtual relationships formed in online communities. I feel like this book could have been written about any one of us. Some of the strong opinions expressed by some of the characters took me aback – do some people really think this about food bloggers in the real world, or is that pure fiction?
Parellada's mouthwatering food scenes transport you into Àlex's kitchen, so much so I was inspired to try recreating one of the dishes myself (see Chicken with Apples).
Vanilla Salt is a tale of the fragile human heart and the power of the internet to make or break a person. It's an easy read and although the foreshadowing was a little too obvious and the sex scenes more amusing than sensual I thoroughly enjoyed every moment it. It would make excellent holiday reading for anyone who reads or writes food blogs, or anyone with a passion for cooking.
I am now desperate to visit Catalonia!

VANILLA SALT – The Perfect Condiment to Happiness
Vanilla Salt is a debut novel by top Catalan chef Ada Parellada, she owns restaurants in Barcelona and Lisbon and is the author of several cookery books as well as collaborating with various newspapers and TV channels in Spain. Her first novel Vanilla Salt was released in the UK, translated from the original Catalan, in mid July and Alma Books has offered Elizabeth's Kitchen Diary readers the chance to win one of two copies. To enter, fill in the Rafflecopter form below. UK entries only.
Click here to read an excerpt.
HOW TO ENTER
For your chance to win one of two paperback copies of Vanilla Salt RRP £7-99 enter using the Rafflecopter form below. Come back and tweet about the giveaway every day for more chances to win!
TERMS & CONDITIONS
This giveaway is open to UK entries only. Entrants must be age 18 or over. The winner will need to respond within 48 hours of being contacted; failure to do this may result in another winner being selected.
The prize is offered and provided by Alma Books. The prize is one of two copies of Vanilla Salt. There is no cash alternative and the prize is not transferable.
If you need some help using Rafflecopter, here's a quick clip to show you how. Rafflecopter will pick the winner at random from all the entries received. I will be verifying entries and any automated entries or those who have claimed they have made the mandatory blog post comment and really haven't will be disqualified. It's mandatory!
Closing date is midnight on Monday 1 September 2014 and the winner will be announced that day.
If you want to be kept up to date on my recipes, occasional craft tutorials, adventure stories and giveaways then please subscribe to my weekly newsletter; it gets sent out every Monday morning if there is new content. Your email address won't be passed on to anyone, you will never be spammed and you are free to unsubscribe at any time, no questions asked.
[wysija_form id="1″]
Elizabeth's Kitchen Diary was sent a complimentary copy of Vanilla Salt for review. All opinions expressed are our own. This is not a paid post.