In collaboration with Veetee Rice.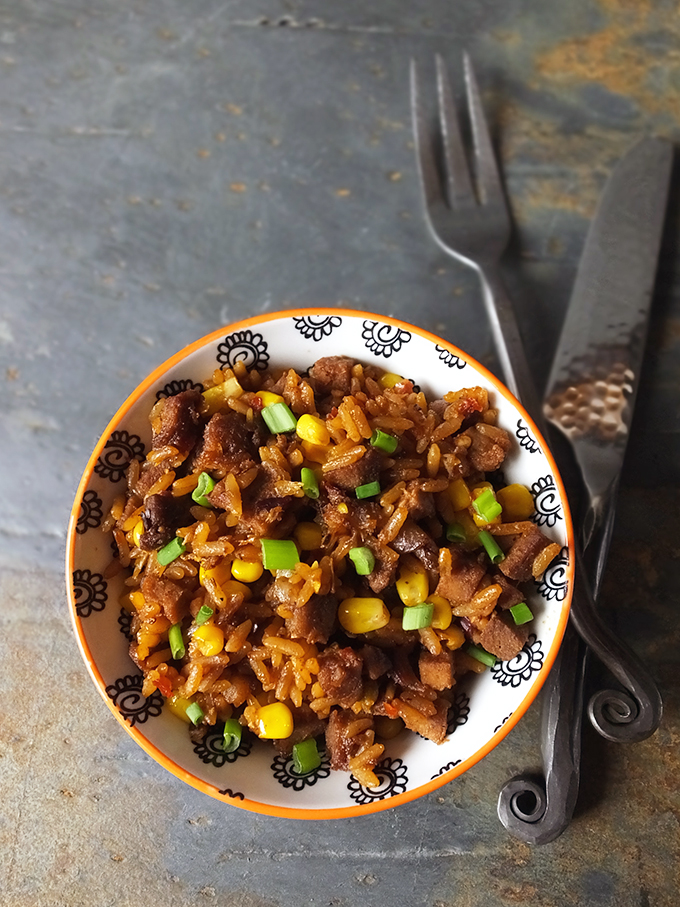 I love home cooking, I really do. I enjoy the whole chopping, preparing and assembling process which results in a nice, tasty home cooked meal for the family, but time isn't always on my side.
Sometimes, at the end of a long, busy day ferrying children to clubs and events, after a day's work or even after a day's adventuring out on the hills all you want is the food. None of the faff just all of the eating.
Something quick.
Something tasty.
Proper comfort food ready in minutes.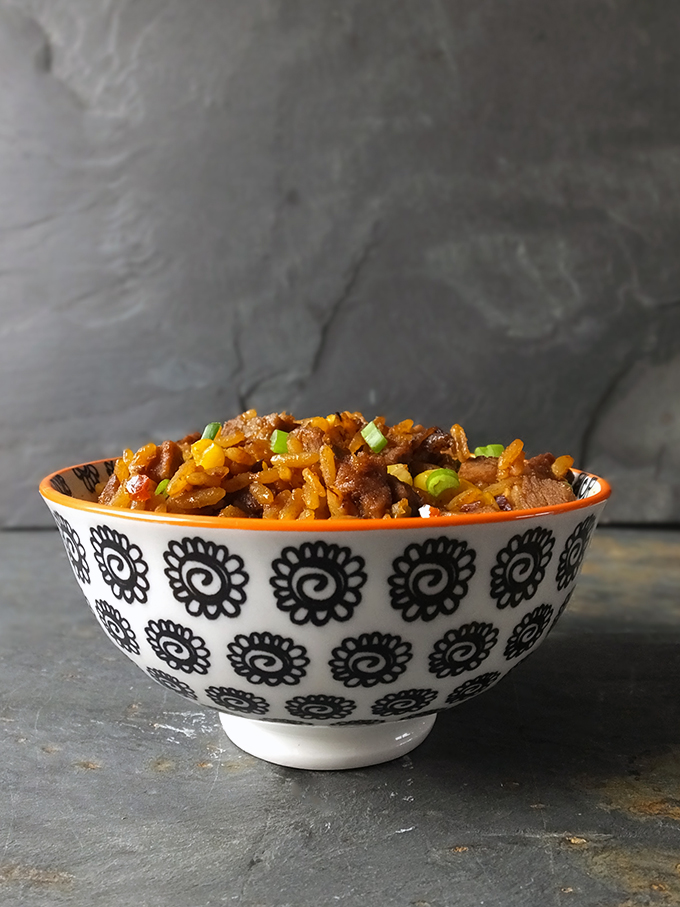 This is where Veetee, the UK's leading expert rice brand, comes to the rescue! With a wide range of ready-to-heat in just two minutes plain and flavoured rice options you'll never be short of possibilities!
We had roast pork for dinner last weekend. A gorgeous rare breed Iron Age pork reared locally on our remote and wild Shetland islands by the fantastic Gateside Croft.
There were leftovers – not a lot of leftovers, but leftovers nonetheless. These leftovers were chopped up into 1 cm cubes and stuck in the freezer for later use when inspiration struck.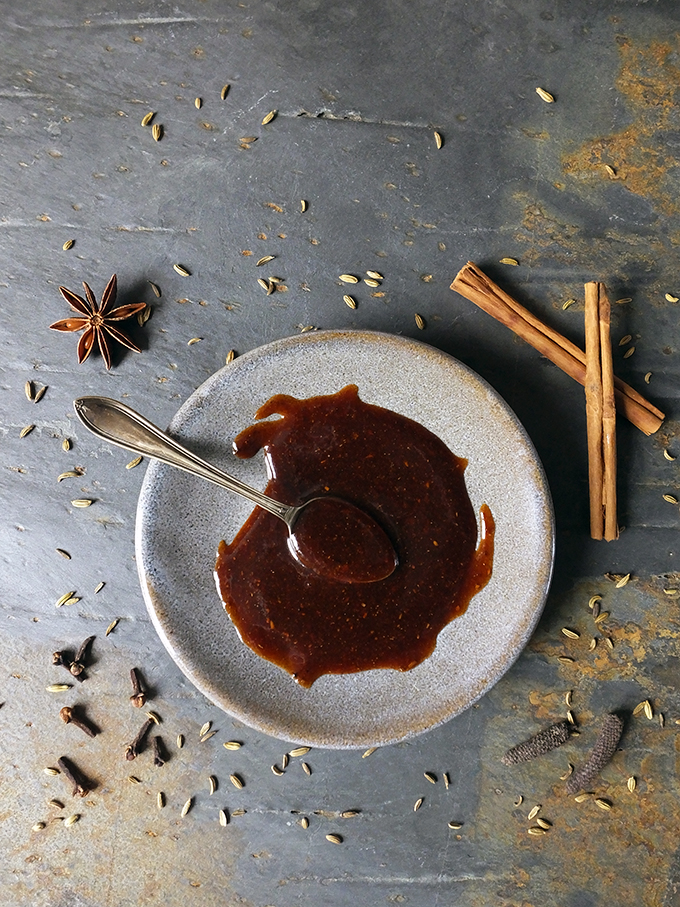 Inspiration struck when I was going through a hamper full of lovely Veetee rice flavours – spicy Mexican style, pilau, basmati, wholegrain brown with quinoa, long grain and New Orleans style – perfect with glazed ribs, the packaging said.
Glazed ribs, eh?
I didn't have any ribs, but I did have chopped Iron Age pork in the freezer. So I whipped up a sticky brown sugar glaze to coat the chopped pork, and created this fantastic super-tasty one-pan fifteen minute lunch for my husband for when he came home from work.
The secret to the glaze is to use whole spices – toast and grind your own for maximum flavour. I used a few Indonesian long peppers for something a bit different, but regular black peppercorns would work a treat as well. Alternatively, use a ready made Chinese five spice blend.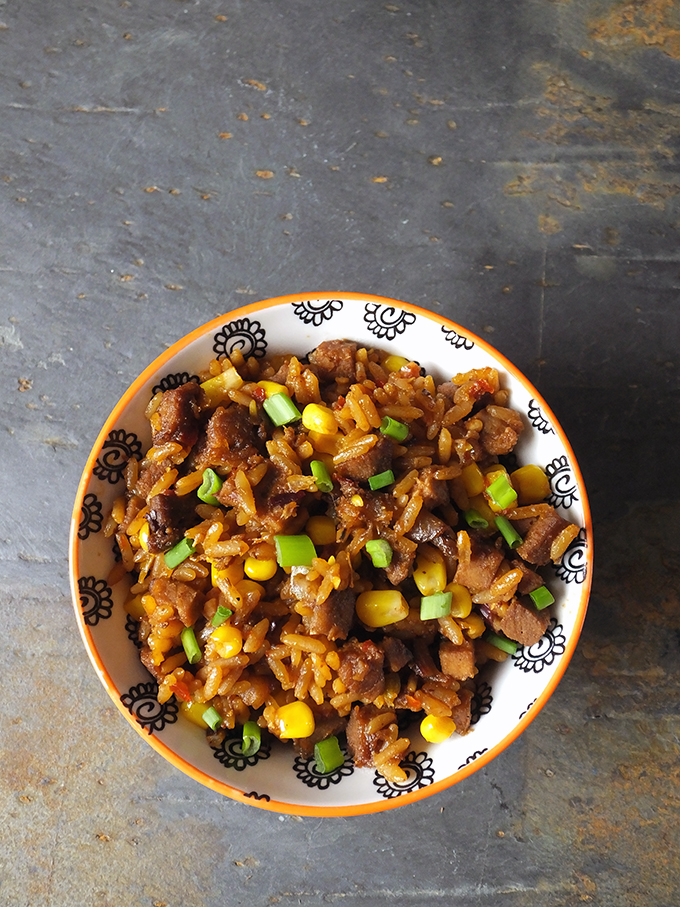 The resulting dish was incredibly moreish – rich in flavour and left a nice warming sensation on the palette. The New Orleans style rice is flavoured with tomato, cayenne, smoked paprika and chilli and it contains red kidney beans. With the addition of a tin of drained sweetcorn with peppers you've got the vegetable side of things covered too.
A meal in less than 15 minutes.
Win!
At the moment the New Orleans style rice is only available in Waitrose, but you can find many of their other flavours in Tesco, Asda, Amazon, Morrison's, Ocado or Sainsbury's.  A quick look at their online shopping sites shows that you can get most of the flavours for less than £1.
For more Veetee recipe inspiration (or to submit your own recipe!) visit their website, or follow them on Facebook and Twitter.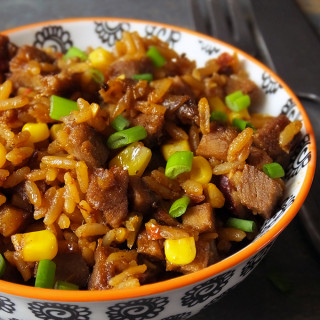 Sticky Brown Sugar Glazed Pork & New Orleans Style Rice
A quick mid-week recipe using store cupboard ingredients and leftover roast pork.
Print
Rate
Ingredients
For the Five Spice Powder
For the Sticky Brown Sugar Glaze
Affiliate Links
This recipe card may contain affiliate ingredient and equipment links. As an Amazon Associate I earn from qualifying purchases.
Instructions
For the Five Spice Powder
Toast the fennel seeds in a dry pan over a medium-high heat until they begin to darken and start to pop. When you can smell their aroma they are toasted.

Add the fennel seeds with the remaining whole spices into a mortar and pestle, and pound until finely ground. Store in a dark, airtight container until needed.
For the Sticky Brown Sugar Glaze
Mix all the ingredients together in a small bowl and stir with a small whisk until thoroughly combined. Set aside.
For the Pork and Rice
Heat a non stick pan over a medium-high flame.

Add the sticky brown sugar glaze to the chopped leftover roast pork and stir well to coat.

Add the sticky brown sugar glazed pork to the pan and cook for about 5 minutes, until the pork is reheated thoroughly and everything is sticky and sizzling.

Add the rice and drained sweetcorn with peppers and cook for a further 2 minutes, until everything is piping hot.

Serve immediately sprinkled with spring onions with soured cream on the side, if you wish.
Environmental Information
OTHER VEETEE RECIPE IDEAS
Baked Rice Samosas by Fuss Free Flavours
Indonesian Fried Rice – Nasi Goreng with Prawns by Supergolden Bakes
Wholegrain Rice, Quinoa & Vegetable Bites by Utterly Scrummy Food for Families
Paneer Pilau Fritters by Emily's Recipes & Reviews
Mozarella Stuffed Aubergine Rice Balls by Amuse Your Bouche
Quick n Easy – Spicy Rice and Bean Feast by A Glug of Oil
If you want to be kept up to date on my recipes, occasional craft tutorials, adventure stories and giveaways then please subscribe to my weekly newsletter; it gets sent out every Monday morning if there is new content. Your email address won't be passed on to anyone, you will never be spammed and you are free to unsubscribe at any time, no questions asked. Make sure you confirm your subscription or you won't receive the newsletter – if it hasn't arrived check your junk mail folder.
[wysija_form id="1″]
This is a commissioned recipe for Veetee. All thoughts and opinions expressed are our own. This post also contains an Amazon affiliate link, which means if you click through and make any purchase via Amazon we will get a small commission and you will be helping to support our family.