A selection of new products tried and tested in Elizabeth's Kitchen.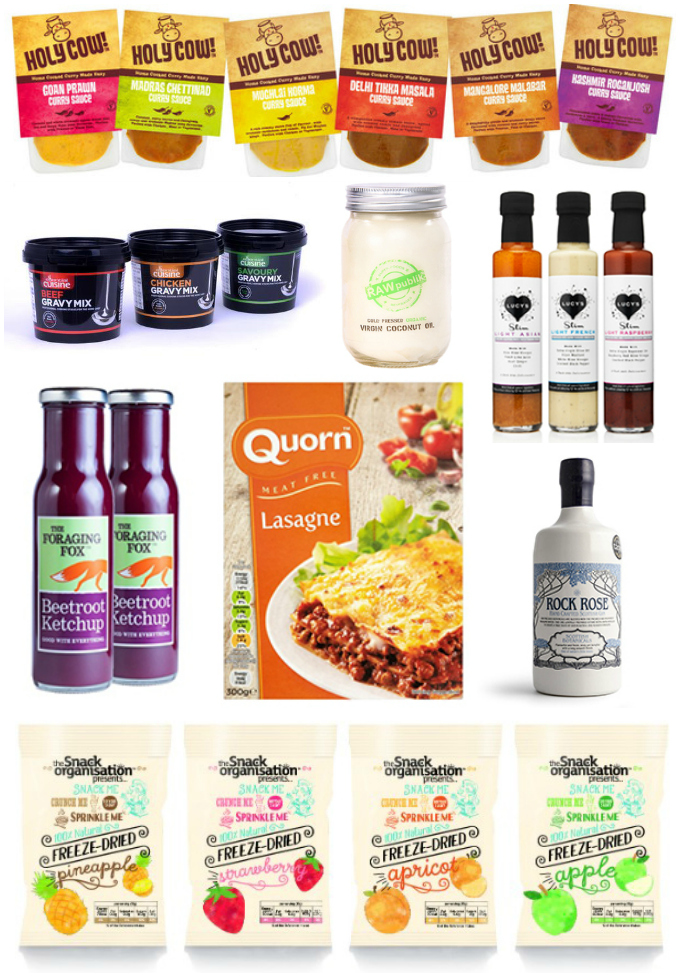 One of the many, many perks about being a food blogger is that you get sent all sorts of lovely new nibblies to try. Sometimes these nibblies are seriously awesome and disappear within moments of arriving in the post (ie: freeze dried fruits), sometimes they sit on the counter top, unopened, for months on end (Lucy's Dressings) and sometimes they become a regular part of the kitchen pantry because they're just so awesome (Raw Publik coconut oil).
Below you will find a collection of new products we've been sent to try out in Elizabeth's Kitchen, and our honest opinions about each.
In other news, Elizabeth's Kitchen has signed up with the
Amazon Associates
program after listening to some awesome talks recently at
Food Blogger Connect
, the world's leading International food blogging conference in London. What this means, dear reader, is that if you click on one of the affiliate links in my blog posts and then go on to buy absolutely and utterly anything from Amazon, we will get a small commission, and you will be directly helping support my family and making it possible for me to keep doing the things I am doing.
You'll also find a nifty little slideshow at the bottom of my right hand sidebar. I'll be regularly adding products to this slideshow, either things I've been sent to try out just things I've tried and I like. You have click play to watch it (I'm not one of those bloggers who will ever, ever throw flash advertisements at you!) so you have complete control over whether or not you see it.
These are my first baby steps into monetizing my website (apparently this is a done thing in the blogging community!) and I'd love your feedback!
So – the new foodie bites – here we go….
100% natural freeze dried fruits from the Snack Organization

Providing 1 of your 5 a day these bite sized pieces of freeze dried fruit are really rather moreish! They've got all the crunch without using oil or high temperatures and they provide only 58-68 kcal per funky designed pouch – perfect for those counting calories! (Go away you Paris food baby, you!) Sprinkle them on your cereal, yogurt, into smoothies or ice cream or just scoff them directly out of the pack. The only negative I can think of is that they're produced in Thailand. I'm not so keen on all those food miles!
Available in apple, pineapple, strawberry and apricot you can find these freeze dried snacks in Tesco for around £1.
Quorn Ready Meals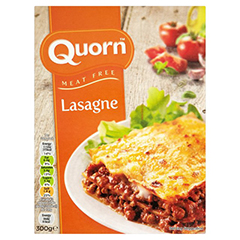 Quorn has come a long way since I last used to regularly pop a bag of quorn mince in my shopping trolley (ok, this is going back a decade at least!). Their range has expanded considerably – no longer is it just fake meat-shaped burgers, sausages and fillets – they have a whole range of ready meals now. I tried their Quorn meat free lasagne with a generous side salad and some beetroot salad – a gorgeous vegetarian meal and my husband had no idea there was no meat in it! Really tasty. I also tried the cottage pie which I wasn't as keen on (but I still ate the entire thing myself) and I've got a scrummy looking tikka masala with rice waiting in the fridge for one of these days where I'm too busy to cook.
Update: The tikka masala has been eaten – and it was fantastic! A really lovely ready meal for a quick lunch before work one afternoon.
They still do their range of products for baking from scratch. I really ought to experiment more with them – watch this space! Their products are available from most supermarkets throughout the UK.
Raw Publik Coconut Oil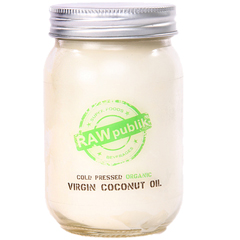 This coconut oil by Raw Publik is the best coconut oil I have ever, ever used. It's made from fresh (not dried!) organic young coconuts and it's unbelievably smooth and creamy. It's an absolute pleasure to bake with! You just scoop out what you need and cream it in with the rest of your ingredients without having to melt it first. I'm not going to harp on about the health benefits of using coconut oil, but if you are looking for an alternative from dairy for baking – this is it.
At £9.50 for a 450ml jar it's a little on the pricey side, but it's definitely worth it.
Foraging Fox Beetroot Ketchup
I'm a big fan of beetroot – I like it with nearly everything, because it's good with nearly everything! The Foraging Fox has used this fact to create a delicious new twist on a family classic – Beetroot Ketchup
! <<=== one of those Amazon Affiliate links I mentioned above! Mixed with apple this ketchup is a gorgeous vibrant colour and is free from allergens, artificial colourings, flavourings and sweeteners. Just real, natural ingredients in an incredibly delicious condiment.
Pop over to their website for some serving suggestions. You can buy this product online from Ocado, or type in your postcode to see if there are any stockists near you.
HOLY COW! FOOD COMPANY

The Holy Cow! family business was born in Oxfordshire in 1999. They make, hands down, the best ready made curry sauces I have ever, ever, ever tasted! Each packet contains enough curry sauce to serve two people, and with a range of flavours there is something to suit every taste (or to pair with whatever happens to be lurking in your fridge or freezer!).
There's no funny stuff in any of their products, just real ingredients with no artificial colours, preservatives or fake flavours. Proper spice. Proper awesome.
My favourite so far was the Mangalore Malabar Curry Sauce my husband had prepared with some simple shredded baked chicken thighs and a green pepper served with pilau rice. Proper comfort food.
You can find their products at Ocado (£1.69) and Amazon
 <<=== here's another Amazon Affiliate link. See, not too invasive, right?
LUCY'S SLIM LIGHT DRESSINGS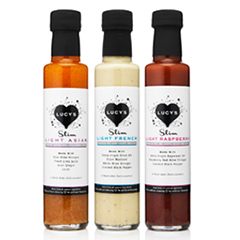 You know, I want to be able to tell you how awesome these are, but I just don't know. I have a love/hate relationship with food sometimes – I go through phases of feeling energetic, eating healthily and exercising to keep trim, to phases of just wanting to sit on the couch, drink wine in my pjs and watch tv.
Many, many months ago I was sent a selection of three new light salad dressings by Lucy's – Slim Light Asian made with rice wine vinegar, lime juice, root ginger and chili, Light French with extra virgin olive oil, dijon mustard, white wine vinegar and cracked black pepper and Light Raspberry with extra virgin rapeseed oil, raspberry red wine vinegar and cracked black pepper.
They all look and sound absolutely amazing but they've remained unopened since I got them. We get salad in our weekly organic veg box and I either a) serve it on the side with a nice cheese and bread (when I'm at a happy weight) or b) contemplate opening one of the salad dressings when I'm calorie counting and opt for a scoosh of lighter-than-light mayo instead. These salad dressings are lighter than the usual dressings on the market, but ranging from 41-51 calories per 15 ml they're still a bit… calorific? They come in 250 ml bottles and need to be used up within four weeks of opening. No one else in my family is going to eat these, so that means I'd have to eat nearly 17 salads with the same dressing in 30 days so they wouldn't go to waste. Hence they are still sitting unopened, but I feel obliged to tell you all about them since the company went through all the bother of sending them to me.
You can find their award-winning dressings at over 500 stockists nationwide, including Ocado and Amazon
.
ESSENTIAL CUISINE CHEF'S STOCK MIX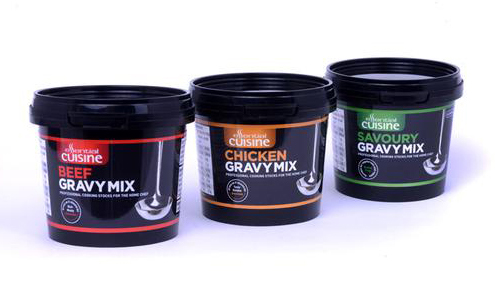 Essential Cuisine chef's professional stock mixes won several Great Taste awards in 2015, and rightly so! Their stock mixes "offers the home chef true balance, flavour and depth for great tasting stews, soups, casseroles, braises, pies and gravies". These gluten free blends in vegetable, beef, chicken, veal, fish, turkey and lamb contain absolutely no rubbish – just proper ingredients to help you on your way to a proper, tasty, home cooked meal.
Each 96 gram pot can make over a gallon of stock!
You can find their products on their website (£3.95 each), or though stockists up and down the country (type in your postcode on their website to find your nearest) and on Amazon
.
ROCK ROSE GIN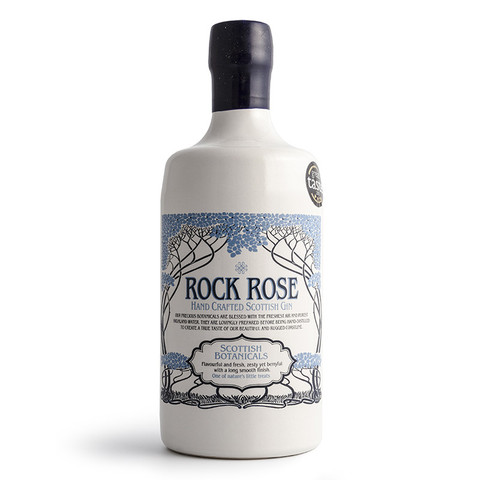 Now I have to say that this gin is really rather lovely! Distilled in the UK mainland's most northerly distillery in Dunnet Bay, Caithness, and handcrafted with the finest juniper berries, rose root, sea buckthorn, rowan berries and other botanticals including blaeberries, cardamon, coriander seed and verbena, this award winning gin is really, really rather nice! I'm not going to pretend I'm some posh gin reviewer, detailing all the subtle hints of flavour and whatnot, because I'm not. As a casual gin drinker I can firmly attest that this gin is awesome. That's it. It's a high end gin so you'll want to pair it with something posh like Fever Tree Premium Indian Tonic Water and a sprig of fresh rosemary
.
You can buy Rock Rose gin directly from their website and on Amazon
.
If you want to be kept up to date on my recipes, occasional craft tutorials, adventure stories and giveaways then please subscribe to my weekly newsletter; it gets sent out every Monday morning if there is new content. Your email address won't be passed on to anyone, you will never be spammed and you are free to unsubscribe at any time, no questions asked. Make sure you confirm your subscription or you won't receive the newsletter – if it hasn't arrived check your junk mail folder.
[wysija_form id="1″]
With thanks to all the brands above for the product samples. This is not a paid post and all thoughts and opinions expressed are our own. This post does contain Amazon Affiliate links, which means if you click through to Amazon and make any purchase at all (not necessarily the products we've recommended) then we will get a small commission and you will be helping to support our family.