A comfortable, quiet night's sleep with ibis.
As much as I am an adventurer at heart, I don't get to travel nearly as much as I would like to. I have only ever stayed in a handful of hotels in my lifetime, usually opting for camping, renting a B&B or, like during my recent trip to Paris, hiring a small studio flat and living among the locals.
Staying in a hotel is an extra special rare treat for me, so I was rather looking forward to the experience when I attended the Food Blogger Connect conference in London recently.
Ideally situated for onward travelers next to the London Heathrow International Airport, the Hotel ibis London Heathrow Airport boasts 356 rooms with air conditioning, free wifi, freeview TV and the comfiest beds ever.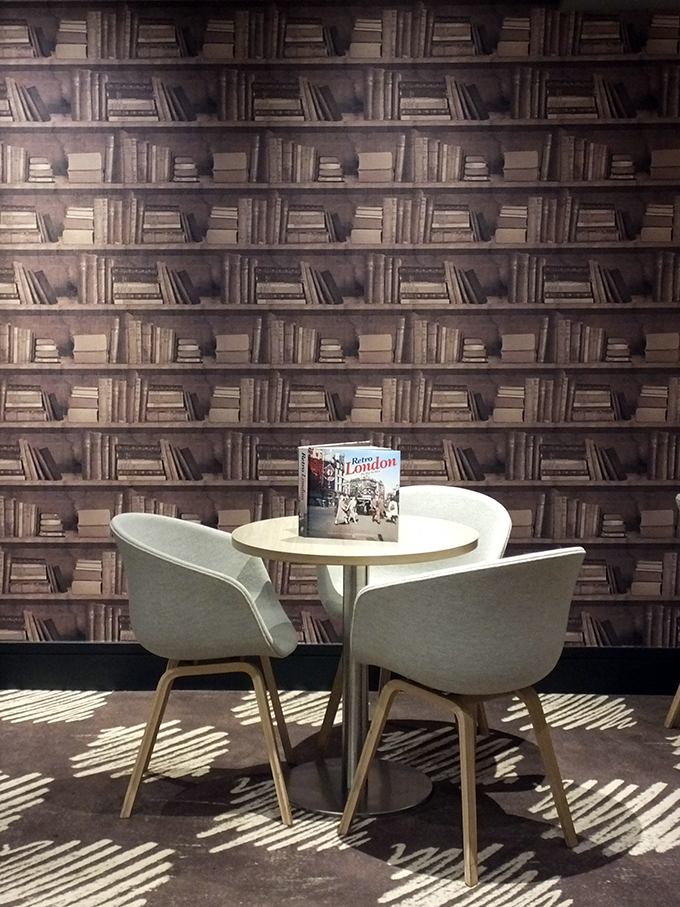 I arrived back in the UK after a very early morning flight from Paris. Immigration control was straight-forward and I found myself standing outside the front doors at the terminal, suitcase in tow. I only waited a few moments before a Hoppa bus arrived – a bus that collects travelers from the front doors at the airport and delivers them to their hotel (and back again) over 900 times a day. £5 later I found myself deposited at the front doors of the London Heathrow Ibis Hotel, sun shining brightly from above.
First impressions? I was really impressed with the decor of the reception area. Stylish and chic chess, literary and travel themes are used to embellish the area containing a reception desk, bar area, restaurant and several comfortable seating areas.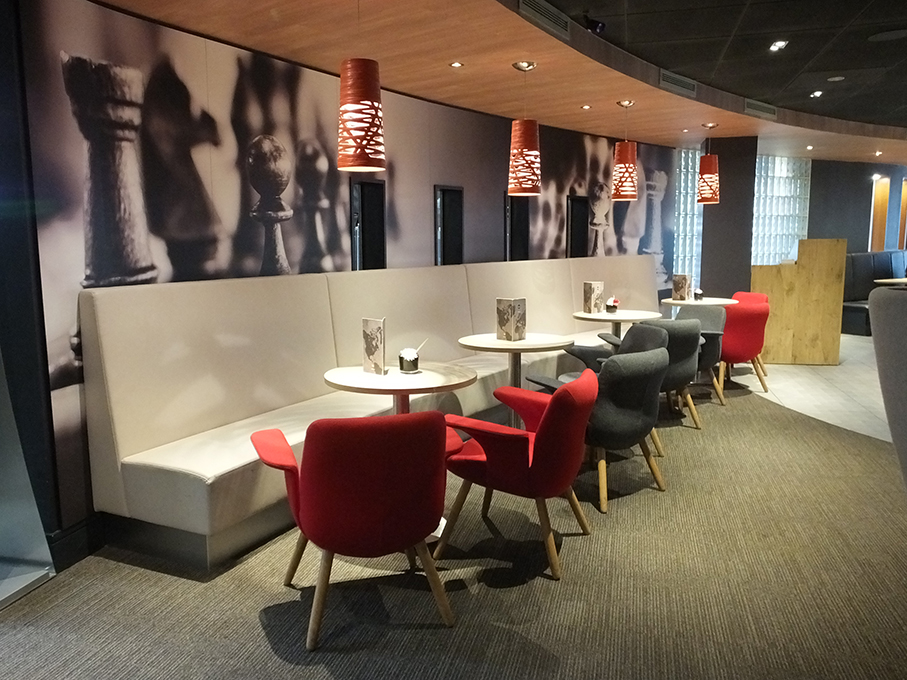 Despite arriving quite early in the morning, my room was already ready and I was allowed to check in in advance so I could freshen up and head to the conference. The lady at check in was very friendly and helpful.
My room was spotlessly clean and contained everything I'd need for the next few nights: plenty of plug sockets for recharging devices, kettle, coffee, extra bedding and pillows, a rather nice shower, toilet and plenty of shelves for storage… and the comfiest bed ever (have I mentioned this already?).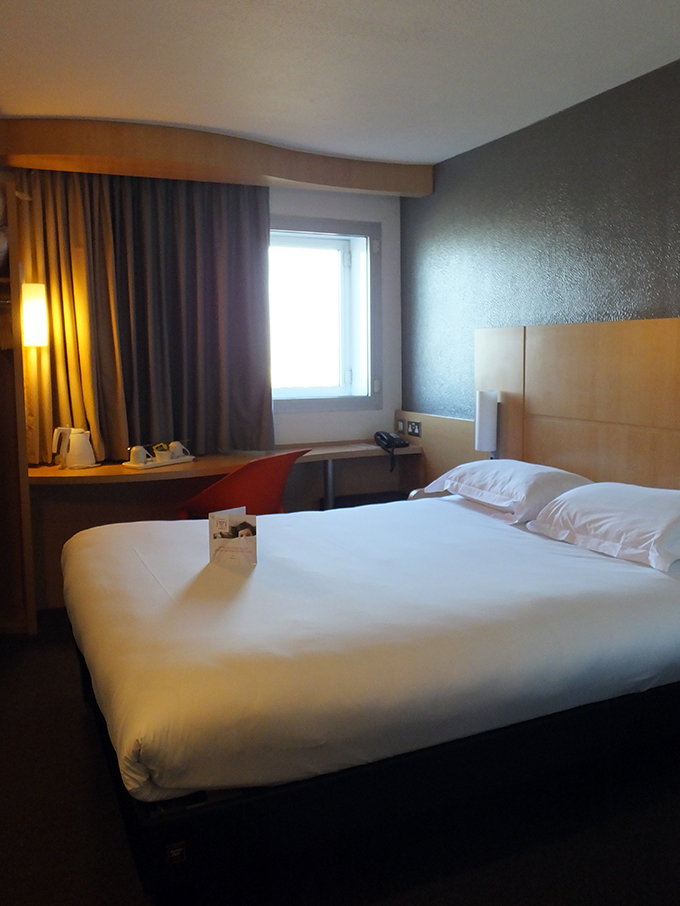 No really – that bed! It might have been because I'd spent the previous five nights sleeping on a lumpy and bumpy sofa bed in a tiny studio flat in Paris, but goodness me that bed was comfy! The Sweet Bed design is an exclusive development by Ibis. They hired a team of experts to come up with what components are required for the comfiest bed – flexibility, support and sensation, and developed the perfect bed for their guests. I slept really well during my stay.
Menu options in the restaurant that evening were varied, but in standard pub-grub style with very reasonable prices. I opted for the gammon steak with chunky chips and peas; proper comfort food. There was even a fruit basket and hand written welcome letter with a complimentary drink voucher in my hotel room when I returned that evening. I don't think this is standard customer service, but it was most appreciated. I had my first taste of dragon fruit that evening, and enjoyed a complimentary glass of Pinot Grigio in the bar with my food blogging colleagues.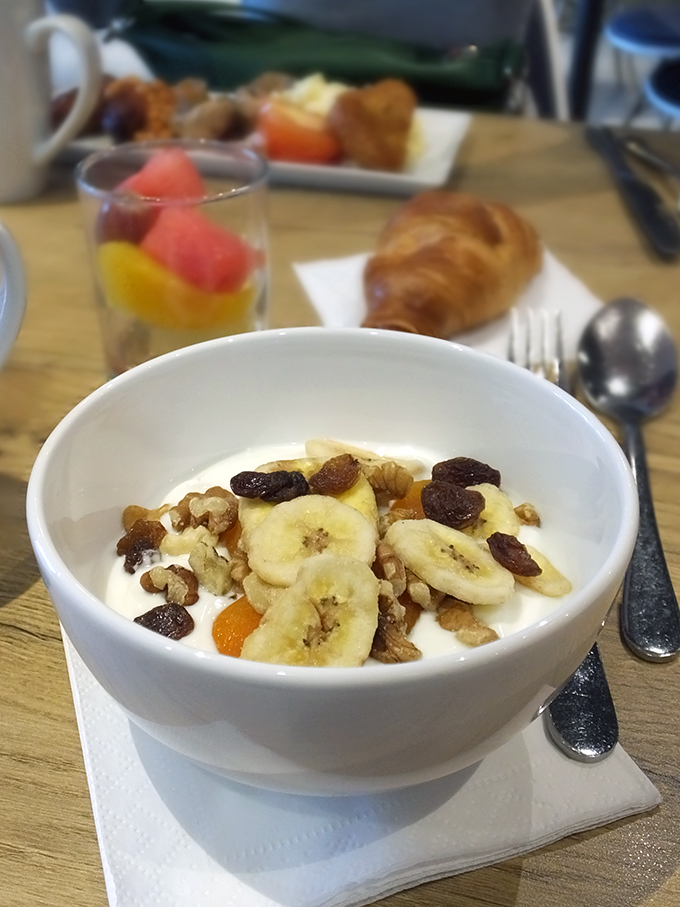 There was plenty on offer for breakfast the following morning. To counteract my carb heavy meal the night before I thought I'd go for a healthier option – natural yogurt with a dried fruit and nut topping, but there were also plenty of dry cereals, tea, coffee, juices, fresh fruit, cheese, cured meats, breads and croissants and all the components of a full English fry-up to choose from.
Transport to and from central London was straight forward too. There's a bus stop a two minute walk from the front door of the hotel, and a free bus takes you to the Hatton Cross tube station. There are buses running all night in this area, so if you're out in the city late you can travel safely back to the hotel.
There is also a free bus taking you back to the airport for onward travel, which I took for my return flight back to Shetland.
All in all it was a very comfortable stay, and when traveling through London again I wouldn't hesitate to stay here. Prices for this hotel vary depending on the season and time of week. At the time of writing (14 Oct 2015) prices started from £64.
To find out more visit the hotel ibis London Heathrow Airport website.
If you want to be kept up to date on my recipes, occasional craft tutorials, adventure stories and giveaways then please subscribe to my weekly newsletter; it gets sent out every Monday morning if there is new content. Your email address won't be passed on to anyone, you will never be spammed and you are free to unsubscribe at any time, no questions asked. Make sure you confirm your subscription or you won't receive the newsletter – if it hasn't arrived check your junk mail folder.
[wysija_form id="1″]
Elizabeth's Kitchen Diary was a guest of the Hotel Ibis London Heathrow Airport. All thoughts and opinions expressed are our own. This is not a paid post.