In collaboration with Tasty, Easy Lamb.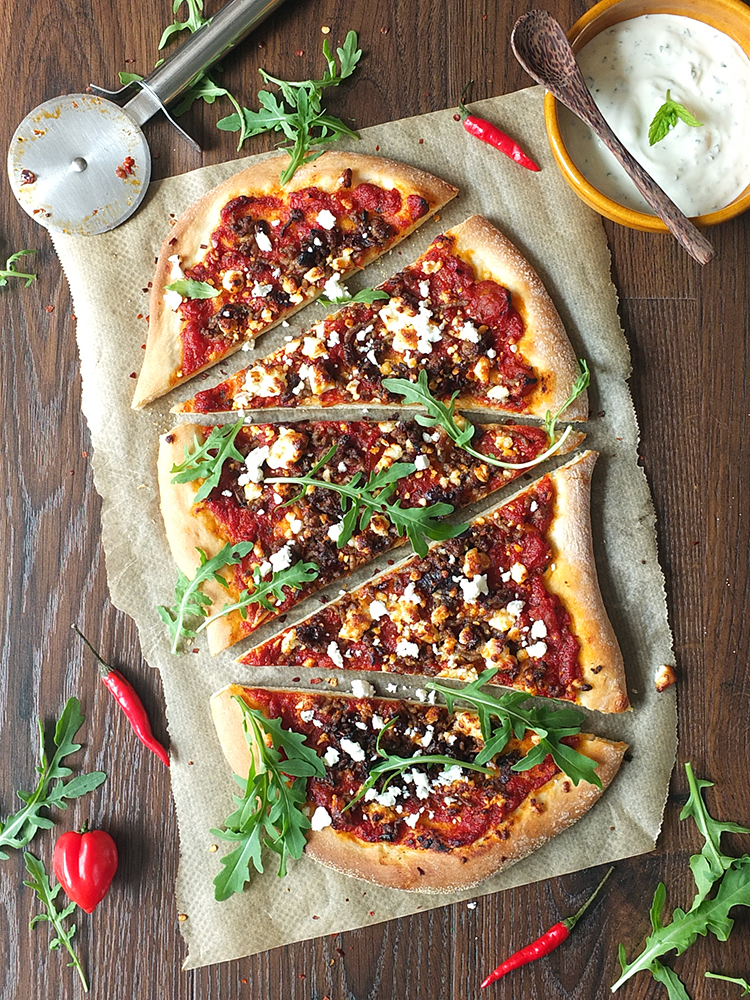 Saturday nights are pizza night in our house. We sit around our oversized coffee table in the living room and, as a family, we eat pizza and watch a film together (it's Avatar this week!). I like to jazz things up a bit with my pizza recipes, like this spicy lamb pizza with feta, rocket and a yogurt drizzle.
A good pizza starts with the right pizza base, and I'm quite lucky in that my bread machine has a pizza dough setting so I'm never more than 45 minutes away from freshly made pizza dough. This recipe, with equal parts strong bread flour and semolina, is our tried and tested dough recipe, working really well with a variety of toppings. Failing that, there is definitely a time and a place for a ready made base.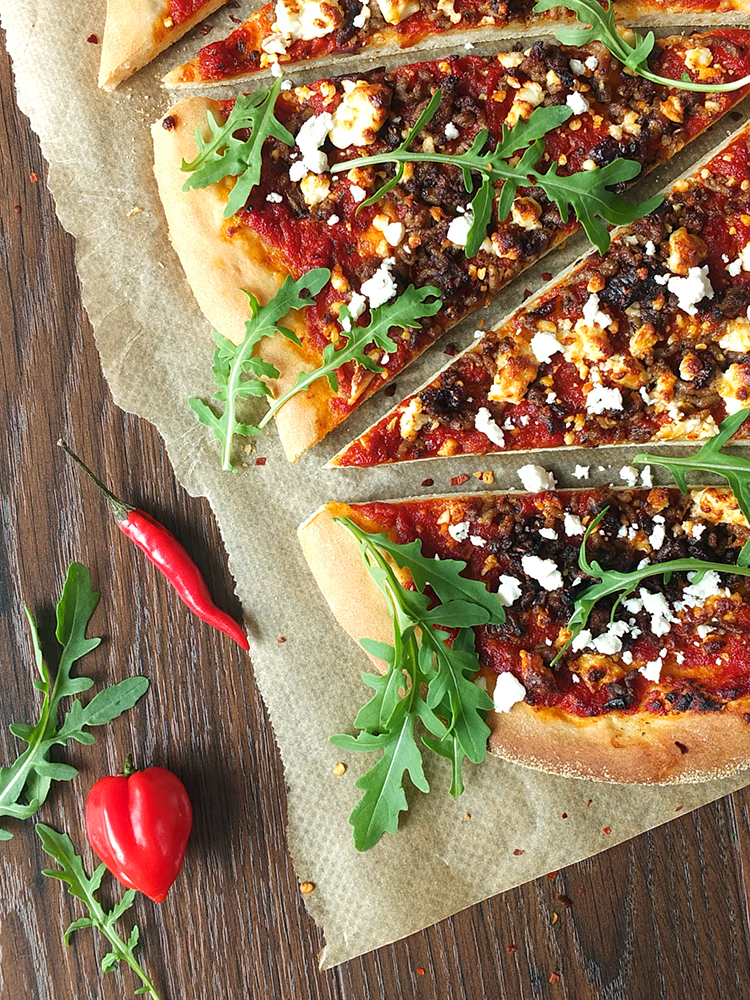 The spicy lamb topping features one of my favourite ever spices: cumin seeds. I coarsely grind the whole seed in a mortar and pestle before adding them, along with ground cinnamon, to a browned red onion and lamb mince for a rather fantastic flavour.
Chilli flakes are an optional extra. I like heat in my pizza whereas my children lament 'Fire in the mouth! Fire in the mouth!' if a bit ends up on theirs, so with a recipe like this, serving four, one pizza gets the chilli treatment and the other doesn't. The cumin and cinnamon do add a lovely spice flavour to the meat though, even without the chilli.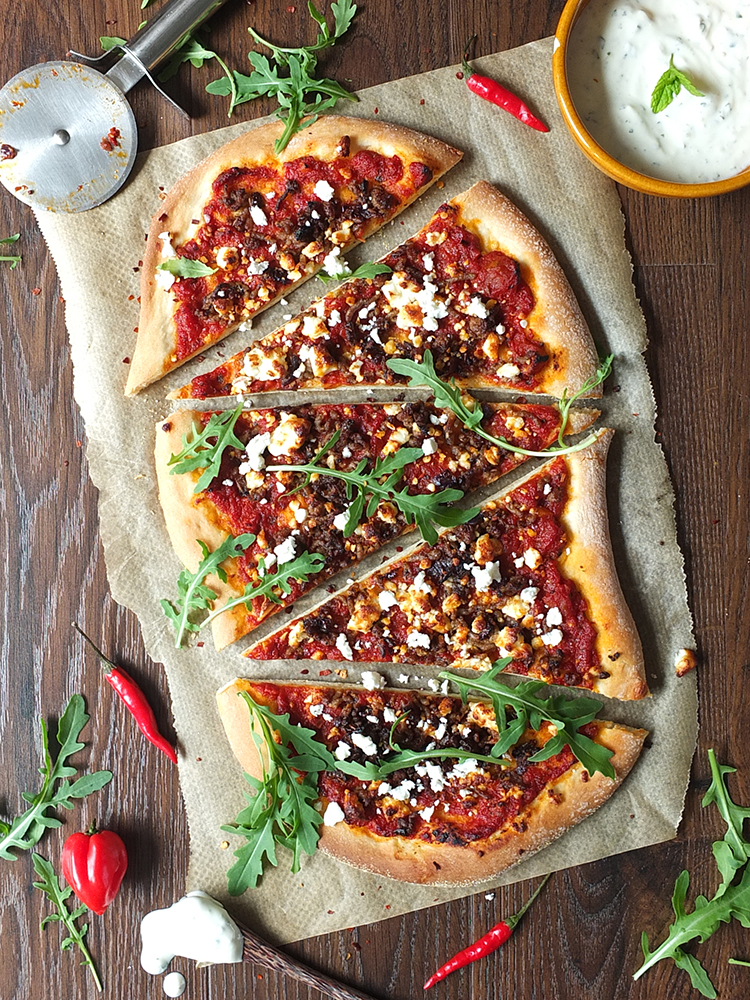 To serve, a yogurt drizzle to help calm down some of the heat. You can either drizzle it over the top of your pizza or dip your pizza slices into it, whichever you fancy!
What's your favourite pizza topping? Have you ever tried lamb on a pizza before? What did you think of it?
For more lamb recipe inspiration visit the Tasty Easy Lamb website, and follow them on Facebook, Twitter or Instagram.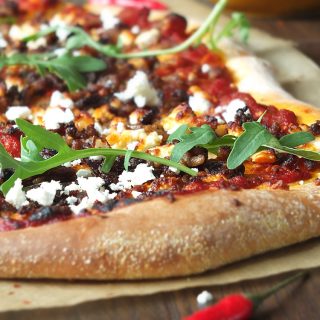 Spicy Lamb Pizza with Feta, Rocket & Yogurt Drizzle
Spicy lamb mince makes for a rather fantastic pizza topping, especially with homemade dough and pizza sauce!
Print
Rate
Ingredients
Affiliate Links
This recipe card may contain affiliate ingredient and equipment links. As an Amazon Associate I earn from qualifying purchases.
Instructions
To prepare the pizza dough using a bread machine add the ingredients into the bowl in the manufacturer's recommended order and select the 'pizza dough' setting, if you have it. If not, select 'dough' and let it run.

To prepare the dough by hand, mix the dry ingredients together in a medium sized bowl, make a well in the centre and add the water. Stir until incorporated and turn out onto a floured surface and knead for 10 minutes. Transfer the dough to a clean, oiled bowl, cover and leave to rise until doubled in size, about 1.5 hours.

Meanwhile, prepare the pizza sauce. Heat the oil in a small saucepan over a medium heat and gently fry the garlic and oregano together for a minute. Add the tomatoes, turn the heat down to low and leave to simmer with the lid slightly off for 45 minutes, stirring occasionally.

To prepare the lamb topping, heat the oil in a non-stick pan and gently saute the onion until it begins to soften. Add the lamb mince and cook until browned all over.

Add the spices, cook a further minute and remove from the heat.

Preheat a pizza stone in the oven at 220 C/ 200 C fan.

Knock back the pizza dough and divide into two equal portions.

Sprinkle two sheets of non-stick baking paper with coarse polenta and roll out your pizza dough to fit the size of your pizza stone.

Spoon half of the pizza sauce over each pizza and divide the spicy lamb mixture evenly.

Sprinkle the pizzas with feta cheese and bake for 12-15 minutes.

To prepare the yogurt drizzle, combine all the ingredients in a small food processor, adding water if needed to thin.

Remove the pizzas from the oven, sprinkle with extra feta cheese, if desired and garnish with rocket leaves. Serve the pizza with the yogurt drizzle.
Environmental Information
OTHER LAMB RECIPES YOU MIGHT LIKE
BBQ Lamb Leg Steaks in a Herb Marinade
Leftover Roast Lamb & Mint Sausage Rolls
Quick & Easy BBQ Lamb Skewers
BBQ Lamb Leg Steaks with Harissa & Mint
15-Minute One-Pan Lamb & Quinoa Midweek Supper
Street Food: Brazilian-Style Lamb Kibe
Chilean-inspired Lamb Burgers with Pebre & Marraqueta Buns
Brazilian-inspired Lamb Feijoada with Mango Salsa
Slow Cooker Lamb Chilli with Pasilla Peppers
Argentine-inspired Lamb Chops with Chimichurri
Lamb Casserole with Ale
Mediterranean-inspired BBQ Koftas, Couscous Salad & Baharat Yogurt Dip
Slow-cooked Shetland Lamb Casserole with Creamy Herbed Polenta
Pastitsio – Greek Macaroni Pie
OTHER PIZZA RECIPES YOU MIGHT LIKE
Heritage Wheat Wholegrain Pizza with Summer Pesto & Grilled Vegetables
Chorizo & Grilled Vegetable Pizza
Garlic & Kale Pizza
Wild Scottish Venison Pizza with Wild Garlic Pesto
Revolutionise Your Baking with the Pizza Steel
This is a commissioned recipe for Tasty, Easy Lamb, although all thoughts and opinions expressed are our own. Thank you for supporting the brands who make it possible for me to do what I love: mess up my kitchen and share recipe stories.
[color-box]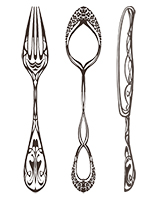 Have you made this recipe?
Take a photo and tag @tangoraindrop or use the hashtag #elizabethskitchendiary and share on Instagram and Twitter. It would make my day to see your creations!
[/color-box]