The perfect Canadian recipe to celebrate Canada Day!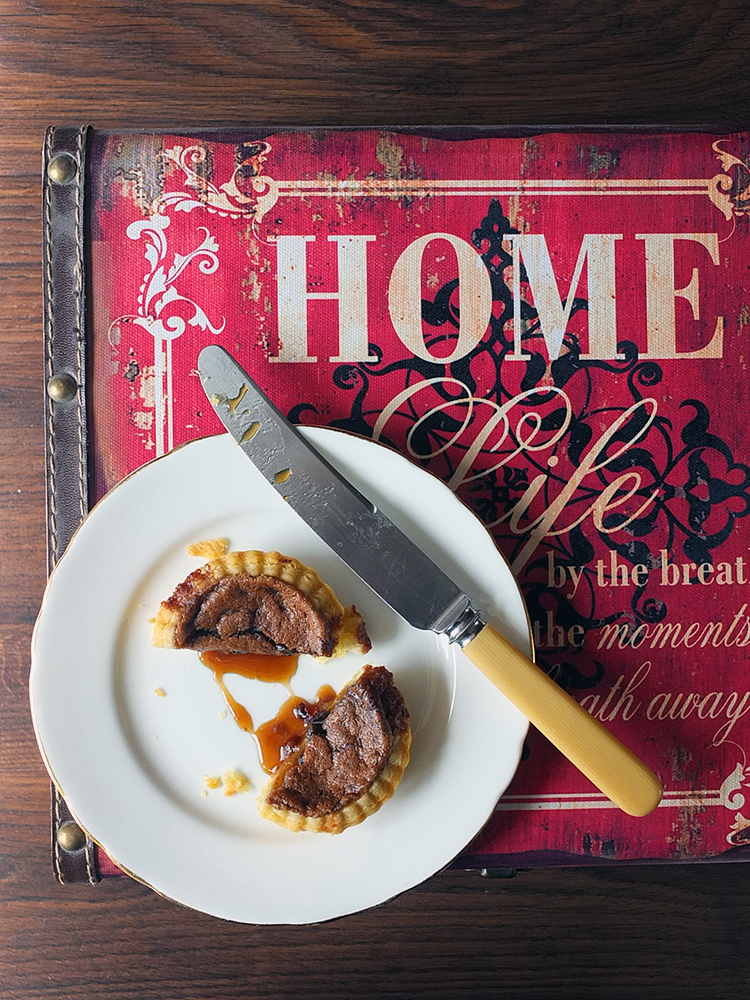 Today is Canada's 150th birthday! To help celebrate, here's a recipe from my handwritten notebook, a recipe I brought with me when I immigrated from Canada to Scotland in 1999. I have no idea where the original recipe came from, and, if I am to be honest, twenty years ago butter tarts weren't exactly my favourite of all the Canadian sweet desserts. I genuinely don't even know how it ended up in my notebook! I think it might have been at the insistence of a Canadian friend who suggested I take the recipe with me across the pond.
Fast forward twenty years and wow, I can't believe these butter tarts haven't been made regularly in my kitchen! The only reason I ended up making them recently was because, while flipping through said notebook for recipe inspiration, I noted that the filling included currants.
Currants are not an ingredient I usually buy unless I'm making a Christmas cake, but I had the remainder of a packet lurking in the back of my cupboard after buying them to make a Whalsay Hufsie recipe some months ago and so I thought I'd give the tarts a try again after all these years.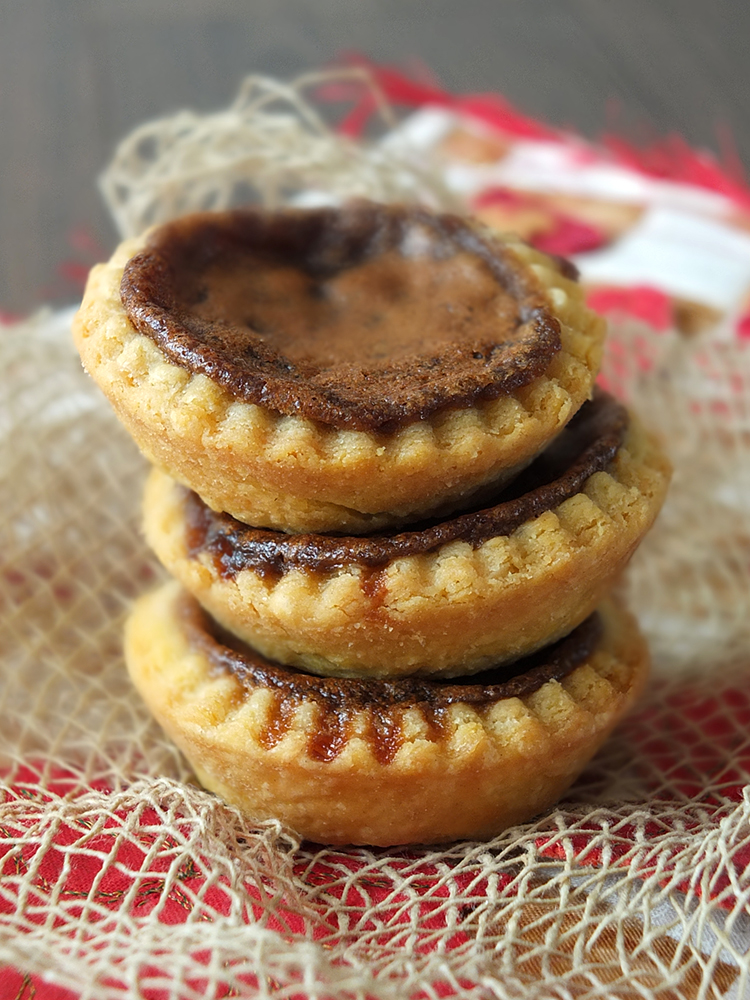 I am so very glad I have rediscovered this recipe! The butter tart filling is a delicious, sweet, caramel/treacle like filling, a bit like a pecan pie but without the nuts. When it first comes out of the oven the filling is very liquid and the tarts need to be served on a plate (perhaps with a scoop of ice cream), but as they cool the filling solidifies. On day two they're much more portable and you can grab one or two and eat them on the go.
There are many variations out there of this recipe. Some include nuts, either pecans or walnuts. Some use raisins. Some add golden syrup or an extra egg to help thicken up the filling. I think this recipe is perfect as it is.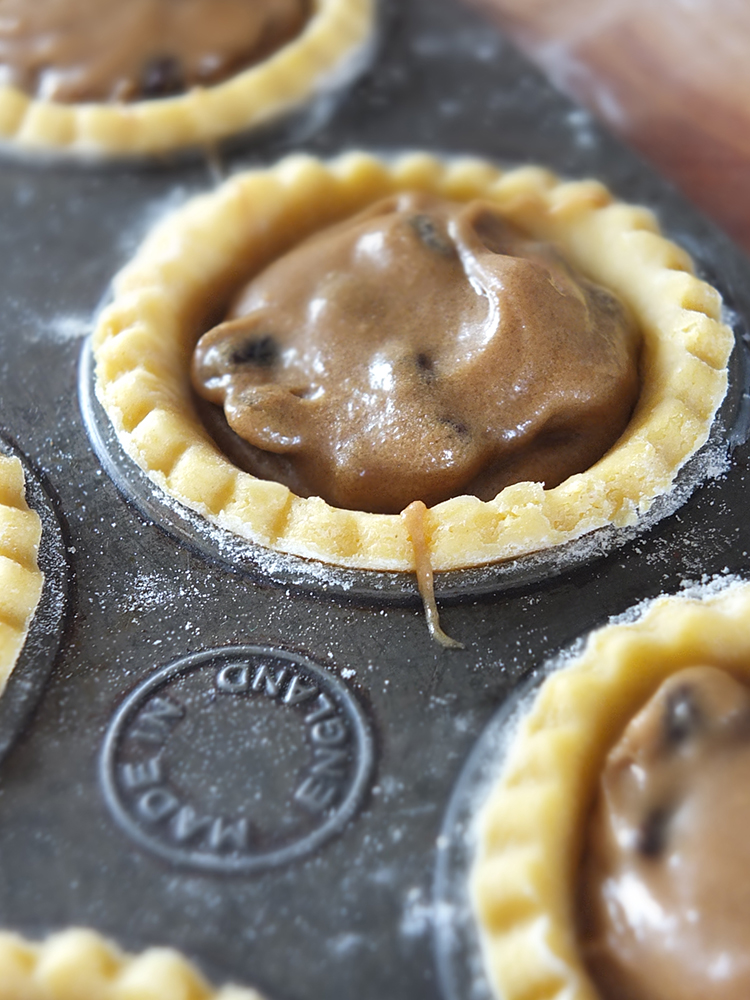 A good pastry is important too, and as my handwritten recipe only contained the ingredients list for the filling I turned to Nigella Lawson and her shortcrust pastry recipe. I've doubled her quantities to make enough dough for the amount of filling specified. Make sure you follow the steps closely, freezing the butter and flour at the start and using cold egg yolk to bind. It really makes for a delicious, flaky pastry. To save time you could always use some ready made shortcrust pastry.
Another tip is to use a tart tin, as pictured above. Now, tart tins, I remember from my Canadian childhood, were not something usually found in kitchens. I picked mine up (here in Scotland) in a charity shop for only 50 pence, and it really does make for perfectly formed tarts. I read somewhere that you're supposed to grease tins like this with a different type of fat than used in the dough to make them turn out easier. I used vegetable fat, since the dough contains butter, and although the pan is non-stick they turned out perfectly.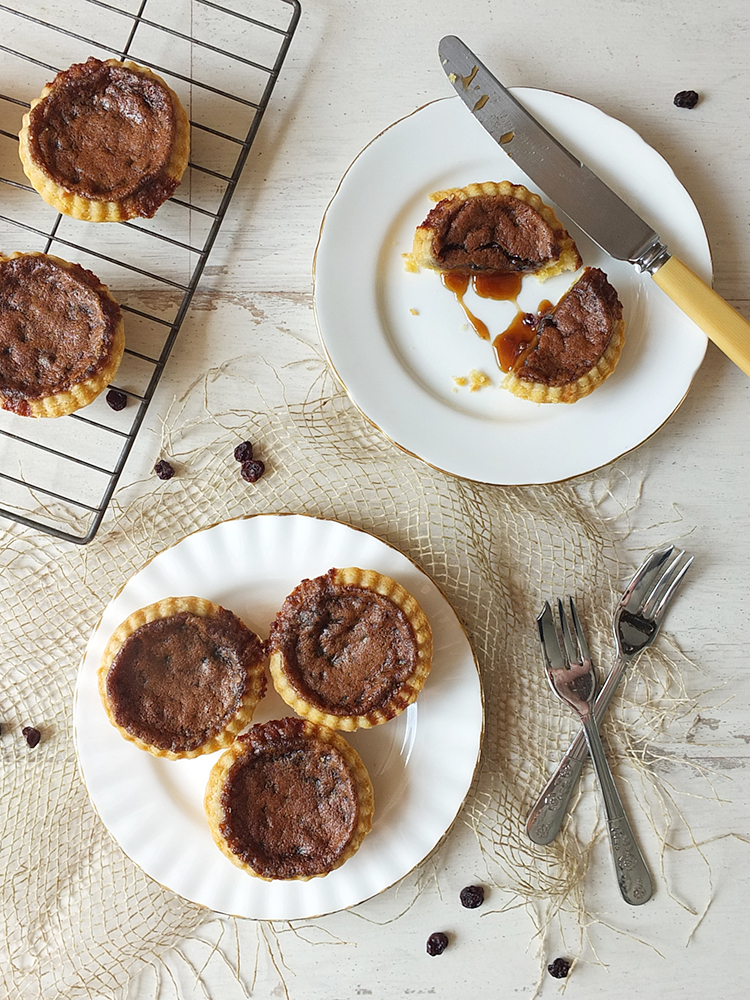 If you don't have a tart tin just use a 12-hole muffin tin. Note, also, that the butter tart filling will rise and bubble up during baking, and it might overflow a bit. Just leave the tarts in the tin for five minutes to cool before removing. The filling will subside and if you remove the tarts before the bubbled up extra solidifies completely you'll be fine. Soak the pan in hot soapy water for a few minutes to clean, no problem.
My family absolutely loved these tarts, but be warned, one is usually sufficient. They are rather sweet, but incredibly delicious.
Are you celebrating Canada Day where you are in the world? How so? Let me know in the comments!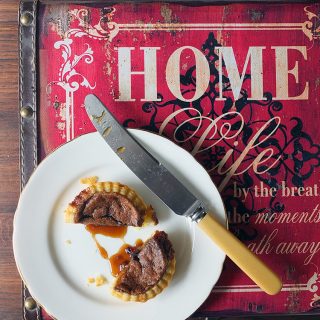 Canadian Butter Tarts
Butter tarts as about as Canadian as you can get, when it comes to desserts, just after apple crisp and wild berry pies.
Print
Rate
Ingredients
for the shortcrust pastry
Affiliate Links
This recipe card may contain affiliate ingredient and equipment links. As an Amazon Associate I earn from qualifying purchases.
Instructions
Preheat your oven to 200C and grease a 12-hole tart tin. Set aside.

To prepare the shortcrust pastry, place the butter and the flour together in a bowl and pop into the freezer for 10 minutes.

Whisk the egg yolks together with the salt and soured cream. Pop this into the fridge to chill.

Make the filling: cream the butter and sugar together until light and thoroughly combined. Add the egg, vanilla and cream and beat well. Fold in the currants and set aside.

Using a food processor, pulse the cold flour and butter together until it resembles coarse breadcrumbs.

Add the chilled egg yolk mixture to the flour/butter and pulse until it begins to come together to form a dough. You might need to add a few teaspoonfuls of ice cold water to help it come together.

Form the dough into a flat disc, wrap in cling film and chill for 20 minutes.

Roll the dough out to a thickness of 4 mm on a floured surface.

Using a 7.5 cm fluted cutter, cut 18 rounds from the pastry dough, rerolling the ends.

Press the rounds into the tart tin and prick the bottom with the tines of a fork, once.

Fill the tarts with the sugar/currant mixture until level with the top.

Bake in the centre of the oven for 8 minutes, then turn the heat down to 180C and bake for a further 8-10 until the pastry is golden. The filling will bubble up but it will settle back down upon cooling.

Leave the tarts in the tin for 5 minutes to cool before carefully transferring to a wire rack. Serve warm or cold.
OTHER CANADIAN RECIPES YOU MIGHT LIKE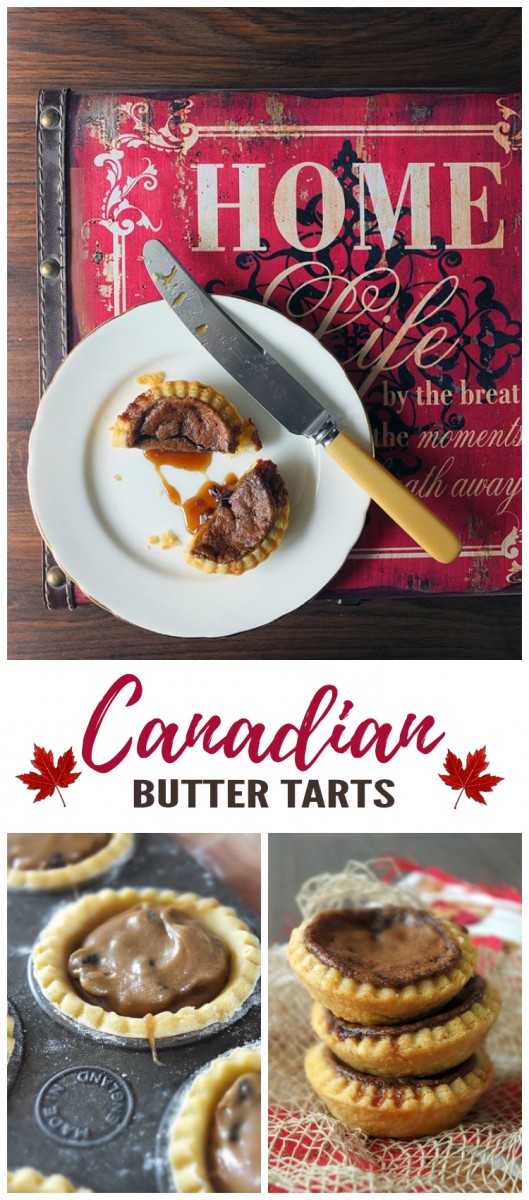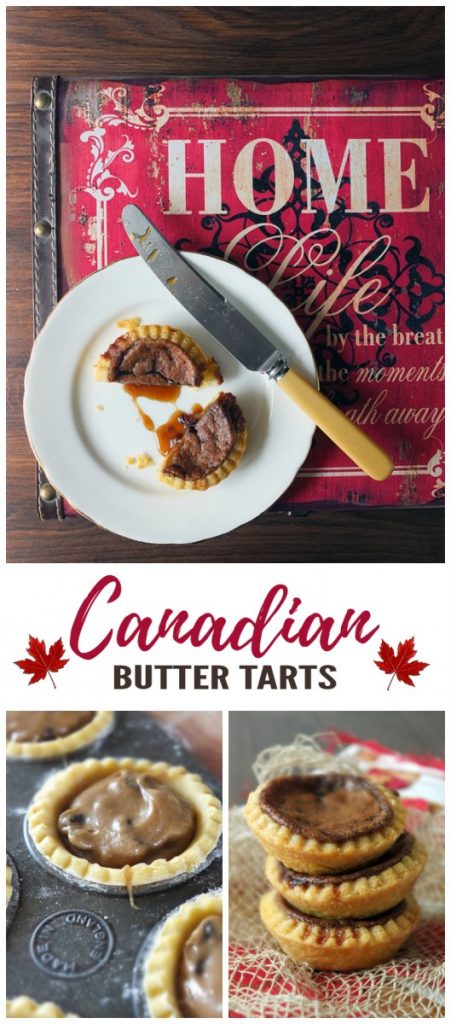 Nanaimo Bars: Canada's National Confection
Cape Breton Fruit Scones
Homemade East Coast Style Donair Kebabs 
Cape Breton Oatcakes
Jane's Ginger Cookies
Sweet n' Sour Pork Stirfry
Cape Breton Chow Chow
Pumpkin Loaf
Old-Fashioned Soft Molasses Cookies
Camp Aitebreagh Chocolate Chip Cookies
Pineapple Squares
Peach & Wine Ice Jam Using Produce of Niagara-on-the-Lake
Maple Cinnamon Glazed Plum & Blackberry Sticky Buns
Spiced Cauliflower and Purple Potato Poutine
CANADA TRAVEL POSTS
Exploring Toronto's Kensington Market Underground
A Food Lover's City Break in Ottawa's Byward Market
A Visit to Niagara Falls, Ontario, Canada
Forays Into First Nations Food & Culture | Visiting the Huron-Wendat in Quebec, Canada
Quebec City's Marché du Vieux-Port & Île d'Orléans
Halifax, Nova Scotia – The Bridge, the Bison and the Four Poster Bed
The Citadel, Halifax : Sporrans, Rifles and the School Room
A Local Tasting Tour, South of Morris Street, Halifax
Crab Cakes by the Ocean at Pictou Lodge Resort
New Brunswick Clams – Fork to Fork
A Meander Around Fredericton, New Brunswick, Canada
Foraging for fiddleheads on the banks of the Miramichi, The Ledges Inn Doaktown
A Wander Around Peggy's Cove, Nova Scotia, Canada
[color-box]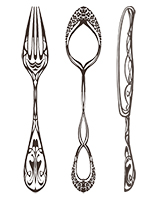 Have you made this recipe?
Take a photo and tag @tangoraindrop or use the hashtag #elizabethskitchendiary and share on Instagram and Twitter. It would make my day to see your creations!
[/color-box]