Celebrating 180 years with P&O Ferries.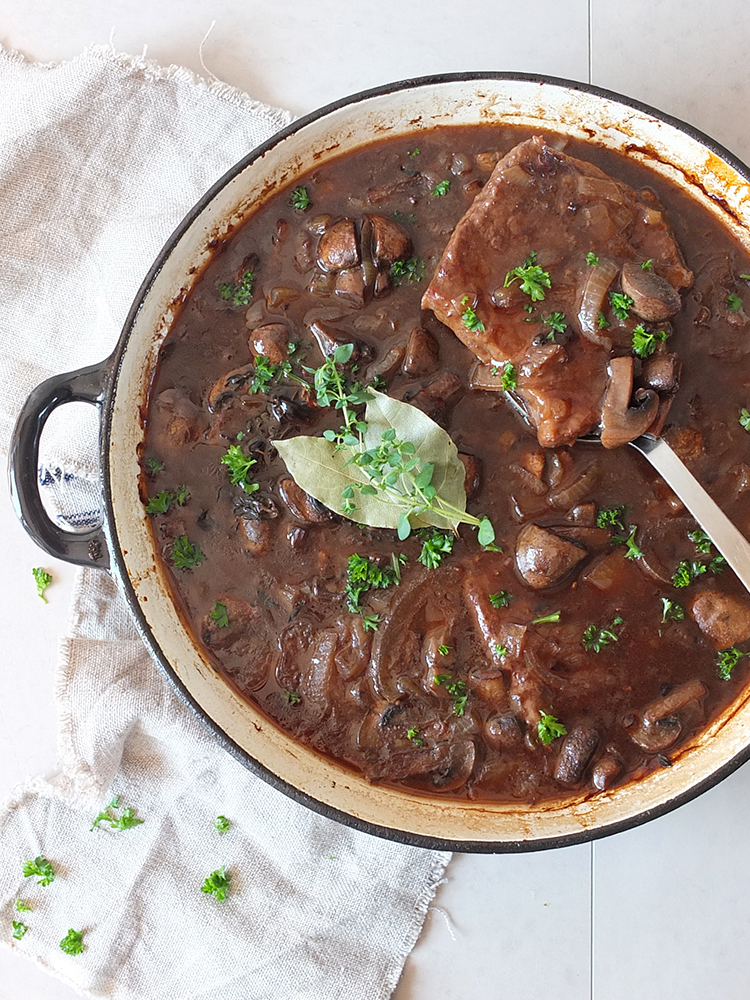 The Shetland Islands are a remote island archipelago in the North Sea, 200 miles, as the crow flies, from the Scottish city of Aberdeen.
Between 1971 and 2002 P&O Ferries (known then as P&O Scottish Ferries) ran a lifeline service between Aberdeen and Lerwick in the Shetland Islands. This overnight trip took 12-14 hours (weather permitting!) and a few times a week it stopped in the Orkney Islands too.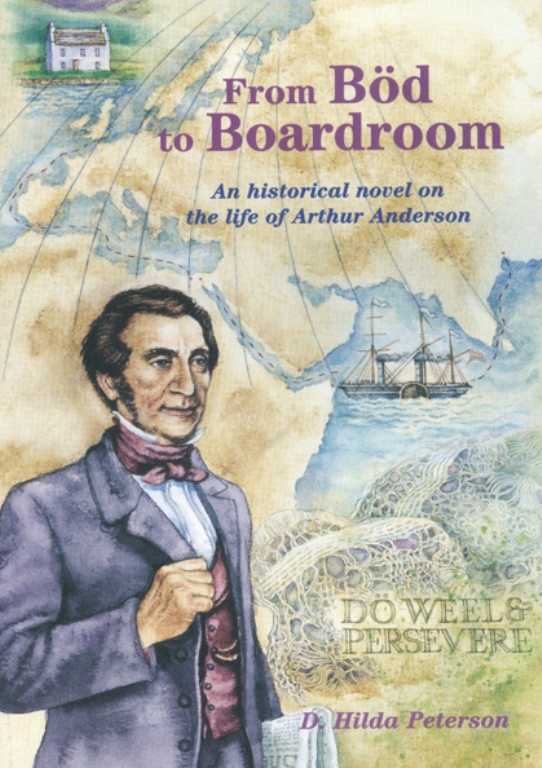 Interestingly, one of the co-founders of P&O Ferries, Arthur Anderson, the son of a fish curer from Unst, was born in the Böd of Gremista in Lerwick. In 1844 he introduced the concept of cruising for pleasure, rather than simply for transportation from A to B. You can read more about him in the book From Bod to Boardroom by D. Hilda Peterson, a book published and available through The Shetland Times bookshop (see link at bottom of post).
In the Spring of 1999, at the tender age of ahem, my early 20s, I immigrated from Canada to Shetland, arriving at the pier in Aberdeen with just shy of £200 in my pocket and an Army Surplus rucksack on my back containing all my worldly possessions. Walking up the gang plank of the first P&O vessel I could find I enquired if I could catch a lift to Shetland.
Not a problem, the steward said, taking my £60 fee and showing me to my cabin. It was that night on the freight vessel St. Rognvald (V) I had my very first experience of the open sea. I couldn't stand up! It's taken me 18 years to develop sea legs, and I've since made that North Sea crossing many, many times. Each time it gets that little bit easier.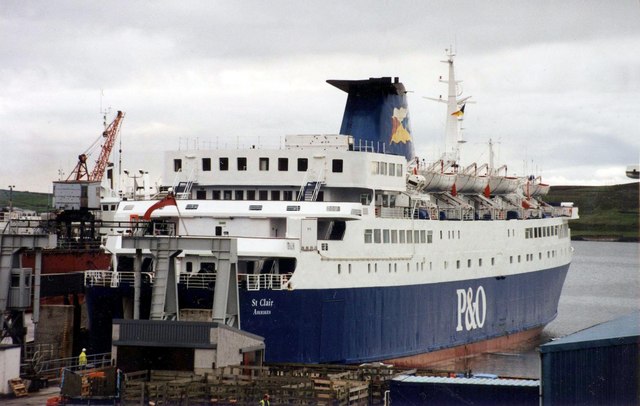 I am of the firm belief that if you visit Shetland you should make the journey by ferry at least once, for the full experience. Our family holidays always began on board the ferry with a meal in the restaurant. It marked the start of our adventures south.
I recently managed to track down a local man, David Leybourne, who began his sea career with a summer job in the galley on board the P&O Ferries St. Clair (V), pictured above.
The St. Clair had two restaurants – the downstairs cafe restaurant where locals and those travelling on a budget used to eat, and the upstairs restaurant providing a more upmarket dining experience with an all you could eat buffet-style menu. Downstairs, the most popular dish was fish & chips, mince & tatties and curries, while upstairs diners preferred braised beef with red wine or the non-deep-fried fish option.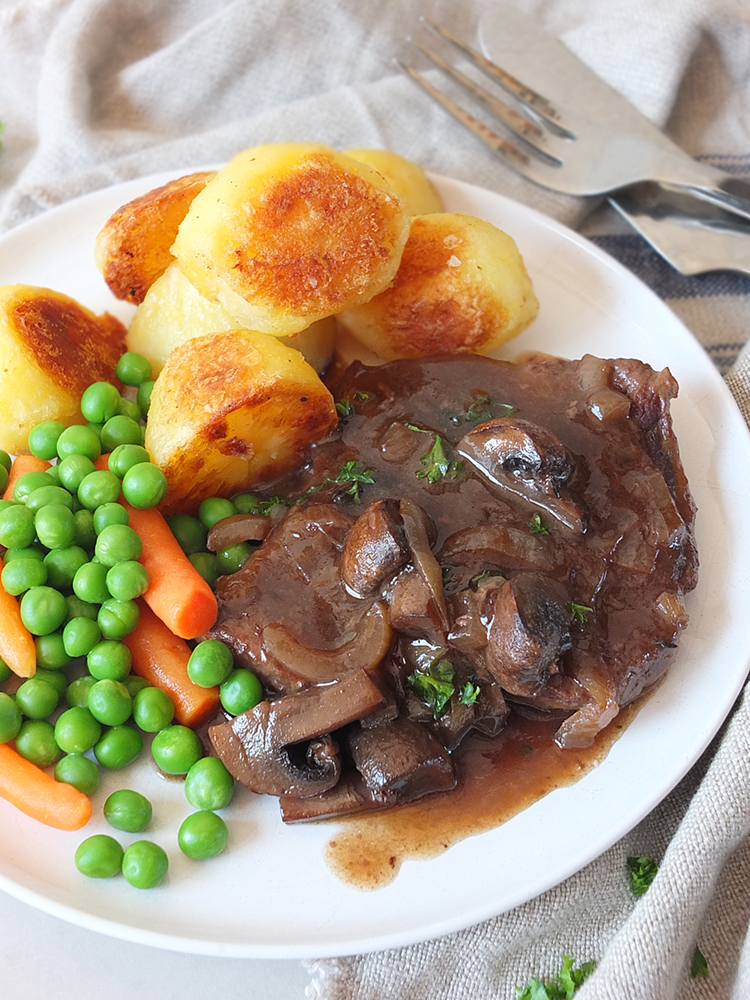 David recounted how everyone on board the P&O Scottish Ferry was considered part of the crew, even the kitchen staff. This meant everyone had to be trained in sea survival, first aid and fire safety. Every day they ran through a practise emergency scenario, which sometimes involved a few stewards being launched into the lifeboat.
This often posed difficulty for the galley cooks as the alarms would go off in the middle of prepping the evening meal. They'd have to drop everything and run through the emergency training, returning afterwards to finish what they'd started, sometimes hours later.
This braised beef in red wine was a very popular choice on board the ferry restaurant, David remembers. He'd have to prepare six pans of braised beef, each with 20 or so pieces of steak in it. The recipe sounded so good I thought I'd try and recreate it at home.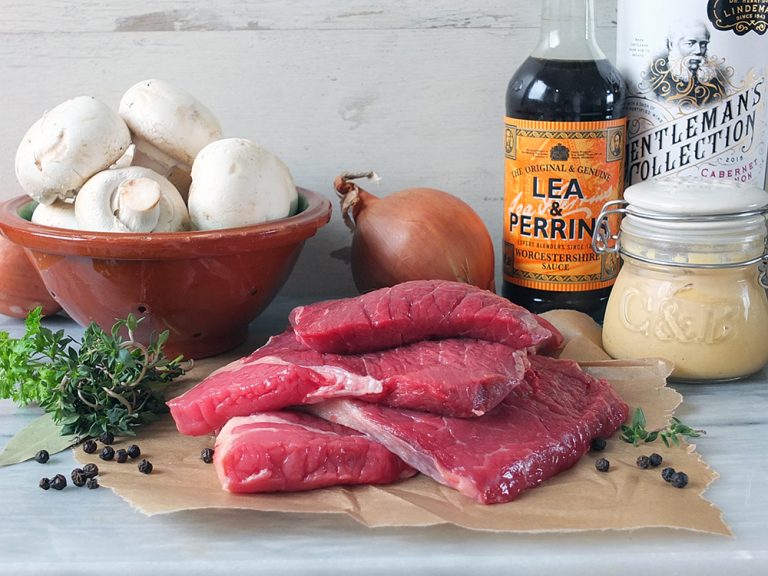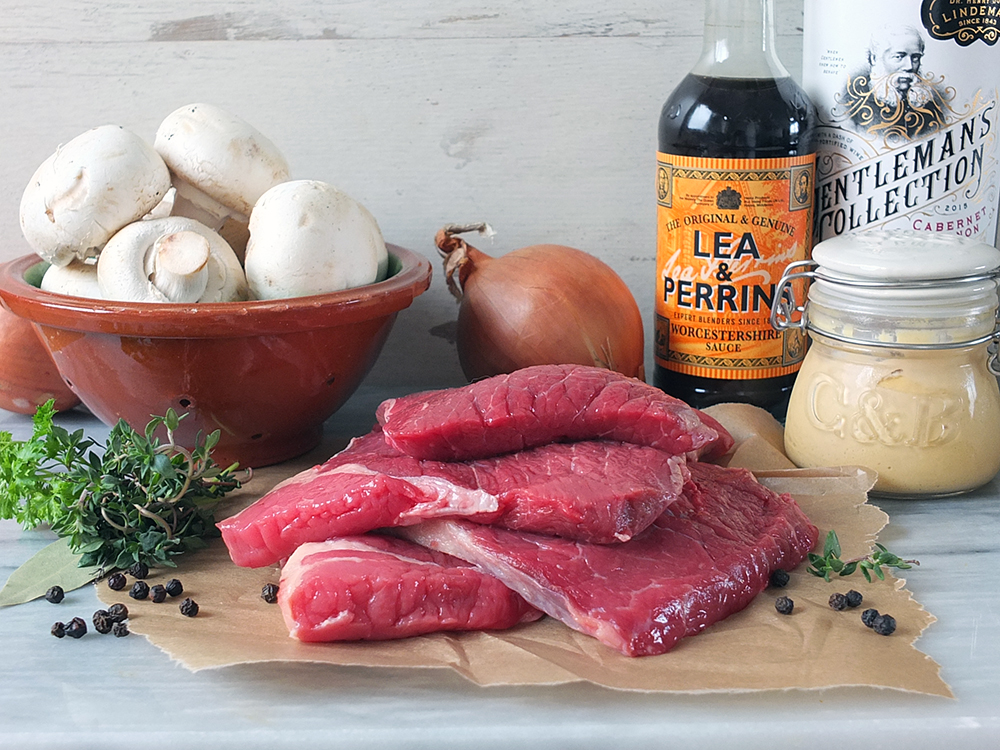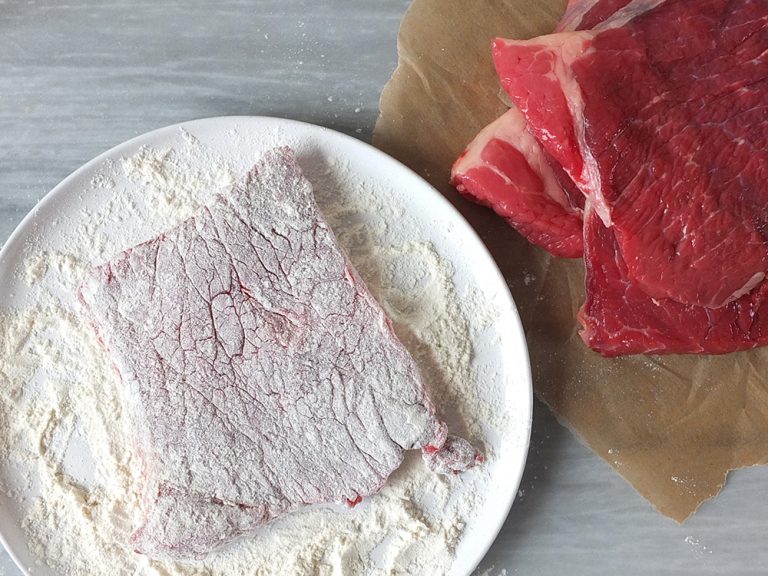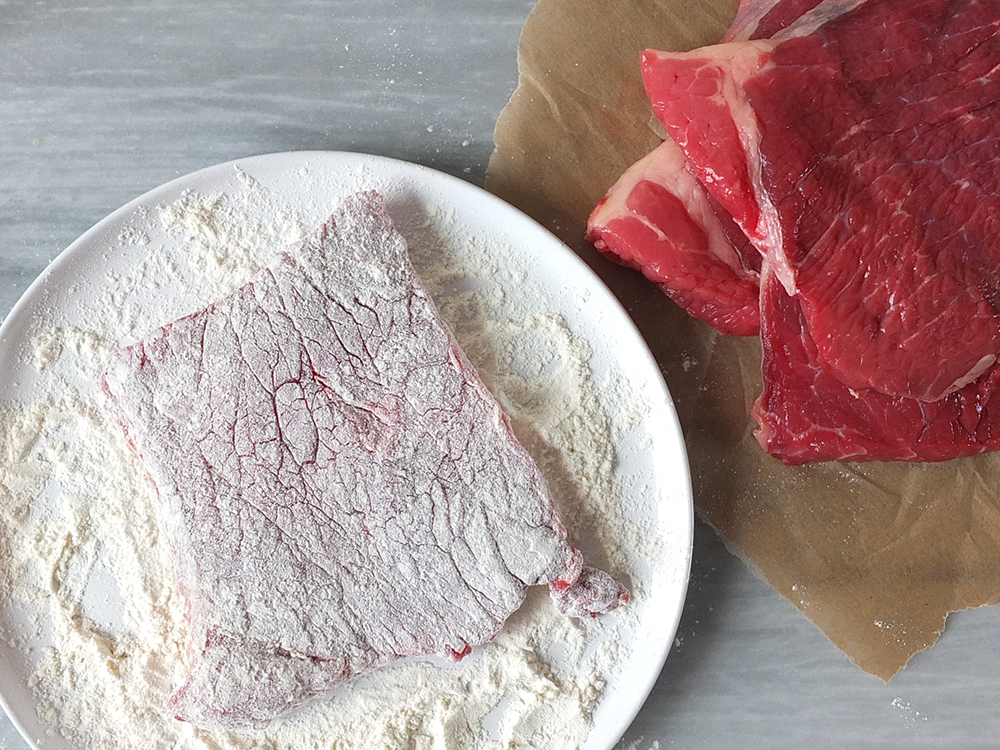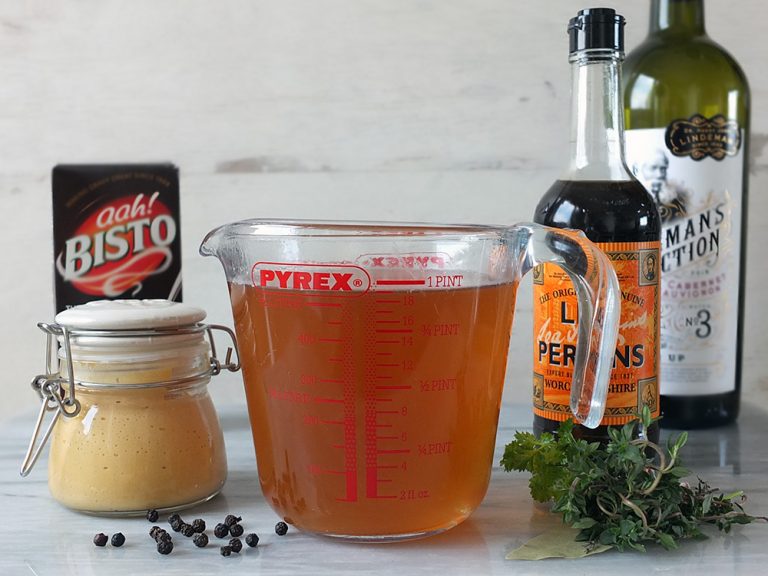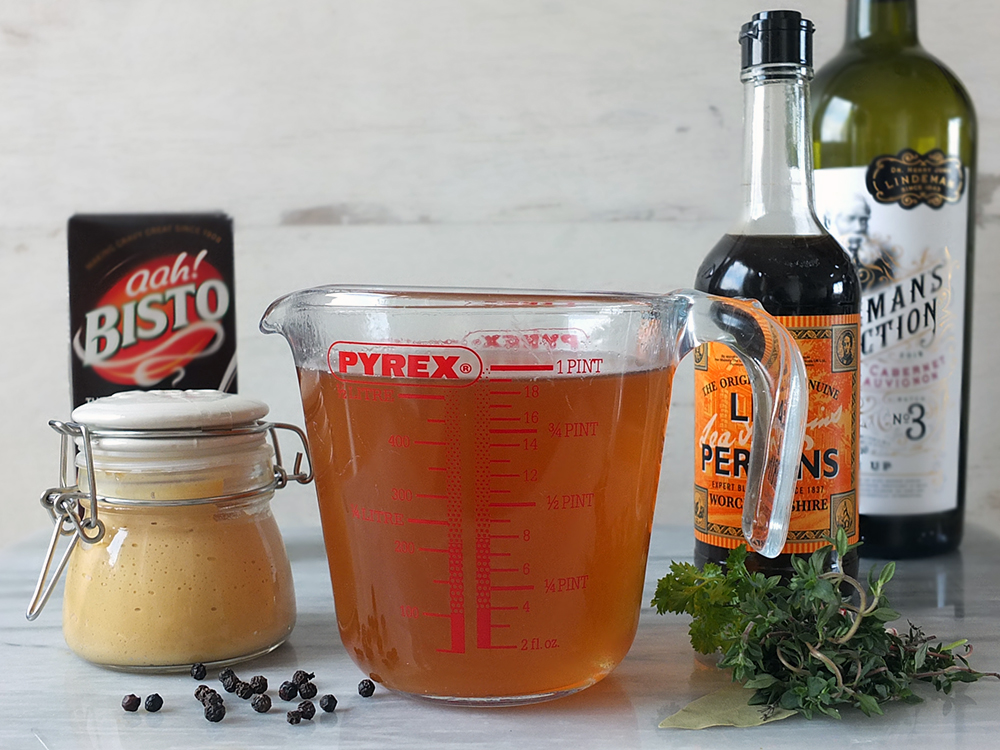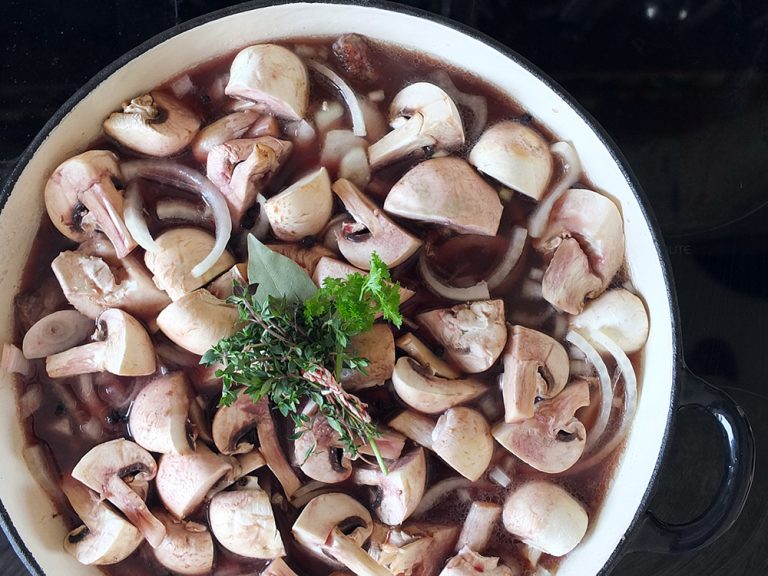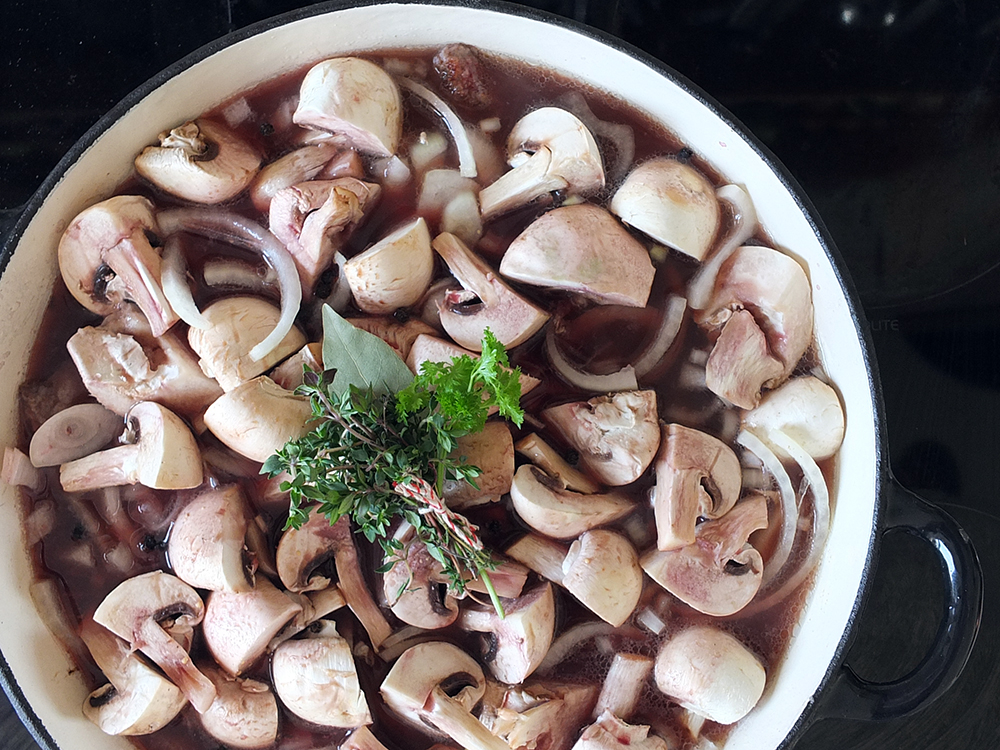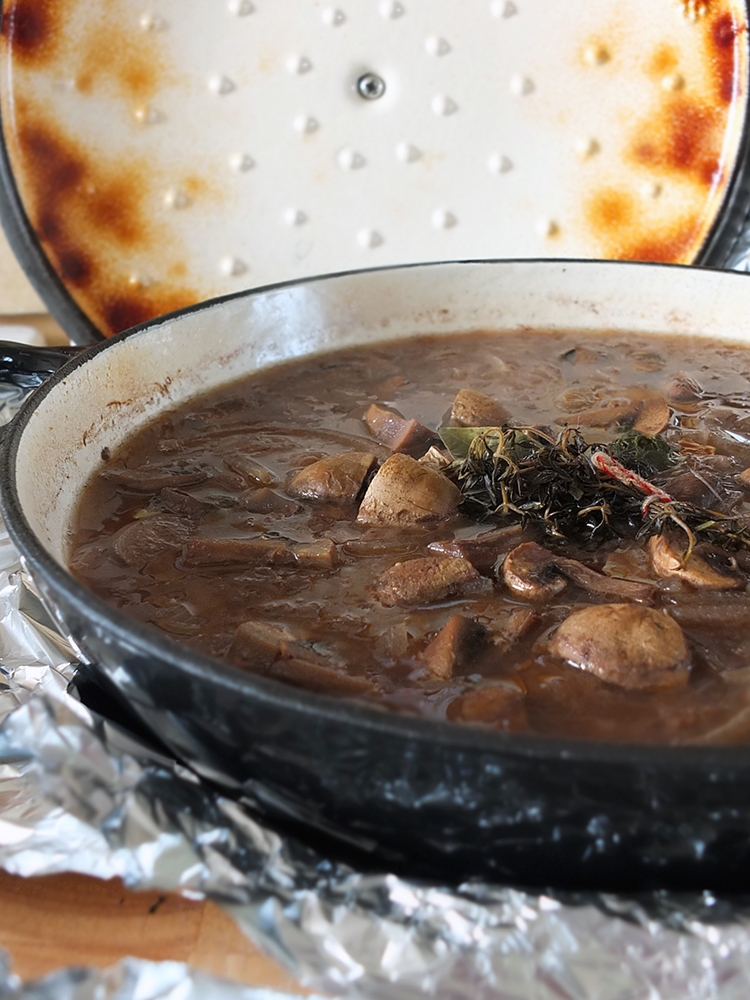 The key to this recipe, David insists, is to remember to seal with pans well with several layers of aluminium foil. This keeps the moisture in so the meat cooks lovely and tender, similar to a slow cooker.
Any leftovers were fed to the fifty or so crew members on board the St. Clair. David recalled how it was more challenging to feed his fellow crew members than it was the passengers. With all the different shifts it meant food always had to be available at any time day or night. The crew were all really happy if they got leftover braised beef, it was like it was their birthday!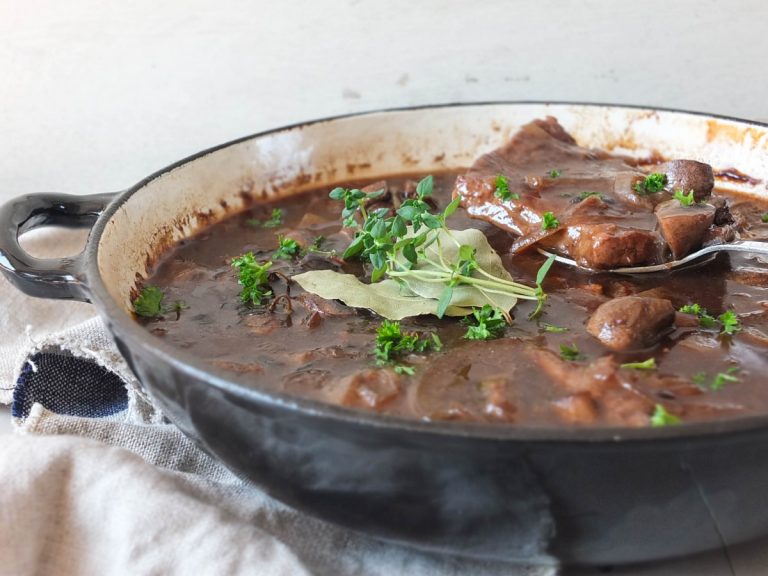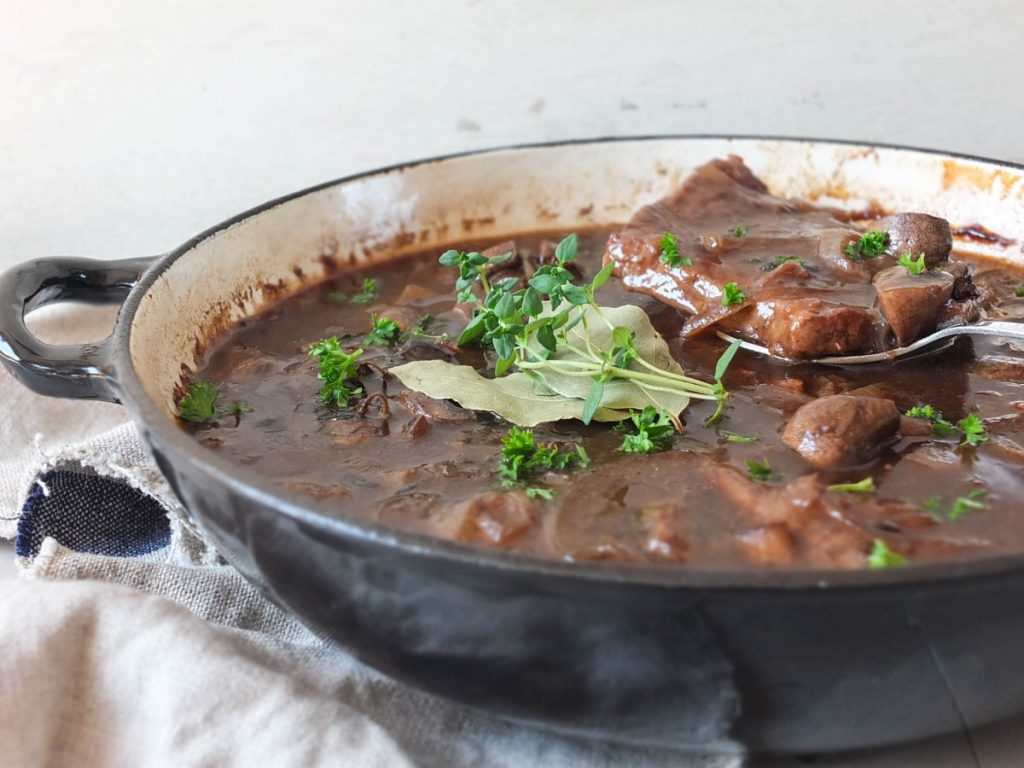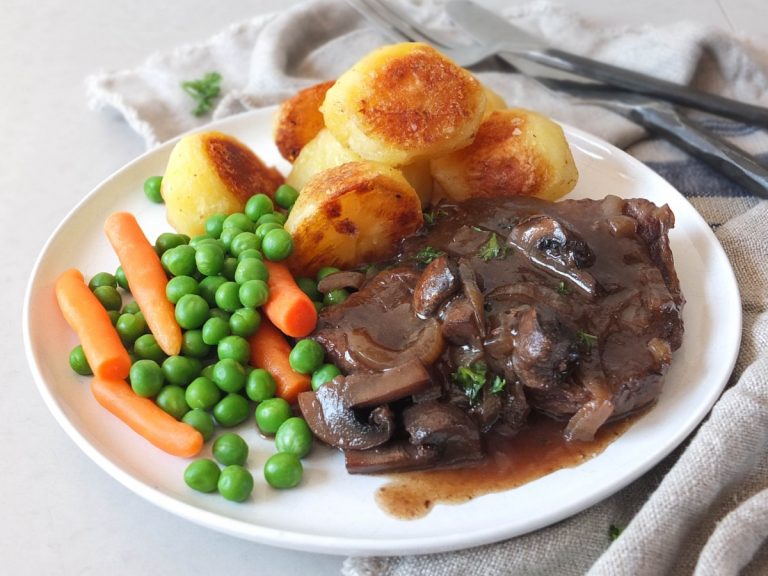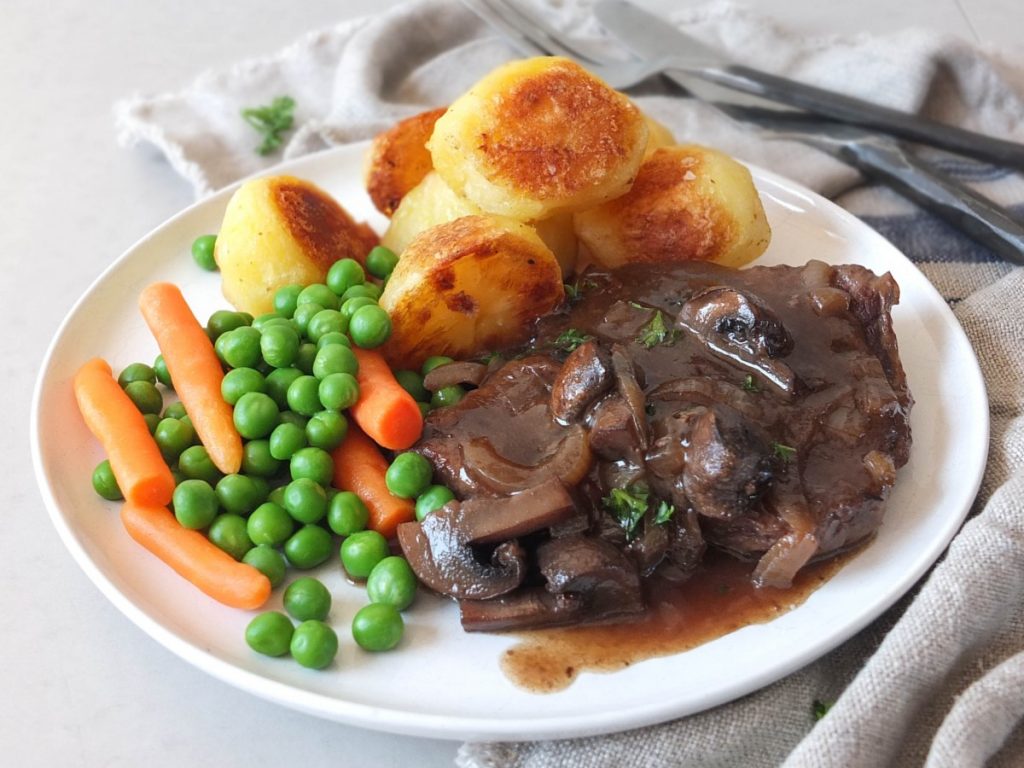 With huge thanks to David Leybourne for this recipe. Do you have any memories of dining on board the St. Clair during the 1980s and 90s? Visit the P&O Ferries website to find out more about their ships during this era (their Hull-Rotterdam and Hull-Zeebrugge routes were introduced then) as well as the other decades they've been in operation.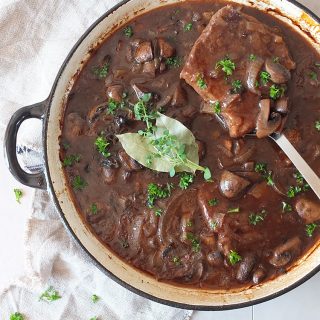 Braised Beef with Red Wine
This recipe was served on board the P&O Ferry St. Clair from Aberdeen to Orkney/Shetland through the 1980s-90s. Recipe from David Leybourne.
Print
Rate
Affiliate Links
This recipe card may contain affiliate ingredient and equipment links. As an Amazon Associate I earn from qualifying purchases.
Instructions
Preheat oven to 170 C/ 150 C fan.

Heat oil in a skillet over a medium-high heat.

Coat beef in the flour and seal on both sides in the oil and place into a deep casserole dish.

Half and finely slice one of the onions, and finely chop the other. Layer over the onions and the mushrooms.

Mix the beef stock, wine, peppercorns, Worcestershire sauce and mustard in a jug and pour over the top. The liquid must cover the beef; add more boiling water if needed.

Seal with dish with a few layers of aluminium foil and bake in the centre of the oven for 3 hours.

Drain the liquid from the dish and thicken with Bisto to make the gravy. Return the gravy to the dish and cook for a further 15-20 minutes.

Serve with roast potatoes and seasonal vegetables. Leftovers reheat very well, simply wrap in foil again and bake in the oven for 30-45 minutes.
YOU MIGHT ALSO LIKE
Review: P&O Ferries – Pride of Hull
P&O Ferries Blog: 1980-2000 – Modern Times
Buttery Chateau Potatoes (from P&O Ferries 1958 menu)
The 1970s Savoury Cheese Log 
Pepperpot Stew: a #SimplyHygge Recipe
Shetland Beef & Valhalla Ale Pie
Slow Cooker Rolled Brisket with Red Wine & Thyme
Leftover Roast Beef Pie
Spinach & Mozzarella Stuffed Meatloaf
Beef Lasagna with Sun-dried Tomatoes & Orkney Smoked Cheddar
Smoked Cheddar Stuffed Aberdeen Angus Burger
SHOP THIS POST
From Bod to Boardroom by D. Hilda Peterson
Shallow Cast Iron Casserole Dish
Lindeman's Gentleman's Collection Wine
Lea & Perrin's Worcestershire Sauce
Bisto Original Gravy Powder
Whole Black Peppercorns
This is a sponsored recipe post in collaboration with P&O Ferries. Thank you for supporting the brands who make it possible for me to do what I love: mess up my kitchen and share recipe stories. 
[color-box]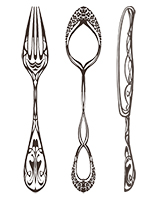 Have you made this recipe?
Take a photo and tag @tangoraindrop or use the hashtag #elizabethskitchendiary and share on Instagram and Twitter. It would make my day to see your creations!
[/color-box]