I love cranberry sauce. A Thanksgiving or Christmas meal isn't complete without it, in my opinion. Cranberry sauce is the accompaniment which turns the humble turkey (and subsequent leftovers) into something you want to have seconds and thirds of. I can quite easily scoff a silly amount of roast turkey, cold, with lashings of this cranberry sauce.
I don't particularly care for shop bought cranberry sauce. It's far too sweet and there are not enough cranberries in it. I like my cranberry sauce to retain t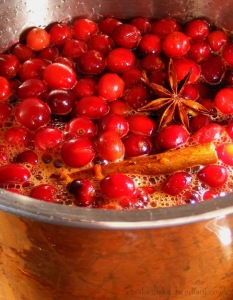 Fortunately, homemade cranberry sauce is a dawdle to whip up and it can be made weeks in advance, well before any Christmas/Thanksgiving preparation starts in full swing. It only takes a few minutes to pop everything in the pan, stir every now and again for ten minutes or so, bottle and away you go! Easy peasy!
Cranberries grew wild where I grew up in the Canadian Maritimes. I remember once, as a child, one of the elderly neighbours in the village recruiting us young children to help him harvest them from their secret location in a sandy peat bog in the forest.
He wore great big waders and we went into the water either barefoot or in wellies and we picked the little red cranberries floating on the surface of the water. It was a magical experience which has stuck with me over the years.
Cranberries don't grow wild here in Shetland, so I have to make due with the imported ones in the supermarket. I buy them fresh and pop them in the freezer for use when I need them. You can often buy them on sale after Christmas. Cranberries keep for ages in the freezer. Sources say 9-12 months but I know I've kept mine lurking in the bottom of the freezer for a lot longer than this without any deterioration in flavour.
I made this cranberry sauce for our Canadian Thanksgiving meal using cranberries and white wine which had both been in the freezer for quite some time. I often use white wine in cooking and any leftovers which aren't consumed with the meal usually get frozen into 50 ml quantities for use in later recipes. I think this saves a bit of money since I don't have to buy a whole bottle of wine each time I need just a splash for cooking.
As such, I am sharing this recipe with Credit Crunch Munch, a food blogging challenge by Helen from Fuss Free Flavours and Camilla at Fab Food 4 All with an aim of getting food bloggers to share their frugal recipes. This month the challenge is hosted by Michelle over at Utterly Scrummy Food for Families.
I'm also sharing this recipe with the fabulous Mark over Javelin Warrior and his Made with Love Mondays challenge, where bloggers can share their from-scratch recipes, and with Jen from Blue Kitchen Bakes and her fresh cranberry recipe link up!