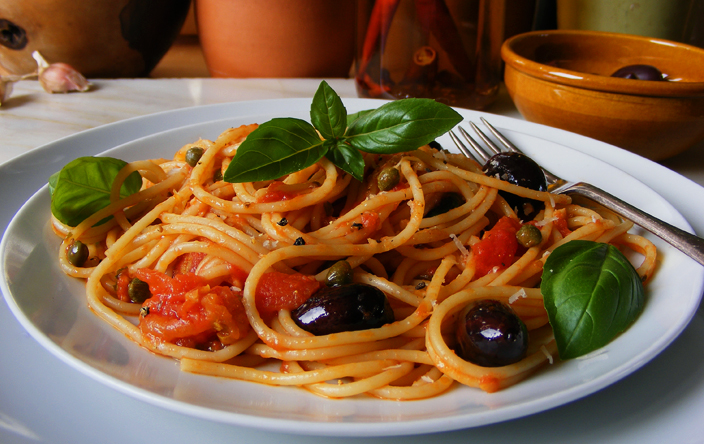 One of my favourite meals growing up was spaghetti with a jar of Ragu sauce poured over the top. I could never get enough of it. To me that dish represents the ultimate in comfort food, and I am known still, as an adult, to eat it on occasion.
A few years ago I discovered via Nigella Lawson's television show, the wonderful world of spaghetti alla puttanesca. I remember her describing in Nigella's unique and tempting way the flavour of the olives and the anchovies in the dish and she completely sold it to me. Unfortunately, I didn't have the recipe she used so it fell by the wayside until years later, I found one on Epicurious. This recipe is my own slight adaptation of that one, taylored over the years to just how I like it.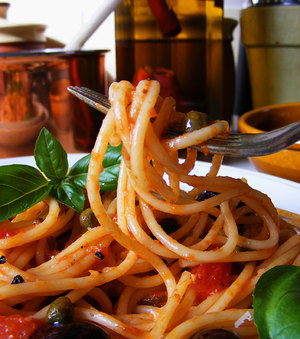 This is a quick to prepare, simple and flavoursome dish and it's one of my store cupboard standbys for when, after a busy day, I'm starving and want dinner right now with minimal effort. The anchovies, capers and Kalamata olives provide a very rich, salty masculine flavour while the chilli gives it an almighty kick.
Spaghetti alla puttanesca translates literally as 'whore's style spaghetti' and it is said that the Italian ladies-of-the-evening would whip this up between clients. It really is that quick to prepare. If you time it right the sauce can be ready before the pasta is finished cooking.
I've taken lately to using some home made chilli infused olive oil instead of the extra virgin olive oil and crumbled dried chilli listed in the recipe and it works really well.
To make your own chilli oil gently saute 5-10 fresh red chillies in a flavourless oil on a low heat for ten minutes or so and then add to a bottle of extra virgin olive oil. Leave to mature for a few days. The flavour will strengthen the longer the oil is left to mature. Be warned – the chilli oil can get very strong, so do check it every now and again before using!
As this recipe uses fresh herbs I am sharing it with Karen over at Lavender and Lovage and her Cooking with Herbs food blogging challenge. Each month we're asked to share our recipes which use herbs. Do pop over to Karen's fantastic blog and see what other foodies are creating with herbs!
This recipe has been republished from early 2012. The original photograph was utterly dreadful: flash photography in the evening, but I was in my early days of food photography and blogging and didn't know any better. I've learned a thing or two since and although it's an ongoing educational process I think these photos are slightly more appealing. Plus, I wanted to show off my gorgeous new Proware tri-ply copper cookware!
I've been using these pans for several weeks now and I am very much in love with them! The 24 cm stock pot is big enough to cook enough spaghetti for a hungry family of five and the 20 cm saucepan is just the perfect size for homemade pasta sauce. The clever three ply copper, aluminium and stainless steel construction makes for even heat distribution and as a bonus they look fantastic! If you are interested in owning some of this beautiful and effective cookware for yourself their products are available exclusively from Lakeland. Prices start at £16-99 and they have a 3-for-2 special offer on just now, just in time for Christmas ordering!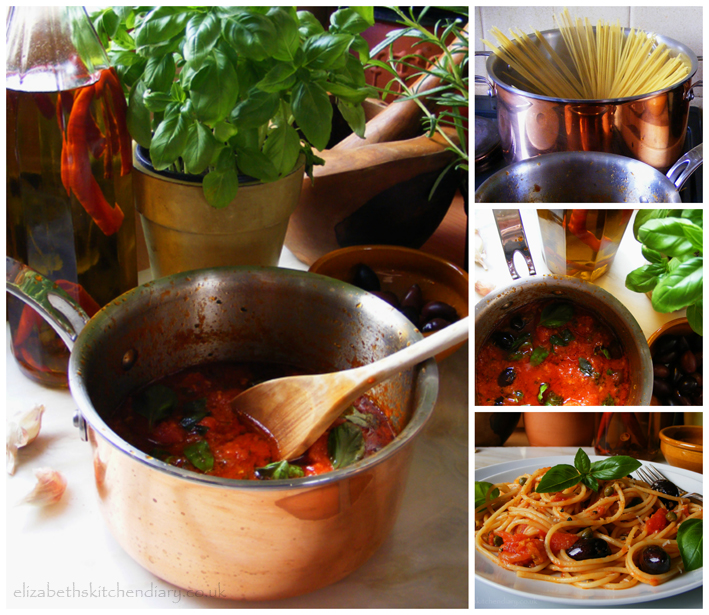 Spaghetti alla Puttanesca
A quick and flavoursome Italian meal.
Ingredients
350-400 grams dried spaghetti
70 ml extra virgin olive oil
4 large garlic cloves, finely chopped
1 400 gram tinned whole plum tomatoes
1 tbsp tomato puree
100 grams whole Kalamata olives
4 anchovy fillets, finely diced
1 1/2 tbsp capers in brine, rinsed
1 tsp dried oregano
1 large dried chilli, crumbled
1 tbsp fresh parsley, chopped
3 tbsp fresh basil leaves, torn
3 tbsp Parmesan cheese, to serve
Instructions
1. Bring a large pan of salted water to the boil, add a splash of olive oil and cook spaghetti according to packet instructions.
2. Meanwhile, heat olive oil in a medium sized saucepan.
3. Add garlic and sauté until fragrant, about one minute.
4. Add tinned tomatoes, tomato puree, anchovies, capers, oregano and crushed chilli pepper.
5. Simmer over a medium heat until thickened, breaking up the tomatoes as they soften.
6. Add the kalamata olives and season well.
7. By this time the pasta will be al dente. Drain pasta and return to the pot along with the sauce, parsley and basil.
8. Toss the pasta over a low heat until evenly coated in sauce and serve immediately with plenty of Parmesan cheese.
Details
Prep time: Cook time: Total time: Yield: Serves 4
Elizabeth's Kitchen Diary received a complimentary set of Proware Tri-Ply pans to try out. All opinions are my own and I was not required to write a positive review. This was not a paid post.