In collaboration with OXO UK.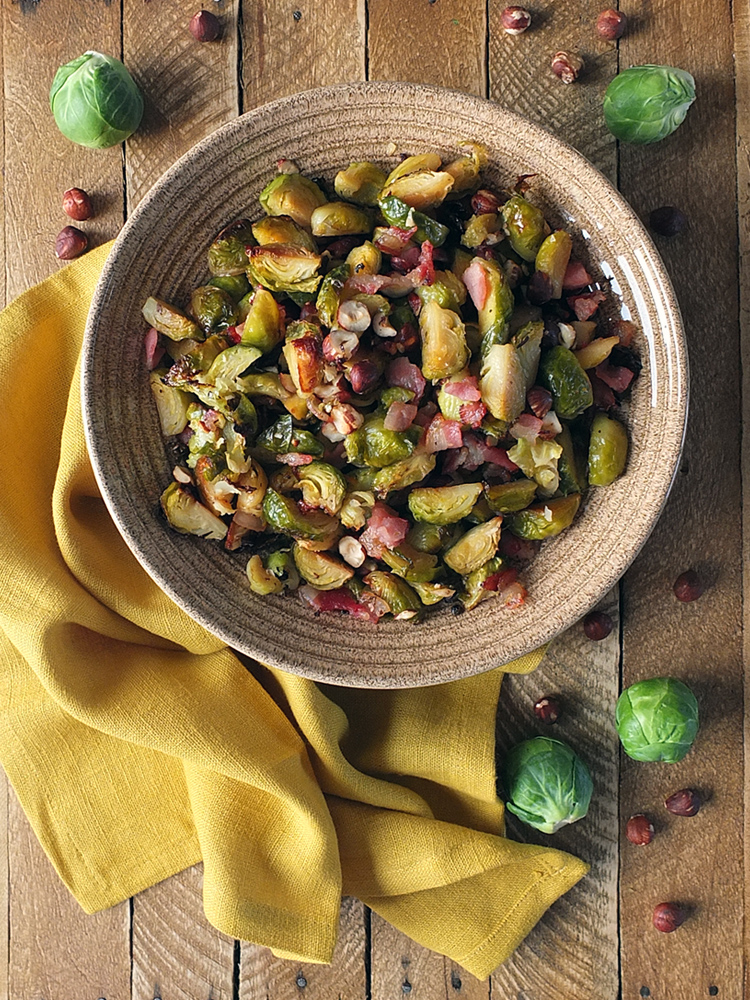 Ah, the humble Brussels sprout. Folk tend to be firmly in the 'love them' or 'hate them' camp and even in our family opinions are divided. I love them, especially lightly sauteed Brussels sprouts tops cooked with bacon and maple syrup served over a generous helping of creamy polenta. The ultimate Autumnal comfort food.
Many people associate Brussels sprouts with a helping of boiled, overcooked vegetable which, frankly, tastes rank. It's science. Brussels sprouts contain sulforaphane which, when overcooked, can taste like rotten eggs.
However, roasting sprouts can transform this humble vegetable into a delicious, nutty and sweet side dish, perfect for Thanksgiving.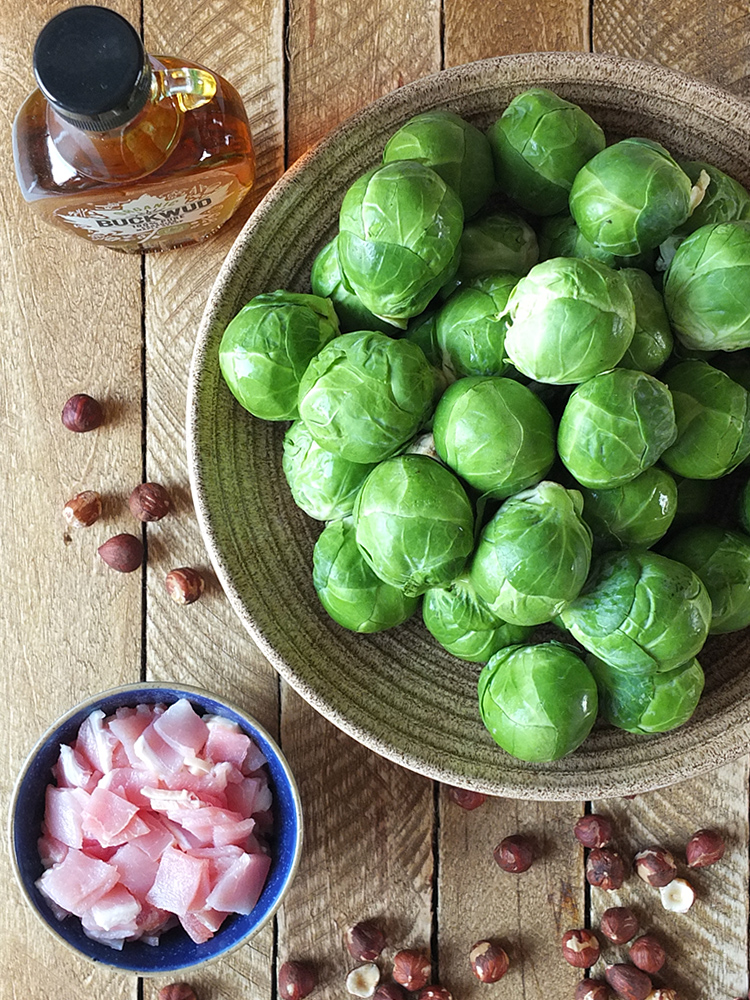 I've kept my Thanksgiving side dish simple, as anyone who has prepared a Thanksgiving dinner for a crowd knows, there's already enough work involved!
For this dish, you can prep the sprouts and the bacon the day before, and then you just need to pop it all in a good non-stick roasting tin, drizzle with oil and maple syrup (Canadian, of course!) and roast. Add the hazelnuts in for the final ten minutes of cooking and keep warm until needed!
Simple!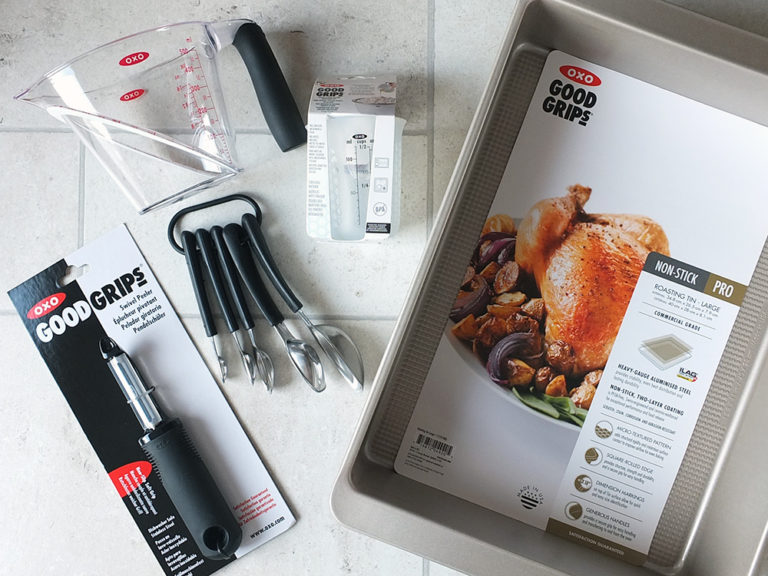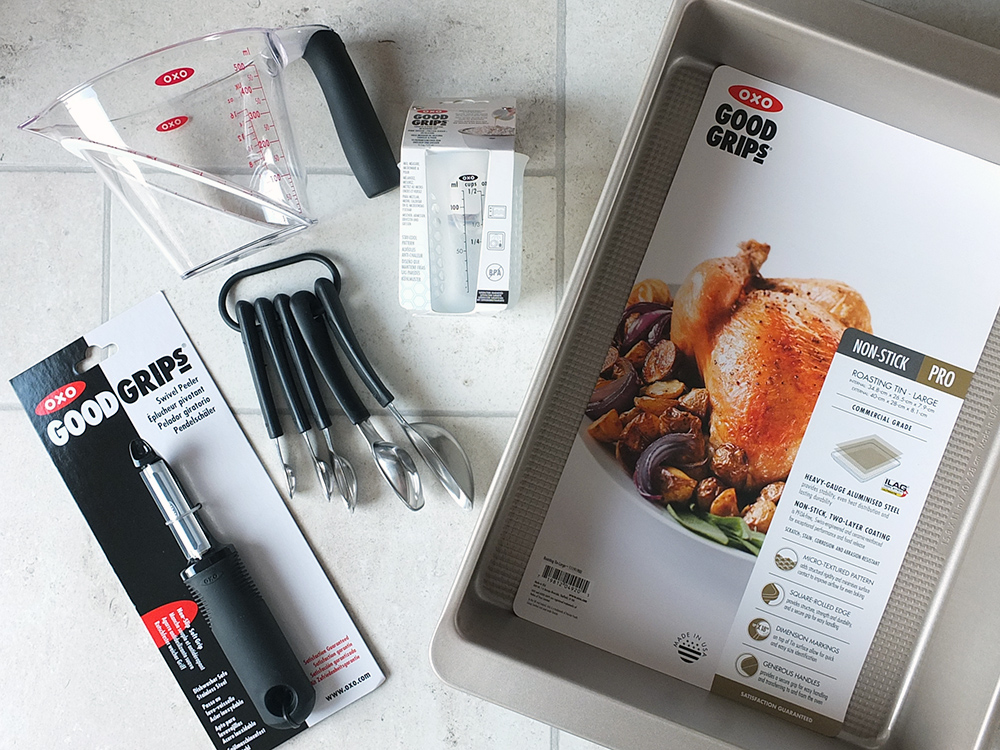 I've used the OXO Good Grips non-stick Pro roasting tin for my recipe. Its heavy-gauge aluminised steel base provides stability, even heat distribution for perfect roasting and lasting durability. It's got squared edges, so you can get a secure grip on the pan while transferring it in/out of the oven, and a micro-textured pattern minimises surface contact, improving airflow, and allowing those delicious sprouts to caramelise and roast gorgeously.
It's also non-stick with a PFOA-free, Swiss-engineered and ceramic-reinforced two-layer coating – which means easy cleanup! Win!
I've recently added a few other handy OXO products to my kitchen arsenal too, which I'm excited about. Namely: spice jar sized measuring spoons (with a 1/8 tsp!), a swish vegetable peeler, a mini silicone measuring cup with 10ml increments, as well as ounces and cups, and a 500ml angled measuring cup which means I can measure out ingredients from above. All genius products, imho!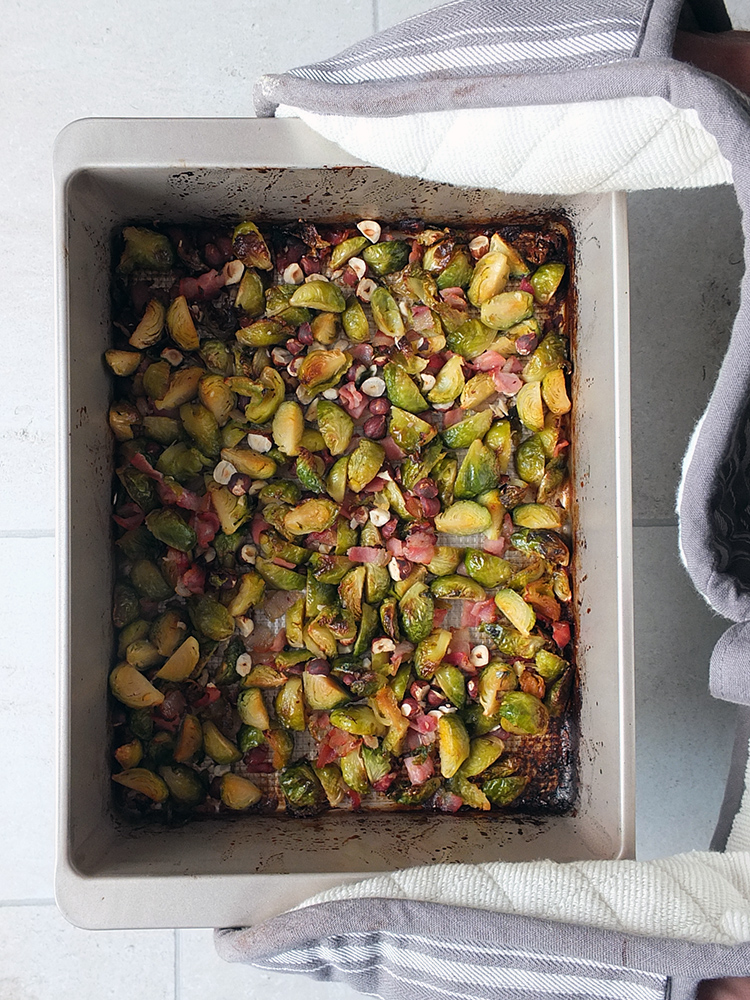 I confess I never once saw a Brussels sprout until I moved to Scotland. Back in rural Canada, we used to go to my grandparents' house for family Thanksgiving dinners, and I remember them with fondness. Roast turkey (I remember the sight of the giant thing defrosting on top of the chest freezer in their basement) with all the trimmings – stuffing, gravy and mashed potatoes. Mashed turnip and carrot always featured too, but never the humble Brussels sprout.
One of the more peculiar dishes we ate at Thanksgiving and Christmas, right there on the plate along with the turkey, was a layered jelly dessert with pineapple and bananas. So good, but almost as strange as the American fondness for combining sweet potatoes and marshmallows (something I've still yet to try!).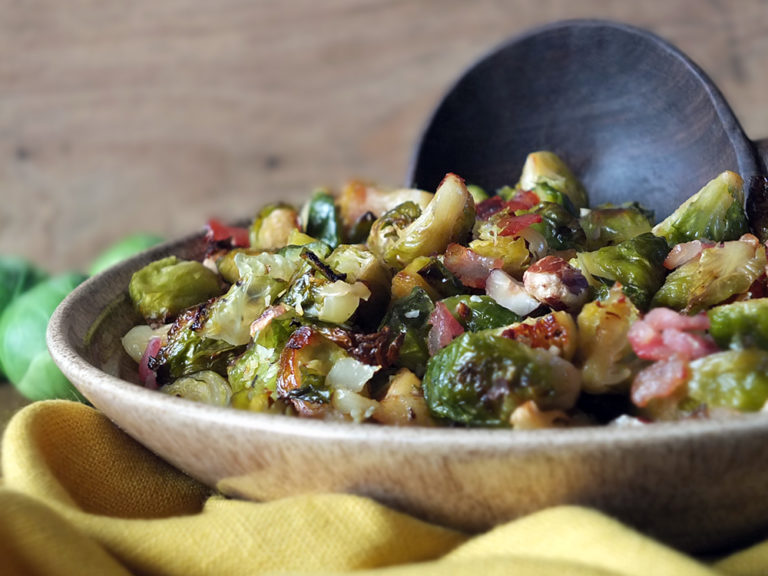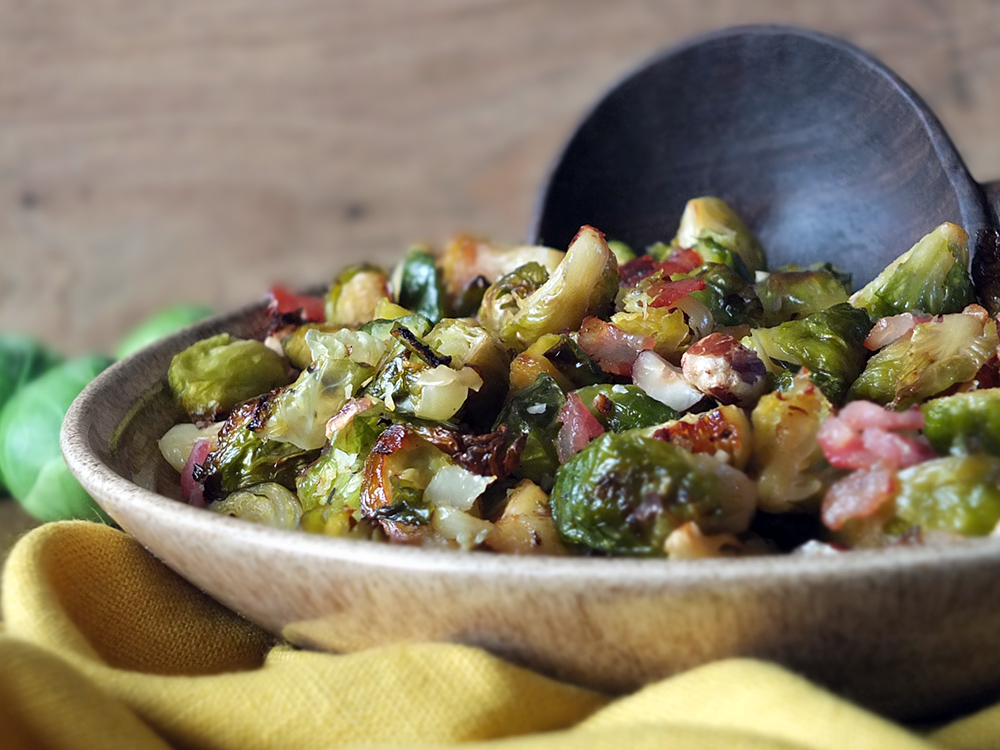 So yes, say goodbye to boring boiled Brussels sprouts, and why not give roasting them a try? I've quartered my Brussels sprouts as they were fairly large, but my veg box ones tend to be smaller and I leave those ones whole or halved.
Adjust the cooking time to your preference too – if you want a little more bite to your sprouts, reduce the cooking time by ten minutes or so. I wanted mine to be lovely, soft, sweet and caramelised with the salty smoked bacon and crunch of the hazelnuts.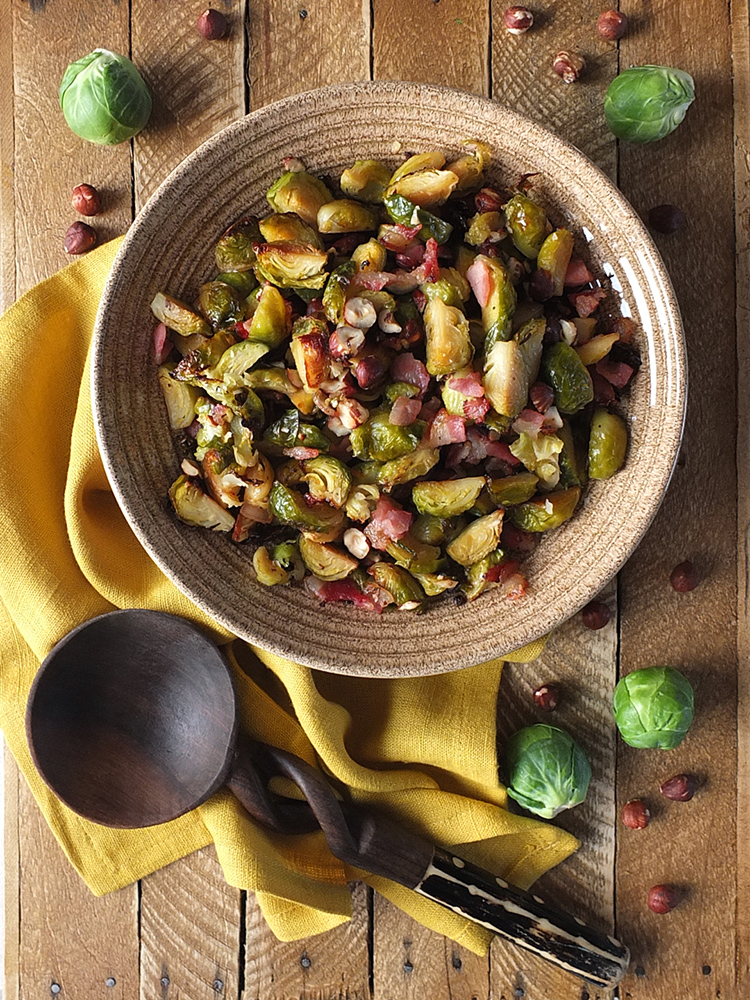 If you're looking for good quality and affordable kitchen products, do visit the OXO UK website. They've got you covered for all your kitchen utensils and bakeware needs. For my Shetland readers, Harry's Department Store in Lerwick stocks a wide range too – do pop in for a look next time you're in town!
In the meantime, here's my maple roasted Brussels sprouts recipe with bacon (bacon makes everything taste better, no?) and toasted hazelnuts.
Happy Thanksgiving!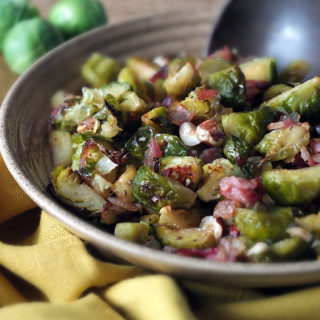 Maple Roasted Brussels Sprouts with Bacon & Hazelnuts
A simple, fuss-free Thanksgiving dinner side dish that even the fussiest Brussels sprouts hating guest will love!
Print
Rate
Affiliate Links
This recipe card may contain affiliate ingredient and equipment links. As an Amazon Associate I earn from qualifying purchases.
Instructions
Preheat oven to 375F/190 C/ 170 C fan.

Prepare your sprouts by cutting off the end of the stalk, removing a 2-3 of the outer leaves and halving or cutting into quarters, depending on their size.

Place the sprouts in a large roasting tin, sprinkle over the chopped bacon and add the olive oil and maple syrup. Stir well to coat and arrange in a single layer.

Roast in the centre of the oven for 30-40 minutes, stirring after 15 minutes.

Add the coarsely chopped hazelnuts for the final 10 minutes of cooking.

Season well to taste and serve warm.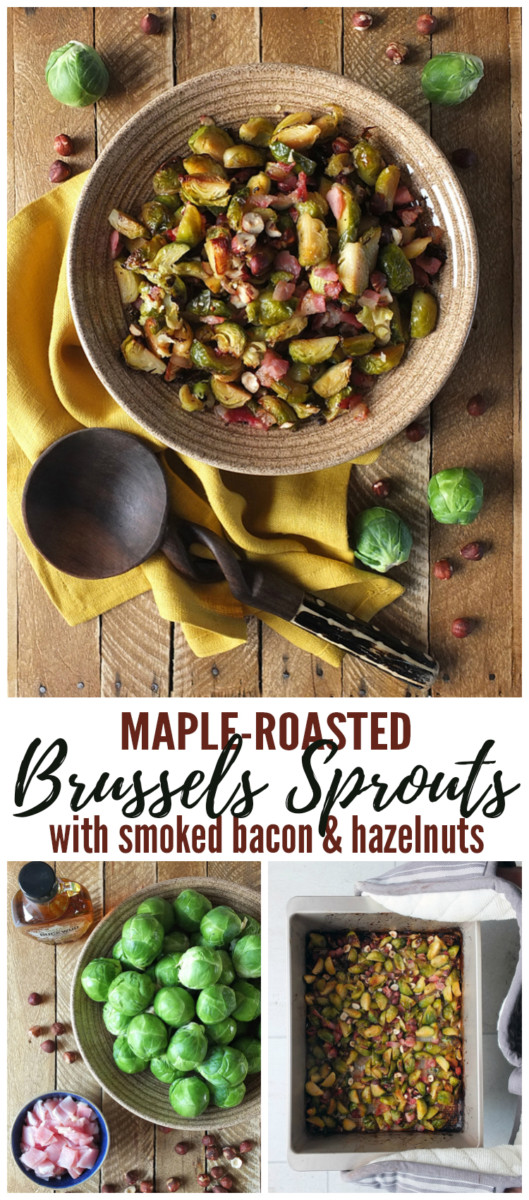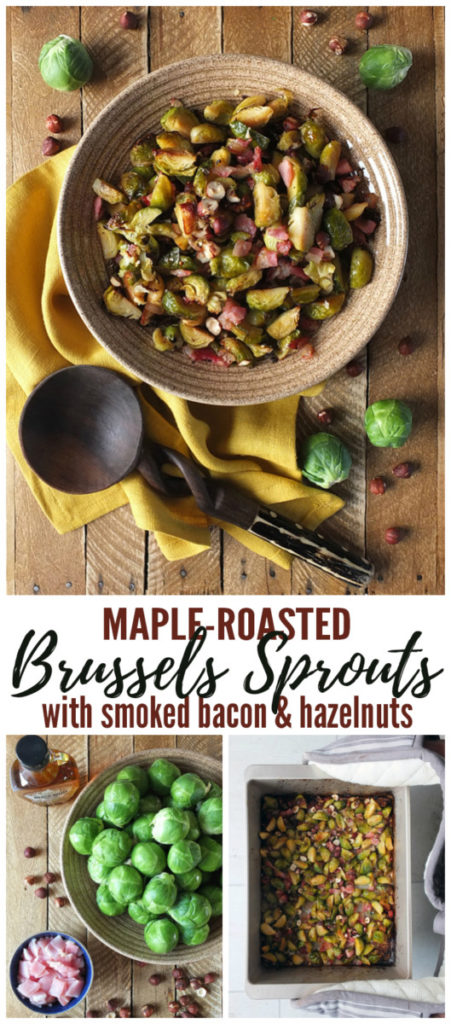 This is a commissioned recipe for OXO UK, although all thoughts and opinions expressed are our own. Thank you for supporting the brands who make it possible for me to do what I love: mess up my kitchen and share recipe stories.
[color-box]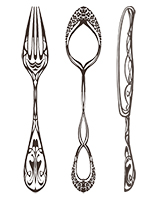 Have you made this recipe?
Take a photo and tag @tangoraindrop or use the hashtag #elizabethskitchendiary and share on Instagram and Twitter. It would make my day to see your creations!
[/color-box]