Chocolate, peanut and marshmallow swirl cupcakes! Give me s'more!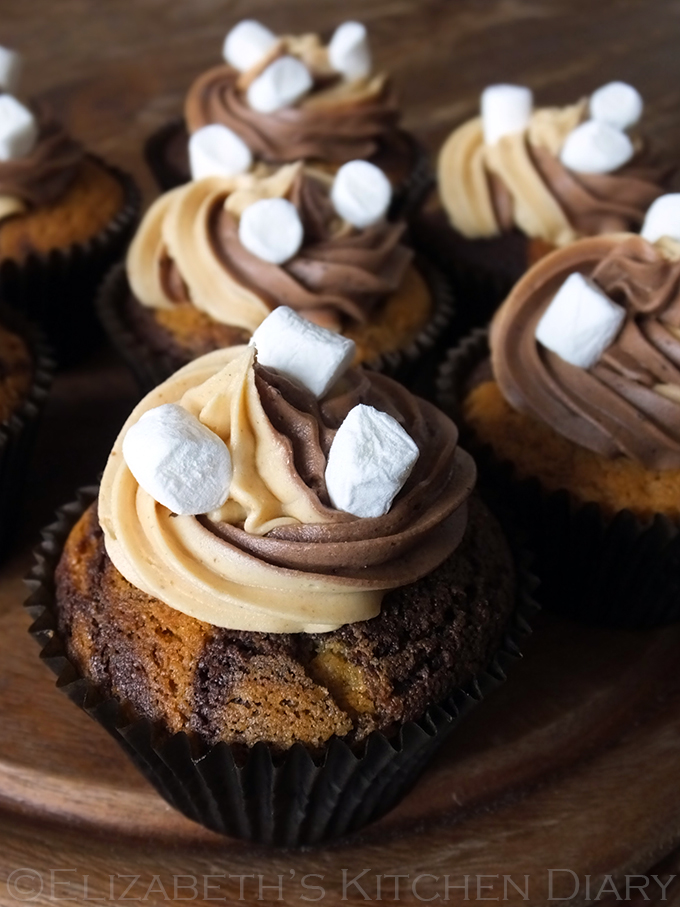 Did you ever enjoy s'mores as a child?
Picture it, an open camp fire, two graham crackers smeared with peanut butter, chocolate chips pressed into the sticky peanut butter so that there were no gaps at all, two or three giant marshmallows stuck on the top and then the two graham crackers sandwiched together, squeezing the marshmallow flat. Wrap it all in tin foil (I'm Canadian, I can say this!), and carefully place in a hot area near the fire so that the chocolate and marshmallows melt into ooey-gooey awesomeness. Leave to cool slightly, if you can wait… and eat!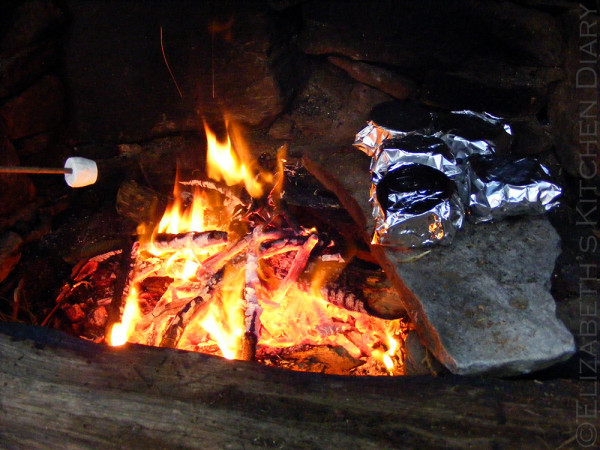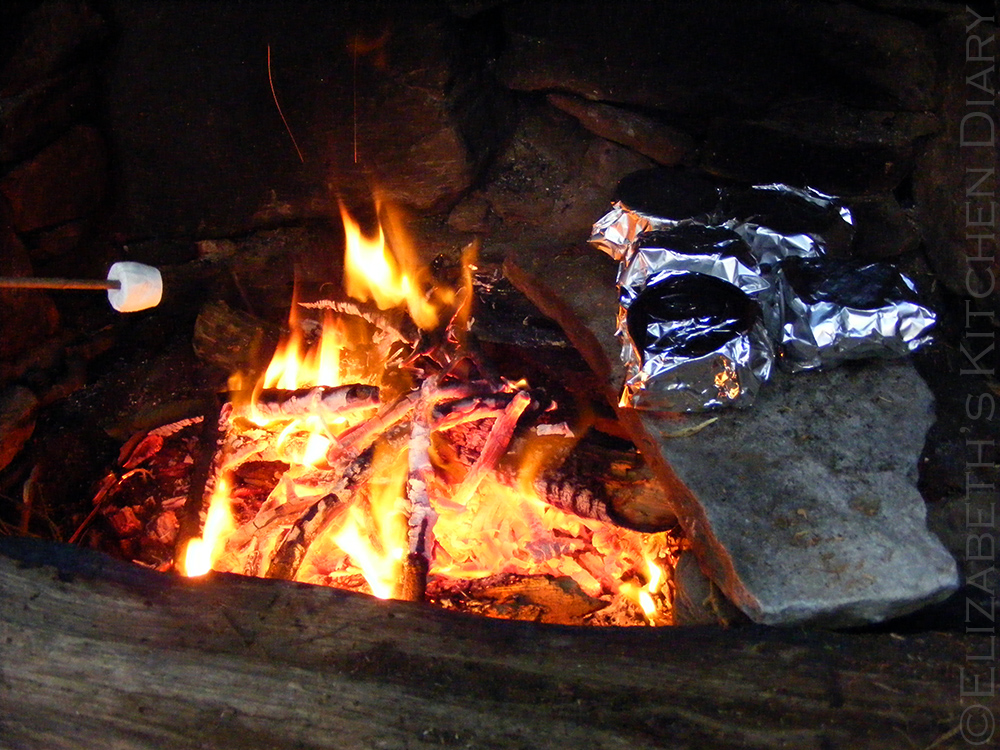 Oh I miss proper s'mores! We don't have graham crackers in the UK. Digestive biscuits are a reasonable alternative, but they are circular. S'mores need to be square. They don't do proper Canadian-style marshmallows here either. Ach well – we must make due!
There are many different ways of making s'mores. The above is how I was taught to do it at the annual children's summer camp I attended from the ages of 7 until I was 14. Such fond memories.
This cupcake recipe pays homage to the s'mores of my youth.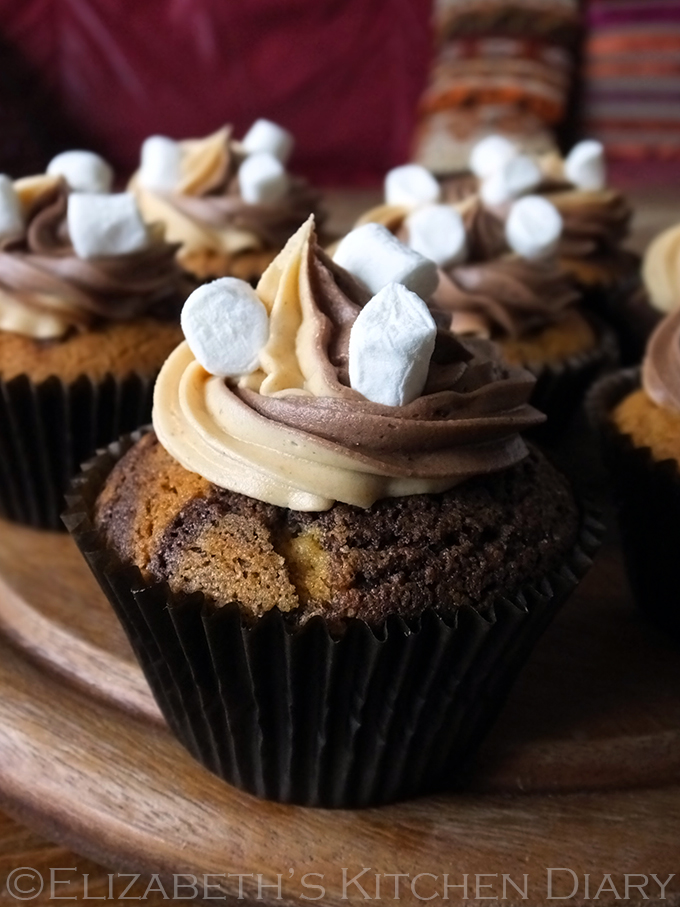 These delicious cupcakes are made with cocoa powder and fat reduced peanut flour instead of peanut butter. I wanted a proper peanut hit with this recipe, and the peanut flour works well. Mini marshmallows add the final touch. The chocolate and peanut swirl cupcake itself has a gorgeous moist crumb, and the soft chocolate and peanut swirled frosting is just… heavenly!
To make the swirl effect frosting you can either spoon the mixture on opposite sides of a large piping bag, or to make things a little easier, use three small plastic disposable bags. Put the chocolate frosting in one, the peanut frosting in the other, and then put both bags into a third bag fitted with a medium sized star piping nozzle.
I've only put a small amount of frosting on the tops of these cupcakes, but if you're a frosting fan by all means double the quantity and pile it up!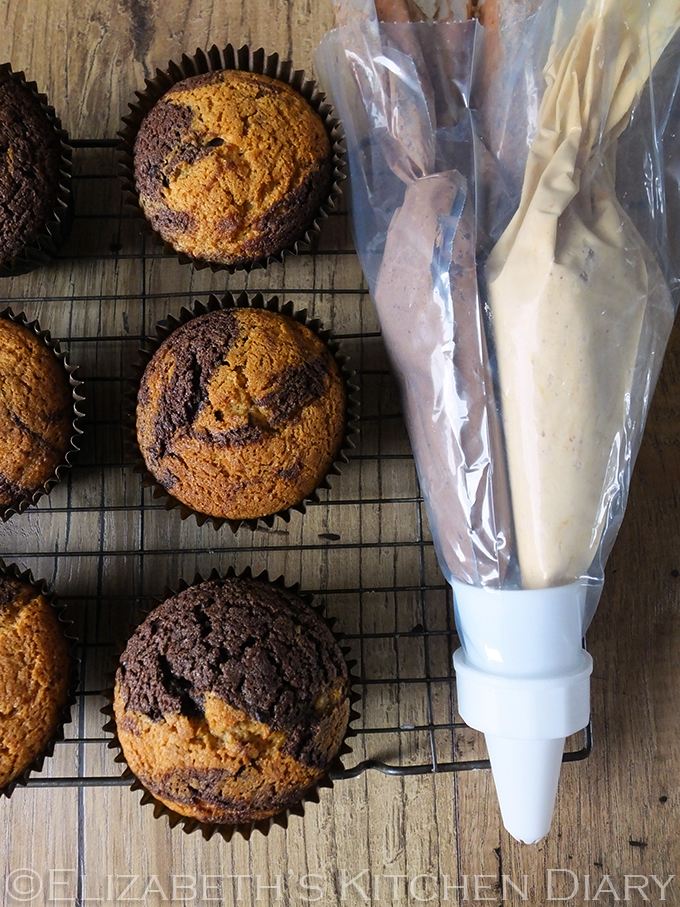 This post has me all nostalgic for the Canadian summers of my youth – twinkling fireflies, the peeping of the frogs in the local ponds, bats, june bugs banging against the screen windows and even mosquitoes! Ok, not so much mosquitoes.  The weather here in Shetland has been terrible this year. I fear that we won't get a summer at all! It's midway through June and I'm still wearing heavy jumpers and a scarf!
Please, please, please ye old weather gods, bring us a summer! I can not be held accountable for my erratic behaviour if the sun does not shine to rejuvenate me!
In the meantime, here's the recipe for the cupcakes – suitable for indoor eating when it's raining outdoors and you can't build a campfire to make real s'mores.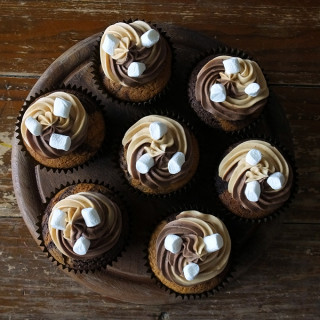 S'mores Cupcakes
Chocolate and peanut cupcakes with a chocolate and peanut swirl frosting, topped with mini marshmallows!
Print
Rate
Affiliate Links
This recipe card may contain affiliate ingredient and equipment links. As an Amazon Associate I earn from qualifying purchases.
Instructions
Preheat your oven to 180 C (170 C fan) and line a 12 hole muffin tin with large American size cupcake/muffin cases.

Cream butter and sugar together until light and fluffy. Add the egg, one at a time, with a spoonful of flour so it doesn't curdle.

Sift in the remaining flour and bicarbonate of soda and combine well.

Divide the mixture into two equal portions in separate bowls.

Add the cocoa powder to one half, and the peanut flour to the other half. Add a tablespoonful of milk to each bowl and stir until combined. It should be a soft, dropping consistency.

Drop small spoonfuls of each flavoured batter into the cupcake cases. Using a knife or skewer, swirl the batter together slightly to make a marbled cupcake.

Bake for 20-25 minutes, until springy and a skewer inserted comes out clean. Transfer to a wire rack to cool completely.

To make the frosting, blend the butter and icing sugar together until thoroughly combined.

Divide the mixture into two bowls, and add the cocoa powder to one bowl, and the peanut flour to the other. Add 1 tbsp milk to each bowl and combine well.

To pipe the swirled frosting you can either spoon each flavoured frosting into separate sides of a large piping bag, or use two small plastic disposable ones inserted into a third bag into which the medium star piping nozzle is fitted.

Frost and decorate with mini marshmallows!
Environmental Information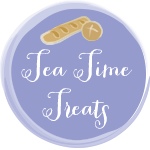 LINKING UP WITH A FEW FOOD BLOGGING CHALLENGES
Recipe of the Week by A Mummy Too
Love Cake – Midsummer Madness – by JibberJabber UK
We Should Cocoa – Cupcakes – by Tin & Thyme and Kerry Cooks
Simply Eggcellent – Anything Goes – by Belleau Kitchen
#CookBlogShare by Supergolden Bakes
Tea Time Treats by Lavendar & Lovage and The Hedgecombers
If you want to be kept up to date on my recipes, occasional craft tutorials, adventure stories and giveaways then please subscribe to my weekly newsletter; it gets sent out every Monday morning if there is new content. Your email address won't be passed on to anyone, you will never be spammed and you are free to unsubscribe at any time, no questions asked. Make sure you confirm your subscription or you won't receive the newsletter – if it hasn't arrived check your junk mail folder.
[wysija_form id="1″]
With thanks to Sukrin for the peanut flour used in this recipe.