In collaboration with Green Giant.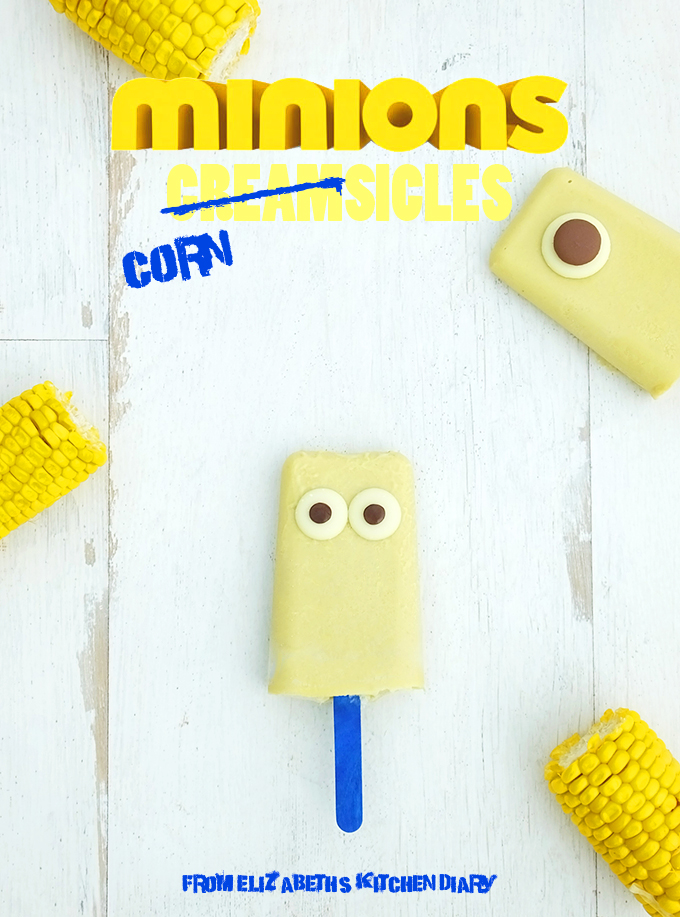 Challenge #1 – Green Giant Minions Challenge
The brand new Minions movie hits cinemas on June 26th and to celebrate, Green Giant is challenging bloggers to create the ultimate Minion-inspired summer snack.
Green Giant Sweetcorn is a perfect ingredient for family mealtimes: kids love the delicious, naturally sweet flavour, and it's great to know you're giving them something healthy and nutritious.
The Minions movie shares the adventures of Stuart, Bob and Kevin as they search for a new evil master to serve. It's an epic journey – and we all know you can't undertake an epic journey without enjoying some delicious, healthy food before you go.
Challenge #2 – My Children Don't Like Tinned Sweetcorn
They love fresh corn on the cob and cornbread, but as soon as I put tinned sweetcorn on their plates the complaints begin and I have to spend the entire mealtime trying to encourage nagging them to eat it. I've tried making it into different recipes – fritters, pasta with tuna and loads of cheese (the sweetcorn gets left at the bottom of the bowl) and even sweetcorn pudding served with ham. Nope. Not having it.
So how do I get my three children to eat some of the tinned sweetcorn I was sent to help me with this challenge?
Disguise it!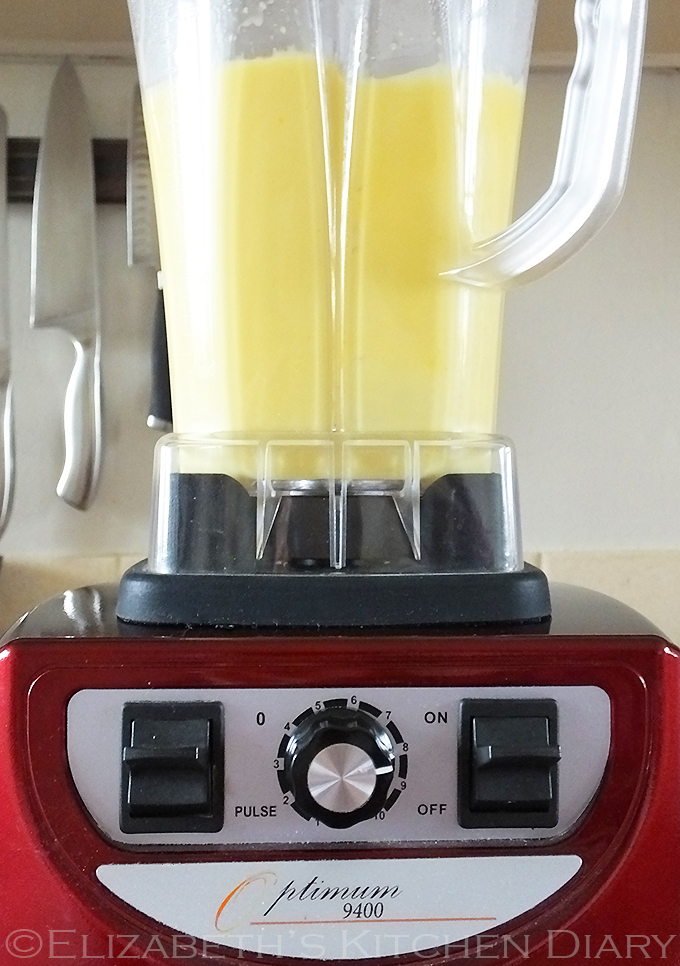 My super duper high speed power blender from Froothie can pulverise paving stones in seconds, so it should have no problem whizzing up sweetcorn until smooth (excuse the dust – that's six months of builders being on site and being unable to keep up with the mess they make!).
Using a basic coconut milk vegan ice cream base I thought if I heated the sweetcorn up with the mixture as it thickened it would blend easier. I also added a banana because… well.. BANANA! After leaving the mixture to cool for several hours it was the consistency of custard, and deliciously sweet with a slight hint of sweetcorn.
The proof was in the eating.
Sticking some white and milk chocolate buttons on the front of the lollies for eyes, I told my three children that I'd made them Minions ice creams, and they each scoffed with delight (while I secretly giggled inside knowing they were eating sweetcorn).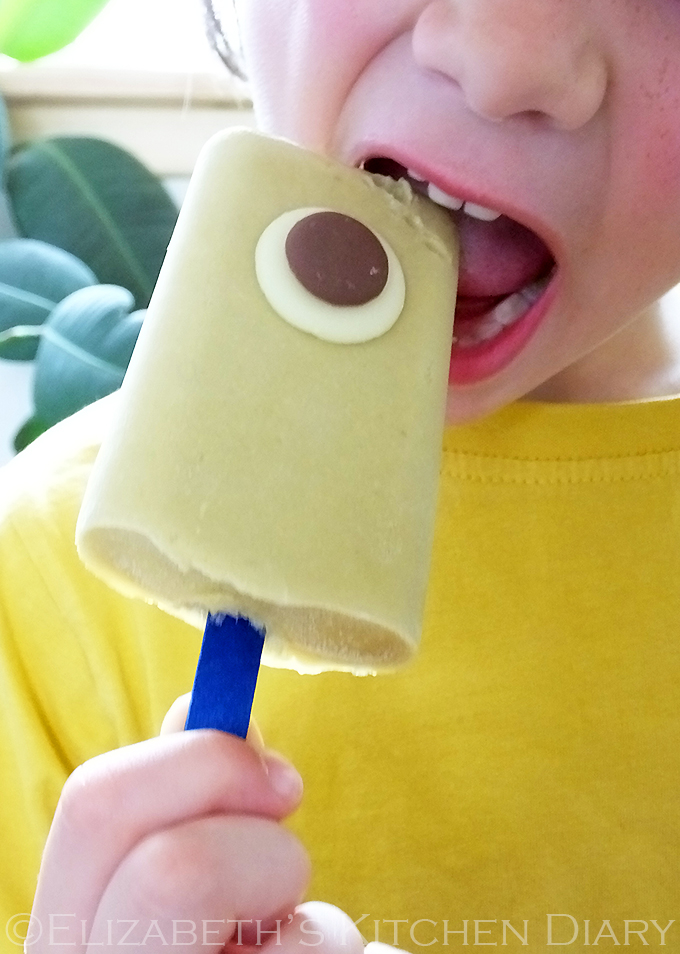 Our youngest, six, said: "When I'm a Dad I'm going to make the same thing as you, except instead of honey I will use golden syrup."
Win!
Stuart, Bob and Kevin are searching for a new evil master to serve? Search no further – I'm a Mum who hides veggies in ice cream – you can't get any more evil than that! Mwah-hah-ha!
You can see what other sweetcorn recipes bloggers have been making for their families by searching for #greengiantminions on Twitter.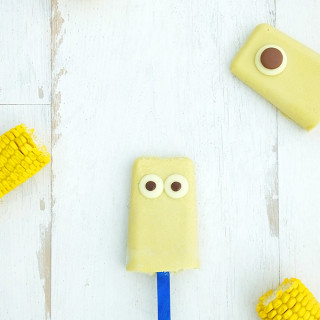 Minions Cornsicles
So delicious, sweet and creamy you'd never know there were vegetables hidden inside!
Print
Rate
Affiliate Links
This recipe card may contain affiliate ingredient and equipment links. As an Amazon Associate I earn from qualifying purchases.
Instructions
Dissolve the arrowroot powder in a little of the coconut milk and pour into a saucepan.

Add the remaining coconut milk, the honey and the tinned sweetcorn and bring to the boil.

Simmer for a few minutes until the mixture begins to thicken, and then remove from the heat.

Pour the mixture into a high speed power blender along with the banana, and blend until smooth. This will only take a minute or so.

Refrigerate the mixture until cool and then spoon into ice cream moulds.

Freeze for one hour and then pop in the sticks and leave to freeze overnight.

To add the eyes let the ice creams melt on the outside a little bit, stick the chocolate buttons on and then pop them back into the freezer for a bit to harden. Roll a little of the brown icing into pupils for the smaller eyes, and use a tiny bit to stick the brown chocolate buttons onto the white chocolate buttons for the single, large eye.
Notes
To make blue wooden popsicle sticks you can dye regular wooden ones with food dye and vinegar. Search online for tutorials. Regular coloured craft sticks are not food safe.
Environmental Information
OTHER ICE LOLLY RECIPES YOU MIGHT LIKE
Peach Melba Smoothie Ice Lollies
by Casa Costello
Four No Sugar Ice Lolly Recipes by Family, Friends, Food
Pomegranate Coconut Water Popsicles
by My Fussy Eater
Cauliflower and Chocolate Ice Lollies with Pistachio Dust
by Veggie Desserts
Avocado and Lime Ice Lollies
by Veggie Desserts
2 Ingredient Banana Nutella Pops
by Recipes from a Pantry
If you want to be kept up to date on my recipes, occasional craft tutorials, adventure stories and giveaways then please subscribe to my weekly newsletter; it gets sent out every Monday morning if there is new content. Your email address won't be passed on to anyone, you will never be spammed and you are free to unsubscribe at any time, no questions asked. Make sure you confirm your subscription or you won't receive the newsletter – if it hasn't arrived check your junk mail folder.
[wysija_form id="1″]
Elizabeth's Kitchen Diary uses the Froothie Optimum 9400 blender, and the Froothie Optimum 600 slow juicer to make her juices, soups and smoothies. These are affiliate links, meaning if you buy a blender or juicer through them we will earn a small commission.
This post is my entry for the Tots 100/Green Giant Minion challenge. I received tins of sweetcorn and payment towards the cost of ingredients. All opinions expressed are our own.