Spelunking: the exploration of caves, especially as a hobby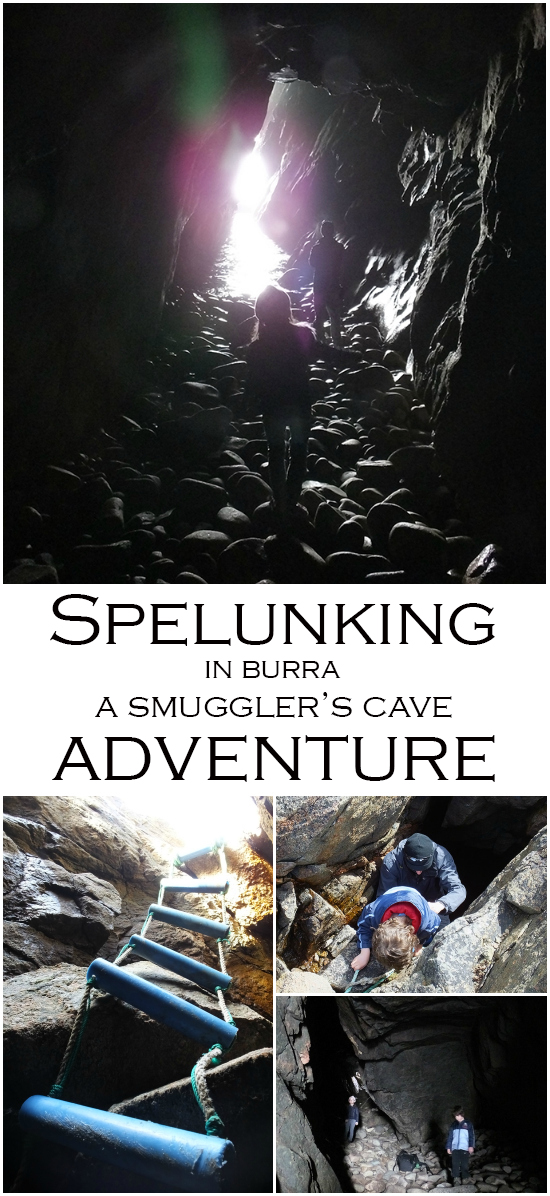 There are approximately 1679 miles of indented coastline in Shetland punctuated by the regular appearance of caves, most only accessible by sea, if they are accessible at all.
The cave at the far end of St. Ninian's tombolo is one of our family favourite haunts, but last year, when I heard that there was a large sea cave in Burra, accessible by land, my curious explorer instinct kicked in in full swing. I had to find it!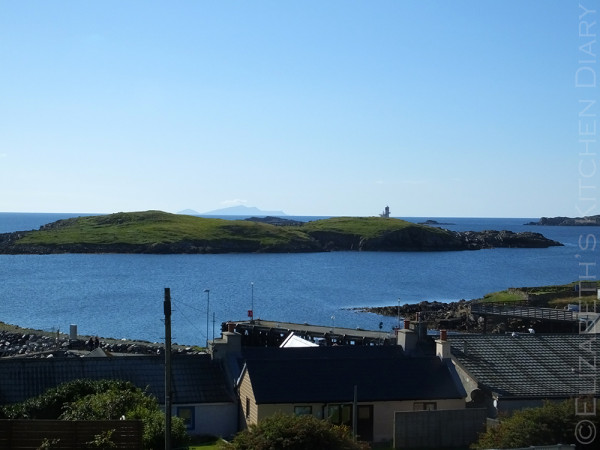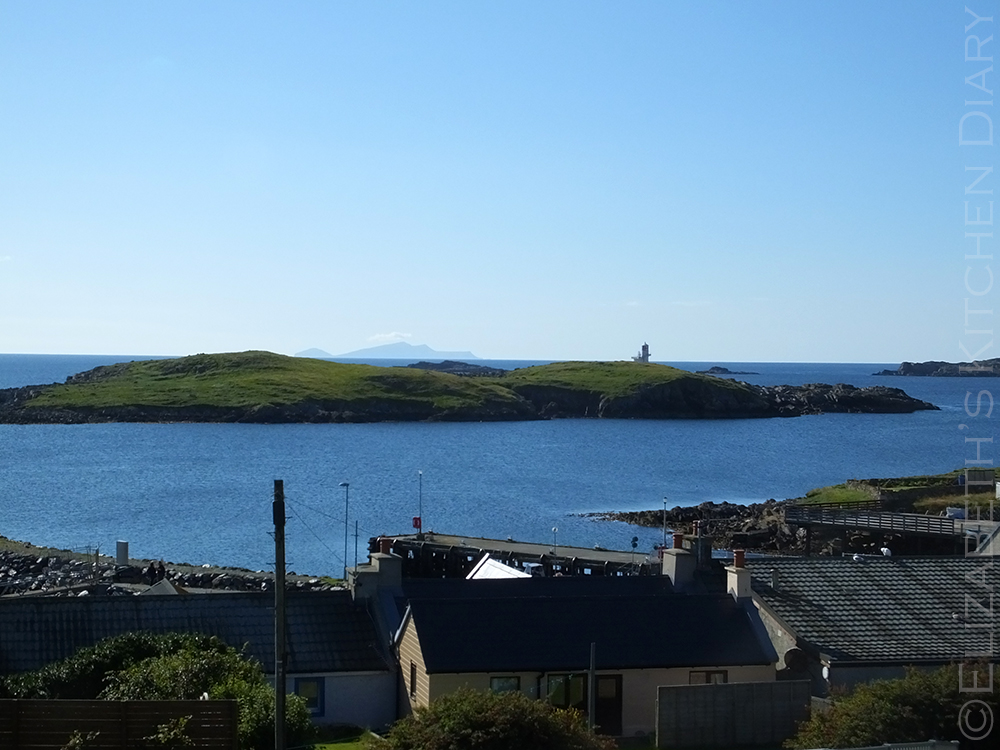 The village of Hamnavoe, in West Burra, on the south west side of Shetland, is an extremely picturesque area, great for hillwalking and exploring. It's also home to the most awesome shed ever, wouldn't you agree?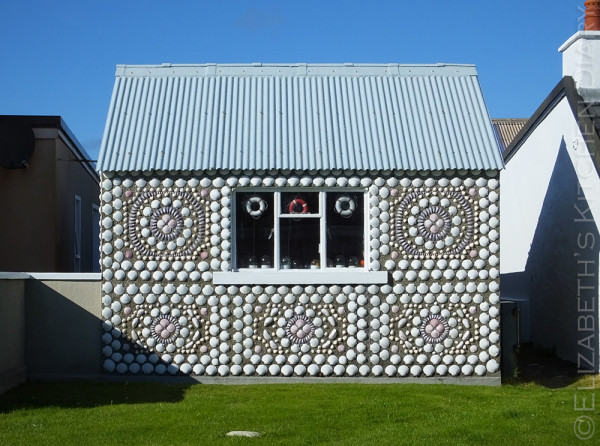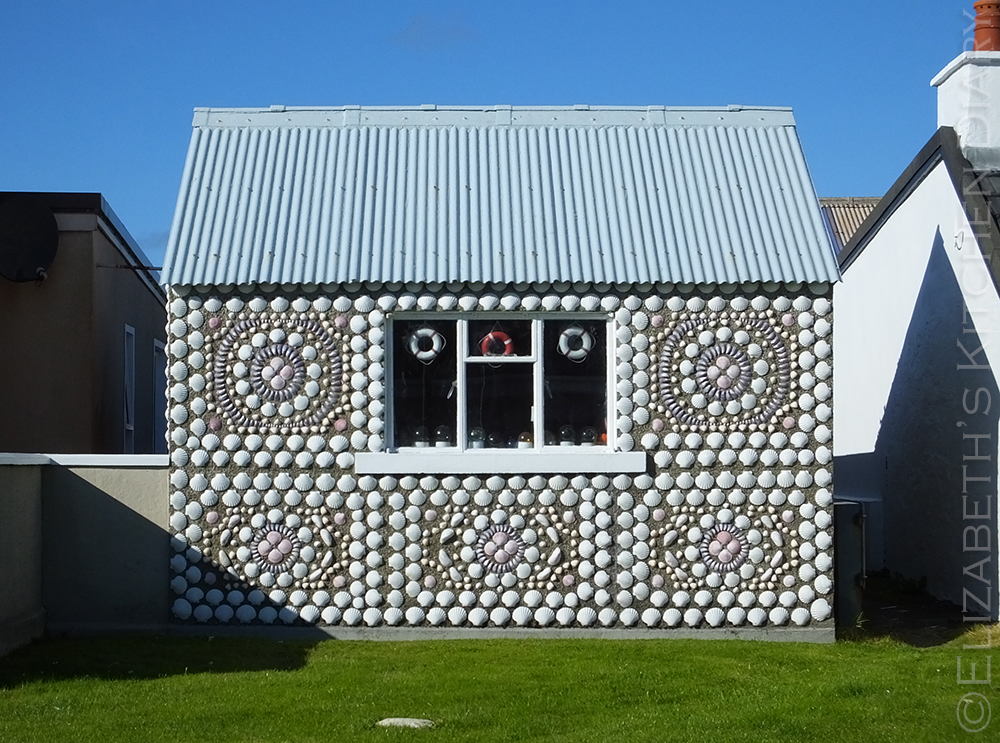 Last September my eldest son and I headed to the area to look for the hidden smuggler's cave. We met a local woman in the area who gave us directions – to the right of the area of large stones she said.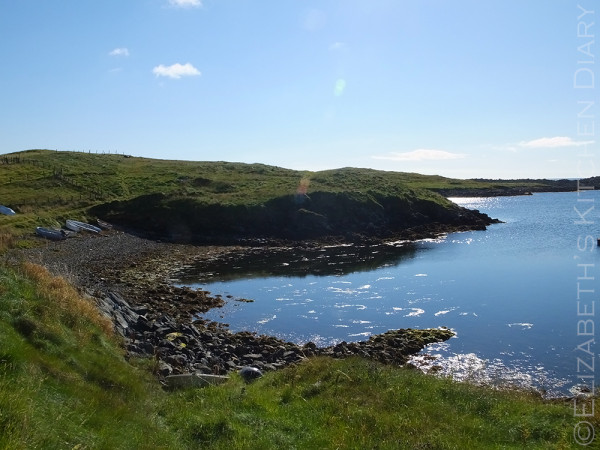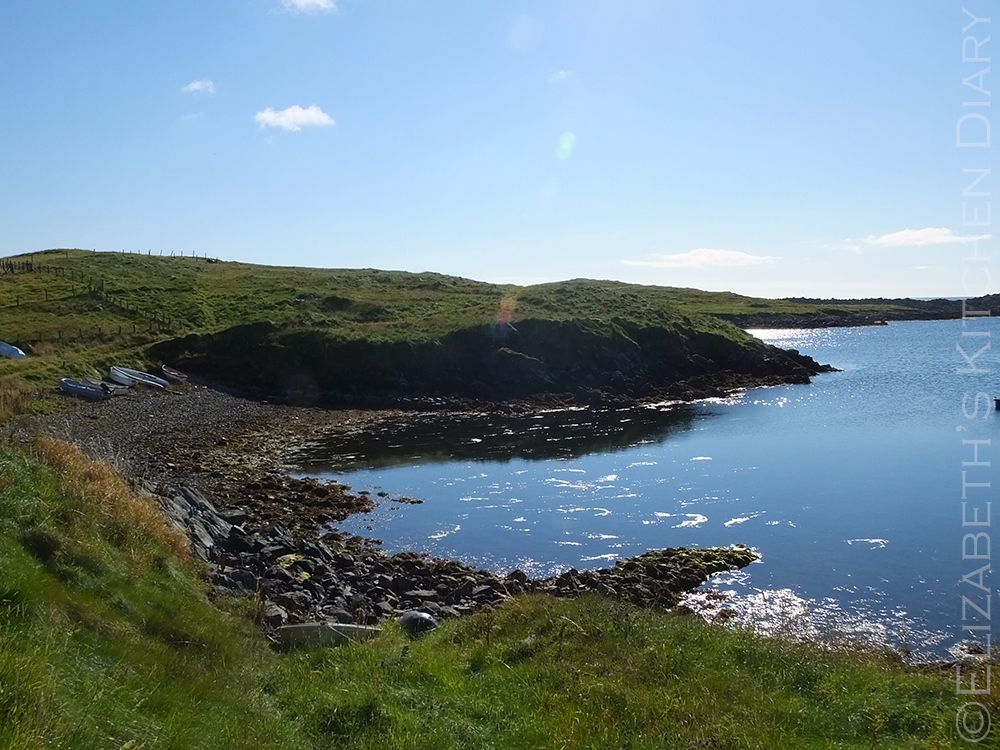 Parking at the car park at the pier and crossing over the beach area, we headed to the right of the rocks you can see in the top far right of this photograph. We spent nearly two hours searching, to no avail.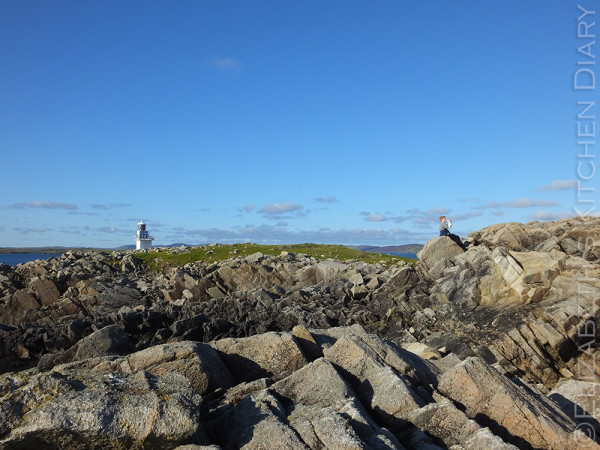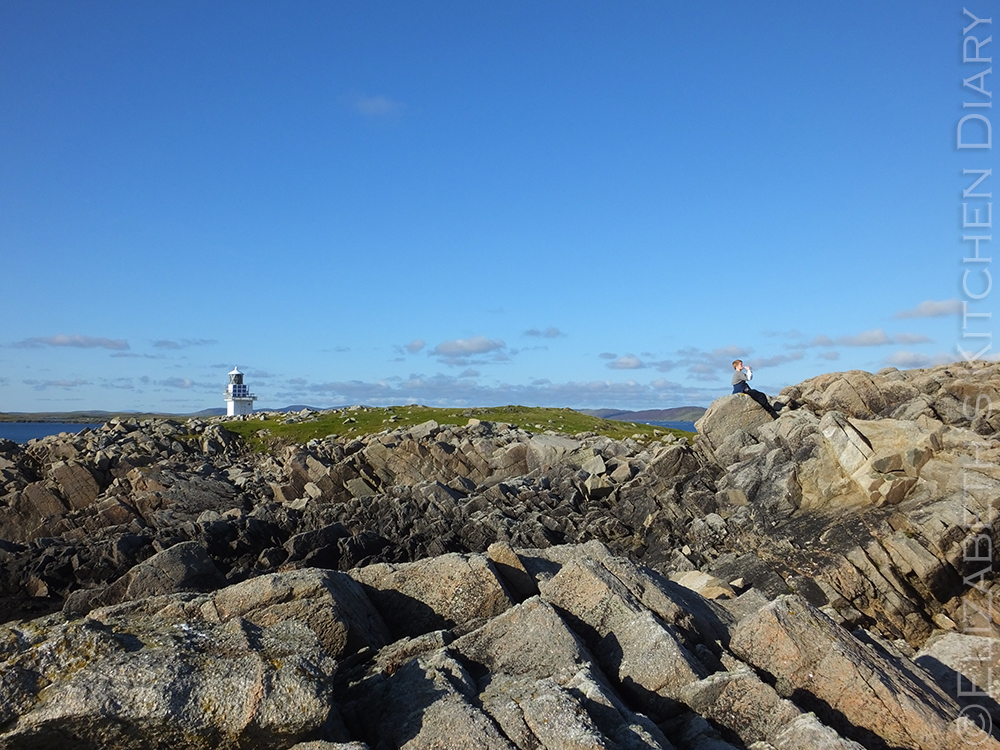 We did, however, enjoy a fantastic evening together, eating our supper of tinned beans and weiners, and some reheated ribs he'd made in home economics class that day cooked on a gas stove on the clifftops. A perfectly civilised way to spend an bright and sunny evening, basking in the sheltered warmth of the rocks.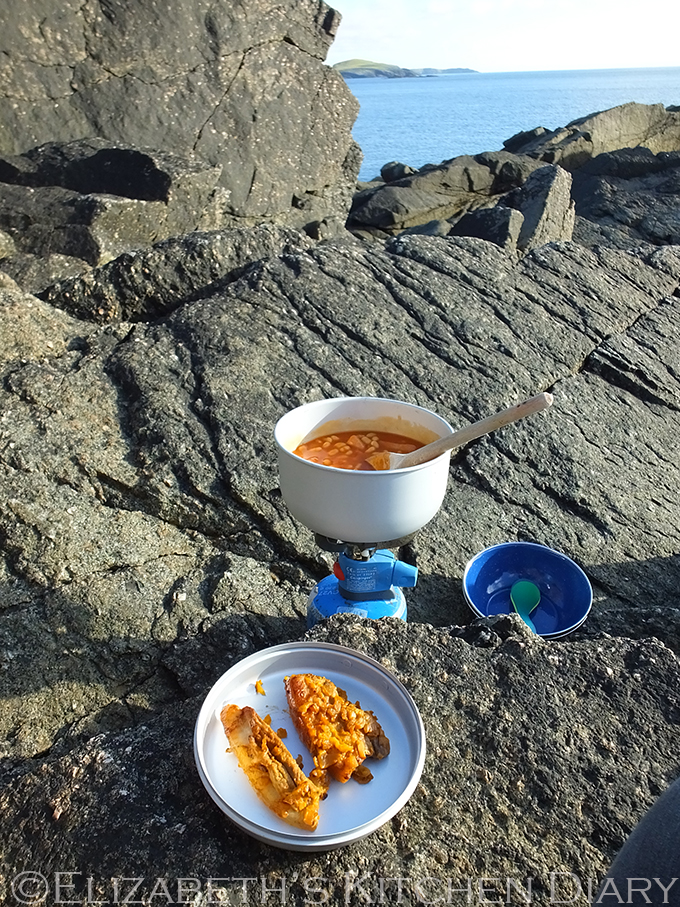 Then winter kicked in. Winter in Shetland can be brutal what with relentless rain and gales, so it's mostly an indoor affair. Searching for the sea cave was postponed until the weather improved.
Come April the weather forecast was for full sun for an entire day. An adventure was planned – we were going to find this cave once and for all! This time we went a little bit more prepared. I found the OS co-ordinates for the cave in this Shetland Amenity Trust document and plotted them into my GPS.
The 'smugglers cave', 200 metres inland at the headland of Pundsar, formed due to the sea exploiting the weakness of a geological fault within the rock face.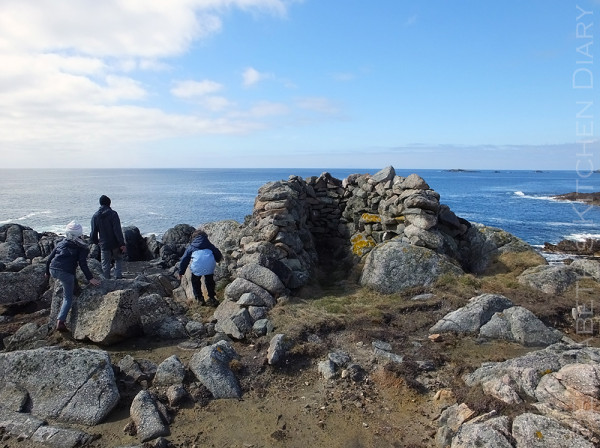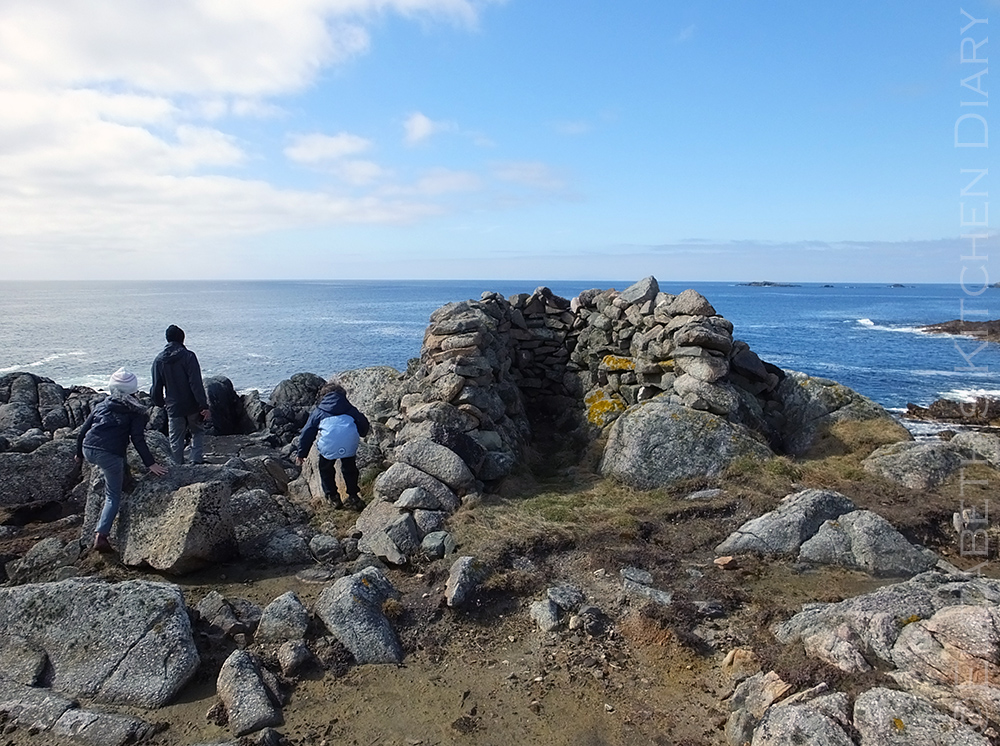 The reason my eldest and I failed to locate the smuggler's cave on our first attempt was because we should have gone left before the rocks, not right. When you cross the hill just after the beach you'll see some stone ruins (pictured above). Head left along the rocky cliff edges.
The entrance is hidden where casual walkers along the coastline are unlikely to stumble upon it, and someone has very kindly built a rope and plastic tube ladder to assist entry. Don't be daunted, it's only perhaps five or six feet down. You can't tell from the small entrance, but the cave opens up inside and it's huge! You can't touch the walls on either side when standing in the centre, and you can't reach the ceiling either.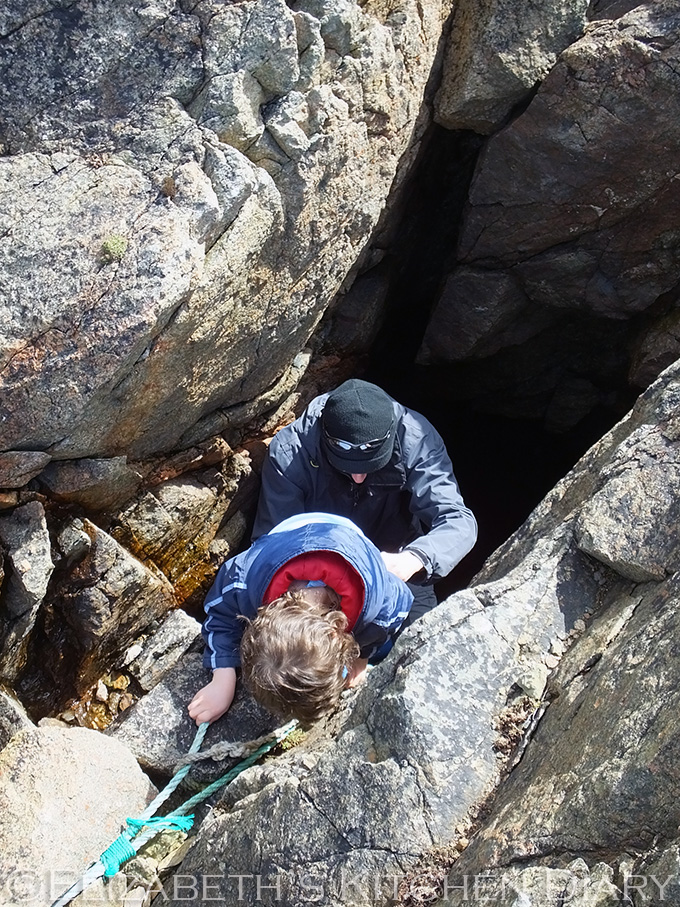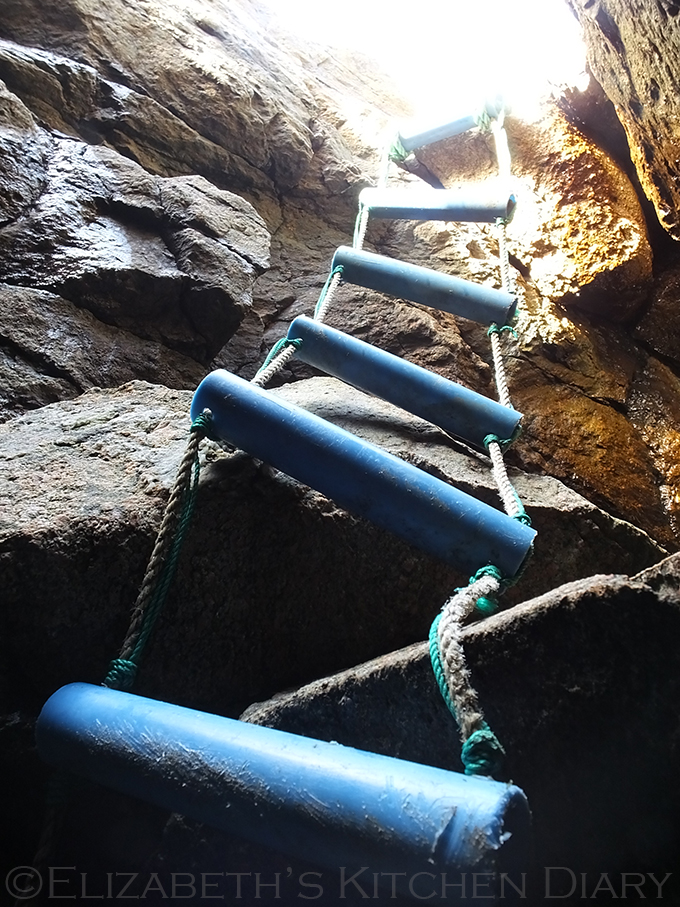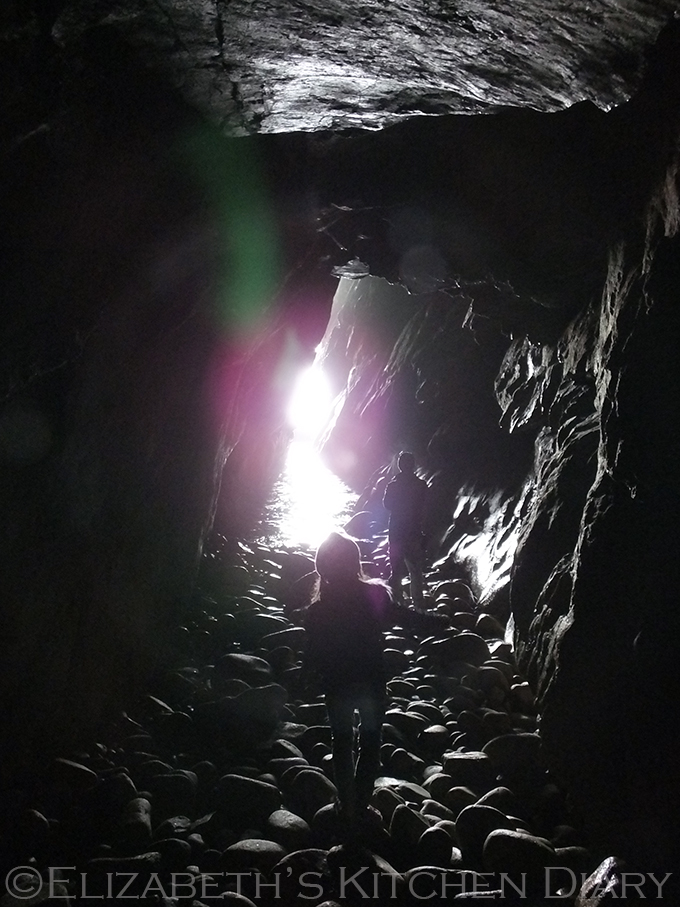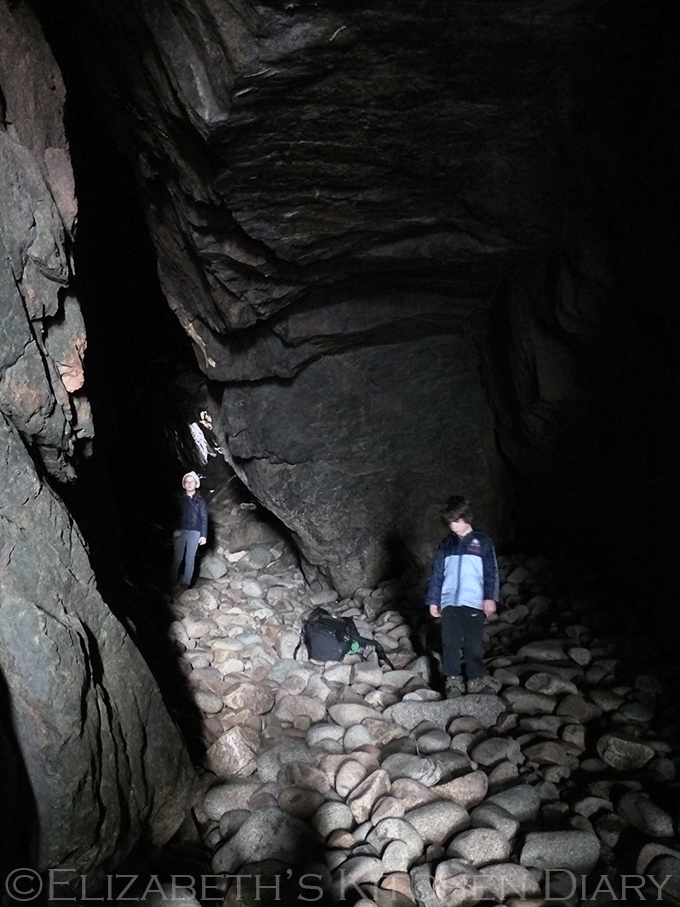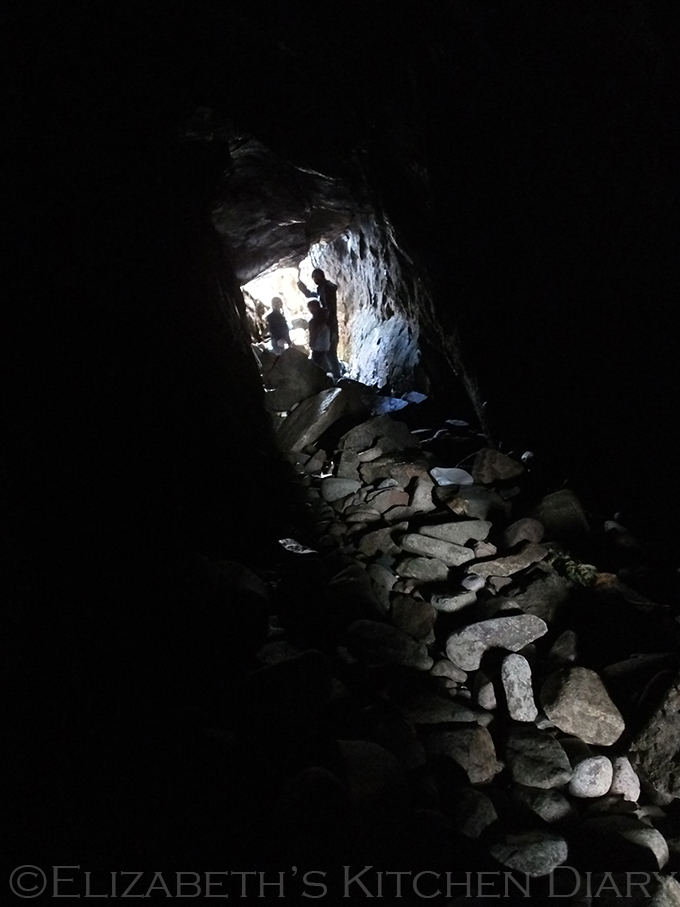 Of course, I forgot a lantern this time, so the only light we had was the daylight coming in from the sea entrance. The sound of the waves washing over the large boulders at the sea entrance of the cave was slightly intimidating for the smaller children, but once we were inside and our eyes adjusted it was magical!
I've never been in a proper cave before, and I was worried about feeling claustrophobic. I surprised myself by not being phased about all those tonnes of solid rock above my head.
Our youngest had seen quite enough though, and so we headed back to the surface to find a sheltered spot for our lunch of sandwiches wrapped in paper, fresh fruit, some leftover Easter eggs and a bottle each of the new Tracker On the Go drinks in chocolate chip and golden syrup flavours.
The verdict – the chocolate chip one is like a very sweet chocolate milkshake. Thick and chocolatey and perfectly drinkable if you have a very sweet tooth. The golden syrup flavour – why?! None of us were a fan of this flavour. Far too sweet, thick and kind of made you feel a bit sick at the back of the throat like when you eat too much butter cream frosting in one go (ok that might just be me who does that). It's not something I would consider buying regularly, but it's always nice to try new things. They retail for £1.40 and can be found in many supermarkets.
Afterwards since it was still such a lovely sunny day we carried on exploring the area. Usually when I explore this place I head towards the lighthouse, but for a change we went in the other direction, lured by a patch of calm water we could see in the rocks right next to the coastal edge.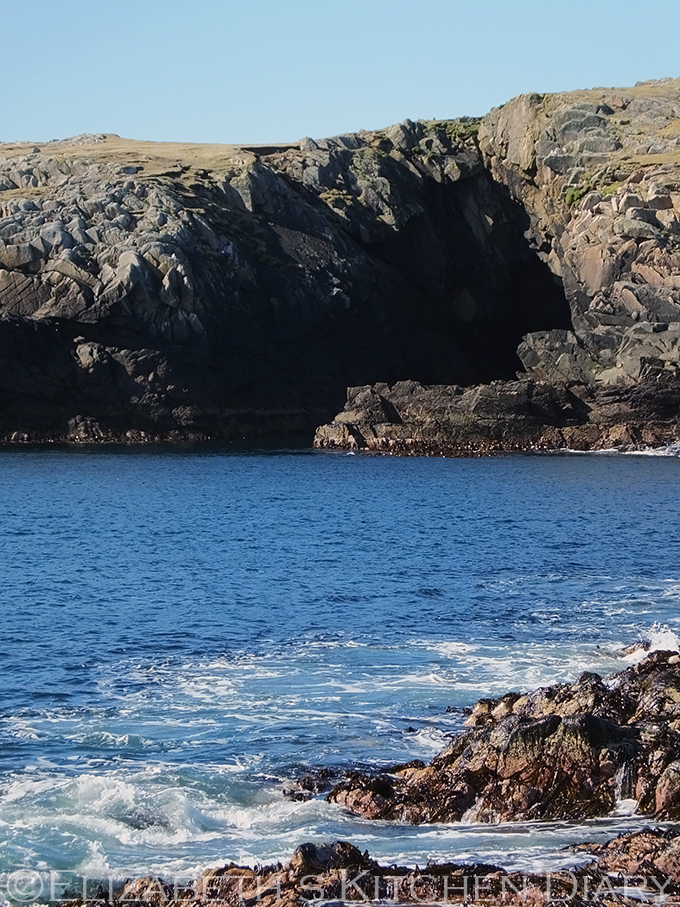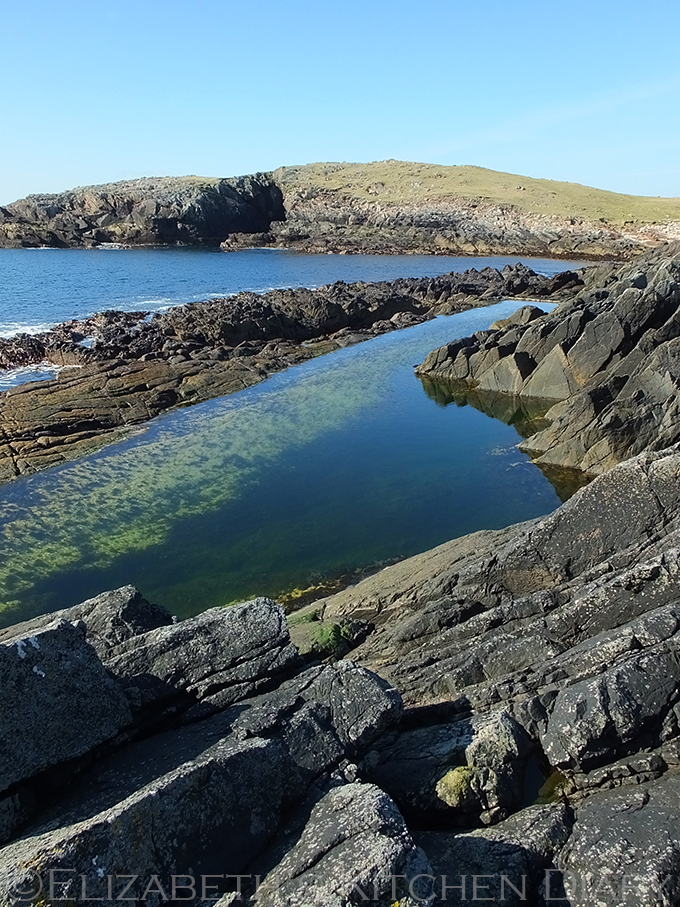 You can see the seaside entrance to the smuggler's cave in the cliffs above, and that patch of clear water – would you believe it is an outdoor swimming pool! You can see the length of concrete at the far end laid down to keep the water level higher. There is a date etched into it. The young children of Burra used to have their swimming lessons in there!
There were plenty sea life remnants on the coastal walk around this area. The kids picked up another sample for their collection.
Our exploration was cut short when the youngest fell head first into a rock pool. It isn't a complete family adventure unless our youngest falls over and gets covered in mud, or soaked in some manner. We've come to expect it!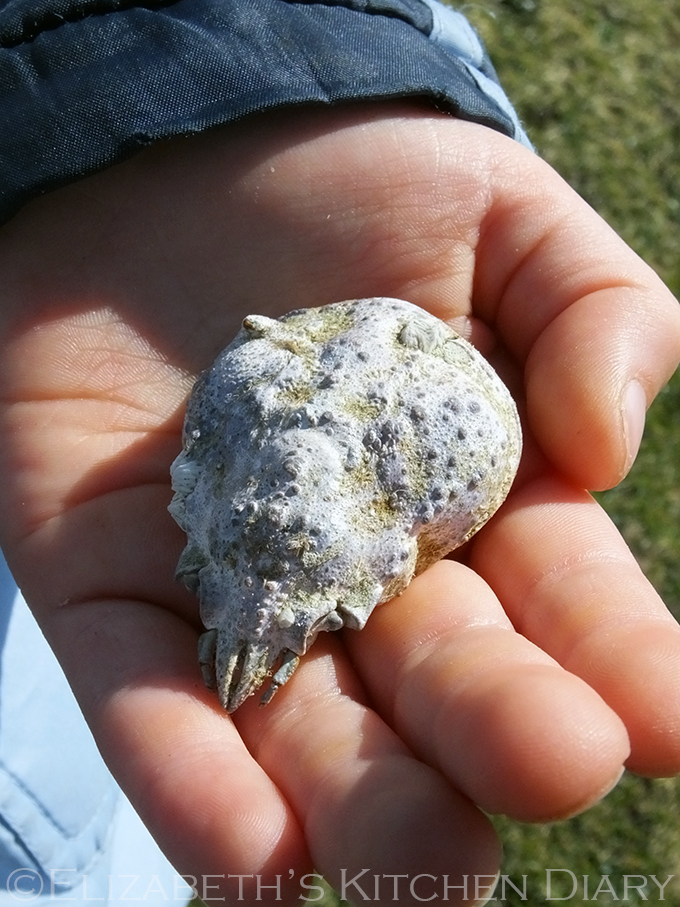 I can now cross #15 Find that Smugglers Cave in Burra off my 40 Things I Want to do Before I Turn 40 list. I confess I'd written that blog post after we'd found the smugglers cave, but I've only got around to blogging it now!
Follow Elizabeth's Kitchen Diary's board Shetland on Pinterest.


If you want to be kept up to date on my recipes, occasional craft tutorials, adventure stories and giveaways then please subscribe to my weekly newsletter; it gets sent out every Monday morning if there is new content. Your email address won't be passed on to anyone, you will never be spammed and you are free to unsubscribe at any time, no questions asked. Make sure you confirm your subscription or you won't receive the newsletter – if it hasn't arrived check your junk mail folder.
[wysija_form id="1″]
Elizabeth's Kitchen Diary was sent samples of Tracker On the Go to try out. All thoughts and opinions expressed are our own. This is not a paid post.