Nothing beats a home made pizza on a Friday night!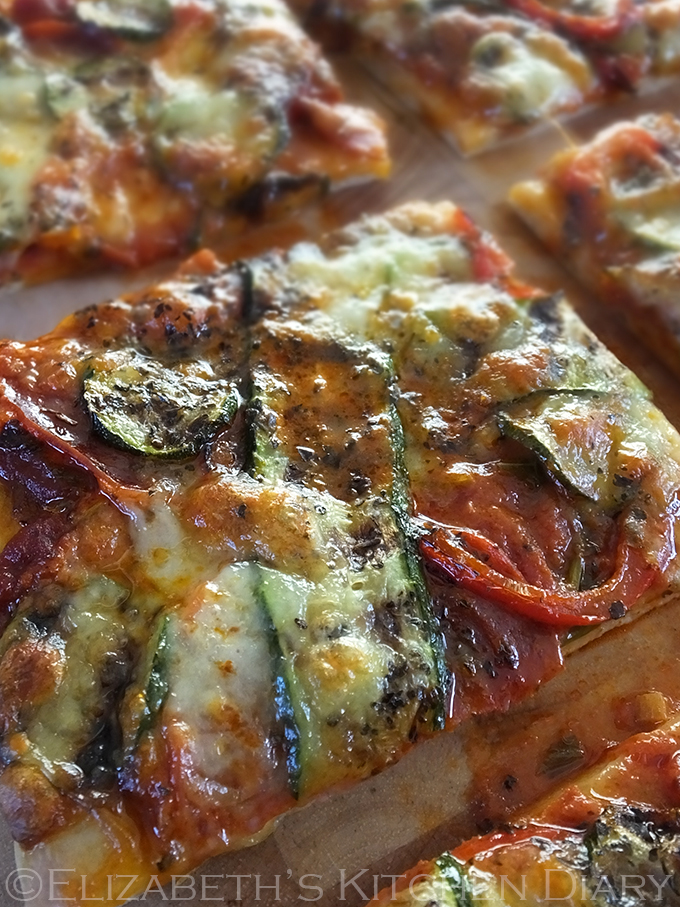 We're a pizza loving family, it has to be said.
My bread machine, gifted by my mother-in-law a few years ago, has a convenient 45 minute pizza dough cycle, so there's absolutely no excuse for not making home made pizza on a Friday night. Simply plonk the ingredients in the bowl, press the button, get the sauce on and boom – as quick as an hour later freshly baked pizza from scratch!
Growing up we never had fresh or even frozen pizzas. Our pizzas came out of a box kit – I can't remember which brand it was, but the kit included a sachet of dry ingredients for the dough, simply add water, a tin of pizza sauce and a wee sachet of dried Italian herbs. Goodness gracious me I loved those pizzas! I detested rolling out the dough though. It wasn't a yeast based dough so there was zero elasticity to it. It tore. I invariably lost my temper. It was all bad, but the end result was pizza (with holes in the base) so it was worth it.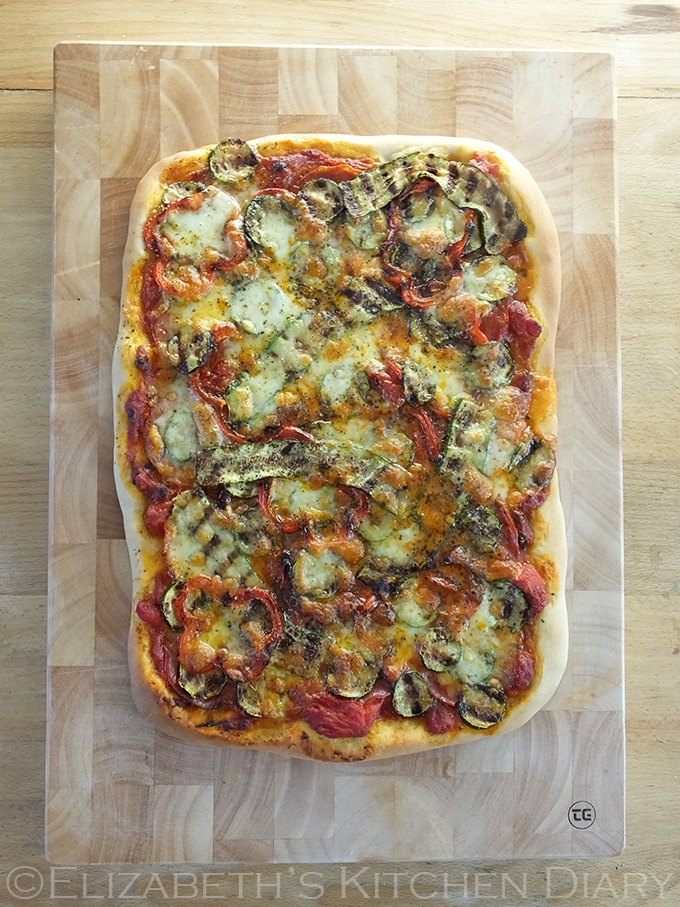 My best friend's parents used to load vegetables onto their pizzas. All sorts of vegetables – broccoli, courgette, sweetcorn, you name it, it was on it. Coming from a family with a veggie-phobic matriarch, this was intriguing, and set me up for a lifetime habit of loading vegetables onto my own home made pizzas.
The thing with adding vegetables to pizzas is that if you add them raw their water content leaks all over the pizza crust. Some vegetables are worse at this than others – red pepper is terrible, imho!
The solution, I have recently discovered, is to grill the vegetables first! This removes much of the water and creates lovely char grilled lines on the vegetables, adding to the visual appeal of the pizza.
Using a mandoline slicer makes short work of evenly slicing your vegetables, handy if you use an electronic grill like I do where all the vegetables need to be of the same thickness in order to evenly cook. I've been using an Oxo Good Grips Simple Mandoline Slicer for the last few months, putting it through its paces. This is the first mandoline slicer I have ever owned, having previously relied on a sharp knife and steady hand to slice my vegetables.
It's a pretty snazzy product with three different thickness settings (1.6, 3.0 and 6.0 mm) plus julienne and storage settings. With a sharp Japanese angled stainless steel blade it's a little bit scary at first to use, and the accompanying spring-loaded food holder which is supposed to protect your fingers is a bit of a faff to operate (and wastes that last little bit of veg) so I prefer to risk my fingertips and slice without the guard.
Dishwasher safe it packs away nicely for storage, but with a £40 price tag it's a bit of a dear investment.
Regardless, this pizza recipe is a really rather lovely one, and if you've never made pizza at home from scratch I would encourage you to give it a go. For the best flavour use a good quality strong bread flour, and a good quality olive oil like Pomora (you can even adopt your own tree from them so you know where your oil is coming from!).
The pizza dough recipe came in the booklet with my bread machine, and the sauce recipe is adapted from Jamie Oliver's basic tomato sauce. We use extra garlic and leave it to simmer for as long as possible so the resulting pizza sauce is thick and gorgeous.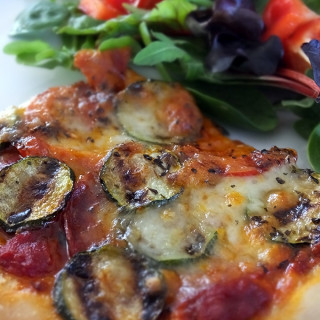 Chorizo and Grilled Vegetable Pizza
A deliciously spicy pizza with plenty of grilled vegetables on top!
Print
Rate
Affiliate Links
This recipe card may contain affiliate ingredient and equipment links. As an Amazon Associate I earn from qualifying purchases.
Instructions
To prepare the pizza dough the cheats' way: place all the ingredients in a bread machine in the manufacturer's recommended order, select the dough cycle (or pizza cycle if your machine has it) and then get on with making the sauce.

To prepare the pizza dough by hand, place all the dry ingredients, including the yeast, into a medium sized bowl and whisk together. Stir in the lukewarm water with a wooden spoon until it begins to combine, and then turn out onto a floured surface. Knead for 10 minutes until smooth and elastic. Place into a clean, lightly oiled bowl, cover in cling film and leave in a warm location to rest until doubled in size - about 1 hour.

To prepare the sauce, fry the garlic with the olive oil and dried oregano for a minute or two, and then add the tinned tomatoes. Crumble in the dried chilli and stir. Leave over a medium heat with the lid of the pan slightly off so that the steam can escape.

Simmer gently for at least one hour, or up to two if you have the time. The longer you leave it the thicker it will be.

When the sauce is lovely and thick, remove from the heat. You can puree it if you want a smooth sauce, or use the back of a wooden spoon to break up any lumps if you want a chunkier sauce.

Stir in the red wine vinegar, olive oil and fresh basil. Season to taste with salt and pepper and set aside to cool. Extra sauce can be frozen in pizza sized batches for several months.

Meanwhile, while the dough is rising and the sauce is simmering, grill your vegetables.

Using a mandolin slicer, slice your courgette and red pepper into even sized pieces (mine were 3 mm wide). Brush with a little olive oil on both sides and grill either on a cast iron griddle pan or in a grilling machine (I use my Tefal Optigrill). Set the vegetables aside on a plate until needed.

To assemble, preheat oven to 230 C. Roll out your pizza dough to the desired thickness (sometimes we want a thin crust, sometimes we want thick!). For this pizza we used a thin crust, so it was rolled out to fit on a 15 x 11 inch silicone baking mat.

Top with the desired quantity of pizza sauce. Note, the more sauce you put on the higher the chance all your toppings will slip off when you take a bite!

Arrange slices of sliced Spanish chorizo sausage on top, and then add the grilled vegetables.

Tear off rough pieces of mozzarella cheese and arrange on the top. Sprinkle with chopped fresh or dried basil leaves.

Bake in the middle of a preheated oven for 12-14 minutes, until the topped is golden and bubbly.

Transfer to a large wooden chopping board to serve. Serve with a green leafy salad and enjoy!
Environmental Information
LINKING UP WITH A FEW FOOD BLOGGING CHALLENGES
#BreddySteadyGo by Jen's Food and Utterly Scrummy Food for Families
Extra Veg by Fuss Free Flavours and Utterly Scrummy Food for Families
Recipe of the Week by A Mummy Too
Recipe Clippings by Farmersgirl Kitchen
OTHER PIZZA RECIPES YOU MIGHT LIKE
Heritage Wheat Wholegrain Pizza with Summer Pesto and Grilled Vegetables by Elizabeth's Kitchen Diary
Low Calorie Tortilla Pizza by Planet Veggie
Mediterranean Pizza with Goats Cheese and Rocket by Tinned Tomatoes
Squash, Walnut & Goats Cheese Pizza by Tin & Thyme
Mushroom, Pesto & Asparagus Pizza by Family, Friends, Food
Quick Ciabatta Pizza by Fab Food 4 All
Courgette & Hummus Pizza by Farmersgirl Kitchen
New York Style Pizza by Little Sunny Kitchen
If you want to be kept up to date on my recipes, occasional craft tutorials, adventure stories and giveaways then please subscribe to my weekly newsletter; it gets sent out every Monday morning if there is new content. Your email address won't be passed on to anyone, you will never be spammed and you are free to unsubscribe at any time, no questions asked. Make sure you confirm your subscription or you won't receive the newsletter – if it hasn't arrived check your junk mail folder.
[wysija_form id="1″]
Disclosure: With thanks to Oxo Good Grips for the Simple Mandoline Slicer, Tefal for the Optigrill, Kitzini for the silicone baking mat and Pomora for the olive oil. All thoughts and opinions expressed in this post are our own. This is not a paid post, although, it does contain an affiliate link. If you adopt an olive tree through the link on this page I will earn a small commission.