Road trip! Caravans, vikings and a food festival!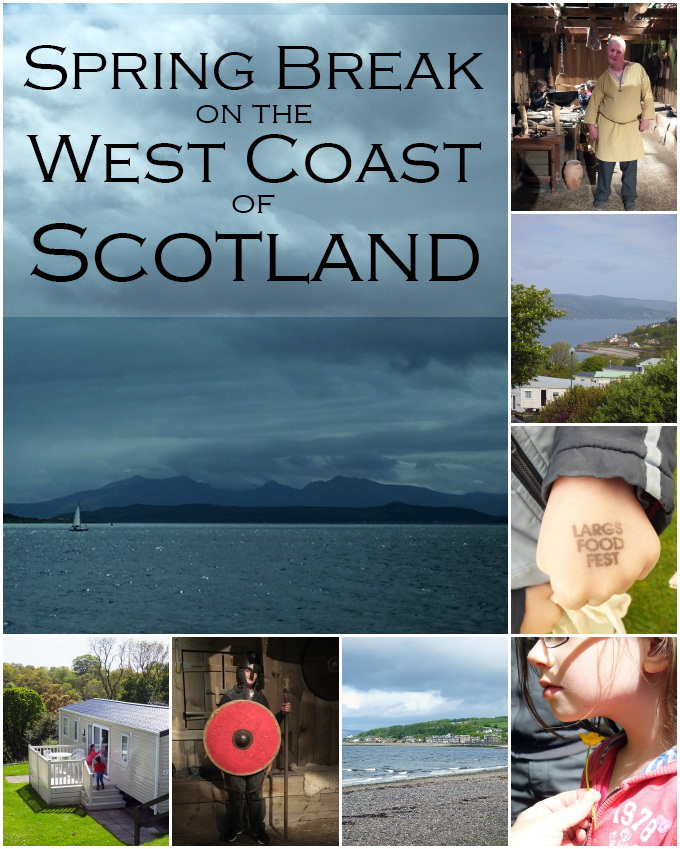 Living on a remote island archipelago, travelling to the mainland is not something we do very often. Travel costs to get off the island, especially for our whole family, tend to be rather on the dear extortionate side, so we tend to spend our holidays exploring Shetland.
Nonetheless, wanderlust has been kicking in lately, so travel tickets were purchased for the children and I for a wee Spring Break road trip down to the west coast of Scotland.
Our destination – Wemyss Bay (pronounced 'weems'), a village on the coast of the Firth of Clyde in the west central lowlands of Scotland. After a 12 hour overnight ferry, a 3 hour bus ride across Scotland, a 45 minute train (plus much waiting in between) and a taxi and we finally arrive.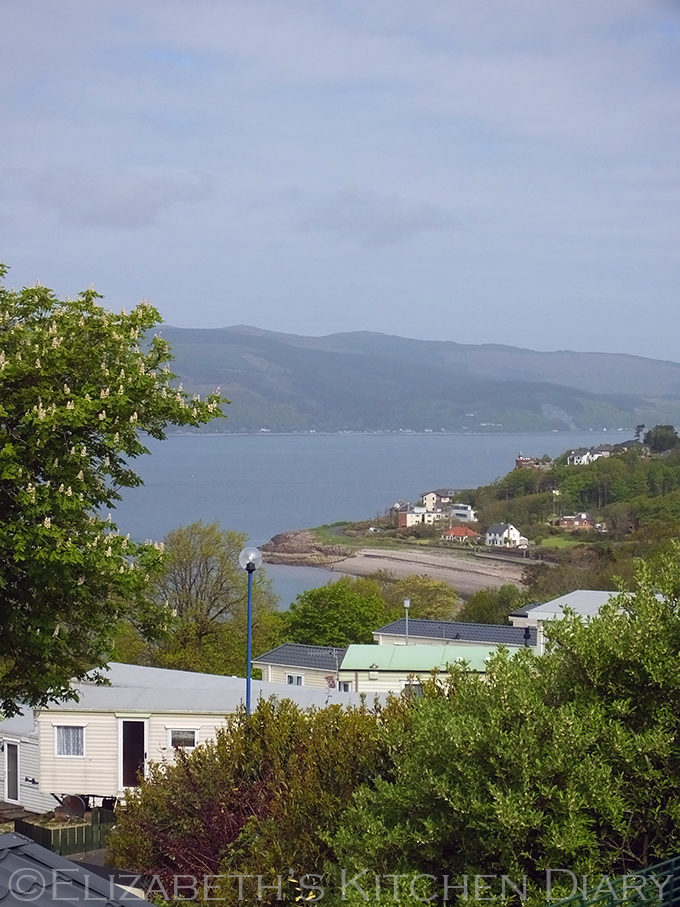 PARKDEAN HOLIDAY PARK
The Holiday Park in Wemyss Bay is one of Parkdean's 24 award winning UK holiday parks. The concept of a holiday park is a new one for me. As I understood it, before arrival, a holiday park is a caravan park with an entertainment venue and eateries on site, ideal for families who want everything for their holiday adventures within walking distance. I genuinely had no idea what to expect.
Set on a steep leafy hillside with sea views over the Firth of Clyde, the Wemyss Bay Holiday Park features hundreds of caravans and lodges with different styles to suit different budgets.
Check in at Reception was quick and easy, and we were handed our welcome pack with all the information and entertainment passes we would need while on site. We were given a map of the site with our caravan location circled. It was easy enough to find – Waterside #8.
First impressions – I could live in here! Spacious, bright, well-equipped and there was wine chilling in the fridge!
The Bruce Caravan, our home for the following three nights, was one of the newer caravan models on site. With central heating (and a cosy gas fire for extra warmth and ambiance), double glazing, a double room and two twin rooms there is plenty of room (and storage space!) for a family of up to 8.
My younger two children were delighted to find cuddly toys of Sid and Lizzy, the Parkdean mascots, waiting for them on the couch, plus an assortment of chocolate, biscuits and a Sid and Lizzy photo frame keepsake.
The kitchen has everything you need to cook for your family, bowls, utensils, toaster, pots and pans, a cheese grater, crockery and cutlery – all the basics. What it doesn't have is a washcloth and drying towels. Some basic foodstuffs were very kindly provided – bread, jam, a multipack of breakfast cereals, tea, coffee and Scottish butter.
With two bathrooms each with its own shower there was no squabbling about taking too long in the morning, but towels aren't included. Lugging towels all the way to/from Shetland was not ideal. I ended up buying new ones in Glasgow as we were passing through. There is a washing machine/tumble drier in a closet to keep things clean.
There's no wifi in the caravan. This is good. Despite the initial frustration at not being able to check my work emails, it was nice to be disconnected for a few days.
It was later in the evening when we'd finally arrived and settled in, and being travel weary I couldn't face doing that whole eating-out-in-public-with-small-children thing, so we headed to the shop for provisions, but not before the children had a good go at the playpark facilities including a climbing wall, zipline and tree!
The shop lady was very welcoming, and although there were plenty of items on offer there was not one single piece of fresh fruit to be found. I found this rather bizarre considering this was a family holiday location. Vegetables were limited to iceburg lettuce and tomatoes. There was plenty of chocolate, biscuits, alcohol, tinned food, breakfast cereals, dried pasta and sauces, but absolutely nothing for those who prefer to cook healthy meals from scratch. Beans on toast it was to be.
The kitchen in our caravan had a gas cooker, and I realized, with horror, that I've reached an age where I have to get my teenage son to show me how to do things. After struggling with getting the flames lit to heat up our tinned dinner and wondering if the cooker was broken, my eldest said, "Mum, move out of the way – I work with this kind of cooker all the time" (he's studying hospitality at our local college). Two seconds later: flames and one embarrassed mother.
The beds – oh so incredibly cosy! Gorgeous, thick duvets kept us all warm all night and we all slept very, very well, ready for our adventures the following day.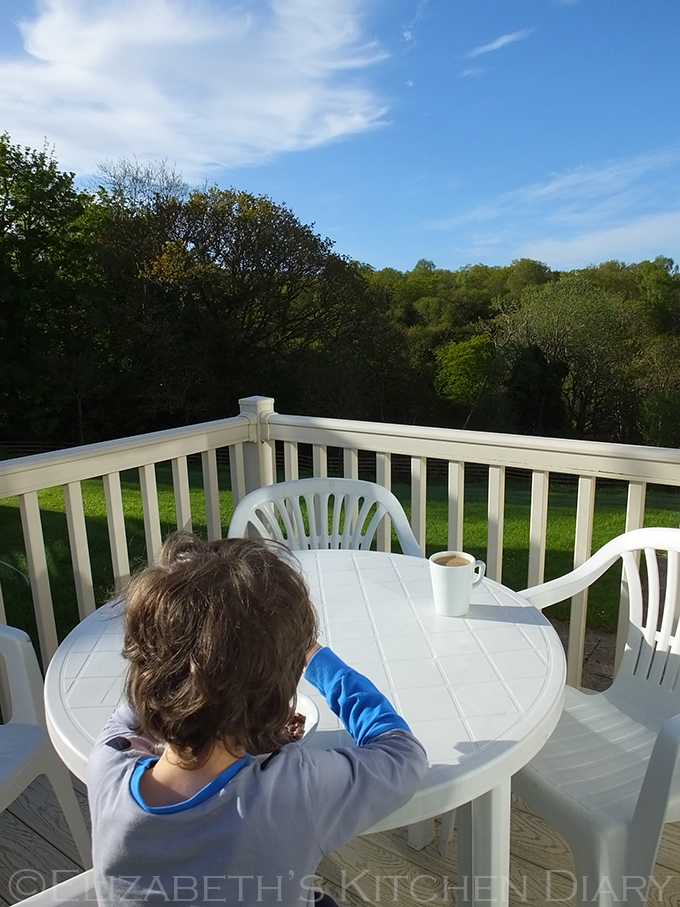 Saturday morning dawned bright and clear. Breakfast was had on the veranda and we could feel the warmth of the sun even at 7 am. Sitting there, enjoying my first coffee of the day watching the trees, listening to birdsong and hearing the burbling rush of the waterfalls from the forest below – it was bliss!
Cue: the wailing sound of the 8 year old who didn't draw any of the chocolate breakfast cereal boxes in the lottery the kids had set up to divide the multi-pack of 8 cereal boxes between them.
We don't have forests in Shetland, so I thought our caravan location was ideal. Overlooking Kelly Glen, a site of importance for nature conservation, acres and acres of beautiful green trees were spread out before us. Perfect!
The agenda for Day 1: test out some of the activities on offer at the Holiday Park, find Granny (my eldest's grandmother who lives just a few miles down the road from where we were staying), and find the source of that waterfall noise we could hear from our caravan!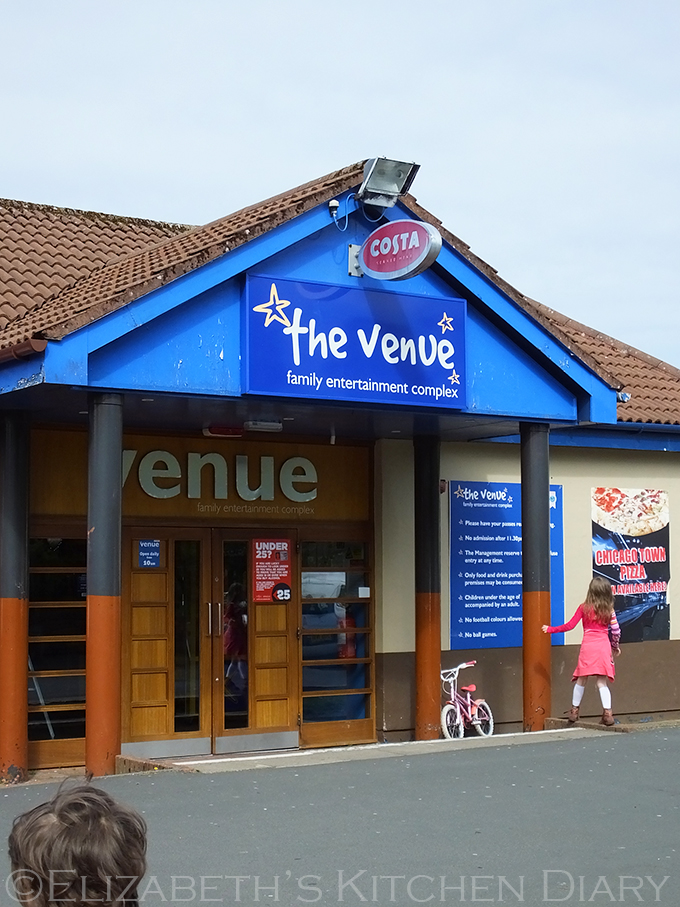 As part of our welcome pack we were given an entertainment guide and passes to the events. Most activities occur in The Venue, located in the centre of the site. There was plenty on offer for Half Term including Tot Stars for under 4's, Starlanders for 4-10 year olds and a Freestyle Club for 10's and over.
You'll also find an arcade in the Venue, something my children had never experienced before. I watched my children throw coin after coin in the slots, and stood there, pretending to be delighted for them, about the three penny sweets and two stickers they'd 'won' after spending about £30 hard cash. It's ok, we were on holiday! Breathe!
DD gave the Saturday morning Starlanders event a go after watching the tail end of that morning's Tot Stars where a life sized Lizzy raved to a very loud, high pitched, recorded dialogue blasting out the loudspeakers while a few very obviously bored parents sat checking their iPhones with the free wifi in the building.
However, DD loved the Starlanders Club. The Parkdean Troupers were really friendly, and made the effort to learn each child's name, even the name of my youngest son who didn't want to participate in the club. For the whole time we were on site they'd greet them by name. I thought that was a really lovely gesture.
The Starlanders Club theme that day was Nature Trail, and, armed with a bag and a bug net each, the children were invited to go outside and explore nature. They collected small samples and brought them back to the venue to make a giant collage.
My eldest refused to attend the Freestyle Club for older children given the reception he had from some city kids he'd met earlier on in the day. Let's just say he commented on the music they were listening to as a way to break the ice and introduce himself and ended up getting a deluge of expletives in return.
We eventually found Granny who had plans on spending the rest of the holiday with us (and she brought fruit!). I have to confess I was grateful for adult company. We went searching for a bite to eat.
Our first meal on site was eaten in the quiet dining area at the back of the Venue. Meals are prepared in the Livingstone Bar & Grill, but being mid-day we opted for the quieter location just outside the patio area, and next to the Costa Coffee counter. There were very scenic views out over the Clyde from our table by the window.
Grant, the chap making the coffees, was a very pleasant fellow. The food was standard pub grub style – chips with everything – but was perfectly edible. The teenager said his burger was the best burger he'd ever, ever eaten. They have a separate children's menu with easy to follow menus for children not yet able to read – they can simply select one image from each category. It cost £39 for the five of us to have drinks and lunch (no starters or dessert). The wee ones had cotton candy from the arcade for afters, and we made our way down the hill to the start of the Kelly Glen nature walk I'd been told about by one of the troupers.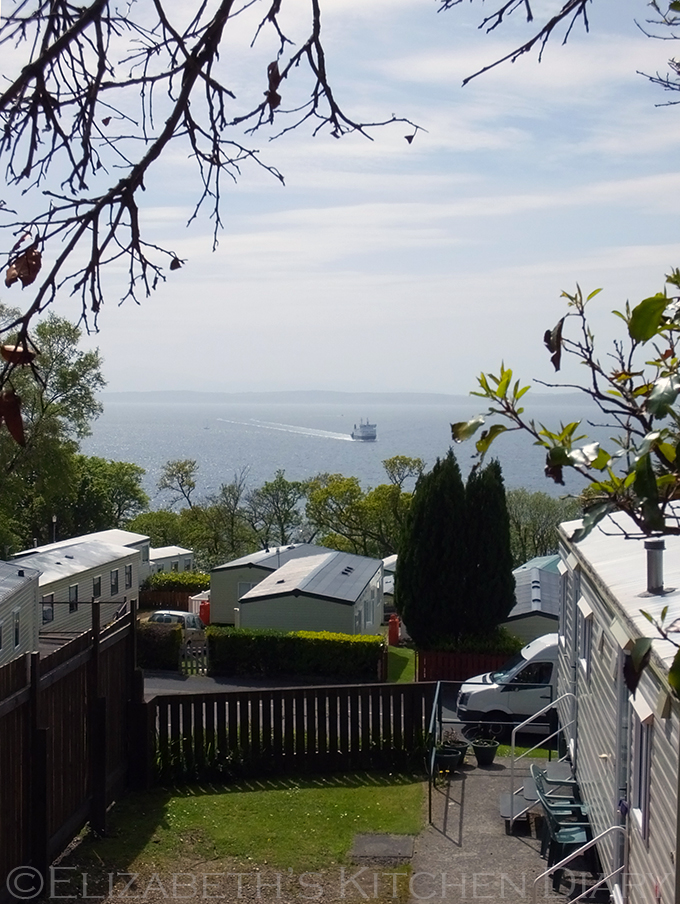 Getting down the steep hillside was no easy task. Blind corners and no pavements meant we either had to scramble in between caravan sites or walk on the road, and with three children it was hard work herding them. Although there is a 10 mile speed limit, cars were very obviously ignoring the signs.
I mentioned earlier that there are no forests where we live, so it was wonderfully refreshing to spend time walking among the trees and observing all the plant life and just listening to the rustle of leaves. There was no sign of the Skelmorlie Panther though, a creature larger than a cat but smaller than a bear which is said to prowl the area. There was, however, plenty of wild garlic, beautiful ancient trees and little burbling waterfalls. Granny showed DD how to check if she likes butter or not.
I could quite of happily kept exploring this area, heading up to the reservoir at the top of the hill, but small people and Granny wanted to head back for a rest in the caravan. That evening was spent in the comfort of our caravan, catching up, eating grilled cheese sandwiches dipped in tomato soup, munching on sweets (sharing a glass or two of wine with Granny) and watching Britain's Got Talent on the television (Granny's favourite Saturday evening viewing).
VIKINGAR
For the Sunday we'd planned to explore some of the surrounding area. Granny had a car with her which made this much easier, what with three children in tow. We visited nearby Largs, site of the historic battle between the Scotsman and Vikings where the Vikings were finally driven out (aka: they never came back therefore Scotland won by default).
In Vikingar (the Largs lesiure centre) they have built a replica longhouse filled with items the Norseman would have used during the times of the Viking raids and settlement in Scotland. Coming from Shetland, well known for its Nordic history, we wanted to see just how well they Viking-ed down here. They Viking rather well.
This place was my favourite location of the entire holiday. The enthusiasm with which Joe, our guide (aka Orick) spoke about how life would have been like back in the times of the Viking raids was infectious. He kept both the children and adults entertained as he educated us, describing the hardships, how to use the weapons (I now know how to break through a shield wall should I ever find myself in that situation!), how they ground their own flour and cooked bread, drank and played. When he was finished speaking we were free to try on the armour ourselves and have a browse around the longhouse.
After the longhouse we were invited into Valhalla. Photographs don't do this hall of the slain any justice – you'll have to go there yourself. Huge carved wooden faces of the gods gaze down from the walls, while Odin himself, in his one-eyed 3D splendor, speaks to you from the front of the hall.
After Valhalla, guests are invited to spend time in the Information Centre which is very, very well laid out and entertaining. The marriage between Denmark and Scotland resulting in Shetland being handed over as a dowry is mentioned beneath a stone carving. It's well worth experiencing, and cost under £20 for all five of us to visit.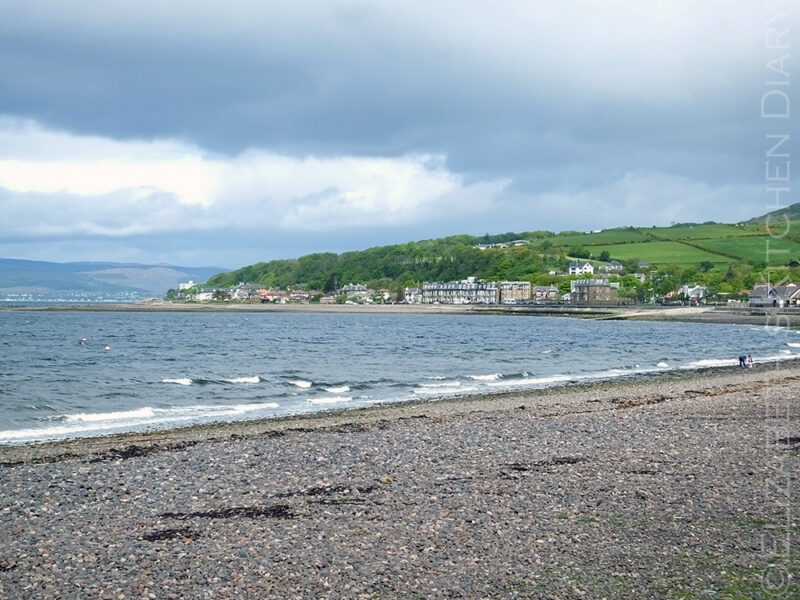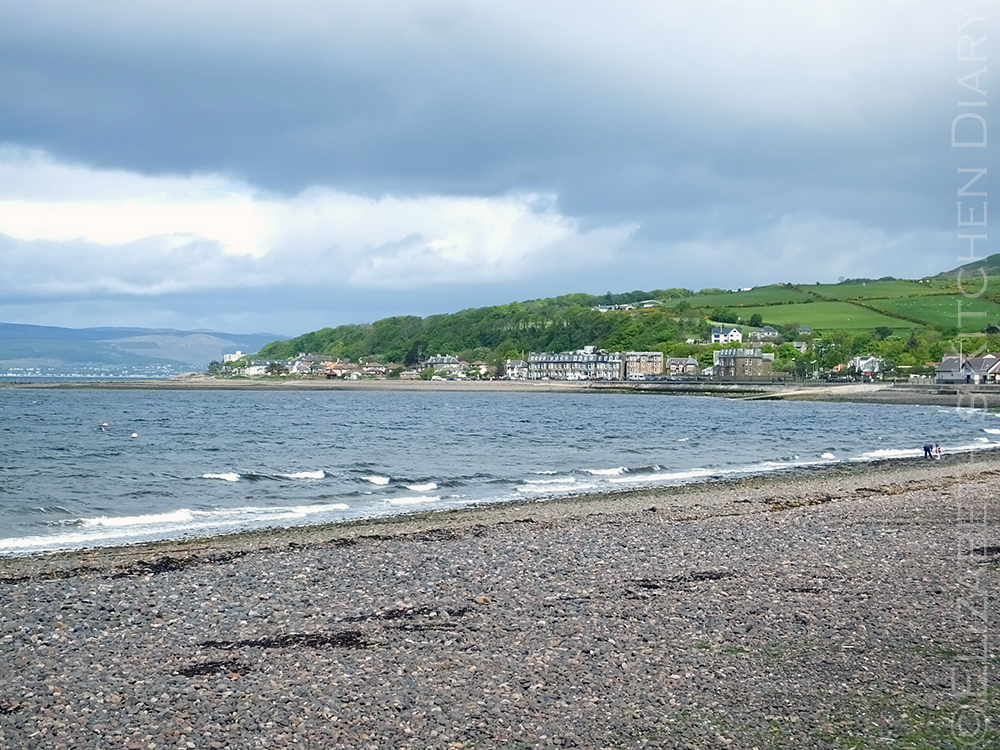 LARGS FOOD FESTIVAL
Largs is a popular seashore destination for tourists. It was very, very busy with a sharp, biting wind. As chance should have it, Largs was having their annual food festival that weekend, so we went for a quick wander through the stalls on offer.
Unfortunately as we were heading north for our 24 hour journey back home first thing the next morning all we could do was taste test some of the samples available. I wanted to fill the cloth bag I'd been handed at the entry, but I didn't want to carry it all back to Shetland! We caught the tail end of a cookery demonstration (ie: the bit where you get to eat the food they've just cooked) and browsed a variety of meat, chocolate, cheese and cakes.
We had lunch and ice cream in Largs and headed back to the caravan park. The coastal road from Largs to Wemyss Bay is a very scenic one, and we could see the Isle of Arran in the distance. Time constraints meant we couldn't visit any of the islands, but if you're spending more time in the area I hear they are well worth visiting. Arran is supposed to be a geologists paradise!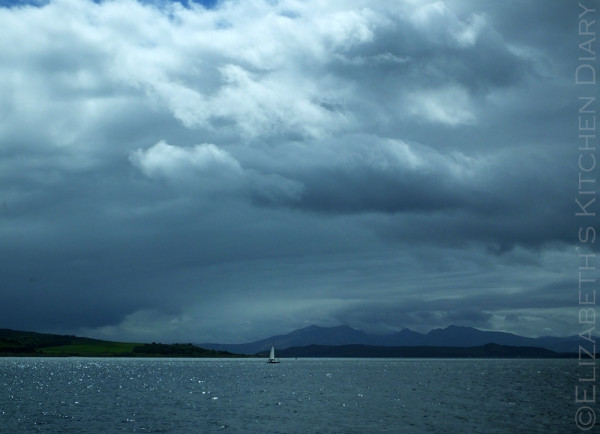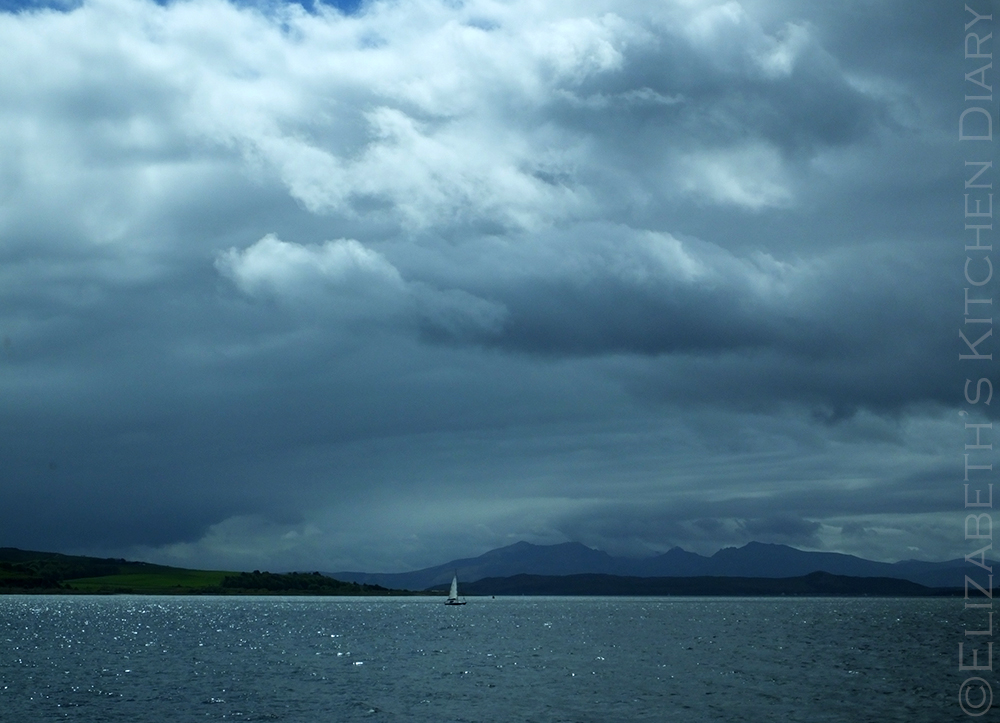 The rest of Sunday afternoon was spent relaxing at the holiday park. The kids and I went to the swimming pool which is open for one hour time slots. It's a perfectly reasonable sized pool, but there were very few toys for the smaller kids to play with – around five balls for about 20 children. There was a whole lot of snatching going on and I had to keep explaining to my children that although other children were doing that, it wasn't ok. I was glad when the hour was up although the kids enjoyed themselves.
We revisited the arcade and the playpark, which, by this time, was accumulating litter. For our evening meal we visited the Livingstone Bar & Grill. The Sunday carvery was out of beef half an hour after it opened, the restaurant was packed full, the tables and bar were sticky and the city folk were so very, very loud! A stark contrast to the quiet lunch we'd had the day before.
We ate our meal, again, standard pub grub which arrived fairly quickly. Staff were friendly and service was pleasant but we ate and left as soon as we could, having a peek at the evening entertainment on offer in the Venue. Again, this was incredibly loud and disco-y with bright flashing lights – not our kind of scene at all. Tables were filled with pints of lager and parents on their iPhones while their children danced in front of the stage. My own children were not keen to join in and so we went back to the caravan for an evening of card games in our pjs.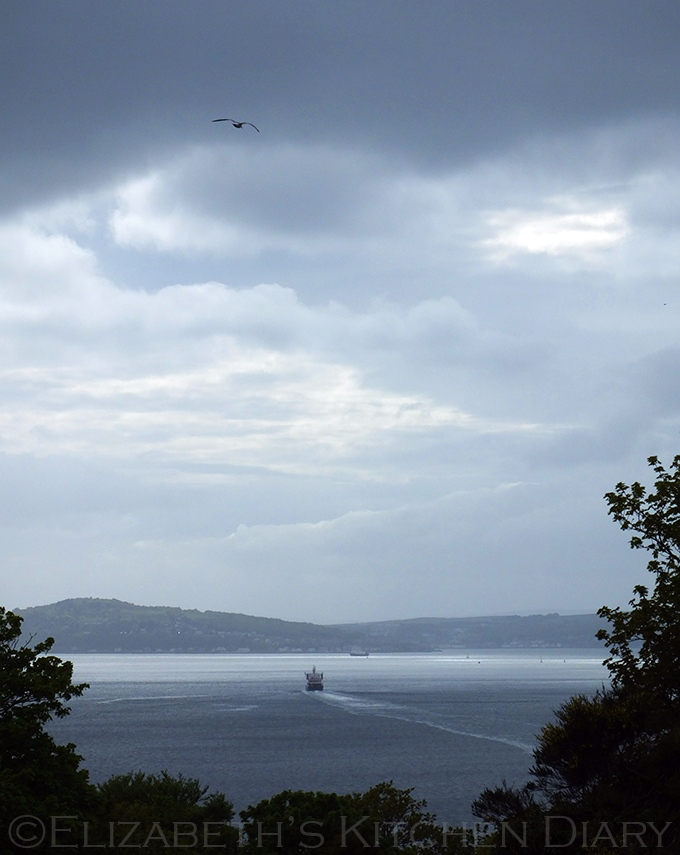 All in all it was a very interesting experience, and an insight into the kind of package family holidays on offer in the UK.
POSITIVES
Our caravan was spacious, clean and very comfortable.
The holiday park location is ideally suited for exploring the local area.
The afternoon clubs for kids were fun.
Staff were very friendly and welcoming
THINGS THAT COULD BE IMPROVED
The food. The shop has no fruit fresh ingredients for healthy home cooking.
The roads need pavements, or at least a safe path from the top to the bottom of the park. Cars + excited children do not make a safe walking environment.
The prices – from £199 off peak to £469 peak season (ie: summer) for three nights (Fri-Sat-Sun) staying here will cost a pretty penny, especially if eating out every day and feeding the hungry arcade machines.
I can see the appeal of this location for families living in Glasgow and the surrounding area. They could just pack a bag and hop on a train, and I can see how they would find the sea views appealing, coming from an inland city. For us, coming from a remote, quiet, island with some of the most spectacular sea views to be found in the UK, this wasn't much of a selling point. I was more interested in the trees. The fact it cost over £400 and took 24 hours of stressful travelling for us to get to the park was a damper for me too.  I wouldn't recommend spending 24 hours getting here, but like I said, I can see the appeal for city folk living nearby.
I've come to realise that this sort of holiday is not my kind of holiday at all. Nonetheless, I'm glad we went – it was certainly an interesting experience and I'm glad my eldest had a chance to catch up with his Granny. With thanks to Parkdean for the opportunity.
One question though – how long does it take when visiting the mainland to relax a little bit and not feel like there is someone lurking around every corner waiting to steal your young children or that they're going to get lost forever? As soon as I got off the bus in Glasgow I was on hyper-panic-alert until I sat on the ferry back to Shetland. Surely mainland folk aren't constantly stressed about such thing?! I need to work on that!
I can now cross #7 Go on a Press Trip off my list of 40 Things to do Before I Turn 40 list.
You can find out more about Parkdean by visiting their website.
If you want to be kept up to date on my recipes, occasional craft tutorials, adventure stories and giveaways then please subscribe to my weekly newsletter; it gets sent out every Monday morning if there is new content. Your email address won't be passed on to anyone, you will never be spammed and you are free to unsubscribe at any time, no questions asked. Make sure you confirm your subscription or you won't receive the newsletter – if it hasn't arrived check your junk mail folder.
[wysija_form id="1″]
Elizabeth's Kitchen Diary were guests of Parkdean for the bank holiday weekend at the end of May 2015. We were not expected to write a positive review, and all thoughts expressed are our own. This is not a paid post.