Fresh strawberries and home grown rhubarb can be very versatile!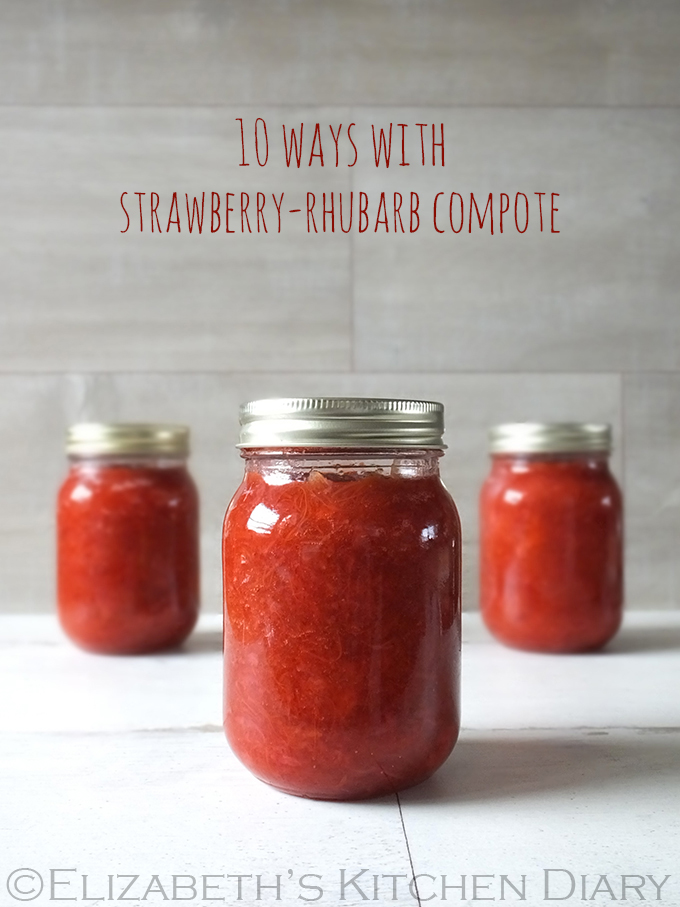 Well you've gone and done it. You've used up a glut of strawberries (known, these days, as buying a whole lot of them at the supermarket on special offer because they're on their best before date), and you've ransacked the freezer for the remains of last season's (or what is the season before?!) rhubarb and you're left with four pints of strawberry rhubarb compote.
Ok, that might just be me.
I grabbed a bargain of 2.4 kg of strawberries yesterday for £3, picked out the dodgiest looking ones, let the kids have a juicy strawberry feast, and then stewed the rest with the last of the rhubarb in my freezer. There's no rhubarb in the garden this year, thanks to the builders burying my plant under three feet of rubble, so I'm going to enjoy this compote, the results of my last harvest.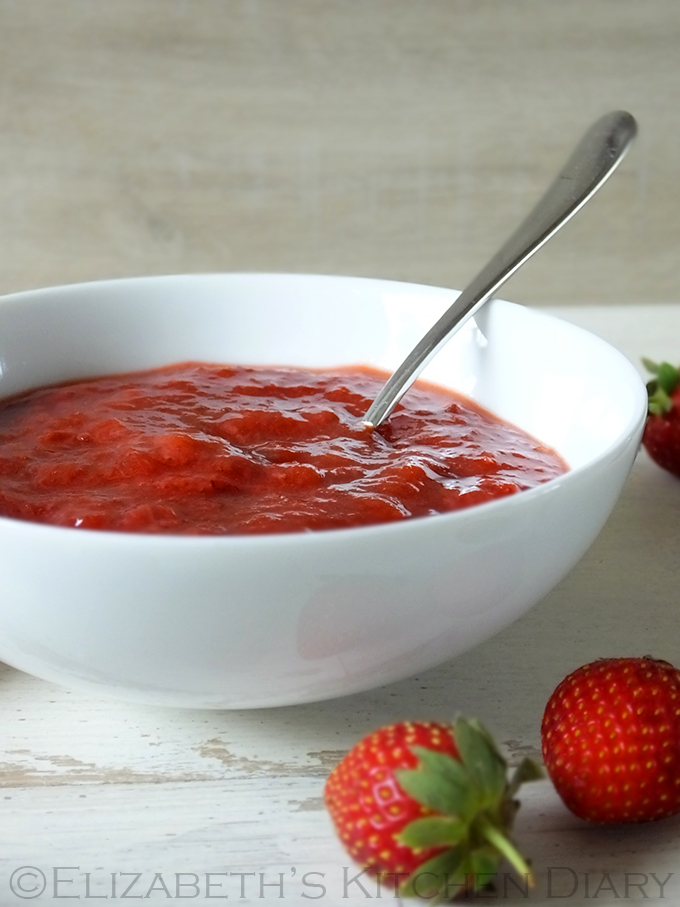 TEN WAYS WITH STRAWBERRY RHUBARB COMPOTE
1. Serve, generously, over (and under) vanilla ice cream – float those scoops of ice cream in it! Crumble several shortbread biscuits over the top. I might have taste tested this last night while watching the latest episode of Vikings.
2. Spread a spoonful over hot buttered toast. Oh… my…. goodness. It's so thick it's almost jam!
3. Layer in a tall narrow glass with plain natural yogurt. Top with granola. It's pretty, it could be pudding or it could be breakfast.
4. Add a generous spoonful to a bowl of porridge.
5. Use to top cheesecakes. Perhaps my mini rhubarb cheesecake pots? Ready in less than 20 minutes!
6. Ripple it through some homemade ice cream and sprinkle with hazelnut oat clusters?
7. Whiz some up in a high speed blender with a few ice cubes, top up with sparkling mineral water and stir in a few torn mint sprigs for a strawberry rhubarb punch for the kids. Alternatively, mix with white wine (or gin!) for the grown-ups!
8. Use a jar to fill a sweet shortcrust pastry and top with a lattice crust for a strawberry rhubarb pie.
9. Pour some over freshly chopped apples and top with your favourite crumble topping and bake for an apple, rhubarb, strawberry crumble dessert. Serve with custard!
10. Serve over a thick slice of pound cake with a generous dollop of cream.
How would you eat your strawberry-rhubarb compote?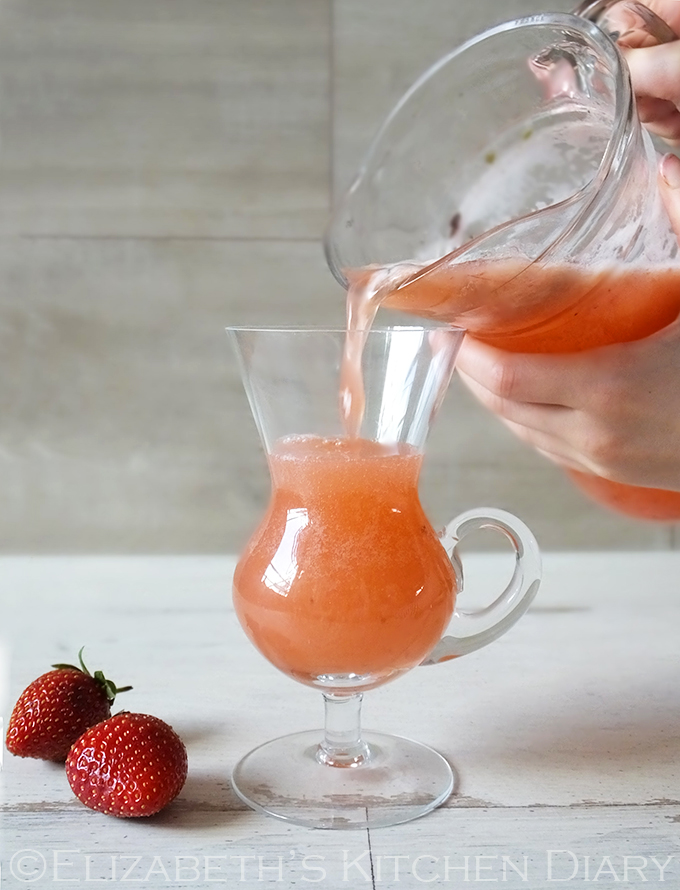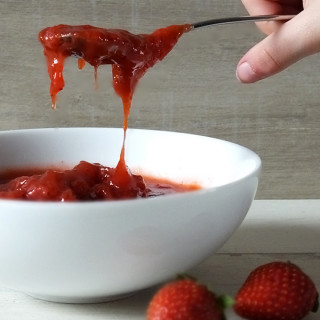 Strawberry-Rhubarb Compote
Strawberries and rhubarb really pair well together, and the compote can be very versatile!
Print
Rate
Ingredients
1.2

kg

fresh strawberries

leaves removed

1

kg

rhubarb

fresh or frozen

2

cups

granulated sugar

1

large

lemon

juice only
Affiliate Links
This recipe card may contain affiliate ingredient and equipment links. As an Amazon Associate I earn from qualifying purchases.
Instructions
Add the rhubarb and strawberries to a large pot. Without adding any extra water turn the heat on to medium-high and leave it to do its thing.

After five minutes or so liquid will start to come from the fruit. Sprinkle over the sugar (more or less, according to taste - this makes for a sweet compote) and stir well.

Leave to simmer until the rhubarb and strawberries have softened and blended together.

Remove from the heat and stir in the lemon juice.

Spoon into hot, sterilized jars, pop the lids on and leave to cool before labeling.
Environmental Information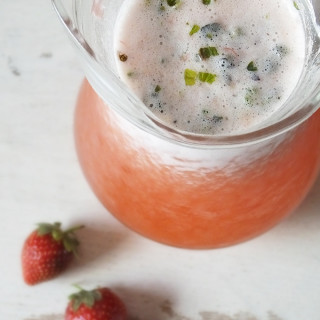 Strawberry-Rhubarb Punch
A quick and delicious fruit punch, ideal for summer!
Print
Rate
Affiliate Links
This recipe card may contain affiliate ingredient and equipment links. As an Amazon Associate I earn from qualifying purchases.
Instructions
Place the compote and the ice cubes in a high speed blender. Blend until smooth.

Add the fresh mint and the sparkling mineral water and stir gently until combined. Alternatively, replace half the water with white wine for a more grown up drink!

Pour into a pitcher and serve!
Environmental Information
OTHER RHUBARB RECIPES YOU MIGHT LIKE
Strawberry, Rhubarb & Basil Jam
by Recipes from a Pantry
Strawberry, Rhubarb Upsidedown Cake
by Cook Sister
Rhubarb Compote with Vanilla Greek Yogurt & Meringue by Fab Food 4 All
Rhubarb & Rose Honey Cakes
 or
Waffles with Rhubarb & Rose Compote and Rose Cream
 by Tin & Thyme
Rhubarb Gingey Crumble
by Gingey Bites
Rhubarb Curd & Rhubarb Gin
by Foodie Quine
If you want to be kept up to date on my recipes, occasional craft tutorials, adventure stories and giveaways then please subscribe to my weekly newsletter; it gets sent out every Monday morning if there is new content. Your email address won't be passed on to anyone, you will never be spammed and you are free to unsubscribe at any time, no questions asked. Make sure you confirm your subscription or you won't receive the newsletter – if it hasn't arrived check your junk mail folder.
[wysija_form id="1″]
Elizabeth's Kitchen Diary uses the Froothie Optimum 9400 blender, and the Froothie Optimum 600 slow juicer to make her juices, soups and smoothies. These are affiliate links, meaning if you buy a blender or juicer through them we will earn a small commission. This is not a paid post and all thoughts and opinions are our own.