In collaboration with Udi's Gluten Free – full of taste, free of gluten.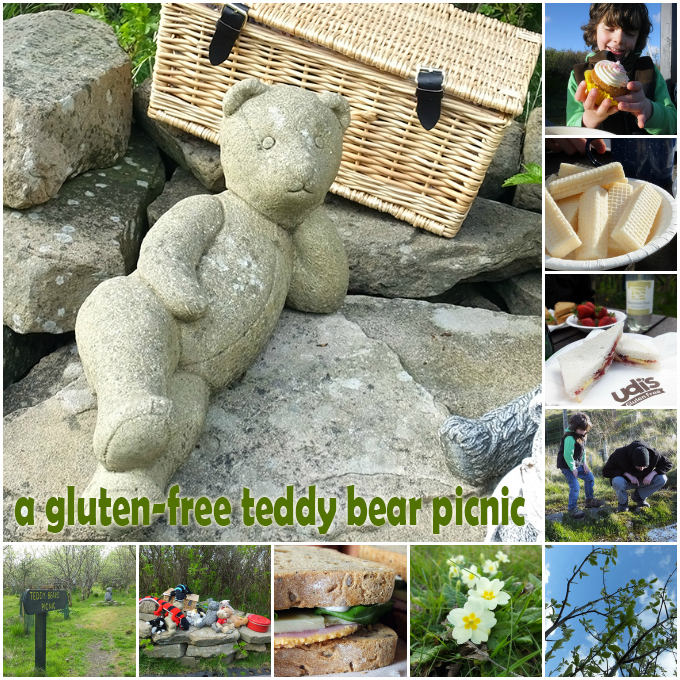 As a family we are very fortunate in that none of us suffer from food sensitivities. I am free to cook whatever I please without having to take into consideration any dietary restrictions (although the eldest does claim a most severe aversion to mushrooms!).
Not all families are so lucky.
Food sensitivities, especially to gluten, are on the rise. The term "non-coeliac gluten sensitivity" is now being used to describe those who have neither coeliac disease nor wheat allergy, but appear to derive benefit from a gluten-free diet. According to Udi's, coeliac disease affects nearly 1 in 100 people in Europe.
Udi's Gluten Free are catering to this growing market. Udi's are the #1 selling gluten-free brand in Canada and America, and in 2013 they branched out into the UK market. 47 of different products are currently available on UK supermarket shelves including Tesco, Asda, Ocado, Waitrose and Sainsbury's.
Gluten-free products have come a long way. Having previously worked in the health food industry I've taste tested my fair share of them, and I admit, at the time, I was secretly thankful that I didn't have a gluten sensitivity. The thought of living without decent bread… and cake… oh my!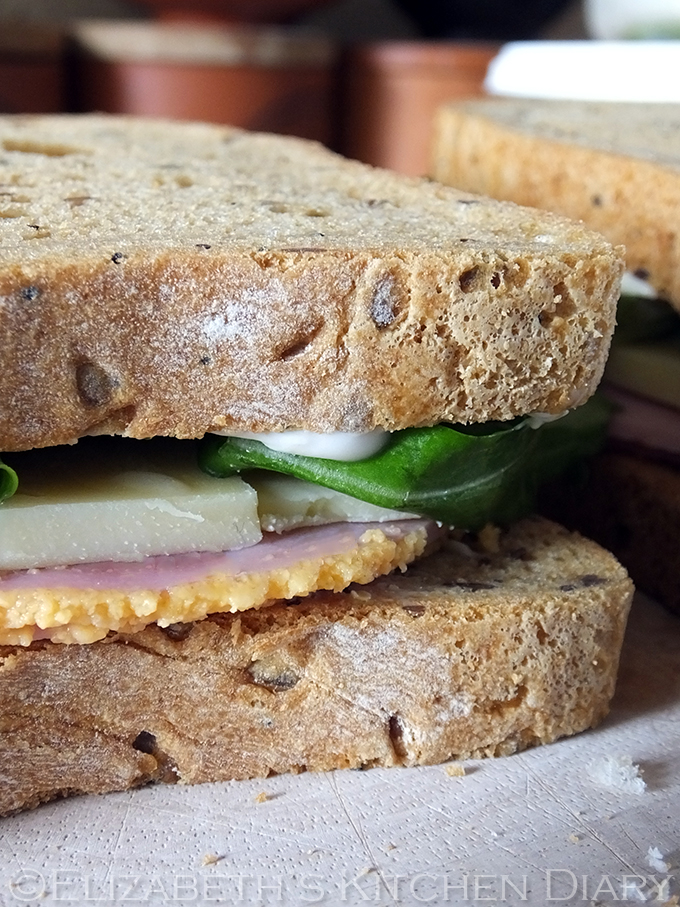 Udi's recently sent us an Afternoon Tea Hamper so we could try out some of their products (you'd never know that sandwich above is made with gluten free bread!). We waited for a sunny day, packed our picnic basket and headed to a nearby wooded area – Michaelswood – for a Gluten Free Teddy Bear Picnic.
Our picnic included jam and cheese sandwiches made with Udi's Soft & Delicious White Sandwich Bread (crusts cut off, of course!) for the kids and ham and cheese salad sandwiches made with Udi's Soft & Delicious Multiseed Bread for the grown-ups.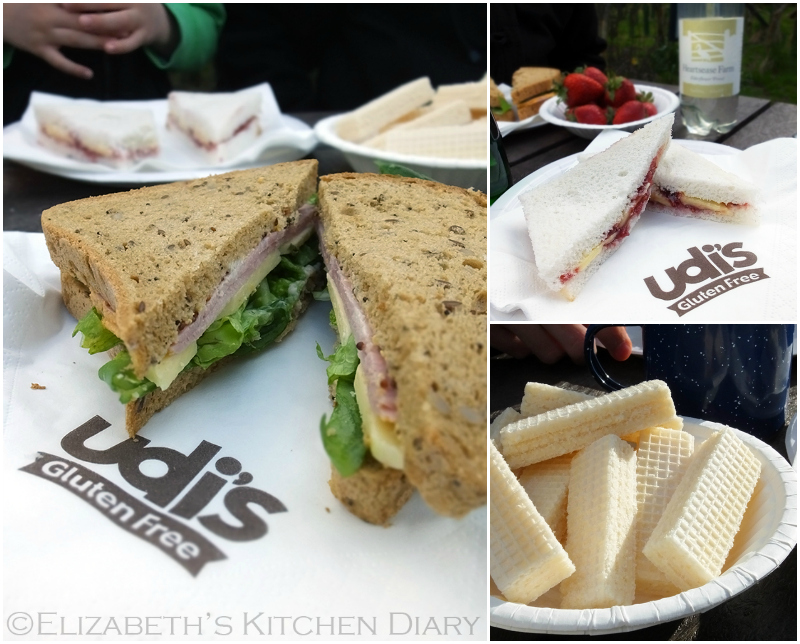 I was really impressed at the flavour and texture of the multiseed bread. It tastes like proper bread! It's not dry and crumbly like a lot of gluten-free breads tend to be, and the mixed sunflower, linseed and poppy seeds added some really lovely texture and flavour to the sandwiches. The kids scoffed their sandwiches too, in between mouthfuls of fresh strawberries.
For afters we made very short work of a box of Udi's Gluten Free Lemon Flavoured Wafers. Packed with lemony flavour and with the same light, crispy texture we've grown to love in standard wafer biscuits the package didn't last very long! These were incredibly moreish!
Next, time for an explore around Michaelswood!
Michaelswood is a small (but growing!) wildlife haven on the west side of Shetland. It is a community led project that works with schools, nurseries and other groups to help raise awareness of nature and the environment. Created by Ray, Betty and Alan Ferrie in memory of their son/brother Michael, this area features thousands of trees planted over the year (I believe Betty said recently that there are around 13,000, and counting!). It also features a Philosopher's Trail, a Bird Hide, Frog Pond, the Moonbeams pirate ship, a Teddy Bear Picnic area, benches, a willow arch walkway and plenty of little nooks and crannies to explore.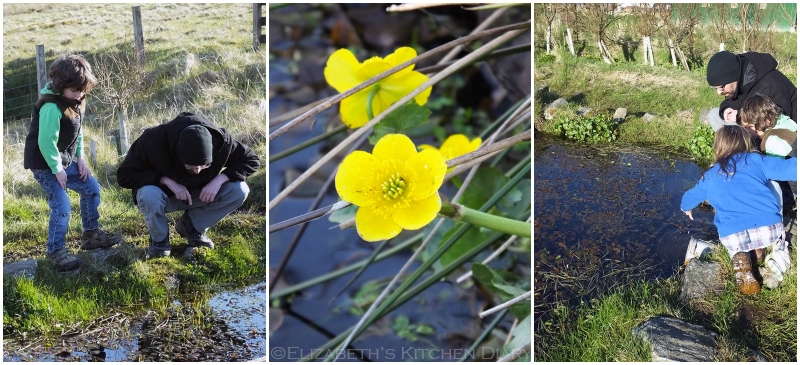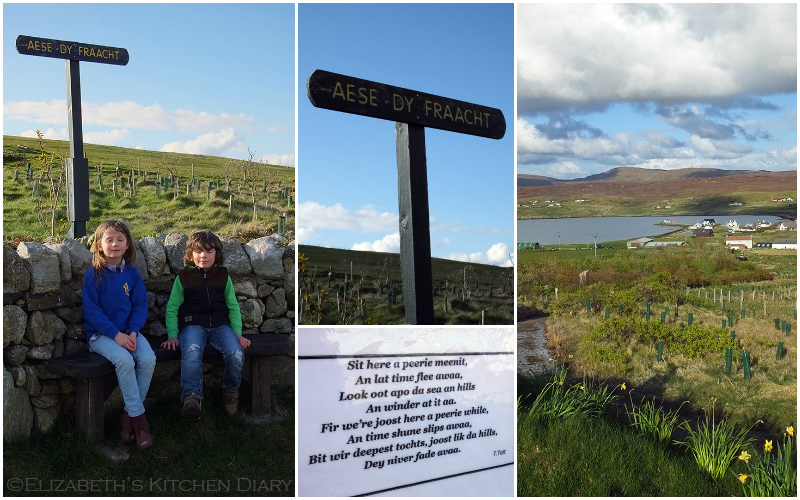 A meandering path will take you to the top of the hill, where a sign above a bench invites you to 'ease your burden/load' in Shetland dialect. The view from up here is spectacular.
Further down at the bottom of the hill near the entrance to the wood is the Moonbeams pirate ship, a favourite place for the children, and a great place to break out the gluten free cupcakes I'd made using the Udi's Delicious & Fluffy Cake Mix. All you need to do is add butter, vanilla, eggs and milk to the cake mix and the resulting cakes are so light and fluffy you'd never know they were gluten free! They really are a very reasonable gluten free alternative (especially when topped with plenty of buttercream frosting and sprinkles!).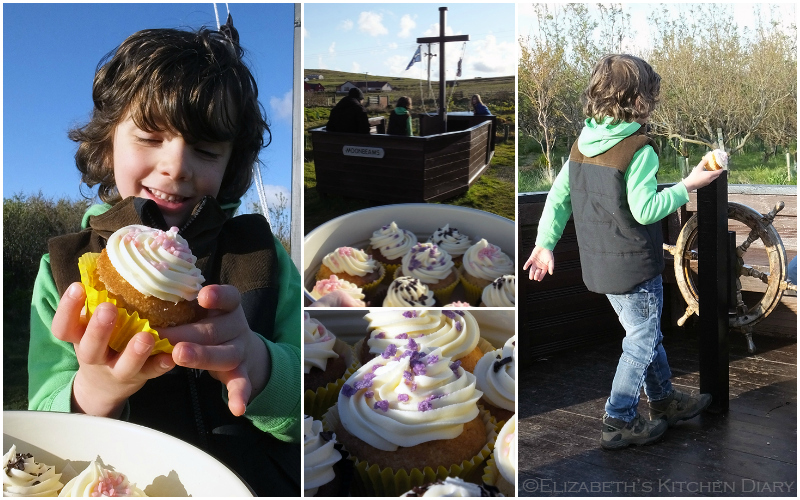 All in all I was really impressed with the quality of the products in the Udi's Gluten Free range that we were sent to try out. I tried the multiseed bread as eggy bread (French Toast for my overseas readers!) topped with maple syrup and strawberries and also toasted with almond butter and sliced bananas for breakfast – delicious!
EATING SMART APP BY WOMAN&HOME
While we're on the topic of gluten free living, I thought I'd use this opportunity to tell you about the new free app Woman & Home, one of the UK's top four glossy monthly magazines, have recently launched: Eating Smart, designed around Gluten Free, Dairy Free and Vegan recipes.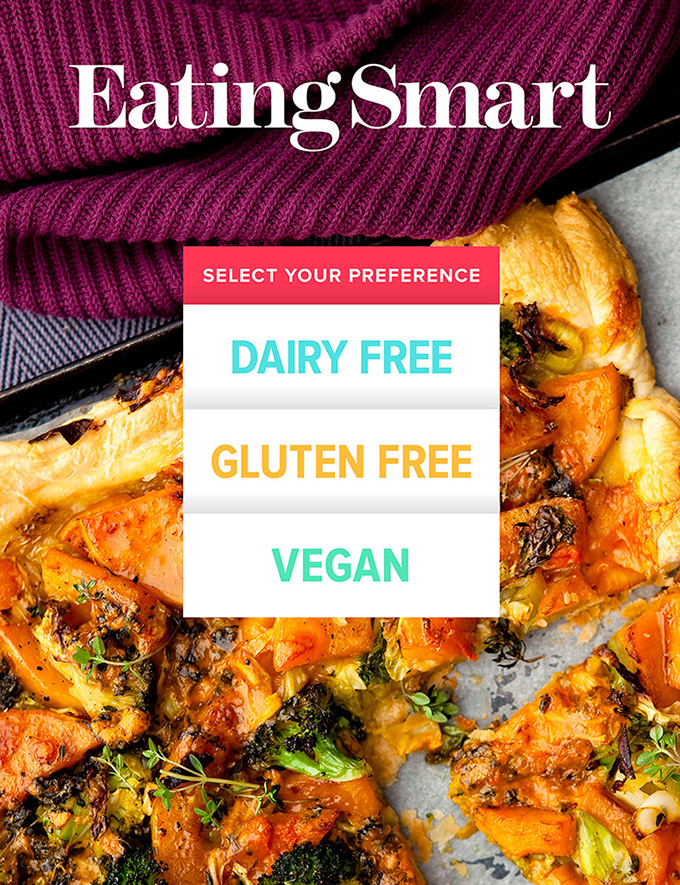 Woman & Home editor Jennifer Bedloe says, "If you're cooking for a free-from diet, or following one yourself, we understand you still want to enjoy the foods you love. Eating Smart, from woman&home, is the first free-from app where you can find easy, inspirational ideas for gluten free, dairy free and vegan diets. We've got fantastic midweek, entertaining, baking and dessert recipes to choose from. Download our free taster pack of recipes and see just how simple and tasty a free from diet can be."
The free download includes six different recipes – two in each category, including a chocolate orange gluten free cake and a gluten free chicken and leek pie in the gluten free category. All six of the free recipes are beautifully photographed and do look very tempting, and for only 99 pence you can download an additional 20 mouthwatering recipes in each of the three categories.
All the recipes include handy tips & nutritional information and, as someone who calorie counts, this makes my life so much easier not having to work it out myself!
It is a rather inspiring recipe collection, well worth the 99p to download each bundle, I think. I will definitely be experimenting! You can download the free app here.
You can find out more about Udi's Gluten Free by visiting their website, and more about Michaelswood on their Facebook page.
I also couldn't write a gluten free post without mentioning Kate, The Gluten Free Alchemist – a fellow food blogger who regularly posts the most gorgeous gluten free recipes that she makes for her daughter, who suffers from coeliac disease. I would urge you to check out her mouthwatering blog even if you are not following a gluten free diet!
GIVEAWAY
Udi's Gluten Free kindly sent me an additional Afternoon Tea Hamper to give away to one of my lucky UK readers!

The hamper contains:
1 x Udi's Gluten Free All-Purpose Flour (454 grams)
1 x Udi's Gluten Free Delicious & Fluffy Cake Mix (425 grams)
1 x Udi's Gluten Free Lemon Flavoured Wafers (200 grams)
Money off coupons for Udi's Gluten Free products
Recipe card for Udi's Gluten Free Afternoon Tea Scones
Cupcake cases, napkins & a small jar of strawberry jam!
HOW TO ENTER
For your chance to win an Udi's Gluten Free Afternoon Tea Hamper enter using the Rafflecopter form below. Come back and tweet about the giveaway every day for more chances to win!
TERMS & CONDITIONS
This giveaway is open to UK entries only. Entrants must be age 18 or over. The winner will need to respond within 7 days of being contacted; failure to do this may result in another winner being selected.
The prize is offered and provided by Udi's Gluten Free. The prize is to win an Udi's Gluten Free Afternoon Tea Hamper. There is no cash alternative and the prize is not transferable.
There is no entry fee and no purchase is necessary to enter this giveaway. The promoter (Elizabeth's Kitchen Diary) reserves the right to cancel or amend the giveaway and these terms and conditions without notice.
Entry into our giveaways will be deemed as acceptance of these terms and conditions.
If you need some help using Rafflecopter, here's a quick clip to show you how. Rafflecopter will pick the winner at random from all the entries received. I will be verifying entries and any automated entries or those who have claimed they have made the mandatory blog post comment and really haven't will be disqualified. It's mandatory!
Closing date is midnight on Monday 22 June 2015 (GMT) and the winner will be announced that day.
Don't forget to visit my Giveaways Page for other fab prizes!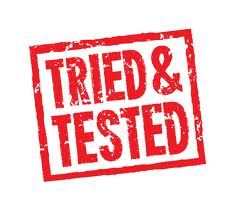 If you want to be kept up to date on my recipes, occasional craft tutorials, adventure stories and giveaways then please subscribe to my weekly newsletter; it gets sent out every Monday morning if there is new content. Your email address won't be passed on to anyone, you will never be spammed and you are free to unsubscribe at any time, no questions asked. Make sure you confirm your subscription or you won't receive the newsletter – if it hasn't arrived check your junk mail folder.
[wysija_form id="1″]
Elizabeth's Kitchen Diary was sent a selection of Udi's Gluten Free products for review, and a £10 iTunes voucher from Woman&Home to download and try out the Eating Smart app. All thoughts and opinions expressed are our own, unless otherwise mentioned. This is not a paid post.