A commissioned recipe for Redmond.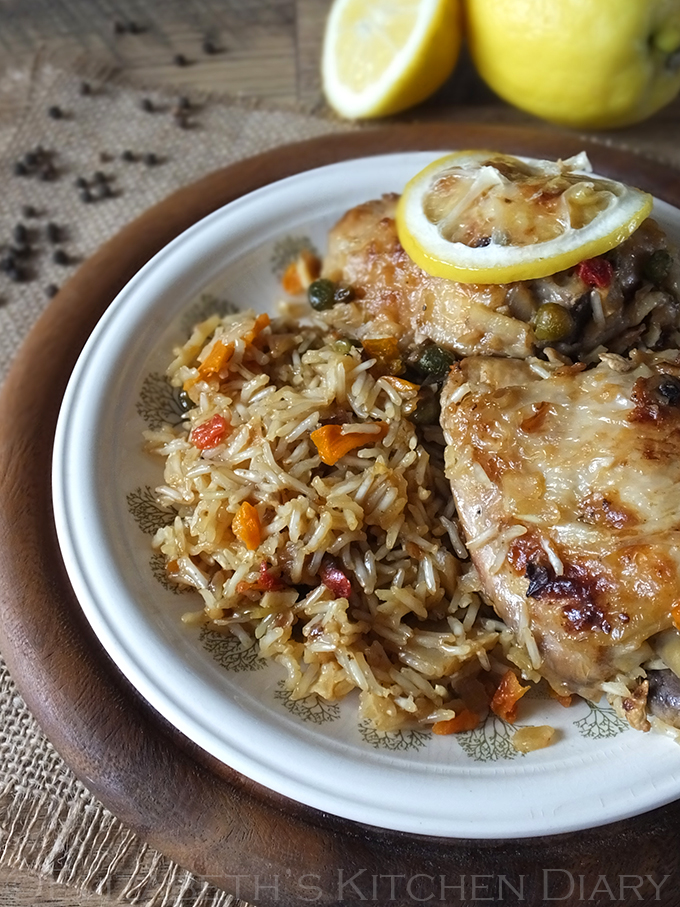 Slow cookers are awesome.
That's a given. You plonk your food in, go away and do your thing for the next few hours, and then return to a delicious home cooked meal.
The thing is with a slow cooker is that when cooking meat, you often need to sear the meat in advance on the hob, and then side dishes need to be prepared separately – rice, potatoes, vegetables etc.
With the Redmond Multicooker you can do all these things in one pot – with its multiple preset settings and multi-function capabilities, you can do everything for one meal in one pot, as demonstrated with this lemon pepper chicken with country vegetable rice recipe!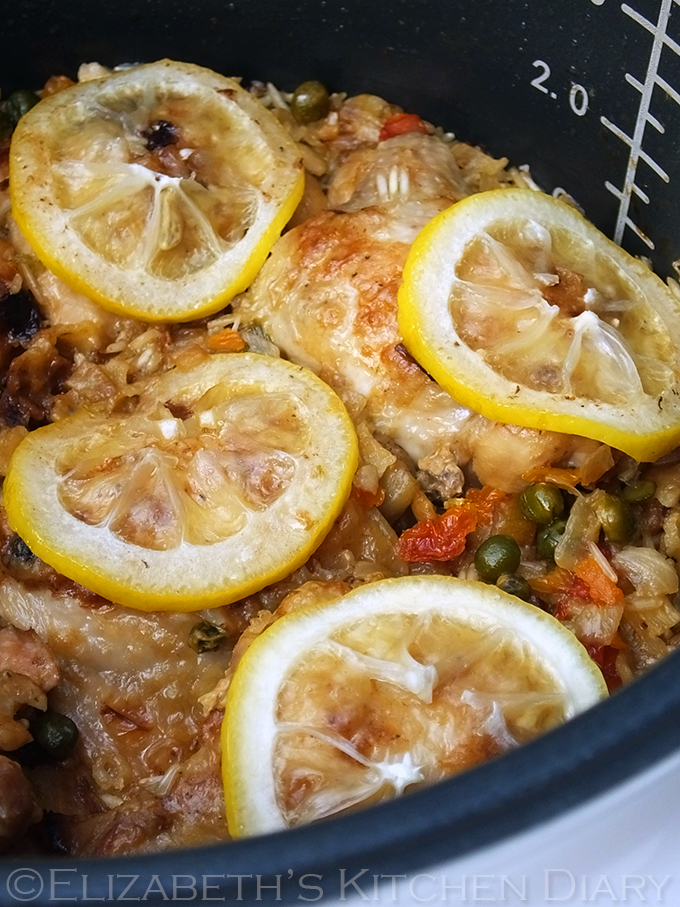 In this recipe, budget-friendly chicken thighs (I picked mine up for £2 for 1 kg!) are seasoned with plenty of cracked black pepper and cayenne and then browned in the Redmond Multicooker before being cooked in chicken stock with a generous squeeze of fresh lemon juice. Rice is added at the end along with dehydrated vegetables to make a simple, but flavoursome one pot dish.
The Redmond Multi-cooker is a revolutionary new appliance, negating your need for multiple appliances in your kitchen. With functions including steaming, frying, stewing, quick cook, cook, pasta, soup, cake and multi-cook it's got all your cooking needs covered.
I have the Redmond Multicooker RMC-M4502. To find out more about it have a wee watch of this video.
I think this appliance would be really useful for young people moving into their own dorms/homes for the first time and they haven't yet built up a kitchen full of gadgets, or for families with smaller kitchens. It would also work really well in a caravan, so I've developed this recipe with caravaning in mind. Weigh the seasoned flour mixture out at home into a plastic bag, and then all you need to do is buy butter, an onion, chicken thighs, rice and dehydrated country vegetables.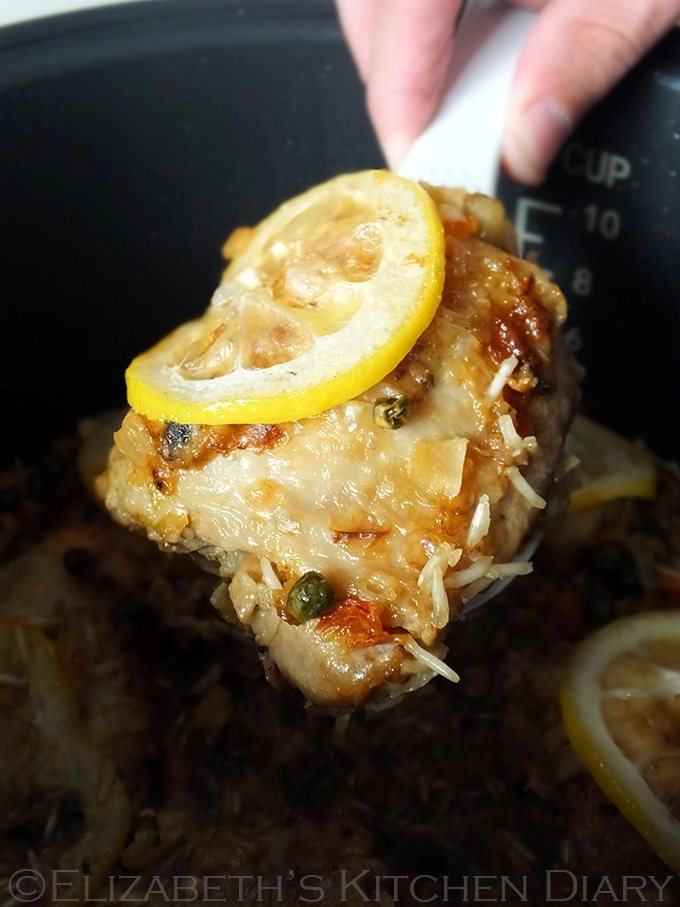 I've used wholegrain basmati rice in my recipe, and this requires a little bit more stock and cooking time than long grain white rice would, but I think the nutty flavour of the brown rice works really well. Soaking it in advance while the chicken is cooking helps speed up the cooking process too.
You can find more Redmond Multicooker recipe inspiration on their website or through their Twitter and Facebook pages.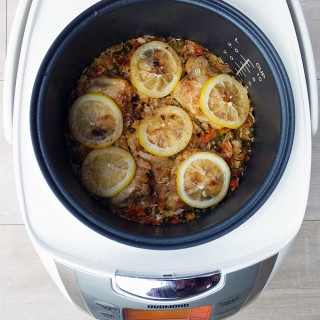 One Pot Lemon Pepper Chicken with Country Vegetable Rice
Moist, delicious lemon pepper chicken thighs and country vegetable rice in a one pot dish!
Print
Rate
Affiliate Links
This recipe card may contain affiliate ingredient and equipment links. As an Amazon Associate I earn from qualifying purchases.
Instructions
Place the flour, black pepper, sea salt, cayenne and dried oregano in a plastic bag and shake to mix well.

Add the chicken thighs, one at a time, and shake well so that they are coated all over. Lay the chicken thighs out on a plate.

Place 20 grams of the butter into the bowl of your multicooker and select the Fry > Vegetables option.

When the butter has melted add the onion and fry, stirring constantly with the stirring paddle for five minutes or so, until they begin to soften.

Remove the onions from the bowl of the multicooker and set aside.

Add the remaining 20 grams of butter and select the Fry > Meat option.

Fry the chicken thighs until browned on all sides, around 10 minutes.

Return the onions to the bowl of the multicooker, add 250 ml of chicken stock and the juice of one of the lemons.

Close the lid and leave until the end of the Fry > Meat cooking time (40 minutes cooking in total). Every now and again turn the chicken thighs so that they cook evenly. Alternatively, you could select STEW and slow cook the chicken thighs for 3-4 hours.

Meanwhile, rinse the rice until it runs clear and soak in enough cold water to cover.

At the end of the cooking time, remove the chicken thighs from the multicooker bowl and set aside for a moment.

Add the rice, the dehydrated vegetables and more chicken stock to the juices in the bowl - if you are using white rice you will need 350 ml of liquid in the bowl, if you are using wholegrain rice you will need 400 ml of liquid in the bowl.

Stir the rice and vegetables well, and then return the chicken thighs to the bowl, placing them on the top of the rice.

Place a thin lemon slice over the top of each chicken thigh.

Select COOK > 25 minutes for the white rice, or 35 minutes for the brown rice. Check at the end of the cooking time that the rice is cooked. If not, increase the cooking time by five minutes if needs be.

Serve directly from the removable multicooker bowl using the serving spoon which came with it.
Environmental Information
OTHER REDMOND MULTICOOKER RECIPES YOU MIGHT LIKE
Strawberry, Rhubarb & Basil Jam by Recipes from a Pantry
Chocolate Hazelnut Hot Fudge Pudding Cake by Elizabeth's Kitchen Diary
If you want to be kept up to date on my recipes, occasional craft tutorials, adventure stories and giveaways then please subscribe to my weekly newsletter; it gets sent out every Monday morning if there is new content. Your email address won't be passed on to anyone, you will never be spammed and you are free to unsubscribe at any time, no questions asked. Make sure you confirm your subscription or you won't receive the newsletter – if it hasn't arrived check your junk mail folder.
[wysija_form id="1″]
Recipe commissioned by Redmond. This is a paid post.