The May 2015 No Waste Food Challenge round up in collaboration with ao.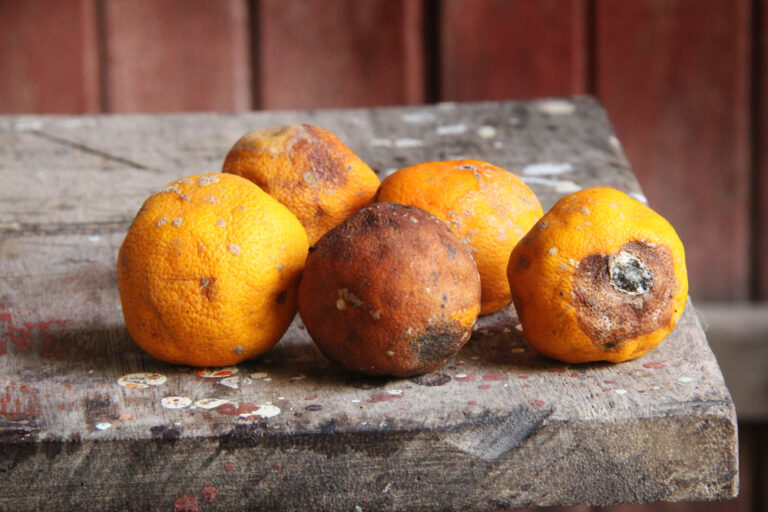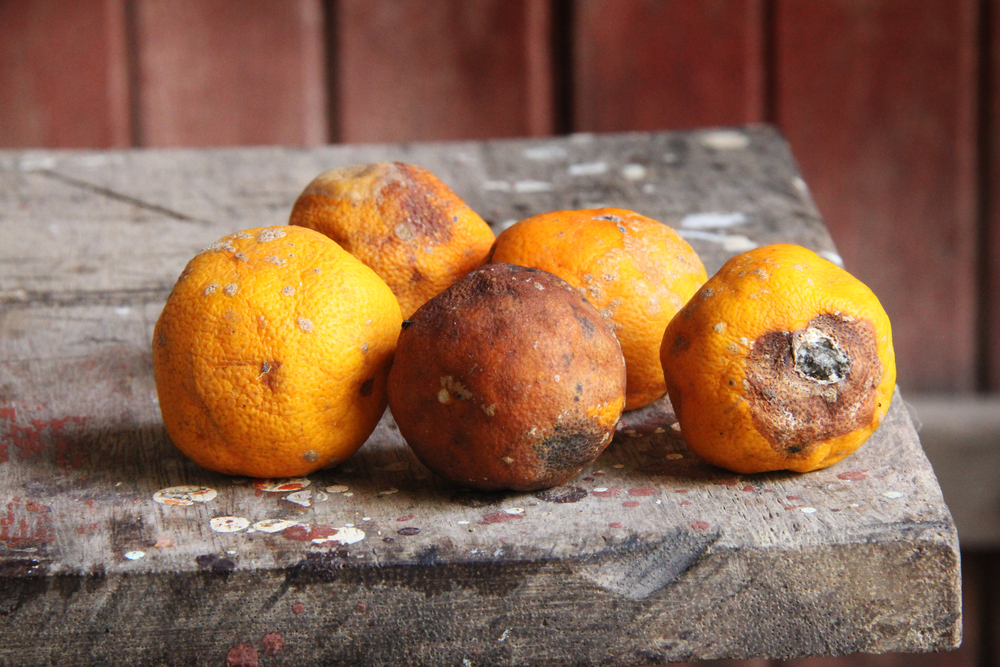 Food waste is a big issue for today's society. Millions of people are struggling to eat across the world while the UK wastes 7 million tonnes of food a year, and that is not something of which we should be proud. We waste food, we waste money, and we waste time doing it, and by 'we' that also includes businesses and restaurants.
It's time to make a change – here are five tips to make it happen:
1. Planning ahead
It might seem an administrative and rather boring process, but only to those who have never taken part; in actual fact, planning the week's menu ahead can be great fun. Dig out the recipe books, sit with the kids, scan the internet and look for inspiration.
Know what you are cooking, and when; what can go into lunchboxes, and when; and which nights and afternoons you can go out for meals. Look for clever ways of spending money, and/or new and exciting trends in which to branch, such as Canadian poutine, or 'brinner' – breakfast for dinner, and pick up the correct ingredients.
As a side issue, you're also more likely to eat healthily and lose weight by planning a strict list of ingredients for meals, because you'll eat the correct sized portions.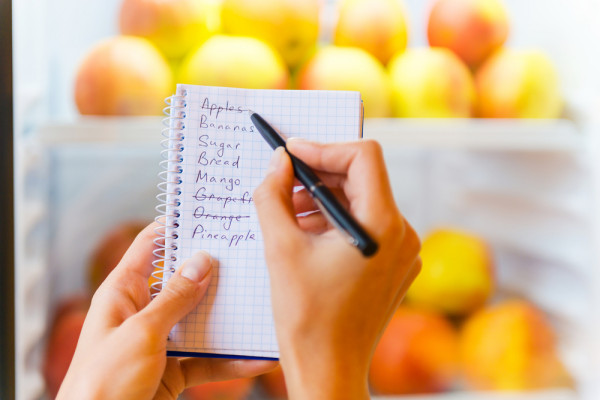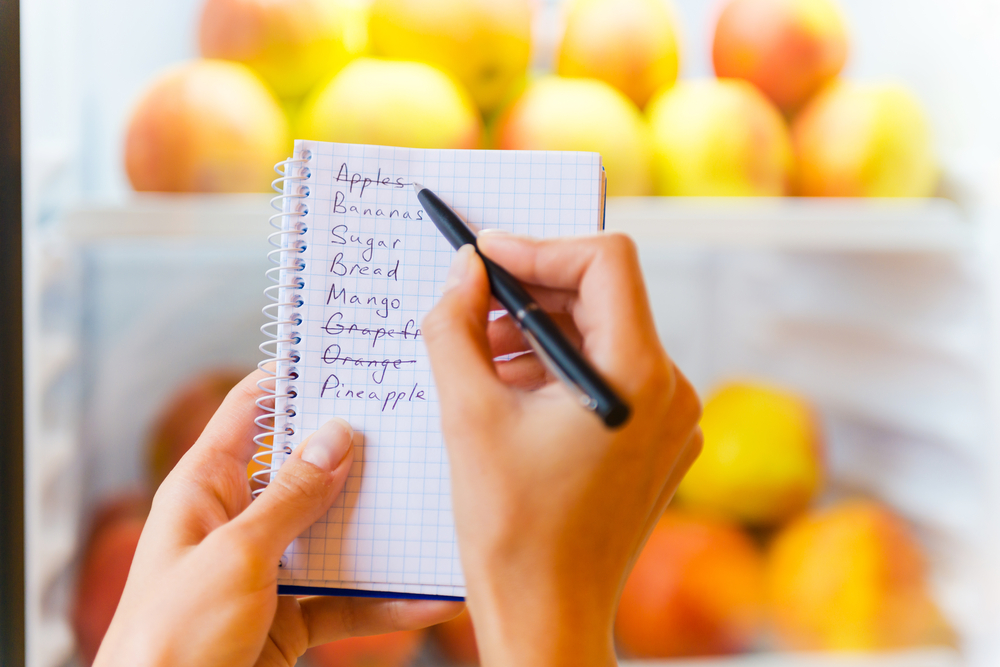 2. Don't buy too much
If you plan ahead then this shouldn't really happen, but the impulsive shopper is vulnerable to offers that benefit no-one.
The Buy One, Get One Free offers can be fantastic, but only for the right foods. Non-perishable foods such as crisps and cereals are fine, but BOGOF offers on fruits such as strawberries or apples are non-starters – and non-finishers, for most of those who buy them.
Two packs of food for £1.50, when one pack of that food costs £1, might seem like a great deal. If only one pack is eaten then you've not saved 50p, but actually wasted it. Make the same mistake several times a week, and you're looking at several hundred pounds of mistake a year.
Know that supermarkets are taking advantage of that horrible psychological desire not to leave an offer behind that urges you to take up a BOGOF offer that you don't need. If that doesn't make you want to put that pack of salad back on the shelf, nothing will.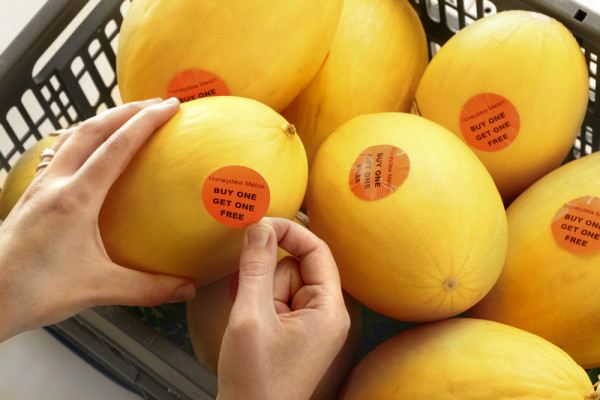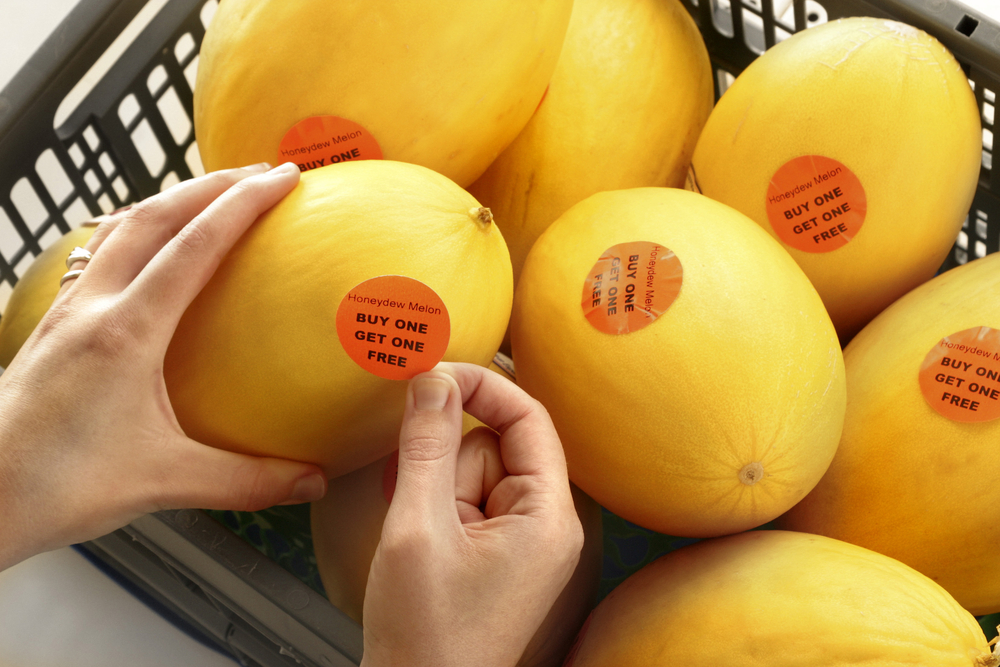 3. Taking note of dates
Supermarkets place food at the front of the stands that need to be eaten sooner than those that can be left for several more days.
So why, then, do we just throw food into the cupboards or fridge and then ignore the dates on them that tell us when we can eat them? Adopting a 'first in first out' system, where food is retrieved in the order in which it was placed inside, will save money and also prevent your larder from becoming stale and boring. Another suggestion is placing food that needs to be eaten soon in a certain part of the cupboard, or using a coloured label system.
 4. Use your fridge and freezer
There are many other foods that we throw in the cupboard that would be better served in the fridge – follow the guidelines on the packaging.Most dairy products such as cheese and milk can be frozen, as can pancakes, some fruits, corn and many other unexpected foodstuffs. Follow the advice in this interactive guide from ao.com for information on foods that can or can't be frozen.
One last tip – if you can't freeze it, consider pickling it in oil or vinegar.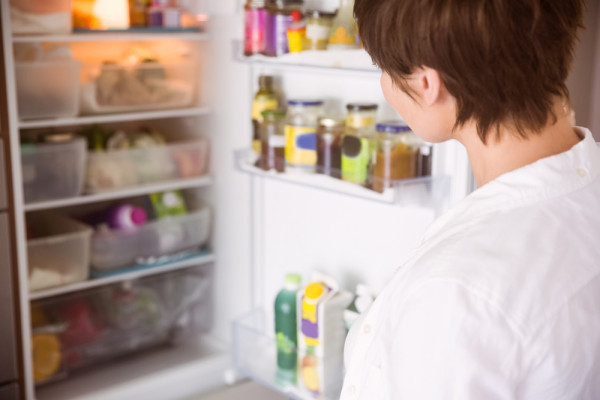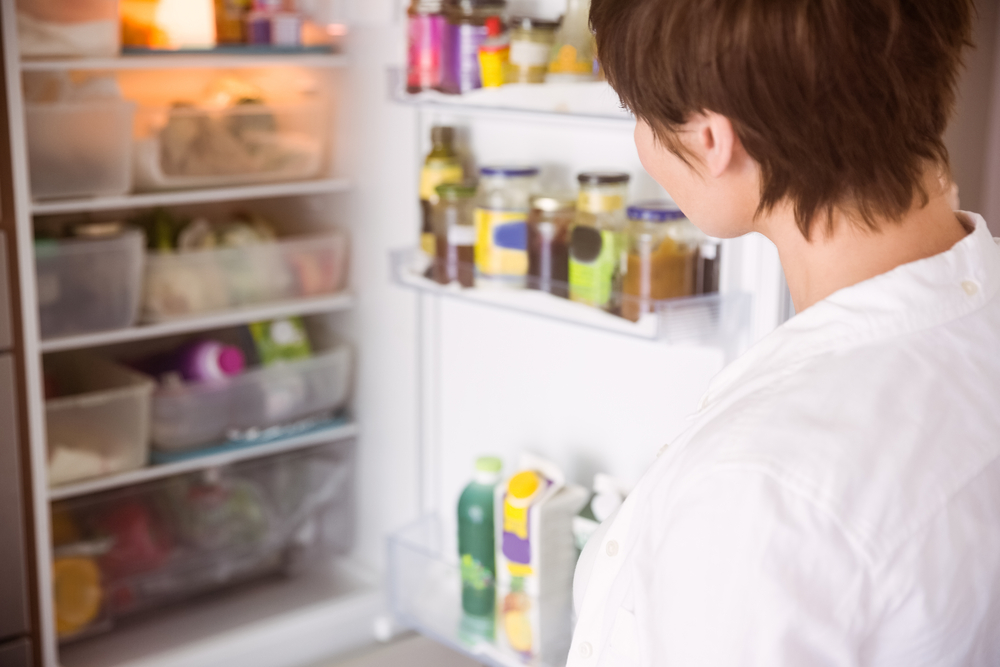 5. Recycling
The 'best before' date of food denotes the time when its producers estimate it will be at its very premium. That does not mean that it becomes inedible after that date has passed, so don't just empty your shelves in a frenzy when key dates have passed.
'Use by' dates are different and should decidedly be followed, as a risk of illness/food poisoning might otherwise follow.
If you genuinely don't think that you're going to consume a particular item of food, then consider giving it to your local food bank, which are unfortunately needed by record numbers according to the BBC. Check on what they will accept before you stock up as some foods might be rejected.
Leftovers don't need to be thrown out either. Here are 21 fantastic recipes using up leftovers, those half empty cartons in the fridge and those ends of packets from the back of the cupboard. These recipes were shared by food bloggers in last month's No Waste Food Challenge.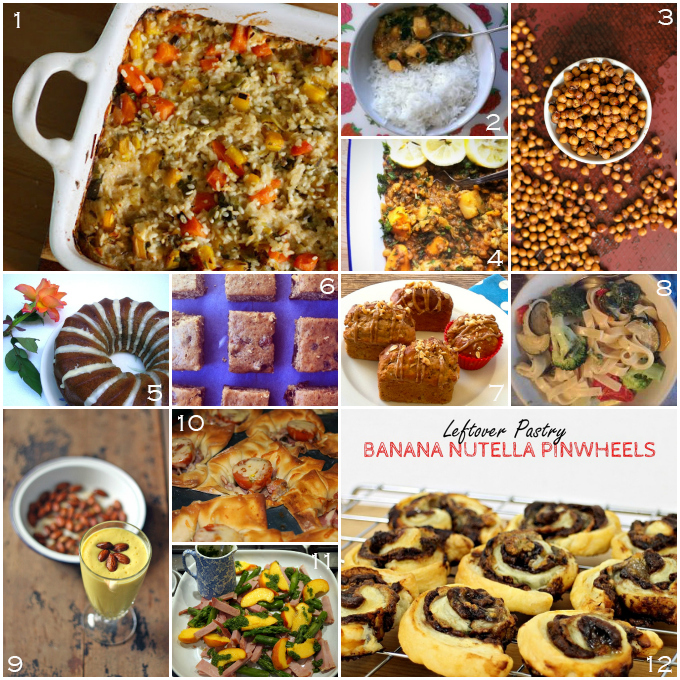 1. Baked Carrot & Feta Risotto by Green Gourmet Giraffe
2. Red Lentil, Sweet Potato & Spinach Dahl by Eating Enhanced – old sweet potatoes
3. Roasted Balsamic Chickpeas by The Taste Space
4. Potato & Lentil Curry with Lemon & Fresh Mint by De Tout Coeur Limosin – leftover vegetables
5. Quick Banana and Rum Soaked Raisin Bundt by Tin & Thyme – bananas, eggs & yogurt
6. Spiced Tea Loaf by De Tout Coeur Limosin – use up that dried fruit in the back of the cupboard
7. Healthy Peanut Butter and Banana Muffins by Tales from the Kitchen Shed – over ripe bananas
8. Favourite Creamy Veggie Pasta by Eating Enhanced – freezer veggies
9. Turmeric Mango Lassi with Candied Black Pepper Almonds by Veggie Desserts – fridge contents
10. Bacon, Cheese & Tomato Filo Parcels by JibberJabber UK – a pack of filo in the freezer for too long
11. Leftover Ham with Parsley Vinaigrette by Onions & Paper – leftover ham
12. Leftover Pastry Banana Nutella Pinwheels by Fab Food 4 All – the name says it all!
13. Crunchy Spring Onions with Wasabi-Lime Mayo by Kellies Food to Glow
14. Tomato Pesto Stuffed Cornbread Muffins by I'd Much Rather Bake Than…. – using up tomato pesto
15. Dandelion Petal and Lemon Cookies with Kale Lemon Drizzle by Veggie Desserts – dandelions!
16. Banana, Chocolate Chip and Walnut Layer Cake by The More Than Occasional Baker – over ripe bananas
17. Lemon Almond Ricotta Cakes by The Baking Explorer – leftover ricotta
18. Lemon, Blueberry & Greek Yogurt Muffins by Nic Bakes – half a pot of Greek yogurt
19. Summer Tortilla by The Gluten Free Alchemist – leftover roasted vegetables
20. Wild Stinging Nettle Hummus by Allotment 2 Kitchen – nettles from the garden
21. Spelt Banoffee Flapjacks with Dark Chocolate by Fab Food 4 All – out of date spelt flakes & over ripe banana
With thanks to all the food bloggers around the world who linked up last month. If you are feeling inspired, feel free to join in this month! You can find the linky on the official No Waste Food Challenge page.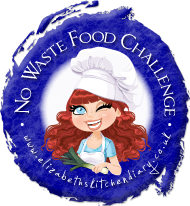 Follow Elizabeth's Kitchen Diary's board No Waste Food Challenge on Pinterest.


If you want to be kept up to date on my recipes, occasional craft tutorials, adventure stories and giveaways then please subscribe to my weekly newsletter; it gets sent out every Monday morning if there is new content. Your email address won't be passed on to anyone, you will never be spammed and you are free to unsubscribe at any time, no questions asked. Make sure you confirm your subscription or you won't receive the newsletter – if it hasn't arrived check your junk mail folder.
[wysija_form id="1″]
Elizabeth's Kitchen Diary received financial compensation for this sponsored post.