In collaboration with Tasty, Easy Lamb.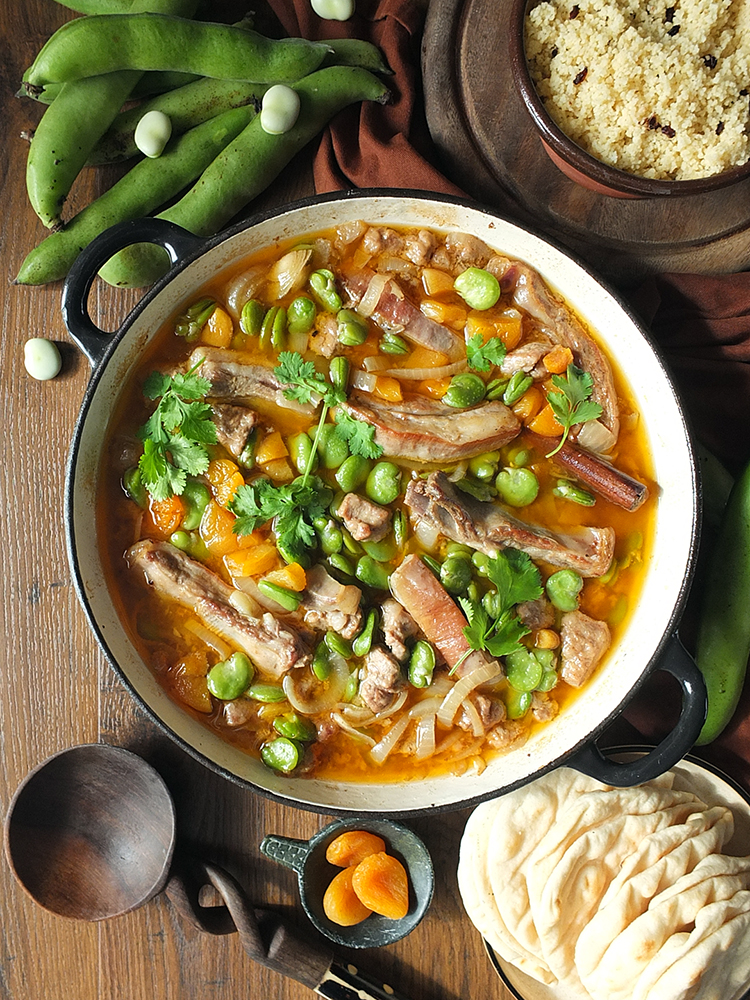 I've just come back from an early morning bike ride. There's a definite air of Autumn in the wind I cycled into on my way back home. It's this time of year where I start craving hearty comfort food – casseroles, slow cooked dishes, carbohydrates… too many carbohydrates!
To be honest, I make this particular dish year round with various cuts of lamb. It's also my summer-time 'I'm going out on a day's adventure and want my food ready for me when I get home because I'm going to be starving' go-to recipe. In which case I quite literally throw everything into the slow cooker first thing in the morning, head out for my adventure, and then when I get home I pop the broad beans in to warm up, wash up for dinner and whip up some couscous to serve.
Proper comfort food in a bowl. Any leftovers reheat really, really well the next day. I think the flavours develop even further over night. Reheat in the oven for 30 minutes, with the lid on, and there's two day's worth of dinner with very little effort. My kind of cooking!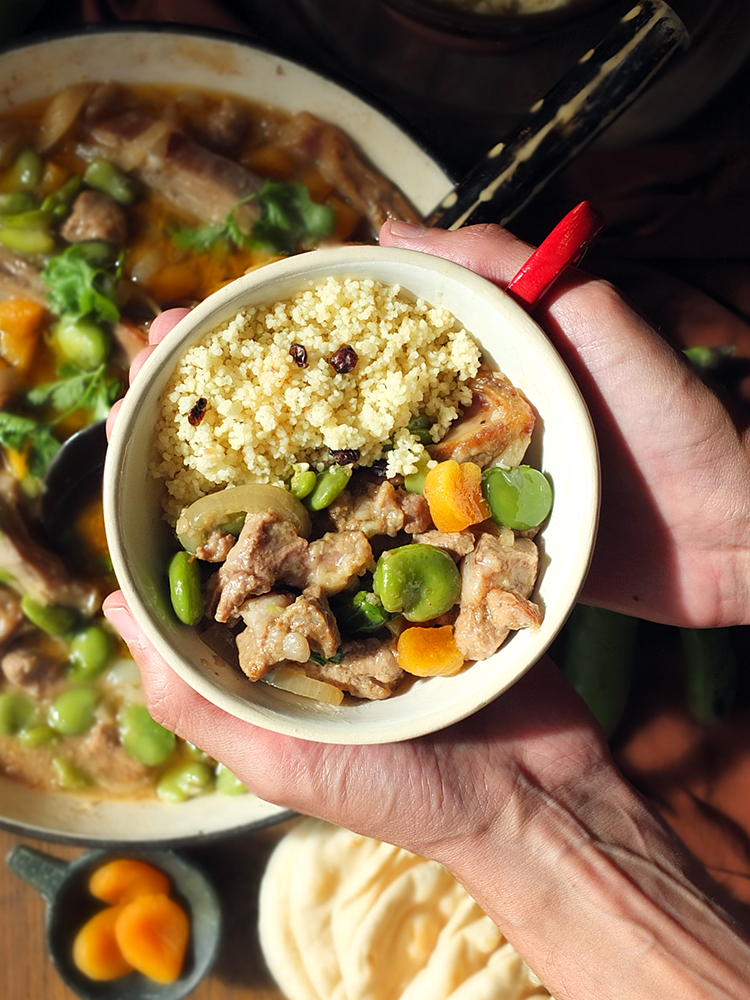 I've featured broad beans in this particular version of my family-favourite recipe as they regularly make an appearance in my veg box this time of year. I absolutely love fresh broad beans – there's nothing else like them. Honestly, don't be tempted to replace fresh beans with frozen ones or (gah!) tinned, as it just won't be the same.
Fresh broad beans need double podding – something I realise many people are not aware of. When you first remove the beans out of their giant pea pods each little bean is encased in another light green rubbery layer. Boil them for four minutes, drain and blanch them in a bowl of cold water and then spend the next ten minutes quite therapeutically using your thumbnail to slice open the side of the light green case and let the vibrant green broad bean slip out.
If you can't source fresh broad beans feel free to use a tin of drained chickpeas instead. It still works. You could also replace the apricots with dates or prunes if you wish.
For more lamb recipe inspiration visit the Tasty Easy Lamb website, and follow them on Facebook, Twitter or Instagram.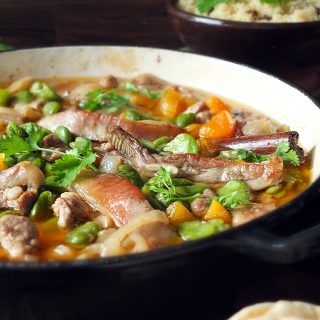 Slow-Cooked Lamb Casserole with Broad Beans & Apricots
A simple, flavoursome recipe perfect for these colder evenings as Autumn draws in.
Print
Rate
Affiliate Links
This recipe card may contain affiliate ingredient and equipment links. As an Amazon Associate I earn from qualifying purchases.
Instructions
the oven version
Preheat oven to 160C / 150 C fan.

Place the plain flour in a bowl or ziplock bag and season well with salt and pepper. Dredge the cubed lamb shoulder and set aside.

Heat 1 tbsp of the sunflower oil and brown half the lamb all over. Transfer to a casserole dish with a lid and repeat with another tbsp of sunflower oil and the remaining lamb shoulder.

Heat the remaining oil in the same pan and sear the lamb ribs, if using, until browned. Add to the casserole dish and sprinkle over the halved, thinly sliced onions.

Add the smoked paprika to the pan and cook for a few seconds before deglazing the pan with the lamb stock, scraping up all the bits stuck to the bottom of the pan.

Pour the stock over the lamb, add the saffron threads and the cinnamon stick and cover with a tightly fitting lid. If your lid doesn't fit tightly so that steam won't escape, wrap the casserole dish in a layer or two of aluminium foil.

Slow cook in the centre of the oven for 2 hours.

Meanwhile, bring a large pan of water to the boil while you pod the broad beans.

Simmer the podded broad beans for 4 minutes, drain and plunge into a bowl of cold water. Remove the second layer of light green skin off the broad beans to reveal a vibrant green inner bean.

At the end of two hours, add the broad beans and chopped apricots to the casserole dish. Season well to taste and slow cook for a further 15-20 minutes until the beans are hot.

Garnish with fresh coriander leaves and serve with couscous and flatbread.
the slow cooker version
Stick everything except the broad beans into a slow cooker and cook on low for 6-7 hours, adding the broad beans for the last half an hour.
Notes
You can replace the broad beans with a tin of chickpeas, and the apricots with dates or prunes, if you like.
OTHER LAMB RECIPES YOU MIGHT LIKE
Ceylon Lamb Curry
Swedish-Style Lamb Meatballs
Lamb Shanks with Paprika & Potatoes
Grilled Lamb Kibbeh Kebabs
Slow-Roasted Rack of Lamb with a Creamy Mustard Tarragon Sauce
Spicy Lamb Pizza with Feta, Rocket & a Yogurt Drizzle
BBQ Lamb Leg Steaks in a Herb Marinade
Leftover Roast Lamb & Mint Sausage Rolls
Quick & Easy BBQ Lamb Skewers
BBQ Lamb Leg Steaks with Harissa & Mint
15-Minute One-Pan Lamb & Quinoa Midweek Supper
Street Food: Brazilian-Style Lamb Kibe
Chilean-inspired Lamb Burgers with Pebre & Marraqueta Buns
Brazilian-inspired Lamb Feijoada with Mango Salsa
Slow Cooker Lamb Chilli with Pasilla Peppers
Argentine-inspired Lamb Chops with Chimichurri
Lamb Casserole with Ale
Mediterranean-inspired BBQ Koftas, Couscous Salad & Baharat Yogurt Dip
Slow-cooked Shetland Lamb Casserole with Creamy Herbed Polenta
Pastitsio – Greek Macaroni Pie
Lamb, Butternut Squash & Apricot Tagine
7-Hour Spiced Pulled Leg of Lamb
Roast Harissa Lamb with Harissa Apricots Stuffing
[color-box]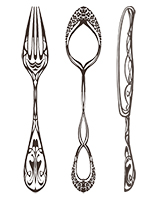 Have you made this recipe?
Take a photo and tag @tangoraindrop or use the hashtag #elizabethskitchendiary and share on Instagram and Twitter. It would make my day to see your creations!
[/color-box]
This is a commissioned recipe for Tasty, Easy Lamb. Thank you for supporting the brands who make it possible for me do what I love: mess up my kitchen and share recipe stories.